Page 198
Home | 60's Slang | Alumni List | Car Talk | Cougar News | Feedback | Hangouts | Memories
Recollections | Reunions | Street Scene | Teachers | Tributes | Vietnam | What's New | Keyword Search
Back to late 50's Doo Wop "The Edsels"

---

---
<!-++++++++++++++++++++++++++++++++++++ADD BELOW THIS LINE++++++++++++++++++++++++++++++++++++ +++++++++++++++++++++++++++++++++++++++++++++++++++++++++++++++++++++++++++++++++++++++++++++->
Name: Kelley () on Wednesday, January 19, 2000 at 18:43:05
E-Mail: bigkell50@yahoo.com
Maiden: Currie
Class: 67
City and State: Coos Bay,OR


Message: Paula, are you related to Ed, Danny and Ginny, I think it was Ginny. Anyway I know Danny and went to school with Ed. I was a natural Blonde at HHS and got over it and few years back. and Judy my boss is Lebanese, I don't care they all look the same anyway. HA HA (i got your little play on words, you Rowdy you) I'd like to apologize for Coach Bravo. I know you didn't mean to hit me over the head with the Spanish book after what ever team you were coaching at the time, LOST. That made me feel much better. Thanks John for the site. I just got in touch with my old friend Carolyn Petersen. It's so neat. Thanks again, Oh my senior picture was probably the best picture i ever had taken.
show it whenever, Where ever. LOVE&PEACE
Hi Kelley, Just got back from Pinks with your favorite cousin, RH. This guy had us rollin in the aisles tonight. We were all talking about how open Paula was with her very first Feedback, and Robin mentioned that he always wanted to be a Lesbian but he couldn't act. Be a Coug Kel.......
---

Name: Risa Kubly () on Wednesday, January 19, 2000 at 16:07:31
Maiden: Manriquez
Class: 77

Message: John, I thought I was going to scream when I saw that old photo of me that you posted,, I cant wait for page 198 so I dont have to see it.. Check your e-mail, I will send a photo not so scary,,, Thanks for a good laugh,,, Take care.
WHAT?? I thought it was real "High School". I don't need a recent picture of you Risa, as long as I have that one.

---

Name: Lisa () on Wednesday, January 19, 2000 at 15:44:10
E-Mail: Avd21@earthlink.net
Maiden: Anderson
Class: 78
City and State: Hawthorne, CA
Message: I don't understand what your talking about. Did I miss something. Please respond as soon as possible to clarify this issue. Thank you. It is really concerning me.

---

Name: LGW () on Wednesday, January 19, 2000 at 15:33:21
E-Mail: lgeelew@pacbell.net
Maiden: Geele
Class: 76
Message: I'm so glad Paula finally showed up here. We were friends *before* we started going to York School for kindergarten! We always joked that her main goal in life was corrupting my younger brother during his formative years: he is now (oh the family shame!) a real estate agent! Thank goodness I was around to mitigate some of the influences, otherwise he'd probably be a lawyer instead. :-)

---

Name: Penny Prouty () on Wednesday, January 19, 2000 at 14:46:59
E-Mail: PennyProuty/USW/SArmy@USW
Maiden: Prouty
Class: 1962
City and State: Torrance, CA
Message: Hi John and Hi Everybody,
Happy NEW Year!......(better late than never?) Sorry it's taken me so long to get back on board but this will be my 4th attempt to send a message to you from work.....hope this time it works. I'm still happy in my new job with the Salvation Army.....working in the Property Dept. (real estate) at the Western Territorial Headquarters office, in Rancho PV. It's been so good to be able to tune in again with everybody on this feedback page.... And again, I find myself very proud to be a "Cougar".....good people, good hearts, reaching out to each other, like family....which is kind of what we are, I think. And I hope that Paula, you and anyone else out there among "our family" who may feel alone out there, for whatever reason, realizes what we have here (thanks to John), and that we have a connection and are never alone, thanks to God and thanks to all of us who care. And John, maybe as in my case, although unable to respond or contribute to the feedback, there are those of us out there who are still appreciating, listening and supporting all of yours and everyone's efforts. (Just hope this one gets to you...)

Penny
Well Penny girl, you got through. Nice hearing from you. Yes, we're all members of the same family, we just had different mothers and fathers....... We all walked the same halls and utilized the same class rooms whether we graduated in 99 or 54. We used the same excuses to get out of school and faked the same illnesses to get out of class. All of us lived within about 4 miles of each other. We all hung out at the same places and shopped at the same stores. We come in contact with each other everyday and, more often than not, don't even know it. Yes we're all family whether we like it or not. Personally, I LIKE IT...... Thanks Penny for checking in.
---

Name: DAN OLDES () on Wednesday, January 19, 2000 at 14:22:15
E-Mail: cos.afrc.af.mil
Class: 1968
City and State: COLO.SPGS. CO
Message: LOOK FORWARD TO HEARING FROM YOU.

---

Name: Sharon MacDonald () on Wednesday, January 19, 2000 at 08:13:30
E-Mail: rmac@genevaonline.com
Maiden: Badger
Class: 63
City and State: Burlington, WI
Message: We all bring a certain amount of baggage along on the trip we make through life. That baggage consists primarily of memories - good and bad - of our past. When we visit Cougartown, I suggest that we put the good memories in our carry-on luggage (no size limits for these bags). We should then check the bags that contains those bad memories at the door. I have a feeling that after a trip through Cougartown, some of those bad memories will fade away and the suitcase they are in will be all the lighter. All of us who were lucky enough to have attended HHS or spent part of our formative years in Hawthorne share a common bond and a unique place in history. Paula Lutz, you are a part of Cougartown (reunions are a part of this place). I like your line about being from HHS, "If it wasn't for all of you I would not be me." I think that this is true for all of us.
Sharon, Very well said, especially, "If it wasn't for all of you I would not be me." We're all formed by who our friends were in our formative years. Although MY friends may have lowered my IQ,

I wouldn't change them for anything.
---

Name: Jim Norman () on Wednesday, January 19, 2000 at 07:35:36
E-Mail: jn222@aol.com
Class: 64
City and State: Corona, CA

Message: It was nice to sit here and see some of the old times and faces again that have over the years faded in time. Makes one stop and think for a moment of who we are and where we came from and what was important.
Hey Jimmy, Long time man. Thanks for checking in.
---

Name: Larry Biller () on Wednesday, January 19, 2000 at 05:59:42
E-Mail: LBILLER49@YAHOO.COM
Class: 67
City and State: Portland,Oregon
Message: TO BETH GILBERT HIGA: HI BETH

---

Name: Ziggy () on Wednesday, January 19, 2000 at 02:05:02
E-Mail: kmtoothgal@aol.com
Class: 78
City and State: Hawthorne
Message: Hi Cougartown, John, love the web site. Patti(T4(Turkey)) and Amanda (T5(Boo Boo)), Good to see you on the site. Have you guys talked to anyone from Hawthorne Youth Camp lately. I see Gator, Kurt and Debbie once in a while, They're doing fine. Loved the picture of the old All Star team a few pages back.
See Ya, Rattler

---

Name: Roni Kobel () on Tuesday, January 18, 2000 at 23:01:17
E-Mail: rskobel@aol.com
Maiden: Treckman
Class: 76


Message: PAULA LUTZ!!!! I thought you dropped off the face of the planet!! And Risa is right - once an athlete, always an athlete (it's in your heart, and it's only time and effort to be back in shape). Must be that over-40 thing, huh? Don't you dare miss the next reunion - nobody cares if you don't fit into your old volleyball uniform! Don't be a stranger! High school wouldn't have been the same without you!!

---

Name: Dawn Moffett () on Tuesday, January 18, 2000 at 22:35:30
E-Mail: Dawn7@aol.com
Maiden: Koch
Class: 78
City and State: Simi Valley, Ca
Message: Gosh, I feel so behind! I got sick at the end of Winter break and missed all the good feedback! I had to write and say I remember Frankie (after 4 years in auxillary). She was the red lipstick lady, we hated that red lipstick but we loved her! I went to a band competition in Granada Hills two years ago to visit with Mr. DeLaO and watch my son. Mr. D. directed me to the HHS group and there was Frankie and her sidekick Hilda (I think that is her name). Frankie sent me an article that appeared in the Daily Breeze about her years as a Band Mom. I can also get Mr. D. to fill us in on any info we need. She is a Mom among Moms! A real sweetheart, then and now! They don't make them like Frankie anymore!!

---

Name: Laura Porter () on Tuesday, January 18, 2000 at 21:54:02
E-Mail: dsnycrw@ivic.net
Maiden: Twitchell
Class: 79
City and State: Hemet, CA

Message: Hey John...talk about a small world. I went to see Fantasia 2000 Monday in Ontario and started chatting with a guy standing next to me reading about the animation in the movie. Turns out he is going to be teaching History at Hawthorne. I told him to look up cougartown but unfortunately I didn't get his name. Rats...he was cute too. Anyway if anyone runs into the new history teacher on campus...give a big cougar welcome!
Hi Laura, Great story and it's STILL a small Cougar World out there. BTW, I see you were aspiring to be a Disney person as far back as HHS.......Interesting
---

Name: Wendy Zeller () on Tuesday, January 18, 2000 at 21:43:25
E-Mail: wzppd@aol.com
Maiden: Frye
Class: 79
City and State: Gilbert, Arizona

Message: Well I just spent some time reading past feedbacks and thought it was time for a belated New Year's Resolution....to check in a little more regularly and to put in my two cents worth (for what it's worth) a little more often. Lately all I've had time for is a quick dash through the posts...then I'm off and running again. Great to see some new and familiar names added to the mix!!! BTW John....thanks for my new and updated look (ha!ha!) which appeared several pages ago...I'd have never thought way back then that with the help of computer magic I could look so good....
Hi Wendy, I guess it's been awhile since you've checked in (page 128). I had to search you out to find what you were talking about and did so. You looked surprisingly like Ma Kettle in High School.

Thanks for getting back to us so promptly. At this rate we'll hear from you again on June 11. Thanks Wendy
---

Name: Risa Kubly () on Tuesday, January 18, 2000 at 21:04:25
Maiden: Manriquez
Class: 77
City and State: Glendale Ca


Message: Paula, I remember you, You were always very nice to me. Now that your clean, be proud of yourself.. You had to do it for your self and you did. Sounds like your going to be just fine.. Dont think about all the crap from the past, I dont. Im glad you posted and once an athlete always an athlete, I still am. Take care and keep in touch...

---

Name: christine () on Tuesday, January 18, 2000 at 20:24:14
E-Mail: carissa58@yahoo.com
Maiden: christine penny
Class: 76
City and State: round rock texas
Message: Thanks John....I guess we'll just play it by ear.

---

Name: carissa () on Tuesday, January 18, 2000 at 19:13:56
E-Mail: carissa58@yahoo.com
Maiden: christine penny
Class: 76
City and State: round rock texas


Message: JOHN....Big favor.....My husband has to forcast for his vacation Thursday morning....I know, like he gives me alot of time, anyway...I was wondering if there are any planned activities for this summer should we be able to make it out that way. If there isn't anything planned, and we are able to make it out that way....well, you know... ....you'll just have to create one! Thanks anyway. ")
Hi Carissa, The only one we have planned for the summer right now will be Fosters Cruise Night, but I don't know exactly when it will be. Let me know when you are coming and we'll at least do a Pinks run. Wine Country Weekend is April 14-16, but I guess that's not summer huh.

---

Name: Barbara Ulrich (Omey) () on Tuesday, January 18, 2000 at 17:43:07
E-Mail: bulrich@mail.oc-net.com
Maiden: Barbara Omey
Class: 1963
City and State: Del Aire, CA

Message: Hi out there in Cougarland! We had a great class reunion in Newport Beach for the class of 1963 last year. It was our 35th year reunion. Our committee is the best in organizing it, that's why we have great reunions!! Talk to you soon!

---

Name: nancy () on Tuesday, January 18, 2000 at 17:37:00
Maiden: ashburn
Class: 66

Message: JUST WANTED YOU ALL TO KNOW FRANKIE STILL SELLS AVON AND YES SHE CONSIDERS THE KIDS FROM HHS HER KIDS SHE NEVER HAD ANY OF HER OWN. FRANKIES BEEN MY MOMS AVON LADY FOR YEARS AND I CAN TELL YOU SHE NEVER MISSES A WEDDING, BABY SHOWER, GRADUATION . I TRYED TO GET THE HAWTHORNE CITY COUNCIL TO AKNOWLEDGE HER A FEW YEARS BACK BUT GOT NO RESPONSE FROM THEM I THINK IT WOULD BE GREAT IF COUGARTOWN MADE HER HONORARY MOM SHE WOULD LOVE IT YOU CAN REACH HER THROUGH THE BAND TEACHER AT HHS
I'm way ahead of you Nancy. More to come.
---

Name: Judy DeGrazia () on Tuesday, January 18, 2000 at 15:39:27
E-Mail: REDONDO612@aol.com
Maiden: what'sallthefussabout?
Class: 64
City and State: Torrance, CA


Message: Here's to Paula Lutz... so what's all the fuss about anyway????? My Portuguese grandfather was from Lisbon and no one shot me down in Cougartown. And Danny Thomas was Lebanese and everyone loved him... Now..I'm outta here before anyone can figure this one out! Judy DeGrazia THE ROWDYS.
Yeah, wasn't Shakespeare a Elizabethan and everyone loved him. I don't get the fuss.
---

Name: Nick Dovolis () on Tuesday, January 18, 2000 at 13:46:48
E-Mail: ndovolis@hotmail.com
Message: Love the South Bay and your web site.
Thanks Nick
---

Name: Paula Lutz () on Tuesday, January 18, 2000 at 12:58:40
E-Mail: ADeadbug
Maiden: Lutz
Class: 1976
City and State: Buena Park, Ca.


Message: Hey, perhaps I have figured this thing out. Amazing what my brain can still do after all those years of abuse with alcohol and drugs. Yuck! Awe heck, wouldn't change a thing if I could. Memories - what memories. I want to say hi to all my fellow travellers on planet earth and the streets of Hawthorne. If it wasn't for all of you I would not be me. I still think I am rather cute and cudly. I am, however, sober. I am very very stone cold sober. I am a little overweight, which is humbling for such an athletic person of which I truly thought I was. The reason why I don't go to those damn reunions is because I am fatter than I wish to be, and yes, damn it, I am a lesbian. That was my big highschool secret which nearly killed me emotionally. Not much of a secret really, from what my friends tell me, I am natural born lesbian. Responses are welcome as long as they have tact and decency. See ya, Maybe. Paula
Geez Paula, You've got to learn to not be so shy and to let it all out. I know this is your first time in Feedback so maybe next time you can open up a little more.

OH, By the way, I'm a natural born Hawthornian. Where is Lesbia anyway?
---

Name: Beth Gilbert Higa () on Tuesday, January 18, 2000 at 10:11:10
E-Mail: BethHiga@hotmail.com
Maiden: Gilbert

Class: 1967
City and State: Lake Worth, Florida
Message: I recently learned of this site from my brother in law, Tom Buckingham. It's great! Hello to all you HHS'ers from South Florida.

---

Name: Louise St.George () on Tuesday, January 18, 2000 at 10:03:04
E-Mail: lstgeorge@yahoo.com
Class: 77
City and State: Lancaster, CA
Message: Hi Janice Dorman! I loved the picture. Oh my god, you still look the same. Still looks like you have your beautiful long hair!! (very jealous) I must tell Renee to read feedback.
Take care, Louise aka LouLou (Renee's younger sister)

---

Name: carissa () on Tuesday, January 18, 2000 at 00:45:17
E-Mail: carissa58
Maiden: christine penny
Class: 76
City and State: round rock texas
Message: I should remember this Frankie....I mean if Susan can, I should be able too to. Oh well, high school in some respects was such a blurr of ahhhh, activity, that's it, activity. Anyway, I was thinking that not only does this lady deserve to be mentioned and maybe made honorary mom, but does anyone know how to contact her? Maybe she has a computer, hey, it could happen. My mom at 74 just bought her first computer, with 'ALL' the whistles and bangs. Maybe Frankie would be able to join us right here at CT. What do you think? Just a reminder...Don't forget chat night tomorrow, 8pm pacific time, for John that would be 8:03pm. ")
Yeah let's push this and see what we can find out about our new Cougartown.MOM
Anyone that can help, please let me know.
---

Name: Susan () on Monday, January 17, 2000 at 23:34:49
E-Mail: funds4kids@yahoo.com
Maiden: Ciampa
Class: 77
City and State: Santa Rosa, CA
Message: I remember Frankie too! I saw her a few months ago in the grocery store on Inglewood Ave and Rosecrans and I'm happy to say... she hasn't changed one bit! She still volunteers with the band at HHS and to prove that she can still 'do it all' she stood in the produce department and kicked her legs up over her head! She's one special lady and has been an asset to the band for many, many years.

---

Name: Janet Burkett () on Monday, January 17, 2000 at 23:33:14
E-Mail: jburkett@compaq.net
Maiden: Humphreys
Class: 62
City and State: Mission Viejo
Message: I don't know if Frankie is the same little white haired lady that was at the Nyman Hall seat dedication, but I have a feeling she is. What a pleasure to meet her. I know I was totally charmed by her enthusiasm for the school, the band and the students who attend today. Wouldn't it make a wonderful difference if there were more like her mixing with the kids today...gutsy lady!! I think she must have been involved after my time in the ole band room. I would think she should at least become an honorary Cougartown "Mom". Maybe someone who knows her could gather a little more feedback about her life and history in Hawthorne. Hey, it's not often we find people older than us anymore! And, possibly with a lot more energy! JB(the other one)
I agree. We need a story on this Cougar dynamo. Michael, do you think you could get a little more info, and maybe a picture? Does anyone know if she's in any of our El Molinos? This is school spirit at its best.
---

Name: Sharon MacDonald () on Monday, January 17, 2000 at 21:50:01
E-Mail: rmac@genevaonline.com
Maiden: Badger
Class: 63
City and State: Burlington, Wisconsin
Message: I remember an Avon lady in Hawthorne who used to make her rounds with her samples and such in one of those 2 wheel shopping baskets. She also had some of those nylon net scrubbers that were popular in the 60's. If my sister and I were the only ones home, we'd hide and pretend we weren't there if we saw her coming down the street. My mother had always told us not to be rude. We hadn't mastered the art of graciously but firmly saying no to sales people, so hiding seemed the easiest way out.

---

Name: Carolyn () on Monday, January 17, 2000 at 21:23:01
E-Mail: cjb67@webtv.net
Maiden: Petersen
Class: 67
City and State: Torrance
Message: Just got on the Internet..just found out about this Web page . It's great to see some familiar names.. Hope to stay in touch CJ

---

Name: Myrna () on Monday, January 17, 2000 at 19:00:23
E-Mail: mybizz@thegrid.net
Maiden: Bell
Class: 66
City and State: Coalinga, CA
Message: Dan Oldes - are you a brother to Linda (66)? Three years ago at this time I made the decision to move to Colorado Springs, I love it there. Didn't happen, fell in love instead! Where in the Springs are you located and what do you do there?

---

Name: Debra Lee McGregor () on Monday, January 17, 2000 at 18:28:20
E-Mail: mcgregord@la.lancaster.k12.ca.us
Maiden: Lee
Class: 72
City and State: Lancaster, CA


Message: Hey! Here I am again, a holiday - no work day, and checking in on CT in my office. I swear, I do have a life! Good to read that Pink's doesn't have to be during the week, I think a better turn out would be on a weekend night. Did I read correctly John, that you're going to meet at Pink's on Wed. at 8:30?! It's drizzling here in the good old desert, and after reading CT I'm in a nostalgic mood! Made it down to Redondo Beach pier yesterday and had a great long walk. Hope everyone is rolling in the new year with lots of blessings and memories. Thought I'd try one more time for my brother, does anyone know where Gary Fleming is, class of 67? He had a sister, Debbie, class of 73 or 74. Sure do love this Feedback, thanks again King John. God bless y'all!
Hi Debra, Yes, the next Pinks run will be on Friday or Saturday. Many people are complaining, screaming, and moaning that it's in the middle of the week. That's all I need is a little feedback. We'll see you next time.
---

Name: Kathleen () on Monday, January 17, 2000 at 15:03:38
E-Mail: Spirithart@yahoo.com
Maiden: Nix
Class: 74
City and State: Wilmington, CA


Message: I remember Frankie! She was this tiny bundle of white haired energy that marched with us at every parade. She carried supplies for shining shoes, water for those that needed it and items that the Auxillary might need prior to competition (i.e. hairpins, hairspray, lipstick, etc.). Thanks for bringing that memory back and when you see Frankie again, tell her I said hello!

Kathleen

---

Name: DANIEL OLDES () on Monday, January 17, 2000 at 13:10:05
E-Mail: DDKOLDES@AOL.COM
Class: 1968
City and State: COLORADO SPR,CO
Message: THANKS FOR THE MEMORIES

---

Name: Janice Mastropaolo () on Monday, January 17, 2000 at 12:20:51
E-Mail: emeraldbay@earthlink.net
Maiden: Dorman
Class: 74
City and State: Dana Point, CA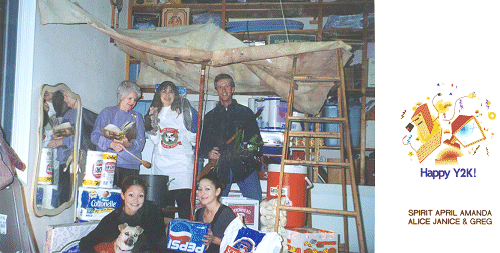 Message:Hi John,
Just wanted to wish everyone a Happy New Year. We decided to spoof all the hysteria that was going on and send this as our Christmas card this year. My Mom, me, husband 2 daughters and the new puppy with our stock pile of supplies. We figured it would be a once-in-a-lifetime opportunity. Next year we'll go back to the traditional family portrait.....maybe!
Hey Janice, Great picture and very clever. Nice to know you really didn't need the supplies. Thanks.......
---

Name: Michael Dragoo () on Monday, January 17, 2000 at 11:57:49
E-Mail: magoo@syix.com
Class: 1959
City and State: Colusa, CA


Message: John,
During a recent visit back to Hawthorne my Mother (hobbled by age but still happy) was called on by the same Avon lady that I remember from the 1950's. Her name is Frankie and she claimed to be 90 years old. The truly remarkable thing was that she told me she volunteered at HHS helping the marching band and drill team. I sat in shock as this tiny 90 year old lady demonstrated all the moves of an 18 year old drum major leading a band. Do any other Cougartown regulars remember this "bundle of energy"?
Hey Mike, I don't remember her, but I bet someone from the band in those years would. Anyone??
---
If you have comments or suggestions, please email me at jb1@cougartown.com