Page 187
Home | 60's Slang | Alumni List | Car Talk | Cougar News | Feedback | Hangouts | Memories
Recollections | Reunions | Street Scene | Teachers | Tributes | Vietnam | What's New | Keyword Search
It's Christmas Music Time "The Boys"

---

---
<!-++++++++++++++++++++++++++++++++++++ADD BELOW THIS LINE++++++++++++++++++++++++++++++++++++ +++++++++++++++++++++++++++++++++++++++++++++++++++++++++++++++++++++++++++++++++++++++++++++->
Name: John Baker () on Tuesday, December 22, 1999 at 01:34:54
E-Mail: jb1@cougartown.com
Class: 62
City and State: Lomita, CA
Message: I just received this email from Ed Chesson HHS63. I had to share it with the group as no one human being should be allowed to laugh this hard, ALONE. Enjoy this one, and thanks Ed for the pain in my side. He writes:
TRUE STORY
The Gift......
Roy Collette and his brother-in-law, Larry Kunkel have been exchanging the same pair of pants as a Christmas present for 11 years - each time the package gets harder to open.
It all started when Kunkel's mother gave him a pair of moleskin trousers when he was in college. He wore them a few times, but they froze stiff in cold weather and he didn't like them. So he gave them to Collette for Christmas. Collette wore them three times, then wrapped them up and gave them back to Kunkel for Christmas the next year.
This friendly exchange continued routinely until Collette twisted the pants tightly, stuffed them into a 3-foot-long 1-inch wide tube and gave them back to Kunkel. The next Christmas, Kunkel compressed the pants into a 7-inch square, wrapped them with wire and gave the "bale" to Collette. Not to be outdone, the next year Collette put the pants into a 2-foot-square crate filled with stones, nailed it shut, banded it with steel and gave the trusty trousers back to Kunkel again.
The brothers agreed to end the caper if the trousers were damaged, but they were as careful as they were clever.
The next year, Kunkel had the pants mounted inside an insulated window that had a 20-year guarantee and shipped them off to Collette; who broke the glass, recovered the trousers, stuffed them into a 5-inch coffee can and soldered it shut. That can was then put into a 5-gallon container filled with concrete and reinforcing rods and given to Kunkel the following Christmas.
Two years ago, Kunkel installed the pants in a 225 pound homemade steel ashtray made from 8-inch steel casings and etched Collette's name on the side. Collette had some trouble retrieving the treasured trousers, but succeeded without burning them with a cutting torch.
Last Christmas, Collette put the pants inside a 600 lb. safe, welded it shut, painted it with red and green stripes and then shipped it off to Kunkel.
This year, a drab green, three foot cube (that used to be a Gremlin with 95,000 miles on it) arrived at Collette's home. A note attached to the 2,000-pound scrunched car advised that the pants were inside the glove compartment.

---

Name: Susan King () on Tuesday, December 21, 1999 at 23:44:58
E-Mail: sueking18@aol.com
Maiden: Bierman
Class: 1974
City and State: Thousand Oaks, CA
Message: Well, the B's are getting a special Christmas gift this year. I just tucked Konnie Krislock in for the night - she arrived this afternoon, made a fabulous dinner and will cook one more time tomorrow night before she continues her Yuletide trek to Northern California.....It's so great to visit again. Also on her little tour was Geno Effler '73, Stephen Nill '74 and some other professional peers from her teaching years. I am so fortunate to have her in my life again. She has commented on the Cougars who have been emailing her and what a kick she gets out of hearing from them. And I get to live vicariously thru her catching up on their lives....Am also looking forward to visiting with all those new/old (?) Cougar duos.....don't forget to sit out under that WILD MOON tomorrow. Another once in a lifetime event -- amazing how many of those have come my way.......
Sue, You're not making Konnie sleep in Stuey's room are you?? She won't get a wink all night.
---

Name: Donald Bennett () on Tuesday, December 21, 1999 at 23:19:38
E-Mail: benn@vom.com
Class: 1961
City and State: Hawthorne Calif
Message: Hello

---

Name: lea harney () on Tuesday, December 21, 1999 at 17:59:19
E-Mail: lea@scti.net
Maiden: little
Class: 79
City and State: hawthorne, ca
Message: want to know who's out there from the class of 79

---

Name: Lisa () on Tuesday, December 21, 1999 at 17:50:16
E-Mail: ledsea123@aol.com
Maiden: Graham
Class: 67
City and State: Ramona
Message: I have never heard of The Redondo Center and I thought all the beach boys were dead. $150-250 to see Brian Wilson wow. Does he have a band or what? KKC I am still home sick
200 bucks isn't bad considering Barbra Streisand wants 2500 bucks for her thing in Vegas. Now THAT keeps out the riff raff......

---

Name: Howard Duran () on Tuesday, December 21, 1999 at 16:14:33
E-Mail: doo4usc@aol.com
Maiden: John Allen
Class: 61
City and State: Lake Forest Ca
Message: Janny Wanny, Would you happen to have a digital camera or a scanner............Hairtoe

---

Name: Bill Snider () on Tuesday, December 21, 1999 at 15:14:21
E-Mail: bill.snider@westgroup.com
City and State: San Francisco, CA
Message: Cougars: I graduated from Lennox High, class of '63, and am trying to locate childhood pal who graduated from Hawthorne that year: Steve Smith. Would appreciate any leads. Thank you.

---

Name: Roni Kobel () on Tuesday, December 21, 1999 at 14:14:21
E-Mail: rskobel@aol.com
Maiden: Treckman
Class: 76

Message: Hi, everyone! The craziness of life seems to get in the way of Cougartown sometimes, but I had to check in to wish you all a very Merry Christmas, and a safe new millenium!
Thanks Roni, I know the feeling. You and your family have the very same.
---

Name: Betty Rodriguez () on Tuesday, December 21, 1999 at 12:37:36
E-Mail: tombetty@kelp.net
Maiden: Kean
Class: 69
City and State: Lake Elsinore, CA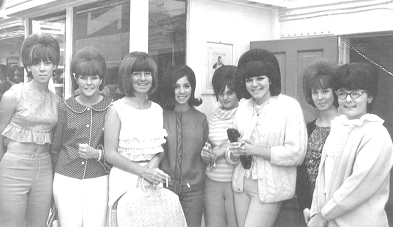 Message: Danny Petty- I wasn't even in high school yet, but that Senior Ditch Day Picture has Nita Roberts, Nancy Gerand and Linda Fleming! Nancy Kae, list the rest, okay? Betty OK Betty, Here they are.....
From left to right, Nita Roberts, Nancy Gerend, Nancy Kluxdal ,(Olivia) Livy Arias (wife of Beatle, George Harrison), Linda Fleming, Linda Lopez, Mary L'Homme, and Diane Bottecelli.
Thanks to Nancy Kluxdal Theveny for the picture.
---

Name: HO HO HO () on Tuesday, December 21, 1999 at 10:44:05
Message: Some Cougars do think alike, even when their year's and mile's apart 59/65 Calif./Germany. John I found a place for that shift kit, next to my Wilson s/b chevy cam. Yes I do have one. Don't tell me where to put it, it's on a shelf where it can't do any harm.
HAPPY HOLIDAYS TO ALL
Ah Yes, The famous Demsey Wilson "Rubber Lobe" Camshaft. A shelf IS an excellent place for that particular model. Thanks Jerry and have a great holiday yourself.
---

Name: MYTMO () on Tuesday, December 21, 1999 at 10:28:47
E-Mail: momo90250@aol.com
Maiden: Trott
Class: 64
City and State: City of Good Neighbors
Message: Boy do we have a lot of smart cougs....STAMP is the answer :0)
Hey Mo, I'm not sure if it's intelligence or longevity. My grandmother shared that one with me in 1953.

Thanks and have a Super Holiday.
---

Name: DAN PETTY () on Tuesday, December 21, 1999 at 02:15:47
E-Mail: DODGE4U2@AOL.COM
Class: 1965
City and State: SANTA ANA, CA
Message: RE: SENIOR DITCH DAY FLICK.....WOULD THESE BE THE IMAGES OF DIANE BOTTICELLI, LINDA LOPEZ, DONNA MARLIN, NANCY KLUXDAL, AND OLIVIA AIRES.....DEANO, HELP ME OUT HERE!
Hey Dan, Yes, I think you've got it. Thanks.......
---

Name: Mike Wilking () on Tuesday, December 21, 1999 at 01:57:43
E-Mail: mnwilking@t-online.de
Class: 65
City and State: Germany
Message: MoMo: A STAMP is always in the corner and travels around the world.

---

Name: HO HO HO () on Tuesday, December 21, 1999 at 01:31:48
Message: HEY DIDDLE DIDDLE IS A STAMP THE ANSWER TO YOUR RIDDLE?

---

Name: Keith D.Jones () on Tuesday, December 21, 1999 at 00:37:37
E-Mail: cmi50@yahoo.com
Class: 76
City and State: Las Vegas, NV
Message: Well Merry Christmas to Dave, Dad, Big Dale, The Biermans, The Valencia's, The Stories, Faelin, Cindy, Diane L., Barbara Duran, Sherrie Cook, Shannon, Don, Coach Minami, Big Bill Sloey and everyone else out there. The years have been good and it looks like there getting allot better. Be safe. And John, you're the best man. You've reunited me with many friends and i know you've done the same for many others. You've made everyday for us Cougars like Christmas. Everytime I sign on its like opening a present and not being able to wait to see what's inside. So Merry Christmas back at you big guy you deserve the biggest gift of all. The old saying "It's better to give than to receive" makes what you do everyday the biggest present of all. Mele Kalikimaka
Thank you Keith, I do appreciate that. Merry Christmas to you too, and to all our Cougar brethren.
---

Name: Lora Zevallos () on Tuesday, December 21, 1999 at 00:19:18
E-Mail: lora@home.com
Maiden: Maynor
Class: 77
City and State: Coto De Caza, CA
Message: Hello Sharon Good to hear from you. Yes I remember Tina well. Though I don't remember being a fast runner. I wish I still ran fast. Have a great holiday.

---

Name: Dave Krikac () on Monday, December 20, 1999 at 19:19:52
E-Mail: dadkrikac@aol.com
Class: 76
City and State: Franklin, Tennessee
Message: Merry Christmas All! Hey Bistolas, Vickers, Jonesey, Hewitts, Hallbecks, & John...Thanks for all the fun. Hope you all have a Safe and Blessed Christmas. Hey Kelley Currie (1967) I remember you babysitting all of us. I think the Estrada's helped out as well didn't they? Hey Paul lives in Westchester CA and Karen lives in Temecula. Good to hear from you. Give Chuck a Noogie.

---

Name: Patty Valencia () on Monday, December 20, 1999 at 17:09:29
E-Mail: pvalencia2@aol.com
Class: 1974
City and State: palos verdes, ca
Message: Good tidings to all!! Haven't much time to be checking out CT lately, but had to shout out some holiday greetings. John, thanks for the continual reunion. Each time I visit I feel like one of those retirement home seniors in that Twilight Zone episode who gets a chance to actually become a kid again. The kids and I are home for the holidays now and the pre-refurbishment home is as ready as it's going to get for the holidays. Gloria and Cynthia (and families) are going to make it out here for short visits as well as my best friend Sharon Netherton and her daughter Cori. Best wishes to the new CT couples - it sounds like the early 60's crew rule in romance. :0) Merry Christmas all!
Patty
Thanks Patty, You and yours have a great holiday season.
---

Name: Judy DeGrazia () on Monday, December 20, 1999 at 15:18:51
E-Mail: Redondo612@aol.com
Maiden: comegetmeJanny!
Class: 64
City and State: Torrance, CA
Message: OK Janny Blomsterberg. COUGARTOWN's ready for you and so am I. Regarding leaving that prom dress on ..well, mom sewed it right onto me 37 years ago...(it hurt too) I only have a problem in the shower. So come get me babe..let's make magic! I'm off like a prom dress...just not mine. Safe Holidays to all!!! See you CRUISE NIGHT II. Judy Wudy.. THE ROWDYS.

---

Name: Kathleen Griffin () on Monday, December 20, 1999 at 14:48:31
E-Mail: CT_Helpdesk@yahoo.com
Maiden: Nix
Class: 74
City and State: Wilmington, CA
Message: To Harbor City Harry,
I haven't forgotten you. I ran into some car problems. I'm reasonably sure that you are going to be fine come Dec 31, I'll try to arrange to come by this week. I'll call first as usual.

---

Name: Thom Twitchell () on Monday, December 20, 1999 at 13:00:46
E-Mail: Thomtwitch@yahoo.com
Class: 81
Message: Love the site! It brings back so many memories. Im glad my sister Laura told me about it. Keep up the good work
Welcome aboard Thom........
---

Name: MYTMO () on Monday, December 20, 1999 at 12:53:10
E-Mail: momo90250@aol.com
Maiden: Trott
Class: 64
City and State: Hawthorne,CA
Message: RIDDLE FOR THE DAY:
What is always in the corner and travels around the world?

---

Name: Karen () on Monday, December 20, 1999 at 10:10:25
E-Mail: HAPPYBIRTHDAYWISH
Maiden: Hare
Class: 66
City and State: Anaheim, Ca
Message: I would like to wish my son Casey McLure a HAPPY 28th BIRTHDAY.... We Love you Casey, Mom and Ron

---

Name: Elizabeth Castanon () on Sunday, December 19, 1999 at 23:02:55
E-Mail: lizcastanon6@hotmail.com
Maiden: Cary
Class: 1973
City and State: Amarillo Tx
Message: Hello COUGARS AND COUGARETTES. Just a quick note to wish one and all a very merry Christmas and a very happy New Millenium. A few quick questions: Why would they choose to tear down the Hawthorne Mall; Debbie McGregor, Have you found Debbie Hill Warren for me yet? Wish I could be out there enjoying Christmas in Cali again. I too remember going downtown to LA to see the fancy Christmas windows in Bullocks and May Co. etc. Brings back lots of wonderful memories of a great childhood. Will talk to you all soon Liz

---

Name: Kelley () on Sunday, December 19, 1999 at 22:40:45
E-Mail: bigkell50@yahoo.com
Class: 67
City and State: Coos Bay (on the Bay)
Message: The picture of Prince Robin and the lovely Ladies. Shelia Hood (sister-in-law) and Annie Schoeder. Mrs. Jim. I believe that is when he was know only as Butch. Hey what about Brian Wilson at The Redondo Center . $150-$250 a pop. Do Cougs get a discount??? Hi Lisa glad you added a little to Feedback.
Hi Kelley, Yes, you've gottem in the picture, and sorry no, Cougs do not get a discount.
---

Name: Jan Blomsterberg () on Sunday, December 19, 1999 at 11:21:23
E-Mail: eblomsterb@aol.com
Class: 61
City and State: Denver, CO
Message: To John and all the mighty Cougars...wishing everyone a joyous holiday season and may the new millennium make all your dreams and wishes come true, it looks that way for us. Queen Rowdy, would you please keep that prom dress on a bit longer, phase III is approaching quickly...and I'm coming to get you! Will by seeing many of you soon. My best wishes to you all, Jan
OK Jan, We'll be listening for the screaching of tires, as you come to a rapid halt in front of that 190th St address. Have a safe trip.
---

Name: Sharon MacDonald () on Sunday, December 19, 1999 at 10:15:03
E-Mail: rmac@genevaonline.com
Maiden: Badger
Class: 63
City and State: Burlington (Chocolate City, USA), Wisconsin
Message: Merry Christmas and Happy Y2K New Year to all Cougars and Cougarettes! Here in Southeastern Wisconsin we are experiencing our first real touch of Winter. My truck resembles a rolling salt block and I have started carrying around boots, a down vest, blankets, and other assorted survival items. I wish I were anywhere with a warmer temperature. If I were closer to Pasadena, I would volunteer in a heart beat to help decorate those Rose Parade floats. In '63 or '64 I helped decorate the City of Torrance float and look at that as one of those unforgettable memories. One word of warning - don't sit in wet glue - don't ask, just don't do it.
Hi Sharon, Yeah, it's pretty rough here too. I was out at 7:30 this morning washing MY truck in my Cougartown Tshirt and I actually had to put on a long sleeved shirt. It was pretty cold (about 60 degrees). These California winters ARE brutal.

Have a great Holiday Sharon.......
---

Name: Santa Claus () on Sunday, December 19, 1999 at 00:25:12
City and State: North Pole
Message: Ho, ho, ho, it's Santa here again. To all Cougs, I will be sneaking into a pancake breakfast tomorrow near your fine school. Not dressed in my traditional red and white outfit. Oh no. You see I was on one of those diets this year. Lost most of my pot belly and it wouldn't be good to show up on the 24th trim and fit. So, a dozen of the VFW flat jacks should fill me right out. Hope to see 'ya all there. And don't look for the white beard. That fell out decades ago, I always wear a phony one. Well, never mind that, have a great Christmas and a Happy New Year.
And so to get there by 10AM I am off like a prom dress...no ah, I mean, never mind.
Santa
OK Santa, We'll see you there at 10am sharp. To prove it's really you, please bring us all lots of presents.

Thanks in advance........
---

Name: JIM SLOEY () on Sunday, December 19, 1999 at 00:24:11
E-Mail: idhavewishedhimahappybirthdaybutwhoknowswhereheis.com
Maiden: hoodson or hoodscousin
Class: 66
City and State: rb,ca
Message: Happy birthday Robin, I know its late and at our age it shouldn't be. Beautiful art work Jake! Thanks for the note Santa, I liked the movie, Santa ClausE! Barbara Duran you and the sistas will not be there for cruise night, don't be puttin' us all on again! Royal, check in once in a while. Hope everyone has a very Merry Christmas! Sloey

---

Name: Tom Sirotnak () on Saturday, December 18, 1999 at 22:37:03
E-Mail: CTOMFISH@AOL.COM
Class: 66
City and State: Banning, CA
Message: WOW been out of High School for 33 years; time flies...

---

Name: renee cook () on Saturday, December 18, 1999 at 20:01:49
E-Mail: reneecook@webtv.com
Maiden: hopkins
Class: 86
City and State: lawndale,ca
Message: hello to the class of 1986!

---

Name: Ricki Farrell () on Saturday, December 18, 1999 at 15:27:11
E-Mail: farrell8@worldnet.att.net
Maiden: Valencia
Class: '61
City and State: Fullerton, CA

Message: We're leaving on Tuesday for Christmas in Tucson and Phoenix. I hope that the weather is more Christmassy there than it is here. All of this feedback brings back memories of Christmas in the 50's and 60's when store windows were the biggest attraction in town. Especially so in Los Angeles. My parents used to take us and the scenes were so beautiful and well done. I also remember in high school trying to scrape up enough money to buy all of my friends a gift. With 5 bro's and sisters, we had to draw names. I was usually left with a nickel in my purse to buy a Snickers bar. I wish everyone and all cougars in particular a very special Christmas and a prosperous and healthy 2000. Love to all, and a happy belated birthday to you Prince Robin.
I remember the animated store windows too. I think Sears in Inglewood had them too. Thanks Ricki. You three have a wonderful Christmas and we'll see you on Cruise night.
---

Name: Lisa Dulin () on Saturday, December 18, 1999 at 08:19:32
E-Mail: ledsea123@aol.com
Maiden: Graham
Class: 67
City and State: Ramona, CA
Message: I want to wish everyone a Merry Christmas and a happy Y2K.

---

Name: Your Cousin () on Saturday, December 18, 1999 at 02:11:56
Message: Hey Butch...Happy birthday.... The firm of Culling, Fraser, McKenna, Seematter.

---

Name: Jerry Miles () on Friday, December 17, 1999 at 23:23:58
E-Mail: jfmiles@pacbell.net
Class: 66
City and State: Where Two Rivers Meet
Message: OK, with all the Ditch Day pictures around lately reminded me of our (Class of '66) outing. It seems that the city of Avalon, which is policed by LA County, had a rule that you could not leave the island if you owed a fine (at least that's what they told us). Well some of their rules like you had to walk your bike and not ride on the main street did not set well with some of our more free spirited Cougs. I remember well, toward the end of the day people going around asking (begging) for donations to bail out some of our classmates. Now the group that took the rental boats and played "Sink the Bismarck" may still be there. However, we bailed most of our classmates out. I wish everyone a happy and safe holiday.

---

Name: Janet Burkett () on Friday, December 17, 1999 at 21:59:56
E-Mail: jburkett@compaq.net
Maiden: Humphreys
Class: 62
City and State: Mission Viejo
Message: HAPPY BIRTHDAY TO YOU, HAPPY BIRTHDAY TO YOU, HAPPY BIRTHDAY PRINCE ROBIN.....(ok, so I can't sing)....All the best on your special day. Can't wait til we all get together again. SOON! JB(the female version)
I can smell the Pinks Chili now......
---

Name: John Baker () on Friday, December 17, 1999 at 21:25:13
E-Mail: jb1@cougartown.com

Class: 62
City and State: Lomita, CA
Message:I just have to show you all what I received in the mail from EL and the ID QUEEN today. What a Surprise!! I didn't even know that EL was an artist, but this is GORGEOUS and the picture does NOT do it justice. This will go in a place of honor in the new Cougartown office. EL and ID, thank you so much. Hey, I don't know if you do this on a commission basis, but it might not hurt to start. (place commercial here)

If any of you Cougs would like to know more about "Cougourds"® and "Cougart"®, please contact Russ and Judi Jacobsen at jakejude@aol.com
I was truly touched be this gift, now I really mean that. Thank you both for your Cougar generosity.

---

Name: Frank A. Romano () on Friday, December 17, 1999 at 20:58:30
E-Mail: fromano@lvcm.com
Class: 1961
City and State: Las Vegas, NV.
Message: Happy Birthday "SHY" Prince Robin. HERE! HERE! May your Bow never falter, may your quiver always and all ways remain quivering, and may your hand guide each arrows flight to be true! No matter what you may be shooting at! When you have a minute, you may want to explain to us slow learners about this shy stuff? There's a rumor adrift that ROWDY Queen Judy may be offering a bill of fare of a more solid variety soon. Tales of old document that Pinks Chili Dog 'after burners' beat the heck out of the fabled Green Blended meals Du Jour. Most of all, have a very Happy Birthday. RCG, Frank.
Hey Frank, compared to Judy, Don Rickles is shy. Happy Birthday Robin........
---

Name: John Baker () on Friday, December 17, 1999 at 20:35:59
E-Mail: jb1@cougartown.com

Class: 62
City and State: Lomita, CA
Message:Here's our Cougartown birthday boy about 50 or 60 years ago, at his 25th birthday. He has a couple of gender reciprocals with him and I'm wondering if anyone can name them? I know one's a Coug. Good Luck

---

Name: Jim West () on Friday, December 17, 1999 at 19:56:08
Class: 61
Message: Merry Xmas and a Happy New Year. Jim/Sandy West
Hey Jim, MCANDHNY to you and Sandy too. Glad to see you're back in the group. Now if we can just locate Royal and EL.
---

Name: The real "Santa Clause"

() on Friday, December 17, 1999 at 19:39:00
City and State: The North pole

Message: So, someone thought they could shoot Santa and stop Christmas. Well it's been tried before. That's why I send out several decoys before the 24th. Nice try, but you'll have to do a lot better than shooting a decoy to stop a trillion dollar business. I didn't like this guy anyway. The decoy. He was always complaining throughout the year about wanting to leave a few days early, well he did and you know what happened. He was also a democrat. Not a big loss in my book. The reindeer, now that was painful. Besides, what would all those smiling little faces do on Christmas morning? If Santa didn't show up? Oh yes, and the wife, well she says I been a bum for centuries because I only work one day a year.
Have a good one.
Santa
Well Santa Claus"e", If you're the REAL ONE, why did you misspell your last name? I think maybe YOU'RE a decoy too. Someone bring me my aught six.
---

Name: Dan () on Friday, December 17, 1999 at 18:36:12
E-Mail: wch1ispink@aol.com
Maiden: Johnson
Class: 77
City and State: Pasadena 12/18
Message: Dianna (re: Bill et al.) if you only knew what was going down in the late 1970s! Anyway, EJ played our 20 year reunion along with Silent Rage (now Band X). My now ex-wife experienced moisture as result. His band still sounds pretty good. I'd go tomorrow, but Which One's Pink? is playing a strip club in Pasadena (it is very incongruous to play such psychologically heavy music in a place like that). However, Band-X plays quite a bit and you can get on their e-mail gig announcement list by sending an e-mail to ItsACurse@aol.com. You can get on the Which One's Pink? mailing list by sending me an e-mail.

---
If you have comments or suggestions, please email me at jb1@cougartown.com