Page 186
Home | 60's Slang | Alumni List | Car Talk | Cougar News | Feedback | Hangouts | Memories
Recollections | Reunions | Street Scene | Teachers | Tributes | Vietnam | What's New | Keyword Search
It's Christmas Music Time "The Boys"

---

---
<!-++++++++++++++++++++++++++++++++++++ADD BELOW THIS LINE++++++++++++++++++++++++++++++++++++ +++++++++++++++++++++++++++++++++++++++++++++++++++++++++++++++++++++++++++++++++++++++++++++->
Name: Barbara Duran () on Friday, December 17, 1999 at 17:51:25
E-Mail: bjd2354@aol.com
Class: 72
City and State: El Segundo CA
Message: Debbie Lee McGregor, I'll be there for sure Cruise Night. I'm looking forward to seeing you again after all these years. Enjoy your time away from work & Happy Holidays to you!

---

Name: DIANNA LIBERTINI () on Friday, December 17, 1999 at 16:47:52
E-Mail: KRSINT@GTE.NET
Maiden: SAME
Class: 78
Message: HI DAN JOHNSON. NO TIME TO CHAT LATELY. I SAW YOU GOT A HOLD OF ROBERT SANCHEZ. HI ROBERT! WHATS UP WITH YOU. GIVE ME A CALL @310-808-0362, LOVE TO HERE FROM YOU. KEITH JONES, NICE PICTURES WITH ALI. YOU STUD YOU! SORRY I COULDN'T CALL YOU BACK THAT DAY BUT GOT BUSY. ARE YOU STILL THINKING OF RENTING YOUR CONDO FOR THE WEEKEND IN VEGAS? IF SO, I MAY BE INTERESTED. CALL ME AND LET ME KNOW. BILL WADMAN, I'M STILL WAITING TO HERE FROM YOU. BUT IF YOU E-MAIL ME BE CAREFUL WHAT YOU SAY. MY BOSS SOMETIMES GETS THE MAIL BEFORE I. BE NICE! SURE DO MISS YOU. I WAS GOING THROUGH SOME OLD LETTERS FROM '85' THAT YOU WROTE TO ME. BOY, HOT STUFF! I NEEDED A COLD ONE AFTER READING THAT. YOU MUST OF HAD IT BAD FOR ME. I WAS FLATTERED ALL OVER AGAIN. I STILL LOVE YOU AND ALWAYS WILL, PLEASE CALL SOON. HI LOU LOU. FOR THOSE OF YOU LOOKING FOR ERNIE CURSIO, HE WILL BE PLAYING AT JIM BAR & MELODY IN WESTCHESTER ON SATURDAY 12-18-99. COME ON DOWN, HE NOT ONLY SOUNDS GREAT, WAIT TILL YOU SEE HIM. ONE GOOD LOOKING GUY HE IS. WELL, BY FOR NOW.

---

Name: Paul Schabow () on Friday, December 17, 1999 at 15:26:12
E-Mail: pschabow@yahoo.com
Class: 1980
City and State: Colorado Springs,CO

Message: I attended HHS for my junior and senior years. My favorite teached was my Science fiction reading teacher Mr. Gaier. I believe thats how he spelled it. This man really ignited my love for reading. He retired the same year I graduated, 1980. I wonder what happened to him. Does anybody know. Anyways HHS was a great school, even though I was usually stoned. I did enjoy the two years I was there. Thanks HHS for the memories.
Hi Paul, I don't know where Mr Gaier is today, but I too thought he was a pretty cool guy. Here's a picture of him from the 1955 El Molino. I believe he started at HHS in the 53-54 school year.
---

Name: Judy DeGrazia () on Friday, December 17, 1999 at 12:27:41
E-Mail: Redondo612@aol.com
Maiden: sleeplessinTorrance
Class: 64
City and State: Torrance, CA
Message: So..one of our ROWDY'S is having a birthday..SHY ROBIN HOOD!!!! I think I've already given you what you wanted this year. (don't go there John) and it keeps getting better. (ah-ahh John) Your Sadie loves you and all systems are go. I'll start making the toilet paper carnations for the VFW Hall. I've got the dress hanging on the back of the bedroom door. I'm getting the Ripple punch bowl ready-- Happy Birthday Shy Guy.. I love you..Mississippi River.
Now, I'm off like a prom dress.
Judy DeGrazia THE ROWDYS


---

Name: John Baker () on Friday, December 17, 1999 at 10:55:29
E-Mail: jb1@cougartown.com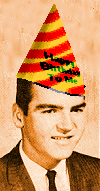 Class: 62
City and State: Lomita, CA
Message:A special Birthday Wish for one of our group.
Happy Birthday to you,
Happy Birthday to you,
Happy Birthday dear Prince Robin,
Happy Birthday to you.

---

Name: Debra Lee McGregor () on Friday, December 17, 1999 at 10:15:12
E-Mail: mcgregord@la.lancaster.k12.ca.us
Maiden: Lee
Class: 72
City and State: Lancaster, CA
Message: Hey I've got a real dilemma here. I check into Cougartown everyday, but it's through my day job. Now I'm taking two weeks off (that's not a dilemma), but I won't be able to check daily into Cougartown. I really need a home computer, and John, maybe you could add a "click here" if any cougs would like to contribute to "Debra's Home Computer Fund", so I wouldn't have to go to my office to read feedback. I hope everyone out there has a safe and blessed holiday - drive careful, party hearty, and keep Christmas in your heart. John, you made the latter part of 99 really fun when I found this site. Pink's was fun, great to see Mom B and Sharon, and to meet a lot of new friends - I look forward to Cruise Night. Barbara Duran - try to make Cruise night. Noreen Crotty and I plan to go. It would be fun to see you. (ok, maybe I'll have to check in at least twice during my vacation, withdrawals are the pits. I have a feeling the computer fund won't pan out) El Rojo, hang in there, it's more than worth it! Judy D - reading your feedback is a rowdy blast. Alan, thanks again for the t-shirt logo, great job. Looking forward to 2000 -no Y2K problems with Cougartown! Happy Holidays, Merry Millennium and God bless us everyone - Go Cougs ...
Man, that IS a dilemma. Maybe you could talk to your boss and see if she'll let you work through the 2 weeks you have off so you don't miss anything in Ctown.

YEAH RIGHT!!!
Thanks Deb, for being out there. Don't worry about us as this is a real slow feedback time of year. You'll only waste the first week back, catching up. Have a wonderful holiday and we'll see YOU on the 8th of January.
---

Name: Linda Dietrich () on Thursday, December 16, 1999 at 22:38:50
E-Mail: leonard-linda@juno.com
Maiden: Dawson
Class: 69
City and State: Kansas City, Missouri
Message: Welcome Larry Holmes to Cougartown. Missed you at our 30 yr. reunion. I just want to wish everyone out there in CT a very Happy and safe Holiday Season. It's a little cold here in Missouri but not much snow. Been here almost 14 yrs. now and the weather is getting milder as we go along. I want to wish Danny Pressburg a Happy 50th Birthday!! Sorry I will have to miss your party. I'd be there if I could.

---

Name: JIM SLOEY () on Thursday, December 16, 1999 at 20:14:49
E-Mail: funnyweneverget allthescoresallthetimewhenitain'tright.com
Message: Late score from Division 1 football final last Saturday night, surprising we have not had this score earlier but transmission, Christmas, etc.
MATER DEI 21 lbpoly wabbits....... I'll save you the embarrassment BOB

---

Name: Karen () on Thursday, December 16, 1999 at 20:14:04
E-Mail: MERRYCHRISTMASTO ALL
Maiden: Hare
Class: 66
City and State: Anaheim, Ca
Message: To all you Cougars and Cougaretts: Volunteers are needed to help decorate the Dr.Pepper float and Arco float for the Rose Parade. Two good friends of ours, Al Ezra (Arco) and Tim Holland (Dr.Pepper) supervise the decorating of these floats. If you have wanted to do this in the past but never did, now would be a perfect time for the year 2000. It is a great experience and a lot of fun, plus you meet a lot of nice people from all over the states. Decorating starts Dec. 26 , 8:00 a.m till about 11:00 p.m thru the morning of Dec 31st. Come anytime between those hours and days. The two most critical days they need a lot of help is Dec 29th and 30th. So if you are up to it PLEASE come on down and bring the whole family, and be ready to work and have a good time. I am waiting to get the directions, and as soon as I do I will have John put it on CT. If you have any questions please feel free to e-mail me at lilkahu@pacebell.net Now I would like to wish everyone a MERRY CHRISTMAS and a SAFE and HAPPY NEW YEAR..:o) Thanks John and everyone for all the wonderful memories on this site, they have just been wonderful.
Angel K
Thanks Karen
---

Name: Frank A. Romano () on Thursday, December 16, 1999 at 20:10:56
E-Mail: fromano@lvcm.com
Class: 1961
City and State: Las Vegas, NV. 85 and sunny
Message: During a different life time, I use to visit Minneapolis a few times a year. Those where when I would be known to have a cocktail or two. I made a habit of staying downtown at the old Cap Towers. It was at 1313 Nicolet avenue. The hotel would provide a wake up call giving the time and outside temperature. In those days the wake up calls where delivered by a real person, not automated. It was late January. My wake up call arrived. "Good morning Mr. Romano, its 7 AM and its -15 degrees outside." My response was simple. Please call back in June. I contacted my days appointments, and catered a lunch meeting for everyone at the hotel. Worked out well. Tony thanks for the memory jolt.

---

Name: MYTMO () on Thursday, December 16, 1999 at 18:20:03
E-Mail: momo90250@aol.com
Maiden: Trott
Class: 64
City and State: Hawthorne


Message: Since alot of people will probably be taking time off next week for the holidays, I would like to take this opportunity to WISH EVERYONE A SAFE AND HAPPY CHRISTMAS AND NEW YEARS (remember: Don't Drink and Drive :o)) and also a last thought for 1999 that you can bring to 2000: "LET NO ONE EVER COME TO YOU WITHOUT LEAVING BETTER AND HAPPIER" Always be a Coug....love you maddly JB/JB, RH/MR, JD/JB. MYTMO (the happy one)
Yes, The only time you should drink and drive is if you're playing golf. My sentiments exactly Mo, and we love you too. JB (the larger one)
---

Name: Kathleen Griffin () on Thursday, December 16, 1999 at 18:07:00
E-Mail: CT_Helpdesk@yahoo.com
Maiden: Nix
Class: 74
City and State: Wilmington, CA


Message: John and all Cougartown folks. The most reliable source for virus information I've found is www.symantec.com. If you want to know about the hoax connected to the elf bowling (a game I love) executable go to http://www.symantec.com/avcenter/venc/data/y2kgame.hoax.html
Thanks Kathleen......I elf bowled a 79 once.
---

Name: Judy DeGrazia () on Thursday, December 16, 1999 at 17:11:08
E-Mail: Redondo612@aol.com
Maiden: BLUEFLAMERcaper
Class: 64
City and State: Torrance, CA


Message: SO..Deano.. you're gonna bring up that "Blue Flamer" caper thingy again.. I got in big trouble for that one, ya know-thought it was dead and buried...and there--it hits me in the face again..(don't go there John) Looks like Prince Robin has once again joined us ROWDYS.. now the fun begins all over again.. See you all at VFW BREAKFAST Sunday-Dec 19th-10:00 A.M. 2 eggs/sunny side up for me.!!! and yes Mom B.. I'M OFF LIKE A PROM DRESS.. (sorry John, couldn't pass it up)
Judy DeGrazia THE ROWDYS.
YES.....The VFW breakfast is this Sunday at 10am. I will be there, if only to thwart the Rowdy's evil plans. Also, I owe Robin a breakfast. It's on 131st between Ramona and the Bl. Be there if you can.
---

Name: Barbara Duran () on Thursday, December 16, 1999 at 14:25:04
E-Mail: bjd2354@aol.com
Class: 72
City and State: El Segundo CA

Message: Hey John,
I just wanted to "Thank You" one more time for this terrific web page you've created. Good job!!
Hi Barbara, It's my pleasure. I could not imagine, when I first started the site, what it would turn into. I couldn't have planned it like this. I just love seeing everyone joining in and reuniting with each other. Thank YOU for being a part of this whole thing. Every day there's a new surprise.......
---

Name: Linda Stevens () on Thursday, December 16, 1999 at 13:50:57
E-Mail: lstevens@arapahoe.edu
Message: Does anyone know anything of Bill Thomas (William Fredrick Thomas) class of '62, '63, or '64. Sure would appreciate any news. Thank you.

---

Name: Dan Johnson () on Thursday, December 16, 1999 at 13:37:14
E-Mail: wch1ispink@aol.com
Class: 1977
City and State: Pasadena, California
Message: Hello Robert Sanchez! 77 just keeps rolling along in Cougartown!

---

Name: Alan Nelson () on Thursday, December 16, 1999 at 12:19:25
E-Mail: anelson@redrivernet.com
Class: '73
City and State: Parker, Az
Message: Good advice on the Virus caution. If anyone has concerns about "Elf Bowling" "Frogapult" or other games from NVISION can get the real story here: http://www.symantec.com/avcenter/venc/data/y2kgame.hoax.html This is also a good resource for all the virus rumors and hoaxes going around. Elf Bowling is safe. "ELF ELF BABY"
Yes, before anyone takes it upon themself, in a well meaning way, to save everyone on your email list from certain viral doom, please check out the above site. Actually there are many good sites for getting the REAL story on these hoaxes. Hoaxes are sometimes more trouble than the virus. People who don't have the programming ability to write a virus will start hoaxes just to see how long it takes to cause a panic.
"Is that all the balls they've got, Santa !"

---

Name: Tony Frink () on Thursday, December 16, 1999 at 10:43:01
E-Mail: tfrink@spacestar.net
Class: 78
City and State: Glyndon, Minnesota
Message: It's 10 degrees below zero with a wind-chill of 40 below. Any Cougs out there want to earn an extra buck or two by blowing snow for me? 2 hour job, although overtime will be paid if you agree to scrape ice off of driveway. I'll even throw in a Super Deluxe Burrito down at El Tarasco's (inclusion of a Pink's hotdog is negotiable).
Note: Employment does not include health benefits or workman's comp, so any cases of frost bite, pneumonia, frozen noses, ears or other bodily appendages will not be covered by employer (i.e. do not attempt to pee in the snow at 40 below). Otherwise, the benefits are great (employer provides all the peppermint schnapps that you want following completion of said job). Employee responsible for all travel expenses to and from job site (Northworst Airlines offering discount fares to and from L.A.). Resumes not necessary - employer will instruct you in the fine art of walking behind a snowblower while the wind freezes your nasal drippings to your face.
Also employee has to wear a Cougartown T shirt, while performing said job.
---

Name: Lynn Jax () on Thursday, December 16, 1999 at 09:40:55
E-Mail: jax@svusd.k12.ca.us
Maiden: Jax
Class: 65
City and State: Laguna Beach, CA
Message: Received e-mail about reunion 2000 for class of '65 from Lucy and was told to respond at Cougar65@aol.com by Dec. 12, but aol can't locate the site. Anyone have any suggestions as to how I can find out about the reunion plans? Lynn Jax
Hi Lynn, I just called the school and they haven't heard anything. I will check with the 65 reunion committee and see what's going on. I'll let you know.
---

Name: Robert J. Sanchez () on Thursday, December 16, 1999 at 01:07:08
E-Mail: rjs_2000@msn.com
Class: 1977
City and State: Austin, Texas
Message: My Sister Diana (Class of 75)told me about this website and I really enjoyed it! Made me laugh!
HHS a great place, during a great period.
Take care!
Robert

---

Name: deano () on Wednesday, December 15, 1999 at 23:22:59
E-Mail: youknow
Class: 65
City and State: tustin ca
Message: hey judy d (as in the rowdy queen) i thought you had already had given j.b. his nickname from the pinks night out somehow blueflamer keeps coming to mind.

---

Name: Kathleen Griffin () on Wednesday, December 15, 1999 at 19:38:26
E-Mail: CT_Helpdesk@yahoo.com
Maiden: Nix
Class: 74
City and State: Wilmington, CA
Message: It is anticipated that between now and the New Year there will be an overwhelming threat of computer viruses, especially those that imitate Year 2000-related software problems. Because of this serious, credible and increasing threat, I recommend that you do not send or receive any files with the following extensions until after the first week of January 2000. If an email with executable attachments (files ending in ".exe," ".bat," ".com" and ".vbs" or "zip") is sent to you, be aware that it could contain a real threat to your computer. Practice Safe computing this Holiday Season. Happy Holiday's Cougars!
Great advice Kathleen. This is when all the virus goonies come out to play so to be forewarned is to be forearmed. I know there's a lot of talk about elf bowling, and a Christmas day virus that's attached to it. I can't get an answer to my question from the company, so I choose to eliminate it. Not very good at it anyway.


Again, if any of you have an Internet, or computer question or problem, please email Kathleen at the email address above and she will gladly help you. Thanks Kathleen.......
---

Name: Kristi Pealo () on Wednesday, December 15, 1999 at 02:08:18
E-Mail: kpealo@hotmail.com
Maiden: Perkins
Class: 89
City and State: NAS Lemoore,Ca
Message: Ronda Ronda Ronda!!! It is about time you got online! I miss ya babe! Now you have no excuse with keeping in touch alot more. Do you like your computer? Well Welcome to Cougartown, NOT too many people from our class checks in on feedback. But we know they are out there somewhere!!! I Love you man!!! Keep in touch okay. I will be in Hawthorne sometime around the 21 at the earliest. See you soon.~~~Kristi

---

Name: Mike Wilking () on Wednesday, December 15, 1999 at 01:43:12
E-Mail: mnwilking@t-online.de
Class: 65
City and State: Germany
Message: Your foursome picture also contains MoMo and Coco Trott.
Yes, you're correct Mike. It's the Trott twins.
---

Name: Elizabeth Castanon () on Tuesday, December 14, 1999 at 23:47:56
E-Mail: lizcastanon6@hotmail.com
Maiden: Cary
Class: 1973
City and State: Amarillo Tx
Message: HI JB and gang. In response to your last footnote JB, what do you mean the mall is OUT??? Don't tell me that they have torn down the mall. I have never heard of anyone tearing down a mall. Please clarify. Also to regress a little. Jan Dorman, if you are out there I hope you got my email that I sent but I fear that perhaps you have changed your email address. If you have and did not receive my email, I just said hi and asked if you remember me from drill team. If so please respond on feedback or email me. Well I wonder what other wonderful places from my childhood are gone. Please dont tell me Chips is gone or the little coffee shop over by the mall on the corner of El Segundo and Boulevard. What was it called. Oh well, hi to all and hope to see you all down the road some time. Liz
The Mall is closed, but not torn down YET. Dee's Coffee Shop is torn down and there's an Albertsons Market plus a few more things on that end of the mall. All that is on the northeast corner of El Segundo and the BL. is brand new. Yes, Chips is still alive.
---

Name: JIM SLOEY () on Tuesday, December 14, 1999 at 23:27:22
E-Mail: santadontbecomingroundherenomo.com
Maiden: never was jones
City and State: rb, ca
Message: I just showed Cougartown.com to my 3 year old nephew and when he saw Santa dead in the snow he said "Looks like we get clothes this Christmas." The girls on the steamer are left to right Mary, Sharon, Ruth, Barbara, Judy, Linda, Debby and Beth. They all look the same too! Jake you da man! Royal how are you doing? And Bob Veach did you enjoy kissing your sister? Robin you da man too! And hey Jack Young I knew that the only way you would get a good looking cougarette to say hi to you would be if she was your cousin.
Sloey PS are we still winning site of the month should be the millenium.
Hey Jim, Close enough on the Great White Steamship pic. Yes, where is Royal Lord and Jim West??
---

Name: Cheryl Nicocia () on Tuesday, December 14, 1999 at 22:59:11
E-Mail: chernico@cvc.net
Maiden: Christensen
Class: 62
City and State: Keno, Or. on the river

Message: CUTE,John. Now I'll just sit back and wait for all the hate mail from every animal lover out there, huh? I swear, I'm not gonna send you nothin, no more. (oh, just for the record, thats husband John in the Santa suit, and I'm holdin the gun.....) GO EL ROJO...We are all pullin for ya!
I thought that looked a little like you holdin' that deer rifle. Cheryl, I think you could learn to hunt Bambi yet.

---

Name: pauline matthew () on Tuesday, December 14, 1999 at 22:51:46
E-Mail: pmsockser@aol.com
Maiden: spencer
Class: 69
City and State: oakhills, ca.
Message: To Kathy Jefferson Johnson: Please e-mail me with your telephone #. I would love to talk to you and catch up on things.
Pauline

---

Name: Janet Burkett () on Tuesday, December 14, 1999 at 20:50:31
E-Mail: jburkett@compaq.net
Maiden: Humphreys
Class: 62
City and State: Mission Viejo
Message: Marsha Russell, Judy D., and Mo T.??? HELP...SEND WATER!! JB(the Orange County one)
Marsha Russell-NO Judy D-YES Mo Trott-YES. Hmmmmm 66%. Just about my average score on Government Tests.

---

Name: John Norman () on Tuesday, December 14, 1999 at 19:36:53
E-Mail: chevpoo@aol.com
Class: 68
City and State: Mira Loma


Message: To: Georgia Cook
Georgia I just happen to see your name, Please send me an E-mail. I'd like to know what everybody is up to. Take care, hope to hear from you soon.

---

Name: Cal McDougal () on Tuesday, December 14, 1999 at 17:54:23
E-Mail: Phoenix@snowhill.com
Class: 62
City and State: Enterprise, Alabama

Message: About two years after graduating from HHS I finally figured out what I wanted to do with my life. By the time I was 21 I had saved up three hundred of the necessary $1000 to get a commercial helicopter pilots license at Torrance Airport. Naturally in order to earn such heady amounts of money I had to work full time at a service station and I was forced to drop out of El Camino (they called it academic disqualification). Naturally I got drafted cause I wasn't in college. Naturally the Army thought I had what it takes to be a mechanic, so they sent me to Fort Rucker Alabama where they teach helicopter mechanics ... and helicopter pilots! Naturally I volunteered (is that a good thing?). Now, 32 years after graduation from the Army flight school, where I now teach instrument flying, some one comes up with this list from which I have extracted three pertinent, if contradictory, ideas:
Things it takes most of us 50 years to learn: 1. The badness of a movie is directly proportional to the number of helicopters in it. THIS MUST BE A TYPO, IT SHOULD BE "inversely proportional"
12. You should not confuse your career with your life. DISREGARD THIS ITEM, FLYING IS MY LIFE, SORT OF...
14. No matter what happens, somebody will find a way to take it too seriously. DISREGARD ALL OF THE ABOVE
EL ROJO, Hang in there, You just don't know how many people are pulling for you. Life will get better. My hair left me too. Only us perfect heads uncovered by hair can understand the sound of "Raindrops keep falling on my head"
Hey Cal, Great stuff, and from a 62er too. Thanks for the story. I just knew, when you said you volunteered for helicopters, the Army was going to make you a cook.

Be a Coug Cal.......
---
If you have comments or suggestions, please email me at jb1@cougartown.com