Page 185
It's Christmas Music Time "The Boys"


---
<!-++++++++++++++++++++++++++++++++++++ADD BELOW THIS LINE++++++++++++++++++++++++++++++++++++ +++++++++++++++++++++++++++++++++++++++++++++++++++++++++++++++++++++++++++++++++++++++++++++->
Name: Ed Carpenter () on Tuesday, December 14, 1999 at 17:54:01
E-Mail: edcarp63@hotmail.com
Maiden: Monkey
Class: 63
City and State: Grass Valley Ca
Message: re: Senior Ditch day picture, well it seems to be my very old friends from HHS 64/65 Olivia Arias, Linda Lopez, Nancy Tubert and I can't remember the rest. Great pictures keep up the great job John, you're the best man. Happy Holidays to all.
Monk
Hey Monk, Now we're on the right track. Thanks man, and have a great holiday yourself.
---

Name: Howard Duran () on Tuesday, December 14, 1999 at 14:18:26
E-Mail: doo4usc@aol.com
Maiden: sugar bear Hinton
Class: 61
City and State: Lake Forest Ca
Message: Re: Senior ditch day pic; Is one of the loveliest Ol' friend Sharon Kendall?
Sorry, no.......
---

Name: Judy DeGrazia () on Tuesday, December 14, 1999 at 12:27:33
E-Mail: Redondo612@aol.com
Maiden: JudyWudyChickenBoody
Class: 63
City and State: Torrance, CA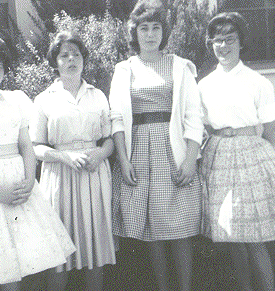 Message: So..Janny Wanny Chicken Fanny has announced his return to L.A. home base..to be a part of the COUGARTOWN EXPRESS. Well Janny, hold on to your pants, (don't go there John B) you're in for a bumpy ride. (don't go there either John B) Looks like the ROWDYS will once again eat as Janny can cook..but we know the rules..so no fiber. So January is going to "rock" once again. (I told you not to go there John) Lots to do..lots of people to do it with and new horizons just around the corner.. and SHY ROBIN HOOD--where are you? We have the candles ready and the CD player is warming up. No more cold winters for us ROWDYS GIRLS.. (ah aah John Boy) Here's to January 2000...our year...Right Sadie Russell!!
Judy DeGrazia THE ROWDYS.
Here's a picture of Judy about 65 or 70 years ago with her friends. Can you name them?? People in the picture are not eligible. OH, Judy is the one with the big boobs.

Man, those are some cool lookin' clothes. Check out those plunging necklines.
Mississippi River Judy..........
---

Name: John Baker () on Sunday, December 14, 1999 at 11:47:38
E-Mail: jb1@cougartown.com
Class: 62
City and State: Lomita, CA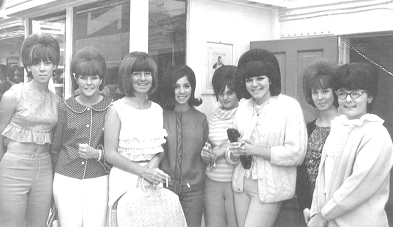 Message:OK folks, here's ANOTHER Senior Ditch Day Picture, and again, it looks like the great white steamship. Can any of you Cougs name the people in this one? Here's hoping this brings it all back for some of you, and good luck.

---

Name: Mari Rutter Davis () on Tuesday, December 14, 1999 at 11:59:25
E-Mail: irishrutter@hotmail.com
Maiden: Rutter
Class: 67
City and State: Lubbock, TX
Message: TO JACK YOUNG: Hey! I've been wondering where you were! Please email me..I'd love to hear how Lisa, Bill and Tommy are doing (you do realize that I'm your first cousin don't you?)
TO GEORGIA COOK: My mom, Ela Rutter would like to contact your parents. She and my dad (Jake Rutter) were good friends with your parents for many years. Contact me please.
TO RON MANGINI: I still use your mom's famous recipe for spaghetti and meatballs and it's everyone's favorite. I also graduated from St Joe's in Hawthorne. Does anyone remember matching the color of their socks with the stupid bows we wore in our hair? Also I remember lavender corduroy tennis shoes and going to Winchell doughnuts after school and after Mass on Sundays. Then on to HHS in 63. Met my first love, Bryce Barboza. Does anyone actually remember ME? (except for you Schroeder) Does anyone have contact with the Stelse brothers? I have some great memories of cruising with them and I remember Bob Stelse had a car record player in his 57 Chevy..wow I loved that! Margaret Sweeney, Carolyn Petersen, Sandy Aakhus, and I would play pool at the Stelse's house. We had lots of fun. Where are Marlene George, Sandy Daquila, Karen Lydon, Adele Mayfield, Steve Henry and Richard Runge? I'd love to hear how everyone is.

---

Name: John Baker () on Sunday, December 14, 1999 at 11:47:38
E-Mail: jb1@cougartown.com
Class: 62
City and State: Lomita, CA

Message:Well, Cheryl Christensen Nicocia just sent me this picture of her husband John. It looks like he filled his tags out this year and then some. No need to leave the milk and cookies out on Christmas eve. THANKS A LOT JOHN!!!!

---

Name: John Baker () on Sunday, December 14, 1999 at 11:32:52
E-Mail: jb1@cougartown.com
Class: 62
City and State: Lomita, CA

Message:If you haven't filled out our Wine Country Weekend questionnaire, please click on the banner and do so. This is going to be a premiere weekend and we need your input so as to better plan dinners, block rooms, etc. If you haven't made plans to be with us yet, please do so, as this one's going to be great fun.

---

Name: Bob Melendrez () on Tuesday, December 14, 1999 at 11:20:31
E-Mail: Strongheart@pacificwest.com
Class: 1971
City and State: Redondo Beach, CA
Message: To Joe Webber: Thanks for the note, man! I remember you and your bands very well. You guys did a great version of "Long Time Gone"! Dan Robbins was one of my buds, and I learned a lot about drums from Jim Lenn. In fact Jim's dad, Sam, managed one of my groups for a while. God, those were fun days! Are you still playing music? I certainly hope so! Thanks again, Joe. Take care!

---

Name: ronda(johnson)eason () on Tuesday, December 14, 1999 at 10:55:07
E-Mail: rejeason@gte.net
Maiden: johnson
Class: 89
City and State: hawthorne ,ca
Message: hi, are any of my buddies out there

---

Name: Paula () on Tuesday, December 14, 1999 at 10:09:42
E-Mail: psteiner@worldnet.att.net
Maiden: Steiner
Class: 1967
City and State: Federal Way, WA
Message: Hi everyone! I was in Arizona for Thanksgiving last month and my cousin, Rick McKelvey told me about cougartown. I haven't had much time to check it out but what I have seen looks great!! What fun to see a familiar name and wonder what's going on in their life.
Susie Sigritz and I are here in Washington trying to keep warm. I have been here since 1975 and Susie moved here is about 1980. Susie is now married to my baby brother, Karl Steiner. I am divorced and have 2 sons, Barrett 23 and Nick 22. I work as a Administrative Assistant at the Pacific Northwest Regional Council of Carpenters.
I would love to find my old friend Chris Gregory (I think) the mouse. Do you remember her? Chris was also the class of 67. Also how is Greg Morrow doing and I've always wondered about Don Snyder.
My home number is 253-835-0639 if you would like to get in touch with me.
Everyone have a very Merry Christmas and a safe New Years.
Thank you :

---

Name: Charlie Fox () on Tuesday, December 14, 1999 at 10:08:00
E-Mail: Foxhaus@aol.com
Class: 69
City and State: RPV, California
Message: Songs with weapons fire: If I'm not mistaken, I think Eric Burden's "Sky Pilot" (the long version) featured an extended instrumental break that included the sound of a machine gun.
How about "My Baby Loves A Western Movie" by the Olympics
---

Name: Larry Biller () on Tuesday, December 14, 1999 at 07:38:19
E-Mail: Lbiller49@YAHOO.COM
Class: 1967
City and State: Portland,OR.
Message: To Joe Webber:I can't believe that you remember that song. It was my first recording experience. Paul Johnson (HHS67) sang that one. I do believe it was one of the first songs written by Ken Roberts (HHS69). I remember listening to you guys (Dovey Modean) practice in either John Wilson's or Jim Lenn's living room. You guys were great. Good to hear from you Joe.

---

Name: Bonnie Lou Cozby () on Monday, December 13, 1999 at 23:08:23
E-Mail: captcoz@aone.com
Maiden: Simmons
Class: 1971
City and State: Ocean Park Washington
Message: Hello Joe - I was only in Drill Team for 2 years but the memories are still there. It seems to me there was also a routine for "Stripper" that stands out. It is pretty up here, in fact when I went to vote for the month's best site I was sorry to see that Nehalem Bay (Oregon) was one of the others listed. I had a moment of indecision, Nehalem is one of my favorites places, but of course, Cougartown won out. One last note, my brother-in-law, Rick Cozby, lives in Nashville. Cougartown is a little bit everywhere! Charlie and I will be down in Hawthorne for Christmas, but it looks like we'll miss any unofficial gatherings soooo...Happy Holidays to everyone! We hope to see and meet many of you on the Vineyard Trip!
Thanks Bonnie, I'm glad you came to your senses just in the nick of time.

---

Name: Sheree Klingenhagen () on Monday, December 13, 1999 at 22:26:28
E-Mail: sklingenha@aol.com
Maiden: same
Class: 1975
City and State: Torrance, CA
Message: Hi Joe Webber! Yes I do remember those bands you mentioned in fact I was the little brat that was always hanging around just waiting for a chance to sing! They used to practice at Jim's house and I remember going there, I also remember some practices in our garage on 137th place also. I was a real pain as far as my sister was concerned. I will call Susie tonight to let her know what you posted. I would love to hear the story you touched on and if it's too much to say on cougartown please e-mail me! Little sisters do love to get the dirt on their older sisters, I'm sure everyone with older sisters will agree to that! Susie still plays and wishes she'd kept her red Gibson. She is one of those naturally talented people that can play any instrument put in front of her, I was very jealous as a kid and my father extremely proud. It was wonderful hearing from you Joe, I can't wait to call Susie!

---

Name: Kathleen Griffin () on Monday, December 13, 1999 at 22:04:13
E-Mail: Spirithart@yahoo.com
Maiden: Nix
Class: 74
City and State: Wilmington, CA
Message: Mike, There are only two songs I remember with weapon fire in the background. I don't recall what years they were played. I do not know if either is the one you are looking for but one was "Snoopy vs. The Red Baron" the other was The Unknown Soldier by the Doors.
How about 1960's "PLeeeeze Mr Custer" by Larry Verne

---

Name: Joe Webber () on Monday, December 13, 1999 at 19:09:14
E-Mail: NONE
Class: 70
City and State: Nashville TN
Message: MESSAGE TO: SHEREE KLINGENHAGEN, BONNIE COZBY (SIMMONS), STEPHANIE ROGERS, BOB MELENDREZ, JOHN CROTTY, LARRY BILLER, BRUCE BELLARE, AND MR. PLOTKIN. This is the first time I've written and I really don't know how to start off except to say John, you've really created a wonderful site here. I think you've (without saying the least), have touched a lot of people's lives, hearts, emotions and not to mention the memories. I think it's great! Anyway, I've read (believe it or not),most ALL the feedback pages and there's some people I'd like to say hello to and address from previous entries. Some of you I know and some I sort of know and some I don't. Hopefully, you'll understand what I mean as I go on.
TO JOHN CROTTY: Hello John! You, your brother Paul and I were friends growing up and you and Paul once came over to my house and help me set up my 15 gallon tropical fish tank which I enjoyed for years! I also remember you to be the first person I ever saw with a "BEATLE SUIT" with the "preacher collar", (collar less coat), and you wore it to one of the Dana dances. Yours was cool 'cause if I remember correctly it was a BLACK one. The Beatles wore grey. Also, some of that music you heard at John Pooles house on 125th was also from John's OWN band and they were called the "Citation 7". They also released a record themselves about 1963. John, I heard you started singing but I never did HEAR you sing. Apparently you still do?
TO LARRY BILLER:Larry, I didn't really meet you till around '69 or '70 but I went to school with your brother Kenney and lived next door to John Wilson and would listen to you guys practice with the Civilized Movemnt! All the time!! Funny thing is though, I never got a chance to hear you guys play out live! I also remember YOUR first, (at least I think it was your first) record, "Sawdust Hamburgers and Dishwater Malts"!! What a title!!
TO SHEREE KLINGENHAGEN: Sheree I didn't really know you but I did know your sister Susie. Soooo...you might find this interesting in case you didn't already know. The band The Crystal Ship which had drummer Jim Lenn, evolved into Dovie Modean which I was a member of. Dovie Modean had, (all HHS), Jim Lenn (70), John Wilson (68), Dan Robbins (71), and myself. There were a couple of others for a short period of time but this was the most KNOWN combination for over 3 years. We accomplished a lot but that's another story. Anyway, Susie was a very good friend of ours and would occasionally sit in and sing with us though she wasn't an offical member but I do remember her being very talented as a singer and guitar player. Does she still play and sing? The ironic thing is that John Wilson and I lived on the SAME block as you and Susie did, (me at 5320 and him at 5318) across the street! And yes I remember the sand puddles 'cause I'm one of the "Del Aire People" too! Here we lived on the same block but I didn't even get to know her till I was almost out of high school. Oh well... I do remember one funny story when we were kids. Susie will kill me but it's a good (funny) story that I'll share another time.
TO BONNIE COZBY (SIMMONS): I don't know if you'll remember me or not Bonnie but I did know you somewhat. I played trumpet in the band when you were in the drill team and I ALSO think of that routine every time i hear Hawaii Five-O!! That and the routine to the song Wendy!!But my main comment to you was that I thought it was great the way you did the pledge in Fred Morgan's name on the Nyman Hall restoration project. I'm only sorry I found out about it too late. Also, you're in one of my favorite parts of the country. I used to tour and play up in that area and other parts of the northwest.
TO STEPHANIE ROGERS: Hi Steph !! It's been awhile and I don't know if you ever got an answer on that Mickey Mouse "parody" but I remember it ! Otherwise known as Fred Morgan's theme song. So do you still play the clarinet? By the way, do you remember when we were freshmen and we went on a double date? Do you remember who your date was and who was mine?? I do but I was wondering if you did.
TO BOB MELENDREZ: Bob, I checked out your web site and it looks and sounds great! I hope the next time I'm out that way I get a chance to hear your band. We (Dovie Modean), did Suite: Judy Blue Eyes at one of the assemblies we played. We were one of the few bands to do Buffalo Springfield, CSN, Poco, Eagles AND a lot of our own stuff. CSN&Y will be here in Nashville March 9 2000. There's a lot of LA & NY people here such as Michael McDonald, Larry Carlton, Peter Frampton (Peter Frampton??!!), John Kay, Steve Winwood, Joe Walsh (sometimes), and Don Henley (sometimes). There's also a lot of great rock, pop, jazz AND of course country music going on here.
TO BRUCE BELLARE: Bruce we have a LOT of catching up to do but I'll save that for another time. I've taken up enough space and time as it is. We will though.
AND YES I'M ALSO A MR. PLOTKIN ALUMNI!!! You probably don't remember me but I was in your class the '65/'66 season. I wasn't exactly a standout student but I WAS THERE!!..SITTING!! I also have a memory of you I'll share in the future. (Don't worry, it's a good one)! By the way Mr.P, is there anybody you DIDN'T teach???
Anyway, thanks again John for this site and I apologize to the rest of you Cougars for taking up so much time and space (especially for the ones that don't know who I am let ALONE what the hell I'm talking about), and next time I'll write individually. Thank you.
P.S. ALAN THAYER...I REMEMBER YOU TOO!!
Hey Joe, No need to apologize whatsoever. I can feel that you've made that re-connection with these people you knew, and were a part of, many years ago. That's what it's here for man. Thanks again and don't be a stranger.
---

Name: greg bowman () on Monday, December 13, 1999 at 19:03:45
Class: 64
City and State: aliso viejo, ca
Message: It was nice seeing so many people that I knew back in high school. I would like to say a special hello to lyn jax and teri lord
Hey Greg, Do you have a brother or a cousin named Lynn Bowman, Class of 62, that went to LHS??
---

Name: John Baker () on Sunday, December 12, 1999 at 18:55:29
E-Mail: jb1@cougartown.com
Class: 62
City and State: Lomita, CA
Message:Very seldom do I put things on the Feedback Page like this, (please do not send me things to put up here, as normally it's way too hard to format on this page) but this one just hit home. It's from Sue Bierman King. If you've seen it, fine; if you haven't, enjoy.
Thanks Sue......
Things it takes most of us 50 years to learn:
1. The badness of a movie is directly proportional to the number of helicopters in it.
2. You will never find anybody who can give you a clear and compelling reason why we observe daylight saving time.
3. You should never say anything to a woman that even remotely suggests you think she's pregnant unless you can see an actual baby emerging from her at that moment.
4. The most powerful force in the universe is gossip.
5. The one thing that unites all human beings, regardless of age, gender, religion, economic status or ethnic background, is that, deep down inside, we ALL believe that we are above- average drivers.
6. There comes a time when you should stop expecting other people to make a big deal about your birthday. That time is age 11.
7. There is a very fine line between "hobby" and "mental illness."
8. People who want to share their religious views with you almost never want you to share yours with them.
9. If you had to identify, in one word, the reason why the human race has not achieved, and never will achieve, its full potential, that word would be "meetings."
10. The main accomplishment of almost all organized protests is to annoy people who are not in them.
11. If there really is a God who created the entire universe with all of its glories, and he decides to deliver a message to humanity, he will NOT use as his messenger a person on cable TV with a bad hairstyle or in some cases, really bad makeup too.
12. You should not confuse your career with your life.
13. A person who is nice to you, but rude to the waiter or janitor, is not a nice person.
14. No matter what happens, somebody will find a way to take it too seriously.
15. When trouble arises and things look bad, there is always one individual who perceives a solution and is willing to take command. Very often, that individual is crazy.
16. Your true friends love you anyway.
17. Nobody cares if you can't dance well. Just get up and dance.

---

Name: Jan Blomsterberg () on Monday, December 13, 1999 at 17:31:49
E-Mail: eblomsterb@aol.com
Class: 63
City and State: Arkadelphia, Ar...Denver, CO...Torrance, CA
Message: To JB and all you Cougs, this Thursday I'm wrapping up a seventeen-month contract here in Arkadelphia and heading back to Denver this coming weekend. I will be spending Christmas in Virginia with my daughters and grandson and after the first of the year I will be heading out to SoCal, and hopefully for more than just employment :):):):). Besides, someone has to teach her how to cook and make more than that tepid instant coffee! Then, maybe Prince Robin will be able to enjoy some solid food and John won't walk out when he is offered a second cup of coffee! Furthermore, in October I missed out on that "kissing the boo boos" thingy…I guarantee you that I'm gonna make up for that one! I hope to be seeing many of you on Cruise Night January 8th, the VFW breakfast and if there is another Pink's run, "we'll" be there, and the wine tasting tour is going to be something special, as well. So my friends, Janny Wanny; AKA poppy@iocc.com, is signing off from Arkansas and will be checking in once I am back in LA. Thanks to all of you who have been adding to this great webpage over these past few years. It makes for a great way to stay in touch when one is so many miles from "home". And, might I add, it has opened doors for many folks to renew old friendships, and to begin new ones, and some of those being very special! I owe you big time, JB, you have done a fantastic job! HCH, please, no pop quizzes at Fosters. I haven't had time to study! El Rojo, hang in there, bud, one knee down, you can beat that monster. Paco, what can I say, I'm saddled with that nickname for life, payback time is near! Lady QP, for you I will stop at every rest stop from Arkansas to Colorado to California and baptize every sink in your name! And all you Rowdy's out there, looks like you will be able to eat once again, and nothing will be made in a blender..:o). My best wishes to
A BLENDER??!! I don't think they know what a blender is. You better hurry 'cause I DO know if they lose their can opener, they'll starve to death. Can't wait to see you out here Jan. Be a Coug boy.........
---

Name: JIM SLOEY () on Monday, December 13, 1999 at 16:53:09
E-Mail: yougotttalovethatjonesandhisnewscanner.com
Class: 66
City and State: jones, ca
Message: Keith, great pictures.

---

Name: Michael ragoo () on Monday, December 13, 1999 at 12:58:48
E-Mail: magoo@syix.com
Class: 1959
City and State: Colusa, CA
Message: I just finished the wine trip survey and voted for cougartown in the site of the month contest. Cougartown is now in first place, was there ever any doubt. I found my old 59 El Molino at last and spent hours putting faces to many of the regular contributors here. Looking forward the the wine country reunion.
Hey Michael, Thanks for doing both. You ARE a Coug, I can tell, and we'll see you in Wine Country, if not on Cruise night. Thanks man, for being out there...........
---

Name: Barbara Duran () on Monday, December 13, 1999 at 10:14:10
E-Mail: bjd2354@aol.com
Class: 72
City and State: El Segundo CA
Message: Hey Keith Jones, pretty darn cool!

---

Name: John Baker () on Sunday, December 12, 1999 at 20:20:19
E-Mail: jb1@cougartown.com
Class: 62
City and State: Lomita, CA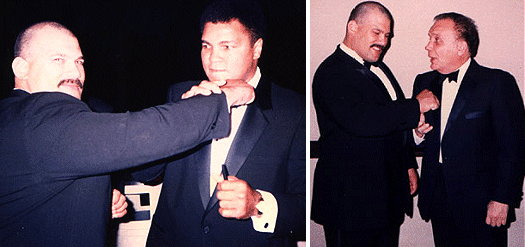 Message:Well Keith came through with the pics and here they are. It's Keith D. Jones vs Muhammed Ali in the first pic. It seems as though Keith wanted to take the Champ out in one punch, but as he was hammin' it up for the camera, Ali dropped him with a left to the ribs........it was all over. LaMotta, seeing the whole thing said to Keith, "OK Kid, let's start with the basics. This Is A Fist".
Thanks Keith for sending the pics and I'm sorry for the delay in getting them on site.

---

Name: EL ROJO () on Sunday, December 12, 1999 at 14:15:44
E-Mail: I-DY-HO
Maiden: YOU KNOW
Class: 60
City and State: KUNA, ID (HOME OF THE KAVEMEN) POP: 5150
Message: 2 WEEKS, STILL CLEAN! I'VE GOT THE MONSTERS LEFT KNEE BROKEN! WORKIN ON THE REST! G.I., page 183, I liked the prose. Janny, thanks for the support and your mail, it certainly helps! Thanks to all you COUGS again. EL.MAY THE COUGAR BE WITH YOU!
Glad to hear it Russ, Keep it goin boy.
---
BR>Name: Terry Robinson() on Sunday, December 12, 1999 at 11:38:58
E-Mail: pspd501@aol.com
Class: 1958
City and State: HHS Hawthorne, CAL.
Message: After HHS, 3.5yrs in the USAF. Return to US. Then Loyola and Pepperdine Univ. 1965 grad LAPD academy. Palm Springs Police since 1968. Med. retired PSPD 1998. Time now spent between PS and Oceanside Harbor where my 30' Chris Craft is located

---

Name: Mike Hinsch () on Sunday, December 12, 1999 at 09:56:39
E-Mail: mn_hinsch@msn.com
Class: 1977
City and State: North Plains, Oregon
Message: What a great website! I haven't thought about HHS and the great times I had there in years. Thanks for bringing our memories together. I particularly like your efforts on the "certified car nuts" who I am an active member of. Eleven classic rides ranging from 1957 to 1968 and counting. Unfortunately I don't have the great weather we had in Southern California to use these chrome dinosaurs as much as I would like here in Oregon. I don't have a scanner yet but I'll send you some pics and descriptions/stories when I can. I have some mailing addresses for some alumni that haven't shown up on your list. Do you want this info? I don't know if they have E-Mail. Keep up the good work!!!! I'm looking forward to seeing it in the future.
P.S. Has anybody heard from or knows where Drafting Teacher John Claypool, Teacher Pat Macha and Ken Keafer ended up? Let me know. They all had a very important role in directing me towards my current career and I would like to thank them for that!
Hi Michael, Glad you approve of the site, and yes please send along any snail mail addresses of people on the missing list. Please let me know which missing list the person is from too. Thanks.............
---
If you have comments or suggestions, please email me at jb1@cougartown.com