Page 173
Home | 60's Slang | Alumni List | Car Talk | Cougar News | Feedback | Hangouts | Memories
Recollections | Reunions | Street Scene | Teachers | Tributes | Vietnam | What's New | Keyword Search
---
Another late 50's classic. The Skyliners


---
<!-++++++++++++++++++++++++++++++++++++ADD BELOW THIS LINE++++++++++++++++++++++++++++++++++++ +++++++++++++++++++++++++++++++++++++++++++++++++++++++++++++++++++++++++++++++++++++++++++++->
Name: Steve Fraser () on Sunday, November 21, 1999 at 22:58:34
E-Mail: wishiwasthere
Maiden: whocares
Class: 1966
Message: Bob and John..Who cares what happened to Patmar's!! I just wish I could have been at the Palladium to see Tricia dance. Tricia, I ran across your brother not too long ago. Get him on the Cougartown site.

---

Name: Chris Prewitt () on Sunday, November 21, 1999 at 21:55:40
E-Mail: cjprewitt@juno.com
Class: 11110101111
City and State: Fullerton, CA
Message: Well, I have been to Disneyland wearing my Cougartown.com shirt. I felt like royalty, they had security all around me. Maybe I am paranoid but they seemed to have their presence everywhere. Really with all of you talking about Grad Night, let's see if any of you can come up with an answer to this question. We know that Grad Night started in the sixties but who can come up with the year that Disneyland says it started and the name of the person who is credited with starting it? Hint: There is a "main street window" with his name on it. I have a prize for the first person to come up with the answers.
Tough one Chris, I'll say 1965 and Walt Disney?
---

Name: Sheree Klingenhagen () on Sunday, November 21, 1999 at 21:14:10
E-Mail: sklingenha@aol.com
Maiden: same
Class: 1975
City and State: Torrance, CA
Message: Hello All!!! I must say a big thank you to everyone for your good wishes! It has been quite an experience for me, one which I do not want to go thru again. I came home after 10 days in the hospital and this is my first venture sitting for anytime. My hip is doing wonderful but then this is the 6th surgery on it, one more revision and cabling the muscle down. The knee had a total replacement and is quite painful and I look forward to bending it with out cussing under my breath! No more demerol but the vicodin ES are helping! Thanks again for all your good thoughts! I'm going back to bed now!
Sheree, I know you have lots to be thankful for. You're in our prayers and thanks for letting us know that you're on the mend. Happy Thanksgiving to you and your family. May the Mighty Cougar be with you too.
---

Name: Peggy Ouellet () on Sunday, November 21, 1999 at 21:01:04
E-Mail: chaletolay@aol.com
Maiden: Conlon
Class: 1966
City and State: Sumner, WA


Message: Reading back several pages I was delighted to see a bunch of fellow '66-ers' names. Hi Sloey and Steve Fraser...and Kelley Curry..we were on the drill team together! Steve, great idea about getting a 60's reunion going. I'd love to help in anyway I can. I live in Washington, but can still e-mail, etc. Our 30th flew by without a reunion; let's not let 35 get by the same way. Take care everyone and Happy Turkey Day!
Hi Peggy, Happy Thanksgiving to you and yours too.
---

Name: JIM SLOEY () on Sunday, November 21, 1999 at 19:37:09
E-Mail: johnsalwayswelcomeforturkey@mychurch.com
Maiden: we are there from 8-5 Mo
Class: lxvi
Message: John you are always welcome! Moyers we'll save you a drumstick. Ross Bradfield, Class of 66 (best) and Loreen Gustafson, formerly Satter, Class of 65, also attend our church and are also involved in this project that we have named OPERATION DRUMSTICK. We will be there from 8-5 serving dinner from 11-3, if you know anyone in need or lonely or whatever, Mo you are always welcome, come on over! Dan Smith, the Bear, Little Art, how are you! I miss our talks especially are rides! EMAIL me! I'll do the same!
Happy Thanksgiving!
Sloey
Thanks Jim, and Happy Thanksgiving to you and Debbie.
---

Name: George Key () on Sunday, November 21, 1999 at 19:37:08
E-Mail: Mathesh@aol.com
Maiden: DROPOUT
Class: 80
City and State: PVE,CA
Message: I was just catching up on feedback and saw Alan Nelsons note about the Nyman Hall seat for Tracy and Cheryl. I did not know they were no longer with us. They were in my first graduation class at HHS; so very special. I can still see Tracy in her outfit as our cute Cougar mascot, so I went to the yearbook to see her picture once more. I discovered she had filled the entire last page in the book with a lovely letter about the good friendship we had and said it would be in her heart forever. Well love that goes both ways and to express it to you I am sending John a check to fill out the seat for you and Cheryl. God love you both-such wonderful young ladies.-JORGE
Ah George, You bring a tear to my eye and a feeling of closeness to all my Cougar brethren. This couldn't come from a more loved HHS Principal. Thank you for continuing to be such a large part of our extended HHS family.
---

Name: Frank A. Romano () on Sunday, November 21, 1999 at 18:21:35
E-Mail: fromano@lvcm.com
Class: 1961
City and State: Las Vegas
Message: JB...if your in the area, we can arrange for the car wash, and a turkey leg too...feel free to stop by an old buddy from HCP will be joining us for dinner too.
Frank, Tell me it's NOT John D. Even now, not enough time has gone by.

---

Name: EL ROJO () on Sunday, November 21, 1999 at 18:04:03
E-Mail: I-DY-HO
Maiden: YOU KNOW
Class: 60
City and State: KUNA, ID
Message: MYTMO, I really have no recollection if Tom Whitener had a brother or not. I saw him briefly at the big reunion last year, but only got to speak with him a short while. I also called him, he lives in San Fran area. He's also a, Sloey, er, lawyer. WE spoke breifly and then I told him a lawyer joke. He got po'ed and hung up. So much for still being budds. Oh well, if he's that thin skinned too damn bad. HEY EVERYONE, HAVE A NICE THANKSGIVING HOLIDAY. Royal hope you're still on the mend. Also you too Sheree Klingenhagen. Hope you folks are up and around soon. EL ROJO!MAY YHE COUGAR BE WITH YOU!

---

Name: Howard "USC" Duran () on Sunday, November 21, 1999 at 17:20:37
E-Mail: Doo4usc
Maiden: Garrett,Simpson,Davis etc..
Class: 61
City and State: Lake Forest, Ca
Message: No crow dinner this year...I had a "skinny little Bear burger" and loved every bite! Russ, you know it couldn't last forever. Leif did you go?
Howard, I had me some "Westwood Porridge" myself. Been savin' it for about 9 years and it was as sweet as I remembered it last. Say, I wonder what Robin was eating on Saturday night.
---

Name: Frank A. Romano () on Sunday, November 21, 1999 at 12:15:38
E-Mail: fromano@lvcm
Class: 1961
City and State: Las Vegas
Message: In a review of the last several entries to Feedback, it's a wonder that the little guy with the big ears allows anyone from HHS into the park It also gives warning about wearing a HHS T-Shirt to the merriest place on earth. Further, it is outrageous to think that between cigarettes attached to firecrackers, Alan, soap and cherry bombs, dispensed by the group known as 'Think ahead we're stuck here till the end of the trip' combined with the antics of so many other groups, who may not have been as well behaved as the Coug's well... it just amazing that there isn't a group guard assigned as you enter. And it really doesn't stop there. But for the millions of Welk bubbles, the Palladium would have been a pile of rubble with all the booze smuggled in. Can you just image the clean up crew with all the empty bottles. Yo! Joyce.... Just where on your leg did you have the bottle taped? JB...Your a real work of art. John Norman checks in, talks about how much fun he had washing your car at the drags 30 years ago, and here you are starting to promote him for another free wash....Then Sloey is delivering a wonderful message of charity, and you're looking for a line pass for a turkey leg...since you're technically homeless. Judy,.talk about the ROWDY'S not cooking. Please JB! Let us know how that works out!!! MO. Enjoy your holiday. 10 days off work in a row. That's almost criminal, but very smart.
Frank, "A Clean Car Is A Happy Car" wherever you can get it done. Johnny Norman........bring your wash bucket!!


Actually I don't need Sloey's "Free Homeless Turkey" now, as I've shamelessly weaseled Janet into inviting me to her house for Thursday's feast. Thanks just the same Jim, but Janet's having giblets, pumpkin AND apple pie. You and Maria have a great Thanksgiving yourself Frank.
---

Name: Alan Nelson () on Sunday, November 21, 1999 at 11:29:15
E-Mail: anelson@redrivernet.com
Class: '73
City and State: Parker, Az
Message: OK, Class of '73. There's some new faces in Cougartown recently. Let's get some contributions in to restore the Nyman Hall seat, In Memory of Cheryl Crownover and Tracy Flynn. We need to show the rest of this place that '73 still has some spirit left. Send your check into JB today!
Thanks Alan, Yes, It would be great to close out the seats we have. The Tim Thomas seat was supposed to be closed out too, but I can't get in touch with his sister, so that seat is still open.
Yes, Class of 65 and 73, please help close out the remaining seats.
---

Name: Sharon Branigan () on Sunday, November 21, 1999 at 10:00:50
E-Mail: srbranigan@aol.com
Maiden: Bierman
Class: 76
City and State: Thousand Oaks, CA


Message: I just heard a news report regarding a motorcycle-ride fund raiser organized by Joyce Chance in honor of her son who was lost to cancer. Is this our Joyce? What's the scoop? Can we help? Contribute? Was this announced previously on CT and did I miss it? MOM!!! You're supposed to keep me INFORMED!!!
Sharon, Yes, that's our Joyce and our son. John Robert Baker, was diagosed with Wilms Tumor in 1970. He put up a courageous battle, but was lost to the disease in September of 1972. He was cared for by the wonderful people at UCLA hospital's Pediatric Wing.
Joyce, for the last 10 years, and through their Harley group, has organized a Memorial Toy Run in honor of Johnnie. They take a truckload of toys and other items to the children's wing for the kids, and it's become a real media event. For all of you in the LA area, please check your local news tonight, as this event is going on right now, today. Joyce has worked miracles with this project, and all the great kids in UCLA's Childrens Wing benefit ALL YEAR LONG from her labor. Thanks Sharon for bringing it up. I didn't know anything about the early coverage.
---

Name: Linda Dietrich () on Sunday, November 21, 1999 at 09:45:20
E-Mail: leonard-linda@juno.com
Maiden: Dawson
Class: 69
City and State: Kansas City, Missouri
Message: I am so happy to see more old friends check in every so often. Welcome Dan Smith (Bear). Does everyone still call you Bear? Hope you become a regular here. You are much closer to 26 St. beach than I. Just take a day and go there!! I was there last month for the first time in over 5 yrs. But only got to stay a half hr. Darn!! Has anyone heard or seen anything of Steve Hill 67? I would love to know how he is doing. We got married the same day in the same church but not to each other. HA. Hello to all out there in Cougarland.

---

Name: TRICIA MCDOWELL () on Sunday, November 21, 1999 at 09:18:52
E-Mail: TRICIAROKN4M@HOTMAIL.COM
Maiden: SOKOL
Class: 70
City and State: THE MIDDLE OF NOWHERE
Message: I REMEMBER THE PALLADIUM IN THE MIDDLE 60'S EVERY YEAR THE TEEN AGE FAIR WAS HELD THERE ON SPRING BREAK. IN 1967 I WENT WITH SOME FRIENDS AND A MAN GAVE ME $20.00 TO GO GO DANCE ON A PLATFORM FACING THE STRIP. I ALSO WON A YO-YO CONTEST. A KID WOULD DO ALMOST ANYTHING FOR A BUCK BACK THEN. HAD A LOT OF FUN IN THOSE DAYS.

---

Name: Elizabeth Castanon () on Sunday, November 21, 1999 at 09:09:10
E-Mail: lizcastanon6@hotmail.com
Maiden: Cary
Class: 1973
City and State: Amarillo Tx
Message: Karen Bertelsen Baker Glad to get your message on the HHS web. I will probably email you soon at home site. Just a quick note. My mom and Dad passed on years ago and of course I remember Lance. I had a mad crush on him for a summer when I used to come over to play. Remember the tree house swing and your neigbor girl who tried to swing double with me and we broke the swing. She landed on my foot and sprained my ankle. Remember? Do you know how to get in touch with Debbie Hill Warren. I lost touch with her years ago. Write soon Liz

---

Name: Loretta Cuiper () on Sunday, November 21, 1999 at 01:13:50
E-Mail: LCuiper@aol.com
Maiden: Morelli
Class: 62
City and State: Hawthorne, Ca

Message: Hi All, Joyce, Im ashamed to say, but Im one of those ladies who brought in a bottle, as I was going up the stairs on the way to the ladies room, this bottle was inching it's way down my stocking, I just don't know how I got away with it. Thank you for bringing back that MEMORY! No, it was a fun time...
Alan, Thank you for the information on Jerry Parker, in the 60's and 70's we stayed in touch, but after that we lost his whereabouts. Just wish someone knew where he is now a days.
Kristie, my other daughter, sorry hon, but Darla is not coming home for Christmas this year, hopefully for 2000. We all will be seeing her in August for Miriam Penna's Wedding......
I will take this moment to wish all a very HAPPY THANKSGIVING..... Bye for now.......

Loretta, NOT YOU!!! I don't believe that. I think I'll have to tell your mom. That's what you get for hanging around with a bad influence like Larry.

Happy Thanksgiving to you and Larry too.
---

Name: Michael J. Johnsonq () on Saturday, November 20, 1999 at 20:29:16
E-Mail: trex7@earthlink.net
Class: 1972
Message: Looking for Janice Knott. Has anyone seen or heard from her since the 20 year reunion?

---

Name: the not so blonde one () on Saturday, November 20, 1999 at 20:24:46
E-Mail: carissa58@hotmail.com
Maiden: Christine Penny
Class: 76
City and State: Round Rock , Tx
Message: I was wonderin'.....If you do this Palladium thing again... at another great location I'm sure, I'm assumin' that all alumni would be invited?? and, most importantly.... would the booze have to sneaked in, strapped/taped to the inner thigh of all the ladies? Now, it's just a thought mind you, but I was wonderin'?
I don't think we'd have to sneak it in this time Christine, but if want to tape a gallon jug of Red Mountain to the inside of your thigh, then be my guest.

---

Name: Alan Hauge () on Saturday, November 20, 1999 at 18:59:06
Class: '61
City and State: Playa del Rey, Calif.
Message: Hey John;
Did you ever hook a firecracker to a cigarette and use it for a slow burning fuse? So you had time to get away and so someone else would get the blame?? A few of us had our own fireworks show at the magic kingdom (Dinseyland) and kept the park police busy busting everybody else. One funny side note...on the way home at the corner of 120th and "Anza" (before it was La Cienega), about 5:30 AM I feel asleep at the intersection and was alone in the car. The last thing I remember was looking at my watch until I was blasted out of my seat by a truck who had pulled up behind me. I had been out for 15 minutes.
Such fun.
Alan
Great memories Alan, Thanks
---

Name: John Norman () on Saturday, November 20, 1999 at 17:26:16
E-Mail: chevpoo@aol.com
Class: 68
City and State: Mira Loma, CA

Message: John, What a blast from the past. I still remember those Sunday mornings when we used to go down to Lions Drag Strip and you let me clean the car while you raced! Take care, hope to hear from you soon.
Hey Johnny Norman, How're you doin?? Glad you finally signed in. Yeah, the reason I let you clean the ol' 58 Chev was you were just a cool little kid,

and besides you loved it. Thanks for checking in John and glad you like the site. I'm tellin' you folks, sooner or later EVERYONE will be here.
---

Name: MYTMO () on Saturday, November 20, 1999 at 15:48:19
E-Mail: momo90250@aol.com
Maiden: Trott
Class: 1964
City and State: Hawthorne,CA
Message: John....about the happenings for the class of 1964. Well, our senior ditch day was in Catalina. Our grad nite was at Disneyland. And yes I have a story :0) The day before grad nite, a couple of cougars (one from 1963 and one from 1961) went to Disneyland and went on to the Tom Sawyer Island and hid soap bottles by the water wheel. The next nite (grad nite) when we got to Disneyland, we went over to Tom Sawyers Island and while the two guys went and got the soap, my girlfriend and I mingled with all the other people on the island. They poured it in the paddle wheel and about 15 to 30 minutes later, the river looked like a bubble bath. Needless to say, they closed the island, making it OFF LIMITS. EL....you mentioned a guy by the name of Tom Whitener, is he by any chance the brother of Jerry Whitener who was killed in a car accident with Eddie Verrault (class of 62)? He was like a brother to myself and my sisters. I am going to be off all next week. I'm taking 3 days off and getting 10 days (because of the holidays)...not bad :0) so I would like to wish EVERYONE an early HAPPY TURKEY DAY! Be safe :0) Sloey....since I don't have anything to do that day, maybe I'll see you and Deb there...Okey Dokey. cya, be a good coug! MYTMO
So there you have it. The Palladium parties started in 1955 and lasted until 1963. Quite a short tradition actually, but filled with classic memories. Our first legitimate all night party right out of high school.
Mo, thanks for the Disneyland story too ; great stuff. I know the people at Disneyland must have some hellacious stories to tell over the years.
---

Name: Dan Smith (Bear) () on Saturday, November 20, 1999 at 12:48:43
E-Mail: dasbear1@yahoo.com
Class: 67
City and State: Simi Valley, Cal
Message: Wish I was at 26th street in Manhatten!!!!!!!!!!!

---

Name: Dave Krikac () on Saturday, November 20, 1999 at 10:34:49
E-Mail: dadkrikac@aol.com
Class: 76
City and State: Franklin, Tennessee

Message: Helloooooo All:
Miss you all. How are the V's? Hallbeck? Bistolas? Vickers? Lococo? Happy Thanksgiving Everyone, I am SURE you, like me, have much to be Thankful for...I will be traveling for the month so I thought I would get my licks in early.
Question to you car buffs (I KNOW YOU ARE THERE)...Does anyone know what a 1968 Cadillac Convertible is worth if it runs and could be restored easily? My Dad had one and I want to buy this one I found in Huntsville? Thanks. God Bless.
Thanks again John for "That Thing You Do"
Dave, I'll put my 2 cents in on this. It varies widely. The convertible part will raise the value, but the restored easily is vague to me. Does that mean it needs an engine and tranny, but outside of that it's perfect, or does it just have a scratch in the door. I'm looking in a Hemmings Motor News and I see a 68 Cad Deville Conv; 70,000 California miles, for 10,800. I'm sure an El Dorado in the same condition would be more. Luckily a 68 Cadillac isn't a high dollar collectible. Good luck and be careful when buying these so called vintage vehicles.
---

Name: Bob Rierdan () on Saturday, November 20, 1999 at 10:27:23
E-Mail: printer@cheerful.com
Class: 61
City and State: Mountain View, Mo.

Message: Steve Fraser - WOW
That's right about Patmars being moved south on Sepulveda to the golf course - I didn't know that it is no longer there - it's been a number of years since I have been there. You win the Hawthorne Trivia Question of this week!
John - Please give him his prize...
Bob
Yes, Congratulations Steve. You have just won a Cougartown all expenses paid by you trip to sunny El Segundo to find out just where in the heck the Patmars building is now. Good luck, and thanks for playing our game.
---

Name: Howard Duran () on Saturday, November 20, 1999 at 10:24:13
E-Mail: DOO4USC@aol.com
Class: 61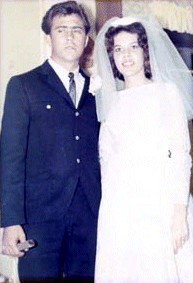 Message:Sharon (Schleper HHS62) and I got married right after the graduation ceremonies on June 14, 1962. We had a small get together at her mother's house, then went to "Our reception" at the Palladium. We heard Dick Dale would play. Too bad it was with Lawrence Welk's Band......
Howard, You look real happy about the whole thing.

---

Name: Sharon () on Saturday, November 20, 1999 at 10:43:43
E-Mail: MacDonald
Maiden: Badger
Class: 63
City and State: Burlington, Wisconsin
Message: Class of '63 went to the Palladium for Grad Night. I remember a group of us went together - really can't recall how we got there, just remember being there and I think that the music was the Lawrence Welk orchestra sans Lawrence (maybe the band leader was Myron Floran?). I and Lynne Johnson were running late because we were fooling around with some of the other graduates and taking pictures with our parents after the graduation ceremony at Halcap Field so we missed the time to turn in our cap and gown and get the real copy of our diplomas. I remember staying at the Palladium until daylight and then going home and changing and going to the beach and then rushing home to get ready to go on a camping trip - sleepless (except for cat naps) for about 36 hours (that might kill me these days!)
Class of '63 went to Disneyland for Senior Ditch Day.
OK, so now we know that the Palladium Partys were from 1955 to at least 1963. How about the class of 64 or 65. Did you too have the ultimate party?
---

Name: Keith D.Jones () on Saturday, November 20, 1999 at 04:56:52
E-Mail: cmi50@yahoo.com
Class: 76
City and State: Las Vegas, NV
Message: Well it is 2:45am Saturday. I just got in from playing craps at the same table since 7:00pm Friday night. Got to talking to the girl next me telling her I was waiting for a friend from high school I haven't seen in years (Diane Libertini). I said HHS and she said she went there. Then the old people next to me said they grew up in Hawthorne and went to Leuzinger cause there was no HHS yet. Then the guy standing watching me play said he graduted in 1981 from HHS (Marla Manriquez bro) The whole end of the table was Hawthorne people and did we roll the dice. We all walked away winners (some of us very big winner$$) It was neat listening to the stories. Anyway very tired but allot richer gotta go. Aloha
Great story Keith. Now you've got enough money to buy a couple of Cougartown T shirts. Thanks and be a Coug boy......
---

Name: Steve Fraser () on Saturday, November 20, 1999 at 01:22:58
E-Mail: maybeiknow
Message: The Patmar building was moved south on Sepulveda and became the "clubhouse" for a nine hole golf course. It's gone now, but a new golf course is on the same property. Correct?

---

Name: Joyce Chance () on Saturday, November 20, 1999 at 01:05:52
E-Mail: chancesR@pacbell.net
Maiden: Savisky
Class: '62
City and State: Anaheim,Ca.


Message: SNEAK BOOZE INTO THE PALLADIUM, ME?? I was so afraid that the tape wouldn't hold and the bottle would drop out of my pettipants when they were searching me. Hey Cheryl, I think I remember seeing you among the girls in the ladies room removing the tape from our thighs :o) But didn't we have fun, what a great party. Let's do it again! How about it Cougartown?
You read my mind.....

---

Name: JIM SLOEY () on Saturday, November 20, 1999 at 00:27:14
E-Mail: organidyhoissomeonefrom thesouthbaymissing?.com
Maiden: my heart my heart!
Message: Our church, FIRST LUTHERAN OF MANHATTAN BEACH is doing a Thanksgiving Dinner for the Homeless, needy, lonely lost cougars etc. If you know of any families in the South Bay area who are any of the above please send them over. We are located at Manhattan Beach and Poinsettia three blocks west of Sepulveda Blvd. If you need any further information, email me at hartje@gateway.net. You may address the email to me or my LOVELY wife Debby. Thanks and Happy Thanksgiving to everybody we have a lot to be thankful every day of our lives, so much that we take for granted. God Bless
Sloey
Is there free turkey?? I'm technically homeless since the new place is so torn up right now. Can I have seconds?
---
If you have comments or suggestions, please email me at jb1@cougartown.com