Page 156
Home | 60's Slang | Alumni List | Car Talk | Cougar News | Feedback | Hangouts | Memories
Recollections | Reunions | Street Scene | Teachers | Tributes | Vietnam | What's New | Keyword Search
---
For Homecoming weekend, this should take us all back to the Beach The Beach Boys


---
<!-++++++++++++++++++++++++++++++++++++ADD BELOW THIS LINE++++++++++++++++++++++++++++++++++++ +++++++++++++++++++++++++++++++++++++++++++++++++++++++++++++++++++++++++++++++++++++++++++++->
Name: Pam Betraun () on Tuesday, October 12, 1999 at 17:27:47
E-Mail: pbetraun@PhilipInc.com
Maiden: HEATH
Class: 78
Message: Can't wait till Friday!!!!!!! Maggie Lippon(Noya) and I are dusting off our drillteam letter sweaters to show our spirit. WE decided the skirts would not fit the same, although Maggie would still look great in hers. Anyone else wearing any letterman jackets?
See ya Friday!!!!!!!!

---

Name: Chris Prewitt () on Tuesday, October 12, 1999 at 16:19:39
E-Mail: cjprewitt@juno.com
Class: 1967
Message: I have to agree with John's statement whatever you look like or sound like or whatever, do come to the homecoming and/or The Stick and Stein and/or the picnic. I found cougartown and signed in on page one but it wasn't until I talked to my sister and she wrote in that I would write into CT. I saw the name "Early 60's Hawthorne California and Hawthorne High School Homepage" and since I was from HHS in the late 60's I didn't feel I should contribute. Once I did John hasn't been able to shut me up. From this WEB page I have found lost friends and have made new ones. Please do come. It would be our, CougarTown's, loss if you don't attend.
Thanks Chris......well said.
---

Name: JIM SLOEY () on Tuesday, October 12, 1999 at 16:16:59
E-Mail: i'dwalkamillionmilesforoneofthosedawgsmychilidawg.com
Maiden: mackerel/ASHAMED
Class: mom b
Message: HEY MOM B- You are still getting the Mackerel!

---

Name: Dan Johnson () on Tuesday, October 12, 1999 at 16:14:15
E-Mail: wch1ispink@aol.com
Class: 77
Message: Two things: (1) it appears that my niece, Kristen Bamrick, has been nominated to the Homecoming Court -- so this means I'm now obligated to come to the game and (2) the new Paul McCartney album, Run Devil Run, is really fine, consisting mostly of covers from the late 50s and early 60s. Paul's voice sounds very good and, despite the hi-tech recording studios in use today, it captures the feeling of those early Beatle covers like Dizzy Miss Lizzy and Kansas City -- trust me on this one (and, of course, David Gilmour plays guitar on the album, and I think he can hold his own with those session guys from the 50s)

---

Name: Mom B () on Tuesday, October 12, 1999 at 14:37:56
E-Mail: gonore@aol.com
Maiden: Bierman
Class: Moms
Message: I wish I had driven down to Pink's last night for an hour of fun. I lost one of those great moments that John talks about. I do not ordinarily believe in playing the 'if' game but will make an exception here...If John Baker had never been born or if he had never gone to HHS or if he had never gotten involved in computers or if he didn't have such a great personality or if he didn't have such an infectious sense of humor or if he wasn't so smart or if he wasn't such a caring and considerate person...we would all be going on with our lives in our own separate little squares or circles and never have remembered how much feeling we all had and have for one another and a certain time and place in history. It took all these attributes to make Cougartown.com. Makes one wonder how we were all so lucky, doesn't it? Thank you seems so inadequate for such a gift to so many people.
I'm sitting here and the Beach Boys are doing "Get Together And Do It Again" on the CD player and I'm reading Mom B's feedback and I realize how lucky I am to have grown up where I did, when I did, and with whom I did. After all, if my parents had opted for that little fixer upper on 137th St and Jefferson, this place would be called Olympian Village.....BUT IT'S NOT!!!! Thanks Mom and Dad!!!
No Kidding now, IF any of you are not coming to HC weekend because you've lost a little hair or have that stomach that doesn't quite look like it did when you were a senior, WELCOME TO THE CLUB !!! GET OVER IT AND BE HERE !!! We love you anyway. Don't let a little vanity keep you away from your friends. We don't care WHAT you look like HONEST!!! We want to see YOU. Another chance to see your friends is coming this weekend. It's a gift from somewhere. Please take the gift.......
---

Name: Marsha Russell () on Tuesday, October 12, 1999 at 14:36:17
E-Mail: RussellMG1@AOL.COM
Maiden: Russell
Class: 64
Message: Johnny boy you truly are the King, best chili dog I have ever had. The fries were great but not quite enough grease for me, I think you had the right idea John when you added the butter, next time I will remember that trick. Once again the company was great and lets don't stop now...where are we going tonight for dinner????? Judy, I feel fine today and ready to eat another chili cheese dog, this is scary. If I had to vote, Pinks would win over the Spot. Jim and Debbie too bad you couldn't hang in there for pie, it was worth the late night....we will do it again. Marsha
You feel fine today because you've purged your system of that VILE TOFU. Now if you can just keep the hot dog and fries diet going until the weekend, you'll feel GREAT for HC weekend.
Thanks Marsha, Had a great time last night. I don't know why people wait 10 years to get together at a 75 dollar a plate reunion when all the friends they'll ever need are right here in Cougartown. Don't wait folks, pick out a group and go have a hot dog......It IS that simple.
---

Name: Dr. Patricia Mansfield () on Tuesday, October 12, 1999 at 12:57:07
E-Mail: mansfiep@mail.rsccd.org
Message: You have done a very professional job on this wonderful website. I know how long it takes to make a website interactive--Great job! I enjoyed it.
Thank you Doctor. Come on back any ol' time.......
---

Name: Judy DeGrazia () on Tuesday, October 12, 1999 at 12:46:37
E-Mail: Redondo612@aol.com
Maiden: beenthere-donethat-let'sdoitagain(don'tgothereJohn)
Class: 64
Message: Regarding "DINNER AT PINK'S" Well gang.. the "Nazi Devil Dogs from Hell" were simply delicious..in fact, as John B. promised, I'm still tasting it today.. over-& over-& over. I get a warm fuzzy feeling all over when I think about that great chili dog.. oops! no..never mind..it's just repeating on me again. Whoever thought we'd be cruising the Blvd. again 37 years later..down Hawthorne Bl. La Brea - Wich Stand (it's now a health food hang out) naming all the places that once were there, listening to the 60's oldies. geesh-I'm getting Va Klempt again! I'll never forget it..along with the devil dog. There's just one thing I don't get..why, oh why is my toilet in feedback pics today? Is nothing sacred?? What's next-going through my lingerie drawer boys???? I guess it really is 1962 all over again. Loved it then..love it now. Thanks fellas.. See all of you in about a week or two.. The Bodacious Tata's (right Janny Wanny) will be sittin' pretty again. You fellas will have to come up with some new nicknames for me then. Love you all..thanks for the well wishes and memories. Judy DeGrazia THE ROWDYS
The reason the toilet is in the picture is because Robin was showing me how nice it was that when you leave the facilities, you ALWAYS put the lid up for him. That's such a courteous thing Judy. I wish all other women would adopt this practice.

I had such a great time last night with all of you delinquents. Judy, good luck going under the knife. We WILL adopt a new name for you too. Let's see....."flatty", no, fried eggs, bumps, pancak...........
---

Name: JIM SLOEY () on Tuesday, October 12, 1999 at 11:51:50
E-Mail: achilidogachilidogmykingdomforachilidog.com
Maiden: wojcieowski
Class: ?
Message: WOW! Talk about getting the memory bank zapped. I had never been to Pink's before last night what a great chili dog or dawg the BEST! What was truly amazing is that in 1967 Chet WOJCIEOWSKI (66 and one of Hawthorne's finest K-9 officers) and I were on our way to Hollywood after an El Camino class for what I do not remember when we we hit right across the street from Pinks. As we waited in line last night someone was making a left turn; a squeal from the brakes of the car behind him made me recall the officer's question, "Were you making a left hand turn into the hot dog place?" No we did not even know it was there. Hey Chet we had our chance we missed it! Great food Better people, Cougartown.com IT'S WHATS FOR DINNER! Alan Hauge what a pleasure to have met you too! Mo Trott we only seem like Royalty cause the people around us are so special! It was our pleasure! Be a Coug! Sloey
....."we only seem like Royalty cause the people around us are so special!" DARN, I wish I'da thought'a that one. That was nice Jim, Thanks......
---

Name: Dale Hahlbeck Jr () on Tuesday, October 12, 1999 at 11:39:32
E-Mail: SAWDADINHALCAP PIC
Class: 75
Message: Kewl saw a picture of my Dad Dale Sr #72 in that 55 football picture what a wimp! But I hear he was tuff as nails. (like his son!)
Cya Friday Rock Steady ya'll H1
Hey Dale, Knew you'd pick up on that one. Be a Coug boy.............
---

Name: Harry Plotkin () on Tuesday, October 12, 1999 at 09:55:32
E-Mail: hcharry@pacbell.net
Class: 52/97
Message: Tricia Waayers Phenicie: So nice to see you on feedback. You were the type of student that teachers love to have in their class. You gave 110% in P.E. and in math class. I hope you have or are achieving your goals. Please tell your dad hello for me. Lupi: I also enjoyed seeing you and the girls at Cabrillo. Did you scold Kris and Debbie for not coming to Cabrillo, or at least early enough, to see me? See you at homecoming. Love to all, HCH

---

Name: Ms. MoMo () on Tuesday, October 12, 1999 at 09:14:10
E-Mail: momo90250@aol.com
Maiden: Trott
Class: 64
Message: Last night, I had the privilege of having an audience with our Royal Court; King John, Prince Robin Hood and Prince Sloey and their merry men... I mean women :o} Judy DeGrazia, Marsha Russell and Debbie Sloey. The royal hosting was held at Judy's first, then on to PINK'S and back to Judy's. Our Royal Artist, Alan Hauge joined us at PINK'S for their famous hot dawgs. Actually, it was Judy's last big meal before....snip, snip ....Ouch....kiss the boo_ boo_ :o) (make Judy happy girl)! Judy, I just want to say THANK'S for the invite and for giving me the opportunity to meet our Royal Prince(s). By the way ladies... I even got the King to get on his knees ") ") .... Actually, he was just trying to get a picture at eye level! It was my eyes....wasn't it John? Well it was a night I will always treasure.... imagine, me meeting Royalty....go figure!! See everyone Friday, Saturday and/or Sunday....don't forget those "Heavenly Chocolate Cakes" all you bakers! John, by the way, what's the prize for the winner? Be a coug!
Thanks All!!! We do find ways of entertaining ourselves don't we. I had a great time and I can't believe none of you ever made the pilgrimage to Pinks in your HHS days.
---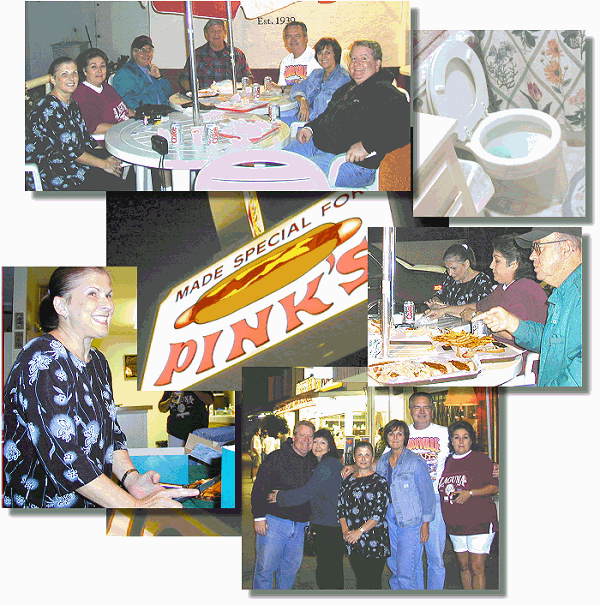 Name: Lupi Perkins () on Tuesday, October 12, 1999 at 00:57:00
E-Mail: perkisassy
Maiden: Dominguez
Class: 69
Message: JUST WANT TO THANK THE CLASS OF 69 REUNION COMMITTEE FOR A GREAT NIGHT. IT WAS NICE TO SEE LOTS OF OLD FRIENDS. ENJOYED TALKING TO SO MANY OF YOU THAT I HAD NOT SEEN FOR YEARS. WANT TO THANK MY BROTHER-IN-LAW JIM TROTTER FOR SHOWING UP AND PROVING HE WAS NOT AMONG THE MISSING. I HOPE THAT WE CAN ALL KEEP IN TOUCH THROUGH FEEDBACK UNTIL OUR NEXT REUNION. MAYBE WE'LL SEE LOTS OF YOU AT HOMECOMING ON FRIDAY AND THEN ON TO STICK AND STEIN FOR MORE PARTYING, THEN SATURDAY AT THE PARK. TO MY DAUGHTER KRISTI C/O 89, I HOPE YOU HAVE AS MUCH FUN AT YOUR REUNION ON SATURDAY WITH ALL YOUR FRIENDS AS I DID AT MINE. TO MR. PLOTKIN, IT WAS NICE TO SEE YOU AT THE CABRILLO ANNIVERSARY AND ALSO ENJOYED SEEING SOME OLD CLASS PICTURES OF MY FRIENDS THAT WENT TO CABRILLO LONG AGO.
ALAN GREAT JOB ON THE T-SHIRT, CAN'T WAIT TO GET ONE ON FRIDAY.
Lupi, Yes, a carload of us cruised to Pinks hot dog stand on Melrose and La Brea tonight (Mom B, where were you?) and our own T shirt artist, Alan Hauge was there to have a dog and do a little reminiscing too. Thanks again Alan and we'll see you on Friday.
---

Name: Peggy Ouellet () on Monday, October 11, 1999 at 23:47:16
E-Mail: chaletolay@aol.com
Maiden: Conlon
Class: 1966
Message: My how Cougartown has grown!! I've been on a Cougartown hiatus for awhile and can't believe how many fellow Cougs' there are out there. Thanks to Lynn Brooks for the "awakening." What I'd give, too, to be able to make it to Homecoming this weekend. Is there any way I could get a T-shirt just for kicks? Since I work in a high school, the kids would freak out seeing MY homecoming T-shirt. I'll keep in touch...and what's happening to the Class of '66 Reunions? We're rapidly heading for 35 years and I'm still bummed about not having a 30th??? Chauncey, where are you??? :-) Bye for now and hello to everyone I know!!
Yes, you've been laying low for a year or so. The T shirts will go on sale on the website after this weekends funfest. I will put up an order page then, so please Cougs, don't send me any money until the page goes up. Nice to hear from you again Peggy and please don't stay away so long.
---

Name: pauline () on Monday, October 11, 1999 at 23:18:17
E-Mail: pmsockser@aol.com
Maiden: spencer
Class: 1969
Message: JOHN CROTTY- IF YOU READ COUGARTOWN AND HAVE E-MAIL, PLEASE E-MAIL ME. I WOULD LIKE TO TALK TO YOU. I DID NOT HAVE A REAL CHANCE AT THE REUNION. IF YOU DON'T HAVE E-MAIL YOU CAN CALL ME AT (760) 244-0806. AND I HAD A WONDERFUL TIME AT OUR 30TH REUNION. IT WAS NICE TO SEE SO MANY OF MY FRIENDS FROM THE CLASS OF 69. AND HI TO BILL MCREYNOLDS, SORRY I MISSED YOU. HOPE TO SEE MANY OF YOU AT HOMECOMING ON FRIDAY.

---

Name: Rowdy Royal Flogger () on Monday, October 11, 1999 at 20:21:33
E-Mail: imbacksoyoubetterwatchout!
Message: Leeroy, oh LEEERRROOYYYY! This is the ROWDY Royal Flogger speaking!!!!!!!!! Let this be your notice that there better be enough seats reserved and ready for use - if your relatives are saving them, make sure they get up and out. CT alumni don't need to be exposed to "that kind" - you know, the kind that are their own grandfather!! Hey SLoey - sorry I missed your birthday, hope it was happy! Rowdy Judy - that is some maiden name "lickme'tiliscream" - and, what is so surprising is that the "royal court" didn't go there.... you are a special queen rowdy to get away with that! Happy birthday a bit early, and a successful (and not too painful) surgery to you! Robin - where are you? I sat by the phone and sat by the phone and you drove right past me.... I'm crushed........ King John and Sloey - you are defending me, aren't you? Well, no one admitted to driving South on I-5 through this valley, so I am not able to send down the best, contest winning entry into the cake contest..... sorry - your loss, huh JB? Everyone have fun and whoop it up for me this weekend!
Myrna, You only have so many of these chances given to you in a lifetime, then they are gone forever. You're burning one this weekend. You still have a few days. Don't miss it......and bring the cake too.

---

Name: Tricia M. Phenicie () on Monday, October 11, 1999 at 19:26:55
E-Mail: tpheici@harris.com
Maiden: Waayers
Class: 89
Message: Howard, I went to Cabrillo and Dana in the late 70's and early 80's and Mr. Goode was our principal...could this be the one you're thinking of? I believe Mr. Goode was a teacher there before that, as he taught my father (John Waayers) in the late 50's or early 60's.
Hi to Mr. Plotkin too!!! You were one of my favorites! You were my P.E. teacher in 7th grade (1984) and Math teacher in the 8th grade (1985). My dad was in one of your classes some 20 years before me....

---

Name: Wendy Walchli () on Monday, October 11, 1999 at 18:09:34
E-Mail: wwal833579@aol.com
Maiden: Rideout
Class: 64
Message: I've been away for 3 weeks and it has taken me a week to catch up on all the feedback! The t-shirt design is great. Good job Alan. Won't be able to make the game and party at Stick and Stein, but looking forward to the picnic and seeing old friends. See everyone Saturday.
Great Wendy, we'll be there.
---

Name: Judy DeGrazia () on Monday, October 11, 1999 at 18:09:30
E-Mail: Redondo612@aol.com
Maiden: firsttimeforeverything!
Class: 64
Message: OK all of you that are taking the plunge to PINK'S tonight.. I hope you're prepared.. As for myself-I'm getting anxiety attacks. I have my rosary & my Brioschi & I'm wearing my old St. Chris's medal for backup. This is my first "NAZI DOG FROM HELL" and I rank this experience right up there with..first kiss..first drink..first cigarette..and yes, even first sex..(don't go there John) All of the above were a snap next to this test of bravado.. just when you think you've done it all..John B. pulls one out of memory lane. This surely will separate the men from the boys & I've just found out that Robin Hood is going for a record of 7 Dogs from Hell. Ugh!! See you there. Judy DeGrazia THE ROWDYS
7 DOGS!!!!! If he does 4 hot dogs, I'll have to tie him to the roof rack on the way home.......
---

Name: Harry Plotkin () on Monday, October 11, 1999 at 17:38:28
E-Mail: hcharry@pacbell.net
Maiden: Old Codger (1965)
Class: 52/97
Message: Howard: You are not dreaming. Herbert L. Goodman taught at Cabrillo from 1954 till 1956. His name is vaguely familiar, but I can't recall his face. He left to pursue a career in psychology (I think after having had a student by the name of Duran). I'm sorry that I could find out nothing more about him. Hope this helps.
Love to all,
HCH

---

Name: Howard Duran () on Monday, October 11, 1999 at 13:16:39
E-Mail: doo4usc
Class: 61
Message: HELP!! After hearing about Cabrillo's 50th, I started thinking about some of my teachers there..One of my favorites was Mr.Goodman. I contacted Harry Plotkin he can't remember him. I had my mother call Cabrillo, they don't remember either....It was 1952 to 1954..any help, those 60's must have taken a greater toll than I thought.
THANKS Howard

---

Name: JIM SLOEY () on Monday, October 11, 1999 at 12:18:15
E-Mail: tumsismymiddlename.com
Maiden: oooooooooh
Class: ?
Message: Oooooooooh that's why they call it HALCAP FIELD? I always wanted to know myself. This thing with Robin has taken on a life of its own. Mom B you win. We knew if we cropped that last set of pictures we would get someone, and you officially win the fish award, reel her in John. A 12 pound mackerel that John has been storing in his garage for the past week is yours Mom, he'll bring it to the HC game. Robin wish you were going to be there but to all those who expected a greeting from Robin personally, HI! You were right John, it was Mom B! Be a Coug!
Sloey
Well now.......is he here or is he not? That IS the question.

---

Name: Bill McReynolds () on Monday, October 11, 1999 at 12:01:10
E-Mail: BANDWM@aol.com
Class: 69
Message: Just attended the 69 class reunion, It was great to see all who attended. Thanks for the great evening! Best wishes to all!

---

Name: Betty Rodriguez () on Monday, October 11, 1999 at 10:58:00
E-Mail: tombetty@kelp.net
Maiden: Kean
Class: 69
Message: Just wanted to write a brief note about the 1969 30 Year Reunion. We all had a great time. Both Sloey brothers were there, Pauline, Linda and Chuck, so Cougartown was well represented. It is also, hopefully, going to hear from more of the Class of 1969!
I'm only guessing, but there were probably over a hundred people there. Many of us had our El Molinos with us, which helped. . . I met with 2 couples that married after high school and are still happy together today: Julie Cockayne and Rockie Fleeman and Cheryl Baumgardner and Gaylen Lundquist. And Mary Hamilton, who looks exactly the same, is still single! In closing, I'm not naming names, but I will never look at tattoos or black thigh-high nylons the same again!
Betty

---

Name: CathyTrewyn(Taylor) () on Monday, October 11, 1999 at 10:16:35
E-Mail: MomTree1@aol.com
Maiden: TAYLOR
Class: 87
Message: This is really cool to have! My cousin graduated from HHS in the 70s sometime and sent me the link. Seems like ages since good ole HHS sometimes and here its only been 12 years or so!!
Cathy, Yeah it seems like 12 long years to me also. these 30 year olds make me sick.......Welcome aboard......
---

Name: Loretta Cuiper () on Monday, October 11, 1999 at 09:24:27
E-Mail: LCuiper@aol.com
Maiden: Morelli
Class: 62
Message: Ricki, so sorry to hear you are not going to be there this week-end. I guess there were a few folks out there who saw the TV piece on Pinks Hot Dogs, we have known about it for years, and for the first time a few months back we went and had one of those Dogs and they were good, we know it is not the healthest food to eat, but I really believe it is more the Atmosphere. Standing in that long line people start up conversations, we met some wonderful elderly (12, who were in their late 70's)interesting people while we were there, that is what makes it so much fun. All ages, everyone joining in having a good time. Everyone should try Pinks at least one time! See you all Friday

---

Name: Ricki Farrell () on Monday, October 11, 1999 at 00:49:10
E-Mail: farrell8@worldnet.att.net
Maiden: Valencia
Class: '61
Message: I sit here with a broken heart because I found out this week that I have to attend a very important conference for work and will end up missing next weekend's activities. I haven't written in ages because my work has been hectic. I am teaching new courses and learning new computer applications. I read CT almost everynight but I just haven't had time for anything else. I respond to email most of the time... and sometimes it just passes me by. I hope I haven't stepped on anybody, certainly not by intent. It's an hour past my bedtime now, but I just had to throw in a howdy! Please know that you're all in my heart and prayers. Robin, I expect that you'll be around again sometime so that I can be one of those who meets you in the flesh.
Ricki
Howdy yourself Ricki, Thank you for checking in. It's nice to know that you're still out there. I know how it can be and understand completely. Be good and when your workload lets up a little, please join in again.
---

Name: Janice Mastropaolo () on Sunday, October 10, 1999 at 22:02:56
E-Mail: emeraldbay@earthlink.net
Maiden: Dorman
Class: 74
Message: Does anyone know if they still do the announcement of the Victory Queen for homecoming during school hours, like after school at the field? I can't make it to the game but I wouldn't mind trying to get there for the assembly. Please e-mail me directly since I'm about 55 pages of feedback behind! (Off line for a few weeks) Remembering our high school days, and witnessing today's high school spirit, or lack there of, amazes me. My daughter's high school students don't sing or even know their school song!!!! Cougartown would put them to shame! We were really blessed! Thanks John!
Thanks Janice, That's very nice, and yes, this group would put todays group in the dumper.
---

Name: Frank A. Romano () on Sunday, October 10, 1999 at 19:40:37
E-Mail: fromano@lvcm.com
Class: 1961
Message: That wasn't a power outage JB... it was those nice folks at the Pink Chili Dog starting their engines, preparing all those healthy "dogs." The aging is important to enhance the tenderness, flavor and promote healthy enzymes. The enzymes have to be healthy...or you'll never digest these beauties. And what the heck Judy.... you're going the hospital anyway. So you're in for a penny, in for a pound... I will give you guys this. You're meals are colorful. Gray breakfast, Pink Chilli Dogs, for dinner. Almost sounds like a Neil Simon dialog doesn't it. Just what's in the Chilli or the Dogs that makes Em pink? Or do those dining, want to know?
Frank, Pink's chili dogs are SO good, that I don't EVEN want to know what's in them, or how long they're aged.

---
If you have comments or suggestions, please email me at jb1@cougartown.com