Page 80
---


Home | 60's Slang | Alumni List | Car Talk | Cougar News | Feedback | Hangouts | Memories
Recollections | Reunions | Street Scene | Teachers | Tributes | Vietnam | What's New | Keyword Search
---
back to the 50's.... Gene Vincent
---

Name: JORGE () on Wednesday, June 23, 1999 at 19:51:39
E-Mail: Mathesh@aol.com
Message: What? It's Dan Nelson on the phone telling me to get out of the hospital bed because I have noon duty today! Then these E-mail messages from Krazy Kougar Kids start coming in. Then Hal Wetzler calls. How did he know? Seems Ole Coach Chauncey called him and said my condition had been reported. Wasn't until parole time and reaching home, and of course immediately going to Feedback to see if all you children were good in my absence, that I found my tricky daughter had slipped my secret onto the web. At any rate, thank you all for you kindness and your hurt. The hurt came from laughing so hard I popped a few stitches. No big deal, really. Was at Mt. Whitney Portals. Had pains which increased. Came home to Torrance Memorial Hospital. Received an organ transplant (rusty gallbladder transplanted to trash can), and am doing great.
While in custody, I had a very special spiritual experience. Some of you were probably in the band when you played opening ceremonies at Dodger Stadium. Troy Winslow took me down to meet Tommy Lasorda in his office. You know, the guy really does bleed blue. Sunday night I was very restless, thrashing around in my hospital bed, a bandage came off and I could see my precious red blood flowing. It ran off the edge of the bed and dripped onto that plastic bag which catches all that yellow stuff. It was like a brilliant light flashed and all of a sudden the realization came that after 32 years at Leuzinger, Lawndale, Lennox and Hawthorne, at last I was a true-blooded Cougar.
Oh Scarlet and Gold, our colors unfold, Hail to you, HHS.
John Boy, what on this universe have you wrought? JORGE
Man, Jorge am I glad you're back. These 70's Cougs have been nothin' but trouble since you've been gone. They've been throwin' spit wads and erasers. I said to stop it but they won't listen to me. I told'em I was gonna tell. Now you guys are REALLLLY in trouble.
I'm glad you're on the mend George. Lay low for a few days and then start shinin' the Sportster up for cruise night at Foster's.......Wait a minute.......TROY WINSLOW!!!! That's Sentinel blood Jorge. You're not hangin out with the enemy now are you??

I'm glad you're back George.... be a Coug!!
---

Name: Kathleen Griffin () on Wednesday, June 23, 1999 at 18:20:08
E-Mail: Spirithart@yahoo.com
Maiden: Nix
Class: 74
Message: I'm beginning to think that the universe doesn't want me to attend a "reunion." The Vegas gig happened when I had to be in San Francisco. Beginning Saturday, I'll also be computerless in Iowa for two weeks. The odds are good that the pages are going to turn to 100 during that time.
Sheesh!
John, I put my name on the attending list (I've always been optimistic) in hopes that it happens the weekend after I return from hel..er, Iowa. If not, I'll be there in Spirit (look for the tall, 40 something apparition that looks as if she's had too many chocolate chip shakes).
Hi Kathleen, Don't worry about your Chocolate Chip Shake body. I for one welcome those people. It helps me blend in

. Make it if you can.....if not, we'll see you at the next function. Thanks Kathleen....
---

Name: Sharon MacDonald () on Wednesday, June 23, 1999 at 17:36:06
E-Mail: macdonsh@baxter.com
Maiden: Badger
Class: 63
Message: After spending a week computerless in Iowa, I was surprised to see how many pages of Feedback there were to catch up on. I hope that July 10th turns out to the Saturday after the Big 100. I'll be up in Iola, Wisconsin for the annual Old Car Show. One of the areas has all muscle cars on display. I could walk up and down the aisles while enjoying a cone.....sort of "cruising?"
If any car folks are planning on coming to Iola, stop by the Toy Barn.
Dick Dixon, are you going to be there with the Hemmings crew?

---

Name: karen () on Wednesday, June 23, 1999 at 16:46:58
E-Mail: kuehl
Class: 59
Message: Okey Dokey, JB, I finally caught you a catfish and see'ns how I can't send him by UPS, how 'bout FedEx. I know I'll FAX him to you!! Raw, fried or baked?
Though not as flavorful, I think faxing him is the best way.

Thanks Karen
---

Name: LEEROY FELDERRUSTER () on Wednesday, June 23, 1999 at 16:07:41
E-Mail: leeroyfe@yahoo.com
Message: Mr. Chris ya all can kep yer hanburger i's dint folow up dat at tall. My sis gots pged when we moves bak to little rock and my paapy defenastrated da guy wat dun it. he neber had any mo kids after dat one. I's read the ice cremes stuff, ok wel my grand nefew helped me so nows i's knose when it gonna be. Do dat ice creme place tak visa. well sur i best be goin. An I wanna tanks dat RObin persen fer lookin out fer me cause i' only gots da 3 teeths, dat truf to. Hey is dat Robin a guy or a gurl? Wats is last name eny way? My wif Beulah sez it probly sumthin lik hood or sumthin, i sez if it hood den he fames like dat guy amos on dat cokie pakag. fames robin. i likes dat. Wel now sur tanks fer letting me stops by and oh ya dat remerk bout my iq i donut know wat dat is bout all my teecher sade i donut hav one! so i gues i gots ya all ther. See ya all suun at da ice creme social. 23 mo pags rite? LEEROY FELDERRUSTER
LeeRoy puts a whole new twist on the word "Slugfest" doesn't he. Now you stay outta your sister's bedroom LeeRoy.....you understand?
---

Name: Jackie Johnson () on Wednesday, June 23, 1999 at 16:05:19
E-Mail: Johnsonj@centinela.k12.ca.us
Maiden: Benjamin
Class: 61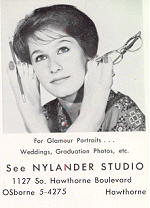 Message: How about Nylander's Studio.


---

Name: Bob Veach () on Wednesday, June 23, 1999 at 15:56:46
E-Mail: annijoro@aol.com
Class: 1972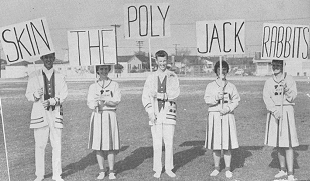 Message: After scrolling through these feedbacks, as I do everyday, it was neat to read about the 1959 CIF Championship game and those 2 run backs. However, after reading Coach Chauncey's post then seeing a photo of the game ticket, I was surprised to see the competetor be the Long Beach Poly "Jackrabbits".
My 2 oldest sons graduated from Long Beach Poly in 1998 and 1999. My second son was a 3 year varsity starter on the O-Line for the Jackrabbits, including their CIF Division 1 Championship in the 1997 season which also played at the Colisium. During his 3 years, Poly made it to the semi-finals in 1996, champions in 1997, and the finals in 1998 losing to the evil red horde of Orange County, Mater Dei.
How this world goes around. I was born and raised a Cougar, became an adopted Jackrabbit, then to see that ticket. Although I enjoyed HHS, I was equally happy with my sons going to Poly
Bob, No offense, but since that dark day in 1959, I cannot STAND Bugs Bunny.
---

Name: Paella Valenciana () on Wednesday, June 23, 1999 at 14:34:11
E-Mail: pvalencia2@aol.com
AKA: v5
Class: 1974
Message: Well, ct now has an unfortunate blemish, I was in a bad mood and forced two hhs alumni to listen to my venting. Would this have happened without CT, I don't think so, sister. Thanks guys. One had to read through im's and the other had to listen on the phone. Poor guys. Chris, you scare me with the perseverating thoughts on y2k bugs. They have medication now, you know. Ted, Joe spray painted walls? From dart-pierced little girl photos, to SLA connections, to graffiti - that parole officer must be quite busy. The close encounter on the NY subway platform now takes on new meaning...I had no idea with what I was dealing.
p-e-r-s-e-v........
---

Name: Betty Rodriguez () on Wednesday, June 23, 1999 at 13:58:56
E-Mail: tombetty@kelp.net
Maiden: Kean
Class: 69
Message: Chris-Nah, Boston Store was for old ladies - I went to May Co. in So. Bay - but mostly I was borrowing clothes from Karen and Terri and Nancy and Becky and my sister! I think my 6yr old son might like to do what you do. He's teaching me how to use my computer. Betty
Betty, Tell him to watch out for 2036.
---

Name: Robin () on Wednesday, June 23, 1999 at 13:53:54
E-Mail: I will...
Class: 60
Message: Chris I knew that. Was just giving cousin Leeroy a chance to answer:o) And Sloey if you are springing for a Hamburger, make sure its mashed. Leeroys last 3 teeth dont chew like they used to. Coach, good to hear from you! Am on the phone with Rich Sloan as I type and he says hi to all the Cougars. Jerry I agree, the Mall should have seen the D9 Cats long before Hollys...And Gary, Jim and whoever else gives a rip...This is America, I believe in freedom of speech and the press as much as all of us...But The A&E special was 180 degrees from what they had promised a year ago, and unfortunately I still believe in a handshake. The facts are the facts but need we listen to this broken record anymore? It is no different than if they promised telling the Gloria V story but showed an ugly cheerleader who knew the cheers....I rest my case...And John..Joe Mailanders post crashed my new 500MHz/P3 puter...it dont know those words....Later Cougs
Robin, I know what you mean. My Mavis Beacon Spell Checker started a fire in my CD rom drive. I called Funk and Wagnall and they said they'd get back to me.

Later, Robin, and thanks.....
---

Name: Ted Gioia () on Wednesday, June 23, 1999 at 13:27:51
E-Mail: tedgioia@hotmail.com
Class: 75
Message: I read in the newspaper this morning that the McArthur Foundation has announced the winners of its annual "genius" awards. I would think that anyone who can use "aediculaphobe" and "defenestrate" in the same sentence would be on the list. But, unfortunately, Joe Mailander was not a recipient this year. (His day will come!!!) I remember his valiant attempt to raise the intellectual caliber of the HHS locker room during his junior year. As you may recall, the walls inside the boy's locker room were decorated with a number of inspirational phrases. (Whoops .. I should have said, as you "men" will recall . . . the women in the audience are, I hope, be blissfully ignorant of the inside of the HHS boy's locker room). Hmmm, now where was I? Oh, as I was saying, the locker room had phrases painted on the wall, such as "A team that won't be beaten, can't be beaten," or "We issue everything but guts." Well, Joe knew that his fellow students must be curious about who had come up with these brilliant bits of wisdom. So he broke into the locker room one night, and spray painted the names of famous philosophers on to the wall underneath the various slogans. The next day, the students would see each phrase assigned to its source. For example "A team that won't be beaten, can't be beaten, PLATO" or "We issue everything but guts, ARISTOTLE." Alas, the various coaches and janitors did not like these philosophical touches, and a few days later the names were painted over.
"We issue everything but guts", that wasn't ARISTOTLE---that was CHAUNCEY!!


Thanks Ted, and BTW, I think YOUR name's on the Wall of Fame at HHS too.
---

Name: Chris Prewitt () on Wednesday, June 23, 1999 at 13:14:47
E-Mail: cjprewitt@emulex.com
Class: 1967
Message: Betty Rodriguez,
Part of my job has been testing some of our products for Y2K problems. That is how I came up with some of these numbers. I got interested in numbers and electronics way back in junior highschool. You were probably down on Hawthorne Blvd at the Boston Store eyeing the new clothes, while I was down on Century Blvd at Newark or Olson electronics eyeing the new transistors.
Yes, but again, we're ALL Cougs to the marrow!! "Oh Scarlet and Gol.....
---

Name: chris Prewitt () on Wednesday, June 23, 1999 at 12:11:26
E-Mail: cjprewitt@juno.com
Class: 1967
Message: John,
I think I have figured out why you want a count on cruise night. The way you took care of all those glove box liners was to become a snitch for Hawthorne Police Department. Your good buddy Fred Moore (they are pulling in the retired cops too aren't they) and company want to know how many jail cells they are going to need to hold all of us. Since in most cities, Cruising is prohibited your going to GET back at all of us who didn't get ticketed.
Or you are going to take out a parade permit.
Compared to today's Hawthorne Cruisers, this will be a walk in the park for the HPD.
---

Name: LEEROY FELDERRUSTER () on Wednesday, June 23, 1999 at 11:15:39
Message: HOWDY. Mister Chris are ya all eny relashun to Rod Sterling? I tink ya all in sum utter dimenshun I's shood knows. LEEROY FELDERRUSTER



---

Name: Betty Rodriguez () on Wednesday, June 23, 1999 at 10:53:02
E-Mail: tombetty@kelp.net
Maiden: kean
Class: 69
Message: Chris- What do you do in your spare time, my friend?????
Betty


---

Name: Chris Prewitt () on Wednesday, June 23, 1999 at 09:37:25
E-Mail: cjprewitt@juno.com
Class: 1967
Message: OK for those of you who might care. Here is the answer: December 31, 1999 is a Friday. If you have a specific type of the Y2K bug, January 1 will turn over to 1900. January 1, 1900 was a Monday. We now plug in the rest of the dates.
"Let's see if he rides in early on Friday (January 31, 1999), stayed all day, stayed the next day (Monday January 1, 1900), stayed all day the next day (Tuesday January 2, 1900) and leaves early the next day it would be Wednesday (January 3, 1900)." How come it is Wednesday? Because of the Y2K bug. I do agree that there will be more computers with the year 19100 than 1900. Now the next bit of trivia: When is the next major time/date bug? Answer: The year 2036.
Why one may ask? Many computers and protocols use 1 second ticks since January 1, 1900 at 12:00:01 GMT. TCP/IP the protocols that the internet uses, use this time base. It is based on a 32-bit value. This 32-bit number will wrap in the year 2036. We have to leave some problems for our kids don't we!
HUH!!??
---

Name: Jerry Miles () on Wednesday, June 23, 1999 at 04:36:45
E-Mail: jfmiles@pacbell.net
Class: 66
Message: I just read this article from the daily Breeze that says the Mall is going to close. They say it is jinxed. Could it be the spirits of hundreds of thousands of kids that stood in line at the Plaza have been haunting the place? Well, they missed with Holly's but they finally found the right place to send their bulldozers.

---

Name: Mike Williams () on Wednesday, June 23, 1999 at 02:09:49
E-Mail: phatride@concentric.net
Message: I have spent the evening looking through the feedback, having a wonderful evening. I didn't graduate from HHS but my heart is with all those that did. My brother's and sister graduated from HHS. My Sister Sharon graduated in 1965, my brother Doug graduated in 1967 and my brother Don Jr. graduated in 1974, Don passed away last year. Most of you probably remember my father, Sgt. Williams, most any body that played Football or cruised Hawthorne blvd. knew him. By the way if we had not moved my freshman year I would have graduated in 1979, I look forward to hearing from any one that either knew my family or my self
Mike, I remember the good Sergeant Don Williams. Caught us drinking while cruising the Blvd, made us pour it out in the street, told us to go home NOW, we did!! My father knew your dad too. His name was John Baker also. Your father was a stand up guy. He was as fair as they come, and believe me I knew enough of the cops in Hawthorne, that I could grade them.
Mike, if you Attended HHS, then please add yourself to the alumni list. You didn't have to graduate from HHS to be added to the list.
Thanks for checking in Mike, and do not be a stranger here. You're as much a part of Hawthorne as anyone here.
---

Name: JIM SLOEY () on Wednesday, June 23, 1999 at 00:03:32
E-Mail: hartje@gateway.net
Class: 66
Message: Hey Coach,
All I want to know is where were you on joke Friday? It would have been unfair playing with a bunch of rookies like us but at least we could see what the pros are like. You are the best Coach but like anyone doesn't already know that! Hope you and Cathy are doing well! Best always.
As for Brian, Bryan and the Beach Boys, I just love the music. Let's let the bad times die, say nope to dope and ugh to drugs! Round round get round...
Jim Sloey

---

Name: Laura Porter () on Tuesday, June 22, 1999 at 23:42:12
E-Mail: dsnycrw@ivic.net
Maiden: Twitchell
Class: 79
Message: Hey Class of '79er's ... we're about one month and counting down to a great time at the House of Blues. It's been 20 years but when some of us on the committee got together Memorial Day weekend...it seemed like yesterday. Hope you are all planning on coming....check out the Missing Cougar list and send in your reservations. The House of Blues is incredible and the food is fantastic. It's going to be a great party!! Hope to see you there !!
Laura's right 79ers. DO NOT miss your 20th reunion. This is the GREAT one. You will regret it later, like you regretted spending the money your folks gave you for your El Molino. Do NOT miss this one!!
---

Name: Gary Nelson () on Tuesday, June 22, 1999 at 23:18:02
E-Mail: Kruiszn@aol.com
Class: '60
Message: There are a lot of people out there that won't like this but I have to agree with Coach Chauncey.
I don't mean to offend anyone but....Brian was a OK guy in school and probably was a closer friend to some of you. I thought the special was accurate addressing several areas I was familiar with. Brian (family) was a neighbor of mine- believe me the special was being very kind portraying the "family" as it did having lived in the same neighborhood for many years.
The special was nothing more than another $$$ info-mercial to promote a new version of an old story that took place over twenty five years ago, Nothing wrong with making money but.....it's over!
People seem to want to make something more out of what was and still is a tragic situation. People seem to want to gloss- over or feel sorry for him being portrayed as he was instead of looking at what really happened. This not including the "send me your money" issue.
As Chauncey says, these guys were at the top. You have to respect what these guys did in the music work. You also have to look at their personal lives and what effect this has had on hundreds of thousands of others (primarily Brian being in a leadership role). You have to look at all the grief caused to the immediate family and others along the way as a result of the choices he made. We all had to deal with drugs but I'd bet most of us had the same pressures but made the right choices and stayed away.
Loved the music, but if anyone had offered drugs to my kids, I would have killed em.
I have to agree. It would be very strange to see a two hour pollyanna version of Brians life from say 1958 to 1965. We all know what the drugs did to Brian. It was sad, but it's "the story" and "the lesson".
---

Name: Ron Reinholdson () on Tuesday, June 22, 1999 at 23:16:15
E-Mail: r_reinholdson@juno.com
Class: 65
Message: Dear Coach Chauncey,
Thanks for the story about Brian Wilson, Al Jardine and the CIF championship game. I remember it like it just happened. I was in 7th grade at the time. That kick-off return by Jim Reale got everybody going but that darn Willie Brown (later of the NFL) blew the whole monmentum thing with his ensuing kick-off return touchdown. What a bummer. Truly a memorable game. Still playing tennis at Wayne Bryan's club? Hope to see you again at the next Class of '65 reunion.

---

Name: Gary Sigritz () on Tuesday, June 22, 1999 at 22:08:31
E-Mail: Echibon007@aol.com
Class: 1960
Message: My fellow classmates, I need help in locating 2 of the most far out guys. Dennis Crawford and the infamous David Hazelrig. Any help would be greatly appreciated.

---

Name: LGW () on Tuesday, June 22, 1999 at 21:19:53
E-Mail: lgeelew@pacbell.net
Maiden: Geele
Class: 76
Message: I think what Joe just did was tell off all us folk in NoCal.
"Enormous" is the one thing that makes us feel so sad, warlike, and huge. You can call us anything but that.
We are actually a peace-loving, tofu-digesting people who want only to spread Peet's coffee and sugar-free scones throughout the land. We have very little use for water except for making the odd cup of coffee, unlike some in the south who find it necessary to shower almost daily and steal our water incessantly in order to accomplish this. Enormous indeed. I am miffed to the utmost.
Yeah but Cougars to the bone!!
---

Name: JIM SLOEY () on Tuesday, June 22, 1999 at 20:13:54
Message: HEY LEEROY I'll buy you the cheeseburger and fries. You're over your head here boy! And Chris please, not so hard on Leeroy. He lost his mother, or was it his aunt, anyway he was kicked by a horse when he was a youngster so old memories surface at the thought of any horse regardless of its name. Thanks for the email Leeroy we're not all funnin ya! SLOEY
Yeah Chris, LeeRoy can't help it if his IQ and his "inseam divided by 30" are identical. Why the boy's so inbred, his DNA looks like it was run through a Mix Master.
---

Name: Bob Rierdan () on Tuesday, June 22, 1999 at 20:00:11
E-Mail: printer@cheerful.com
Class: 61
Message: I was at that CIF game at the Coliseum in 1959. I will remember it for the rest of my life - There was no greater thrill to us in the stands than when CHAUNCEY walked onto that field! Bob
Bob, That Jim Reale kickoff return up the north sideline wasn't chopped liver either.
---

Name: LEEROY FELDERRUSTER () on Tuesday, June 22, 1999 at 19:17:42
E-Mail: leeroyfe@yahoo.com
Message: Mr. Chris, I's means didis git da ansker? ans I's is alredy certfied frum sears gots my credit card ons me rite now? and to dat laadee whos acts me ifn my mutter and fater wer brutter an sistr da ansker is kno, but det are relashun, my mom is my dad's niece once remuved form my kussin sid of da famly. I's canut splain it reel cleer but das wat i's knos. SoMr. Chris tells us da ansker i's nevr gonin sleep tonite wit outt knowin.. Tank you. See ya all at the ice creme time. LEEROY FELDERRUSTER

---

Name: Joseph Mailander () on Tuesday, June 22, 1999 at 19:03:44
E-Mail: joseph.mailander@uboc.com
Class: 75
Message: So last Saturday Watterson and Fettig and I were at Atlas, and we ask for a menu. There's a house specialty there: Paella Valenciana. I point to the item and ask--
"Hey, isn't that who I took to the prom?"
And not only the prom, but a couple of weeks ago, when she wasn't up there tending to the enormous needs of those enormously needy water-hoarding NoCals, I had another meal with Patty Valencia. It was the first time we had seen each other since high school, excepting one furtive and quixotic (and, I must say, mystical) rendezvous on a New York City subway platform in 1975.
I can say with metaphysical certitude that one meal with V5 every twenty-five years is far too infrequent. Her life is spent shuttling between two peninsulas, and I was lucky to catch up with her at all, but once I did, we were very well met. Ms. Valencia in person retains every element of evanescence and natural social grace and charm and radiant beauty that she did at the '74 prom. Ultimately I was very glad that my parole officer let me go to lunch with her.
Patty, hope to see you again before 2024, our next scheduled repast together. (If it has to a midnight as per your original wishes, fine--but we'll have to go somewhere else, as Sloopy's only stays open until 4 pm. Paella Valenciana may not be a bad idea, and it's for two.)
PS, John, we never intended to buy your old house and sell it to an arborphobic family, but that's what we did. The apricot tree has been gone for many years. At least they were not aediculaphobe as well--the bay window remains intact. I hear the Filipino family currently there uses it to defenestrate their children weekly. BTW, I very much appreciated the photos of Holly's demolition, in a morbid kind of way, and some of my net acquaintences I see even stopped in on the site, as I did tip them off that it was the site of the opening and closing of Pulp Fiction, which added to its historic profile. All I really remembered about the place, however, was its utterly rotten service.--joseph
Yeah uh.....aedicul.....uh thanks uh Joe.......defenesa-WHAT?.....nice you could ah.....evanesc.....stop by and ah......say nice stuff....ah....I think. Hey Joe, can you make LeeRoy talk like that??
Uh Joe...... Did you just tell Patty off or make love to her??

I LOVE YOU MAAAANN!!!
Please come around here and articulate on this site any time you want. It is always a pleasure.
---

Name: The Ol' Coach() on Tuesday, June 22, 1999 at 16:58:12
E-Mail: halncathy@earthlink.net
Message:Hi John,
After watching Brian Wilson?s life review the other night, and having time to think about it, I was a bit disappointed that there wasn't more emphasis on the fact that he went from the "top of the hill" to the bottom--mainly because of drug use. How this can effect a persons life---and look at the effect it has had on other people---particularly those close to him. While drugs may or may not have affected his musical brilliance, I don't think anyone can say it improved it! The Beach Boys have been a positive influence on our youth, and we are all proud of their success.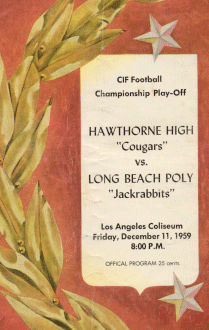 I think often of our CIF Championship game
in the Coliseum.
Al Jardine was my hard driving fullback! Big Al Jardine -- all 145 pounds of him. I'm lucky we didn't get him killed, but he didn't realize he was 145--he thought he was 200 pounds -- and played like it!
Brian Wilson was one of my quarterbacks. Brian had "no hips". He loved to carry the ball and after he would get up from the bottom of the pile --- his hip pads were turned around half way---and he?d be looking through the ear hole of his helmet. He was a competitor though.
All for now----thanks for all your work on the HHS page !!!
As ever the Ol' Ol' Coach..
---
If you have comments or suggestions, please email me at john14@cougartown.com