Hawthorne Time and
Temperature




Home | 60's Slang | Alumni List | Car Talk | Cougar News | Feedback | Hangouts | Memories
Recollections | Reunions | Street Scene | Teachers | Tributes | Vietnam | What's New | Keyword Search

More Early Rock and Roll
Dell Vikings

<!-+++++++++++++++++++++++++++++++++++++++++++++++++++++++++++++++++++++++++++++++++++++++++++ +++++++++++++++++++++++++++++++++++++++++++++++++++++++++++++++++++++++++++++++++++++++++++++->

---

---
<!-+++++++++++++++++++++++++++++++++++++++++++++++++++++++++++++++++++++++++++++++++++++++++++ +++++++++++++++++++++++++++++++++++++++++++++++++++++++++++++++++++++++++++++++++++++++++++++-
Name: Tom Buckingham () on Saturday, November 12, 2005 at 00:00:26


Email: reddog27@gmail.com
City and State: Clovis, CA
Class: 1964
Message: The Dennis the Menace playground was at Centinela Park in Inglewood. In the early 70's I rented a converted garage-apt just down the street from the park. It was a long narrow building and the only way to the bedroom was through the bathroom. The previous renter had been a United Airlines stewardess and several times "stews" from out of town showed up to visit and spend the night with the former occupant. This did not please my current girlfriend but it made for interesting opportunities to make the aquaintance of some very charming young women.
I bet it did, Tom

---

Name: Susan King () on Friday, November 11, 2005 at 20:41:05

Email: suekingeighteenataoldotcom
City and State: Thousand Oaks, CA
Maiden: Bierman
Class: 1974
Message: Happy Birthday Bobby Jensen, c/o 71 party hearty!! And Happy Veteran's Day and my deepest gratitude to all Veterans but especially Janny Blomsterberg who helps us all remember what's important. I am proud to know you Jan.
Me too Jan. Happy Veterans Day buddy.
---

Name: nick pappagiorgio () on Friday, November 11, 2005 at 19:43:09
Email: n_pappagiorgio_44@yahoo.com
City and State: LV NV
Maiden: rusty
Class: 1975
Message: Dennis the Menace park was in Inglewood but I can't remember the exact streets. There was a sand pit with a big rope you held on to and it carried you across the pit. It also had a neat little sidewalk with small hills that snaked through the park. It was fun to ride on it with the old red skateboards with metal wheels.

---

Name: Julie Blunt () on Friday, November 11, 2005 at 18:46:14
Email: julie_blunt@ahm.honda.com
City and State: Hawthorne, CA
Maiden: Leeper
Class: 1987
Message: Happy Veteran's Day. I love my Marine...Erik Blunt c/o88
We love him too, Julie, Thanks....
---

Name: Cindy Wernicke () on Friday, November 11, 2005 at 16:52:16


Email: cindycolby@adelphia.net
City and State: Seal Beach, CA
Maiden: Maxson
Class: 1963
Message: A very happy birthday to Bob Jensen, I hope you are having a good day. I am really sorry to have missed wishing my new old friend Jim Dick happy birthday, belated wishes to you my friend. Cindy

---

Name: Jerry Skaff () on Friday, November 11, 2005 at 16:42:26
Email: jskaff@fjuhsd.k12.ca.us
City and State: Thausand oaks, Ca
Class: 1967
Message: Happy Birthday Wayne...Monte and the Crystals forever.

---

Name: Keith D. Jones () on Friday, November 11, 2005 at 15:49:08
Email: cmi50@yahoo.com
City and State: Kona, HI
Class: 1976
Message: Well as you might expect Veterns Day is huge here. When I first moved here I did allot of prootions with the military. I've been to every single military installation on Oahu. I always loved going around base with someone on a guided private tour to see all the old places. I mean at Schofield and Pearl Harbor and Hickham there is so much history there. Many old buildings empty now just riddled with bullet holes. I had a private tour with the Pearl Harbor Base Commander on his private boat and he took me around Ford Island and all the stuff that no one else sees on the regular tour. There are so many boats in the water and buildings all shot up. Just unreal. Now, not sure if you get this news over there but they have found thousands of bombs and other ammunition of the coast of Waianae. Just 40' below the surface there are unexploded bombs and stuff that the US dumped after the war. Really causing a stir here and in Washington. Oh well. Aloha

---

Name: Don Burns () on Friday, November 11, 2005 at 15:28:38
Email: burnslock2@yahoo.com
City and State: Downey CA
Class: 1957
Message: Hey Cougs, there is a Dennis the Menace Park here in Downey, but I don't think it is the famous one everyone is refering to. So very glad to see so many of the old Cougs posting on here, I have been looking for Glenda Wilson for over 40 yrs., finally found her. Later Cougs Don

---

Name: Sharon Stowe () on Friday, November 11, 2005 at 15:04:00


Email: sharons39@hotmail.com
City and State: Lawndale, CA
Maiden: Ritch
Class: 1972
Message: I remember a Dennis the Menace Park in So. CA but I can't remember where. I emailed a gal pal who remembers EVERYTHING. If anyone remembers where it is, she will. ss

---

Name: Jim Sloey () on Friday, November 11, 2005 at 14:32:42

Email: unclebuck@unclebuckspretzels.com
City and State: SOLVANG, CA
Class: 1966
Message: Happy Veterans' day to all of the troops past and present. This day always gives me a real feeling of pride as both my parents served during WWII. My dad was stationed at Schofield Barracks at the time of the Pearl Harbor invasion. My mother was a personal friend of Mrs. Jimmy Doolittle while she was stationed at the Pentagon. Me, I know John Baker! Happy returns started in 1923 according to Beverly Johnson in her book Birthdays and Other Wishes, Harper Collins, 1985. The essence, it was a return to your birthday the following year[s], a sort of stay alive wish.
Happy Veterans Day to all, but especially the VETS.
---

Name: Dean Morris () on Friday, November 11, 2005 at 13:15:27


Email: dmorris@stanfordalumni.org
City and State: Vallejo, CA
Maiden: DeantheMenace
Class: 1972
Message: Kathy, Dennis the Menace Park lives, alive and well in downtown Monterrey, CA! Now I am not sure if that was the only DtM Park in the States, or if there was one in SoCal, but I remember this park as the greatest kids park ever built. It had a long rope suspension bridge; tall, fast slide and now has a fully restored steam locomotive engine there. I first visited it at age 5 or so with my Dad, returned in my 30s with my kids, and recently checked it out with my current spouse, going on all the park features. The park is fantastic and second to none. The City of Monterrey has invested well in its Parks and Rec so that other generations can enjoy what we had as kids.
Dean the Menace
Thanks Dean, sounds like a fun place.
---

Name: doris () on Friday, November 11, 2005 at 11:59:26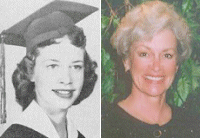 Email: yup
City and State: same-osame-0
Maiden: alwayswillbedonaldson
Message: A VERY HAPPY BIRTHDAY to Bob Jensen! Many returns of the day ... can ANYone tell me what that actually means? "Many returns of the day" ... huh? Anyway, Bob ... Hope it's a birthday best!
Hey Bob, Many HAPPY returns of the day.
---

Name: Kathy Downer () on Friday, November 11, 2005 at 11:45:00


Email: down6@charter.net
City and State: Marietta, Ohio
Maiden: Peterson
Class: 1970
Message: Do any fellow Cougars remember playing in a park that might of been named Dennis the Menace? I remember a drinking fountain that was in a lions mouth, and other neat things. Thanks, John and keep up the good work.
Hey Kathy, I must've missed that one.
---

Name: Betty Rodriguez () on Thursday, November 10, 2005 at 21:31:18

Email: thombettyr@yahoo.com
City and State: Lake Elsinore, CA
Maiden: Kean
Class: 1969
Message: Lance - Your story about John MacKenzie just brought me to tears. I so clearly remember him at that club on Artesia Blvd., dancing with all the girls. He was such a happy guy. No doubt his tragedy caught up with him later on. He served his country, and I, for one, was proud of him. I was proud of all of you guys.
Betty

---

Name: Mickey Mathena () on Thursday, November 10, 2005 at 21:17:22


Email: mathena@canby.com
City and State: Woodburn, Or
Class: 1958
Message: It's been several yrs since I last dropped in for a look. As I scrolled down the page the picture of Ray Shelley took me by surprise. Don't ever recall Ray looking that sharp. Ha! As I read his comments and saw Camille's name my heart skipped a beat. I have to second Ray's comments about how attractive Camille was and I'm sure she's still an attractive lady. More importantly I bet she is still a very nice person. The only classmate I've been in regular contact with for some time is Mary (Strehle) McDermid. The wife and I were in So Cal this past winter and we spent an evening with Mary. Very enjoyable to spend some time with an old friend that you've not seen in yrs. I must have not made too big a fool of myself as we've contined to keep in touch.
Well, Hi to all the classmates of the late 50's.
Hey Mickey, Thanks for the stories and glad you checked back. Stop in anytime.
---

Name: Sharon () on Thursday, November 10, 2005 at 17:18:38


Email: sharonlleach@cs.com
City and State: long beach
Maiden: Moore
Class: 1966
Message: Helllo all. John this is and yet is not Cougartown info. I need help from a computer geek and I use the term with respect. I am having major e-mail problems with my leach.greene@verizon.net e-mail address, which is the e-mail I have been using for the reunion information. I work this address through Outlook and last week I tried to send photos in a zip file to friends. Well, what has happened is that it was too large to send and now everytime I get on to outlook express it tries to send the message, but can't. However it won't let me delete it and it won't let other e-mails in. As I said, this is the address I am using for the reunion. Therefore, I need people to contact me at sharonlleach@cs.com instead. What a mess. If someone can give me some tips, I'd really appreciate it. Also, I got a wonderful surprise in the mail last week. Thank you Sharon, Susan, and John.
You are welcome, Sharon and thanks for all you do for us. As to your computer problem, I don't use Outlook so I'm not familiar with it, but I'm sure someone has run into this problem before. Can anyone help Sharon?
---

Name: Lance Bertelsen () on Thursday, November 10, 2005 at 13:19:56

Email: lberte@uts.cc.utexas.edu
City and State: Austin, TX
Class: 1965
Message: Paul Mackie, my man . . . Not only do I remember backpacking into Big Bear with the Scouts, I?ve got it on film. And not only do I have it on film, I?ve got it on tape. And our immortal Scoutmaster, my dad, spends most of his time out in Fredericksburg, TX, burning old film and video onto DVDs. So to all the Scouts of Troop 237?Mackie, Brooks, JB, his ?goofy little brother Jim,? my goofy little brother Hans (no, wait, he already has a copy), Wankel, Dennis Johnson, Butcher, Hogeboom, the Holland bros., Ricky Cooper, etc., etc.?if you e-mail me, I will commission our former Scoutmaster to burn discs for you containing the historical record of the immortal 237th: from the sands of San Clemente to the shores of Big Bear Lake, from rough sledding at snow camps to desert warfare outside San Berdoo. There are many classic scenes, but the best is from the end of the horrific hike to the water tower on the Silver Moccasin. As buzzcut young Scouts recline against the water tower, gulping the fresh mountain air, a dad reclining in their midst pulls out a Zippo and fires up a cigarette. Oh for the good old days . . . I?m serious. Let me know if you want one.

---

Name: Penny Prouty () on Thursday, November 10, 2005 at 12:06:12



Email: penny_prouty@usw.salvationarmy.org
City and State: Torrance, CA
Maiden: Prouty
Class: 1962
Message: I have sad news to share about my good friend, Gary Nelson (class of '60)...Gary passed away last Saturday, November 5th. Gary's wife, Jeanne, called me today, with the sad news and asked me to give the memorial service information for anyone who may want to attend. Also, she said anyone who may be planning to attend and has any questions or needs directions, may call her at (916) 797-3922. The service will be Friday, November 18th, at 2 pm and will be held at the Divine Saviour Catholic Church, 9079 Greenback Lane, Orangevale, CA - (916) 989-7400 (the church is near the intersection of Hazel & Greenback). Gary was a neat guy and a dear buddy...I'll miss him.
Sad news indeed, Penny. Gary was a bonafide car guy and loved his hot rods. He will be missed.
---

Name: roger lynberg () on Thursday, November 10, 2005 at 00:29:47
Email: rlynberg@aol.com
City and State: santaluz, ca.
Class: 1965
Message: If anyone can remember the late 60's and 70's, you just weren't partying with the right people.

---

Name: Lee Ann Roehm () on Wednesday, November 9, 2005 at 22:15:42


Email: lasurvivor@comcast.net
City and State: West Linn, OR
Maiden: Nixon
Class: 1964
Message: So, John, can you stand another story from me about how C-town got me in touch with someone?
I'm referring to Leo Ainsworth (also class of '64), who I lost touch with last year. His mother and my mother were best friends in high school (Leuzinger) and we were at each other's first year birthday parties - we go back a long way. Anyway, I remembered that his birthday was yesterday and couldn't email him about it, until I thought, "maybe he put his new email address on the HHS website". Sure enough, there it was. He replied and it was great hearing from him again. He even sent me a picture of himself at, what looks like, maybe 3 years old, in a cowboy outfit.
So, thanks again, for all your hard work and keeping us in line - like bugging us to keep our email addresses up to date.
Oh yeah, he turned 59 yesterday. Can you believe he's that old? Ha!
Thanks Lee Ann and nice you reconnected through the Alumni List. Everyone please make sure your address in correct on the list. Can't remind you enough as it's the lifeline to our HHS friends.
---

Name: Glenda () on Wednesday, November 9, 2005 at 21:38:32

Email: glm_55119@yahoo.com
City and State: St.Paul,MN
Maiden: Wilson
Class: 1958
Message: Hey Poodles, This is Glenda Wilson. I skated for Redondo Beach Skate land. Do you remember me? Did you know David Hill. He skated for Westchester skating rink. If I remember right you always had your hair in real tight curls . I think that is why they called you poodles. You always looked so cute. Oh gash. Now I embarrassed you. Right? All kidding aside. It is great to hear from you. Let me know if you remember me. I married Jimmy Morton He also skated with us. We were on the speed skating club. Were you doing the speed skating?
I always thought they called him Poodles because of that poofy skirt he wore.
---

Name: Leeroy () on Wednesday, November 9, 2005 at 19:41:57
City and State: just got in town
Class: 1965
Message: R Shelley you were beautiful, "my insecurites needed to be fed " Man that is class act #1. We all tip our hat to you.

---

Name: Alan Hauge () on Wednesday, November 9, 2005 at 17:33:58


Email: gmt333@comcast.net
City and State: Playa del Rey, CA
Class: 1961
Message: Hey John, do you remember Richard Little class of 1961? Speaking of parties, my parents were gone one summer day and Richard and I discovered booze tucked away in the corner of the garage in a box. When I say "we" killed it off would be wrong when he inhaled 90%. About 5pm that evening he left for home "drunker than a skunk". Watching his bike weave from side to side before he nearly was run over was hysterical. The phone call an hour later from his mother was not. It seems Richard went straight into a tub of hot water to try and sober up. His mother heard him throwing up and entered the bathroom where he tried to pretend everything was cool, with chunks of his lunch floating on the top of the water. Its great to be a Cougar.
Alan
Hey Alan, Just part of the learning process.

Thanks for the great story.
---

Name: Ray Shelley () on Wednesday, November 9, 2005 at 15:37:45

Email: rjshelley@sbcglobal.net
City and State: Mena, AR
Class: 1958
Message: John, I know you like direct messages to be sent by e-mail, but if you will allow me this opportunity to make a public Cougartown apology. Camille, I apologize for embarrassing you at the assembly. In my opinion you were one of the most attractive girls at HHS. But, my insecurites needed to be fed by a laugh, apparently, at the expense of others. I had no room to criticize anyones nose, why, they use to say, "we always knew when Shelley was coming, because his nose arrived five minutes before he did"! Again, Camille, I apologize for being an insensitive cur! Now, Mike Shay is another story. How can you apologize to a guy who could shine shoes the way Mike did? John, about this princess thing?
AT LAST, nearly a half century later, Ray apologizes.

Thanks Ray and I apologize too. You aren't the Princess type.
---

Name: Kathy Duran-Reese () on Wednesday, November 9, 2005 at 15:29:02


Email: Doubullds@aol.com
City and State: Redondo Beach
Maiden: Duran
Class: 1964
Message: Keith, I remember Hollywood Accessories...After graduation, I spent the worst six months of my life working there...I made $1.25 an hour for the hardest, most labor, I've even done!! Mom worked there for 17 years!!! Those stickers you found were probably my mistakes!!!!

---

Name: Keith D. Jones () on Wednesday, November 9, 2005 at 12:36:24

Email: cmi50@yahoo.com
City and State: Kona, HI
Class: 1976
Message: Thanks John, I think it is a neat thing too. Once we get more and more Cougs on there it will be a neat way to see exactly where we are all at around the world at a glance. If any of us travel we can see if any Cougs are in the area
Yep, and it's free too. Thanks again Keith for the idea.
---

Name: Camille () on Wednesday, November 9, 2005 at 12:02:18


Email: cam2home@aol.com
City and State: Manhattan Beach , CA
Maiden: Hill
Class: 1959
Message: Mike Shay's comment on the Shelley family triggered a memory of RAY grabbing my megaphone & shouting out at an assembly "Hey, Camille - does the nose come with the glasses?" I was pretty mortified, but kept smiling and funny, I later thought maybe I should consider a nose job, but decided I can live with it and hopefully everyone else can too! I had my insecurities challenged, but I doubt if Ray even remembers it.
Happy Thanksgiving everyone.
Hey Camille, As I recall you were Senior Princess so your glasses and nose weren't all that bad. I don't think Ray was Senior Princess, or was he?

---

Name: Keith D. Jones () on Tuesday, November 8, 2005 at 21:40:14
Email: cmi50@yahoo.com
City and State: Kona, HI
Class: 1976
Message: Remember Hollywood Accessories. On weekends as kids we used to ride our bikes throughout the industrial area looking in trash cans. At Hollywood Accessories we always found those Moon EYes stickers. Remember those. Found stick shift knobs and all sorts of neat stuff. There was a salt and pepper shaker company over there too that I found some really nice shakers. And the trash cans at Mattel were the nicest. We saw Hot Wheels before they were even on the market. The Dero (forgot spelling) was a favorite. It was a truck like car.

---

Name: Paul Mackie () on Tuesday, November 8, 2005 at 16:54:33


Email: pmackie@norrecreation.org
City and State: Bakersfield Ca
Class: 1963
Message: The 60s... Does anyone remember the saying; ASS, GRASS, OR GAS NOBODY RIDES FOR FREE? Now thats classic hippy.
Great to hear from Lance. I remember Lance, Lynn Brooks, Rick Cooper, John Mackenzie, JB Schroeder and his goofy little brother Jim, plus many more in Scouts backpacking through the Big Bear area. Great times and memories.
I remember that one but remember it from the mid 70s. Also I remember the Boy Scout Cabin in Big Bear, on the lake. What a great place to be as a kid. I wonder if it's still there. Thanks Paul...
---

Name: carole Ferruccio () on Tuesday, November 8, 2005 at 16:47:27
Email: isahighcarole@yahoo.com
City and State: Lake Isabella, CA
Maiden: Anderson
Class: 1960
Message: Mike Wilson, did you go to Eucalyptus Elem. and Hawthorne Intermed. I knew your name and face right off. We did not mingle in High school but I believe we went thru all the same schools at the same time and probably had some classes together. I'm not sure about Eucalyptus. John doesn't have a pic of me so if you don't remember me don't blame your memory - blame John LOL.
carole
Hey Carole, I just looked in the Junior pics and you're not there either.

---

Name: edward schatz () on Tuesday, November 8, 2005 at 14:35:40


Email: easchatz1@netzero.com
City and State: el cielo, calif
Class: 1970
Message: Way too cool, so many stories about the turbulent sixties, and the consequential peoples of the era. It swings both ways, good and bad, and for every person that speaks holy of the "good old days"; (I'll have to see if I can find it somewhere, years ago the LA Times printed a half page listing the predominent social and moral issues and dilemmas that arose in each era since the Big War), that many forget all of the problems in each of those times. Funny thing, my wife, Carol, class of 75, said something that really surprised me the other night (let's not jump ahead and be crass), that she thought "the hippies and surrounding antiquities were of the kindest and most compassionate ideologies of any generation." And she being as far on the other side of the pendulum as I can fathom concerning that era. There was great times and horrific times, and the consequences of that era are still being talked about today, interesting, huh?

---