Hawthorne Time and
Temperature




Home | 60's Slang | Alumni List | Car Talk | Cougar News | Feedback | Hangouts | Memories
Recollections | Reunions | Street Scene | Teachers | Tributes | Vietnam | What's New | Keyword Search

I thought I was dreaming
But I was wrong, yeah yeah yeah
Oh, but I?m gonna keep on scheming
Til I can make you
Make you my own
Doris Troy

<!-+++++++++++++++++++++++++++++++++++++++++++++++++++++++++++++++++++++++++++++++++++++++++++ +++++++++++++++++++++++++++++++++++++++++++++++++++++++++++++++++++++++++++++++++++++++++++++->

---

---
<!-+++++++++++++++++++++++++++++++++++++++++++++++++++++++++++++++++++++++++++++++++++++++++++ +++++++++++++++++++++++++++++++++++++++++++++++++++++++++++++++++++++++++++++++++++++++++++++->
Name: Miaaka DeForrest () on Tuesday, April 19, 2005 at 19:52:07
Email: miaaka@hotmail.com
City and State: Cartago, CA
Maiden: Lester
Class: 1977
Message: Wade - I am sorry for your loss. My thoughts go out to you and your family.

---

Name: Karen Tamulonis () on Tuesday, April 19, 2005 at 19:06:53


Email: karentamulonis@aol.com
City and State: Brisbane, CA
Maiden: Avena
Class: 1964
Message: This coming Monday I'll be in good ole Hawthorne to help my Mom through some knee surgery. I plan on wearing my Cougartown T-Shirt one of the days just in case I bump into someone. I know I've changed alot since 64 so I'll need all the help I can to maybe find an old school mate. I'm really excited about being in my hometown and might even run over to Foster's for a cone. Hope I see one of you there.
Hi Karen, Good luck, I hope you see an old friend.
---

Name: Teri Hoenig () on Tuesday, April 19, 2005 at 11:04:09


Email: teri8045@sbcglobal.net
City and State: Paradise, CA
Maiden: Klein
Class: 1973
Message: Happy "50" Birthday Kim! I love you and thanks for being my friend forever.

---

Name: JAMES CICALESE () on Tuesday, April 19, 2005 at 10:41:28
Email: jimc074@aol.com
City and State: lakewood ca
Class: 1974
Message: Wade, I am sorry to hear of your loss. You and your family will be in our prayers.

---

Name: Cindy Colby () on Monday, April 18, 2005 at 20:52:25
Email: cindycolby@adelphia.net
City and State: Seal Beach, CA
Maiden: Maxson
Class: 1963
Message: Wade & Family, I am truly sorry for your loss. Cindy

---

Name: Bob Veach () on Monday, April 18, 2005 at 19:49:53
Email: grv5891@aol.com
City and State: Long Beach, CA
Class: 1972
Message: Wade, I am so sorry to hear about the loss of your wife. My prayers and thoughts go out to you and your family.

---

Name: Pat Underwood () on Monday, April 18, 2005 at 19:18:33
Email: onefamilyhistorian@socal.rr.com
City and State: Hawthorne California
Maiden: Lawndale High
Class: 1963
Message: Well John, if you did in fact date Bo Derek, I think you made the right choice in marrying JB-2. I?ve seen photos of you and her and she is quite beautiful.
I know when I was dating Marilyn Monroe the secret service stepped in and told me too break it off or I was getting a one way ticket too the desert. So I bought a Corvette instead.

---

Name: David Neuschafer () on Monday, April 18, 2005 at 18:29:47
Email: Dendan2@aol.com
City and State: Vista, Calif.
Maiden: Leuzinger
Class: 1959
Message: JB1, you amaze me! Now how in the world did you know Bo Derek went to Narbonne High? Good grief!
EZ, I used to date her until John Derek took her to Europe. He said Bo Baker wouldn't work, career wise.

---

Name: Angie Saldana Rios () on Monday, April 18, 2005 at 15:37:07
Email: arios@callahan-law.com
City and State: Orange CA
Message: I'm looking for someone, I thought graduated from Hawthorne High, in the Seventy's by the name of Michael (Mike) Hargroves, he's not on any lists, this is the same school that Bo Derek attended right for a short time right?
Sorry, Bo Derek went to Narbonne High.
---

Name: Enza Nicocia () on Monday, April 18, 2005 at 14:29:54


Email: enico72*aol.com
City and State: San Pedro Hill, Ca
Class: 1972
Message: Dearest Wade, Words cannot express the shock and saddness of learning of your great loss of your beloved Penny. My deepest and sincere heartfelt sympathy goes out to you and your boys/family. If there is anything that ANY of the Nicocia's can do, please don't hesitate to ask. I will light a candle and say a prayer for Penny and also for strength and courage for all in your time of need. With much love and condolences, Enza.

---

Name: Jodi Weishaar () on Monday, April 18, 2005 at 11:18:18
Email: jwb2bomber@aol.com
City and State: Hawthorne CA
Maiden: Wilbanks
Class: 1976
Message: I have been asked by Stacy Lopez (Greasby) to notify all Cougars of the following...
We lost our Penny Kathleen Stiffler on Saturday, April 16, due to complications after suffering from a brain aneurysm. She is survived by her husband Wade Greasby (HHS grad 1973); 2 sons, Matthew and Garrett; her mother, Shirley; 3 sisters, Crystal, Robin and Karen; 2 brothers, Raymond and Randy, and many nieces, nephews, and in-laws.
Services will be held on Thursday, April 21, @ 2:00pm at the following location:
First Baptist Church of Huntington Beach - Fountain Valley
17415 Magnolia Street
Fountain Valley, California
(714) 847-3573
Private internment will be held on Friday, April 22.
Our thoughts and prayers are with the entire Greasby family during their time of loss...life is so precious...Mike, Jodi, Nikki and Chris Weishaar
So sad to lose our friends. Our condolences to Wade and the entire Greasby and Stiffler family in this their time of loss.
---

Name: Anita () on Monday, April 18, 2005 at 09:59:33
Email: anita.m.bell@erac.com
City and State: Fair Oaks, Ca
Maiden: Harmon
Class: 1969
Message: To the classes of 69' & 70 Do any of you remember what the majority of us were doing 36 years ago this evening? April 18, 1969? It was our Junior-Senior Dinner Dance Prom. It was held at the Beverly Hilton Hotel. We were in the Grand Ballroom. The theme? ~ 'I Can Hear Music'. Do you still remember who your dates were? And ladies...do you remember what kind of corsage you had and what your dress was like? It amazes me how I can remember all of that, yet can't remember what I did with my keys?
I still don't think everyone believed that the Beach Boys were going to perform at our prom. I remember all of us standing on the dance floor, but not a one of us ever danced did we? We were all being given the gift of our very own private concert that night!
I remember Al Jardine, Mike Love, Dennis and Carl Wilson, but I can't remember if Brian was there or was it Bruce Johnston?
Thanks to Ken Mecurio who was first semester Senior President. He took on the task of contacting the Beach Boys' manager which started the ball rolling on that incredible evening. I can even remember them (the Beach Boys) cracking a few jokes about some of the teachers we had shared throughout the years.
To this day, when I tell someone the story about the Beach Boys performing for our prom ~ I still get a raised eyebrow.
So classes of 69' and 70'...any memories out there from that night? Would love to hear them!
---

Name: Schroeder, Jim () on Sunday, April 17, 2005 at 18:46:02

Email: chezwizz@yahoo.com
City and State: Central Point, Ore
Class: 1966
Message: I'd like to pubicly acknowledge my big brothers 59th (wow) birthday today. J.B. (which didn't really stand for Jim's brother as I said it did) was a Cougar stalward in the class of '64. Knight's; Band; track; cheerleader --among other credits. Proud to be his sibling. Little bro.
Pubicly!!?? OR Publicly....anyway, Happy Birthday JB. The last time I saw you, you were 13.
Hope you got the "Datenight in Oregon" care package, Jim. If not, I'll send you another.
---

Name: Dennis Kilroy () on Sunday, April 17, 2005 at 01:38:52


Email: xcabledude@yahoo.com
City and State: OC CA
Class: 1977
Message: Hey John, sorry I will miss the Pink's Run. I will be at my friends Daughter's Wedding. I know I am starting to get old now, cuz I never go to friend's Weddings any more... it is just their Kids getting hitched.....See everyone next time.
OK Dennis, have the best time you can have at a wedding, and we'll see you at the next Cruise....
---

Name: Steve Fraser () on Sunday, April 17, 2005 at 00:42:39


Email: sfraser53@lworld.net
City and State: Laguna Woods, CA
Class: 1966
Message: Anyone know the whereabouts of Larry Hess, '64?

---

Name: EL ROJO () on Saturday, April 16, 2005 at 16:15:30


Email: I-DY-HO
City and State: YOU KNOW
Maiden: KNEWWHERETHEPARTYSWERE
Class: 1960
Message: Hey Hood, you must have never been to the westside party at the JACOBSENS house, circa, 57. Set the stage...57 Varsity Football, Mike Gillespie, Gary Kimbrell, Jerry Kelly, Bob Sheets, Charles La Rock, Don Allen etc. My brother Dave asked Mom & Dad if he could have a few people over after the MOANINGSIDE game. This was the league championship game, Yea , no prob Dave. We'll buy the Cokes. Dave mentioned this to a few friends at school and all was cool. Hawthorne beat Moaningside big time. Well, apparently this one little statement was running through the stands the whole game. It really was a buzz like a Bee. Keith Lent who was driving (I was young and not of age) and I had to park two blocks from my house (118th place and Felton)!!! Keith and I walked up to the house and I said let me in , a guy I've never seen before said who are you? I said I live here DS!. Really? Yea stupid, those guys are my brothers friends!!! Make a long story short. People from Canoga Park, San Fernando Valley, Pasadena had heard of this party while CRUIZIN. Late 50's. Go figure!!!! You had to push someone out the back door to get in the front door. And you young kids out there, we all were drinking Coca Cola. The Police were polite...disburse or we will arrest you. Mom and Dad come by...they didn't want to stop. Big cleanup on 118th place until the early mornings. No one mentioned it for a long time. Any of you East Siders make THE PARTY? Didn't think so. You had to be CCOOOOLL! MAY THE COUGAR BE WITH YOU!!!
Just a jock party Jake, we had Elvis and girls were at our party....

---

Name: Armand Vaquer () on Saturday, April 16, 2005 at 12:43:43

City and State: Tarzana, CA
Class: 1972
Message: Make-out spots: 1. Playa Del Rey (the area between the beach and LAX after the home were removed/demolished). 2. Torrance Beach. 3. Behind Boy's Market. 4. Vermont Drive-In. 5. Roadium Drive-In. 6. The Hill.
Off Topic: Does anyone remember "Twin Poles" in Topanga Canyon?

---

Name: Sharon Atkinson () on Saturday, April 16, 2005 at 12:30:11

Email: remaxsharon@aol.com
City and State: Rancho Palos Verdes, CA
Maiden: Wilson
Class: 1969
Message: I married Michael Walker (hhs 69) in 1971 and had four children, divorced in 1985, then married Terry Atkinson (hhs 69)in 1987 and have a son (13 years). Michael unfortunately passed away in 1988.
Hi Sharon, Welcome to Cougartown.
---

Name: Royal Wm. Lord Jr. () on Friday, April 15, 2005 at 23:20:23


Email: patricia.lord@ugs.com
City and State: Cerritos,California
Class: 1961
Message: Paco, that's the most I've seen you say in the feedback in many moons. Keep it up! I also see El Rojo is still running off at the mouth! Just kidding OLE football buddy! John B. We are moving to Live Oak, California at the end of the summer when I retire. I'll let you figure out where Live Oak is located. "Thank God I'm a Coug" Royal
Hey Royal, Good to hear from YOU finally. I hope you and Pat can make our Pinks Run on the 30th of this month. It would be nice to see you both. Thanks for the shout and please stay in touch.
Oh I know where Live Oak is, it's just this side of my FAVORITE place in CA, Gridley.
---

Name: Howard "Paco" Duran () on Friday, April 15, 2005 at 17:46:25


Email: doo4usc@cox.net
City and State: LF
Class: 1961
Message: I remember a "Make-out" spot, P------Point in P.V and another behind the "Wich Stand" which we used not always for making out..One night Dennis Morris, Tom Barnett, Franz Russell and myself had a case of Coors and looking for a place to drink it, ya know to get ready for the evenings festivities...We or probably I thought no one ever bugged the lovers in "Lovers Lane", why not? So we drove in, hearing "Sonny Knight" singing softly..We pulled over and started giggling like 8th grade girls...2 in the front 2 in the back, hey this is great! The cops would drive by, we would shift from shot-gun front and rear to the left and put heads on the shoulders of our buddies..A flash light every now and then..Finally with about half the nectar consumed a cruiser came by and stopped, a flash, a door opens and 2 of Inglewoods finest say "Good evening lovers", well they made us get out with headlights and flashlights on us, while giggling from other cars grew louder..We had to pour what was left out and leave..Needless to say we changed cars as fast as we could to continue our night of cruising..Off to PS, have a good weekend!!
We didn't pretend to date each other, we just drank it.


Take it easy on Palm Springs, my grandkids live there.
---

Name: Sherry Wingo () on Friday, April 15, 2005 at 17:40:27


Email: dscwingo@pacbell.net
City and State: Haw. Ca.
Maiden: Peppers
Class: 1964
Message: I remember the incinerators. We had one in the backyard when we lived on 8th. St. Now known as Gale. Tom O'Keefe, I remember Sandra Caselli. She was a foreign exchange student. Nice person. John Baker, I just saw your picture in the '61' El Molino. I didn't realize you were the Vice President of the Bowling Club. Great club. Lots of nice people joined.
Yes BC Veep, a stature that I aspire to today.
---

Name: Robin () on Friday, April 15, 2005 at 17:06:48

Email: Sundale/Felton vs. 133rd ????
City and State: Monrovia
Maiden: Youhavetobekidding
Class: 1960
Message: With all due respect Betty, we didnt have to HAVE a party on 133rd because it was a party living there. And I am sure your fine group of Cougars had a great time but we had familys as big as your partys. The Estradas and Hunters alone outnumbered your entire area. Ask your classmate Lizzy what a real party was like. We invited people from the Sundale /Felton area to come to our partys. But as I remember most of them had to be home by 10:00 so they seldom attended. Not even a contest John.....:o)
I knew that would get the fur up on someone from 133rd. None of you had anything NEAR what we had on the Eastside though. We had a small get together on Freeman at Bob Reagan's house one afternoon and Elvis was there. Now I've heard that Godzilla showed on 133rd once, but come on, not close to THE KING.
---

Name: Raymond Smith () on Friday, April 15, 2005 at 16:18:20


Email: Kawabunganorth@juno.com
City and State: Portland, OR
Class: 1981
Message: I got an interesting story on "Make out". This was when I already graduated and it was in July when I took a fellow HHS grad home from a dance. She lived on the West side of Hawthorne where it boarders with LAX property(across the street)and all that was there was just fields. Well, I just so happened to be parked on the wrong side of the road when some stupid LAX secruity had nothing better to do than just stop my lil fun. He bang on my window and shine his flashlight in telling me I had to move or he'll have me arrested for parking on Illegal property. Heck...I was on the street!(I believe it was 117th street and Aviation Blvd) in front of my girlfriend house! Well, that ended my chance to continue my fun and my date got out of the car and went home! I wonder who got the last laugh!

---

Name: Walter Holt () on Friday, April 15, 2005 at 14:47:23


Email: wholt48@socal.rr.com
City and State: Surf City, CA
Class: 1966
Message: Just Noticed the request for "Treasure of Love" by Clyde McPhatter...Yep I got it John and now so do you. Surf was fun this morning Cougs!!!
Thanks Walt...
---

Name: Betty Rodriguez () on Friday, April 15, 2005 at 14:31:36

Email: tombettyr@peoplepc.com
City and State: Lake Elsinore, CA
Maiden: Kean
Class: 1969
Message: John-Not only did the Sundale/Felton crew have the best make-out spots, but we had the best parties too! Let me throw out some names - Billy Cusac, Charles Theveny, Cindy or Don Matteson, and of course, me! All the cops will remember, I'm sure!
Betty Rodriguez Class of '69
Yep, I bet they do remember....

Thanks Betty...
---

Name: Roberta Moore () on Friday, April 15, 2005 at 12:32:18


Email: moore4nature@surfbest.net
City and State: Baker, Nevada
Maiden: Caldwell
Class: 1967
Message: I don't have the stories like my sister Jean MacErnie (she amazes me!) but I?ve had a couple of Cougar sightings I feel worthy of mentioning.
As a park ranger at Great Basin National Park, I?ve always hoped to see some of you Cougars at the park. It happened this past week, when while I was leading a tour through Lehman Caves, I discovered that one of the visitors was from Hawthorne and had graduated from HHS. Terry Sheldon graduated in 1959 and while I didn?t know him until his visit to the park, he knew my cousin George Hahlbeck in high school, remembered Dale Hahlbeck, Sr. and Madeleine (Short), Dale?s wife. It?s a small world and I am wondering how many Cougars have visited Great Basin National Park, spoken with me and we simply haven?t made the connection. So, Cougars, if any of you visit Great Basin National Park, look for me!
Another sighting occurred a couple of years ago and has developed into a great friendship. I met with the executive director of the Friends of Nevada Wilderness for lunch in Reno to discuss the possibility of the Friends organization sponsoring a book I was working on. While visiting with Sharon Netherton about the book, we also discovered that not only had we both graduated from Hawthorne High School, attended Eucalyptus Elementary and Hawthorne High School, but also that we lived just down the block from one another! Small world!
And about the book? The Friends organization sponsored it and ?Wild Nevada: Testimonies on Behalf of the Desert? was published by University of Nevada Press in last month. And about Nevada and its wonderful wild places ­ take a look at the Great Basin National Park site at nps.gov/grba and learn about the only national park (entirely) in Nevada. It?s a beautiful place! And if that doesn?t sate your appetite, open up the Friends of Nevada site at www.nevadawilderness.org and get a really good look at why there are those of us who are fighting hard to preserve and protect our wild and beautiful landscape!
Hope to see some of you Cougars at Great Basin National Park. Email me if you have any questions about the park, logistics, etc.
Roberta
Great sightings, Roberta, thanks for sharing...
---

Name: doris () on Friday, April 15, 2005 at 11:36:04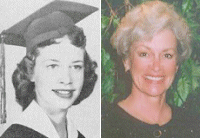 Email: dorisjeanATmindspringDOTcom
City and State: Twin Falls, ID
Maiden: donaldson
Class: 1957
Message: In keeping with my theme, "a day late and a dollar short", HAPPY BELATED B-DAY DONNA GOHR! Hope it was great! The only makeout spot I can remember vividly was somewhere in Palos Verdes. One could see the lights sparkling and listen to music and ... and ... It was very romantic, indeed.
Romantic!!?? Guys would make out in a dumpster....
---

Name: Jerry Simpson () on Friday, April 15, 2005 at 08:13:52

Email: jerypat6244atyahoo.com
City and State: Santa Clarita CA.
Class: 1962
Message: Make out spots. Where ever your girl friend was Baby sitting. Especially around Felton Ave. (A personal favorite.)
MAN, the 133rd St gang had nothing on the Felton/Sundale crew. It seemed there was always something going on over behind HHS.
---

Name: Pat Underwood () on Friday, April 15, 2005 at 01:29:08

Email: onefamilyhistorian@socal.rr.com
City and State: Hawthorne California
Maiden: Lawndale High
Class: 1963
Message: Not only was STL a great place too blow your buddies doors off during the races, but it was also a terrific place too make out with your favorite girl or guy, which ever the case may be. LOL. I remember at Hawthorne?s Palladium Party in Hollywood class of 62 & 63 which was the biggest make out fest of all time. Remember John?
Barely, I had my eyes closed most of the night.
---

Name: Larry Bach () on Friday, April 15, 2005 at 01:10:34
Email: startnofyr@socal.rr.com
City and State: Torrance, CA
Class: 1972
Message: In the parking lot behind Hawthorne Community Hospital.

---

Name: Dawn Moffett () on Thursday, April 14, 2005 at 23:20:10
Email: dmoffett@clunet.edu
City and State: Simi Valley, CA.
Maiden: Koch
Class: 1978
Message: Hey Sue! It is good to see you even if it is just a picture. Email me, I'd love to catch up!!!! Hope all you Cougars are doing well and getting ready for summer.

---

Name: Jean MacErnie () on Thursday, April 14, 2005 at 23:18:43


City and State: New Mexico
Maiden: Caldwell
Class: 1968
Message: Make out Places.....Eucalyptus Park, Centinela Park, The beach late at night after a party, drive ins of course. thats some....I doubt if any one says "Make out" now days though...Now the incinerator...what an old memory...I do not remember having one in our back yard....But I know some families did on 122nd st....On 121st and 123rd too....The neighbors behind us had one...I thought there were ugly and scary...I only remember the concrete one though. There are just soooo many memories of old Hawthorne out there....we never seem to run out of them.....
Thanks Jean...
---