Hawthorne Time and
Temperature

Home | 60's Slang | Alumni List | Car Talk | Cougar News | Feedback | Hangouts | Memories
Recollections | Reunions | Street Scene | Teachers | Tributes | Vietnam | What's New | Keyword Search
You got soul, too much soul
Foxy clothes, the cutest nose
The greatest shape
There's nothing fake about you
Baby you got it> Brenton Wood
<!-+++++++++++++++++++++++++++++++++++++++++++++++++++++++++++++++++++++++++++++++++++++++++++ +++++++++++++++++++++++++++++++++++++++++++++++++++++++++++++++++++++++++++++++++++++++++++++->

---

---
<!-+++++++++++++++++++++++++++++++++++++++++++++++++++++++++++++++++++++++++++++++++++++++++++ +++++++++++++++++++++++++++++++++++++++++++++++++++++++++++++++++++++++++++++++++++++++++++++->
Name: Debbie Miles () on Friday, October 8, 2004 at 13:51:58

Email: pinkelephant10atyahoo.com
City and State: Del Aire
Class: 1977
Message: Hi, Rick glad to hear you're still lovin' the hatchery life! Nice to hear you think Melodie is a cutie, I'm kinda partial, LOL!
My mom was wearing her Cougartown shirt when she was sited, made her day for sure!
Feel free to email Jerry or me anytime ya want, your dad gave me his email, but I guess I wrote it down wrong. bigpinesailor and Mrs. BigPineSailor were always nice. Has your mom given email a try?

---

Name: Art LaMere () on Friday, October 8, 2004 at 13:40:12

Email: artlamere@msn.com
City and State: Bettendorf Ia
Class: 1973
Message: John like the looks of the home page nice. Have a good week end all
Thanks Art, time for a change....
---

Name: Elizabeth Aleccia () on Friday, October 8, 2004 at 12:31:34


Email: dzlizzy31@hotmail.com
City and State: Redondo Beach,CA
Maiden: Estrada
Class: 1969
Message: Update...Poor Cecil packed up all his things to come to California and be in love...got half way here and freaked out...ran back to Dallas with his tail between his legs whimpering like a pup. Just goes to show ya, if you can't run with the Big Dogs...stay on the porch. One might ask..WTF? I say...it was a great ride.
To the class of '69 please don't let anything hold you back from the reunion. We'll have a great time reconnecting. See ya'll there.
DZ
Hey Liz, Sorry about Cecil. I know he was very special to you.
---

Name: Rick Trullinger () on Thursday, October 7, 2004 at 22:40:50

Email: Tapplefish@aol.com
City and State: Independence.Ca.
Class: 1973
Message: Hey, Debbie Miles and John, I had a Cougar sighting of Debbie's mother and sister at the bull riding event over Labor Day weekend in Bishop. It was fun to see Sherrie's daughter in the mutton busting contest. I have not had a Cougar sighting of Jim Calkins yet, when I have been stocking trout in the big city, Bishop.
Hey Rick, Jim's out there, believe me, along with his wife of 40 some years, Carol Dunlap Calkins HHS61. Good to hear from you......
---

Name: alonzo young () on Thursday, October 7, 2004 at 21:23:12
Email: alonzo_33@hotmail.com
City and State: compton,ca
Class: 1986
Message: THANKS FOR ALL THE FRIDAY NIGHTS OUT THERE ON THE FOOTBALL FIELD, I MADE A LOT OF FRIENDS AND HAD A BLAST. RICK JAMES, ANDRE JACKSON, GLENN NOYA, JEFF CHADWICK, RICKY PIERSON, ROBERT MORRIS, BRIAN CHURCH, TONY SMULLEN, WILLIAM HARNAGE, KEITH SMITH, KEVIN HARRIS, I COULD GO ON AND NAME THE ENTIRE SQUAD, BUT IF I DIDN'T MENTION YOUR NAME YOU ARE NOT FORGOTTEN AND ALL MY 1986 OCEAN LEAGUE CHAMPS, THANKS FOR THE MEMORIES THEY WILL ALWAYS BE MY FONDEST MEMORIES. YOUR QB #10 ALONZO YOUNG
Hey thanks Alonzo, and a Cougartown salute to you and the 86 Cougar football squad.
---

Name: Baxter Dodd () on Thursday, October 7, 2004 at 18:37:12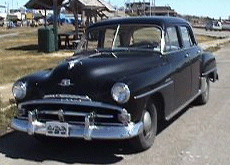 Email: baxterldo@aol.com
City and State: Riverside, CA
Class: 1957
Message: My first car was a hand-me-down 51 Plymouth ?Cranbrook? 4-door flathead 6. I lowered it, split the manifold for dual pipes, shaved the deck & hood, got all the dings out of it, etc. Had it all ready to paint when someone creamed the left back fender while it was parked in the HHS parking lot. Never found out who did it. I figured it must have been someone from Morningside or Leuzinger who temporarily lost their way. I know that none of our HHS guys/girls would have done a thing like that. Hmmm? Finally ended up swapping out the 6 cylinder for 56 Fury V8 engine. It was a real sleeper and a lot of fun. Got pulled over a few times but never got a ticket in it. Those all came later with my next car. Cruisers forever!!
Baxter
I got hit by some girl from El Segundo once. Maybe it was her.

---

Name: JOHN CROTTY () on Thursday, October 7, 2004 at 12:11:36


City and State: HERMOSA BEACH,CA
Class: 1969
Message: HEY JB, I HATE TO BEAT A DEAD HORSE, BUT IT'S ONLY 16 DAYS UNTIL THE CLASS OF '69's BIG 35 YEAR REUNION, AND ALL THE ALUMNI NEED TO SEND IN THEIR INFO. I'VE HEARD FROM SEVERAL CLASSMATES WHO HARBORED SOME RESENTMENT OVER THE YEARS, BUT HAVE NOW DECIDED TO FORGOE THEIR FEARS AND JOIN IN. AGAIN, NO ONE IS GOING TO CARE WHAT YOUR STATUS WAS BACK THEN, WHETHER REAL OR IMAGINED. WE JUST WANT TO SEE YOU, FIND OUT WHAT YOU'VE DONE, WHERE YOU'VE BEEN, WHO YOU ARE TODAY. NONE OF US LOOKS LIKE WE DID THEN, AGE HAS NO CONSCIENCE, NOR CAN YOU STOP TIME. BALD, BIG, BESPECKLED, OR GRAY....COME JOIN US!!!!!!!
Yes Cougs, Reunions are NOT to be missed. You are all very special to your class. Without YOU there would be no reunion. Please make every effort to attend these special times. You will not regret it.
---

Name: Marilyn Ross () on Thursday, October 7, 2004 at 00:45:42


Email: mlr922@hotmail.com
City and State: Garden Grove, Ca
Maiden: Wisham
Class: 1956
Message: We used to listen to the funnies on the radio too. We called him the funny paper man I think. It was so fun we would listen to him first thing in the morning and couldn't wait to get the paper to see the pictures. We watched the program on the El Segundo murders. It was very interesting especially since it was in our own backyard. My husband lived in El Segundo at that time, he was a Senior. That town was really on edge. It really took me back with all the 1950's photos. When my kids were young we had lots of polywogs too. Then we had lots of little bity frogs. My boys had some in shoe boxes until they dried up. Most of the frogs disappeared probable eaten by animals.
I remember the little frogs (or toads) too. Thanks Marilyn....
---

Name: Roger Terry () on Wednesday, October 6, 2004 at 18:00:56
Email: mookster@btinternet.com
City and State: England
Message: Somehow got onto this site by sheer accident when listening to Tom Waite online - no matter, it's a great site. Served in British Forces in Thailand from '67 to '68 so had a lot of American friends from Vietnam...Great to see they are recognised for what they are, just guys like me, willing to their duty for their country.
Thanks for the feedback Roger, glad you found us. Sorry about that Revolutionary War thing.

---

Name: Dale () on Wednesday, October 6, 2004 at 14:30:03


Email: see alumi list
City and State: Corona CA
Maiden: Hahlbeck : )
Class: 1975
Message: Hi Marla you wanted more "75 feedback so here Ya go Jeff Mann I still need to see your band still have those backstage passes so I can hit on some TTTWWWWWIIINNNNNSSSSS!!
Happy 21st b-day Tersa Deuel Barnard poem on the way..IB Jodi how are you?
Heather.. I will call but I still think our 30th should be at Mann's crib..I'll bring the Lucky Lager..
Keith Jones.. ok you can come to our reunion got any stories to tell??
To my Sis's Val and Sheri hi and I love you both H2 and H3
Kitty and Marla I promise to stop by when I start my Central CA trip.. TO MY BOYS ED, LARRY , AND STEVE HOPE TO SEE YA SOON...YEAH YOU TOO THOMAS DEUEL..
THATS ALL I GOT FOR NOW
TIME TO PUT UP MY PIC JOHN H1 OUT!
PS DALE CRAIG WHAT'S UP?
Well, this thing ain't broke. Thanks Dale ....
---

Name: carol binder () on Tuesday, October 5, 2004 at 23:20:48
Email: cannbyucaipa@sol.com
City and State: yucaipa, calif
Maiden: heddaeus
Class: 1963
Message: in answer to the question about anna lou snapp. i remember her very well as a sweet, somewhat quiet member of the class of 63. i didn't finish school at hawthorne, so i dont remember her after the start of junior year, but i do remember her as a red head--she was i believe living with her grandparents--i think she came after the start of our freshmen year--at least i dont remember her at dana. i think she lived in the 130s--if she is your mom she was a sweet, kind person.

---

Name: Cal McDougal () on Tuesday, October 5, 2004 at 23:13:15

Email: themcdougals@centurytel.net
City and State: Enterprise, Alabama
Class: 1962
Message: I've been away from the computer for a while but I can't resist throwing my "first car" into the arena. Bought it from Ray Gagne. A red 1959 two seater with a sun roof, 4 speed, air cooled mid engine, Positraction (Ok, solid rear axle) and the ultimate unique feature, one door, on the front. A BMW Isetta. Ray gave that little jewel to me for $25. After overhauling the 1 cylinder 12hp engine a couple of times I sold it for $30. I wonder if Ray wants it back as much as I do?
Hey Calvin, I remember that was the time when we were all making fun of the imports. No way they would EVER compete with the big 3; GM, Ford, or Chrysler. Yeah right....
---

Name: Paco () on Tuesday, October 5, 2004 at 20:37:04
Email: doo4usc@cox.net
City and State: LF
Class: 1961
Message: Are ya watchin' Brian and Smile? It's pretty good..

---

Name: Debbie Miles () on Tuesday, October 5, 2004 at 17:05:08
Email: pinkelephant10atyahoo.com
City and State: Del Aire
Class: 1977
Message: ;-) I knew that, John! I've been waiting for that Cougar siting to be posted! It really is a small world.

---

Name: Jeanne () on Tuesday, October 5, 2004 at 12:31:40

Email: kellym1105@sbcglobal.net
City and State: Carlsbad, CA
Maiden: Burk
Class: 1969
Message: It's been awhile since I posted but I wanted to ditto John Crotty's message. All you 69ers, get your tickets to the reunion. Time passes far too fast to miss an opportunity to see old friends. Hope to see lots of you.
Please do NOT miss your reunions, people. These are very special times for you as well as your classmates.
---

Name: Debbie Miles () on Tuesday, October 5, 2004 at 01:10:15
City and State: Del Aire
Class: 1977
Message: Sherry, that was Mr. Wishbone! Here's a link to local kid shows from the past you might like! http://www.tvparty.com/lostladaphne.html

---

Name: Debbie Miles () on Tuesday, October 5, 2004 at 01:07:54

Email: pinkelephant10atyahoo.com
City and State: Del Aire
Class: 1977
Message: Mr. Plotkin--Danny has been posting here lately. I'm glad he and Diane are good friends and that she got thru the wildfires last fall safely. Hope you get to reconnect soon!
Hi Debbie, I heard of another Cougar sighting; Jim Calkins HHS60 who lives in Bishop, saw a lady wearing a Cougartown Tshirt. It was your Mom!! Sorry I don't have more details.
Now we're getting into the second hand Cougar sightings.

---

Name: Andrea () on Tuesday, October 5, 2004 at 00:03:26


Email: valleyofMyDolls@aol.com
City and State: hawthorne
Maiden: Rossi
Class: 1982
Message: Cougar Sighting!I was at kaiser ,Gardena this afternoon and I requested a pharmacist and out came Cathy Hargrave, I asked her what most people used to ask her........"are you related to John Hargrave?" she said no ...........but that he is a really nice guy! .Ok John where are you?????????? :} Andrea

---

Name: Sherry Wingo () on Monday, October 4, 2004 at 23:12:22


Email: dscwingo@pacbell.net
City and State: Haw. Ca.
Maiden: Peppers
Class: 1964
Message: Does anyone remember listening to 'Puck the Comic Weekly' on the radio. Sunday mornings some guy would read the funnies to us from the morning paper. We listened each Sunday morning before Sunday School.
I must have missed that one, Sherry
---

Name: jeff mann () on Monday, October 4, 2004 at 22:35:55

Email: vg8mann@netscape.net
City and State: valencia, ca
Class: 1975
Message: What a great end to the 04 baseball season! Congrats to the DOGs and the Halos......It is probably not going to be a west coast World Series, but it could be. Just a note to remember Janet Leigh when you take your next shower!

---

Name: Marilyn () on Monday, October 4, 2004 at 22:04:46

Email: mpatterson501@yahoo.com
City and State: Kansas City, Missouri
Maiden: Sturn
Class: 1969
Message: Greetings former classmates, Our 35th year class reunion is coming up this month and I regret that I am unable to attend. I will miss seeing and visiting, in person, with all who attend but would love to visit via email with anyone who remembers me or just the dear old class or 1969.
Hi Marilyn, and hope you hear from lots of your classmates.
---

Name: Larry Biller () on Monday, October 4, 2004 at 18:11:05
Email: lbiller49@yahoo.com
City and State: Portland,Or.
Maiden: St. Helens is steaming
Class: 1967
Message: Just bought my copy of "Smile" yesterday. Still recovering from my first listen. My reactions so far range from: "Huh?" to "Amazing" The title "Smile" is very appropriate as I did do that more than once while listening.

---

Name: Alan Nelson () on Monday, October 4, 2004 at 13:09:49
Email: boatcop@boatcop.com
City and State: Parker, Az
Class: 1973
Message: About the El Segundo Homicides. At the time my wife's father was working at P.O.P., and drove down Sepulveda (PCH) every day. He matched the description of the murderer, and was arrested and held for more than a day until they verified that he had been at work at the time, and wasn't involved. He was stopped and arrested 3 more times after that by different area agencies. He finally had to get a letter, certified and notarized by the El Segundo Chief of Police, that he wasn't the suspect so he wouldn't get taken in any more.
They finally located Gerald Mason, the actual killer, in South Carolina and arrested him in January 2003. He was found when a detective submitted a single fingerprint to the FBI automated system, and it turned up Mason. He has since pleaded guilty to the crimes.

---

Name: Bob Jensen () on Monday, October 4, 2004 at 09:46:19
Email: rjensen@satco-inc.com
City and State: Los Angeles, Ca
Class: 1971
Message: I am trying to get in touch with Bonnie Andersen Class of 72. She lived on 135th Street at Oceangate. She had a brother, Steven Andersen Class of 69. I would appreciate any leads.

---

Name: Lee Boswell () on Sunday, October 3, 2004 at 23:56:58
Email: skypi007@aol
City and State: Rancho Cucamonga
Class: 1975
Message: Cool cougar sighting on tv saturday night!, I think Dan Johnson reported on this awile back, but I saw it for the first time last night, our own Mr.Pat Macha on the history channel doing what he,s always done investagating WW2 airplane wrecks, he was off the shoreline of El Segundo looking for a P-51 that a wasp pilot lost her life in, for those that don't know what a wasp is they are the female pilots we had dureing world war 2 that ferried brand new airplanes to wearever they wear needed and are as much of a hero as any serviceman, P-51's where built and flown out of what is today LAX!,it was cool seeing El Segundo and Manhattan from the ocean again. Mr. Macha looks great, my wife said he dosen't look old enough to be one of my teachers! OUCH! thanks dear!, the show was called broken wings and I hope they do a serise of them. Thanks All!

---

Name: Malcolm Robertson () on Sunday, October 3, 2004 at 23:48:25
Email: sendmewon@hotmail.com
City and State: Ca
Maiden: Snapp
Message: Would anyone have any information on Anna Lou Snapp, year graduated, photos any information, etc. Son is looking for information on her. Thanx for any help.

---

Name: Enza Nicocia () on Sunday, October 3, 2004 at 19:55:54
Email: antiquenza@aol.com
City and State: Temporarily: WiseBurn District
Maiden: 134th Place still rocks...
Class: 1972
Message: Denny~ I bet that was a big story in the news; especially for 1957! Hey Maria Menendez Monfort~I hope your transition from NYC to Florida was a smooth one. Did you get hit with all the hurricanes? E me..... Hope you and your folks are doing well. You are a saint for taking care of them all these years! I'll email you soon. Dean Morris ~ Have you gotten over your heartbreak of your beloved Giants losing to our 'come from behind in the very last moments of the 9th inning of many games to win'... Dodgers?!?! Email me....
(I'm loving my new Samsung 55" HDTV to watch all these AMAZING/GORGEOUS athlete's up close and personal...Ha! :))) I've won our bet 2 years in a row now Dean.....pay up dude! JB, btw, where is Cheryl? She doesn't pop into CT with her witty self. Heck, I don't even get email responses from her anymore. Cheryl?, my 'fav' SIL, are you still out there girl?
I don't know, Enza, she doesn't email me anymore either.

---

Name: Denny () on Sunday, October 3, 2004 at 17:45:28


Email: denny?uncledennyscorner.com
City and State: Del Aire
Class: 1955
Message: I was working at the refinery in El Segundo when the policeman were murdered and the town was in shock for several years. Folks couldn't understand how something like that could happen to the sleepy little town that rolled up the sidewalks at 6pm. Also in the late 40's there was the "Black Dalia" murder case which I don't think was ever solved. Torso parts were scattered around a vacant lot around Watts and every once in a while it is still mentioned in the paper.

---

Name: Harry Plotkin () on Sunday, October 3, 2004 at 17:44:57


Email: hcharry@pacbell.net
City and State: Harbor City, CA
Maiden: Old Codger '52-'97
Message: Cougar sighting!!! Kathy and I attended a wedding at Warner Hot Springs this past weekend. On Saturday morning we went to the lodge for a buffet breakfast. One of the employes said I looked familiar. She is Diane Arujo - class of '81? and was in my class at Dana. She was married to Danny Bellare ('76) and they are still good friends - small world! She lives about seven miles from the Resort. We were both excited and talked for quite awhile.
Love to all, HCH
Now that's what it's all about. Thanks Harry....
---

Name: Jim Gibson () on Sunday, October 3, 2004 at 16:48:04


Email: gibby@c-zone.net
City and State: Redding, CA
Class: 1967
Message: Happy Birthday to former battery-mate Jim Sloey. My present to you: I promise you will never have to block anymore curveballs which, occasionally, only traveled about 55 feet, or so! - Gibby

---

Name: maria monfort () on Sunday, October 3, 2004 at 15:42:25

Email: mariamonfort23@HOTMAIL.COM
City and State: Coral Gables, FLA
Maiden: menendez
Class: 1972
Message: Just moved to Miami, Fla to be closer to my folks. It is nice and warm and being close to the beach again is awesome.

---

Name: Enza Nicocia () on Sunday, October 3, 2004 at 01:12:25


Email: antiquenza@aol.com
City and State: Dodgers/Angels...rah!
Maiden: freeway series??....
Class: 1972
Message: CBS '48 Hours/Mystery', had a episode tonight titled, "The Ghosts Of El Segundo". Do any of the late 50's early 60's alumni remember these murders of two El Segundo police officers that happened in 1957? What a remarkable, touching story that finally got solved after 47 years. Technology, what would we do without it??.......
I remember the murders but didn't see the program.
---

Name: Doris () on Saturday, October 2, 2004 at 20:16:29
Email: same as earlier
City and State: HAPPY CENTENNIAL TWIN FALLS, IDAHO
Maiden: same as earlier
Class: 1957
Message: HAPPY BIRTHDAY SLOEONE !!! WOW! A hundred today; man! He really looks good for his age, doesn't he!?
HAPPY HAPPY!!!
100 and vertical is always good.
---

Name: doris () on Saturday, October 2, 2004 at 17:32:35
Email: dorisjean@mindspring.com
City and State: TWIN FALLS, IDAHO
Maiden: donaldson
Class: 1957
Message: Today I went to beautiful downtown TWIN FALLS, IDAHO to help everyone celebrate TWIN FALLS' 100th birthday. Downtown TF consists of a charming street named Main St (of all things!) with beautiful mature trees and flowers on both sides with very wide sidewalks. In the first couple of blocks on both sides of the street were old OLD cars and old cars and a lot of 56/57 Chevys and a few Model T's. Much fun. And then all the vendors selling their goods (or "bads", whichever way you want to look at it!); the vendor food places. They were also preparing for a dutch oven cookout but I was too hungry to wait. So I went to "O'Dunkens" which is an Irish sort of bar (I asked for milk with my sandwich and guess what! They don't HAVE milk!!! So, woe is me, I was forced to drink MORE BEER! heehee). Live music and different bands every hour. Last one I caught was an ooom-pah-pah band. Didn't realize there were that many people in ALL of Idaho. A good time was had by all! Ooops! Sorry John! But I mean, after all! TF is, after all, 100 years old now! The street actually reminded me a little of Venice's boardwalk. LOL!
Sounds like great fun Doris. You didn't see Jakejude there did you?
Congrats to the Angels and Dodgers for the simultaneous come from behind clinchers of their respective divisions. Sloey, see I told you that LoDuca trade would pay off.

OH, and Happy Birthday not only to Twin Falls but also to Jim Sloey who is coincidentally 100 today....
---