Hawthorne Time and
Temperature

Home | 60's Slang | Alumni List | Car Talk | Cougar News | Feedback | Hangouts | Memories
Recollections | Reunions | Street Scene | Teachers | Tributes | Vietnam | What's New | Keyword Search
Another Early 60s Classic> Jessie Hill
<!-+++++++++++++++++++++++++++++++++++++++++++++++++++++++++++++++++++++++++++++++++++++++++++ +++++++++++++++++++++++++++++++++++++++++++++++++++++++++++++++++++++++++++++++++++++++++++++->

---

---
<!-+++++++++++++++++++++++++++++++++++++++++++++++++++++++++++++++++++++++++++++++++++++++++++ +++++++++++++++++++++++++++++++++++++++++++++++++++++++++++++++++++++++++++++++++++++++++++++->
Name: Harry Plotkin () on Sunday, September 5, 2004 at 12:53:37


Email: hcharry@pacbell.net
City and State: Harbor City, CA
Maiden: Old Codger
Class: 1997
Message: re: Telephone numbers. I lived in LA 47 @ 78th and Western. When I started kindergarten my number was TWinoaks 3325. Circa 1940 due to crank calls my parents had the number changed to PLeasant 9990 - later they made it 39990 until they moved in 1963. I enjoyed the training film, Paco!
Next Wednesday Bill Jensen adds his sixth decade. Happy birthday, Bill.
Love to all, HCH
Thanks Harry, and Happy Bday Bill.....
---

Name: Denny () on Sunday, September 5, 2004 at 11:41:14


Email: denny?uncledennyscorner.com
City and State: Del Aire
Class: 1955
Message: When I was little (almost brand new) our phone# was "Hawthorne 77HJ" with a zillion partys on the line. Seems like the handful of Del Aire residents West of Anza were almost all on the same line and had to go through the operator. We were zoned RA residential/agricultural and had several hundred chickens, a couple horses and about fifty ducks before it was re-zoned to R1 residential. A couple more close by phone prefixes that come to mind were TRinity and FAirfax.
FYI: The grand opening of Rick & Ronnies 50's drive in restaurant on Normandy/Sepulveda that was scheduled for the 14th has been changed to the 28th.
Cheers, Denny
Thanks Den', I went by Ronny and Rickys yesterday and there is finally some activity there. Glad to know it's opening soon. For all who don't know Ronnie and Rickys is a new "Drive In" type restaurant that's called a Cruise In. Not sure what that means but we'll soon find out.
---

Name: Ray () on Sunday, September 5, 2004 at 10:32:16

Email: rjshelley@sbcglobal.com
City and State: Mena AR
Class: 1958
Message: John; Interesting training film. Thanks Paco, when will that service be available in Arkansas? And, are you doing the voice-over??? Have a great labor day. Ray
Hey Ray, In Arkansas you will stay with the "string and can" or "tom-tom" method of kumminikatin' until lecktrizity juice can be piped in. Tell Lum and Abner we said hey, thanks for askin', and you too have a fun weekend.
---

Name: reina () on Sunday, September 5, 2004 at 00:19:22
Email: purplemonkey8019@yahoo.com
City and State: hawthorne california
Maiden: rivas
Class: 1999
Message: hi people miss everyone class of 99 love ya....... REINA RIVAS

---

Name: Paco () on Saturday, September 4, 2004 at 23:40:51
Email: doo4usc@cox.net
City and State: LF
Class: 1961
Message: Here's a little training film for your local Telephone Co
Not sure this will work for everybody, but here goes nothin'.
---

Name: Cal McDougal () on Saturday, September 4, 2004 at 22:14:18
Email: themcdougals@centurytel.net
City and State: Enterprise, Alabama
Class: 1962
Message: OSborne 5-0498. I thought ours was a special number. You stuck your finger in a different hole on the dial for every number. Even with the area code (213)there were no repeats. Until they started making us dial 1 before the area code. Thanks for a memory John. BTW, we moved to Hawthorne from a farm in Kansas in 1957. Our phone there was on a party line and the number was "13J4" and it rang four short rings until about 1955 when they upgraded the phones to get ready for the dial system.
I was trying to think of another exchange in the LA area until I realized you have already listed over 40 of them! What was the special number we could call for the correct time? Was it ULrich 3-1212?
YES ULrich, now 853-1212 Good one Cal.....
I also remember when we were kids you could dial 1157 and hang up and the phone would ring. I guess it was a repairmans number.
---

Name: Marilyn Ross () on Saturday, September 4, 2004 at 21:53:30
Email: mlr922@hotmail.com
City and State: Garden Grove, CA
Maiden: Wisham
Class: 1956
Message: I remember the zones. Mine was Inglewood 2. How about party lines? Can you imagine the current crop of teens having to wait for a neighbor to get through talking or listening in on their phone calls. When my husband was a young kid in El Segundo they had 3 digit phone numbers, no prefix and had to go through an operator to make a call. That I don't remember and he is younger than me. That would have been in the late 40's. We are really old aren't we? We celebrated our 45th wedding anniversary today. Ouch!
In the 30s Hawthorne had 3 digit phone numbers. The Hawthorne Library still has a couple of city directories (not phone directories because not all had phones) from the 30s. I remember my uncle lived in Torrance in the early 50s and his number was something like 2310M. We've come a LONG way.
---

Name: Miaaka DeForrest () on Saturday, September 4, 2004 at 18:46:00
City and State: Cartago, CA
Maiden: Lester
Class: 1977
Message: I also remember me phone number from way back - but my parents make it easy they have had the same number since they moved to Hawthorne the year I was born!! Same house, same phone number amazing.
Haven't had my Hawthorne phone number since 1962 and still remember it. OS6-1814......
---

Name: Alan Nelson () on Saturday, September 4, 2004 at 17:21:24
Email: boatcop@boatcop.com
City and State: Parker, Az
Class: 1973
Message: I remember the prefix numbers. I also remember the first phone number I had in Hawthorne. 679-7330. The 6 is the "O" and the 7 is the "S" in "OSborne". How many can remember the postal codes, before ZIP? When I lived in Westchester '59-'62 we actually had a Los Angeles mailing address with a "45" where we now put the ZIP code.
SHEESH....Rookies!!!

Actually those were called postal zones and they went between the City and State, something like
Los Angeles 45 Calif.
---

Name: Chris Prewitt () on Saturday, September 4, 2004 at 16:41:27
Email: cjprewitt@juno.com
City and State: fullerton, ca
Class: 1969
Message: Here is another fun site http://www.phonetic.com/ you type in your phone number and it gives you words. As an example:4283386 could mean "have fun", "hate fun" or "i ate fun".

---

Name: Chris Prewitt () on Saturday, September 4, 2004 at 16:25:23
Email: cjprewitt@juno.com
City and State: fullerton, ca
Class: 1967
Message: OK here is a site that Jerry Miles and other cougars might like to look at: http://www.ourwebhome.com/TENP/TENproject.html it is called "Telephone EXchange Name Project". They have a database of exchanges. If there is one missing the site has a way to add new exchanges.
Thanks Chris, but that kinda takes the fun out of it, doesn't it?

I was looking at a website somewhere and the old Big Band song "Pennsylvania 6-5000" is the phone number of the Pennsylvania Hotel in NYC today.
---

Name: doris () on Saturday, September 4, 2004 at 11:00:49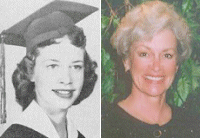 Email: dorisjeanatmindspring.com
City and State: Twin Falls, ID
Maiden: donaldson
Class: 1957
Message: Well if moving to Solvang was what it took to get the Sloeone back on FEEDBACK, I for one am tickled pink he moved! Welcome back Cotter ... oh no, I mean SLOEONE! And who is this GYM (Jim I suspect?) SCHROEDER. MAN IS HE FUNNY! More posts Gymmie boy, please! More posts. I'm still laughing! And HI! Barney McArdle! I remember you from HHS but I don't know what class we must have had together.

---

Name: Diane Smith () on Saturday, September 4, 2004 at 10:49:06


Email: DSmithC21@aol.com
City and State: Victorville, CA
Maiden: Lay
Class: 1965
Message: Anna Plaster is celebrating her 90th Birthday! All 50's and 60's Cougars will remember Mrs. Plaster as Manager of HHS Cafeteria. Her fondest memories are of HHS and her Cougar family! If you would like to send a card or message please send it to my address: Anna Plaster c/o Diane Smith, 7948 S.V.L. Box, Victorville, CA. 92395. I will post pictures after the celebration. Her son, Bill Plaster, was HHS Student Body President in the 50's. Her son, Bud Plaster was a Leuzinger graduate and in the 60's, Coach and Teacher at Leuzinger.
Thanks, Cougars!
Thanks Diane, and Happy Birthday Mrs Plaster from your Cougartown family.
---

Name: Gym Schroeder () on Friday, September 3, 2004 at 15:29:56

Email: chezwizz@yahoo.com
City and State: OOREGON --STATEof MIND
Class: 1966
Message: Pope John, Let me be the first to send birthday greetings for your upcoming birthday. Its a bit off, but I want to beat the rush. Also would like to clear up some baseball facts for the C-town faithful. While chucking the horsehide for the Cougs in '66 -- I was unoffically clocked at 200 miles per hour. This was pre radar gun, but as an somewhat accurate gauge we used Coach Bravo (he was the 2nd fastest human at the time). He started running from shallow centerfield and when he approached the mound he yelled, "pelota" and I let fly. The ball thumped into the catchers glove just as Coach was reaching the batters box. Sadly Coach couldn't slow down in time and fractured his clavical and broke his Raybans on the backstop. Coach concluded he was running "really fast" -- "about two hundred miles an hour I would think," he said. Of course thats unoffical, and Coach Bravo taught Spanish and not Science. Jim Sloey was there. He always had to stand behind the regular catcher (Larry Skeen) to prop him up so he wouldn't fall over backwards from the impact of the ball. Glad I could clear that up. (The mph get higher as time goes by)
Thanks Gym for that GREAT story, but if I may interject an explanation. Spanish wasn't my strong suit so let me try to explain it with math. When the good coach said 200MPH he really meant 200KPH, which converts to about 124MPH and by your own admission the story is stretched as time goes by, so let's say it is stretched by about 2% a year. So after stretching and stretching for some 38 years that equates to a whopping 62MPH. That would still mess up a pair of Ray Bans and break a clavicle, but it would also explain why the 66 Cougs were mediocre at best and why you weren't picked up as a Bonus Baby with the Dodgers.
Sloey propping Larry up was just a feeble attempt at getting in the game.

---

Name: Barney McArdle () on Friday, September 3, 2004 at 15:11:09

Email: barney.f.mcardle@boeing.com
City and State: McKinney, Texas
Class: 1958
Message: Yep, I so saw him there and I pointed him out to my wife. Is Neal, his brother still around?
Hi Barney, I KNEW I saw him there. Don't know about Neal but I'm sure someone knows.....Anyone?
---

Name: Jim Sloey () on Friday, September 3, 2004 at 14:43:21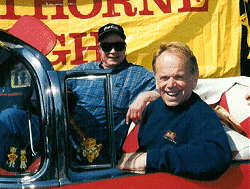 Email: hartje@msn.com
City and State: SOLVANG, CA
Class: 1966
Message: A Happy Birthday to my good buddy Al Jardine.
Happy Bday Al. Was I the only one, or did someone else see Al Jardine at the Republican National Convention last night?
---

Name: Sherri Skanes () on Thursday, September 2, 2004 at 22:34:35
Email: Sassy1962@aol.com
City and State: California
Message: I am wondering if there is anyone out there who could help me find old home movie footage of Hawthorne in the 1940's or 50's?? If so, could you please contact me at the above email address?? THANKS!!!!!!!! (John, you will probably be getting an email about this as well!)
Hi Sherri, Yes, I just answered Amy's email.
---

Name: matson () on Thursday, September 2, 2004 at 21:03:42
Email: matson@matsonian.com
City and State: sacramento, ca
Message: hello. i was trying to track down information on Mark Groseclose. he was an artist in the LA area who was big on SciFi. is the Mark mentioned as part of the Marksmen (HHS64) the same one? if so, how did he pass away? when? I would appreciate any feedback. thank you.
Yes, Mark was the drummer for David Marks and the Marksmen. That's all I know....
---

Name: Britt Stonebraker () on Thursday, September 2, 2004 at 20:42:03
Email: thatbritts(at)yahooDotCom
City and State: San Marcos Ca
Maiden: wha?
Class: 1978
Message: Cougar sighting! Well almost Coco Braham class of 74 she works at the storage place where my stuff is! I only talked to her on the phone, But I told her to register here and check out the feedback pages, she said she has lots of brothers and sisters who went to HHS.
Great, Thanks Britt.....
---

Name: Jim Rowley () on Thursday, September 2, 2004 at 19:16:31
Email: jrowley@coppersmith.com
City and State: Redondo Beach, CA
Class: 1979
Message: Yes John, I remember playing in the neighborhood 'till dusk. Mom and Dad knew we were somewhere in the neighborhood, but weren't worried. We were always home by suppertime. In the summer, we used to play frisbee in the middle of 120th street near Aviation 'til 1am; the parents, long asleep. They didn't worry about us being kidnapped. Occasionally, there would be a looney loose. I remember in, perhaps '73, there was a child molestor on the loose in the neighborhood. We'd play every afternoon at Sepulveda school until dusk. At this particular time, we all took the liberty to bring our buck knives with us. It turned more into a show and tell of weaponry we could smuggle out of the house. I wonder if any of us would have had the ability to use it?
My children are on a much tighter leash. They are young, 6 and 8 years old. We live on a cul-de-sac and they are still not allowed to play in the front yard without one of us out there. And, it has nothing to do with crossing the street.
I remember doing the same thing only we never had a child molester to play with at Sepulveda school.

Thanks Jim......
---

Name: doris () on Thursday, September 2, 2004 at 12:05:17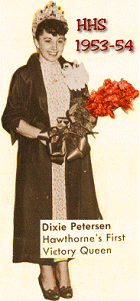 Email: dorisjean@mindspring.com
City and State: Twin Falls, Id
Maiden: donaldson
Class: 1957
Message: Some sad news; I was informed yesterday of Dixie Peterson's death. She was one of a kind; she was an upper classman with as much poise, grace, beauty and kindness of anyone I've ever known. One of her years at HHS I believe she served as Homecoming Queen, did she not John? I tried to find her picture but was unable to do so ... please display her picture if you still have it. She will be missed by everyone who ever knew her!
Always sad to lose a Cougar. Dixie will be missed by her classmates and friends. Thanks Doris.....
---

Name: Walter Holt () on Thursday, September 2, 2004 at 10:58:24


Email: WHolt1948@yahoo.com
City and State: Costa Mesa, Ca
Class: 1966
Message: Today Kids have "Columbine drills", Yet in our day we grew up diving under our desks with air raid sirens going off as practice for nuclear war which scared the living crap out of me. So it seems each generation has their own cross to bear. I wholeheartedly agree that kids today are very different and no thanks to Dr. Spock. Fortunately I have never had to lay a finger on my child but I do admit that now that she is in her teens she drives me crazy with her new found attitude. We did grow up in an era that we feared the consequences of screwing up by not only our parents but any adult involved. I knew only one person growing up that talked back to his parents and it amazed me he got away with it. Now it's a common sight and to my regret even my daughter thinks she can to the point her social life is in jeopardy. Look at some of the music videos ,most movies, tv shows, daily news we and they watch. Violence and crime seem to be very prevalent daily. I think it's really sad we as a society are letting that be a guiding factor in our childrens and our lives. I don't know that corporal punishment is the answer, but with that option taken away and everything else society allows it seems we are fighting a very tough battle.

---

Name: David Kelly () on Thursday, September 2, 2004 at 09:52:05


Email: dkelly@ppld.org
City and State: Colorado Springs, CO
Class: 1977
Message: It is hard for me to believe that HHS is a closed campus with security guards an all. So sad. But there is hope, even after Columbine. I'm happy to report that my son, who is a junior at Pine Creek High School here in Colorado Springs (less than 60 miles from Columbine), attends an open campus with all the liberties that should be available to responsible young people. My daughter attends an elementary school that is also an open campus which has made only a few simple changes to safe-guard the students and admin. The schools do have lock down procedures in case of an unfortunate event. The only visable change has been the introduction of a police officer at each middle school and high school. I feel that some communities and public officials have gone way to far in thier attempt at protecting our young people. I'm glad that my children are able to attend schools without having to deal with gates, bars, passes and the school warden. In closing, a quote from Ben Franklin,"Those who give up liberty for the sake of security deserve neither liberty nor security."
OK once again, Hawthorne High is NOT a prison. There is no such thing as a school warden. The students are NOT prisoners. Can't speak for any other decade but MY decade dealt with school passes. No one likes the fence but it doesn't change the fact that HHS is a school and not a penitentiary.
---

Name: Miaaka DeForrest () on Wednesday, September 1, 2004 at 21:37:35


City and State: Cartago, CA
Maiden: Lester
Class: 1977
Message: I too have watched the open campus of HHS change to the bars and security guards when I go to visit my folks. It's sad. My daughter started high school this week as a freshman at a small rural school in a town 20 miles from us - open campus and NO fences. I think not many of those are left. Am grateful she has the chance to experience high school with out the "Prison bars" and hope she has as great a time as I did in my 4 years at HHS.
Thanks Miaaka........
---

Name: Art LaMere () on Wednesday, September 1, 2004 at 20:14:36
Email: artlamere@msn.com
City and State: Bettendorf Ia.
Class: 1978
Message: Laker fans are happy Kobe is free; charges dropped.
Sloey could have handled that case.
---

Name: Laura Anderson () on Wednesday, September 1, 2004 at 19:23:26


Email: dsnycrw@ivic.net
City and State: Hemet, CA
Maiden: Twitchell
Class: 1979
Message: Regarding the bars on schools...it's even affected those of us in the "boondocks". Gates went up around my elementary school a few years ago to keep the unwanted off campus during school hours and not long after Columbine we began "code blue" drills to protect the kids from intruders. The first time I had to crawl under a table I started crying because my heart broke. It's so sad that we have come to this. During these drills we must close all blinds, lock the door, turn off the lights and crawl under desks. The admin staff goes around wiggling doors and banging on windows to simulate someone trying to get in....it's soooo sad. This past summer they added bars to my windows and it just made my heart sink. I agree with John...I remember a few TP raids but I also remember seeing how terrible the school looked after an outgoing senior class...I want to say '78 but could be wrong....really did some damage to benches and the pool. Took a fun night a little too far and it was like someone tore up my backyard. Kids today think in such a disposable manner...it's a shame...not all are like that but the balance is shifting I'm afraid.
Good points Laura. It is sad that the innocence has been removed from it all and that Columbine drills are the norm.
---

Name: Pat Underwood () on Wednesday, September 1, 2004 at 19:11:08

Email: onefamilyhistorian@socal.rr.com
City and State: Hawthorne, Calif.
Maiden: Lawndale High
Class: 1963
Message: About vandalizing schools. I have to agree with John, that was my school. In my case Lawndale was my school and I never thought about vandalizing it. Why would anybody want to vandalize their school or any school? Two thoughts come to mind; first we were brought up differently (in the 60?s) and we respected not only our school but also other people?s schools. Second thought is the thought of that paddle the coach has soaking in a bucket of oil, so it will not crack, splinter of break as he smacks you across your posterior or backside. So you had to think; do I want to go to a nice school or do I want too walk funny for the next couple of weeks?
It keeps coming back to corporal punishment. Kids today aren't faced with that possibility. Thanks Pat.....
---

Name: Bud Rhoades () on Wednesday, September 1, 2004 at 16:30:49
Email: bud.rhoades@fullmerinc.com
City and State: Belmontshore
Class: 1974
Message: John, there is a reason schools have to imprison themselves, its called murder, plain and simple, sad but true, it aint vandalism baby.
Yes, it's to keep the bad element off campus. I wouldn't say specifically murder or vandalism but schools need security now more than in the 60s.
---

Name: Keith D.Jones () on Wednesday, September 1, 2004 at 15:56:04
Email: cmi50@yahoo.com
City and State: KonaHawaii
Class: 1976
Message: I just saw someone put my brothers name on the feedback about his baseblal. I definitely am not one to brag about my brother since we never got along. But this instance I have too. My brother was an awesome baseball player that definitely shold have followed thast path or football. He was huge in little league and high school. He always was put at the higher competition cause of his size. In little league he was playing with Colbern, Scott, Allenson, Lococo and others. He has was about the best but was overshawdowed by the Mike's (Colbern and Scott). He threw 3 or 4 no hitters and threw heat. IN football he was the biggest just didn;t have the killer instinct. I envied him cause he was so big and everyone was afraid of him. My parents supported him in everything too. He used to get so many letters from colleges to go there, like 20 or more. We flew to the Air Force Academyt to see that place cause he really wanted to go there. I remember that. He ended up at Humboldt State and is now a Highway Patrolmen. We don't talk anymore and if it wasn't for his wife making him invite me to his wedding it would be about 15 years since I saw him. But he defintely had what it took to be either a pro baseball or football player

---