Hawthorne Time and
Temperature

Home | 60's Slang | Alumni List | Car Talk | Cougar News | Feedback | Hangouts | Memories
Recollections | Reunions | Street Scene | Teachers | Tributes | Vietnam | What's New | Keyword Search
From the early 60s >In Memory Of Ray Charles
<!-+++++++++++++++++++++++++++++++++++++++++++++++++++++++++++++++++++++++++++++++++++++++++++ +++++++++++++++++++++++++++++++++++++++++++++++++++++++++++++++++++++++++++++++++++++++++++++->

---

---
<!-+++++++++++++++++++++++++++++++++++++++++++++++++++++++++++++++++++++++++++++++++++++++++++ +++++++++++++++++++++++++++++++++++++++++++++++++++++++++++++++++++++++++++++++++++++++++++++->
Name: Darryl Rosenmeyer () on Monday, June 7, 2004 at 16:14:14

Email: darrylr@mtgshoppe.com
City and State: Boise, ID
Class: 1975
Message: Boy this site brings back memories. Does anyone remember Leonard Hartsock or Jim Hilgerman?

---

Name: Bud Rhoades () on Monday, June 7, 2004 at 14:38:47
Email: bud.rhoades@fullmerinc.com
City and State: Belmontshore
Class: 1974
Message: Jessie,while I agree with you on one point I have to strongly caution you on another.Yes the young men who went off to liberate Europe were indeed of a special ilk,lets NEVER underestimate the courage of everyone that has gone after them,including the brave young men and women who are putting their life on the line everyday in Iraq.

---

Name: Cindy Colby () on Monday, June 7, 2004 at 14:01:02


Email: cindycolby@adelphia.net
City and State: Seal Beach, CA
Maiden: Maxson
Class: 1963
Message: I too have a Ronald Reagan story, we were in Sacramento several years ago when my kids were really small, we were in the capital building standing in front of the Governor?s office. I was telling my oldest son, that is where Ronald Reagan works for us. I stood up and turned around to see him walking toward us, he stopped and talked to us and shook our hands, he was really taken by the kids and spent quite a bit of time talking to them. I was shocked that he did that, I figured that he would be too busy to take that kind of time, but then again he was a really nice person. Ronnie will be missed.


On a lighter note, I was in Laughlin this weekend for the Beach Boys concert, what a great show they put on, really took me back. I wore my CT shirt, a woman behind me asked me what year I graduated from HHS, I was kind of surprised, I told her and asked her if she went to HHS too, she pointed to her husband and said that he did, his name is Dennis Crawford c/o 60, he is living in Torrance now. I told him about CT, he said that he had lost track of all of his friends from school, I told him that they were all still here on C-town. By the way, I came home with more money than I left with.
Cindy
Thanks Cindy, for the RR story and also for passing the Ctown word. Great Coug siting....
---

Name: Jessie () on Monday, June 7, 2004 at 12:43:03
Email: mikejessie@yahoo.com
City and State: Los Angeles
Maiden: Corral
Class: 1974
Message: Good bless the men that fought on the Normandy Beaches...Now there's a bunch of men we will never see the likes of again.

---

Name: Ron Dokken () on Monday, June 7, 2004 at 11:56:49


Email: rdokk@yahoo.com
City and State: Endwell, NY
Class: 1955
Message: Here's a little story which I believe tells the true depth of President Reagan. My brother is a band leader in the T.O. area. One day about 5 yrs ago, My brother got a call from the Secret Service, asking him if he would put together a 4 piece Dixieland band to play for the President. Of course, he agreed, and has photos of the occasion. He said that even then, the President didn't really know what was going on. But my brother said that at the end, when they finished playing, the president was sitting with his head bowed - softly singing -God Bless America. I still can't tell this story without choking up. God bless Ronald Reagan.
Great story, Ron, thanks very much.....
---

Name: Mike () on Monday, June 7, 2004 at 11:46:14
Email: sfmedic1970@cox.net
City and State: Newport News, Virginia
Message: I came across this website based on the fact I was searching for my all time heroes that I had growing up in Panorama City, California (part of the City of Los Angeles.)
I also get strange looks when I mention Thunderbolt the Wonder Colt. I also was a big fan of Sheriff John Rovick and Engineer Bill (Both are still alive and in their 90' as I have found.)
Good to know that Thunderbolt the Wonder Colt was not a figment of this old man's aging mind.
Hi Mike, Yes, TBolt the WColt was part of the long list of characters from the early TV show, "Time For Beany", produced by the witty Bob Clampett. It was one of my favorites shows growing up in Hawthorne. I think I've mentioned this before, but my favorite character name of all time came from that show; "Tearalong the Dotted Lion". Thanks for the memories......
---

Name: Armand Vaquer () on Sunday, June 6, 2004 at 15:15:07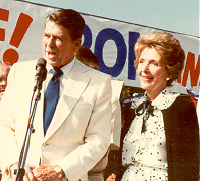 Email: AMVaquer@aol.com
City and State: Tarzana, CA
Class: 1972
Message: Although the news of President Reagan's passing was not unexpected, but after working in his three presidential campaigns and was a member of his homestate convention delegations, I am still saddened by the news. It also brought a flood of memories: walking with him at my hotel in Kansas City in 1976, talking to him at the opening of his Citizens For The Republic headquarters in 1977, going to the White House for a California Delegation reception/reunion in 1982 and the list goes on. He was a giant of our times. I took the attached photograph at LAX when the Reagans returned from the GOP National Convention in 1980.

---

Name: Sharon Branigan () on Sunday, June 6, 2004 at 01:33:41


Email: srbranigan.srb@verizon.net
City and State: Thousand Oaks, CA
Maiden: Bierman
Class: 1976
Message: Goodbye Ronnie, may you rest in peace. Thank you for your leadership. Ronald Reagan was the first President I voted for. Whether he was incredibly smart in dealing with Russia, or just trusted his gut that evil must be faced squarely, and not appeased, he certainly made a huge difference in this world. God Bless you, Ronnie.
AMEN to that.....
---

Name: Sherril Moyers () on Sunday, June 6, 2004 at 01:26:48
Email: rmoyers@cableaz.com
City and State: Mesa, AZ
Maiden: Driggers
Class: 1976
Message: Keith, first of all, you need to decide what you are going to do with her when you find her. Start searching info on the people she left with. Their family and friends. The Ca Attny Gnl has a good website for resourses. Their address is http://caag.state.ca.us/missing/index.htm. Also, the number for the missing children hotline is 916-227-3290. It looks like you can list her on even if she is a runaway. After you find her, get counseling. My heart goes out to you.

---

Name: FRANK OLIVER () on Sunday, June 6, 2004 at 01:20:13

Email: OLIVER810@AOL.COM
City and State: WHITTIER, CA. 90601
Class: 1962
Message: GORDON DOWNING DIED OF CANCER LAST MONTH. HE HAD JUST TURNED 60 YEARS.
Sad news indeed, Frank. Last time I saw Gordon was at our 40th reunion. My sincere condolences go out to the Downing family. Gordon will be missed.
---

Name: Marilyn Ross () on Sunday, June 6, 2004 at 01:13:13


Email: mlr922@hotmail.com
City and State: Garden Grove, CA
Maiden: Wisham
Class: 1956
Message: We need another Ronald Reagan to pump the people up like he did. He was always interesting to listen to. I was proud to have him as my President. We can all help Keith Jones by praying for the safe return of his daughter.

---

Name: Britt Stonebraker () on Saturday, June 5, 2004 at 22:49:05
Email: thatbritts(at)yahooDotCom
City and State: San Marcos Ca
Class: 1978
Message: As it seems so quiet out there today I'll hog some space! Today is my daughter's 7th birthday! And she will not have to live in the cold war. Thanks Ronald Reagan;] We fought the Germans in Europe so we didn't have to fight them here, And we fight terrorists in Iraq so we don't have to fight them here. We fight them today so our children don't have to tommorow. Look back to C Town pg, 430 Lets not forget what those bas___ds did, Then look at one Canadians response on pg, 433. Its a good cause and we will kick Donkey! Cougars, Americans ever vigilant. Did you ever imagine the historic aspect this site would capture John?
Hey Britt, I was wondering if someone was going to honor President Reagan today. Thank you very much.....
Gods Bless you Mr. President. Oh, and Happy Birthday to your daughter, Britt....
---

Name: Keith D. Jones () on Saturday, June 5, 2004 at 22:37:11
Email: cmi50@yahoo.com
City and State: Kona,HI
Class: 1976
Message: Alright I need some help. I have a huge problem with my youngest daughter Cassie. In short she has run into some very bad friends. She is very pretty and at 5' tall tan, dirty blond hair and whatever else makes her attractive she makes friends quickly with boys and most girls don't like her cause of it. She gets into fights regularly with girls who want to pick on her. She moved to Hawaii and got into a fight her second week there. Anyway, she is running with the wrong people and now she has been missing for 3 weeks. Her mom had her put into a detention home in Glendale. From what I understand the place has no security and when Cassie said she didn't like it there the Director told her "to leave then." Cassie a few others left without an incident (the staff and management let her go, a 15 year old child without even calling me or her mom) and she has been gone now for 3 weeks with not a phone call or anything. The police say since here mom filed her as a runaway they can't make her a missing person. I think this is bulls*hi*. A 15 year old they just let go without any supervision. Anyway, me and her mom are going crazy cause we have no idea where she could be or if anything has happened to her. If anyone out there knows what we can do I'll take anything now. Her mom is just nuts, she can't believe a place like this would just let a 15 year old leave like that. Anyway, thanks Cougs for listening. I'm sorry for all the time.
Hey Keith, sorry for your problem and really do hope you can resolve the issue, or maybe someone here can help. Just don't know what to say as I know you have to be hurting.
---

Name: Jill McFarlane () on Friday, June 4, 2004 at 19:23:04

Email: jillmcfar@aol.com
City and State: Mission Viejo, CA
Class: 1977
Message: Mr. Andrade, I graduated from HHS in 1977 and Mr. Minami and Mr. Smith were still going strong. I had each of them as a teacher and both were class acts. Time does not march on, it speeds through! Best of luck to the teachers retiring, you may forget most of those you taught, but most of the ones you taught will not forget you!
Hi Jill, I find it to be just the opposite when talking to teachers. They remember virtually all of their students, which amazes me. Congratulations to all the retirees. You've done your time, now it's on to the FREEDOM Club.
---

Name: KeithD.Jones () on Friday, June 4, 2004 at 17:15:24
Email: cmi50@yahoo.com
City and State: Kona, Hawaii
Class: 1976
Message: Big Jim Sloey call me it's important. 808-987-8972
Hi Keith, Just talked to Jim an hour or so ago and I think he's heading for Solvang this weekend.
---

Name: Matt Peterson () on Friday, June 4, 2004 at 16:18:23


Email: mattpete6@yahoo.com
City and State: El Dorado Hills, CA
Class: 1974
Message: It is a riddle to me why no one has posted on CT today. So here is a riddle for everyone. Which is faster heat or cold? Heat, because you can catch a cold.
Good one, Matt. I think CT is slow today because it's a Friday and people are thinking about their weekend. Everyone have a fun weekend.
---

Name: John () on Friday, June 4, 2004 at 14:20:57
City and State: Andrade
Message: This is for all the cougars that attended Hawthorne High from the early 50's through 1972. Neil Minami, Noel Smith, Steve Boothe, Charlie Hamilton, and Chery Boeke are retiring at the end of this school year. This truly marks the end of an era. All the teachers that you knew have now departed. I guess there is something to the saying "Time Marches On".

---

Name: Dennis Campbell () on Thursday, June 3, 2004 at 22:49:39
Email: campbell901@cs.com
City and State: Mission Viejo, Ca.
Class: 1961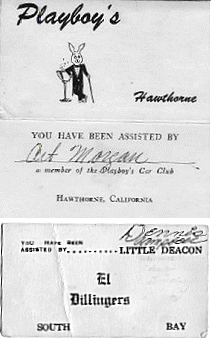 Message: Hey John, Here is something that?s real cool from the good old days, late 50?s early 60?s Car Club?s cards. How many people out there in Haytown can remember The Playboy?s of Hawthorne or El Dillingers of South Bay?mmm
Does anyone out there remember seeing a black 1941 4 door Packard cruising the boulevard, A&W to the Wich Stand on a Friday night? Does anyone out there know who owned that Big Black Cool looking ride??
John stay out of it you can?t say! Same with you Mr. Rigney...Hodads rule...that goes for you too Duran?
I had a couple of AKAs when attending HHS. Mammal, Crazy Den, and out of the past today through the e-mail shows up my personal El Dillingers Club card...so there?s one more AKA, ?Little Deacon?... O well some things just never go away do they...
Does anyone out there know Art Morgan of LHS class of '60? Well here is his personal card that also showed up today...
Hey Dennis, Yes, I remember the cards and I won't say who belonged to El Dillinger either, but I think most early Cougs already know. Thanks for sending them along....
---

Name: doris () on Thursday, June 3, 2004 at 21:16:45
Email: princess
City and State: Twin Falls, ID
Maiden: donaldson
Class: 1957
Message: HEY PETEY GIRL! WOW! To be 50 again! LOL! Everything is relative. HOPE YOU'VE HAD A GRAND BIRTHDAY and many, many more!

---

Name: ruth () on Thursday, June 3, 2004 at 17:00:50


Email: ruth.watson@globalmotorsport.com
City and State: morgan hill, ca
Maiden: kara
Class: 1964
Message: John, Are there any plans in the making for a 40 year reunion for the class of 1964? I've checked your reunion page but I did not see anything. Thanks and have a great day!
Hi Ruth, If it's not on the Reunions Page, then I haven't heard from the class. Sorry.....
---

Name: Judy Owens () on Thursday, June 3, 2004 at 15:17:50


Email: banjo98221@hotmail.com
City and State: Anacortes,WA.
Maiden: Hanson
Class: 1954
Message: Looking forward to our 50th reunion,please keep us informed.
Hi Judy, I'll post the information just as soon as I receive it from the committee, and thanks for letting us all know you're out there..
---

Name: Adrianne DeAlejandro () on Thursday, June 3, 2004 at 13:37:28

Email: addy57@msn.com
City and State: Cerritos, CA
Maiden: Longpre
Class: 1963
Message: Viewing the background of Petey's visit to the Hawthorne Blvd. rides gave me a flashback and chuckle at the same time. I loved the ride so much, I didn't pay attention to the fact I was getting a little too chunky for it. Well, the last time I was on it, I got in all right, but was embarrassed I needed help to pry my body out of it. I loved that place!

---

Name: Anita Young () on Thursday, June 3, 2004 at 13:02:24
Email: youngun39@yahoo.com
City and State: Hillsboro, OR
Maiden: Aceves
Class: 1978
Message: I second that Happy Birthday wish to our own Pete-Dog Smith! May your birthday party NEVER end, dear Petey! Have a GREAT day! P.S. Mike Henderson, where the heck are you? AWOL?

---

Name: Kelley () on Thursday, June 3, 2004 at 09:48:35
Email: surfbabe@charter.net
City and State: englewood, or
Maiden: Currie
Class: 1967
Message: Happy big 50 to Petey!!!
love, Kell
She finally made it out of her teens!!

---

Name: joseph mailander () on Wednesday, June 2, 2004 at 23:16:22
Email: joseph_mailander@yahoo.com
City and State: los angeles
Class: 1975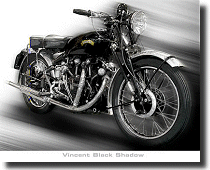 Message: Delia (c/o John, of course)--I don't know you, but--911s and Vincents in one place? That sounds too good to pass up. My favorite car and favorite bike on the same expanse of earth--outstanding! I could sing calypso ballads to both of those with little provocation. I hope there is a Vincent Black Shadow there, the mother of all bikes. These two dramatic, unrepentantly screaming mean vehicles remind me of life and its complement, wildlife, in Manhattan Beach during the Carter Administration, a time and place for which I grow increasingly nostalgic in my majority. At least issues were clear-cut then, even if individual minds were too addled to appreciate them as thus, and adults seemed more interested in play than work, and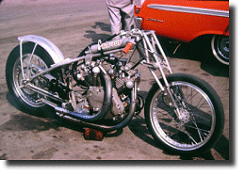 there were people on the beach who didn't talk so much as conspire, and tanning lotions only went up to about a 4-factor sunscreen, and you could hear a song on a non-intrusive radio and it would tell an in-depth story anyway in a way you wouldn't be likely to forget. Perhaps the desire to capture a bit of the shiny aura of these two spectacularly immodest modes of transit, one in production for only a couple of years, and one already a Hunter S. Thompson-endorsed legend by then, were a primary part of the reason that things were the way they were in the South Bay circa 1978. Peace and boat drinks, joseph
My favorite Vincent was "Barn Job", a very fast MC that occasionally vied for Top Eliminator at Lions in the early days.
---

Name: Jerry Pino () on Wednesday, June 2, 2004 at 22:45:33
Email: stjonibp@sbcglobal.net
City and State: Buena Park, CA
Class: 1954
Message: Hey Dee, glad to hear from you. Been trying to find you for awhile. My sister Zelma saw your message.
Hey Jerry, Glad you found Cougartown and for all you class of 54 55 and 56ers out there, please check the Reunions Page as you have a reunion coming up.
---

Name: Lisa () on Wednesday, June 2, 2004 at 22:02:46
Email: ldcp2001@aol.com
City and State: Ramona, Ca
Maiden: Graham
Class: 1967
Message: HAPPY BIRTHDAY TO PETEY, HAPPY BIRTHDAY TO YOU, HAPPY BIRTHDAY TO YOU, HAPPY BIRTHDAY TO PETEY, HAPPY BIRTHDAY TO YOU.
LISA
Happy Birthday, Konnie.....
---

Name: Susan King () on Wednesday, June 2, 2004 at 20:15:13
Email: sueking18@aol.com
City and State: Thousand Oaks, CA (safest city!)
Maiden: Bierman
Class: 1974
Message: Hey John, Dan's plugs may be shameless but his band puts on a great show - sister Sharon and I went to see it before. And Dan is a great host - he's just a darn happy Cougar! Break a leg Dan!

---

Name: Dan Johnson () on Wednesday, June 2, 2004 at 10:05:10
Email: wch1ispink AT aol DOT com
City and State: Northridge
Class: 1977
Message: Hey Cougs, one Coug e-mailed me and said he and his family are coming to the free show this Friday starting at 6:00 pm at Northridge Recreation Park, 10058 Reseda Blvd. Two Cougs does not a C-Town get together make. We need at least one more "Valley Coug" to make a quorum. Anyone else interested, send me an e-mail and I'll provide the details.
MAN!! This is your most shameless act yet, Dan.
---

Name: Jim Peppers () on Wednesday, June 2, 2004 at 09:35:06
Email: JimPeppers@yahoo.com
City and State: Athens, Greece
Class: 1961


Message: Cougars, J. Pat Simpson, Sorry to hear about Mr. Wetzler. I too remember him as very imposing and austere. At the same time he used to cut me a lot of slack concerning my misconduct. Anyway, Jerry, I know that Pearl Johnson was not loved by all of her students. And yes, Johnny was her son by her first husband. When you had her she was still going through a terrible divorce and she was not always "together". But I can tell you that she really was a wonderful person and many of her students will never forget her because they learned so much from her. One of her best subjects was art. She really loved teaching art and I ended up teaching my daughter some of the techniques that Pearl taught us way back then. I really love this site, John. It makes the brain cells work bringing back memories that seemed long forgotten. God bless you and all the Cougars who contribute to this site. Take care, Jim Peppers
Hey Jim, Thanks for the nice thoughts. I do know the site is cherished lots more by people who no longer live in the area. I guess it's a nice way for them to come home again.
---

Name: jennifer sidell () on Tuesday, June 1, 2004 at 14:17:16
Email: jennifside@aol.com
City and State: depew, new york
Class: 1989
Message: Its awesome to see this website. Brings back too many memories to count! I will be a visitor here often..Go Cougars
Thanks Jennifer, Glad you like the site.
---

Name: Jerry Pat Simpson () on Tuesday, June 1, 2004 at 12:32:06

Email: jerypat6244@yahoo.com
City and State: Santa Clarita CA.
Class: 1962
Message: Hey John.... Jim Peppers, I am wondering if your, Mrs Johnson was the same Mrs Johnson I had in the 8th Grade. Did she have a little boy named Johnny? You can read my experience, with her on page 623. I am sure she's the same person. Just goes to show how people react to other people. Or it might have been that frog I put in her desk.

---

Name: Jessie () on Tuesday, June 1, 2004 at 12:25:40
Email: mikejessie@yahoo.com
City and State: Sunny So Cal
Maiden: Corral
Class: 1974
Message: Hi John, I tried to e-mail Larry Bach directly, but his e-mail is not going through...so Larry, would you please e-mail me. Thanks!

---

Name: Bob Kyllonen () on Tuesday, June 1, 2004 at 11:41:03

Email: bkylnen@aol.com
City and State: Rancho Mirage, CA
Message: Hal Wetzler passed away on May 24, 2004. Cougars who attended HHS in the 50's, 60's and early 70's will remember Hal as an Assistant Principal and the second Principal of Hawthorne High School. Hal retired in 1972. Graveside funeral services will be held on Wednesday, June 2, 2004 at Green Hills Cemetery, 27501 S. Western Avenue, Rancho Palos Verdes at 2:00 P.M.
Hal Wetzler will be missed by lots of HHSers. My recollection of him was his imposing stature; his shoulders seemed to go on forever. Thanks Bob, for the information.
---