Hawthorne Time and
Temperature

Home | 60's Slang | Alumni List | Car Talk | Cougar News | Feedback | Hangouts | Memories
Recollections | Reunions | Street Scene | Teachers | Tributes | Vietnam | What's New | Keyword Search
From the year 1969 >The Edwin Hawkins Singers
<!-+++++++++++++++++++++++++++++++++++++++++++++++++++++++++++++++++++++++++++++++++++++++++++ +++++++++++++++++++++++++++++++++++++++++++++++++++++++++++++++++++++++++++++++++++++++++++++->

---

---
<!-+++++++++++++++++++++++++++++++++++++++++++++++++++++++++++++++++++++++++++++++++++++++++++ +++++++++++++++++++++++++++++++++++++++++++++++++++++++++++++++++++++++++++++++++++++++++++++->
Name: Lori Garcia () on Monday, March 29, 2004 at 01:04:23


E-Mail: Desilulu$u@aol.com
City and State: Garden Grove, CA
Maiden: Padelford
Class: 81
Message: Dan,Dan,Dan don't you know you're supposed to bring all your escrows to me? (Shameless plug here) I just opened the new branch of Tradewinds escrow in the Riviera Village. As the Manager there I make sure all Cougars have a very smooth escrow. We are also owned by a local from Torrance High by the name of Mike Wuerth. Sorry John for the plug but I'll make sure you get the King of Cougartown discount if you need an escrow. Love, Lori
May be needing one soon, Lori. I'll keep that in mind....
---

Name: Andrea Rossi () on Sunday, March 28, 2004 at 22:13:44


E-Mail: ValleyofMyDolls@aol.com
City and State: hawthorne
Maiden: Rossi
Class: 82
Message: I remember The RainTree!!!!!!! That was a great place! It was just around the corner but it seemed like you were in Hollywood!My boyfriend at the time used to jam there now and then...!!!! GREAT GREAT PLACE!!!!!!!!!! why did it close down? anyone know?

---

Name: Pete () on Sunday, March 28, 2004 at 16:32:16


E-Mail: tpgs@cox.net
City and State: In Da Middle
Class: '67
Message: Hello John and Everyone Coast to Coast, It's been quite awhile since I visited Cougartown and read all of the new Feedbacks. Don't really read much from the classes of '66 & '67 ......... Are you still out there? Here's one for you does anyone remember Monty & The Crystals or The Vagrents. To good bands from back then. I use to live near 119th & Doty, which was just up the street from The Beach Boys. Remember when Dennis got his new Corvette and use to run it on 120th by the airport. Lost my Senior Yearbook a few years ago, so if by chance anyone that has one or knows of someone that does and they would like to sell it, Please let me know. What a GREAT web site, will start coming back often All the Best to everyone
Pete
Thanks Pete but people do not know who you are without your last name.
---

Name: Darla () on Saturday, March 27, 2004 at 19:03:57
E-Mail: solowflyer@aol.com
City and State: Allen Texas
Maiden: Cuiper
Class: 89
Message: Hi to everyone in the class of "89" Where have we all gone.
Hi Darla, They're there, believe me. Hope all's well in TX.
---

Name: Cindy Whittaker () on Saturday, March 27, 2004 at 16:17:10
E-Mail: cindycwhittaker@netzero.net
City and State: Gig Harbor WA
Maiden: Whittaker
Class: 1976
Message: Cougar congrats to Mikey Branigan! So does this mean that the potato cannon you built in my backyard just a few short months ago (seems only a few short months anyhow) was one of your merit badge tasks? I'd think that blowing potatoes out into Puget Sound ought to count for something right? Although that seagull -- who has made a full recovery by the way... well, except for a slight limp -- might think otherwise... Congrats to the Cougar parents too!

---

Name: Dan Johnson () on Saturday, March 27, 2004 at 15:07:09
E-Mail: wch1ispink@aol.com
City and State: Lomita!
Class: 77
Message: JB, had to sign some docs at Horizon Escrow on Narbonne Street yesterday. The drive down PCH from the 110 to Narbonne was fascinating. On the north side of the street was a bar advertising "live music" -- I'll bet that joint rocks. On the south side was a very rough looking "gentleman's club" Anyone here remember live music at the Rain Tree in Torrance?
Probably a little too rough for you, Dan.

I remember the Raintree. Gordon Bell, my good friend and classmate worked there for a few years.
---

Name: Armand Vaquer () on Saturday, March 27, 2004 at 10:38:38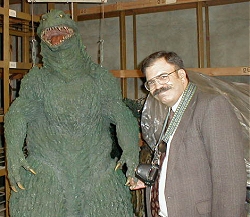 E-Mail: AMVaquer@aol.com
City and State: Tarzana, CA
Class: 1972
Message: Any idea on how to contact John Brown, who was head of the social studies dept. back in the 1970s? I took his Asian Studies class in 1972 (which was interesting since Bangladesh was recently formed and Nixon went to China) which resulted in a goal of visiting Japan. I accomplished that goal two years ago when I attended the 2001 Tokyo International Film Festival as a guest of Toho Co., Ltd. and will be going back this summer. The accompanying photo was at Toho's studios with a famous Japanese movie star (long story). I'd like to thank him for helping to kindle my interest. I understand he's living in Arizona.
Thanks Armand, it's funny but somehow I pictured Godzilla as being a little taller.


I don't have Mr. Brown's contact info but I bet someone knows where he is. Good Luck....
---

Name: Paul Wisman () on Saturday, March 27, 2004 at 01:38:59
E-Mail: hobocat1@comcast.net
City and State: Torrance, Ca
Class: 61

Message: Hey John, The photos of early Hawthorne are wonderful, keep them coming. The following is from Mayor Guidi's web site and is in reference to the house in the foreground of your latest gem. "This house was also built in 1906 and may have been the first house built in Hawthorne. Believe it or not this house was won in a raffle by a family named Waddel and Schlimmer". Their photo of the house appears to be the same but without the addition to the front porch. Later this corner was the site of Schlimmer's Cash Hardware, where I worked as a clerk from 1959 to 1963. My boss, G.R. (Gus) Schlimmer, a prominent Hawthorne businessman, built his "new" hardware store at this location in the early 1940's. His old store was located at Hawthorne Blvd. and Lennox Ave. and later became the Lennox Theater. Gus's wife, Lillian, was well known in Hawthorne social circles. Working in a hardware store was a great experience and the Schlimmer's were wonderful people to work for. We had an old cantankerous National cash register that was operated by a hand crank. I still have dreams about that thing jamming and not opening. Of course this only happened when the store was full of customers and the boss had gone to the bank. Great memories. PROUD TO BE AN HHS COUGAR.
I always thought Mr Schlimmer was a little cantankerous.

That's where I bought BBs for my Daisy Red Ryder. Thanks Paul and yes, it is the same house. I remember a lady named Mrs. Parrot lived in it in the 50's.
---

Name: Dave Krikac () on Friday, March 26, 2004 at 23:23:44

E-Mail: dave@thegearfoundation.org
City and State: Franklin, Tennessee
Maiden: Class Clown
Class: 1976
Message: Hey John, Hey All...Hey there Jill McFarlane, you mentioned George MacNamara (spelling?) of HPD, we lived across the street from that guy and he was one of the coolest cops (Besides Steve Sturgeon) we knew. We used to have firecracker and bottle rocket fights with them. I remember one night he was playing by taking powder out of bullets and wrapping them in foil and making his own - and lighting them off in the front yard. Well, he had a porch full of people all drinking and watching. We lit a bottle rocket that flew over there and bounced off the porch windows TWICE before blowing up right on them, whew...did we run...He said "PEACE" after that. Great times on 133rd street.
Also, Tom Ruger was a HHS Hawthorne Cop to add to the list....

---

Name: Keith D. Jones () on Friday, March 26, 2004 at 21:14:56
E-Mail: cmi50@yahoo.com
City and State: Honolulu, Kona HI
Class: 76
Message: Congrats Sharon and your boy getting the Eagle scout award. Just a note. I'm not really into bragging about my brother but he was one of the most celebrated Eagle scouts ever. Don't remember why but he did get letters from the Presdient at that time. He also is still the only person to have a color full page truck ad in the Los Angeles Times when he made Eagle scout. He really got alot of publicity when he got the award. I myself only made it to Life I think then quit. I loved the Boy Scouts though cause I liked the outdoors and camping. My brother is the one who got me several merit badges. I remember going up to our cabin in Running Springs and naming constellations with him.
Thanks but we really don't want to steal Mikey's thunder now do we Keith?
---

Name: Susan King () on Friday, March 26, 2004 at 20:49:27

E-Mail: sueking18@aol.com
City and State: Thousand Oaks, CA
Maiden: Bierman
Class: 1974
Message: OK Keith, THAT was funny. And so typically you! And I'm cheating and using some of your space John (dues are on the way) to congratulate nephew Mikey and sister Sharon and husband Mike on his Eagle Rank. The entire family is to blame, I mean be commended for this great achievement. Geez, Mike's a Silver Beaver (a prestigious adult scouting award), and Mikey's an Eagle. Sharon is a member of the Order of the Pink Flamingo...we're so proud!!
Well I don't know if I'd be bragging about that a Silver...uh....Thingy award, or that Pink Flamingo either....GEEZ, can't the Boy Scouts pick out some cool titles?

Anyway, but outside of that I'm with you all the way.
---

Name: Jan Peterson () on Friday, March 26, 2004 at 20:07:54
E-Mail: jpeterson50@aol.com
City and State: Carmichael, CA
Maiden: Freeman
Class: 1967
Message: I have read Keith's story 3 times and I am still laughing. What a great story. We are all very proud of our "roots". Kona is one of our favorite places, and the next time that we are there, I will look you up Keith. I will remember to say Hawthorne,CALIFORNIA! Awesome "sighting"....You made my cloudy day complete...TGIF
Now you're talkin'....there you go Keith, a REAL Cougar siting....

---

Name: Libby Espinoza () on Friday, March 26, 2004 at 18:19:01
E-Mail: lilbubulubu05@aol.com
City and State: Hawthorne CA
Maiden: Janette Uribe
Class: 1997
Message: I will graduate from HHS next year
OK then.....
---

Name: Keith D. Jones () on Friday, March 26, 2004 at 14:20:56
E-Mail: cmi50@yahoo.com
City and State: Honolulu, Kona HI
Class: 76

Message: COUGAR SITEING IN PARADISE! COUGAR SITEING IN PARADISE! I was at my gym in Kona and we get alot of visitors from all over the world there while they are on vacation. Sometmes I am at the front desk doing whatever and when a visitor from out of town comes in I usually like to see where they are from (that's how I met Hap Jacobs). This couple comes in and we start to talk and they were here on their honeymoon. They said how much they loved the beach and warm weather and said they both grew up where they went to the beach all the time. I asked them where they were from and they said Hawthorne. I said WOW me too. Did you go to Hawthorne High and they said yea. I got so excited I just started asking when they graduated (1998) and who there teachers were. They kept saying names I never heard of. Then I ask them if they knew coach Minami or Mr. T and Mr. Macha and they said no. I kept thinking that maybe they all left the school by then. I ask them if the football team was good and just all sorts of questions. All the while they were filling out their guest pass. When they gave me their driver's license I saw it was from Florida. It was Hawthorne, Fl. I was so embarrased cause I made such a big thing about seeing someone from Hawthorne. They were laughing so hard when I told them. Then I found out they weren't Cougars but Hornets or some bug I think. Anyway I almost had a Cougar siteing. Aloha
Great story Keith and after all that let's make them honorary Cougs.

Thanks.....
---

Name: doris () on Friday, March 26, 2004 at 13:27:43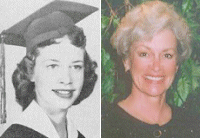 E-Mail: raydori@mindspring.com
City and State: Twin Falls, ID
Maiden: donaldson
Class: '57
Message: JOHN! What marvelous pictures lately! What a find! I'm sure my parents would have remembered all that open space, but I sure don't. The open space I remember was up in Palos Verdes. That used to be virtually uninhabited except a few houses on the north side of the hill. As a small child in the 40's I remember concrete bunkers on "the hill", as well as high chain link fences to keep people out. You could drive around and look, but they did not want you wandering about. It used to be some kind of a "lookout", or some such thing, for enemy ships/planes/etc. during the 2nd War. Hope you can happen onto some old photos of PV!
Hi Doris, I know some of the bunkers/gun emplacements are still there. I'll see if I have a picture somewhere.
---

Name: Sharon Branigan () on Friday, March 26, 2004 at 12:50:59

E-Mail: srbranigan.srb@verizon.net
City and State: Thousand Oaks, CA
Maiden: Bierman
Class: 76
Message: A proud Cougarparent moment, please... our son, Mike Branigan Jr (Mikey) earned his Eagle Scout rank last night. Some of you might remember him as a shrimpy little towhead running around Foster's at Cruise Night a few years ago. Now he's 14 yrs, 5'11, 150 lbs and an accomplished young man. In four years, he has earned 28 merit badges and has 77 nights camping, 150 hours service to community, and his Eagle Scout project included 230 work hours by scouts and friends. Needless to say we are very proud of him!
Congratulations Mikey...er Mike......Michael, This is something you can take with you the rest of your life and that is no joke. Not many scouts make it to the pinnacle, as you have. It's a privilege to know you and your family. Keep up the outstanding work in life.
---

Name: Kathy Frankforter () on Friday, March 26, 2004 at 09:16:27
E-Mail: info@warriorville.com
City and State: Redondo Beach, CA
Message: John: Warriorville is in trouble. I never in a million years expected this kind of nonsense over an alumni website. Has Cougartown experienced anything like this? As you know, Warriorville was created because of Cougartown. I was so impressed with what you did. I'd like for you to take a look at Warriorville when you have a chance and read my open letter. There is also a link there going to an Anti -warriorville website that this bonehead has created. My site is not fancy but it has served its purpose and the alumni seemed to like it as I have received many positive emails.
Read my letter when you have a chance. www.warriorville.com
Thanks John and thanks to all the alumni at Hawthorne High because it was you folks who inspired me to create an alumni website for West High School-Torrance. My husband and son-in-law both went to Hawthorne High.
Sincerely,
Kathy Frankforter
Hi Kathy, Sorry about your trouble. No, Cougartown hasn't experienced a WAR of sorts, but there have been other sites that try to deliver info to Hawthorne Alumni, and that's fine with me as long as they don't copy or pose as a part of Cougartown. The main thing is to be the best Alumni website you can be. Another thing is, I didn't know West High had another website until now, so be careful what you publicize. Good Luck and personally you've done a great job with Warriorville, and I'm sure your Alumni know that too.
---

Name: Sharon MacDonald () on Friday, March 26, 2004 at 08:33:49


E-Mail: smacd63@hotmail.com
City and State: Sullivan, Illinois
Maiden: Badger
Class: 1963
Message: When my family spent its first January in Hawthorne in 1962, all it did was rain! Our house in Holly Glen was next to the freeway under construction and our yard was full of dirt that washed down. The HHS campus was quite lake-like and being wet while hurrying from class to class was the order of the day. But I didn't mind - if we had stayed in Rhode Island, I would have been shoveling snow so the rain seemed like a reasonable exchange!

---

Name: Pat Underwood () on Thursday, March 25, 2004 at 17:04:32
E-Mail: onefamilyhistorian@socal.r.r.com
City and State: Hawthorne. Calif
Maiden: Lawndale High
Class: 1963
Message: The old photo of the streets of Hawthorne being flooded after a rain, brings back memories of rivers of water Mom couldn't do anything about. Yes we had a poor drainage system that wasn't fixed until the mid 60's early 70's. Even today after a good downpour our streets remind me of the good old days of yesteryear. After a good rain I would go to my local empty field and catch huge bull-frogs and pollywogs in the same spot where Lawndale High School stands now. On a good day we would sit at the bus stop across from Del Bradford's Chevron Station and let the faster cars mark their targets. Do you remember the fascination children had with rain? What I do remember is the excuses I had to come up with as to why I was wet when Mom started to yell.

---

Name: Kelley () on Thursday, March 25, 2004 at 13:01:45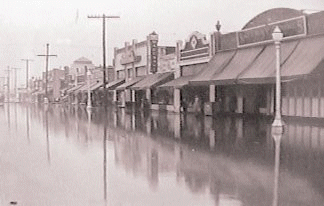 E-Mail: surfbabe@charter.net
City and State: Englewood Oregon
Maiden: Currie
Class: 67
Message: I love that old picture..My grandma and grandpa were just about to arrive in Hawthorne...they moved to Hawthorne in 1927 i believe...The Picture of flooded Hawthorne Blvd was a good one too..wonder how that happened..no drains at that time? could the street car run in that much water? Where are you getting the pictures? Keep it up I love the history in Pic's..
Hi Kelley, The flooded picture is the way Hawthorne looked before we had storm drains. The streetcars rode down the center of the Bl. and were probably elevated slightly above street level.
---

Name: ROCKY THOMAS () on Thursday, March 25, 2004 at 12:52:49
E-Mail: bthomasgangwmconnect.com
City and State: Hemet CA
Maiden: thomas
Class: 1973
Message: DOING GOOD IN HEMET

---

Name: John Browne () on Thursday, March 25, 2004 at 12:39:50
E-Mail: jbrowne@polyrol.com
City and State: Dunedin, FL
Message: I grew up in Manhattan Beach and graduated from Mira Costa in 1967. Even though Hawthorne was "foreign territory" to us then, this site brings back some FOND memories! Thanx
Hey John, Glad we could jog your memory. Please feel free to join in anytime as we all grew up in the same neighborhood and cruised the same streets.
---

Name: Dorothy Slawson () on Wednesday, March 24, 2004 at 20:44:13
E-Mail: ddslawson@msn.com
City and State: Torrance, CA
Maiden: Johnston
Class: 1963
Message: Dear 1963 Classmates: Jennie (Hare) Bradley's son died in a tragic auto accident on Thursday, March 18. Gene Watkins was 37 years old. Funeral and visitation information can be obtained by contacting www.lafuneral.com, or by emailing me directly. Gene also had two aunts who attended HHS -- Donna Hare ('61) and Karen Hare ('66). I know the family will appreciate your thoughts and prayers.
Always sad to hear this kind of news. My sincere condolences to Jennie and her entire family.
---

Name: Howard "Paco" Duran () on Wednesday, March 24, 2004 at 15:04:19
E-Mail: doo4usc@cox.net
City and State: Lake Forest
Class: 1961
Message: I played golf this weekend with Dennis and Jeff Campbell. Jeff says that "the islands are full, so don't even think of going over..." It was nice to talk of the old days at HHS.

---

Name: Dewey () on Wednesday, March 24, 2004 at 13:52:46

E-Mail: Dewey_Storie@sbcglobal.net
City and State: Canoga Park,CA
Class: 74
Message: John how did you get JB2 to give you a hall pass to be gone so long!
Funny....
---

Name: Jan Peterson () on Wednesday, March 24, 2004 at 12:40:49


E-Mail: jpeterson50@aol.com
City and State: Carmichael, CA
Maiden: Freeman
Class: 67
Message: Good Morning and welcome back John. We missed you. A few weeks ago I asked if there were any Cougs that knew the whereabouts of Bonnie George (66). I found that she is on Reunion.Com, of which I am not a member. If there is anyone out there that is a member of Reunion.Com, could you email Bonnie and give her my email address? Thanking you in advance for any help in locating Bonnie for me. Have a great week all. Jan ps: A special thanks to Sharon (Moore) Leach (66) for answering my request and getting me started in my search.
Good luck, Jan....
---

Name: Jill McFarlane () on Wednesday, March 24, 2004 at 12:33:34

E-Mail: jillmcfar@aol.com
City and State: Mission Viejo, CA
Class: 1977
Message: I once went on a ride-along with the HPD. My boyfriend had a brother-in-law who worked at the department, his name was George McNamara. Anyhow, I was around 16 or 17 and rode around on a Saturday night shift with George and his partner. They busted a few parties in the area, but I made sure I ducked so that no one could see me. And no, I did not rat out where all the parties were, because I did not know. I remember cruising near the Tip Top club, not sure if it was their jurisdiction, but it was interesting. It was a very educational night, I even considered being a cop myself, for about 5 minutes. Another alumni that is in law enforcement for the city of El Segundo is Walt Krumbach, class of 77.

---

Name: Janice Henderson () on Saturday, March 20, 2004 at 01:10:05
E-Mail: cajan_h@hotmail.com
City and State: Huntington Beach, Ca.
Maiden: Jamison
Class: 1968
Message: Hey Kelley, 135th St. girls agree with you. Very nice looking dude! Janice

---

Name: Janice () on Friday, March 19, 2004 at 17:59:27
City and State: Huntington Beach, Ca.
Maiden: Jamison
Class: 1968
Message: John, I haven't spent the last 36 years hanging out at the fire station. I got the list of names I posted from a retired Hawthorne/LA County fireman that I just happen to live with.
Janice
Thanks Janice....
---

Name: Sharon Branigan () on Friday, March 19, 2004 at 10:04:48


E-Mail: srbranigan.srb@verizon.net
City and State: Thousand Oaks, CA
Maiden: Bierman
Class: 76
Message: We saw the Beatles in concert last night! WOW What a great show! "1964 The Tribute" is a Beatles concert that you should NOT MISS! The place was filled with rockin' and rollin' oldies-both music AND fans! You 1964 folks should hire these guys for your reunion- they are available in October. You can see their website at www.1964thetribute.com - and they'll be in Long Beach in May. Anyone who never had the opportunity to see the early Beatles in concert should go- they put on a great show!

---

Name: Richard Hanson () on Friday, March 19, 2004 at 09:20:28


E-Mail: reh2469@aol.com
City and State: Simi Valley, CA
Class: 56
Message: John, I worked at Safeway as a Box Boy in 1954 and remember the safe very well. I made about $60 a month and had to pay union dues of $7 to Local 770 Retail Clerks Union. Still have my withdrawal card if I need to change career's after 48 years with Boeing...Are we waiting a full 6 months for the next Cruise Night..
Hi Richard, Yes, Cruise night was a flop, I know, but 11 of us were there so the next one will probably be in August. I know this was talked about years ago but did you know, Dot, the checker at Safeway? The fastest cash register hands at Safeway. It seemed like she could carry on a conversation and punch in the prices at the same time. No scanners back then.
---