Hawthorne Time and
Temperature

Home | 60's Slang | Alumni List | Car Talk | Cougar News | Feedback | Hangouts | Memories
Recollections | Reunions | Street Scene | Teachers | Tributes | Vietnam | What's New | Keyword Search
From the year 1969 >The Edwin Hawkins Singers
<!-+++++++++++++++++++++++++++++++++++++++++++++++++++++++++++++++++++++++++++++++++++++++++++ +++++++++++++++++++++++++++++++++++++++++++++++++++++++++++++++++++++++++++++++++++++++++++++->

---

---
<!-+++++++++++++++++++++++++++++++++++++++++++++++++++++++++++++++++++++++++++++++++++++++++++ +++++++++++++++++++++++++++++++++++++++++++++++++++++++++++++++++++++++++++++++++++++++++++++->
Name: John Crotty () on Friday, March 19, 2004 at 08:44:51


E-Mail: none
City and State: Hermosa Beach,CA
Class: 1969
Message: Okay,okay, I'll put my name on the "cops" list. I've been with LAPD for 30 years. Am currently working in Watts at Southeast Division as a Detective Supervisor (Sergeant). Been a great career with lots of excitement. Worked some big cases (remember that OJ guy) and lived through several attempts to end my life. I'll never forget the '92 riots, scared out of my wits the first night, after that, got used to it. I'm sure my old HHS teachers would find this fact incredulous. But then, good old HHS did provide a strong moral and ethical environment for our young minds. So there it is. Thanks HHS.
Hey John, Thanks for adding yourself to the list of upstanding police officers from HHS. For the money I think I'd rather be a teacher and I hear they get to carry guns now too.

---

Name: denny () on Friday, March 19, 2004 at 07:09:05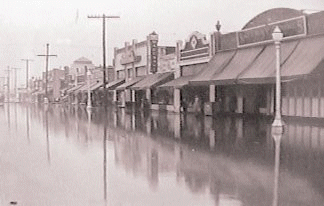 E-Mail: denny@uncledennyscorner.com
City and State: Del Aire
Class: 55
Message: John, great Safeway memory and I miss their meat counter. That pic was taken after remodeling but in the 40's the entrance was in the front with those sliding metal gates. At that time the blvd. used to flood during heavy rains and the water would come up over the curb. They would put sand bags across the front that had to be stepped over to enter but they never kept things dry. . . Keep the pictures coming.
I could be wrong but I was thinking that was another Safeway store closer to Broadway on the same side of the street.
---

Name: Paul Wisman () on Friday, March 19, 2004 at 01:50:11

E-Mail: hobocat1@comcast.net
City and State: Torrance, Ca
Maiden: Paperboy
Class: 61
Message: I remember the Safeway store very well. We lived right around the corner, at 120th and Hawthorne Way, and shopped there on a regular basis. Yes it did seem like the safe was open a lot. Maybe they forgot the combination (ha ha). I think they had a storage basement also. Bill Welch, of KTTV channel 11, did "Star Shoppers" show there once. Paco, I too sold the Herald Express at that location (see my post on Page 557). John, keep up the good work. PROUD TO BE AN HHS COUGAR.
Thanks Paul, Glad these pics are jogging some memories of Hawthorne.
---

Name: Kathy Stonebraker () on Friday, March 19, 2004 at 01:32:59


E-Mail: stoneyfamily@adelphia.net
City and State: Yorba Linda, CA
Maiden: Lorig
Class: 1976
Message: Hey John, I was just checking in and saw a mention of a HPD picture. I looked all over for it but couldn't find it. Could you repost it or e-mail it to me. I'd like to see if Steve or my mother-in-law remembers any of them. Thanks!! When's the next reunion??
Hi Kathy, Glad you and Steve are still with us. I will "E" the picture to you. You've probably already seen it and if you have any, please send them to me too. The next get together will probably be in a month (Pinks type run). I will post it.
---

Name: judy meintz () on Thursday, March 18, 2004 at 20:15:44

E-Mail: jlmeintz@dreamscp.com
City and State: powers,mich.
Maiden: sundstrom
Class: 62
Message: Did you see the Nimrods of Watersmeet on Jay Leno? They are just a few miles from here. They put the Upper Peninsula in the news!!
Sorry Judy, I musta' missed that one....
---

Name: Paco () on Thursday, March 18, 2004 at 18:49:25


E-Mail: doo4usc@cox.net
City and State: LF
Message: Thanks for the pic of Safeway, I sold the Herald there for years, what good times they were.
Wish I had a better picture of it. Does anyone remember that big old safe they had inside Safeway and the door was usually open too.
---

Name: Stephanie Brito () on Thursday, March 18, 2004 at 18:39:02

E-Mail: happyisles@aol.com
City and State: RPV, Ca
Maiden: Hall
Class: 1961
Message: For those who still know how to listen to the radio our own Olivia Arias (HHS '64) will be on Terry Gross' rebroadcast of Fresh Air tonight KPCC 89.3 FM at 7 p.m., a nice interview in connection of the release a box set of George Harrison's music.
Thanks Stephanie....
---

Name: Janice Henderson () on Thursday, March 18, 2004 at 17:48:22

E-Mail: cajan_h@hotmail.com
City and State: Huntington Beach, Ca.
Maiden: Jamison
Class: 1968
Message: I noticed all the names of Hawthorne grads who joined the HPD. There were also quite a few Cougars who went on to be Firemen in Hawthorne and other areas.
Steve Fraser (66) HFD then LA County
Ray Gorospe (65) HFD then LA County
Tim O'Rourke (72) HFD then LA County
Craig Bradford (?) HFD then LA County
Mark Roberts (?) HFD then LA County
Vic Jones (54) HFD
Bob Guy (58) HFD
Sheldon Bliss (55) HFD
Mike West (?) HFD
Dave Stark (62) HFD then LA County
Sheldon (Bud) Guyer (55) HFD
Dick Odgers (?) HFD
Fred Haynes (?) HFD
Dan Bliss (?) Redondo
Craig Reinhardt (80) Beverly Hills
John Doersam (?) Vernon
Jim Doersam (?) Beverly Hills
Wayne Bueltel (66) Culver City
Jim Mohrman (66) Oceanside
Carl Klensch (66) LA County
Dick Agustus (64) Gardena
Jim Pasternak (68) Newport Beach
Joe Pasternak (64?) Newport Beach
Terry Mazzota (65) Oregon
Mike McLaughlin (74) LA County
If I missed anyone please write in. Janice
Hey Janice, you sure know your way around all the Fire and Police from the Hawthornme area. OK Cougs we're starting to name them multiple times. I think maybe, like Ray Shelley said, we need a Ctown page dedicated to Fire and Police who went to good old HHS. I'll work something up and we can add these names there. Thank to all foryour service to Hawthorne and all the surrounding communities.
---

Name: Steve Bunch () on Thursday, March 18, 2004 at 17:43:12


E-Mail: buncherino1@msn.com
City and State: ca
Class: 71
Message: I read all the messages about HHS grads who became cops. What are the odds that four neighbors would later become cops. Mike Payne ('71) lived next door to Allen Bueltel('71) who lived next door to me('71) and I lived across the street from Scott McClintock ('70). We all became deputy sheriffs around So. Cal. If we still lived on the old street, I'm sure our neighbors would feel pretty safe with all of us nearby.

---

Name: BOB STEVENSON () on Thursday, March 18, 2004 at 16:27:30
E-Mail: DSTEVEN311@AOL.COM
City and State: LAKEWOOD, CA
Class: 63
Message: Bill, I posted the same message awhile back and no reply. So here is my two cents worth, I am also looking for Pat Campbell or just to know what happened to her.
Bob

---

Name: Sharon Branigan () on Thursday, March 18, 2004 at 15:42:37
E-Mail: srbranigan.srb@verizon.net
City and State: Thousand Oaks, CA
Maiden: Bierman
Class: 76
Message: Funny, I don't remember frogs at all. We lived on 115th between Kornblum and Doty. I didn't mow the lawn, but I spent hours in the yard playing Matchbox and gardening... why didn't WE have frogs??? Feeling underpriveleged!!!

---

Name: Kelley () on Thursday, March 18, 2004 at 15:21:22
E-Mail: hatethesmellofbacon.com
City and State: Englewood, Oregon
Maiden: Currie
Class: 67
Message: As for the names of a couple HHS firefighters..Steve Fraser (My Cuz) '66 and Ray Goropse (my neighbor on 133rd) '65 I think. Both retired. I most likely mispelled Ray's last name..He was certainly a nice looking dude..Right 133rd street girls!!!!

---

Name: Bill Taylor () on Thursday, March 18, 2004 at 14:39:21
E-Mail: bill@illusion-arts.com
City and State: Van Nuys, CA
Message: I'm looking for Pat (Patricia Ann) Campbell, Cougar class of '62. Does anyone out there know her whereabouts?
Thanks! Bill Taylor

---

Name: Jessie () on Thursday, March 18, 2004 at 12:14:03
E-Mail: mikejessie@yahoo.com
City and State: Los Angeles, CA
Maiden: Corral
Class: '74 wanna be...
Message: Raymond, I do rememeber frogs...my good friend, Laurie Burk use to love catching them under her house all the time. My brother and his wife lived on LaCienega...all you had to do was water the lawn and they would come out in droves. It was pretty darn amazing!

---

Name: Kelley () on Thursday, March 18, 2004 at 11:34:37


E-Mail: kelleycurrie@charter.net
City and State: Englewood, Oregon
Maiden: Currie
Class: 67
Message: I lived next door to the Zaccaglin Family on 133rd ..Donny was a Hawthorne (I can smell the bacon) cop..he made detective. Retired many years ago..He was a wild kid as I remember..but a good cop...
Yes, Don Zaccaglin, another HPD regular. Did Don go to HHS, Serra, or ? Thanks Kelley
---

Name: Nancy () on Thursday, March 18, 2004 at 06:31:07
E-Mail: ctgoldens@yahoo.com
City and State: Bethlehem, Connecticut
Maiden: Dorsett
Class: 1961
Message: My Uncle Curley was a motorcycle cop with the Inglewood PD. He hit a slick spot on the road on a rainy day and ended up in a coma for a week. The PD put him in a black and white and when I would babysit he would turn on the siren and bring me home. I thought that was the coolest thing! John, you bring out the kid in us with these past memories!
We're all Seniors in Cougartown, Nancy.

---

Name: jim raines () on Wednesday, March 17, 2004 at 23:04:22

E-Mail: fourwindspublishing@juno.com
City and State: Salt Lake City, Ut
Class: '62
Message: I left Alan Hauge's house, one afternoon, heading South in my blue '51 Chevy when on my right, at the corner of 116th and Isis, I saw this beautiful girl out in her front yard watering the grass. She was wearing white shorts and a pretty smile. I don't recall what top she had on but her pony tail was just right. I had to go around the block and check this out again. This time I gained courage and stopped, called her over, and asked her name. She said "Pattie Lee." Hi Pattie, Do you remember pushing my old '40 Ford coupe in front of your house while I stayed inside and popped the clutch to get it started? I still remember being surprised at the language that spewed out of your lips that night. My youngest daughter is fifteen now and I notice that she hangs out alot on our front lawn these days. It must be something in the air.

---

Name: Bob Clobucker () on Wednesday, March 17, 2004 at 23:03:08

E-Mail: Rclobucker@aol.com
City and State: Reno Nv.
Class: 73
Message: My late Bro Marty had a few cars going around back in the day--a 53 Ford - 57 Ford - 57 Chev. The next 2--66Shelby GT-350 Mustang & a 69 Mustang Boss302. As a youngster I was lucky- he let me use these cars very often. Raised plenty of hell but never put a scratch on anything but the pavement! Also I recall Sgt. Williams, HPD. Knew his son Don Jr. HHS 74. Was a gung-ho cop all the way-wore a 9mm in his waistband when mowing the lawn!! Best Wishes to all, BC
Hey Bob, I didn't know Marty was such a car guy. Thanks for the info....
---

Name: Jan Peterson () on Wednesday, March 17, 2004 at 21:12:15


E-Mail: jpeterson50@aol.com
City and State: Carmichael, CA
Maiden: Freeman
Class: 1967
Message: I have been looking for a friend for a long time and finally the light went on. She graduated from HHS66. Bonnie George. She had a younger sister, Lola. I would love to find her. She introduced me to the love of my life and we are celebrating our 35th wedding anniversary in April. So if anyone out there knows where Bonnie may be, please email me. Happy St Paddy's Day Cougs!! Jan
Jan, I think Bonnie is the younger sister of Bruce George from my class of 62. You can find his email address on the Alumni List. Good Luck...
---

Name: Sharon Branigan () on Wednesday, March 17, 2004 at 20:44:14


E-Mail: srbranigan.srb@verizon.net
City and State: Thousand Oaks, CA
Maiden: Bierman
Class: 76
Message: Tom Perez c/o 76 - I'm pretty sure he is HFD - he stopped at one of our very first Cruise Nights at Fosters. He and his crew were out cruising the streets, saw the hullabaloo and stopped in...
Actually LA CO. Fire now but so noted. Thanks Sharon....
---

Name: Gary Nelson () on Wednesday, March 17, 2004 at 19:58:01


E-Mail: Kruiszn@surewest.net
City and State: Granite Bay, CA
Class: 60
Message: HHS Cops- And there was my buddy Ron Househoulder who would scream down our street in his black and white with the siren blaring, lights flashing and drive right up into our driveway and park so all the neighbors could see, just to piss my dad off, which he did not just once but on several occasions. Hey Ron, you out there?
Hey Gary, Thanks for checking in, and yes, Ron is here.
---

Name: Neil Larson () on Wednesday, March 17, 2004 at 19:37:21
E-Mail: rentatrip@speedeenet.com
City and State: Crestview , Florida
Class: 71'
Message: John ..... Well I have been scrolling down through these feedbacks.... I would like to suggest a NEW PAGE for Cougartown....
We need to have a map of the USA and be able to pin point all Cougars by current location! with red dots! Heck why not even make it a map of the world! Is there a way to produce such a virtual locator map for all of us to be able to find other nearby local ex-coug's who may be in our neck of the woods?
Just a wild creative idea from a lonesome Cougar down in (L.A.)lower alabama! (North West Florida!)
Very interesting, Neil. You may be living right around the corner from a good buddy and not even know it. Let me give that one some thought.
---

Name: CHERYL () on Wednesday, March 17, 2004 at 18:26:10
E-Mail: chernico@cvc.net
City and State: Keno,Oregon
Class: 62
Message: THANK YOU, Lena, Enza, and JB, for the B-day wishes. I am still in SCOTTSDALE Az. but will be back in Hawthorne tomorrow in time for Enza's "milestone" B-day. John, I will be calling you and Dan for a trip to El Torito for "our" salad ......Ilove YOU MANNNNNNNN See you all soon. XXXXXXXXXX
Sounds great, see you then. OH, and Happy Birthday Enza.
---

Name: Patti Smith () on Wednesday, March 17, 2004 at 17:17:38
E-Mail: grnidl80@comcast.net
City and State: Cypress, CA
Class: 68
Message: Blake, how on earth you can remember all those details on guys' cars 35 years ago is beyond me!! It's amazing. But, can you remember what you had for breakfast yesterday??

---

Name: Paco () on Wednesday, March 17, 2004 at 17:01:56
E-Mail: doo4usc@cox.net
City and State: LF
Class: 61
Message: John, a couple more for you. Vincent Schiavi; Hawthorne, John Rigg; Inglewood, and Paul Steinel; DEA
Thanks Paco, I already mentioned Vince.
---

Name: Steve Fraser () on Wednesday, March 17, 2004 at 16:24:12
E-Mail: sfraser53@hotmail.com
City and State: HB, Ca
Class: 66
Message: With all the recollections of former Cougs who worked for the HPD, several have been omitted. Chet Wojciechowski (66), Mike Effler (67), and Mike Escalante (69?). Both Mike's are still there. How about Cougs who worked for the HFD or other local FD's. We should be proud of the work these guys did to keep our community the C-Town it was in those days and still is today. If you had problems with the cops when you went to Lawndale High, think back on what you did to cause it, and quit whining about it now. The men you slammed were only doing their job, a very dangerous one at that!
Mark Escalante HHS69 is still a cop in Hawthorne and for Fireman, the only one I knew was David Stark HHS62. Hey Dave, are you retired yet?
---

Name: Raymond Smith () on Wednesday, March 17, 2004 at 15:59:13
E-Mail: Kawabunganorth@juno.com
City and State: Portland, OR
Maiden: 6th straight day of sunshine!
Class: 1981
Message: I'm going to dig deeper into my thoughts and see if anyone remember this since I have yet to seen anyone write about it.In the 70's, every year around May to Aug my buddy and I would sometimes venture to the jungles (our back yards) and go on a hunt for frogs. Seems weird to be finding frogs in Hawthorne....unless you lived by the open water/sewage canal. I lived on 116th street between Kornblum and Doty and that place was like in my back yard. We would sometimes climb over the fence and you can see the polywag's swimming in the water/moss. But the frogs would be in our backyards and at most we would find them hopping away from the lawnmower. Very rarely we would catch a lizard too and this was really cool because we don't see them unless you were out at the desert.
I remember lizards in Hawthorne. My dad was scared to death of them and if he saw one he'd go fire up the lawnmower and chase them down.
---

Name: Pat Hydo () on Wednesday, March 17, 2004 at 15:52:40
E-Mail: Classof64needsareunion.com
City and State: Lomita, California
Maiden: Lee
Class: 64
Message: Hi John, Got a burning question for you guy, is it dues time yet?. If the answer is yes, then the money will be on the way tomorrow. I've only been a member for a year but it sure has been unforgettable. TY for making Cougar Town a place that we can all come and be kids again. By the way, my brother (Walter Lee, class of 58) and I grew up on 116th St. and Isis Ave. Because of my brother, I knew quite a few of the upper class including Alan Hauge... who by the way painted beautiful green and orange flames on my brothers Pearl white 56 Merc. If I close my eyes, I can still see it, it sure was pretty. I remember fondly the great times at the Hawthorne fair and just being young. I wish everyone had had the opportunity to grow up in a great place like we did. Take care all and Happy St. Patrick's Day!. P.S. If anyone is interested in getting a Class of 64 reunion going, then I'm volunteering to help....Judy-Wudy, Mighty Mo, are you listening?.
Hi Pat, Dues are due every June so if you became a member last year you're good until then. Thanks Pat for the nice thoughts about the website and I feel the very same about the place I grew up. Good Luck with your reunion.
---

Name: Blake Withell () on Wednesday, March 17, 2004 at 13:25:07
E-Mail: withells@sympatico.ca
City and State: Oakville Ontario
Class: 67
Message: Catching up: In reference to Neil Larson's feedback of Allan Thompson, I got an Email from Al about 18 months ago, his posted address is correct. I remember Allan's Chev as being a light green color, he had just had it painted at Earl Scheib and they had immediately pulled it out into the rain and ruined their efforts, at that time it had a 301 and a three speed, he got a hydro from his parents for graduation. I also remember Lanny Trefz c/o 68, altered wheelbase, straight front axle 55 Chevy with a Hilborn injected 301, He had to have a copilot with him to start it. The copilot would have to jump out when they left the "A" tilt forward the glass front end and squirt fuel into the injectors! Also remember Lee Leonard's 58 sedan delivery 427 and a hydro? It was black and was called the Mind Blower? My first ride was my mom's 4 year old 63 Meteor, my parents had an old friend who worked at Shelby's plant at LAX on Imperial. Out went the 260 2bbl and 2 speed auto and in went "something used from Shelby, assembled one part at a time, (paid for mind you), used 1 race 350 GT parts. I kept it stock in appearance right down to the tricolor hub caps and white walls,it was lots of fun,the only 4 speed Meteor around, but became unstreetable. My next car was a 65 Barracuda Formula S which I purchased from Floyd (RED) Hayes HPD, I saw him often at the "A", I think he was pleased to see I had only put Cragars and pipes on it. After a trip to Tune Master Dyno, next to HHS, it ran a respectable 15.11 @ 92.5mph with street tires and mufflers, in the old I/PSA class. I also remember Officer Murphy, at one time I think I was the only one with a motorcycle at HHS that he hadn't given a ticket to. It wasn't till after I graduated a neighbor asked me to take out his 650 BSA for a run, which I did and got the ticket from Murph to prove it. I don't think that getting the ticket was as bad as having to take your parent to see the judge! I retired from The Toronto Police Force after 30+ years and now work in Public Safety at Toronto International Airport. Anyone passing through drop me a mail.
Best to you John for this great websight!!!
Hey Blake VERY interesting stuff. When I was young, that would have been my definition of "Dream Parents".....Parents who give you a Hydro for your birthday.
Thanks Blake as I always enjoy the car feedbacks.
---

Name: Debbie () on Wednesday, March 17, 2004 at 12:25:38
E-Mail: pinkelephant10@yaright.com
City and State: Del Aire, CA
Maiden: Miles
Class: 77
Message: If anyone has an interest in the Hawthorne Clocker's car club, there's a plaque up for bid on ebay.
Thanks Debbie....
---

Name: Jessie () on Wednesday, March 17, 2004 at 11:58:47
E-Mail: mikejessie@yahoo.com
City and State: Los Angeles, CA
Maiden: Corral
Class: the garage on Sundale Ave.
Message: The only thing I remember about the Hawthorne police is that they all knew my brother and his gang of hoodlums on a first name basis ha!

---

Name: Enza & Lena Nicocia () on Wednesday, March 17, 2004 at 11:34:37
E-Mail: antiquenza@aol.com
City and State: SoSunny, SoCal
Maiden: still mining for a heart of gold..& I'm getting old-er...
Class: 72/65
Message: Cheryl Christensen Nicocia has a milestone birthday today, the big "6-0". Her favorite sis-in-laws (ha!), Enza and Lena Nicocia, want to wish her a very happy birthday. We still can't belive this shy, modest, HHS alumni once dyed her hair green on St. Patty's day and went to school. (The nerve of the administration sending her home!) This was one of the MANY fun stories I heard as I was growing up with Cheryl in the family. She has always been the life of the party around here, and I guess she was pretty much up to her pranks in school as well. Life would not have been as fun AND interesting without you being a part of this LARGE immigrant family! WE LOVE YOU MAAAANNNN!! Your 'favs', Enza & Lena. ;))
Couldn't have said it better my own self. Happy Birthday my good friend and hope that all your days are rosier than a pigs belly.
---

Name: BOB STEVENSON () on Wednesday, March 17, 2004 at 11:11:19
E-Mail: DSTEVEN311@AOL.COM
City and State: LAKEWOOD, CA
Class: 63
Message: I HAVE GREAT MEMORIES OF RACING DOWN HAWTHORNE BLVD AND WORKING AT A&W. PLUS I REMEMBER GETTING PULLED OVER A TIME OR TWO FROM HAWTHORNES P.D. NOW I AM GOING TO RACE AT IRWINDALE WHERE ITS LEGAL. AND TO THIS DAY, NO A&W ROOT BEER FOR ME. HAPPY ST. PATRICKS DAY EVERYONE.
BOB
Hi Bob, A time or two??!! That happened to me every Saturday Night.
---