Hawthorne Time and
Temperature

Home | 60's Slang | Alumni List | Car Talk | Cougar News | Feedback | Hangouts | Memories
Recollections | Reunions | Street Scene | Teachers | Tributes | Vietnam | What's New | Keyword Search
Here's one you early Cougs have forgotten about
Buchanan and Ancell Meet The Creature-Part 1
Buchanan and Ancell Meet The Creature-Part 2
<!-+++++++++++++++++++++++++++++++++++++++++++++++++++++++++++++++++++++++++++++++++++++++++++ +++++++++++++++++++++++++++++++++++++++++++++++++++++++++++++++++++++++++++++++++++++++++++++->

---

---
<!-+++++++++++++++++++++++++++++++++++++++++++++++++++++++++++++++++++++++++++++++++++++++++++ +++++++++++++++++++++++++++++++++++++++++++++++++++++++++++++++++++++++++++++++++++++++++++++->
Name: Wade Greasby () on Monday, November 17, 2003 at 22:47:19


E-Mail: grizbear73@juno.com
City and State: SurfCity,CA
Maiden: 50yearsyoung
Class: 73
Message: John, I had mentioned a 50 year celebration for HHS earlier. A Friday in September 2004. The alumni gathering on campus in the senior square of old for a pregame bar-b-que, tailgate and get together. I'm sure we, the alumni, can put something together. Kind of similar to a college pre game. There has to be some sort of celebration for the first fifty years. 2-6.
Hey Wade, I agree. Seriously, let's work on something. Although, Senior Square is GONE!!

---

Name: Laura Anderson () on Monday, November 17, 2003 at 22:25:43


E-Mail: dsnycrw@ivic.net
City and State: Hemet, CA
Maiden: Twitchell
Class: 79
Message: Now I remember what I've been trying to remember to post about the past couple of weeks...we're starting to call this the Dory Syndrome (from Finding Nemo)..."just keep swimming, swimming, swimming. Just keep swimming"
Anyway.....I read that a kid from HHS was running for the school board...did he get elected???

---

Name: kathy downer () on Monday, November 17, 2003 at 18:32:56
E-Mail: down6@charter.net
City and State: marietta, ohio
Maiden: peterson
Class: 70


Message: Yes, John, I remember those clocks that jumped backwards before they went ahead. Time actually seemed slower! I also remember the hanging lights at St.Joe's that looked liked upside down umbrellas. Someone,(not me 0f course,)shot rubber bands in them until they began to melt and stink. The nuns just couldn't figure it out. Do you remember the "cloak" room? One of my classmates was sent there as a punishment and ate several lunches! A note to Mary Micdermid from Sunday, I am sorry for the loss of your son, you and your family are in my prayers. Your fellow cougar, Kathy Downer
Hi Kathy, Actually I went to Hawthorne Christian, but had tons of friends that attended St Joseph. None of them got out on rainy days either.
---

Name: Janet () on Monday, November 17, 2003 at 17:38:29

E-Mail: jmburkett@sti.net
City and State: Ca
Maiden: Humphreys
Class: 62
Message: Hey...I remember those lights. Seems like they were in some lab or science class. They were pretty futuristic looking for the 60's weren't they?
I wonder if those clocks have something to do with the "twitches" some of us have now???
The only click on those clocks I was looking for was the LAST ONE at the end of the day.

---

Name: Marilyn Ross () on Monday, November 17, 2003 at 16:09:10
E-Mail: mlr922@hotmail.com
City and State: Garden Grove, CA
Maiden: Wisham
Class: 56


Message: I remember those lights well and the jumping clocks. I went to Hawthorne Intermediate too but can't remember which school had them, maybe both. Do you remember the asbestos ceilings with all the pencils and paper airplanes sticking out of them? They were always there, I guess no one wanted to get a ladder to clean them off until the end of the year.
GOOD ONE!! Sticking pencils in the ceiling tiles....
---

Name: Tim Helble () on Monday, November 17, 2003 at 15:23:13
E-Mail: TKHelble@netscape.net
City and State: Columbia, MD
Class: 73

Message: Ah yes... the ring lights. Paco's story about the water falling on them at Cabrillo triggered a memory. It was the last day of school during my freshman year at HHS, and I was in Ms. Janson's (later Mrs. Rainwater) Academic Science class in Room 16-1. I remember the whole class was laughing hard about something happening up front, and glancing to my left, I noticed Jim Hawkins stealthfully aiming a squirt gun at one of those ring lights and then cutting loose with a jet of water. The pop was so loud that everyone stopped laughing at once as the glass fell harmlessly to the floor. I still remember Ms Janson glaring around an asking "WHO DID THAT?" Nobody fessed up (including me) - guess it was a great example of the code of peer pressure. Jim, if you're out there I hope it's o.k. that I ratted on you 34 years later!
I remember Bob Reagan and I were painting a room for my mom and he was messing around with a wet paintbrush. He dabbed some paint on a light we were using and it went off like a cannon cracker. Scared us both to death.....
---

Name: Stephanie Brito () on Monday, November 17, 2003 at 15:10:48

E-Mail: happyisles@aol.com
City and State: state of mind
Maiden: Hall
Class: 61
Message: John, whatI want to know is how did you get a picture of those lights??? You are amazing.
Hi Stephanie, I drew it from memory.
---

Name: Jan Blomsterberg () on Monday, November 17, 2003 at 14:29:19
E-Mail: hootie@socal.rr.com
City and State: Torrance, CA
Class: 63
Message: ?Poor is the nation that has no heroes. Shameful is the nation that has heroes?and forgets them. No nation can long survive without pride in its traditions.? (Unknown)

TODAY YOU LEFT US? IN MEMORY OF PFC ROY LOUIS RYSE, JR - Hawthorne High Class of 1962; Army - Selective Service 1st Cav Division (AMBL); 21 year old Single, Caucasian, Male born on 02/07/44; from Hawthorne, California. His tour of duty began on 10/30/65; CASUALTY was on 11/17/65 in SOUTH VIETNAM ?Never in the field of human conflict was so much owed by so many to so few. ? (Sir Winston Churchill)
---

Name: Cal McDougal () on Monday, November 17, 2003 at 13:12:26

E-Mail: themcdougals@centurytel.net
City and State: Enterprise, Alabama
Class: '62
Message: Those clocks made it easy to organize a book drop. The step back gave warning so everyone could drop their book flat on the floor when the minute hand advanced. We did it in Mrs Mark's second period Sophomore English class in 60-61. It was spectacular! Ah memories
Ahhh yes, synchronized book dropping

....my favorite part of English class.
---

Name: Paco () on Monday, November 17, 2003 at 12:58:13

E-Mail: doo4usc@cox.net
City and State: LF
Class: 61
Message: John, your gif of the light brought back memories. I was in the 1st grade when Cabrillo opened, and we had lights just like those you have pictured. One dark and rainy day there must have been a leak and the water drained into the bulb in the fixture and shorted out and then became a bomb and exploded. They sent us all home early that day. That must've been in 49. Thanks for the memory!!
Man, you public schoolers got out on rainy-day sessions and now you tell me you went home because a light bulb blew up. Us parochialers had to tough it out even when it sleeted in Hawthorne.

---

Name: Harry Plotkin () on Monday, November 17, 2003 at 10:09:49
E-Mail: hcharry@pacbell.net
City and State: Harbor City, CA
Maiden: Old Godger
Class: 52/97


Message: Good morning all, John, I remember the lights (before florescents) and the clocks at Dana. The clocks were slave clocks with the master in the office. Not only did they jump back before going forward, but once a day they would jump forward repeatedly until they synchronized with the master clock. Those clocks lasted much longer than the lights. One day I was in my room with the lights on before school started and I smelled something - someone had put a tennis ball on one of those rings and it was scorching. I never told the class so the culprit received no satisfaction.
Dorothy Johnston Slawson - Thank you so much for the pictures of Kathy Brooks and me at the 40th reunion. About five alumni had been in my 7th grade class at Dana in '57-'58. We had a great time! I couldn't find an e-mail address for you. Love to all, HCH
I got the same info from Chris Prewitt on the clocks. I guess I never got to school early enough to see them synchronize.

---

Name: Bob Milazzo () on Monday, November 17, 2003 at 08:55:59

E-Mail: rmil93312@aol.com
City and State: Bakersfield,Ca
Class: 60
Message: Remember the lights well. They were made by Smoot Holman Co in Inglewood. My dad and Jodi Torgerson (my niece) grandad worked there for forty plus years.
Thanks Bob, I knew someone would remember.
---

Name: John Baker () on Sunday, November 16, 2003 at 23:43:14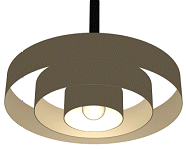 E-Mail: jb1@cougartown.com
City and State: Lomita, Ca.
Class: 62

Message: I was watching a thing on HGTV tonight and it totally flashed me back to school. I don't know which school (Hawthorne Intermediate or HHS), but remember these lights? And does anyone remember the HHS room clocks that would bounce backward about a half minute before going forward? Just flashing back.....

---

Name: Don (crow) Burns () on Sunday, November 16, 2003 at 17:08:55
E-Mail: burnslock@yahoo.com
City and State: Downey, Ca.
Class: 57
Message: Hey Cougs, speaking of stupid stunts, in 60 coming home on leave from Ft. Lewis Wash, blew the engine in my 55 Ford. It was the Custom 2 dr. stick, when I got out of the Army & got back home in 61, I got a 56 T-Bird engine with a 4 barrel, milled heads, mild cam, put it all together, drove it for 4 days, went thru a dip in the road that I had gone thru many times, must have had a large rock in the bottom of dip because it knocked a large hole in the oil pan & 2 or 3 miles down the road started to rattle bad, pulled in a gas station, checked the oil, no oil, added 1 qt. the attendent yelled that the oil was spilling on the ground, that was when I found the hole, Back to the drawing board. Later Don

---

Name: Debi Balzer () on Sunday, November 16, 2003 at 16:38:19
E-Mail: debal1256@yahoo.com
City and State: pensacola, fl.
Maiden: Pipkin
Class: 73
Message: This message is for Bob Clobucker class of '73, Jim Bollinger is living in washington state and still is connected with dirt racing. This is his old girl friend Debi. Hope to make the 50th anniversary of H.H.S. Is there going to be a big bash?
Hi Debi, Haven't heard anyhting about it.
---

Name: Mary McDermid () on Sunday, November 16, 2003 at 11:48:18
E-Mail: akamac1@msn.com
City and State: Irvine, CA
Maiden: Strehle
Class: 1958
Message: Don't want to put a damper on anyones fun. Just want to let you know that I lost my oldest son last month to alcoholism, such a terrible disease. He was only 44. I miss him so much. Please pray for me.
Love to everyone.

---

Name: Susie "klink" () on Saturday, November 15, 2003 at 19:43:33
E-Mail: Mustangsusie21@msn.com
City and State: 87111inda505
Maiden: Klingenhagen
Class: 1971
Message: ...ahhh another memory strikes! I grew up at 5361 W. 125th street, right across from Sepulveda school. This happened in '71...I was partying in the old neighborhood and decided to drive down Isis past the school, well I forgot that the "teacher" parking lot and the sidewalk in front of Sepulveda don't quite sit the same...well yes I took out both right side tires and dented the mags on my first 67 Mustang fastback!!! Can't imagine what I did for an encore!! Take care Cougs...

---

Name: Joyce () on Saturday, November 15, 2003 at 16:22:06
E-Mail: jsavisky@yahoo.com
City and State: La Habra,Ca.
Maiden: Savisky
Class: '62
Message: Yes, John Baker was at Lion's Drag Strip EVERY weekend in the late 50's, early 60's!

---

Name: Pat Underwood () on Saturday, November 15, 2003 at 14:15:18
E-Mail: onefamilyhistorian@socal.rr.com
City and State: Hawthorne, Calif
Maiden: Lawndale High
Class: 1963
Message: Customizing the old car when your in a hurry. An easy job was putting in a 327ci engine in my 1957 Chevy. That engine slid right in and started on the first try. The only problem was that the motor mounts in the front were both broken so every time I revved the engine my new motor would lift and tilt. I called around and found mounts and drove down and got them. Only problem was the 57 Chevy was the only car I had. I drove very carefully because I didn?t want to twist my motor sideways. I took the side streets so there wasn?t any traffic and all of a sudden some kid rides his bike into the street so I hit my brakes. That?s when I find out my transmission mount wasn?t much better then the side mounts. So here I am sitting in the middle of the street with my new mounts in a bag and my new engine is resting on the ground being held up by my transmission mount with the front bumper.

---

Name: Larry Biller () on Saturday, November 15, 2003 at 10:46:49
E-Mail: lbiller49@yahoo.com
City and State: Portland,OR.
Class: 1967
Message: Speaking of street racing here's a fond memory. One day in 1968 I'm doing some home "customizing" on my 56' Chevy Bel-air when I realize I need to make a run to the store. So there I am driving down La Cienega doing 30..or..ok it was more like 60 when all of a sudden the front of the car does a slight lift and the hood decides to go flying and lands on the roof. You know hood latches are important. I can share this story now because I don't have to face any of you at school on Monday. No laughing e-mails please. My neighbor who was with me at the time already took care of that.
MAN, a hood flying up in your face will really get your attention. I had that happen to me too. You IMMMEDIATELY find the brake pedal.

---

Name: Bob Brophy () on Friday, November 14, 2003 at 23:04:09
E-Mail: rbrophy8@cox.net
City and State: Phoenix
Class: 63 Serra
Message: I just found a web site that says they are making a documentary about Lions Drag Strip. They are looking for photoes and home movies of Lions from '55 to 75. the person to contact is Don Gellespie email dgellespie02@hotmail.com. It sounds like he is very serious about this project. Bob Brophy
Man, I have to be in that one as I was there EVERY weekend. Thanks Bob
---

Name: Jill McFarlane () on Friday, November 14, 2003 at 15:34:39
E-Mail: jillmcfar@aol.com
City and State: Mission Viejo, CA
Class: 1977

Message: This last week I have been reliving a Hawthorne memory. Recently I borrowed from the library "Willy Wonka and the Chocolate Factory" and have been reading it to my kids at bedtime. So what does this have to do with Hawthorne you may ask? Well, when I was in the 6th grade and attending Sepulveda Elem., my sixth grade teacher Mrs. Bryan would read this book to us after lunch. This was the first time I had heard this wonderful story. I don't remember much, but I remember this as one of the best things about my school days as if it happenend yesterday. It is a fond memory indeed. Mrs. Bryan was a wonderful teacher and she inspired me to read more than I was already doing. Speaking of reading, my son Trevor was Student of the Month for his improvement in reading. I hope everyone has a nice weekend.
I waited until they made it a movie.
---

Name: Ronald Sampson () on Friday, November 14, 2003 at 14:03:33
E-Mail: happyrus@charter.net
City and State: Minden NV
Message: Hello Cougars, I went to Mount Carmel HS class of 1960. I probably raced a few of you back in 1961-63. I had a silver 1960 Chevy Impala Convertible with a black top and later a light blue 1938 Chevy. A & W to the Wich Stand and back again all night long it seems. Now it's just memories from a time past, but what a great time.
John, I've been reading your feedback for at least 3 years. I've told many people about your web site which triggers so many fond memories. I was Larry Banta's neighbor in Del Aire for several years and he turned me on to Cougartown. John, you are to be commended by your brother and sister Cougars for such an awesome web site and the work it must take by you. My perspective in reading the feedback pages is there very appreciative.
John, Thanks for the memories, Ron
Hey Ron, Always good to hear from a fellow street racer.

Glad you like the site and utilize it. Actually this is an HHS website, but lots and lots of South Bayers contact me on a weekly basis with personal recollections of the early 60's. I don't know if they realize it, but they are welcome to add their personal recollections to these pages. Like has been said many times, we all cruised the same streets and hung out at the same places, so bring on the memories, whatever school you attended.
---

Name: BOB STEVENSON () on Friday, November 14, 2003 at 12:53:00

E-Mail: DSTEVEN311@AOL.COM
City and State: LAKEWOOD, CA
Class: 63
Message: I was wondering if anybody went to Ascot park in from about 1986-1989. I had the honor of winning the last race for hobby stock. I was the number 9 blue stock car. I was wondering if anyone knew of a website that had photos of the racers and the racetrack. Thanks,
Bob
Hi Bob, Go to www.google.com and type in; ascot gardena and see what comes up. I'm sure you'll find something out there.
---

Name: Kelley () on Friday, November 14, 2003 at 09:52:46
E-Mail: kelleycurrie@charter.net
City and State: Englewood, OR
Maiden: Currie
Class: 67
Message: HAPPY BIRTHDAY TO THE BOSS OF COOL OR DUKE OF EARL..ANYWAY HAPPY BIRTHDAY TO MY BROTHER CHUCK...
The Duke of BOSS, Kelley, The Duke of BOSS!!! Happy Bday, Chuckie....
---

Name: Art La Mere () on Thursday, November 13, 2003 at 18:21:40

E-Mail: artlamere@mchsi.com
City and State: Bettendorf
Class: 1973
Message: Boy I just saw the news here and it looks like winter wonderlannd out there in sunny Cal. Here in the corn belt we are just getting cold and wind here. Let me be the first to say Happy turkey day to all. stay cool. John thanks for the site and I hope you take time off for some good turkey .
Art
Hey Art, Good to hear from you and have a great Turkey day your own self.
---

Name: Petey () on Thursday, November 13, 2003 at 17:57:23


E-Mail: cold
City and State: Beaver, OR
Maiden: Gomez
Class: 72
Message: Hey Paco... here in good old Orygun we still get milk, cheese, and eggs delivered. I love it!

---

Name: Paco () on Thursday, November 13, 2003 at 13:59:29


E-Mail: doo4usc@cox.net
City and State: LF
Class: 61
Message: Hope all you Coug's in the South Bay made it thru the weather, here in South O.C. just a mist. Any of you in the San Diego and Temecula area, my two grandchildren are featured in a "Alta Dena" milk commercial aired over the radio. My grandson Tarrin thought it was so cool that people had milk delivered!

---

Name: Mike Kegley () on Thursday, November 13, 2003 at 07:20:08
E-Mail: mikekegley@yahoo.com
City and State: Redondo Beach
Message: Aviation High
Aviation High has a reunion website. If anyone is looking for someone from there, please take a look. What were they, the Penguins or sumpthin' like that?
---

Name: Dan Johnson () on Thursday, November 13, 2003 at 02:46:33
E-Mail: wch1ispink@aol.com
City and State: Sherman Oaks
Class: 77
Message: Very funny Sharon -- I'm telling you that Craig and that Jeff guy are hilarious -- how about those Jethro Tull moments at the bar? I mean, what Jeff didn't remember, I filled in and vice versa.

---

Name: Bob Clobucker () on Wednesday, November 12, 2003 at 22:42:21

E-Mail: Rclobucker@aol.com
City and State: Reno, Nv.
Class: 1973
Message: Any of the old HHS dirt bike crowd out there? Would be a gas to hear from some of you. ATTN. Tom Cook, Jim Emerson, Bollinger, Kurt Markham, or any others. Still riding in Northern Nevada!
Hey Bob, You look just like your brother, Marty....
---

Name: Al Crispin () on Wednesday, November 12, 2003 at 16:31:49

E-Mail: alcrispin@juno.com
City and State: Tucson, AZ
Class: 1959
Message: Nice job!! Keep it up. I shall periodically check now that I know it's alive. Could you also put the words to the school Anthem on the site? -- 'Al'
Hey Al, Glad you found us and yes, I will do that.
---

Name: Karen LeMaistre () on Wednesday, November 12, 2003 at 16:18:23


E-Mail: KLeMaistre
City and State: El Segundo, California
Maiden: Masters
Class: '72
Message: Kelley...Just catching up on some feedback and noticed a question that you had about Mike Jaqua. He was, in fact, the brother of Tony, Tim and Ron Jaqua as well as my son's uncle. The family was very shocked and saddened by his sudden passing.

---

Name: Sharon Branigan () on Wednesday, November 12, 2003 at 11:48:32


E-Mail: srbranigan.srb@verizon.net
City and State: Thousand Oaks, CA
Maiden: Bierman
Class: 76
Message: Mike and I had a great time at Homecoming. Thanks to everyone who made the trip. We missed those who didn't, but, we shall return! We need to find a party locale more conducive to conversation and barbershop quartet... I could barely hear my pals over the noisy din at the S&S. For entertainment at our picnic next year, we absolutely MUST have THE most fabulous Boy Band to come out of HHS- Craig Bodkin, Jeff Mann and Dan Johnson! I can almost hear the teenyboppers screaming!!!

---

Name: Michael Collins () on Wednesday, November 12, 2003 at 01:29:45
E-Mail: MPCollins777@adelphia.net
City and State: Redondo Beach, Ca
Class: 1979
Message: It was great and very nostalgic as I cruised through the pages of this site. I hope to hear from anyone who remembers me from that wonderful year that closed out the 70's. I'm currently an Associate Principal at Lawndale High School and I hope to hear from some of you. And yes, I still bleed Cougar Scarlet & Gold!
Hey Michael, I'm sure you'll be hearing from your classmates. Thanks for letting them know you're out there.
---