Hawthorne Time and
Temperature

Home | 60's Slang | Alumni List | Car Talk | Cougar News | Feedback | Hangouts | Memories
Recollections | Reunions | Street Scene | Teachers | Tributes | Vietnam | What's New | Keyword Search
Fun song from the early 60's The Marathons
<!-+++++++++++++++++++++++++++++++++++++++++++++++++++++++++++++++++++++++++++++++++++++++++++ +++++++++++++++++++++++++++++++++++++++++++++++++++++++++++++++++++++++++++++++++++++++++++++->

---

---
<!-+++++++++++++++++++++++++++++++++++++++++++++++++++++++++++++++++++++++++++++++++++++++++++ +++++++++++++++++++++++++++++++++++++++++++++++++++++++++++++++++++++++++++++++++++++++++++++->
Name: doris () on Tuesday, September 30, 2003 at 16:53:06
E-Mail: laughingwithjohn.com
City and State: same-o, same-o
Maiden: sameaslasttime
Class: manymanyyearsago!
Message: "Anyone with a 63 Elmo Lino ... ". YES JOHN! I picked up on it and LOL'd again. Just LOVE that one. LOL!!!!


---

Name: Sharon MacDonald () on Tuesday, September 30, 2003 at 16:52:05
E-Mail: smacd63@hotmail.com
City and State: Sullivan, Illinois
Maiden: Badger
Class: 1963


Message: Hey John - I have a '63 Elmo Lino somewhere (we are still unpacking boxes after moving from Wisconsin to Illinois in July). I will dig it out, scan it and send the file to you tonight or tomorrow morning. It will be the excuse I need to open up those last boxes!
Hi Sharon and thanks, but Jerry Miles already tried it. There doesn't seem to be a Cafeteria staff picture in the 63 book. Now you need another excuse.

---

Name: Paco () on Tuesday, September 30, 2003 at 16:34:58


E-Mail: doo4usc@cox.net
City and State: LF
Class: 1961
Message: Jim, I wish we would have recruited the Cougs and not the Jackrabbits...Crow tastes real bad!

---

Name: Bob Melendrez () on Tuesday, September 30, 2003 at 16:16:44
E-Mail: Strongheart@pacificwest.com
City and State: 90260


Class: 1971
Message: Cougar siting over the weekend at Laughlin, Nevada: Michael Funk, c/o 1976, alleged accomplice of the (in)famous Keith D. Jones. Michael was nice enough to video tape some of 4-Way's performance last Friday night. Have a great week, Cougs!
Thanks Bob, always nice to hear of Cougar sitings.
---

Name: gary bickers () on Tuesday, September 30, 2003 at 15:40:15
E-Mail: garybicdds@aol.com
City and State: pve cal
Class: 63

Message: I read Carol's note about cake from the snack bar. Do you remember the staff in the 60's? Belle Adams ran the place. Her sons Joe, Tony and Bobby all went to L.H.S. Fibbie Cooper was there and her son ended up running the Mira Costa football program for years. Terri Leslie, whose sons Mike and Barry went to H.H.S. was there along with my Mom, who came to work after her 11;00pm to 7;00am shift at the hospital. I remember if you did not have money, you would not starve. I remember they never missed a football game and always sat with each other at the games.
Yes, it seemed like the cafeteria staff were surrogate mothers to us all.
I also remember Tony Adams from Intermediate. Pretty fair baseball player, as I recall.
And finally, as an aside, I also remember your father, John, giving me "straight pool whuppins" on a regular basis at Imperial Billiards in the mid 60's. Thanks for the cafeteria staff memories, Gary.....
---

Name: JIM SLOEY () on Tuesday, September 30, 2003 at 14:57:26
E-Mail: somwhere.com
City and State: redondo beach, ca

Class: 66
Message: For the Trojans' fans, you may be interested to know-or not-that the main dude for Cal on Saturday Adimchinobe Echemandu with 34 carries and 147 yards is a Cougar class of 1998 or 99. Of course when he was at HHS he was called Joe. Love them Cougars!
Well no wonder the mighty Trojans were defeated, they were whipped on by an HHS Cougar.

Thanks Jimmy boy.....
---

Name: Carolyn () on Tuesday, September 30, 2003 at 12:47:43
E-Mail: cladd@med.umich.edu
City and State: Ann Arbor, MI
Maiden: Gamradt
Class: 1962
Message: We'll probably never know for sure why "El Molino" was the name selected for our yearbook but it is appropriate (check out Websters' unabridged international dictionary). El Molino, "The Mill", has a lot of definitions, among them:
A slow or laborious process or routine;
An experience or process that has a marked effect (as of hardening, disciplining, disillusioning) on the character or personality and is usually used "through the ~ of higher education".
Interesting, thanks Carolyn....
---

Name: Jessie () on Tuesday, September 30, 2003 at 11:25:00
E-Mail: mikejessie@yahoo.com
City and State: Los Angeles
Maiden: Corral
Class: Wanna be 1974
Message: Dear Enza, I am so sorry to hear of your mother's passing. I lost my own mother in July. My thoughts and prayers are with you and your family.

---

Name: Bob Brophy () on Tuesday, September 30, 2003 at 10:41:03
E-Mail: rbrophy8@cox.net
City and State: phownix, Az
Class: Serra
Message: I was watching Will and Grace one night last week and they mentioned Hawthorne Intermediate and Cougars and I was wondering if anyone new of the connection there. Is there someone from Hawthorne who is involved with the show. Have a good week everyone.
Bob, this has been answered before. Go to Jerry Miles reply on Feedback page 429. Thanks.....
---

Name: Enza Nicocia () on Tuesday, September 30, 2003 at 09:51:59
E-Mail: antiquenza@aol.com
City and State: Hawthorne, Ca
Maiden: in honor of all mom's....
Class: 72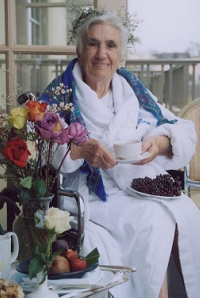 Message: This is my tribute that I wrote for mama.......
Anna Pollina Nicocia was born Dec 8, 1915. She grew up in a quaint little village tucked away in Mt Erice, Sicily.
She married a handsome blue eyed man, Carlo Nicocia, on Dec 26, 1936~they were married for 63 years until his death on Dec 31, 1999. The children came, and she had 11 children with 8 surviving~ 2 boys 6 girls.
To define such a women of incredible strength and courage is to talk about our beloved 'Ma.'
Who among us, in this modern world that we live in, can relate to having to draw water from a well. Wash the families clothes in the creek, and giving birth without modern hospitals or DRUGS!
When the time came for us to immigrate to America, in February of 1956, she not only left her loving brothers and sisters, she left behind all the worldly treasures she loved and valued. They carried everything they could bring in suitcases, and upon arrival, was blessed 1,000 times over with the abundance of water, a bounty of food, and all the modern conveniences we all take for granted today.
SHE HAD ARRIVED!!!
Throughout her early years, when all the kids where finally in school, She took up baby-sitting 6 children~ALL AT ONCE! Now, one would think with 8 of her own, that she had her hands full? The children that she cared for regarded her as a surrogate mama Nicocia, and to this day we still hear from them~near and far.
Who could forget the meals that where prepared by our mama. The bread and pizza's where her signature specialties. Not to mention all the great pasta, garlic sauce, couscous, cannoli, and her Christmas special biscotti that everyone so loved. We will miss those the most, mama.
For the most part she was a simple women and enjoyed the simplicity of life. She was fond of crocheting afghans for all her children, grandchildren, and great grandson. Her hands where always busy, even up to the very last month of her long life. She had an amazing green thumb, and took great pride in raising some amazing roses~ they where her favorite~along with gorgeous coleus, begonia's and other lovely flowers she so dotted on.
Carlo and Anna were famous for their dancing back in their heyday. I remember many a wedding's here in America, were they cleared the dance floor with their lively steps that made them seem to be floating on air. My Mom and Dad made a beautiful couple, and all eyes were on them.
Our garden is quite a sanctuary, and she enjoyed it up to her last days, where many of our siblings would gather and dine Al Fresco, while mama would sit and crochet and sing Sicilian songs in the warm delightful afternoons and well into the cool summer evenings. She truly did enjoy herself up until the very last days~we definitely spoiled her!
We are truly blessed to have had her for all these years. She was a real trooper. Throughout her many illnesses in her later years, she took everything like a champ~never complaining, and always looking on the bright side, as if everything would turn our OK. And for the most part, they did.
She had a good heart, and also ruled with an firm hand. We didn't get away with too many things around her. She ran a tight ship.
She is up in heaven now with all her beloved siblings, many friends and loving parents. Most of all I think my Dad is most happy to see her. He will finally get that plate of pasta that he was been waiting for. We had her almost 4 years after you passed, Dad...Thanks for being so patient. I see her putting on her apron........ it won't be long now.....
Bon Appetite...
SHE'S FINALLY HOME!!!

---

Name: Enza Nicocia () on Tuesday, September 30, 2003 at 09:16:29
E-Mail: antiquenza@aol.com
City and State: SoSad, SoCal
Maiden: Heaven No Longer Awaits Our 'Ma'.......
Class: 72
Message: Dear Coug's~ My Mama put up a good fight, and passed early Sunday morning~She now has joined my Dad in heaven. Anyone wishing to attend funeral services, these are the details: Viewing/Rosary at Dunaway/Douglas Mortuary on Broadway in Hawthorne, Wednesday 10/1/3, starting at 4pm, and Rosary at 6:30pm.
Thursday at 11am, Mass at St. Joseph's, followed by Internment at Inglewood Park Cemetary.
Thanks for being so patient, Dad.....I see her putting on her apron now.....you'll finally get that plate of pasta you've been waiting for....it won't be long now.....Bon Appetite...SHE'S FINALLY HOME.....
Sorry for your loss, Enza. Condolences go out to the entire Nicocia family.
---

Name: Dinah () on Tuesday, September 30, 2003 at 09:12:22
E-Mail: winsweep@ix.netcom.com
City and State: Catonsville MD
Message: I saw your "Some Things You Keep" page and saw Author Unknown. Thought you'd like to see THIS website: http://mrmom.amaonline.com/stories/Somethingsyoukeep.htm It shows an author.
Thank you
---

Name: Jan Blomsterberg () on Tuesday, September 30, 2003 at 08:57:39
E-Mail: hootie@socal.rr.com
City and State: Torrance, CA
Class: 63
Message: ?Poor is the nation that has no heroes. Shameful is the nation that has heroes?and forgets them. No nation can long survive without pride in its traditions.? (Unknown)
SUNDAY WAS YOUR BIRTHDAY? IN MEMORY OF HM2 DAYNE YORK SCOTT - Navy; 35 year old Married, Caucasian, Male born on September 28, 1933; from Hawthorne, California. Length of service 16 years. Casualty was on 10/17/68 in QUANG TRI, SOUTH VIETNAM. ?Greater love hath no man than this, that a man lay down his life for his friends.? John 15:13 You are not forgotten?Thank you, doc.
MONDAY WAS YOUR BIRTHDAY? IN MEMORY OF LCPL PAUL EDWARD HAHN - Marine Corps; Lawndale High Class of 1966; 19 year old Single, Caucasian, Male born September 29, 1947; from Hawthorne, California. Casualty was on 08/23/67 in QUANG NAM, SOUTH VIETNAM. ?No person was ever honored for what he received. Honor has been the reward for what he gave.? (Calvin Coolidge) Your friends will not forget you?Semper Fi.

---

Name: Jerry Rigney () on Friday, September 26, 2003 at 04:08:22
E-Mail: jnsrig@webtv.net
City and State: Palmdale, Ca
Class: '59
Message: I don't know. Perhaps it mean's to "move about or move around" (mill about, mill around) either with purpose or in confusion or just for the lack of something better to do.

---

Name: Jerry Rigney () on Thursday, September 25, 2003 at 23:31:40
E-Mail: jnsrig@webtv.net
City and State: Palmdale, Ca
Class: '59
Message: How about... "To go through the mill" To experience the suffering or discipline necessary to bring one to a certain degree of knowledge or skill, or to a certain mental state.
That's the best answer yet, but is it the right one?
---

Name: JIM SLOEY () on Thursday, September 25, 2003 at 23:20:53
E-Mail: wishiwasasfunnyasrobinorjohn.com
City and State: redondo beach, ca but my heart is in boston
Class: 52-they didn't have a class either
Message: I forgot to mention in my last post that after the marriage of Larry Molino and Debby Mill there have been added to the family a new L. Molino every year.
Yes thank you Jim, we get it....honestly.
---

Name: Greasby () on Thursday, September 25, 2003 at 22:59:30
E-Mail: Grizbear73@juno.com
City and State: SurfCity, Ca
Class: 73
Message: Greetings to all cougs this evening. I'm writing to let the classmates know that Richard Lloyd Whitaker, '54, my uncle, lost his beloved wife, Becky, of 25 years to heart disease. Contact him at 9501 Club House Blvd., Desert Hot Springs, Ca 92240. Say a prayer for all. Thanks, Wade
Sorry for your families loss, Wade.
---

Name: Marilyn Ross () on Thursday, September 25, 2003 at 19:03:49
E-Mail: mlr922@hotmail.com
City and State: Garden Grove, Ca
Maiden: Wisham
Class: 56
Message: OK my answer about the El Molino may have sounded pretty stupid but I really did know it meant The Mill. But I still remember hearing about the mill that grinds out time. Whether that has any relevance or not I don't know. The firse El Molino didn't refer to the name at all. I called my sister in Washington as she was on the 1955 yearbook staff. She didn't know either. But we do have some very creative writers. Maybe it doesn't mean anything.
I guess we should've asked.
---

Name: Kathleen Griffin () on Thursday, September 25, 2003 at 18:07:38
E-Mail: ct_helpdesk@yahoo.com
City and State: San Pedro, CA
Maiden: Nix
Class: 74
Message: Okay, I'll take a stab at it. El Molino, The Mill. Not because HHS was a diploma mill, rather because Mills have grindstones, and everyone knows that good students put their noses to the grindstone.
OK, but then shouldn't they have called it La Muela?
---

Name: Sharon MacDonald () on Thursday, September 25, 2003 at 13:18:53
E-Mail: smacd63@hotmail.com


City and State: Sullivan, Illinois
Maiden: Badger
Class: 1963
Message: At this point the real reason for the name "ElMolino" will pale at the creative reasons being offered. The problem that we have in remembering the real reason is CRS.
In the forty one years since I left the hallowed halls of HHS, I never cared until now. Does anyone know the REAL answer?
---

Name: Jodi Alexander () on Thursday, September 25, 2003 at 12:55:18
E-Mail: ibjodi@aol.com
City and State: Bakersfield, Ca.
Maiden: Torgerson
Class: 75


Message: Just a short note to all that know the Deuel Family, their Father Ken has been very ill and yesterday he turned 80 years old. We all sang happy birthday to him, and after that he left for heaven. He was the finest man that I ever knew, and it was a privilege for me to know him. I love you Kenney, you my friend were the best, and we all will miss you so. Thanks again John, without this site, people would never get to share news of happiness and sadness, which are both apart of this life, and I thank you Sir, for the effort you put into this wonderful little site that I can go back to and remember happy times in my life.
Jodi 75'
You are welcome, Jodi
---

Name: doris () on Thursday, September 25, 2003 at 11:33:14
E-Mail: raydori@mindspring.com
City and State: Twin Falls, ID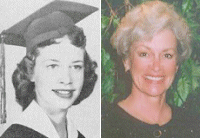 Maiden: donaldson
Class: '57
Message: With each tale of how the El Molino came by it's name, I was amazed and more amazed at the imaginations !!! Very wild, and funny indeed. But John! With the fewest words and the simplicity only GREAT comics possess, yours took the cake! YOU WIN! I was rolling on the floor, etc., when I read yours! LOL! YOU ARE A FUNNNNY FUNNNY MAN!
Thank you Doris. FINALLY, someone who gets MY humor.
---

Name: Cindy Colby () on Thursday, September 25, 2003 at 10:53:10


E-Mail: cindycolby@att.net
City and State: Laguna Hills, CA
Maiden: Maxson
Class: 63
Message: Molino means mill, maybe that had something to do with the expression "back to the old grind"? School was certainly a grind, except for the fun stuff and the friends.

---

Name: kelley () on Thursday, September 25, 2003 at 09:46:07


E-Mail: kelleycurrie@charter.net
City and State: Englewood, OR
Maiden: Currie
Class: 67
Message: I believe that Robins answer was correct. or a least it was funny..Hope to have a bunch of sightings while i'm down there..i know i'm meeting up with a Cougar who i've been emailing..it will be fun to meet her.
I always thought the yearbook was named for Hawthorne Highs first yearbook staff head, Mr. Lino.....first name, Elmo. Now THAT'S FUNNY!!!

---

Name: Dan Johnson () on Thursday, September 25, 2003 at 03:16:55
E-Mail: wch1ispink@aol.com
City and State: Sherman Oaks
Class: 77
Message: A serious CT moment occurred in Orange County tonight. East Coast Pink Floyd tribute "The Machine" played at The Grove in Anaheim (in the parking lot of Edison Field). At intermission, I hand a guy in a Pink Floyd t-shirt a Which One's Pink? flyer. He asks me if I'm associated with the band to which I reply, "yes." He says "are you the guy from Hawthrone High?" Turns out his Dad is Chris Prewitt and he and his brother are major Floydheads attending the "sync" show between the Wizard of Oz and the Dark Side of the Moon performed by live by the Machine. I log on here at 1:15 a.m. and Mr. Prewitt has left a message on the El Molino question a few hours ago. A small, small freaking world indeed -- thanks to JB. Hello Mr. Prewitt & sons, glad to make your aquaintance. http://www.whichonespink.com
Thanks Dan and sorry to hear your son's a FLOYDHEAD, Chris. Is there any treatment for that?
---

Name: Armand Vaquer () on Thursday, September 25, 2003 at 00:21:17
E-Mail: AMVaquer@aol.com
City and State: Tarzana, CA
Class: 1972

Message: Okay, El Molino is Spanish for "the mill." But, do you know how and why the yearbook got that name? Was it because of some Dutch teachers that taught there? No. The reason for El Molino was back in the early-to-mid 1950s, the school administration wanted to have a yearbook started like other high schools, but they could not decide upon a suitable name. There was a teacher (whose name shall go unmentioned) there that had a medical condition called "meteorism." Meteorism is uncontrollable flatulence. (Adolf Hitler was a meteorism sufferer.) One day, this teacher was in the teacher's lounge and had a major attack of meteorism. As you can imagine, this caused the teachers' lounge to clear out mighty quickly. Some teachers brought in some fans to clear the air. One teacher quipped, "This isn't going to be sufficient, we need a windmill!" Soon, people began calling the teacher with the affliction, "The Windmill." Soon, the nickname was shortened to just "the mill." Getting back to the problem of the name for the proposed yearbook. Several of the English teachers responsible for the yearbook project were in the teacher's lounge discussing varying names for the yearbook when the afflicted teacher walked by. A teacher of Hispanic origin was sitting at a table near the yearbook committee teachers and said, "Look out! El Molino is coming!" With that, the teachers who were arguing over a name for the yearbook stopped and the chairman of the committee yelled, "That's it! Let's call the yearbook 'El Molino'!" So that's how the HHS yearbook got its name. Believe it or not!
Hmmmmm.........no, now that's not EXACTLY it, no. thanks anyway, Armand.
---

Name: JIM SLOEY () on Thursday, September 25, 2003 at 00:03:27
E-Mail: itssomewherenextorobins
City and State: same as Robin
Maiden: notrobin
Class: not same as Robin

Message: When HHS began it didn't have enough land for the football field or baseball field. The family who owned all the land between Inglewood Avenue to La Cienega [pre-freeway] and from the railroad tracks to 120th Street agreed to donate the land that is now the athletic fields north of the tracks and south of Broadway. The only contingincy requested was that the year book be named after their son who was then stationed in Korea-he later returned safely. The son's name was Larry Molino who later married Debby Mill. Hence, L. Molino.
Uhhhhh, yeah.......that's close enough. Thank you and good night...
---

Name: Chris Prewitt () on Wednesday, September 24, 2003 at 22:52:08
E-Mail: cjprewitt@juno.com
City and State: Fullerton, CA
Class: 1967


Message: If you remember, HHS had been a bean field but did you know they were coffee beans? Well those beans needed to be ground to be put into the percolator. Right near where Nyman Hall is now was the mill where they ground those beans. From what I have heard that was the building where the members of the Quill and Scroll used to gather to write their stories. A couple of years after HHS started, they tore down that building and the yearbook staff felt so bad, they renamed the yearbook after it. Since the Spanish teacher was also the advisor for yearbook staff, she offered the Spanish term for the mill. That is where they got the name El Molino. BTW did you know when they were removing the grinding stone it slipped and fell on Bill, the mill guy. People say that his ghost can be seen once in a while at Nyman Hall. So for those people who wanted to know about Billy the ghost, there you are.
MAN, I don't get it. No one can come up with the answer. Nice try Chris, but we'll just have to keep looking.
Why is the El Molino called THE EL MOLINO?
---

Name: Larry Biller () on Wednesday, September 24, 2003 at 19:57:46


E-Mail: lbiller49@yahoo.com
City and State: Portland,OR.
Class: 1967
Message: On page 15 of feedback there is an entry from Dick Rierdan class of 55. He was on the first El Molino staff. Maybe he knows the answer.

---

Name: Jack Hammer () on Wednesday, September 24, 2003 at 18:39:04
E-Mail: jhammer@rosenet.net
City and State: Oakland Or.
Class: 68


Message: WOW ! That before and after picture hurts. We did have a "REALLY GREAT" time and need to have those get togethers more often. Special Thanks to Bill; he really rolled out the Red Carpet for us(lot's of goodies and a special room just for us Cougars) Got to see Jerry Miles for the 1st time in 30 ? years and met lots of new friends. Once again many Thanks and a tip of the old hat to Bill.
Hey Jack, Glad you had a fun time and I know all about those early/late pictures. Of course no one EVER accused me of bein' GOOD LOOKIN' even in high school.

---
If you have comments or suggestions, please email me at john14@Cougartown.com