Hawthorne Time and
Temperature

Home | 60's Slang | Alumni List | Car Talk | Cougar News | Feedback | Hangouts | Memories
Recollections | Reunions | Street Scene | Teachers | Tributes | Vietnam | What's New | Keyword Search
Another Doo Wop'er who left too soon Jesse Belvin
<!-+++++++++++++++++++++++++++++++++++++++++++++++++++++++++++++++++++++++++++++++++++++++++++ +++++++++++++++++++++++++++++++++++++++++++++++++++++++++++++++++++++++++++++++++++++++++++++->

---

---
<!-+++++++++++++++++++++++++++++++++++++++++++++++++++++++++++++++++++++++++++++++++++++++++++ +++++++++++++++++++++++++++++++++++++++++++++++++++++++++++++++++++++++++++++++++++++++++++++->
Name: Paul Wisman () on Wednesday, June 25, 2003 at 23:53:44
E-Mail: hobocat1@attbi.com
City and State: Torrance, Ca
Class: 61

Message: Hey Alan, congratulations, your prediction for last Sundays Nascar race was right on man! Robby Gordon?s Cingular Wireless Chevy Monte Carlo was definitely the car to beat. Actually, ?bowties? had a great day finishing in the top three spots. Did anyone catch the segment when Fox announcers, Chris Meyers and Jeff Hammond, climbed to the top of the hill behind their ?Hollywood Hotel? broadcasting position and identified it as ?Cougar Mountain?? Wow! We have our very own school mountain. John B., did you have any thing to do with it? Like getting there early and ?marking? it??or whatever. Hope you guys had a good time.
Hey Paul, We had a GREAT time. Great seats right on the start/finish line plus hospitality seats on turn 4 at the Checkered Flag Tent with great food and drinks too. My thanks to Mike Doyle for all the help in getting tickets and to Dave Homewood for accomodations in Sonoma. I owe you two BIG TIME for this last weekend. Thanks so much for everything. It was a NASCAR dream weekend.
---

Name: Betty Rodriguez () on Wednesday, June 25, 2003 at 23:01:50
E-Mail: tombetty@pe.net
City and State: Lake Elsinore, CA
Maiden: Kean
Class: 69
Message: Is anybody watching "Boarding House-North Shore" on KTLA? Bitchin surf contests in Hawaii. These kids are serious. Betty

---

Name: Paco () on Wednesday, June 25, 2003 at 22:56:02
E-Mail: doo4usc@cox.net
City and State: Lake Forest
Class: 61
Message: Adrianne, I think I danced with you at the "Bright outside and dark inside" bar. Penny Prouty teaches hula lessons on the side...Aloha

---

Name: Chris Prewitt () on Wednesday, June 25, 2003 at 20:59:44
E-Mail: cjprewitt@juno.com
City and State: Fullerton, CA
Class: 1967


Message: I know that we are not to air dirty laundry here but I just have to this time. I was going through the hamper and came across a T-shirt with "LET FRIENDSHIP BEGUN STAY TRUE TILL THE END" printed on it. It needs to be laundered this weekend so that it will be ready for July 5th "Wear your Cougartown T-shirt day". I'll be watching for Cougars on that day!
YES!! The day is drawing nye, ni nie.... getting close. All MUST wear their Cougartown Tshirt on "Cougartown Tshirt Day" July 5th. If you don't have one, order one now as we have ALL sizes for a limited time, or at least we will by next week. Thanks Chris....
---

Name: Tiffany Lydy () on Wednesday, June 25, 2003 at 20:37:18
E-Mail: moonlightbeachcasa@cox.net
City and State: Encinitas, CA
Message: I did not go to HHS, but RUHS as did my mom, dad, aunts, uncles, & 3 of the 4 grandparents. They hung out with the hot rod & surfers from Hawthorne & would like to catch up with old stories at the RUHS 100 anniversary in 2005. If you are looking for a McNeil, Thorns, Ton, Burns, or Collins, let me know!
Thanks Tiffany and welcome.... For all you that are wondering, RUHS is Redondo...
---

Name: Denny () on Wednesday, June 25, 2003 at 20:19:27


E-Mail: sameaslasttime
City and State: Del Aire
Class: 55
Message: I remember that bar on Prairie in '55' when it was called the Harmony Club. When I was 18 they served me a beer without asking for ID probably because I went in with an older guy that worked at the same gas station with me down on Arbor Vitae Ave. Shame, shame on me, huh?

---

Name: Adrianne DeAlejandro () on Wednesday, June 25, 2003 at 19:45:44
E-Mail: addy57@msn.com
City and State: Cerritos, CA
Maiden: Longpre
Class: 63

Message: I well remember the nightclub at the corner of Prairie and Imperial. I went there dancing a number of times. I saw the Shirelles there. I can't for the life of me remember the name right now, but it was bright outside, dark inside. By the way, official invitations will soon be going out for the '63, 40th reunion.

---

Name: Marilyn Ross () on Wednesday, June 25, 2003 at 17:46:26
E-Mail: mlr922@hotmail.com
City and State: Garden Grove, CA
Maiden: Wisham
Class: 56


Message: How many of you might remember the bar that sat on the northeast corner of Prairie and Imperial? It had a long list of names and colors. I can only remember 3 of the names. When we moved there in 1946 it was gray and called the Lennox Inn. Later it was painted green and called The Irish World then The Shamrock Inn. I can't for the life of me remember any of the other names it had. Does anyone remember? My dad actually took me in there when I was very young and I had a coke with a real pretty straw. It was very dark and scarey but I was thrilled to see it. It was early in the day so no one much was there. I checked out the Leuzinger site and saw a couple of guys I knew in the 50's in the reunion pics. Boy did they look old.
Hey Marilyn, GOOD ONE. I think it was called the Palace at one time, as the market next door also was named the Palace. That place had lots of names and seemed to change hands every couple of years. Maybe someone else has a name, but that's the only one I can remember.
---

Name: Kathleen Griffin () on Wednesday, June 25, 2003 at 17:43:14
E-Mail: ct_helpdesk@yahoo.com
City and State: San Pedro, CA


Maiden: Nix
Class: 74
Message: I saw the mentions of TRW. That was my employer until Northrop Grumman bought us Jan 1, 2003, now my paycheck comes from Northrop. TRW's Automotive sector still carries the banner for the 102 year old company. The sign has changed but the song remains the same.

---

Name: BOB () on Wednesday, June 25, 2003 at 16:30:18
E-Mail: DSTEVEN311@AOL.COM
City and State: LAKEWOOD, CA
Class: 63
Message: I JUST READ ABOUT CRUISE NIGHT. WHAT TIME AND WHERE? THANKS BOB STEVENSON
Hi Bob, I'll post it here on the Feedback page today. Thanks and see you there.
---

Name: Jim Peppers () on Wednesday, June 25, 2003 at 12:18:45
E-Mail: JimPeppers@yahoo.com
City and State: Athens, Greece
Class: 61


Message: Well it was nice to see that so many of us remember the Plaza theater so fondly. I just checked out the memories site and was delighted to see the old cougar news. Hilda Kossof, where are you? I wouldn't have graduated if it hadn't been for your help. Also, now that I see that the foreign exchange student in '57, Achileas Kolleas, went to Anatolia (it's spelled wrong in the cougar), maybe there's a chance I'll be able to locate him. So, be good one and all. All our best from Greece, Jim Peppers and family

---

Name: Pat Underwood () on Wednesday, June 25, 2003 at 02:05:05
E-Mail: onefamilyhistorian@socal.rr.com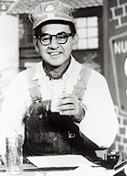 City and State: Hawthorne, Calif
Maiden: Lawndale High
Class: 1963
Message: I knew there was a reason I loved this site. My life just wasn?t complete and all of a sudden things are clear now. I can?t sleep on Friday, Saturday and Sunday nights and I just figured it out, the late night sounds coming from Ascot back in the 60?s. Now I?m afraid that I?ll start missing Soupy Sales or playing Red Light Green Light. Pat Underwood Lawndale High class of 1963

---

Name: CARLYN BROWN () on Friday, June 20, 2003 at 23:31:51
E-Mail: carlynsmith4@aol.com
City and State: WOFFORD HEIGHTS CA.
Message: WE GREW UP IN HAWTHORNE. I WENT TO LEUZINGER BUT HAD FRIENDS AT HAWTHORNE. I'D LIKE TO KNOW IF ANYONE THAT GREW UP THERE IN THE 50'S REMEMBERS A SMALL PERMANENT CARNIVAL LOCATED RIGHT ON HAWTHORNE BLVD. ANY PICTURES OF IT WOULD BE APPRECIATED.
THANKS CARLYN.
Yes, that was Rockwell Kiddie Land and was run by the Rockwell family. Sorry, I don't have a picture of it.
---

Name: Joseph Brown () on Friday, June 20, 2003 at 19:32:25
E-Mail: jsbrown@family-network.net
City and State: Apple Valley,Ca
Message: John this web site is awsome. I was born and raised in Hawthorne 1954 and moved away in 1982. Our home was on the corner of 132nd st and Doty the house is still there. I went to Zela Davis, Williams ,and Yukon school and Hawthorne Intermedate as well as Leuzinger high . I remember the Plaza Theatre, The A&W the Wich Stand the Drop Inn, I had some older siblings and our Dad was pretty cool as well. How nice it would be to be able to wave a wand and do it all over again the Pizza Show it's still my favorite Sandwich & Pizza stop when I'm in town, and Stellinos on Inglewood ave was a great place to eat, my Mom used to shop there now and then and the Lighthouse Cafe Rosecrans & Hawthorne blvd my aunt worked there and our dad would take us there when we were young. I Even remember Hitchiking down Rosecrans to Manhattan Beach when it was only a two lane road lined with big trees. Wow what a blast from the past. I recently went to my 30 year reunion last September in Redondo Beach and that was great to see all of those old school chums. John, if there is anything I can do to help you let me know. Oh and by the way my best friends brother Kenny Williams went to HHS and he used to hang out with the Beach Boys not only at his house but at their homes as well; those days were wonderful, just wonderful !!!
Hey Joseph, Glad we struck a nerve or two in your Hawthorne past. Don't be a stranger as this is what it's all about. Thanks for letting us know you're out there and come on back anytime as this website is not only for Cougars, but all that lived and breathed Hawthorne CA.
---

Name: Frank Romano () on Friday, June 20, 2003 at 18:43:54
E-Mail: fromano@lvcm.com
City and State: Las Vegas, NV
Class: 1961


Message: Social Security... Not only is it difficult to think of Brian, and Robin on those rolls, its not a warm and fuzzy feeling thinking that we are aging at the same rate at the same time... Think that over for a minute...
We are going to check the Boys out Saturday night since they are in town.
I'll see if I can get a senior discount ticket... find a place for the cane, and walker while we kick up the heels... One more once!
Hope you're well JB... CT is looking good.
Hey Frank, Good to hear from you and yes, please enjoy the Beach Boys, such as they are NOW.
Mike, Bruce, and the no names.


If they could just get along we could have Brian, Al, Mike, and Bruce back together again.
---

Name: Paul Wisman () on Friday, June 20, 2003 at 18:20:49
E-Mail: hobocat1@attbi.com
City and State: Torrance, Ca
Class: 61
Message: Doris, you are absolutely right, our web site is the greatest, and its master is AWESOME. We should all do what we can to help support John and his efforts. I passed the intersection of Rosecrans & Inglewood Ave. today and was shocked to find that Shaw?s Marine was gone, and has relocated to 4567 W. El Segundo Blvd. The old location has been leveled in preparation for new construction. (I ASSUME)
Alan, Ascot was a great place to watch all kinds of racing. AMA motorcycles, super modifieds, sprint cars, motocross and even Nascar Grand National races to name a few. I could even hear the sweet sounds of racing from our house (120th and Hawthorne). Never did get out to Corona though.
I too remember the sounds of racing in Gardena, whether it be Ascot, Carroll Speedway, or Gardena Stadium. What great times we lived in. Does anyone remember the organ music coming from Gardena on a Sunday morning?
---

Name: Diane () on Friday, June 20, 2003 at 17:36:46
E-Mail: moadib@earthlink.net
City and State: Lomita, CA
Maiden: Salazar
Class: 76
Message: Hello again old friends, I just wanted to let you all know that the Griffith boys (Tim, Dion, Pat, & Mike) are going to have a Bar-B-Q gathering this Saturday June 21st. So if you remember them from high school, you're more than welcome to come. Some of you may remember where they lived back then, well that's the place we're all going to be this Saturday 1pm. If you need directions let me know!

---

Name: doris () on Friday, June 20, 2003 at 15:44:28
E-Mail: raydori@mindspring.com
City and State: Twin Falls, ID
Maiden: donaldson
Class: '57
Message: Just checked out the Leuzinger website Karen Kuehl mentioned. GEEZ! We have a genius for a webmaster!!!! CT IS SO DARNED LUCKY!!! And it's so easy to get around in CT. Can't say it enough, John! THANK YOU!!!!!!!! Not trying to rain on LHS' website, but COUGARS!!!! TAKE NOTE!!! WE ARE LUCKY!!! to have John!
Ahh geez, thank you Doris....
---

Name: Chris Prewitt () on Friday, June 20, 2003 at 13:56:54
E-Mail: cjprewitt@juno.com
City and State: Fullerton, CA
Class: 1967
Message: Since no one has said it yet, Happy Birthday to Brian Wilson.
Brian WHO?? Hard to believe he'll be eligible for Social Security next year. HEY....so will Robin.

---

Name: Norv Vorhis () on Friday, June 20, 2003 at 01:26:17
E-Mail: Live here, work there
City and State: west of Irwindale Speedway
Class: 59
Message: Thanks Paul. Anytime I think of 126th east of Hawthorne, I think Plaza, Fire station, the LA Times office (sharing a building with the DMV). I cruise El Segundo Blvd several times a day, and pass two similar buildings, either of which could have been the old TRW building. One is in the AF base, and the other is in the Aerospace Facility. I wonder, at least once a day was that shiny new high rise, east or west of Aviation. Pat, I also cruise the Blvd almost daily, except, instead of the "A", I stop at Quiznos, north of Petco. Cindy, about two weeks ago, the memory of the yellow Pastrami stand at Imperial and Hawthorne, came back to me. All I've been able to remember, since '81, was the Union 76 station they just tore down. John, NASCAR lost me when they took the "stock car" part away.
Hey Norv, Great memories but the Plaza was on 127th and if you haven't followed NASCAR since the cars were stock, you've been gone awhile.

---

Name: Sharon MacDonald () on Thursday, June 19, 2003 at 23:07:03
E-Mail: rmac@genevaonline.com
City and State: Burlington, Wisconsin
Maiden: Badger
Class: 1963
Message: When it comes to NASCAR, I am a Rusty Wallace fan. I was not too happy with the move to Dodge this year. I enjoy watching Ryan Newman, a strong driver who has given us a few spectacular crashes this year. But I also like to see Matt Kenseth (almost local boy) win. I also think the Kyle Busch (Kurt's younger brother) will be a consistent winner in the future. You guys enjoy the race at Sears Point. We usually go to Western Iowa for Father's Day weekend and the haulers would be heading West on I80 headed for California as we would be headed East.
Thanks Sharon
---

Name: Karen Kuehl () on Thursday, June 19, 2003 at 22:47:02
E-Mail: kaykay2003@charter.net
City and State: Templeton, CA
Maiden: Graham
Class: 59

Message: I was just made aware of a website for those of you out there who attended Leuzinger HS. It's pretty neat and the ones who are on there are looking for new people to join in. Even us Hawthorne HS grads are welcome!! Check it out at http://groups.msn.com/LeuzingerGrads1957 It's pretty cool, but nothing like we have here, this site is the best by far!! Am I being biased? You betcha!! hehehehe Luvya Cougs
There you go Olympians.... a new LHS site to check out. Who knows, you might find someone from your past. Thanks Karen....
---

Name: Don (crow) Burns () on Thursday, June 19, 2003 at 20:26:30
E-Mail: burnslock@yahoo.com
City and State: Downey, Ca.
Class: 57
Message: Hey Coug's, August 2nd will work out real good, because Sunday the 3rd is the Cruise For the Arts @ Mayfair High in Bellflower with Ricki (Valencia) Farrell c/o 61. More later Don

---

Name: Alan Nelson () on Thursday, June 19, 2003 at 18:14:48
E-Mail: boatcop@boatcop.com
City and State: Parker, Az
Class: '73


Message: Paul I've been a NASCAR fan since the days of the King and Junior Johnson. I remember as a kid just waiting for ABC's wide World of Sports and Speedvision to show the races. Probably an off-shoot of my going to Ascot and Corona Speedway for the circles and figure 8's. My current favorite driver, and good friend, is Robby Gordon, and the 31 Cingular team. Robby's another Southern Cal (Cerritos) kid who cut his teeth in Desert, Stadium and Baja Racing. Look for him in Victory Circle come Sunday at Sonoma.
Elvis raced against Junior Johnson? I didn't know that.


Does anyone remember that the Winston Cup series used to be called Grand National? Next year the Winston Cup will be history and the Nextel Cup will take over.
---

Name: Pat Underwood () on Thursday, June 19, 2003 at 17:25:37
E-Mail: onefamilyhistorian@socal.rr.com
City and State: Hawthorne, Calif
Maiden: Lawndale High
Class: 1963

Message: DORIS I didn?t mean that I never cruise the boulevard anymore, because I do it a couple times a week and trust me the memories do flow. I am one of the few people left from that era that never left good old Hawthorne, although I did move as far away as Lawndale, California for a few years. LOL. Just yesterday the wife and I and my fifteen year old son Louie (Hawthorne High School Class of 2006) were out doing a few errands. We went to Petco on Marine and Inglewood Ave. and I said look Louie I can remember when there was nothing between here and Rosecrans Ave in the late fifties and the frogs and tadpoles flourished. On that corner was Shaws Sporting Goods, I used to belong to their boxing club in the early 60?s. This place used to be Art?s hamburger stand in the 60?s. On this corner was a Shell station (southeast corner of Inglewood and El Segundo). This used to be Thrifty Drugs and next door was Food Giant and I worked there when I was a teenager and this is where Marilyn Monroe went to school. Then we pulled into Albertson?s parking lot (northeast corner of Hawthorne and El Segundo) and said this is where the old Plaza Theater used to stand and it was my hang out for many years. When Cindy (my wife) parked the car I looked at her and she had a smile from ear to ear. I asked her what she was smiling about and she said; ?You sweetheart, you?re such a wealth of information? and Louie asks; ?Why do we have to listen to this stuff every time we leave the house?? The only thing I could say was; Do you know your sister knows Inglewood Ave from the early 50?s to the late 60?s by heart? That figures he said and as we pulled into our driveway I asked ?Hey do you remember Sonny and Cher? Louie put his hands over his ears and got out of the car. One day he will care I hope. So I sit here on C-towns Feedback where the memories flow and people care and I say; ?It?s good to be home.? Pat Underwood LHS Class of 1963. It?s strange that I sit here remembering all the wonders from the past and can?t remember what I had for lunch.
....and Louie said, "Who is Marilyn Monroe?"
---

Name: Richard Hanson () on Thursday, June 19, 2003 at 16:51:32


E-Mail: reh2469@aol.com
City and State: Simi Valley, Ca
Class: 56
Message: Cruise Night on August 2nd would be great for Mikey & Me. We will be gone on vacation ( Big Sur ) the next two weekends . I would hate to spoil my perfect record and miss my first Cruise Night.
You mean you wouldn't spoil your Big Sur record (40 years straight) for Cruise Night?

We'll see you there.....
---

Name: Tim Helble () on Thursday, June 19, 2003 at 14:10:33
E-Mail: TKHelble@netscape.net
City and State: Columbia, MD
Class: 73

Message: TRW recollection - I remember when my YMCA GRAY-Y group took a tour of TRW and the guide showed us the clean room and the blower entrance and a huge computer in another room. Then the guide went to a console and ran a computer program that printed out a large image of Snoopy on computer paper using x's and o's. We all thought that was pretty awesome and then the guide said "one day they'll have a computer that does everything this one does, but fits into a closet." I think my old HP calculator from the '80s does more than that baby.

---

Name: doris () on Thursday, June 19, 2003 at 12:43:06
E-Mail: raydori@mindspring.com
City and State: Twin Falls, ID
Maiden: donaldson
Class: '57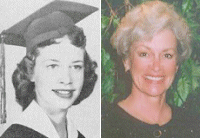 Message: NOT SO, PAT UNDERWOOD. Some of us grownups who have never quite accepted our ages, still do a cruise ... a couple times a year ... right there on Hawthorne Boulevard!!! CRUISE NIGHT at FOSTERS. And I understand that Fosters is soon to be torn down, so let's make this last CRUISE NIGHT one to remember! REALLY CELEBRATE one of Hawthorne's few 50's places before it's just history, too! Gol! Makes me sad.
OH BY THE WAY CT GANG! Time for dues to CougarTown! YUP! This is the month ... get those dues into John soon, and I'm sure even a little extra wouldn't hurt anybody's feelings! We have no idea of the expense involved and should SHOW our appreciation instead of just talking about it! As Jake would say: MAY THE COUGAR BE WITH YOU!
Thanks Doris, Really not sure this will be the LAST Cruise Night at Fosters as I think the Drug Store is planned for sometime next year, but make plans to be there anyway. The way it looks right now Cruise Night will be the first Saturday in August.
Yes, Ctown dues are due this month and thank you all for supporting Cougartown.... it IS appreciated.
---

Name: Paul Wisman () on Thursday, June 19, 2003 at 11:28:49
E-Mail: hobocat1@attbi.com
City and State: Torrance, Ca
Class: 61
Message: Hey Norv, TRW's history dates back to 1901 with today's organizational structure originating in 1958 when mass manufacturer Thompson Products merged with Ramo-Wooldridge, pioneers of space technology. Do you remember the old TRW office on the north side of 126th street just east of Hawthorne Blvd.? Bill Arseneau?s (HHS61) mom worked for TRW, as a secretary, at that location. And right across the street (126th) was the old library. I worked there briefly, one summer, as an assistant to the book return specialist. :)

---

Name: Paul Wisman () on Thursday, June 19, 2003 at 01:29:10
E-Mail: hobocat1@attbi.com
City and State: Torrance, Ca
Maiden: Earnhardt
Class: 61

Message: John B, now you?ve gone and done it, you had to bring up Seers Point, now known as Infineon (how dull) Raceway. NASCAR rocks man I want to go (whine). Been to all the Fontana races except the inaugural (1997). Who?s your favorite driver? I like Dale Jarrett for the veterans & Jimmy Johnson for the young guns. Any other NASCAR fans in C-town? Guess I'll catch it on the tube. John, you and Janet have a blast! Don?t forget to wave.
Hey Paul, I like Jeff Gordon, Tony Stewart, Dale Jr, Michael Waltrip (are you getting the Chevy connection here

). I'm also a Jimmy Johnson fan. Actually the guy that got us the tickets feeds DJ's pit crew, so I guess I like the Big Brown Truck too.
---

Name: Norv Vorhis () on Thursday, June 19, 2003 at 00:40:30


E-Mail: olds88coupe@yahoo.com
City and State: Monrovia, Ca
Class: '59
Message: When did Ramo Wooldridge become Thompson Ramo Wooldridge? Thompson made Piston rings and engine bearings in the '40s thru '60s that I know of.
I don't exactly know but it must have been in the 60's.
---
If you have comments or suggestions, please email me at john14@cougartown.com