Hawthorne Time and
Temperature

Home | 60's Slang | Alumni List | Car Talk | Cougar News | Feedback | Hangouts | Memories
Recollections | Reunions | Street Scene | Teachers | Tributes | Vietnam | What's New | Keyword Search
A pretty good guitar picker----Ry Cooder
<!-+++++++++++++++++++++++++++++++++++++++++++++++++++++++++++++++++++++++++++++++++++++++++++ +++++++++++++++++++++++++++++++++++++++++++++++++++++++++++++++++++++++++++++++++++++++++++++->

---

---
<!-+++++++++++++++++++++++++++++++++++++++++++++++++++++++++++++++++++++++++++++++++++++++++++ +++++++++++++++++++++++++++++++++++++++++++++++++++++++++++++++++++++++++++++++++++++++++++++->
Name: Marilyn Ross () on Saturday, May 31, 2003 at 21:21:43
E-Mail: mlr922@hotmail.com
City and State: Garden Grove, Ca
Maiden: Wisham
Class: 56
Message: I remember my mother using ration books. I also remember during the war we could only buy one roll of toilet paper per person. It may have been only a temporary thing, but my whole family would go to the store and we would each by one roll. I was about 6 then and lived in Lennox. My mother found a jar of Best Foods Mayo hidden behind some other product and grabbed it. I remember she was real excited to find it. Items like that were hard to come by I guess. We are so spoiled now we wouldn't know what to do if our food or tp supply was limited.

---

Name: Keith D. Jones () on Saturday, May 31, 2003 at 21:10:44
E-Mail: cmi50@yahoo.com
City and State: Honolulu, HI
Class: 76

Message: I remember being the first family to have a Microwave oven in our neighborhood. I think they called it a Radar Range from Amana. It was huge. All my friends and me would cook hot dogs until they blew up. Our remote control TV was me laying at a broom sticks length and hitting the dial hard enough to turn it. I loved going down 138st with my PF Flyer too. Just remebering some times. Oh it is about 90 degrees here and it is hot!

---

Name: Karen () on Saturday, May 31, 2003 at 20:52:11
E-Mail: Karentamulonis@aol.com
City and State: Brisbane, CA
Maiden: Avena
Class: 64


Message: Hi Andrea, I couldn't agree with you more about Mr. Williams. I have many fond memories of him during 62, 63 and 64. Somehow he managed to get me into two classes a year, Advanced art and then the regular class. He knew how to work with us and get the best out of us without being strict. I used to sneak to the back of the class and put Night Train on. Without even looking up he'd say "Avena, take it off." Of course the class would crack up because Night Train was a tune used in strips joints alot back then. I'd love to know where he is and how he's doing, I just loved that man.

---

Name: Jim Armour () on Saturday, May 31, 2003 at 17:23:20
E-Mail: Orcaarmour@charter.net


City and State: Shell Beach,CA
Class: 1970
Message: To Jodi, The show you were wondering about may have been "Queen for a Day"(I Think)
Queen for a Day starring Jack Bailey. Now there's one from the past. He would start every show by shouting, "Would YOU like to be Queen for a Day?"
---

Name: Mary McDermid () on Saturday, May 31, 2003 at 16:12:54
E-Mail: akamac1@msn.com
City and State: Irvine
Maiden: Strehle
Class: 1958

Message: About the only thing I remember about the war is the ration stamps. I think I still have a few somewhere. I was pretty young, but I do remember my folks using ration stamps.
I went to a Beach Boys concert last night, that sure brought back memories. With an audience of car enthusiasts of that generation, the place was rocking. It was at the Meguire's Awards.
Sounds like fun, Mary....
---

Name: jodi () on Saturday, May 31, 2003 at 15:33:01
E-Mail: ibjodi@aol.com
City and State: Bakersfield, Ca.
Maiden: Torgerson
Class: 75
Message: Does anyone remember a television show in the late 50's or early 60's that had a princess and young girls could be on the show sitting around her. For the life of me I can't remember the name of it. Help!
Sorry Jodi, Don't remember that one.
---

Name: Ron Dokken () on Saturday, May 31, 2003 at 13:43:15
E-Mail: rdokk&yahoo.com
City and State: Endwell, NY
Class: 1955


Message: Speaking of WW2 events, my older brother and I were residents of the I.O.O.F. orfinks home in Gilroy, CA during the war. At about age 7 I filched a can of beans from the pantry, and headed for the railroad tracks. I was going to KILL HITLER! Luckily, they nabbed me and returned me to the Home. I was 8 when the war ended. Does anyone remember the excitement, and where they were when it ended? How did we get by without 24/7 tv coverage? On another subject, am I the only one who gets daily security updates from Windows? Whats up with that?
Hey Ron, I wasn't quite 1 when the war ended, so I guess I was in a crib on Ramona in Hawthorne.
---

Name: Jean () on Saturday, May 31, 2003 at 13:35:00
E-Mail: MacErnie
City and State: Albq NM
Maiden: Caldwell
Class: 68


Message: Welcome back John.... A Note to John Norman also....I was surprised you remembered the water fight....The thing about my dad was true...a lot of kids sort of feared my dad. He only had to tell my sister and I to do things once. Another example was when we slammed the front door or car door he would make us practice opening and closing the doors for what seemed like forever..When my dad called us home he wouldn't call out our names like everyone else did....My dad had a very loud whistle that we could hear from the other end of the block. If we didn't hear it someone else would and come and tell us. My dad was a very strong man and I respected him a lot. He had answers for all the questions that Roberta and I would ask...
Memories.....Beatlemania (In the 8th grade at HIS, Diane Monti was the biggest Beatle fan I knew). Also Pam Duvuyst...she loved them. She went to HHS. She got to see them in concert before she passed away in the 9th grade. 1965 football season...we were undefeated and so full of spirit....At one game I took some confetti (made of the tiniest little dots). I threw a huge hand full of it in the air....Unfortunately a lot of it went into Mr Hamiltons coke....He came over and simply told me to file the confetti...Done! More people from 133rd....Susan and Linda Carroll. Do any of you 133rders remember them? Night blooming jasmine and gardenias...The Fabulous 52 on CBS. It was one movie each week for the 52 weeks in the year...Your 1st color TV...My dad kind of dragged his feet on it until he saw a football game in color!! The first person on your block to get a color TV? On 122nd it was the Adams I believe in 1959. They had a huge window in the front room and we would walk by and stare at that tv....coke cans that you had to use a can opener with...St Christopher Medals, Pendletons...angel blouses...bubble hari style...back combing or ratting your hair...white lipstick...cinnamon hose and white moccassins...hula hoops...pop beads...slip and slides...pogo sticks...scooters...cup of gold candy, look, and abbazabba...the Campbell kids from the soup companies (where they kids or little pigs?)...Bubble Up...Upper 7 (not 7 Up)...going every where bare foot...yo yos...Did anyone ever try Licorice flavor ice cream as a kid? Thrifty Drug had it...It was a grey ice cream with bits of licorice in it....nasty stuff....Those XLNT tamales? Do they still sell those in the grocery stores in CA? I never saw them in NM...I don't think a place like NM would allow that!! But then we do have those little cans of tamales here....yuch! Til next time....Jean
Great memories Jean, thanks....
---

Name: Susan King () on Friday, May 30, 2003 at 22:22:34
E-Mail: sueking18@aol.com
City and State: Thousand Oaks, CA`
Maiden: Bierman
Class: 1974

Message: Well Ms EllaV Baker! I was wondering when you'd make an appearance on this page. Actually John, this is bad timing, what with you just threatening to tell Johnny Norman's secrets- now we ALL know the email address of the lady who knows all of YOURS!! I love the picture Mom B1 - you're a dollbaby! I hope to see you post up often sharing some favorite memories of the webmaster! And John, that IS a beautiful armoire! Do you hire out?
Mom, this is Beverly's eldest daughter and Sue, you know if mom adds something I don't like, I WILL edit it

and yes, I do hire out, but you can't afford me.

---

Name: Mike Shay () on Friday, May 30, 2003 at 21:36:42
E-Mail: shayshere@msn.com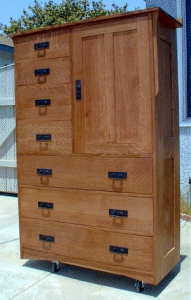 City and State: Cerritos, CA
Class: 61
Message: Hi John, Welcome back!! We had a great trip to Mammoth and Tahoe and got back just in time for our youngest grandsons first birthday party. Hey Paco, instead of playing Redhawk you could just go have a root canal or something... That course hates me! The back side with a 50 mph wind is just real special. Somebody ought to ask Baker about his latest woodworking project, it's gorgeous and I'm sure he'd like to show it to somebody!
Talk to you all later! M.S.
Ahhh SHUCKS!! Thank you Mikey for plugging the project. You KNOW you're my mentor and I couldn't have done it without your help. Anyway, I LOVE Mission furniture. This one I saw at Restoration Hardware but couldn't afford the 2000 dollar price tag (that's almost what it cost to build), but I wanted an extra bottom drawer. I really do love how it came out and thank you Mike, my "gluru", for the segue and the personal help.
---

Name: Marilyn Ross () on Friday, May 30, 2003 at 20:39:36
E-Mail: mlr922@hotmail.com
City and State: Garden Grove, Ca
Maiden: Wisham
Class: 56


Message: I remember blackouts and I couldn't have been more than 4 or 5 years old. I never heard of our shores being attacked, but my parents would not have said anything to us kids at that time. I do remember sometime in the early 60's a neighbor on 134st just east of Crenshaw telling us that our tract was attacked by Japanese planes during WWII. I just thought he was wacko. I looked up some info in the Internet and found several places mentioning the anti-aircraft fire. One such story claimed the target was really a UFO, a really big ship with many witnesses claiming the ship was hit repeatedly with no apparent damage except to homes on the ground. They say it was caught by several search lights. They showed copies of headlines in the local papers -with photo - that carried the story. I don't know if people really thought that at the time or not, I sure never heard that one before. It sounded really waaaay out there to me, like the Twilight Zone maybe.
I really don't think we were attacked by the "Japs" on the mainland. If we were, I'm sure the local papers would be full of the stories. Can anyone look it up? Chris P, maybe? Thanks Marilyn....
---

Name: Ella Baker () on Friday, May 30, 2003 at 17:58:21
E-Mail: ellav@surfside.net
City and State: Seal Beach, Ca


Message: I came to Calif 9-41. After the Pearl Harbor attack there were many alerts for a long time and the volunteer firemen, which your dad was one of them, would run for it - for what I don't know. To be there in case of of a disaster such as fire or something. Then there were blackouts in the Hawthorne/Inglewood area. Do not recall how far it extended. Do recall Palos Verdes was a part of it. When the fire sirens screamed everyone was to turn all car lights, house lights, street lights, etc. off, or pull the window blinds shut. That happened when there were air raid alerts which happened frequently. Then a short siren blast when it was safe to return to normal.
We would go outside in the stark black of night and look up to see if we could see any planes in the sky. Of course rumors ran wild - some saw planes, some found schrapnel, etc. I saw nothing for sure. Ships or planes down in the area? I do not recall that.
Thank you mom, for your eye witness report on the WWII Hawthorne home front. I guess that's why I never heard of a plane being downed or a ship being sunk.
---

Name: Mary () on Friday, May 30, 2003 at 18:48:33
E-Mail: meowry@charter.net
City and State: Grants Pass OR
Maiden: Rose
Class: 70
Message: HI, DOES ANYONE HAVE A HHS 1970 CLASS RING THEY WANT TO SELL,, PLEASE CONTACT ME AT meowry@charter.net,, thnx

---

Name: John Norman () on Friday, May 30, 2003 at 16:04:45
E-Mail: jdloma@earthlink.net


City and State: Mira Loma, CA
Class: 68
Message: Boy when one person gets on you, they all jump in. But it's all true, except for the gentleman part. That was pure fear of Genes Dad. I hope this keeps JB off me for now. You guys are all so GREAT for bring up the past.
Hey John, Great to hear from you. OK, so I won't tell the story now.


BIG question. Lots of people want to know where Judy is now. Please fill us in, and thanks for being a part of all this.
---

Name: Howard "Paco" Duran () on Friday, May 30, 2003 at 15:21:48
E-Mail: doo4usc@cox.net
City and State: Lake Forest
Maiden: OS6-2378
Class: 61
Message: Dear Jimmy Peppers, momma Duran read your feedback about Carol Coombs and the "Spin the Bottle" incident,she quickly called darlin' Carol who said "Don't always believe what you read"..I'll get to the bottom of this soon. Playin' golf at Red Hawk on sunday, have a good weekend Cougs!

---

Name: Raymond Smith () on Friday, May 30, 2003 at 15:00:55
E-Mail: Kawabunganorth@juno.com
City and State: Portland, Oregon
Class: 1981
Message: Now hearing the story from Baxter Dodd about the 2 engine airplane being gutted and all makes me wonder if that was some sort of a practice plane for some dive bombing used. I for sure be interested in that story. America has only been attacked by a few seaplanes that were launch by Japanese submarines and their aim was to firebomb Oregon Forest area. Only results were they killed a family having a picnic. But, what was kept secret during the war was the fact Japanese had did indeed invaded our territories in June 1942 (Not state) of Alaska. They took over two little know Islands called Attu and Kiska which is a few hunderd miles from Dutch Harbor. One was fought over and retaken...the other was secretly evactuated. The military was afraid to let the public know about this in fear of panic. But, what was not very well known is that fact Japan from 1943 and onward(1945)....released thousands of balloons with a timing bomb(or contact) to fly in the jet streams and head to Canada and USA to start fire bombs and destructions. A few did some damaged and some where shoot down by our military planes. A few even reached California.

---

Name: Enza Nicocia () on Friday, May 30, 2003 at 14:48:45
E-Mail: antiquenza@aol.com
City and State: SoCal
Maiden: the power of prayer...
Class: 72


Message: I REALLY need all the Cougars's out there that knew our momma Nicocia, and hung out at our house, ESPECIALLY when she would make her famous Sicilian square pizza and homemade bread and biscotti's. She is at Little Company Of Mary in Torrance, and has been diagnosed with a form of bone cancer. If any of the 70's kids, (Sharon Irving, Bill Wadman, Julie Pillar, Kim Stembler, Terri Klein, Chuck Kidwell, and many others), remember our sainted momma, please say a prayer for her. She is resting comfortably now that she has a morphine drip. This is a big shock to us, and we are hoping that she can come home and resume some quality of life. She will be 88 years old, and up to 3 years ago, was still doing EVERYTHING! (including making pizza's and biscotti's!) We all know the power of prayer, let's all collectively send her some good energy so she can fight this thing!!!!
Our prayers are with your mom, Enza.....
---

Name: BARBARA WALKER () on Friday, May 30, 2003 at 13:42:57
E-Mail: barbara_walker@maxtor.com
City and State: Firestone CO.
Maiden: CURTIN
Class: 69


Message: Since we are on the subject of "Johnny" Norman. Well the Norman family and the Curtin's lived on 120th back in the early days, '50's '60's. Our families spent a lot of time together. Johnny was a regular fixture at our house in those days and I have never met a bigger "Stinker" and prankster. John if you read this I know you will remember all the pranks you and my brother Chris Curtin would pull, and I am sure you remember how mad, my dad and yours would get. From the age of 4 to 6 I was regularly teased, tickled and basically taken advantage of. If we were playing Cowboys and Indians I had to play the Indian and one day Johnny made me get on my knees, while playing the Indian, and beg for my life. His mother Betty overheard all of this and saved me. All kidding aside we had a wonderful time with all the Norman's and remain close friends. Love you John and say Hi to Jim for me. By the way I will be leaving beautiful Colorado and moving to Austin Texas area. Is anyone out there living in the Austin vicinity. If so let me know.
Hi Barbara, Now THAT'S the J Norman I know.
---

Name: Jim Pasternak () on Friday, May 30, 2003 at 07:39:52


E-Mail: backdraftco@hotmail.com
City and State: Ladera Ranch, CA
Message: Mr. Ron Dickson, Back Off! I am a "closet reader" but when you start threatening my good friend, John Norman, who was always as "pure as driven snow," I must step in! I can add some "dirt" about you, too, you know!! :) Good to see you're still around!
Pure as the driven snow??!! I must be thinking of ANOTHER Johnny Norman......
---

Name: Chris Prewitt () on Thursday, May 29, 2003 at 23:12:09
E-Mail: cjprewitt@juno.com
City and State: Fullerton, CA
Class: 1967
Message: A little research got the following information about the "Battle of LA". There is a lot more may I suggest you search for "Battle of LA" or "February 25, 1945". Battle of LA: http://www.rense.com/ufo/battleofla.htm Battle of LA part 2: http://www.rense.com/general27/battle.htm Sgt. Engelbrit Larson was killed on February 25, 1942, in an automobile accident while reporting for duty after being alerted of an air raid blackout http://www.camemorial.org/htmprev/larson42.htm

---

Name: Don (crow) Burns () on Thursday, May 29, 2003 at 20:38:26
E-Mail: burnslock@yahoo.com
City and State: Downey, Ca.
Class: 57
Message: Hey Cougs, this Sunday @ the Santa Paula Airport there will be a gathering of T-Birds & vintage airplanes for all to see 10-2; see ya there. Don
Sounds good Don. Road trip time.....
---

Name: Walter Holt () on Thursday, May 29, 2003 at 20:02:51


E-Mail: walterholthhs66@socal.rr.com
City and State: Orange, Ca
Class: 66
Message: Welcome to Cougartown Teresa Smith. Please dont forget to add yourself to the Alumni Page for our class. I noticed another name from the past Cheri Longanecker Class 65. Welcome to you also.

---

Name: Ron Dickson () on Thursday, May 29, 2003 at 19:07:54


E-Mail: rond201@earthlink.net
City and State: Norco,Ca
Class: 1967
Message: I wish John Norman would fess up and write something. I know you are reading this John!!!!!
Yeah Johnny Norman, If you don't add to feedback RIGHT NOW, I'll tell some Norman family secrets right here on your butt.

---

Name: Bob Brophy () on Thursday, May 29, 2003 at 17:43:49
E-Mail: rbrophy8@cox.net
City and State: Phoenix Az
Class: 63 Serra
Message: I remember my older brothers and my Dad talking about the plane being shot down, Baxter. My oldest brother is living in northern Calif. He is in his 70's but im sure he remembers it and can shed some more light on the subject. I will e-mail him and see if he will send in a feed back about it. I remember them saying that we had shrapnel on our roof and some of the neighbors roofs also. We live on Roselle ave. right down the street from Hawthorne Christian school. John I remember it being built and as I understand you went there. I was probably one of the kids that teased you guys when we had days off and you didn't. Bob Brophy
Hawthorne Christian School NEVER had rainy day sessions as Christians were not afraid of a little water.


All this talk about planes going down and ships being sunk in CA and I thought the story was that America had NEVER been attacked by a foreign country on it's own soil in the 20th century. Live and learn.
---

Name: Andrea Rossi () on Thursday, May 29, 2003 at 17:42:27
E-Mail: ValleyofMyDolls@aol.com
City and State: Doll Valley,Ca
Maiden: Rossi
Class: 1982


Message: Hi,I was wondering if anyone knows what ever happened to Mr. Williams? He was the best art teacher I had! I remember whenever it rained out he would say he had to be careful of lightning because the last time lightning struck him he became bald! He was hilarious! I remember he used to live two streets away from me and whenever I would ditch a class and try to go home sure enough I would see him walking towards back the high school.......and as always he would say''Rossi! what are you doing out of class?" When I mumbled some inaudible answer he would sternly tell me that I could go hide out in his art class because he didn't want me walking around the streets during school hours! Like I said he was great teacher......would like to hear from anyone who was lucky enough to take his classes!
Hi Andrea, You can contact Ricki Valencia HHS61. She stays in contact with Mr. Williams, is one of his proteges, and has many stories about him. Her email address is on the Alumni List.....
---

Name: Cindy Colby () on Thursday, May 29, 2003 at 14:31:46
E-Mail: cindycolby@att.net
City and State: Laguna Hills, CA
Maiden: Maxson
Class: 63
Message: Wow Baxter, that is some story, kinda sends chills up my spine

---

Name: Teresa () on Thursday, May 29, 2003 at 12:36:27
E-Mail: Boosydo@msn.com
City and State: Clovis, Calif
Maiden: Smith
Class: 1966
Message: Hello to the class of 1966

---

Name: Baxter Dodd () on Thursday, May 29, 2003 at 01:22:07
E-Mail: baxterldo@aol.com
City and State: Riverside, CA
Class: 57


Message: I was very young when the air raid occurred over LA/Hawthorne. We lived near Northrop and could hear the guns and see the flashes and then heard shrapnel hitting the roof. Here is a mystery: A few months after that "air raid," while the war was still going on, my uncle, who was in the army, stopped by and took my cousin and me for a drive down El Segundo Ave to about Western. Then he turned on a dirt road and drove through a field to a low area that could not be seen from the main streets. In that low area was a gutted two-engine airplane with Japanese markings. My cousin and I played around it and in it for a few minutes then we had to leave. I never found out why or how it got there and my uncle--who is gone now--never talked about it.

---

Name: Chris Prewitt () on Wednesday, May 28, 2003 at 23:02:01
E-Mail: cjprewitt@juno.com
City and State: Fullerton, CA
Class: 1967
Message: Raymond Smith, You can find the story that you are trying to remember at: http://history1900s.about.com/library/prm/blwestcoastwarzone1.htm the actual text found at: http://history1900s.about.com/library/prm/blwestcoastwarzone4.htm is, 'One month later, in the January 26, 1942, issue of LIFE magazine, movie actress Jane Russell was featured in the full-page "Picture of the Week," standing in the tremendous hole in Absaroka's hull created by the Japanese torpedo. In the picture she is holding a poster that warns: "A slip of the lip may sink a ship," with the words "may sink a ship" crossed out and the words "may have sunk this ship" written in.' George, where are you?

---
If you have comments or suggestions, please email me at john14@cougartown.com