Hawthorne Time and
Temperature

Home | 60's Slang | Alumni List | Car Talk | Cougar News | Feedback | Hangouts | Memories
Recollections | Reunions | Street Scene | Teachers | Tributes | Vietnam | What's New | Keyword Search
A pretty good guitar picker----Ry Cooder
<!-+++++++++++++++++++++++++++++++++++++++++++++++++++++++++++++++++++++++++++++++++++++++++++ +++++++++++++++++++++++++++++++++++++++++++++++++++++++++++++++++++++++++++++++++++++++++++++->

---

---
<!-+++++++++++++++++++++++++++++++++++++++++++++++++++++++++++++++++++++++++++++++++++++++++++ +++++++++++++++++++++++++++++++++++++++++++++++++++++++++++++++++++++++++++++++++++++++++++++->
Name: Jean MacErnie () on Wednesday, May 21, 2003 at 15:25:49
E-Mail: mamamac@juno.com
City and State: Albq NM
Maiden: Caldwell
Class: 68
Message: Wanted to get my memory in of what I was told of the bean fields in HawTHorne....That is what my parents told me....I remember when my dad was digging up the front yard to plant some zinnias that we pulled up the root of what resembled a carrot...
To Denny: I do not know when all the sidewalks in Hawthorne were built but I remember as a kid on 122ndst/Sundale area we would roller skate a lot..I remember seeing the date engraved in the sidewalk. I can not remember the whole date but I do know it was between 1945-1949. Probably closer to 47-49. We lived on 117th and Inglewood ave and in 1952 I believe we moved to 122nd.
To Larry Biller: Thanks for the feed back on Emmett Rhodes...I recently read that he may try to make a comeback. We will see....His bands The Palace Guard and Merry Go ROund had totally slipped my mind. Thank you for bringing it back.
To John Hagethorn: You mentioned being a pin setter at the Hawthorne Bowl. That brought back some memories...I remember going there a few times with my parents when I was small. I remember the pin setters. I thought that was a dangerous job...Later, like 1963...I was in a league. We had a bowling team with Hawthorne Intermediate. Our team which consisted of myself, Phyllis Ratti, Ginny Conklin, and Trudi Palmer (all 8th graders) won 1st place. My mom would take me the night before to drop my bowling ball off at the alley and they would hold it for me. The next day we would walk to the bowling alley after school and do our thing. My mom would pick me up at the Hawthorne Bowl after work.
Last subject....Did anyone ever go to the TAMI show in 64 or 65? Or remember it? It was eventually taped and was aired on tv a few times. I went to that and had a great time.So many bands were there. It is on the internet. I haven't checked it out yet.

---

Name: Dan Johnson () on Wednesday, May 21, 2003 at 14:18:30
E-Mail: wch1ispink@aol.com
City and State: Sherman Oaks (HOT)
Class: 77
Message: John, the my feigned lack of memory regarding the '77 Animals show was tongue in cheek. I was there -- as I was in '75 at the Sports Arena (when Ed Davis decided to bust the universe), 94 at the Rose Bowl and 2000 for Roger Waters at the Universal -- sat one row up from Marilyn Manson. As for the blow to the cheek, there are definitely no hard feelings because, among other things, I deserved it! Take care!

---

Name: Carl Rilling () on Wednesday, May 21, 2003 at 13:53:15
E-Mail: cycleist@bctonline.com
City and State: Orygun City, Oregon
Class: 1959

Message: Just trying to keep up. Myself and other Cougars including Ralph Valaderez sold newspapers up at the aircraft plants during the mid-late 50's. I had enough stands and racks to sell 100 papers a day. Biked from Dana straight down Aviation Blvd to Imperial Hiway. The paper pickup was at the North American Aviation gate So. of Imperial Hiway. We picked up the Herald (also known by the name Green Sheet as front page was always on green paper) from an old Bookie Frank. Drove a old green Desoto coupe. The Daily News was picked up from a man Named Bosco. Bosco had a news stand Downtown Inglewood and was there every evening til late. When you walked by he would say "how u doin "Bosco". Called everyone Bosco. The main Dairy that delivered in Hawthorne was Inglewood Farms Dairy. They had light yellow trucks with a Decal of a cow on the sides. Anyone remember what the caption was under this decal. Don Pearlmutter delivered in and around Anza school area. Also Adour farms delivered in Hawthorne. Arden Farms had the school milk contract for years in Hawthorne. Lil square flat top carton with a pull up tap for the opening. Every Monday had to bring your milk money for the week. They even provided the cardboard envelope with the string tie. We didn't have concerts before 59'. We did have El Monte Legion Stadium. Art Laboe put on alot of R&R shows there. First house we lived in was at the NE corner of Doty and El segundo. Rental house still there. One hundreds yards North was Northrop Aircraft. This was 1949 and there were flying wings still at that field. Also the P61A known as the Black Widow were there too. Also twin Beeches and old Ford tri-motors were regulars in and out of that air strip. How exciting for a plane crazy 9 yr old.. All this thinking gives me a headache..
Great stuff, thanks Carl....
---

Name: Larry Biller () on Wednesday, May 21, 2003 at 13:43:37
E-Mail: lbiller49@yahoo.com
City and State: Portland,OR
Class: 1967
Message: That Woodstock joke has been around awhile. I rented the movie recently. My things have changed haven't they? Speaking of the Troubador I saw my first of a few Chicago concerts there.

---

Name: susie () on Wednesday, May 21, 2003 at 13:04:51
E-Mail: Mustangsusie21@msn.com
City and State: in da 505
Maiden: Klingenhagen
Class: '71
Message: ...I also saw Joni Mitchell at the TROUBADOUR. Betty was she doing her "FOR THE ROSES" album that nite? Joni never believed in the standard guitar tuning! Yes Camille I am the one who played centerfield with you and I will email you later on today! John, you've done it again!!!! THANX...

---

Name: Jill McFarlane () on Wednesday, May 21, 2003 at 11:11:51
E-Mail: jillmcfar@aol.com
City and State: Mission Viejo, CA
Class: 1977
Message: Larry, I once heard that if you remembered Woodstock, you were not there.

---

Name: John Brant () on Wednesday, May 21, 2003 at 00:50:47
E-Mail: lizard_king_2000@yahoo.com
City and State: Portland, OR
Class: 77
Message: Dan Johnson, thought you'd enjoy the Pink Floyd reference, guess not. I don't remember hitting you, what, 25 years ago? From concert memories to fights I had in high school...hmmmm. Past is past, no hard feelings.

---

Name: Betty Rodriguez () on Wednesday, May 21, 2003 at 00:27:07
E-Mail: tombetty@pe.net
City and State: Lake Elsinore, CA
Maiden: Kean
Class: 69

Message: Not my first concert, but one of the most memorable. Simon & Garfunkel at the Long Beach Auditorium - '68 or '69. They debuted "Bridge Over Troubled Water" that night. Audience was silent when they finished, then applauded for 10 minutes. Awesome. I took Kathy Theveny. I liked Melodyland Theater in Anaheim too. Saw Righteous Bros. and Sammy Davis there. The Troubadour in West Hollywood was nice too - Joni Mitchell. Where'd I get all the money??? Betty
It only cost 3 dollars to get in, back then.
---

Name: Don (crow) Burns () on Tuesday, May 20, 2003 at 22:41:42
E-Mail: burnslock@yahoo.com
City and State: Downey, Ca.
Class: 57
Message: Hey Cougs, Penny mentioned Devonshire Downs in 69, I worked on the fence crew that repaired the fence when it was cut or trampled down by spectators without money. While attempting to repair, they would go 20 feet away & cut it again. I would have 2 or 3 Hells Angels riding on my P/U to protect my partner & I, they loved to bust heads, also the Street Racers were doing security. More later Don

---

Name: Paco () on Tuesday, May 20, 2003 at 21:10:11


E-Mail: doo4usc@cox.net
City and State: Cabo
Class: 61
Message: Hi Cougs!! Having fun wish you were here!!

---

Name: Camille Hawkes () on Tuesday, May 20, 2003 at 17:46:43
E-Mail: chawkes@dwandp.com
City and State: M.Beach, CA
Maiden: Hill
Class: '59


Message: I was surprised to see a face from my slow-pitch days - around 1980's - Susie K. writing in about her Mustang! I believe we were on the same team at LiveOak Park, Man. Bch.- I was 3rd base and I think you were Center field if I'm remembering correctly. You were also a pretty good hitter! In fact that might have been the year we won the league with Joe as coach...Loved those games and the parties after at Besties!

---

Name: Alan Nelson () on Tuesday, May 20, 2003 at 14:38:43
E-Mail: boatcop@boatcop.com
City and State: Parker, Az
Class: '73


Message: The only place the continental US was shelled during World War II was Astoria Oregon, on the Colombia River mouth. No ships were sunk anywhere in the coastal regions of the US. All the piers and breakwaters along the Coast were used as observation posts. The Coast Guard had special "Coast Watcher" units, that patrolled the beaches on horseback and with dogs during the War.

---

Name: Penny Prouty () on Tuesday, May 20, 2003 at 14:34:56
E-Mail: penny_prouty@usw.salvationarmy.org
City and State: Torrance, CA
Maiden: Prouty
Class: 1962


Message: If there's still room for more input on our favorite concerts.......I would say my favorite memories were from the Judy Garland comeback concert (in the rain), at Hollywood Bowl, Tony Bennett, at the Greek (somehow we ended up with tickets, seating us in the orchestra area ... with people who looked like Tony's family members!)........and the outdoor concert at Devonshire Downs (during the Woodstock era....a great memory and an "experience" I've treasured). Thanks, everybody, for the great memories you're all bringing back to us! Penny

---

Name: Larry Biller () on Tuesday, May 20, 2003 at 13:30:28
E-Mail: lbiller49@yahoo.com
City and State: Portland,OR
Class: 1967


Message: Speaking of concerts:Most of the concerts I attended was at the Forum including Jimi Hendrix in 68. Does anyone remember a concert that was held at the L.A.Coliseum in 70-71 with lots of performers.The ones I remember was The 4 Seasons, Stevie Wonder,The Eagles and The Rasberries but there were many more. Also went to a big one in San Diego in 71. The groups included J.Geils, Foghat and Quicksilver. Did anyone attend Woodstock 69? Or at least do you remember going?

---

Name: Tim Helble () on Tuesday, May 20, 2003 at 12:51:59
E-Mail: TKHelble@netscape.net
City and State: Columbia, MD
Class: 73

Message: Re the streetcar, my parents moved out to Inglewood in 1950 and I remember my mom talking about how they would take the Number 5 Redcar up Hawthorne Blvd to see relatives somewhere up near Pasadena. When the Redcars were taken out and replaced with buses, the RTD route going from Downtown to the Coliseum, across on Slauson to Crenshaw, and eventually all the way down Hawthorne Blvd was given the same number -- 5. I used to take that bus when I worked for Thomas Bros at their Pico and Broadway office. El Rojo - thanks for the story about cutting across the bean fields to Dana - that's where my house was eventually built. Question - does anybody remember the old bell tower at Dana? I always thought it looked kind of mysterious and wondered what it was like inside. It came crashing down in 1967 or 1968 to make space for the new Dana gym.

---

Name: Mary Doyle () on Tuesday, May 20, 2003 at 11:39:03
E-Mail: peachiekean@att.net
City and State: Manhattan Bch, CA

Maiden: Kean
Class: 66
Message: I'm remembering the best concert ever as Joe Cocker/Leon Russell - Mad Dogs and Englishmen at the Santa Monica Civic. Like a revival meetin'! And some Pink Floyd concert maybe Dark Side of the Moon at the Sports Arena (I still think my hearing loss today is from sitting in the 4th row of that show without any ear protection). Memorable, oh yes.

---

Name: Kelley () on Tuesday, May 20, 2003 at 10:43:07
E-Mail: ke
City and State: Englewood,Or


Class: 67
Message: thanks for all the feedback and pictures about the street cars..very interesting..my grandma Currie lived on 120th and oxford..so i'm familiar with that area and remember the depot station on hawthorne blvd..i was pretty young but do have a faint memory of it...thanks again...

---

Name: Jim Fox () on Tuesday, May 20, 2003 at 01:56:56
E-Mail: puffup@pacbell.net
City and State: Haytown, U.S.A.
Class: '66


Message: To Ray Smith... I think what you're referring to is what has affectionately been named the "battle of Los Angeles." Now -- the story I heard involves anti-aircraft gun emplacements out at Mines Field and an incident where an unidentified aircraft was spotted overflying the airport. What ensued was a rapid criss-cross of searchlight beams and an impressive barrage of anti-aircraft fire. The unidentified aircraft escaped, but the damage caused to nearby parked aircraft by spent shell casings from the guns was more than the Japanese could ever have hoped to accomplish by an air attack.

---

Name: Enza Nicocia () on Monday, May 19, 2003 at 20:50:26
E-Mail: antiquenza@aol.com
City and State: SoCal
Maiden: stillamaiden..ha!
Class: 72


Message: I'm trying to locate an old friend of my sister Jackie Nicocia Herbelin. Her name is Irene Martinez c/o 1970. Anybody out there have any info on Irene, please E-mail me~thanks! Oh, and speaking of the early fifties~I remember when we first immigrated to Hawthorne in February of 1956, we had milk delivered in glass bottles from a local dairy. (My momma thought she was in paradise with hot and cold running water, AND milk every morning on her doorstep! :-) Wasn't there a dairy right around Inglewood Ave and 120th? I'm sure someone out there has the inside story to this, JB do you remember? BTW, my first concert was Three Dog Night at the Forum in my Freshman year. Diane Ortiz's mom drove us, and it was the start of many more concerts thoughout my life. The last concert I went to was Santana, and it was awesome! I'll forever be an ol' rocker, although Country music sure has come a long way...Tim Mcgraw is a real cutie! ;-)
Lots of drive in dairys back then. I remember Arden being a big deliverer of the cow juice in my neighborhood.
---

Name: Denny () on Monday, May 19, 2003 at 19:34:01
E-Mail: unfried@dslextreme.com
City and State: Del Aire
Class: 55


Message: I can shed a little light on the Anza school site as the school wasn't built until about 1948. During World War II there was an Army encampment with a large balloon and underground anti-aircraft guns. Everything was underground with several connecting tunnels and they got their electrical power from our power pole. Since we raised chickens mom would occasionally cook them dinner and they ended up like family. I had a beagle hound and the soldiers would teach him tricks for something to do and he kind of ended up their mascot.
Same story from my family, but it was before I was born. Mom and Dad lived on Ramona and about Broadway, where the water tanks are now and they talked about feeding the encampment soldiers in that area. Thanks Denny, for the memory....
---

Name: Raymond Smith () on Monday, May 19, 2003 at 16:43:22
E-Mail: Kawabunganorth@jun.com
City and State: Portland, Oregon
Class: 1981


Message: It was good to see that some people knows what was the field before HHS was built. Yes, it was an airport. I never knew the name of it but I saw a picture of it in my sister Yearbook (1976-77, I believe)and was just amazed because there was Hawthorne Airport just down the street. I wonder what Kelly Airport was basicially used for and if it trainned any pilots for World War 2. I knew Torrance Airport was once a military field for Lockheed P-38's "Lightning" during the war. Was anybody around to remember the Japanese shelling or sinking U.S. ships in the L.A. area beaches?? Was Manhattan Beach pier used as some sort of a military observation or off limit to the public? Be kinda cool to hear that sort of history. George Key, thank you for sharing your memories. How I would love to walk in your shoes in your era!
To my knowledge, there were no American ships sunk in LA area beaches during WWII, however there were gun batteries on the cliffs above Point Fermin and the concrete emplacements are still there.
---

Name: Penny Prouty () on Monday, May 19, 2003 at 15:25:21
E-Mail: penny_prouty@usw.salvationarmy.org
City and State: Torrance, CA
Maiden: Prouty
Class: 1962
Message: In answer to the message from Tom Siebert, alumni from Lennox High....it's been a while ago (sometime within the past 10 years), but I ran into Andi Dew and found that she was married and lived in Lomita. We had a really nice visit that day but have not reconnected as we had planned on doing, and I'm not sure if she is still in the same area. I remember she had been close friends with Sandy Dimock (as well as Tonya and Cheryl) when we were in school.....if I remember right, Andi said she had kept in touch with Sandi for quite a while. Sorry, I can't be of more help. Penny
Thanks Penny....
---

Name: Jessie () on Monday, May 19, 2003 at 15:19:36
E-Mail: mikejessie@yahoo.com
City and State: Los Angeles
Maiden: Corral
Class: Wanna be...
Message: Hi Jean McErnie, Sorry my brother was such a butt to you. Just imagine having to live with him ha! Terry married Liz Vogel, Hector's sister, and Hector married Jeanne Burk, Laurie's sister. I wonder how many high school sweetheart marriages happened in our neighborhood.

---

Name: Bob Brophy () on Monday, May 19, 2003 at 13:37:58
E-Mail: rbrophy8@cox.net
City and State: Phoenix AZ
Class: 63 Serra
Message: The Street cars that went down the center of Hawthorne Blvd were called the red car in the 50's. My sisters would take it all the way to Saint Agnes down town. It stopped at, I believe, Broadway circle where Mastin drug store was. I can't remember what my first concert was but my last one was the Righteous Brothers in Las Vabas about a year ago. They claim their ages are 50-12 not 62. Bob

---

Name: Larry Biller () on Monday, May 19, 2003 at 10:52:57
E-Mail: lbiller49@yahoo.com
City and State: Portland,OR
Class: 1967
Message: Regarding Jean MacErnie's feedback about Emmett Rhodes. He played drums for the Palace Guard in the mid 60's and sang and played guitar with the Merry Go Round. Then went on to do two solo albums. The last I heard he was running a recording studio at his home in Hawthorne. My brother in laws band recorded there in the 80's.

---

Name: Dan Dye () on Monday, May 19, 2003 at 00:58:19
E-Mail: DanADye
City and State: Torrance Ca.
Class: 1962

Message: Kelley, I remember the trolly cars. We called them Street Cars, in fact my family rode them for transportation after my family had a T/C (traffic collision) with one on Florence and Prairie Ave. I was about 3 years old and had some stitches in my mouth from the collision. I still have the scar. The street cars were replaced by electric busses. They had over head cables and picked up passengers at the curb. That was progress. It was a lot safer. The street cars had loading areas in the middle of the streets.
Jim Peppers, thanks for the kind words. Had we all been more mature at a young age, we wouldn't have been kids. We seem to learn more from our mistakes than our successes. Jake and Jude, when are you guys coming down again? Jake, you may have been in the best HHS class in 1960, however your class was moved down when the class of 1962 came along. I think that is one of the reasons HHS is so great, we all think our class was the best. Some of you know this, but for those who don't know, I am married to an Inglewood grad. (Ann, class of 64) and she has said many times that she likes our school functions a lot better than Inglewood's. Cheryl and John, you guys are due to come down also. Gee, I am not going to have to add anything on feedback for a year now. This is a long feedback for me. I love you guys Dan Dye
Hey Dan, I think John and Cheryl just took off for Minnesota. They'll be here in a couple of months.
I remember the Sunset Stage Bus Line. About a nickel a ride to anywhere.
---

Name: Paul Wisman () on Sunday, May 18, 2003 at 23:49:47
E-Mail: hobocat1@attbi.com
City and State: Torrance, Ca
Class: 61
Message: John Baker...your so fast! Thanks for the cool pic. Looks like Mall construction era.
Hey Paul, It was just before the mall....
---

Name: Paul Wisman () on Sunday, May 18, 2003 at 23:36:32
E-Mail: hobocat1@attbi.com
City and State: Torrance, Ca
Maiden: the memories just keep on coming.
Class: 61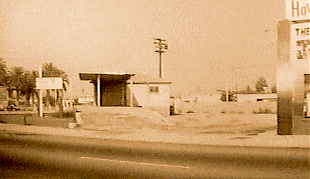 Message: Kelly, when I moved to Hawthorne in 1954, the Los Angeles Railway was still running streetcars on Hawthorne Blvd. The cars were yellow and green and the line was operated until 1955. I remember riding them into downtown L.A. on a few occasions. My sister, Joann (HHS58) and I would walk the tracks to Inglewood to visit our Grandmother. In those days the line terminated just south of Broadway but originally went as far south as Artesia where it angled westward finally reaching Redondo Beach. The rail line running east/west through Hawthorne was originally Pacific Electric?s interurban line to El Segundo. Completed in 1913, this line is still in operation today for freight only. Who remembers the P.E. depot on Hawthorne Blvd.? Who remembers where Hawthorne?s Rose Parade float was displayed after the parade?

---

Name: Chris Prewitt () on Sunday, May 18, 2003 at 23:30:20
E-Mail: cjprewitt@juno.com
City and State: Fullerton, CA
Class: 1967
Message: Talking about concerts; is anyone up to going to one in September? I found this on the Carl Wilson Foundation WEB site, "The 2003 Carl Wilson Foundation Event date will be Sunday, September 21, 2003. There will be no Walk or Beach Party this year. A benefit concert and gala reception is in the works. A list of performers will be announced soon. No further details are available at this time. May 13, 2003"

---

Name: Cindy Colby () on Sunday, May 18, 2003 at 20:48:30
E-Mail: cindycolby@att.net
City and State: Laguna Hills, CA
Maiden: Maxson
Class: 63


Message: Norv, I was just yanking your chain. I believed that you knew what you were talking about. Before we moved to Hawthorne, we lived at 80th. and Vermont, I'm not sure that my parents even knew anything about Hawthorne before they bought the house there. When I was attending Eucalyptus, my dad owned a janitorial supply company called Centinela Industrial Supply on Inglewood Ave. near 120th. right next to a bar called Pappy's, it later became the Irish Den.

---

Name: Dan Johnson () on Sunday, May 18, 2003 at 16:26:33


E-Mail: wch1ispink@aol.com
City and State: Sherman Oaks
Class: 77
Message: Remember what? I do remember John Brant opening a cut on my cheek with a punch after I was a smartass in the Cougar gym during a pick up game. Pink Floyd? Doesn't ring a bell.

---

Name: Norv Vorhis () on Sunday, May 18, 2003 at 15:44:21
E-Mail: olds88coupe@yahoo.com
City and State: Monrovia, Ca
Class: '59


Message: Chris Prewitt: That is where I remember it from. I was there before I found C Town.
Cindy: My Dad was an aircraft buff, but, as a teen, he hung around Lomita Airport, near where he delivered LA Examiner.
john hagethorn: My First paper route in Hawthorne was the Examiner, Imperial to Lennox and Hawthorne to Truro. Was the guy who ran Clyde Walker's operation named Wes? I Know he had a new red '55 Ford Pickup that ran strong (for a Ford). Brother Jim delivered and stuffed the Times for Warren Klure next to the DMV office. My first route was LA times in Alondra Village (now Gardena) in early 53. Brother Jim delivered the Mirror.

---
If you have comments or suggestions, please email me at john14@cougartown.com