Hawthorne Time and
Temperature

Home | 60's Slang | Alumni List | Car Talk | Cougar News | Feedback | Hangouts | Memories
Recollections | Reunions | Street Scene | Teachers | Tributes | Vietnam | What's New | Keyword Search
It's Doo Wop Time Johnnie and Joe
<!-+++++++++++++++++++++++++++++++++++++++++++++++++++++++++++++++++++++++++++++++++++++++++++ +++++++++++++++++++++++++++++++++++++++++++++++++++++++++++++++++++++++++++++++++++++++++++++->

---

---
<!-+++++++++++++++++++++++++++++++++++++++++++++++++++++++++++++++++++++++++++++++++++++++++++ +++++++++++++++++++++++++++++++++++++++++++++++++++++++++++++++++++++++++++++++++++++++++++++->
Name: Marla O'Hara () on Monday, March 17, 2003 at 14:33:58
E-Mail: marla_ohara@msn.com
City and State: Agoura Hills, Ca.

Maiden: Manriquez
Class: 1979
Message: Hello, This is my first time at this site, feel free to e-mail me at any time. I look forward to hearing from you. Marla (Manriquez) O'Hara
Hi Marla, Glad you found us....
---

Name: Enza Nicocia () on Monday, March 17, 2003 at 12:05:31
E-Mail: antiquenza@ao.com
City and State: So Sunny SoCal
Maiden: and may you stay forever young....
Class: 72 rocks on!
Message: Happy St. Patty's day~And, a very Happy Birthday to my fav sis-in-law Cheryl Christiansen Nicocia. It's been cool having her b-day one day before mine. We always have SUCH a family gathering/party, and eat and drink WAY too much! Well, I have been 39 and holding for some time now, and I guess I have to change that to now state that I'm 49 and holding!...UGH! We are both young at heart and spirit, and that well make us forever young..(I hope!) Have a wonderful day Cheryl, and just remember that I will always be 10yrs younger....HA! :-)
Happy Bday Cheryl and Enza....Cheryl, I have your tape.
---

Name: Louise () on Monday, March 10, 2003 at 15:18:39
E-Mail: lstgeorge@cmaintl.com
City and State: Rancho Visa, CA
Class: 77
Message: I'm usually a reader and don't ever put my two cents in... but must admit that whenever I drive thru Hawthorne and see my old school it does sadden me. Hawthorne has changed drastically! I have awesome memories of growing up in Hawthorne that I will cherish forever! I just wish it could be more recognizable than it is right now. Whats up with fencing in the entire school? Was that really necessary??
Hi Louise, You haven't seen HHS in a while. The School looks GREAT!! It's painted inside and out and the grass is green again. The pool has been restored and lots of state of the art classrooms and two new buildings. The fence, I'm told, is more to keep the bad element off school grounds.
---

Name: Bob Milazzo () on Monday, March 10, 2003 at 11:55:30

E-Mail: mil93312@aol.com
City and State: Bakersfield,ca
Class: 60
Message: Just to let you know John there will be one more from the Class of 60 in attendance at "Cruise Night"
See you there.
ALL RIGHT Bobby!!! See you there.
---

Name: Terrie Kostiszak () on Monday, March 10, 2003 at 11:50:30
E-Mail: kostiszak@yahoo.com
City and State: Las Vegas
Maiden: Kostiszak
Class: 83
Message: I grew up in Hawthorne then moved to Redding, CA and lived next to Lake Shasta worked on lake Shasta, then I moved back to Hawthorne, then moved to Hermosa Beach, then moved to Manhattan Beach, Then moved to Portland, Oregon, then moved to Las Vegas, NV, now I am going back to the beach and moving to San Diego. Only God knows where my next move will be, but it will be where he wants me to be. I love going back to Hawthorne, alot of my friends still live there and are raising their families there, alot has changed there, but alot has not changed as well. But moving away, for me, has helped me grow in a personal way to see and live in other parts of the U.S., its an incredible journey. But I will say I loved growing up in Hawthorne, nothing compares to growing up at the Beaches of So. Cal. !!! Everywhere I move to people ask me, how can you move away from the beach!! Its alot of peoples dream to grow up where we did!!
Thanks Terrie, you see people, here's someone who grew up in Hawthorne 20 years after I did, and loved it. I thought Hawthorne changed when the Plaza was gone. Everyone has their own memories.
---

Name: Lester.G.Moss () on Monday, March 10, 2003 at 11:15:14
E-Mail: lester.g.moss@boeing.com
City and State: long beach,ca
Class: 1960

Message: Hi John, Just thought I would drop you a few hundred lines, just kidding. I would like to share a fond memory with all the cougs out there. First off, a couple of places that haven't been mentioned that I'm aware of. The red onion on hawthorne blvd and Skippy's drive-in on Hawthorne blvd. Now for this fond memory, One friday night, Chris Montez and myself were on our way to the Tropicana Bowling Alley on Prairie ave. I wanted to introduce my celeb. friend, Chris, to my girl friend Judy. While on our way down Hawthorne Blvd, we decided to stop in at Skippy's Drive-in for a few 19 cent hamburgers and some fries. When we drove in, One of Chris's songs was playing on the radio. The song was "All you had to do was tell me" the place was packed with lots of cars with his song being played that very moment on most of their radios. Chris and myself were standing at the window ordering hamburgers. Nobody in their cars had a clue that 'da man" who's song they were listening to was standing right out there in front of them. You had to love it. You had to be there JB,Later for now
Thanks Les and the same thing kinda happened to me as I was in Frosties eating and listening to the radio and Chris pulled in, in that Chrysler or Desoto, or whatever it was, and parked right beside me. One of his songs was playing on MY radio so I just opened the door and cranked it up so he could hear. He just grinned that shy grin, almost like he was embarrassed. Great memory too. Skippys and Tropicana Lanes are on the Hangouts page for all who are interested.
Thanks Les.....
---

Name: darrell janson () on Monday, March 10, 2003 at 10:12:46

E-Mail: dcj987@msn.com
City and State: green valley ca
Class: 62
Message: I just wanted to say hello to all the class mates at HHS
DARRELL JANSON CLASS OF 62
Hey Darrell, How're you doin'? Glad you found us and join in any time.
---

Name: Elizabeth Estrada () on Sunday, March 9, 2003 at 18:41:19
E-Mail: dzlizzy219@aol.com
City and State: Redondo Beach,CA
Class: 69
Message: Thank you Harry Ploktin. I got a big, old, fat "F" in English my freshman year. I had to go to school at Leuzinger that summer. What a pisser.

---

Name: Harry Plotkin () on Sunday, March 9, 2003 at 15:59:46
E-Mail: hcharry@pacbell.net
City and State: Harbor City, CA
Maiden: Old Codger
Class: 52/97


Message: re: decades - Chris, your reasoning is good. I would agree with your choice as there is no possessive unless one is talking about the '40's music. If there is an antecedent indicating decades one could speak of the forties, fifties, etc. It is nice to be correct, but conveying the message is the most important part of communicating.
(Who could I blame if I'm wrong?) HCH
I always blamed the English. Thanks Harry, you ARE a giver...
---

Name: susie () on Sunday, March 9, 2003 at 14:56:04
E-Mail: Mustangsusie21@msn.com
City and State: 64degrees an lovin it,nm
Maiden: klingenhagen
Class: 1971
Message: ...If I remember correctly it went something like...and on the 7th day GOD went surfing! John, I thought you should know that my Mustang only goes outside when there is no wind, rain or the possibility of unstable weather. After cruisin' I wipe her down including the raised white letters on the tires! My Pathfinder gets me around and it sits high enough so I can keep an eye out for the drunks and the uninsured...
A Fair Weather Cruiser....no wonder that thing's so pretty.

---

Name: Stephen Colet () on Sunday, March 9, 2003 at 14:52:25
E-Mail: StephenColet7@aol.com
City and State: Castaic, Ca.
Class: 68
Message: Time, place, and wisdom. Dizzy Lizzy has got it right on!

---

Name: Keith D. Jones () on Sunday, March 9, 2003 at 13:07:09
E-Mail: cmi50@yahoo.com
City and State: Honolulu, HI
Class: 76

Message: I have real lucky in the places I have lived since Hawthorne. They end to be tourist places. Places where people want to go to get away from their regular home. First I moved close to home by moving to Manhattan Beach. Then Ft. Lauderdale, Ft. Myers Fl. Then back to Redondo. Then Hawaii then back to LA then Vegas and now back to my final resting place the most beautiful place on earth Hawaii. No matter where I have been Hawaii blows it away. Folks getting the magazine going check out www.hawaiifitmag.com The response has been great. The first issue will be out around June/July.

---

Name: Elizabeth Estrada () on Sunday, March 9, 2003 at 11:22:58
E-Mail: dzlizzy219@aol.com
City and State: Redondo Beach, CA
Class: 69

Message: My parents used to say, in the 50's, how Hawthorne was changing. The chicken farm replaced by Goodyear, cranberry fields replaced by an industrial park. When President Kennedy pushed for space travel, the south bay exploded with aerospace companies and those companies had to hire thousands of people who came from all over the country to rent the new apartments that suddenly sprang up everywhere........then Hawthorne was split with the 'new' freeway and all hope of keeping the 'little town feeling' was lost. We were a small town in a big city. Change happens. Television played a part in that change, Viet Nam played a part in that change, the assasination of our leaders played a part in that change. Hawthorne looks different but when you listen to the conversations that take place inside the homes, whether in English, Spanish, Italian, or Greek........you'll here, "Eat your dinner or you'll have no dessert." and "Do your homework or no beach this weekend." and "Mom, I met this boy." Some things change, and some things never do. See you all at Cruise Night. Dizzy Lizzy Goddess of my own memories. P.S. Remember the graffiti of the 60's? "Surfers Rule" "Hodad's Rule" and that funny cartoon .....'Kilroy was here'?

---

Name: Chris Prewitt () on Sunday, March 9, 2003 at 10:58:19
E-Mail: cjprewitt@juno.com
City and State: Fullerton, CA
Class: '67


Message: OK cougars, someone out there must know. What is the proper way to indicate decades? I usually write them like, ? ?40s, ?50s, ?60s and ?70s ?, yet I often see ? 40?s, 50?s, 60?s and 70?s ?. The reasoning for my thoughts is I am dropping the ?19? so add the ? ? ?. There is nothing being dropped between ?4? and the ?s? and nothing is owned by the decade. By the way a spelling and grammar checker didn?t find anything wrong with this entire paragraph.
Just my 2 cents as I did better in Spanish than English, but I would say '40s, '50s, or 40s, 50s is the correct way. How about a teacher helping out. Mr Plotkin, are you out there?
---

Name: doris () on Sunday, March 9, 2003 at 09:24:20
E-Mail: raydori@mindspring.com
City and State: Twin Falls, ID
Maiden: donaldson
Class: '57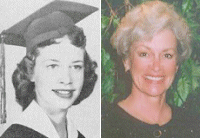 Message: Change is inevitable no matter where you live. I love Twin Falls, Idaho ... BUT!!! I ALSO will always love HAWTHORNE, CALIFORNIA!!! Sure it's changed! I'll bet a bottom dollar YOU TOO have changed Mr. Faulkner, I sure have. Remember your good times in Hawthorne and be gentle with 'er ... she's doin' all right. And Sharon Branigan, you little dickens! And you too John! Teasing me about Cruise Night ... it just ain't fair I can't be there!!! But then ... life is like that sometimes, huh? Boils my oil! You guys who will be at CN, have a great time and think of me! TAKE PICTURES!!! the princess
Thanks Doris...
---

Name: Christopher Prewitt () on Sunday, March 9, 2003 at 08:52:39
E-Mail: cjprewitt@juno.com
City and State: Fullerton, CA
Class: 1967
Message: John, About 2 weeks ago you said that Sherry Peppers Wingo hurt herself. How is she doing? Will she still make cruise night? A sling might get her a lot of sympathy.
I haven't talked to her lately, but I'm sure she'll be there. Sheery never could resist a Pinks Run or Cruise Night.
---

Name: BOB FAULKNER () on Sunday, March 9, 2003 at 07:50:14
E-Mail: UPSBUBBA2hotmail.com
City and State: garden grove
Class: 1963
Message: SPOKEN BY TRUE "DEMOCRATS'". WHILE IT IS TRUE THAT TIMES HAVE CHANGED, ASK YOURSELF THIS, IF YOU HAD A CHOICE WOULD YOU START A FAMILY IN HAWTHORNE OR IN MOST AREAS IN SOUTHERN CALIFORNIA???? ROBIN, WHEN WE WERE KIDS WERE PEOPLE BRINGING GUNS, KNIVES, AND DRUGS ON CAMPUS?? DID THE ADMINISTRATION LOCK DOWN THE CAMPUS AND HAVE TO USE METAL DETECTORS??? NO!!!. THE PARENTAL UPBRINGING IS NON EXISTENT THESE DAYS, THERE IS NO RESPECT FOR PEOPLES LIVES AND PROPERTY. YOU CAN ONLY HOPE TO BE ABLE TO LIVE IN A "POCKET" AND AVOID THESE PROBLEMS. "I ONLY CALLS UM AS I SEES UM"
Hey Bob, you didn't just call me a democrat, did you??

---

Name: Bob Brophy () on Sunday, March 9, 2003 at 00:01:25
E-Mail: rbrophy8@cox.com
City and State: Phoenix Az.
Class: Serra 63
Message: I have lived in many diferent places in my life and have found that they are all about the same. People move to new places because they think they can get away from problem areas only to find that they have brought their problems with them. A lot of the problems, such as riots in the schools have nothing to do with racism or anger with society. It has to do with the fact that some of the kids today have found that if they disrupt things enough they can get out of school for a day or two. I do agree with previous post that the majority of problems are caused by just a few, just like it was in the 50's and 60's when we were in school. Most of the kids are great kids and trying to do good against hard odds. I hope I have not offended anyone by this but this is what I see in todays society. Bob

---

Name: Loretta Cuiper () on Saturday, March 8, 2003 at 22:01:15
E-Mail: LCuiper@aol.com
City and State: HAWTHORNE
Maiden: MORELLI
Class: 62

Message: Ok, Now it seems that we went through this before!! Times do change, places and the whole world in general! TO DEFEND OLD HAWTHORNE, there are many of us who stil live in Hawthorne, most of us are happy campers, and there have been those who have moved on and some have also come back to town. I believe I said it before, that in all cities you have the good part and the bad part. We who live in this town do know the problems that occur, BUT OUR TOWN IS NO DIFFERENT THAN WHAT GOES ON IN YOUR TOWN. I could go on about problems in other cities, but what good would that do, it only shows that we all share the bad with the good. By the way a quarter or half of the population of Hawthorne were Italians,(when I was growning up) many could not speak english, but in time they did, we know many Spanish who can speak english and as the Italians, when they get together they feel it is easier to speak to each other in their language. This was said before too, but think about it, if you lived in another country, wouldn't you feel better speaking to each other in your language! I guess I'm a little tired of hearing the bad mouthing going on about our town, when there is ALOT of good here, great people, close neighbors, and great young kids. I think I have said enough, I could keep going on, but this Italian (who lost her temper) does know when to Shhhh. ALWAYS A COUG PS: one more last word on HHS, it is different, but they are working very hard in making a better school, also they are working on a new Charter High School, which has been approved. Before anymore is said about our schools, they best start looking in their own back yards. Know for a fact, HHS and Lawndale, has less drug problems then a few other area schools.
You tell'em Loretta girl. Uh, do you feel better now.

---

Name: Pat () on Saturday, March 8, 2003 at 16:33:47
E-Mail: onefamilyhistorian@socal.rr.com
City and State: Hawthorne, Calif
Class: 1963
Message: Today when the wife and I were out, I asked her too make a few stops. First stop was the Masonic Lodge on Broadway just west of Hawthorne Blvd. and the for sale sign is still up but not sold yet. The Hawthorne Police Dept. is moving to Broadway and Hawthorne Blvd. the thick concrete floor is in and the steel framing is in process. The Hawthorne Mall is getting a face lift also. Don?t know what?s happening with the place yet, but their working hard on it.
Pat LHS 1963
Yep, the jailhouse is moving. The third one for me. Initially on Plaza Square, it moved to it's present location around 1953. Gosh, that 50 years went by fast. I'll probably be on the wrong side of the grass

the next time they move.
---

Name: Sharon Branigan () on Saturday, March 8, 2003 at 15:22:36
E-Mail: srbranigan.srb@verizon.net
City and State: Thousand Oaks, CA
Maiden: Bierman
Class: 76


Message: Please bring your checkbooks to Cruise Night next Saturday; The One and Only Official Cougartown T-Shirts will be available and you will save yourself shipping charges! And, plan to eat dinner at Foster's to show your support of this fine dining establishment that so generously allows us the use of their ballroom! Who's responsible for the balloons and table decorations? PS: Very nice writeup in National Review on Dana Gioia, HHS Grad and Chairman of the National Endowment of the Arts. Reference his book: "Can Poetry Matter?: Essays on Poetry and American Culture."
Thank you Sharon, I think we're going to have a great turnout with some brand new arrivals to Cruise Night. Make your plans to be there next Saturday.
---

Name: Robin () on Saturday, March 8, 2003 at 13:17:23
E-Mail: Potshouldnotcallthekettleblack.com

City and State: RB,CA
Class: 60
Message: Re:BOB FAULKNER ....I doubt you will find many places that haven't changed over the last 50 yrs, Bob...Has downtown Garden Grove's demographics changed much since the 60s?...:o)
How about Inglewood, Westchester, Baldwin Hills, and on up La Brea... the Wich Stand area of Slauson and Overhill? I've gotta go along with Robin, it's not just good old Haytown that has changed.
---

Name: John () on Saturday, March 8, 2003 at 09:38:06
E-Mail: goodoldaysgone@yahoo.com
City and State: Nothawthorneanymore
Class: 75
Message: Bob Faulkner... AMEN!

---

Name: BOB FAULKNER () on Saturday, March 8, 2003 at 07:17:40
E-Mail: UPSBUBBA@HOTMAIL.COM
City and State: GARDEN GROVE
Class: 63
Message: HELLO EVERYONE, ANOTHER SUBJECT NEAR AND DEAR TO MY HEART, THE DEMISE OF HHS AS WELL AS THE CITY OF HAWTHORNE.
SOME OF YOU PROBABLY REMEMBER GROWING UP IN THE LATE 40'S, 50'S, AND 60'S WHEN HAWTHORNE WAS A WONDERFUL PLACE TO LIVE!! REMEMBER WHEN NOBODY LOCKED THEIR DOORS??, EVERYBODY KNEW ALL THEIR NEIGHBORS AND THE MILK MAN PUT YOUR MILK, BUTTER, CHEESE, ETC: AWAY AT 3AM ??. EVERYBODY SPOKE ENGLISH AND THERE WAS NO GRAFFITI. HHS WAS AN OPEN CAMPUS WITH NO FENCE AROUND IT!! WHAT WENT WRONG??. WELL, AS I SEE THE DEMOGRAPHICS HAS CHANGED SO MUCH THE CITY IS OUT OF CONTROL. MANY PEOPLE DON'T SPEAK ENGLISH, ILLEGAL IMMIGRATION IS OUT OF CONTROL, DRUGS, GANG BANGERS, A POLICE DEPARTMENT THAT IS AFRAID TO DO THEIR JOBS. SOCIETY ALLOWING THE ACLU TO GAIN A STRONGHOLD ON THE POLICE, LAWYERS, ETC, LIBERAL JUDGES WHO SHOULD HAVE BEEN THROWN OFF THE BENCH. THE LAWS ARE IN PLACE, BUT WE NEED TO ESCALATE THE PUNISHMENT FOR THE CRIME. WHY DID MOST PEOPLE BAIL OUT OF HAWTHORNE?? THE PROBLEM IS OBVIOUS. THIS SHOULD STIR A DEBATE!!!
Yep, this oughta bring someone out of hiding all right...

Anyone??
---

Name: Jean MacErnie () on Friday, March 7, 2003 at 22:35:15
E-Mail: mamamac.1@juno.com
City and State: Albq NM
Maiden: DALE HAHLBECK JR
Class: 68


Message: I haven't seen anything here from Dale Hahlbeck Jr lately...I wonder if he will see this....Dale, I thought that you might find this interesting. You and I are 2nd cousins. Your dad Dale Sr is my 1st cousin (George, Joanne and Sally). Your grandpa is the brother of my mom Juanita Hahlbeck. I am sure that your mom and dad remember Bob & Juanita (Nita) Caldwell from 122nd St. I have many good memories of being at your grandmas. My sister and I loved to go there when we were younger. I also remember you as a baby. Sometime ago you mentioned that someone had told you that someone had dropped you on your head when you were small at your grandmas. Well when you were less than a year old (I was 7 or 8) I recall you standing on my lap and I would hold your hands and pretend you were surfing. You loved it so much and wouldn't stop laughing. But, just for the record I never dropped you on your head.....One other memory...You have mentioned the famous Hahlbeck parties. I can remember hearing about Hahlbeck parties when I was a kid....I went to my first Hahlbeck party on New Years Eve of 1968. Anyway, I thought I would say HI COUSIN! Hope that everyone in your family is doing great. I have been doing research on the Hahlbeck family and it sure is interesting! Take care.
Another small Cougar world story. It just keeps getting better and better, doesn't it, baby Dale.

---

Name: James () on Friday, March 7, 2003 at 17:56:59
E-Mail: Cicales
City and State: Lakewood, ca
Class: 74
Message: Hi again CT. I have a question for all the cougars out there. Does anyone know the history of the haunted church up in PV. Thats what it was called as I remember it. I took my daughter up there last weekend and she was asking alot of questions. I'd be interested in the history of it.

---

Name: Pat () on Friday, March 7, 2003 at 17:03:55
E-Mail: onefamilyhistorian@socal.rr.com
City and State: Hawthorne, Calif
Maiden: aproductofmyparents
Class: 1963
Message: John, what do you mean I sound like my parents? Go to your room and don't come out till I say you can! LOL
OK mom....
---

Name: Don (crow) Burns () on Friday, March 7, 2003 at 16:13:50
E-Mail: burnslock@yahoo.com
City and State: Downey, Ca.
Class: 57
Message: Hey Cougs, Just got back from alumni day @ LHS, met a few old friends, met some new, saw Mrs. Rice, the wife of Vern Rice, the Princapal of LHS, when I was a freshman in 53-54, still pretty & spry. While we were waiting for the band to perform we were standing @ the east end of the cafeteria when this old Chevy w/service body came down between the caf. & the shop bldg with 2 blown rear tires, making quite a racket & tried to go out by the parking lot & hit the gate post & fence blew out the radiator steam spewing, tried to reverse out tires spining, within seconds there were Security Sheriffs, HPD, guns drawn, pulled an old Mex. guy out, & had to have interpreter, seems the guy hit somebody (car or ped not sure) on the st. south of LHS, then crashed thru 2 gates then crashed, we had just walked the same route 5 min before, about 30 of us. never a dull moment in LHS. Don
So other than that Mrs. Kennedy, how'd you like Dealey Plaza?

I went to a Memorabilia day at Leuzinger about 3 years ago and it was great. I was the only Cougar there, but saw lots of people I knew. I just wish it wasn't on a Friday.
Thanks Don
---

Name: Stephanie () on Friday, March 7, 2003 at 13:59:48
E-Mail: happyisles@aol.com
City and State: Rpv,Ca
Maiden: Hall
Class: 61

Message: Good show Paco and John. We have a chance to "claim" 26th, as contest guidelines want "celebrate the best of the past......encouraging best for future.." So get to work CTers. We have slogan master Judi Liber. Maybe she'll give it a go. The entry forms can be downloaded from www.leadershipmb.org and there is one in Mar 6 Beach Reporter. They say Parque Culiacan no longer works as it is no longer the sister city of MB.
OK Cougs, let's rename the park at 26th St. Thanks Stephanie.....
---
If you have comments or suggestions, please email me at john14@cougartown.com