Hawthorne Time and
Temperature

Home | 60's Slang | Alumni List | Car Talk | Cougar News | Feedback | Hangouts | Memories
Recollections | Reunions | Street Scene | Teachers | Tributes | Vietnam | What's New | Keyword Search
Another 50's classic. Merilee Rush
<!-+++++++++++++++++++++++++++++++++++++++++++++++++++++++++++++++++++++++++++++++++++++++++++ +++++++++++++++++++++++++++++++++++++++++++++++++++++++++++++++++++++++++++++++++++++++++++++->

---

---
<!-++++++++++++++++++++++++++++++++++++ADD BELOW THIS LINE++++++++++++++++++++++++++++++++++++ +++++++++++++++++++++++++++++++++++++++++++++++++++++++++++++++++++++++++++++++++++++++++++++->
Name: Elizabeth Estrada () on Tuesday, October 8, 2002 at 23:23:15
E-Mail: dzlizzy219@aol.com
City and State: Redondo Beach,CA
Class: 69

Message: My sister, Sharon, is still in touch with Jackie Glenn. She's just as beautiful as you remember. Email Sharon and she'll point you in the right direction. SharonVerduzco@hotmail.com
DZ
See how easy that was, Steve. Good Luck and thanks Liz, for the info.
---

Name: Steve Sanders () on Tuesday, October 8, 2002 at 21:19:13
E-Mail: steve.sanders1@attbi.com

City and State: Portland, OR
Class: 60
Message: I'm still looking for my favorite dance partner, Jackie Glenn ('61). The first one to break my heart :)
You came to the right place, Steve. I bet someone know her whereabouts.
---

Name: JERRY PAT SIMPSON () on Tuesday, October 8, 2002 at 20:39:18
E-Mail: jerypat6244
City and State: Saugus CA.
Class: 62
Message: HEY JOHN, Just saw the picture of Rosecrans in Feedback that Elizabeth sent in. What a blast From the Past. One Saturday night, myself and a date and another couple were going east on Rosecrans. Then on the Radio Chubby Checker the Twist came on and my toes started tapping, so I pulled to the left side of the road jumped out of the car turn the radio up pulled my date out of the of the car and started dancing beside the car. My date thought I was crazy but joined right in and in seconds was dancing up a storm, cars that passed by were honking their horns and yelling out their windows go go. Then the song ended and an oldie(?) came on the Radio a Thousand Stars by Kathy Young, my date and I slow danced for a few mintues then got back in the car. What a great memory that was. Wish I could remember who my date was (old timers again) or the couple in the back seat, that said all the way back to Hawthorne hes crazy. Well thanks Elizabeth for jogging a fun memory. John how about Slash LaRue?? Got one older?? Jerry. COUGARS ROCK.
Actually Pat Underwood sent me that picture of Rosecrans a couple of days ago.
---

Name: Betty Rodriguez () on Tuesday, October 8, 2002 at 19:46:00
E-Mail: tombetty@pe.net
City and State: Lake Elsinore, CA
Maiden: Kean
Class: 69

Message: Elizabeth, what a terrific picture! I've been looking for one like that to go with my dad's photos of Palos Verdes in the 1960's. I have great memories of walking down that beautiful street and pocketing the bus fare to the beach. I also hitchhiked Rosecrans a few summers. . . Bad girl!
Question: is the Hawthorne Mall still a abandoned?
Betty
PS Doris, I agree - where is everybody?
The short answer is yes. I heard someone, and I forget who, has offices in the Montgomery Ward end. That's it.
---

Name: Elizabeth Estrada () on Tuesday, October 8, 2002 at 18:57:19
E-Mail: dzlizzy219@aol.com
City and State: Redondo Beach,CA
Class: 69

Message: Eric Monson, class of '68, got me back on a bicycle again, after many years, so I decided to ride down to the Manhattan Beach Hometown Fair on Sunday. There was a booth there with old photos of Manhattan Beach and one that caught my eye. It's a black and white taken in the 40's, of Rosecrans. With it came a bit of a history lesson I thought you Cougs might be interested in knowing. If not, scroll by. "Rosecrans Avenue was one of the few major streets into the area and was named after Brigadier General William Starke Rosecrans, Civil War, Union Army. The General had purchased 14,000 acres of Rancho Sausal Redondo and had retired to the South Bay. He died on March 11, 1898. (Isn't that the new Hallmark Holiday?) He was buried in Los Angeles and then re-interred at Arlington National Cemetery in 1902. The street began as a narrow path with wooden planks and developed into a paved thoroughfare. The Eucalyptus trees provided a shady and mystic ride over the rises of the highway. Although the street was widened in the 1930's, it was necessary to widen it again in 1969. (excellent year) To the dismay of many people, the trees which had been there probably since the turn of the century, were removed." That's all folks! See ya in the funny papers. DZ

---

Name: doris () on Tuesday, October 8, 2002 at 16:37:43
E-Mail: yes
City and State: yes
Maiden: yes
Class: yes
Message: WHERE THE H IS EVERYBODY????
don't know.....
---

Name: mike mcdowell () on Tuesday, October 8, 2002 at 12:10:40
E-Mail: villamcdowell@earthlink.net
City and State: long beach ca
Class: 1965
Message: Howard Duran, it was nice meeting you. I look forward to hearing from the 65 crew.

---

Name: Loretta Cuiper () on Tuesday, October 8, 2002 at 11:22:41
E-Mail: LCuiper@aol.com
City and State: Hawthorne, Ca
Maiden: Morelli
Class: 62

Message: Wow, to see those old stubs brings back those memories!! 25 cents to get into the Hawthorne Fair, and only a dollar got you into Lions Drag Strip, Larry spent some time racing, as did many of the guys back then. Did you race your Chevy too? Oh, and I can not let it go by (regarding your picture), so young, good looking and those cheeks, they just scream PINCH me!!! Always a COUG
Oh yes, I raced the Chevy for 3 or 4 years. So old and ugly now, but my cheeks still say "pinch me".

---

Name: Karen Kuehl () on Tuesday, October 8, 2002 at 09:11:39
E-Mail: kaykay@tcsn.net
City and State: Templeton, CA
Maiden: Graham
Class: 59

Message: I remember the ticket stub from the HHS vs Beverly Hills game. That was the night after the game at Frostee's that Scott Nelson introduced me to his cousin, George, who, about 2 years later, became my husband. I think that game was the only one we won that year too! And about White's Bakery, I believe that's the one that was owned by Al and Elenore Phenicie in the 40's and early 50's. Their son, Al went to LHS '58 and became a Sheriff in Torrance. Elenore taught me how to make great cookies back then. She was like a mom to me. She and son Al lived on 135th st. on the east side of Hawthorne Blvd.

---

Name: doris () on Monday, October 7, 2002 at 16:57:56
E-Mail: raydori@mindspring.com
City and State: Twin Falls, ID
Maiden: donaldson
Class: '57
Message: Thanks Debbie, I think you're right about that bakery being WHITE'S. I would never have thought of it ... that's WILD! You know, when someone else says the name, immediately the old brain flips right back to where that memory is stored. THANKS DEB!

---

Name: Debbie () on Monday, October 7, 2002 at 12:36:49
E-Mail: pinkelephant10@yahoo.com
City and State: Del Aire, CA
Class: 77

Message: I remember Arico's and Larsen's. My brother discovered Arico's, their deli foods were so good, and the drugstore was full of unique gifts. My sister and I got a few pair of Ditto's from Larsen's and I still have a pair of pink socks my mom gave me one Valentine's Day when I was in high school! I guess they were made to last! Doris, I think that bakery was White's. If that's the one you were thinking of their cakes were very delicious!

---

Name: WadeGreasby () on Monday, October 7, 2002 at 10:21:36
E-Mail: wadekath@juno.com
City and State: Surf City, Ca
Maiden: Aricosakabradfords
Class: 73


Message: For the longest time I thought Aricos market was Bruce Bradfords super market. Bruce, Leuzinger Class of '58, was the only box boy, checker and part owner until he married my sister, Janice,LHS '61. They have three HHS grads, Mike '80, Craig '84, and Jaymie '90. Lots of old stories. More later

---

Name: Scott Nelson () on Sunday, October 6, 2002 at 22:29:26
E-Mail: scojo235@tcsn.net
City and State: Templeton, Calif
Class: 1958


Message: Just saw the picture of Arico's on the website. I had the very happy experience of working for the Arico family from about 1956 to 1960. I worked for brothers Joe, Frank, & Sam and also worked with Joe's son's, Joe Jr. & Larry who both went to El Segundo High.
The original Arico's market was where Larson's department store is located in the picture posted. Joe & family lived beside the old store, (about where the barber shop is located) for a long time and then moved to El Segundo.
The Arico family owned a considerable amount of land there and if anyone can remember, a Lawndale Post Office moved into a new building, built at the same time the new mall, shown in the picture was built. A couple of years later the Arico's drug store was built and one of the pharmicists was none other than Joe's son, Larry.
Joe and his family built a beautiful house up in rolling hills, what a view, and they also built and operated another store with a Redondo Beach address, I believe.
I have great memories working at the store and cherish them greatly.
Hi Scott, missed you on Cruise Night. Do you remember Glen Marsh? He was a manager at Aricos, I believe, and was my Uncle's Wife's brother. Good to hear from you again.
---

Name: Loretta Cuiper () on Sunday, October 6, 2002 at 20:19:07
E-Mail: LCuiper@aol.com
City and State: Hawthorne, Ca
Maiden: Morelli
Class: 62

Message: John, you know I think that was 59/60, our 10th grade. Now how about you flashing one of your early years. I have to hunt down the one at our eight grade picnic!!! Now where did I put all those pictures??
OK, how's 7th grade??

---

Name: Loretta Cuiper () on Sunday, October 6, 2002 at 16:46:56
E-Mail: LCuiper@aol.com
City and State: Hawthorne, Ca
Maiden: Morelli
Class: 62
Message: Hey John, I sure do remember Aricos, they use to have some great deals, two bags of food for under 13 dollars and that included a nice piece of steak for two!!(early 60's) You also said your favorite ball team was the Hollywood Stars. I have to tell you a little family history regarding Larry's father, He was a great ball player, he once had a chance to play for New Jersey way back in the early 30's, but being the oldest boy, he had to go out and help support the family, but that did not stop him from playing with the A team and through the years in the 40's, 50's, the aircrafts had teams and they did do some traveling all through California. At different times, Bill played against the Hollywood Stars and when Larry was a young boy at one of those Star games, he was the bat boy and Billy Barty was the bat boy for the stars, Larry seems to remember only Billy Barty, Donald O'Connor and it was in Palm Springs,
also he had alot of fun on the field with Billy Barty. Bill continued playing until he was 50, he was the old man to all those young men in their 20's and 30's, but he could out play them, according to what I was told, I do know he knew the game and loved watching them all, if he was alive today, he would be so thrilled to see what is happening to our Angels, I know we think it is great. May they go all the way. Have a good week...Always a COUG....
Thanks Loretta, and it's funny you adding this feedback now as I was going through a bunch of school stuff and came across this picture. What year was that??
---

Name: doris () on Sunday, October 6, 2002 at 13:55:18
E-Mail: yes
City and State: yes
Maiden: donaldson
Class: '57
Message: GOL JOHN! Your memory is SOOO much better than mine! How do you DO that!? YES! THE HOLLYWOOD STARS! GEEZ! How in the world could I forget that! My Dad used to take me to their games. And I didn't know what happened to them ... now I do. All a Hawthorne or HHS person has to do is put just the bare-bones of a memory into CT and John will come up with the rest! YOU'RE GRRReeeAAAAT! YOU DA' MAN!
GRRReeeAAAAT! Said first in 1951 by Tony the Tiger of Kelloggs Frosted Flakes fame.


Thanks Doris.
---

Name: doris () on Sunday, October 6, 2002 at 10:43:44
E-Mail: proudtobeanoldgirl
City and State: speakingofrollingupsidewalksidahodoesitbest!
Maiden: donaldson
Class: '57
Message: HEY DENNY! Looks like we really impressed all the younguns, huh? They barely noticed us! ha! But we could show 'em a thing or two, couldn't we ... about partyin' of course. Wouldn't it be great if we could get the 50's KIDS together for a reunion ... ALL of just the 50's !!! (we might, only MIGHT, let John come - Denny and I have to vote on this).
Whaddayathink, Denny? Are you up for it? Think we could get a few of us old folks out? ENZA! WOW! You came over from Italy in '56. That's really neat. I have to email you now; I find that really interesting! And incidentally, Enza and John, I have always been an Angels fan! Back when they were the HOLLYWOOD Angels, when they were the L.A. Angels and when they became the Anaheim Angels.
Hi Doris, actually the Angels were the LA Angels even in the old Pacific Coast League days, but my favorite team was the Hollywood Stars. They moved to Salt Lake when the Dodgers came west, and are now the Tacoma Rainiers and are owned by the Seattle Mariners.
YES, an all 50's reunion would be GREAT. Make it happen.
---

Name: Dewey () on Sunday, October 6, 2002 at 00:59:08
E-Mail: Idowanttogohome@clickTheheals.com
City and State: Home for the weekend and back to Beaumont,TX on Monday
Class: Some Day's
Message: Roll up the sidewalks? After getting asked to leave Beaumont TX because of hurricane Lillie, I flew from Beaumont, TX Wednesday to Cambridge, MN leaving Beaumont at 7:30 AM and got to my hotel room at 1:30 am on the way I was looking for something to eat and the only place open was White Castle Burgers. Now when you have to eat White Castle you know they rolled up the sidewalks!
Hey Dewey, glad you're still out there bud. White Castles....I could eat a dozen of them.
---

Name: Enza Nicocia () on Sunday, October 6, 2002 at 00:38:13
E-Mail: antiquenza@aol.com
City and State: Los 'Angels', CA
Maiden: wherearetheboysandtheirsportstalk??
Class: 72 still rocks!
Message: Hey JB~ Looks like the Angels really SPANKED the Yanks! Wow, what an exciting game. Can't wait for the others to unfold. We are LOOKING GOOD!
Ok, I'll trip dowm memory lane once more. Does anyone remember the Redondo Beach Pier when the only thing standing was Tony's Fish Market? When we immigrated from Sicily in '56, we would go there every Sunday afternoon~the whole darn family (10 total!) for fresh fish. It was the BEST! There where no Condos in Redondo back then. You could actually see blue skies forever, over the green rolling hils of Palos Verdes! And, who remembers the Hawthorne Memorial Park when it had just a swingset, slide and monkey bars? That was our Sunday afternoon FUN back then. Boy, things sure were a lot more simple then~huh?
Wade,Wade,Wade~The Lakers are having there first game next week, are you ready? WOOOHOOO!! (")
Go Angels.....
---

Name: Denny () on Saturday, October 5, 2002 at 19:50:34
E-Mail: unfried@attbi.com
City and State: Del Aire
Class: 55
Message: Looks like most Cougartowners roll up the sidewalks on Friday night so Doris '57' and me '55' are going to have to show you kids how us early folks party like it used to happen. Show um Doris!!!
Party on, Dennis
---

Name: Concerned Cougar () on Saturday, October 5, 2002 at 19:07:47
E-Mail: officesense@aol.com
City and State: Philly, PA
Class: 78
Message: Concerned about the Rael family. Was it ever confirmed as to which of the brothers passed away, and has ANYONE heard from or how the other 3 and family are doing? Would sincerely appreciate any feedback.
Who are you??
---

Name: doris () on Saturday, October 5, 2002 at 17:08:59
E-Mail: sameosameo
City and State: tf id
Maiden: hasn'tchagnedsincelasttime
Class: '57
Message: Yeah, it DID start out as a bread story but then it brought the Post Office story to mind. Have you ever noticed? When you start with one Hawthorne or HHS story, it leads to another. Well shoot, John ... looks like it's just you and me today. Hardly worth your effort, huh? You know what I think? I think you probably have beautiful weather out there and everyone is outside, figuring it's the last chance before winter sets in. So tell me a Hawthorne story John. :-D
I would but the Angels are beating the stuffing out of the Yankees right now. Gotta go.......

---

Name: Carol Shaner () on Saturday, October 5, 2002 at 16:21:09
E-Mail: misscaroll@aol.com
City and State: San Berdoo
Maiden: Shaner
Class: 1970
Message: I have a Hawthorne story...I remember a fresh meat market on Hawthorne Blvd. Whenever we went there they would give the kids raw hot dogs to eat as a treat. YUCK!!! It's a very pretty day here in SB today...go Angels
I think that was Hawthorne Meats. Nice here too. Go Angels!!
---

Name: doris () on Saturday, October 5, 2002 at 12:04:48
E-Mail: raydori@mindspring.com
City and State: Twin Falls, ID
Maiden: donaldson
Class: '57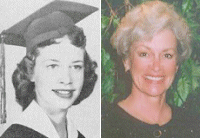 Message: HEY COUGARS! Found CT open and just couldn't pass up saying "something" (or "nothing") because it's SATURDAY. Hate to waste those weekends that John stays open!!! Here's a Hawthorne bread story: There used to be a bakery on the corner of Hawthorne Blvd and whatever that street is that Washington Elementary faces. Now wait a minute ... it may not have been RIGHT on the corner, but close thereto. They had freshly baked, unsliced bread that was marvelous. Mom would buy bread there all the time. Also on the north side of that bakery was the Post Office ... this is really dating me. In the early 40's. I remember this because I recall walking into the Post Office one day with my Mom and my little dog, Sugar, who was close by my side on a leash. We would warn people not to pet Sugar because she would bite if they attempted to do so; she was very protective of me. I always loved small children (now mind you, I was only 4 or 5 years old myself). This little girl walked up to me and I smiled, of course, trying to befriend her and she bit me on my arm. She drew blood right through my thick wool coat. Needless to say, Sugar bit the little girl, so there! Now what I want to know is, WHO WAS THAT LITTLE GIRL!!!?? ha! And the princess has never learned that lesson very well ... she keeps getting bit on her arm right through her thick wool coat. HEY! HAPPY WEEKEND COUGS! ... I WANNA HEAR SOME HAWTHORNE STORIES!!!!
I thought you said this was a bread story.


The Post Office was on the east side of Hawthorne Bl between El Segundo and 129th St.
---

Name: Kenneth Hermosillo () on Friday, October 4, 2002 at 20:18:20
E-Mail: kenhe69@hotmail.com
City and State: California
Class: 1986
Message: How you Doin?

---

Name: Robert () on Friday, October 4, 2002 at 16:11:10
E-Mail: sam_2004us@yahoo.com
City and State: Chico, Ca
Message: hello everyone well i was a student at hhs last year for my sophmore year and unfortunately i had to move but hhs is a good school shout out to all my old friends
Robert Vizcarra
Hi Robert, come on back anytime.....
---

Name: Laura Guerrero () on Friday, October 4, 2002 at 16:03:02
E-Mail: lguerrero@eccwplrc.com
City and State: Inglewood, CA
Class: 1991
Message: Hello to all
Hi Laura, and welcome....
---

Name: Howard "Paco" Duran () on Thursday, October 3, 2002 at 23:48:28
E-Mail: doo4usc@cox.net


City and State: Lake Forest
Class: 61
Message: Hello Everyone!!Is there an audio pro out there? I need help with speaker selection.. Ran into Mike McDowell class of '65(?), he said to say hi to all.

---

Name: Dan () on Thursday, October 3, 2002 at 22:06:30
E-Mail: danmcneill@shaw.ca
City and State: Prince George, BC, Canada
Class: 1968
Message: Thanks, John. Unfortunately, the e-mail address for Nita Cone that you have returns this message: MAILBOX NOT FOUND. Perhaps someone else can help with a contact for her?
Sorry about that, Dan. Please make sure your email addresses are up to date, folks.
---

Name: Dan () on Thursday, October 3, 2002 at 21:07:35
E-Mail: danmcneill@shaw.ca
City and State: Prince George, BC, Canada
Class: 1968

Message: Does anyone know the whereabouts of an HHS student and HHS teacher we knew as "Miss Cone"? Possibly Rita or Nita Cone(?) I believe she was a recent HHS student when she was teaching English in 1965. I am sure she would be interested to know what happened to our class assignment to produce a slang dictionary. This dictionary is posted on Cougartown, and was noticed by an editor of the Oxford English Dictionary. I have been asked to send them a copy of the original dictionary, as they want to use it in compiling evidence of certain slang usage in 1965. Who would have thought?
Hi Dan, Nita Cone Liles email address is listed on the Faculty list as: liles@aol.com
Good luck
---

Name: Walter Holt () on Thursday, October 3, 2002 at 19:25:53
E-Mail: Walter_holt_hhs66@hotmail.com
City and State: Orange, Ca
Class: 66


Message: CAUTION COUGS....Here we go again with a new virus going around. I have already received it in my E-mail today which my Norton AntiVirus caught... The Norton site has a fix for it and here is an excert from their site regarding this one...
"W32.Bugbear@mm is a mass-mailing worm. It can also spread through network shares. It has keystroke-logging and backdoor capabilities. The worm also attempts to terminate the processes of various antivirus and firewall programs."
So be careful & please update your virus protection programs.

---

Name: Ron Dokken () on Thursday, October 3, 2002 at 16:16:14
E-Mail: rdokk@yahoo.com
City and State: Endwell, NY
Class: 1955


Message: Funny, I should remember that sign - but don't. However, since I'm looking for an old truck, that Jimmy in the outside lane looks good!
That sign, or those signs (one at each end of Hawthorne) were up for at least 30 years. I would guess they put them up in about 1958.
---

Name: Larry Biller () on Thursday, October 3, 2002 at 15:38:44
E-Mail: lbiller49@yahoo.com
City and State: Portland,Oreegunn
Class: 1967
Message: Anza's facelift looks very nice. But the real question is do they still have tricycle races?

---
If you have comments or suggestions, please email me at john14@cougartown.com