Hawthorne Time and
Temperature

Home | 60's Slang | Alumni List | Car Talk | Cougar News | Feedback | Hangouts | Memories
Recollections | Reunions | Street Scene | Teachers | Tributes | Vietnam | What's New | Keyword Search
Here's the Pledge of Allegiance story. Red Skelton
<!-+++++++++++++++++++++++++++++++++++++++++++++++++++++++++++++++++++++++++++++++++++++++++++ +++++++++++++++++++++++++++++++++++++++++++++++++++++++++++++++++++++++++++++++++++++++++++++->

---

---
<!-++++++++++++++++++++++++++++++++++++ADD BELOW THIS LINE++++++++++++++++++++++++++++++++++++ +++++++++++++++++++++++++++++++++++++++++++++++++++++++++++++++++++++++++++++++++++++++++++++->
Name: John Baker () on Monday, July 22, 2002 at 11:32:14
E-Mail: john@cougartown.com
City and State: Lomita, CA
Class: 62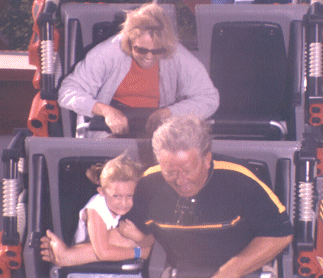 Message: Here's a picture of us at Legoland on Saturday. Janet's granddaughter, Jordan, wasn't too sure she wanted to ride this ride but was talked into it by me, then asked if she could hang onto my arm. I didn't realize she meant disconnecting it from my body

. It was a fun day all the way around, and for Jordan, lotsa fun AFTER this ride.

---

Name: Linda Reynolds () on Monday, July 22, 2002 at 11:12:17
E-Mail: linrey@yahoo.com
City and State: Chatsworth, CA
Maiden: Jones
Class: 62


Message: Hi 62 Cougars! As of this moment, we have 103 who will be attending our 40th Reunion this coming Saturday night! Not bad for a class of 470 after 40 years! It's not too late if you'd like to come. Either send me a check or call us to let us know you're coming so we can count you in for food, etc. and have a nametag for you. Hope to see you there! Linda Jones Reynolds Address: 22112 Sun Ranch Ct., Chatsworth, CA 91311-1270 (818) 700-0032 or (818) 371-2219 (cell)

---

Name: Scott Nelson () on Monday, July 22, 2002 at 09:07:08
E-Mail: scojo235@tcsn.net
City and State: Templeton, Calif
Class: 1958

Message: Hey Dennis: Right you are! Lew Westwood's Hudson Dealership was located in that building for a number of years. I have a clear re-collection of Del Bradford driving a new Hudson Hornet every year while they were being sold there. What a car, and I would love to own one now. 1 other business that resided there, that I remember, was "Louie's" Transmission Service. He was really good but I believe that he was somewhat of a "player". Anybody else out there have any memories of the "Bradford" corner?
I seem to remember a bitchin' 57 Chevy pickup truck with scallops. Was that Del Bradford's pickup?
Does anyone remember where Skips Body Shop was located in the early 60's?
---

Name: Dennis Campbell () on Sunday, July 21, 2002 at 23:38:42
E-Mail: Campbell901@cs.com
City and State: Mission Viejo, Ca.
Class: 61
Message: Hey Scott Nelson, I believe it was Lou Westwood?s Hudson in fact I remember going over with my Dad to look over the new Nash Metropolitan in 1950. Hey, how would you like to have one of those beauty?s, at that time the lot was mostly all rocks... Miss Marilyn Ross, the name of the malt shop across from the HHS football field (on Inglewood Ave) was called the HOOT & HOLLER later after they closed the malt shop Chuck?s Muffler service took over the building? Yes Robin Hood my old room mate buddy it was around 1970 that I moved into the old Del Bradford Chevron Station. Of course it had been remodeled by that time? Mr. Hood that?s when you got your California Smog license and the rest is history??O? the good old days yes sir...
Hey if any of you old Campbell Chevron employees are out there, let?s hear from you. Roger Johnson class of 69? Larry Marquises class of 69, Dennis Johnson class of 71?, and so many more that I can?t remember?.

---

Name: Marilyn Ross () on Friday, July 19, 2002 at 13:02:25
E-Mail: mlr922@hotmail.com
City and State: Garden Grove, CA
Maiden: Wisham
Class: 56
Message: Yes I know, drugs were not prevalent in the 50's but they were around. Why do you think they showed us those scary anti drug movies. I was very excited about a malt shop across from the school. It would be just like in the movies -not. Rumors started very early and the kids that hung out there did not have the best reputations, so I never went there. Who knows how much was just rumor but the word around was that drugs were being sold there. It was a first as I don't think anyone in those days knew where to buy anything. I remember it being 53 or 54 because 3 of the girls that hung out there graduated in 54 and it shut down after a very short time. Coach Chauncey would probable know as I believe he worked with the vice squad in those days. Also for anyone that just doesn't have the time to go through all 501 pages of cougartown you can go to google.com and search the cougartown.com site with either cougartown or pictures and use the image search and see only the pictures at least most of them. Marilyn

---

Name: Robin () on Friday, July 19, 2002 at 02:37:52
E-Mail: Skipthispostgirls.com
City and State: RB,CA
Maiden: Hooked on fonicks...
Class: Sixty
Message: RE:Chuck Balsinger...I agree Tom. His son might have driven but nobody I ever saw had the balsingers to throw it sideways on pavement at the the speeds Chuck did...Does anyone remember how he collected tires , punched out the sidewalls to make muffler brackets? An ecologist before his time...And Dennis Campbell did run the post Del Bradford Chevron station in the 70s... Marilyn, I agree with Janet. 2 Bayer in a bottle of coke (a cola) was about it. The only people who took drugs in the 50s were jazz band saxophone players:o)..Parents wouldn't have even known what to say had they caught their kids ..."uh whats a joint like this doing in a nice girl like you"...Later Cougs :o)

---

Name: JB2 () on Friday, July 19, 2002 at 01:29:56
E-Mail: me again
City and State: MV
Message: OOOOPs, make that Hawthorne INTERMEDIATE! I think that's what they warned us would happened if we smoked that funny stuff~~~~must be something else...like age!
I'm glad you cleared that up. Yeah, I personally didn't start drinking until Hawthorne Intermediate, after those drug movies scared the heck outta me.

---

Name: Janet Burkett () on Friday, July 19, 2002 at 00:37:43

E-Mail: jmburkett@att.net
City and State: MV,CA
Maiden: Humphreys
Class: 62
Message: Marilyn.....DRUGS in Hawthorne in the 50s??? Surely, they had to be Aspirin or Bromo Seltzer. I still remember the horror of marijuana movies we had to watch at Hawthorne
Elementary...(or was that in Erie??) I don't remember anyone taking anything illegal except a cigarette or can of beer until college!
Anyway...62 guys and gals...we're only a week away from our reunion. Can't wait to see everyone. And...rumor has it George Rea has gotten a committment from Mr Wally Nyman to join us! See ya all there!
JB2
Anyone remember the movie, "Reefer Madness"? I wonder what kind of rating it would receive today?
---

Name: Keith D. Jones () on Friday, July 19, 2002 at 00:20:47
E-Mail: cmi50@yahoo.com
City and State: Honolulu, HI
Class: 76

Message: Just got off the phone with a few of my best friends from the old days. Art Degirman who I always stay in contact with was at our friend Mike Kitto's house and also the big Tom Hayes. We had such a good group of friends that basically did everything together. When I look back they were really the best of times. Craig Kukuk, Carl Cline, Art Degirman, Mike Kitto, Tom Hayes, Kurt Morlock, and I'm sure I am forgetting cause of my advanced Alzhemiers. We used to go malling, Palm Springs, clubbing and everythign together. It was great hearing from them. Mahalo Keith

---

Name: Pauline () on Thursday, July 18, 2002 at 23:53:15
E-Mail: pmsockser@aol.com
City and State: Oak Hills, CA.
Maiden: Spencer
Class: 69


Message: John- Congrats on the 500th page. CT has become a daily part of my life. I have been busy doing research and writing my theses for my masters degree. I will be done with it in May 2003. Keep up the great work.
Pauline
Thanks for the nice thoughts Pauline; glad you're taking CT in on a regular basis and congratulations to you too on your Masters.
---

Name: Marilyn Ross () on Thursday, July 18, 2002 at 22:39:07
E-Mail: mlr922@hotmail.com
City and State: Garden Grove, CA
Maiden: Wisham
Class: 56


Message: What a great picture of Senior Square with Nyman Hall in the background! The school looks great. Sr. Square looks a little different than I remember. The trees were just little saplings -boy does that make me feel old. We didn't have those nice brick planters either. It is an improvement. I remember a muffler shop on Inglewood ave right across from the school. If -a BIG if- I remember correctly it was a malt shop in about 1953 and closed down because drugs were being sold there.
Marilyn, Wasn't that malt shop called the Hoot n Holler?
---

Name: royal Wm. Lord Jr. () on Thursday, July 18, 2002 at 21:08:26
E-Mail: lord@ugsolutions.com
City and State: Cerritos, California
Maiden: Same as above
Class: 1961


Message: EL ROJO alias Jake, I'm still around (I think). I was surprised when I saw your last Feedback (7/15/02) and you ask if anyone had heard from me. Obviously you didn't receive my last e-mail that was sent right after you stated on the feedback that you and Jude were coming to Calif. in September. Pat and I were delighted to hear that, I'll send you another e-mail. John Baker, I know you are busy with your Reunion, But I just wondered if anyone has given thought to having another Pinks Run in the near future? Thank God I'm a Coug!!! Royal
AH ROYAL!! You thoroughly had me convinced that you had been paying attention, then asked THAT question. We had a Pinks run on June 20th. Sorry you and Pat missed it, but we're having a Cruise Night on the 9-14........BE THERE!!! And thanks for letting us know you're still out there.
You can also join us at the class of 62 reunion on the 27th of this month. GO HERE for more details, and yes, other classes are attending.
---

Name: Enza Nicocia () on Thursday, July 18, 2002 at 19:00:52
E-Mail: antiquenza@aol.com
City and State: Go Dodgers!
Maiden: cougarsinuniform :0)
Class: 72
Message: Cindy, Jill~you girls need to check out "Paco Pic's" and take a look at some Cougars in their "Uniforms." Paco, your kindergarten pic is TOO cute! Wade, Wade, Wade, I can see how you turned some heads at the away games. Nice uniform. Dori, I will let you know when we are coming to your restaurant. Thank you for making us part of your extended family, I'm honored. Italians/Sicilians celebrate everything with FOOD~it's in our blood! :)

---

Name: Dori Giuliano () on Thursday, July 18, 2002 at 15:20:42
E-Mail: vincana@aol
City and State: southbay, ca.
Maiden: Gestone
Class: 73
Message: Enza, your family is my family, bring em down. The phone # is 310 325-3364, address: 25345 Crenshaw, in Torrance. Don't forget to call first so I can make sure I'm there. My brother Rick was a major Dodger fan, he could tell you everything there was to know about them.

---

Name: Tom Burroughs () on Thursday, July 18, 2002 at 14:04:39
E-Mail: ARizTom@webtv.net
City and State: Prescott AZ
Class: 1958
Message: Chuck Balsinger, in my opinion was the father of Go-Karting, though others claim that title! Before he moved to Bradfords Chevron he had a little shop just north of El Segundo on Inglewood ave. An outside rack, very small, must be around 1955 ,or 56 we would see him on these home built little Karts with lawnmower engines, running up & down Ing. Ave. He had the first Kart with a Yamaha MC engine. Very heavy so he later built another , much lighter. Saw him try to run it one Sat. at South Gate track. Just too much power for a small track!! I had a McCullogh built Kart with twin stroked 6's. Ran on gas. More fun than a barrel of monkeys! Although I never had a barrel of monkeys, so I really can't say that! I sold it to Terry Leeper & he traded it for a Model A! Chuck had a 2 or 3 page spread in Hot Rod mag. showing his Hudson pickup & his Karts, & I think his Nomad? Many years back. What I would give to have a copy of that! He bought the 56 Nomad red & beige, then later painted it all red. I was in love with that car & it only took me 47 years to own one. Ah yes Scotty, beam me back! Those were the days. TB from AZ

---

Name: Dan Johnson () on Thursday, July 18, 2002 at 12:24:09
E-Mail: wch1ispink@aol.com
City and State: Sherman Oaks, CA
Class: 77
Message: John, don't forget the short-lived Falcons home of Paul Westphal
Yes indeedy.....
---

Name: Tobey () on Thursday, July 18, 2002 at 03:50:41
E-Mail: tobey@Props4YourScene.com
City and State: Pacific Palisades, CA
Class: 1976
Message: Hey Scott Nelson HHS Class of 1958. I could have lost my mind but didn't some guy play the pipe organ in that Chuck's Muffler building you mentioned? I can remember going there for recitals of some sort. :) Mufflers, Pipes... It's all the same science! And BTW, This is the GREATEST site for connecting with misplaced friends! Although I remain a Loyal and Proud Lancer - As a Senior, I went to HHS for a physics class with Mr. Levine. Thank you Mr. Levine for your unwavering commitment to your students. I can say that I absorbed more than the air in your class. Anyone remember that crazy "drop the egg from the stadium without it breaking" project? What about driving to Mr. Levine's Huntington Beach home in the middle of the night for a ROUST? :) Love you Cougars and Cougartown!
Hi Tobey, Lancers are welcome in Cougartown too, along with Mustangs, Seahawks, Comets, Sentinels, Monarchs, Warriors, Cardinals, Olympians, Saxons, and a few more from the South Bay area. We all hung out at the same places and cruised the same streets, so come on back anytime. BTW, Lennox has a great website at http://www.lennoxlancershome.com/ Thanks Tobey....
---

Name: Dawn Moffett () on Wednesday, July 17, 2002 at 20:07:21
E-Mail: dmoffett@clunet.edu
City and State: Simi Valley, Ca.
Maiden: Koch
Class: 78
Message: Congrats John! I can't believe you are up to 500 pages! Wow! Maybe someday I'll get the chance to go back and catch up on the pages I have missed while I've been studying my brains out in school. I just wanted to thank you for the help you've been in getting the word out about the Band Reunion. We are already working on the next one and looking for other alumni to contact. We had so much fun last weekend that some of us are probably still recovering! You know who you are, did El Torito make you pay for that pitcher? Some things never change . . . and that's a good thing because we are a family and it's good to have people we can count on. We will let you know when we have dates and times etc., stay tuned. Thanks again John! I'm late getting my dues to you but now that things are calming down at my house I can take a few minutes to get those well deserved funds to you. You are so great to do this for us!
Hi Dawn, Yes, reunions, no matter what kind, are magical. Glad you all had such a great time and when you get the info together for the next one, let me know and I'll post it.
---

Name: Marilyn Ross () on Wednesday, July 17, 2002 at 18:23:06
E-Mail: mlr922@hotmail.com
City and State: Garden Grove, CA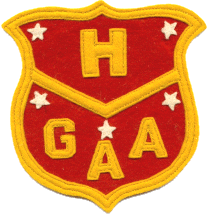 Maiden: Wisham
Class: 56
Message: Doris, yes I remember you too. I don't remember if we had classes together but I'm pretty sure you were in GAA and so was I, so we would have been together then. In my senior year everyone in 7th period (I think) was in GAA so it just carried on after school. Maybe you were in that class. Marilyn

---

Name: Dan Johnson () on Wednesday, July 17, 2002 at 16:57:12
E-Mail: wch1ispink@aol.com
City and State: Sherman Oaks
Class: 77
Message: Hey in that Dan Dye "Oldest Record" photo, you can see old Clark Millman's Pole Vault record still stands. I haven't seen Clark in well over 25 years BUT his picture used to appear on bus stops all over the South Bay in Real Estate agent ads (ReMax I believe). In the "Frosh Soph" records, the entry for the 800 says "Sean" and is obliterated by Dan's still massive arm. Is that the same Sean who was on the 1975 Aviation Little League team?
That record was set in 1982 (Sean Kelly)
---

Name: doris () on Wednesday, July 17, 2002 at 12:18:09
E-Mail: raydori@mindspring.com
City and State: Twin Falls, ID
Maiden: donaldson
Class: '57
Message: HEY KEITH ... my favorite team was the ANGELS too! And I LOVED Jim Fergosi, probably for different reasons from yours ... he was SO CUTE!!!! Didn't he go on to coach a team or is he still coaching? SCOTT ... Speaking of Bob Brand, where the devil is he now ... and Judy? Judy went to Leuzinger with my ex and I can remember seeing them as a couple many times. Do they have email? GEEZ! Hope you and your wife make it to CRUISE NIGHT!!! I'm coming all the way from beautiful downtown Twin Falls, Idaho and would love to meet you!!! MARILYN WISHAM ... I remember you but don't remember if we were in a class together or what? Any idea? Have you 50's people noticed? We're getting more and more 50's people participating here on CT and I just love it!

---

Name: Jodi Weishaar () on Wednesday, July 17, 2002 at 11:44:46
E-Mail: jwb2bomber@aol.com
City and State: Hawthorne, CA
Maiden: Wilbanks
Class: 76
Message: Wade, Wade, Wade.....How many years has your family been in Hawthorne and you spell Northrop with a "U". Shame on you!! And your sister even works there! Only kidding....I actually hit 23 years at Northrop Grumman yesterday. Hey, birthday wishes to Leslie from all the Weishaar's as well. Both Leslie and Stacy came over to the house Saturday after the funeral for a short visit. Missed ya Wade!! Keith - you have scarred my daughter for life. I told her you said hi and her response was: "is that the guy that made his chest wiggle that day at the beach?" Congrats on the big 500! Great job!!
Thanks Jodi
---

Name: Scott Nelson () on Wednesday, July 17, 2002 at 09:25:27
E-Mail: scojo235@tcsn.net
City and State: Templeton, Calif
Class: 1958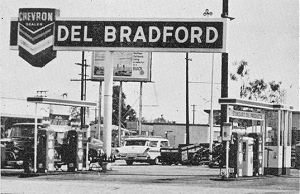 Message: Hi again John:
Pretty good memory you got. Those dual McCullogh Go-Karts were the property of Chuck's Muffler Service (Chuck Balsinger) which resided in the building toward the west side of the property. Chuck built them originally to race himself, but ultimately his young son ended up driving them all over So. California. My partner in the business (Bob Brand) also got the Go-Kart bug and built a couple himself. We used to spend a lot of Saturday and Sunday afternoons racing them from the San Fernando Valley to Long Beach. Bob raced and I crewed. I did drive but never raced them. Those babies had a lot of power and the average ones traveled between 60-70 MPH. A little scary being about 2-3 inches off the ground in an open vehicle with NO seatbelts or roll-bars. Another subject to test the memory cells of everyone out there. Does anybody remember the business that was in that same building well before Chuck's Muffler service? It was a rather unique business as I don't remember ever seeing another one before or since that business was there. I of course know the answer and would be happy to reveal it and the name of the owner after a few guesses.
Scott, yes, I knew those belonged to Chucks. That corner of Inglewood Av and El Segundo Bl all ran together. Thanks for the info and no, I don't have a clue what was there before Chucks but maybe someone does....any of you older Cougs remember?
---

Name: Art La Mere () on Wednesday, July 17, 2002 at 07:00:53
E-Mail: artlamere@mchsi.com
City and State: Bettendoef
Class: 73
Message: Scott if my brain is still working right, the gas station once had a big fire. I don't remember the year.

---

Name: Alan Hauge () on Wednesday, July 17, 2002 at 03:29:26
E-Mail: gmt333@earthlink.net
City and State: Play del Rey
Class: 1961


Message: Anybody interested in attending a private screening at Sony Studios, of a new motion picture starring Kiefer Sutherland and Robert Carlyle? (Without sneeking in). Its called "TO END ALL WARS", a true story set in the jungles of Burma in a POW camp during the second world war. Check out the web site at toendallwars.com. I am working with GMT Pictures on the distribution plans for a release in LA on September 20th. If everything works out.
I should have room for about 50-70 Cougars from HHS at Sony Studios in Culver City next week sometime. Rich Sloan and his wife loved it. If any one is interested the time will be 4pm in the afternoon some day next week. My email address is gmt333@earthlink.net. Be sure and include your correct name and phone number. If I don't contact you it means the screening was delayed or too many applied.
Sorry I have been away for the last 100 pages. Congrats to you John on the 500 page milestone. You deserve a thousand attaboys for hangin in there.
Alan
Thanks Alan, good luck with the picture and please try to make it for Cruise Night on 9-14. Lots of out-of-towners from your era will be there.
---

Name: Enza Nicocia () on Wednesday, July 17, 2002 at 01:40:10
E-Mail: pasta.com
City and State: memoriespressed..


Message: Hey JB~I also want to thank you for this great site and the tribute to HHS AND the city of Hawthorne as well. I too have reconnected with friends that I haven't heard from in 30 years. Ain't life Grand! How and when did you get this bright idea to start this website? If I could of graduated any other time, I would of picked the 60's. You guys are the best, and had way too much fun! However, the music of the 70's still rocks!
Dori, when my brother Johnny (Giovanni) and Cheryl come down at the end of the month for the '62 reunion, I will bring most of the Nicocia's to your restaurant~JB you're invited too. That should take up about 10 tables! Although, you might want to tell everyone where it's located.
Wade, Wade, Wade, I would love for you to help, however, nobody has responded to getting together for a Dodger game. If we do get 30 people to go, you could be the one to find the perfect section of the parking lot to have our awesome tailgate party. And, I might even bring some pasta....HA! :-)
Enza, That's the third time you've mentioned bringing your pasta. Maybe that's what's keeping people away.

---

Name: JIM SLOEY () on Wednesday, July 17, 2002 at 00:38:36
E-Mail: abseballpuristjusthastoask.com
City and State: redondo beach, ca
Class: 66
Message: When Sandy Koufax or Don Drysdale got on base were they then PITCH RUNNERS?

---

Name: Don D. () on Wednesday, July 17, 2002 at 00:11:31
E-Mail: dondt@hotmail.com
City and State: South Bay, CA
Maiden: notthistime
Class: 75
Message: I'm alittle late...but happy 500 to you John
Thanks Don...
---
If you have comments or suggestions, please email me at john14@cougartown.com