Hawthorne Time and
Temperature

Home | 60's Slang | Alumni List | Car Talk | Cougar News | Feedback | Hangouts | Memories
Recollections | Reunions | Street Scene | Teachers | Tributes | Vietnam | What's New | Keyword Search
Here's the Pledge of Allegiance story. Red Skelton
<!-+++++++++++++++++++++++++++++++++++++++++++++++++++++++++++++++++++++++++++++++++++++++++++ +++++++++++++++++++++++++++++++++++++++++++++++++++++++++++++++++++++++++++++++++++++++++++++->

---

---
<!-++++++++++++++++++++++++++++++++++++ADD BELOW THIS LINE++++++++++++++++++++++++++++++++++++ +++++++++++++++++++++++++++++++++++++++++++++++++++++++++++++++++++++++++++++++++++++++++++++->
Name: Greg Jones () on Monday, July 15, 2002 at 02:01:23
E-Mail: gjones1052@aol.com
City and State: Hawthorne, CA
Class: 1973
Message: Dan and Shannon, thanks for the input. Dan, if you can scrounge up the info I'd appreciate it. The boys lost to Sportsman Saturday 4-2. A 3-run homer in the fourth was their undoing. Anyways, our 9-10 year old girls are still in it, playing Hollypark Monday for the right to get into the championship game versus Westchester/Del Rey. Email me with any info you might come up with.

---

Name: Enza Nicocia () on Monday, July 15, 2002 at 01:12:42
E-Mail: stillsearchingfor.....
City and State: aheartofgold.....
Maiden: andi'mgettingold -er
Class: 72
Message: Dori Giuliano~ You must be talking about the Giuliano's Deli in Gardena. IT'S THE BEST! My family and the Giuliano's go way back. I know that the old timers who opened the store originally have all passed. Although, the ones who are running it now, (whose names escapes me) are friends of my older brother and sister~Cathy and Johnny. I LOVE that place. It is true that they have the BEST food, (well, my Mom's cooking is pretty darn good too). And, some of the boys here in CT seem to think I can make a 'special' plate of pasta. Hey, that's an idea...lets have a cougar's night at Giuliano's Deli. The best Italian Subs around, not to mention their bakery~espcially their canolli's. :0) BTW, which Giuliano did you marry?
Thanks for the commercial Enza, but you haven't finished Ctown night at Dodger Stadium yet.

---

Name: Shannon (Fred Lynn) Keys () on Sunday, July 14, 2002 at 23:28:42
E-Mail: shannon_keys@msn.com
City and State: Colorado Springs, CO
Class: '81' do the math
Message: Mr. Greg Jones... I'd be glad to fill you in on the heroics of the 1975 All-Star Team from Aviation [not Wiseburn.
Keith and Wade(??) and many others who thought Little League was born and bred in Wiseburn!!!), now the truth be told?? Aviation, though not having the ?Mike Scott-type? pedigree, did fine for themselves, culminating, I believe with the ?75? team.
Now I?m not a disgruntled team participant, even though they had me batting ninth (best O.B.A going in to the tourney), I have nothing but the best of memories (scared to say some of the best of my life). Anyway, Greg our team that won over a half dozen games (in the single elimination era) was a joy to belong too. Many great members whom I will always consider my friend. Yes
Danny, Jimmy Cheek was on our ball club.
(note: the team that eliminated us got no-hit from a then-fat kid from Keith?s Aloha State?.a draftee of the Dodgers who pitched several years in the bigs?. Sid Fernandez.

---

Name: Denny () on Sunday, July 14, 2002 at 18:50:56
E-Mail: unfried@attbi.com
City and State: Del Aire
Class: 55
Message: Mr ROJO, you can still visit the Anza school if you head towards Mexico. The only thing left of school now is a pile of rubble but the first thing they did was remove everything of value like two full truck loads of 2 X 12's about 24 feet long that were ceiling joists. Anything that could be recycled including the toilets headed south to TJ. Don't think they need many schools down there as most are moving up here.
Si Si Seņor
---

Name: doris () on Sunday, July 14, 2002 at 18:17:33
E-Mail: raydori@mindspring.com
City and State: Twin Falls, ID
Maiden: Donaldson
Class: '57
Message: ElRojo!!! What the heck are you guys doing in BOISE!!!?? I thought you lived over here closer to me in beautiful downtown Twin Falls. Yeah, it's that hot over here too. TOO hot! Thank goodness for air-conditioning. We have to fight the skunks off the dog door at night, it's so hot ... they want to come in where it's cool. See you two on Cruise Night ... isn't that disgraceful ... we're neighbors and have to go to Hawthorne to meet! ha! Also, good to see you back on CT Elizabeth! the twin falls princess

---

Name: Stephen Colet () on Sunday, July 14, 2002 at 18:09:08
E-Mail: StephenColet7@aol.com
City and State: Castaic, Ca.
Class: 1968
Message: Anyone who knows how to get in touch with Bob Hinders, class of 73', appreciate it.

---

Name: ROJO () on Sunday, July 14, 2002 at 14:16:15
E-Mail: I-DY-HO
City and State: YOU KNOW
Maiden: MELTINGMARVIN
Class: ALL
Message: Hey Denny U thats a real bummer for us Anza guys to hear that the school was going to the wrecking ball. Many a hot game of dodge ball were played against those walls through the years. Now I hear that the politcally correct have abolished that fun little game in several places. It's just tooooo dangerous and demeaning for a young childs mind. Change? Maybe it's not so great sometimes. Doris Donaldson...how hot is it down there in Twin Falls? Up here in Boise it's so hot....HOW HOT IS IT, JAKE? Well its so hot that the fish are biting bare hooks just so they can get thrown in a cooler. It's so hot that the coyotes are still chasing the jackrabbits but they're both walking. I know there are hotter places but here in this part of the world it just doesn't stay that hot that long. Four straight over 105. It was 110 yesterday, ouch! And John whats with this kiss up to the Dixie from Moaningside? Only kiddin Dixie but us Cougs have always loved to hear Moanarks moan:)). I see it's only in the 70's in good ole Hawthorne so ya'll don't need to stay cool. MAY THE COUGAR BE WITH YOU. Jake N Jude.
Hey Jake, Funny stuff. It can't be too hot; with your lips flappin', it must cool it down at least 20 degrees.

Thanks big guy. It's always nice to hear from the "Wagon Rut State". It's so hot in Idaho, the potatoes cook underground and all you have to do is to pull'em and add butter, salt and pepper.
Farmers are feeding their chickens crushed ice to keep them from laying hard boiled eggs.....See you in September buddy.
---

Name: Donna () on Sunday, July 14, 2002 at 08:10:47
E-Mail: DonnaDGW4
City and State: LaPalma, CA
Maiden: Cook
Class: 69
Message: Hey Elizabeth, I'll be there only if you promise to get your Daddy's station wagon and take us for a ride over the Drive-in bumps! I know John don't say it 6:00 on Sunday Morning! Going to a car show. $$$$$$$$
No, but 6:35 isn't bad.

---

Name: Elizabeth Estrada () on Saturday, July 13, 2002 at 23:56:58
E-Mail: dzlizzy219@aol.com
City and State: Redondo CA
Class: 69
Message: Hello Everybody, I haven't written in many moons. Hope all are well. I've tried to reach quite a few of you 69'ers using the alumni email list but many are not current.....Sherry Kriens Ellison will be here on Monday the 22nd for only one night and I'm trying to get some of her old Cougar friends to come over to surprise her. Mark Escalante, Gary Beaird, Jim Doersam, Ron Crisp, Jeanne Burke, Lynette Sperry and many more. Donna Cook, Betty Kean, Bill Sloey and any all you old hippies who remember her beautiful smile and want to reconnect, please email or call me.....543.4771 Dizzy Lizzy the Margarita Goddess

---

Name: Dori Giuliano () on Saturday, July 13, 2002 at 22:37:11
E-Mail: vincana@aol
City and State: southbay, ca.
Maiden: Gestone
Class: 73

Message: just getting acquainted with cougartown and found feedback! After reading about 10 pages I've come to the conclusion that Enza and I have to be related! And Wade Greasby, you bring your family and Enza with you to my Italian family restaurant and you'll get the best italian food this side of jersey!! wish i had more time to chat, gotta run, bye for now.

---

Name: Wayne Dickey () on Saturday, July 13, 2002 at 20:36:38
E-Mail: ImpalaWayne
City and State: LaPalma, CA
Class: 69
Message: Actually John, sleep doesn't come till Sunday night. I was just getting my second at 7:30am on Saturday. Remember "WAYNES WORLD PARTY ON!"

---

Name: Geneva Berryman () on Saturday, July 13, 2002 at 16:49:34
E-Mail: neva@blackfoot.net


City and State: Clinton, Montana
Maiden: Clements
Class: 58
Message: Hi, just wanted to update the information about Wes Clements. He is now the batting coach for the Ogden Raptors.
That good huh.....

---

Name: Marilyn Ross () on Saturday, July 13, 2002 at 16:10:42
E-Mail: mlr922@hotmail.com
City and State: garden grove, CA
Maiden: Wisham
Class: 56
Message: Hey Larry Banta, say hi to your mom, we're old friends from waay back. John, nix on the speedos PLEASE!
Yes, I agree, Marilyn....

---

Name: Cindy Whittaker () on Saturday, July 13, 2002 at 13:07:53
E-Mail: cindyw01@netzero.net
City and State: Gig Harbor WA
Maiden: Whittaker
Class: 176
Message: Hey Larry! Do you still have that uniform? Maybe if you could put it on for us now and strike a pose with ATTitude...OH yea...

---

Name: Dan Johnson () on Saturday, July 13, 2002 at 12:42:08
E-Mail: wch1ispink@aol.com
City and State: Agoura Hills Tonight
Class: 77
Message: Greg Jones, I have no direct knowledge of the members of that team but I believe that my step brother Jimmy Cheek could have been one of them. I haven't been in touch with him in a while but I will try and get the information for you if it exists. I was on the 1972 Aviation all star team and proudly struck out with the bases loaded in the bottom of the 6th and us trailing Wiseburn by one run. Eddie Saez (sp?) was the Wiseburn pitcher and the game was played at the Hawthorne American field to the east of Hawthorne Airport. I spent the afternoon bawling at Dockweiler Beach to the tune of "Hold Your Head Up" (I know, c'mon Johnson, no more sob stories told the tune of late 60s and early 70s American Top 40)
I thought you would have been bawling to the tune of "Well it's 1-2-3 strikes your out at the ol' balllllll-game".

---

Name: Larry Banta () on Saturday, July 13, 2002 at 11:01:52
E-Mail: lbcty21@aol.com
City and State: Del Aire, CA.
Class: 78

Message: Gonna chime in on uniform/first jobs. I was still mowing yards on my block in high school, great gas money and kept the block looking good. First real job was at the Old Towne Mall though, while at HHS. You all may remember the food court at the north end and the bus boy/janitor types dressed like organ grinder monkeys maintaining the joint. That be me. The real job perk was when people would fill their kids' stomachs with quality nourishment at the food court and stride down to the merry-go-round and hoist the kids on there. Soon after, the barf was flying. And I do mean flying. These kids were whirlin' and hurlin' big time all the time. What fun for $2.65 an hour, the min. wage at the time. Funny how nobody ever requested a picture of me in my red striped shirt, black pants and black derby hat looking like the true chick magnet I was. Now add the mop and bucket o' barf and you understand why I was constantly fighting off the women. Sorry ladies, no pictures.
VERY FUNNY stuff, Larry......Thanks
---

Name: Wayne Dickey () on Saturday, July 13, 2002 at 09:26:16
E-Mail: impalawayne@aol.com
City and State: La Palma, Ca.
Class: 69


Message: Last night there was a 2 hour special on the life of Brian Wilson on A&E biography channel. Showed lots of Hawthorne in the 50's. Even had an interview with Rich Sloan. Keep your ears and eyes open for more specials. I really enjoyed it, even though it kept me up past my bed time, (12:00 midnight). It was well worth it. Brian now lives in the midwest with his wife and 2 adopted children.
Actually that biography is a couple of years old. It is done very well and depicts more of the Hawthorne life and less of the other. Brian, wife and adopted daughters, are back in CA now.
Thanks Wayne, and what is a party guy like you doing up at 7:30am on a Saturday?

---

Name: Greg Jones () on Friday, July 12, 2002 at 23:28:12
E-Mail: gjones1052@aol.com
City and State: Hawthorne, CA
Class: 1973


Message: Greetings to all fellow cougs. The past year has been a busy one for me as I was elected President of Aviation Little League. Currently we are in the midst of District 37 All Star games and our 11-12 year old boys are scrapping their way thru the losers bracket but are winning none the less. I was surfin the net and noticed that an Aviation All Star team won district and sectionals in 1975 and advanced to divisional games. Does anybody out there know who played on that team and if so let me know? I would like to let our kids (and parents) know about it and be able to mention a few names. Please let me know as soon as possible. Thanks.
By the way, if anyone is interested, the boys have a game tomorrow at Ladera Little League fields off Stockton at 4:00pm.

---

Name: Gomez () on Friday, July 12, 2002 at 22:13:08
E-Mail: tryingtoclearthingsupagain
City and State: Salem,Don't Inhale 'Em

Maiden: Honduras
Class: 72
Message: No Lori I read your post correctly. I was talking about Cougars by marriage, yes. Rowdys by marriage, no way. I asked Judy.

---

Name: Alan Nelson () on Friday, July 12, 2002 at 21:31:13
E-Mail: boatcop@boatcop.com
City and State: Parker, Az
Class: '73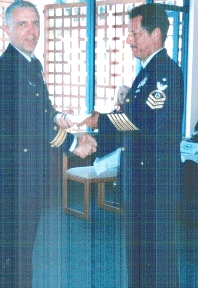 Message: By popular demand I dug up a picture in my dress blues. This was at the graduation of the Chief Petty Officer's Academy in Petaluma. The picture, taken in July 1997, was the first and only time I've worn that uniform since 1984. The Gentleman on the left is Admiral Tim Ryker, then Senior Coast Guard Reserve Officer. That's the exact same uniform I was issued in boot camp in 1975, just updated with current insignias. Show's just how much I wore it in the last 27 years. And yes, it's still a perfect fit.
There you go girls, a man in uniform. I have a picture of me in my cub scout uniform, somewhere.
---

Name: Tammy () on Friday, July 12, 2002 at 20:34:31
E-Mail: JTrbgNichols@aol.com
City and State: Omaha, NE
Maiden: Levene
Class: LHS81
Message: Speaking of gas stations, my grandfather, Charles DeWald, owned the Texaco on Imperial and Inglewood. I remember my uncles working there and my Uncle Robert has shared some great stories with me. They are about cars, racing and the after work stuff. Everybody have a safe weekend. Tammy
Hi Tammy, I remember hangin out with your uncle Bob at that station. We both had Chevelles at the time. I also remember your grandfather had a lock on his rotary phone, so we would tap the hang up button 10 times to get operator on the phone and ask her to dial the number for us.


For all you Gene Levene fans out there, Tammy is his daughter.
---

Name: Pauline () on Friday, July 12, 2002 at 19:32:32
E-Mail: pmsockser@aol.com


City and State: Oak Hills , CA.
Maiden: Spencer
Class: 1969
Message: John- I will purchase several cougar sweatshirts (xxxl) and I am sure my sister would also. Great idea. Pauline

---

Name: Delia Hardy () on Friday, July 12, 2002 at 18:17:05
E-Mail: delia@goattea.com
City and State: Huntington Beach, CA
Maiden: Yawnick
Class: 86


Message: This message is for Lori regarding outdoor weddings in Orange County. I was married in October last year at Huntington Beach Central Park and it was perfect. There is an outdoor ampitheater surrounded by trees. I can't remember the occupancy for the theater but I believe we had about 175 people there.
We had our reception at the library at the same park. They have rooms downstairs. However, I don't believe the rooms will hold 200 for a sit down type of reception. We had tables around the room but were hoping for more of a mingling atmosphere than a sit down. Congratulations and have fun planning!!

---
Name: BEAVER CLEAVER () on Friday, July 12, 2002 at 17:55:19
E-Mail: andjerrymathersasthebeaver.com
City and State: Tarzana, ca
Maiden: Cleaver
Class: 1966
Message: What an absolute cool sight. I wish my high school had a web sight like this but the only school I ever went to was Mayfield. We only have a couple of alumni, me, my brother Wally, Lumpy Rutherford and Eddie Haskell. Larry Mondello would have been but he moved to New Jersey. Could I be a Cougar? I'll pay my dues and everything!

---

Name: LORI PADELFORD () on Friday, July 12, 2002 at 17:49:57
E-Mail: DESILULU4U@AOL.COM
City and State: WEST G.G.
Class: 81
Message: HEY GOMEZ, YOU READ MY FEEDBACK INCORRECTLY. I AM AND ALWAYS WILL BE A COUGAR. IT'S THE HUBBY TO BE (A SEAHAWK) WOULD BE A COUGAR BY MARRIAGE.
DEBBIE THANK YOU FOR INFO ON RANCHO CAPISTRANO. IRONICALLY I WAS THERE THE 29TH TO LOOK AT THE SITE AND THEY WOULDN'T LET ME GO UP TO THE TERRACE BECAUSE THERE WAS A WEDDING GOING ON. MUST HAVE BEEN YOUR DAUGHTERS. HOW FUNNY IS THAT. THANKS FOR THE INFO THOUGH. LORI

---

Name: Jill McFarlane () on Friday, July 12, 2002 at 17:23:14
E-Mail: jillmcfar@aol.com

City and State: Mission Viejo, CA
Class: 1977
Message: Anybody up for a wet cougar sweatshirt contest? Sorry, couldn't resist.

---

Name: carole () on Friday, July 12, 2002 at 16:10:24
E-Mail: isahighcarole@yahoo.com
City and State: lake isabella, ca
Maiden: anderson
Class: 60
Message: Hi, I'm looking for Judy Poore, class of 1959. She married Gary Shapiro who I believe went to Washington High. Anyone who knows anything I would like to hear from.

---

Name: Dan Johnson () on Friday, July 12, 2002 at 15:44:01
E-Mail: wch1ispink@aol.com
City and State: Sure Man, Oaks
Class: 77


Message: Hi John, the greater includes the lesser! Which One's Pink? tomorrow night 7/13 at 10:00 p.m. at the Canyon in Agoura Hills, CA. I heard a nasty rumor that some Killer Bs might try 'n surprise me there. Anybody here have the Brian Wilson Pet Sounds live CD? Is it worth obtaining?

---

Name: Matt Peterson () on Friday, July 12, 2002 at 15:33:32
E-Mail: mattpete6@yahoo.com
City and State: El Dorado Hills, CA
Class: 74
Message: I think sweatshirts are a great idea. I would buy one. Caps would be good too. I was wondering, how many CT T-shirts have been sold? I still enjoy the site and try to read it everyday. Keep up the good work John.
Thanks Matt.....
---

Name: Big Kell () on Friday, July 12, 2002 at 15:29:59
E-Mail: k.k.currie@att.net
City and State: Englewood,Or
Class: 67
Message: if you have zipper sweatshirts, i'd like a hood on mine..windy here, helps protect the DO..you know what i mean ladies...

---

Name: Tom Burroughs () on Friday, July 12, 2002 at 13:38:11
E-Mail: ARizTom@webtv.net
City and State: Prescott AZ
Class: 1958
Message: What's this crap (can I say that?) about us older Cougs. looking better in sweatshirts!! I was thinking about asking about maybe some form fit T shirts like we used to buy at a Gym up in Inglewood. Of course I can only speak for the class of 1958!! Hey Ray are you out there? We must protect our image! How about Ct engraved walkers along with those sweatshirts??
How about some HHS Class of 58 SPEEDOS.....
---

Name: Big Kell () on Friday, July 12, 2002 at 13:27:36
E-Mail: iwasbornininglewoodandproudofit.com
City and State: Englewood,Or
Class: 67
Message: I just saw an old friend at Cone 9 last night..John Henderson, he went to Loosefinger, but his sister Linda, went to HHS. I don't know what year he graduated, but he's 59.(i could do the math but don't want to) He was wondering if anyone remembers him..If so you can let me know..he owns beepers concrete pumping in hawthorne..has for many years.. he lives down there and has purchased a ranch in Coos Bay..so he travels back and forth quite a bit....i'll let him know if anyone would like to contact him, he'll be in to see me when he gets up here again...

---

Name: Dixie () on Friday, July 12, 2002 at 12:11:44
E-Mail: dixryan@hotmail.com
City and State: Hawthorne ca
Maiden: Gilbert
Message: Hi DJ, No I didn't know your sister. I was a transplant from the mid west in 1965 and didn't know too many of my monarch classmates. I feel like a native ca now. Here now for over 35 years. :)

---

Name: Gomez () on Friday, July 12, 2002 at 09:56:25
E-Mail: iwouldneverbeacopininglewoodeither
City and State: Salem Don't Inhale 'Em
Maiden: Honduras
Class: 1972
Message: LORI... YOU CAN BE A COUGAR BY MARRIAGE BUT NOT A ROWDY. YOU MUST BE A COUGAR TO BE A ROWDY. YOU CAN ALSO BE A GOOD COOK TO BE A ROWDY BUT FIRST YOU MUST BE A COUGAR. ALSO ONE DEGREE OF COUGAR DOES NOT MAKE A ROWDY. YOU CAN ALSO BE A LOUSY COOK. IT'S IN THE ROWDY HANDBOOK UNDER "WHO CAN BE A ROWDY".

---

Name: DEBBIE ELLIOTT () on Friday, July 12, 2002 at 08:53:17
E-Mail: GEDE673@MSN.COM
City and State: HAWTHORNE,CA
Maiden: REID
Class: 69
Message: THIS MESSAGE IS FOR LORI PADDLEFORD, OUR DAUGHTER LISA ELLIOTT (ALSO A COUGAR) CLASS OF 92 JUST GOT MARRIED ON JUNE 29TH. IT WAS A OUTDOOR WEDDING AT RANCHO CAPISTRANO IN SAN JUAN CAPISTRANO. WAS A VERY BEAUTIFUL PLACE, GOT MARRIED IN FRONT OF A LAKE. AND THE RECEPTION WAS HELD RIGHT THERE ALSO.YOU MIGHT WANT TO CHECK THIS OUT. JOHN THANK YOU FOR THE GREAT SITE, ALOT OF US READ THE FEEDBACK ALMOST EVERY DAY BUT DON'T ADD TO IT. REALLY ENJOY IT. DEBBIE
Thanks Debbie, that means alot....
---

Name: DJ () on Friday, July 12, 2002 at 02:50:30
E-Mail: wch1ispink@aol.com
City and State: Sherman Oaks
Class: 77
Message: Hey Dixie, do you know my sister Jan Johnson, Morningside Class of '69? (She's also a 6 degree of Cougar woman because her boss (Terry ____) is a Cougar class of '79
I thought that was 1 degree.

---

Name: Cindy Whittaker () on Friday, July 12, 2002 at 01:24:09
E-Mail: cindyw01@netzero.net
City and State: Gig Harbor WA
Maiden: Whittaker
Class: 1976
Message: Hey Susie Smeltzer! About time you showed up! I don't think I've seen you since my sister's wedding. Sharon B is coming to visit me in August. When are you coming up? I remember Patti. Didn't she go to York School with us? I remember all of us going to the movies. How about Aaron Bonnett? I wondered where she ended up and put a post here but no one has heard. Welcome to CT and stay in touch!

---
If you have comments or suggestions, please email me at jb1@cougartown.com