Hawthorne Time and
Temperature

Home | 60's Slang | Alumni List | Car Talk | Cougar News | Feedback | Hangouts | Memories
Recollections | Reunions | Street Scene | Teachers | Tributes | Vietnam | What's New | Keyword Search
El Rojo, THIS is the one I want to know if you remember. Jesse Belvin
<!-+++++++++++++++++++++++++++++++++++++++++++++++++++++++++++++++++++++++++++++++++++++++++++ +++++++++++++++++++++++++++++++++++++++++++++++++++++++++++++++++++++++++++++++++++++++++++++->

---

---
<!-++++++++++++++++++++++++++++++++++++ADD BELOW THIS LINE++++++++++++++++++++++++++++++++++++ +++++++++++++++++++++++++++++++++++++++++++++++++++++++++++++++++++++++++++++++++++++++++++++->
Name: Dewey () on Monday, June 10, 2002 at 16:25:42
E-Mail: Dewey_Storie@sbcglobal.net
City and State: Ticked Off
Class: 74
Message: After retrieving my truck from Park One at the airport I noticed that ?SOMEONE HAS STOLEN MY COUGARTOWN BALL!
Cavanaugh was also known as The Red Baron..He gave me my first ticket, the bad part was he knew me from when I worked at the Mermaid in HB.
They're very popular. I have mine chained on.

---

Name: KAREN () on Monday, June 10, 2002 at 13:25:16
E-Mail: LILKAHU@PACBELL.NET
City and State: ANAHEIM, CA
Maiden: HARE
Class: 1966
Message: I just received an e-mail from Becky Slaughter O'Brien, informing me that Phoebe Cooper passed away yesterday at the age of 86. For those of you who do not remember her she worked in the cafeteria and invented the wacky cake.
To the Cooper family I am so sorry and my prayers are with you. God bless.
Condolences go out to the Cooper family. Phoebe was a cafeteria mainstay at HHS for many years. She will be missed by lots of Cougars who knew and loved her. Please let us know of any services planned. Thanks Karen.....
---

Name: Gary Lents () on Sunday, June 9, 2002 at 12:24:11
E-Mail: glents@hotmail.com
City and State: vista
Class: 67
Message: Petey.....Cavanaugh once gave me a ticket for not putting my feet down while on my motorcycle at 2:30AM....he said I stopped, but needed to put feet down...oh well, he was right (legally)
So Gary, at 2:30am you HAVE to have your foot down when on a motorcycle?

---

Name: Peggy Sarvis () on Saturday, June 8, 2002 at 15:00:24
E-Mail: daisygreenvalley@aol.com
City and State: Lakewood, CA
Maiden: Westbrook
Class: '59
Message: Help!!! I'm trying to find Ruthanne Funk Class of '59. While going through some books, I found her '59 El Molino. I'd really like to get it back to her, and have tried all my sources but can't locate her.

---

Name: doris () on Saturday, June 8, 2002 at 12:14:04
E-Mail: raydori@mindspring.com
City and State: Twin Falls, ID
Maiden: Donaldson
Class: '57
Message: On the day of my 10th birthday party, which was being shared with Duby Wayne Frier, also of HHS as well as Washington Elementary and Hawthorne Intermediate, my little brother, who is 6 years younger than I, climbed a tree at the front of the house which, of course, he had been warned repeatedly to stay out of! His foot caught in a couple limbs, he lost his balance and fell out of the tree, catching himself with his left arm. In so doing, he broke his left arm, BIG-TIME! I heard him crying/screaming and I was the first one to him. His arm looked all dented, crooked and weird and that little darlin' was in a world of hurt!! I started crying, of course, and Mom hollered at me to straighten up, that she needed me to help her. Long-story short, Pop was called home from work so he could drive us to the doctor while Mom held Eddie in her gentle, loving arms (I'm in the back seat now and still crying like crazy ... some help!). We got to Dr. Peterson's office in Inglewood (he's the one who brought my little brother into this world), they parked in front and charged into the office, telling me I had to stay in the car (and I was still crying, of course!). They had been gone a while when a policeman came up to the car via motorcycle and started writing a parking citation because my folks had failed to put money in the meter. I got out of the car and in between crying all over this guy, I managed to get my story out. He reached in his pocket, pulled out a bunch of change and put it in that meter. To me that cop looked like an ANGEL and then I REALLY STARTED CRYING!!! No, no birthday party that day! And my little brother healed nicely, thank you!!
Great story Doris. Lots of nice cops out there. They don't seem to get recognized unless they're in a negative situation.
---

Name: Petey () on Saturday, June 8, 2002 at 06:05:38
E-Mail: runslikeagirl@attbi.com
City and State: Salem,OR
Maiden: Gomez
Class: 1972


Message: There also was a cop in Hermosa that everyone feared, Cavenaugh(sp). He gave me a jay walking ticket when I was 15. My dad had to take the day off work and spend a day in court. What fun that was.

---

Name: Debbie Fautt () on Friday, June 7, 2002 at 15:08:08
E-Mail: dndfautt@aol.com
City and State: Clayton, CA
Maiden: Weeks
Class: 71
Message: Memorial Services for Barbara Wigley A memorial service will be held Saturday, June 15th at Library Park in El Segundo (across the street from El Segundo High School) from 1:00 PM to 3:00 PM. Please come dressed for a beautiful spring day. Everyone is then invited to celebrate our friend, Barbara, at the Stick N Stein at 707 N. Sepulveda in El Segundo. Should you wish to make a contribution to help cover the family's expenses donations will be accepted at the memorial services.

---

Name: Jill McFarlane () on Friday, June 7, 2002 at 12:14:15
E-Mail: jillmcfar@aol.com
City and State: Mission Viejo
Class: 1977
Message: What cute grandkids! I can hardly wait till I get some, but by that time, I will be pretty old since I had my kids at an advanced age. I guess my geography is off on that vacant lot of Wade's. I think Pinky did hang out at HHS in the 70's as well, I do recall seeing a cop with really red hair. Everyone have a great weekend!
Thanks Jill, I like'm a little.

---

Name: Cathy () on Friday, June 7, 2002 at 11:58:00
E-Mail: cathymce@pop.ucr.edu
City and State: Riverside, CA
Maiden: Martin
Class: 70
Message: Wade~ "Hoggie" Hogsten took over the HPD 3-wheeler after Pinky retired. He was huge...but very nice. I saw Pinky years after he retired. He and his wife were in their late 70's and were riding matching Harleys. Does anyone remember the other big red-head... Frank Martin? He was in the detective bureau for 13 years, then went back to the streets as a captain until he retired in 1974. He had worked extra duty at the A&W and had "groupies" from the Gunga Din back in the 50's.
I remember a real nice cop named Murphy that did duty at the "A". There was another "A" cop that wasn't my favorite, Diliberto (sp).
---

Name: Neil Andersen () on Friday, June 7, 2002 at 01:02:29
E-Mail: sumerset@aol.com
City and State: Dallas,OR
Class: '62


Message: Congratulations to Bob Reagan on the new grandchild. I'm starting to think I may have gone wrong somewhere along the line, I've got three grandkids, 16, 13 and 8 years old, while my sister-in-law Donna Smith-Andersen has NINE. Had I known grandkids were going to be so much fun, I would have had them before I had their parents.


Very funny Neil, I have one, Cory, and one due in September (another boy), PLUS I have Janet's four, (Phillip, Wesley, Jordan, and Kirsten) which I feel are mine too. I love them all. They are WAY too much fun......especially Phillip.

---

Name: Dan Dye () on Friday, June 7, 2002 at 00:09:15
E-Mail: DanADye@earthlink.net
City and State: Torrance, Cal.
Class: 1962

Message: Pinky, was Pinky because he had red hair before it turned gray and his face turned red at the drop of a hat. By the way, Pinky issued me my first citation. 21453(a) CVC, Failure to stop for a traffic control signal. I still think the light was yellow. I have had many of my clients tell me the light wasn't red, it was pink.
Jan, you and your husband are in my prayers.
Never got a citation from Pinky; Fred Moore set the record. I think it was 5. HE HATED ME!!!

---

Name: Shannon () on Thursday, June 6, 2002 at 23:14:00
E-Mail: Pondaverge@msn.com
City and State: Hawthorne, CA
Maiden: Fodrey
Class: 2002
Message: Before I even started going to Hawthorne High school I was scared. I thought high school was going to be terrible experience, but in fact I loved every minute of it. And now I don't want to leave, but I have to and I know that it is time to go into the world and become something great. I just think its funny that I was scared to go to Hawthorne and now I dont want to leave.
Hi Shannon, You'll be fine. Don't worry about being something great, just make yourself and family proud.
---

Name: Susan King () on Thursday, June 6, 2002 at 21:33:59
E-Mail: sueking18@aol.com
City and State: Hawthorne Forever!
Maiden: Bierman
Class: 1974

Message: Hey Mary Sanchez - does the verse (you have to do this sing-songy to get the effect)"A tisket, a tasket, a green and yellow basket, I wrote a letter to my mother and on the way I lost it...." - you had to skip around the seated circle of kids and then drop it and another kid would pick it up and I don't recall from there....but I'll bet baby sister Sharon does. She remembers EVERYTHING. Thank you all for all the Hawthorne Youth Camp input - I AM going to coordinate a weekend retreat, replete with activities, events and yes, we'll be doing a little community service. I've already got designs on help from some certain recent HYC posters so be on the lookout kids!
Sounds great, Sue. This will be LOTS of fun. Please keep me posted.
---

Name: John Baker () on Thursday, June 6, 2002 at 17:31:14
E-Mail: john@cougartown.com
City and State: Lomita, CA
Class: 62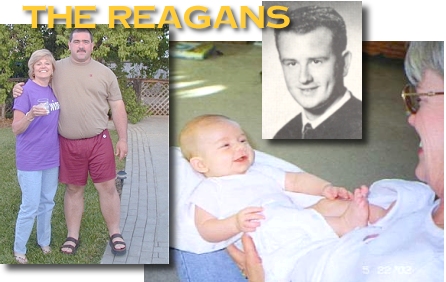 Message:You 62ers out there will probably remember Bob Reagan from school (see pic). Well he and his wife, Vicki, (she went to school with Steve Martin) have just been graced with their very first grandbaby, Bradley Jay (Jay, after his daddy). Bradley is about 3 months old now and is starting to resemble his daddy (shown here with the lovely Janet). So congratulations to you two and may you be blessed with many more......or not.

---

Name: Barbara Westrope () on Thursday, June 6, 2002 at 17:21:45
E-Mail: barbwestrope@aol.com
City and State: Hawthorne, CA
Maiden: Norris
Class: 63

Message: RE: Barbara Ann Wigley
A memorial service will be held June 15 2002 at 1pm at library park across the street from El Segundo High on Main St.
She was a very good friend and I'll miss her terribly.
Thanks Barb, I know lots of people knew and loved Barbara Wigley, and will be glad to get this information.
---

Name: Wade Greasby () on Thursday, June 6, 2002 at 20:46:01
E-Mail: DuckPinky
City and State: SurfCity,CA
Maiden: 2carsforyou
Class: 73
Message: Jill, the lot I was referring to was between Jefferson and Washington Aves. on El Segundo. There used to be a Pizza Hut there with Mac Donalds, but I do not know what is there now. I can't believe how Washington School has changed, a parking lot where the grass field was and a huge Folsom Prison fence around it. Same with Haw Inter.
Soooooo, Pinky?
---

Name: Beverly () on Thursday, June 6, 2002 at 19:14:24
E-Mail: tobeyhome@mac.com
City and State: Simi Valley
Maiden: Adams
Class: 1959

Message: Did someone mention DROP THE HANKY? That one was a staple at all the birthday parties (until about 10 years). The kids would hold hands in a circle, one person would walk around behind them with a hanky and drop it behind another who would then pick it up and chase the other kid. If he got away, he would take the other kids place in the circle. If he got caught, he had to drop the hanky again. Whoever didn't have a place in the circle had to drop the hanky. The game continued according to the attention span of the partygoers. It was kind of a warm-up to musical chairs. I wonder if anyone ever plays it these days. I don't remember what my kids liked to do; guess I've blocked that out of memory for my own good!! Thanks for the trip down memory lane Cougs - Beverly

---

Name: Denny () on Thursday, June 6, 2002 at 18:54:28
E-Mail: unfried@attbi.com
City and State: Del Aire
Class: 55


Message: Pinky was really a neat cop. I ran out of gas after school and he gave me a round trip ride to the gas station on the back of his three wheeler. Don't think the HPD does that anymore. Could you imagine the liability?
Thanks Dennis bud, for the help. Why was Pinky pink? I guess that's like asking why was Fred Moore FAT.

---

Name: Jill McFarlane () on Thursday, June 6, 2002 at 15:59:17
E-Mail: jillmcfar@aol.com
City and State: Mission Viejo,CA
Class: 1977

Message: Who is Pinky? Another thing Wade, I know that lot on El Segundo that you are talking about behind 129th st. Is it between Shoup and Oceangate? If it is, my parents house is right behind it. But now instead of a vacant lot, there is now a dumpy hotel, that really takes away from the view of HHS and the bars that surround it.
Pinky was the Hawthorne cop who rode the 3 wheeled motorcycle and generally did parking citation duty in the 50's and 60's. I think Mom B knows where he ended up. Can I get someone to chime in and help here?

---

Name: MARY SANCHEZ () on Thursday, June 6, 2002 at 14:42:46
E-Mail: STILL BORROWING MY FRIEND'S COMPUTER
City and State: ANAHEIM, CA
Maiden: SANCHEZ
Message: It is so neat to look at this page. You people really stick together I wish I had gone to HHS. Is it all right to write in? If not I am sorry. Another game that came to me was drop the hanky. But I can't remember how it was played and since I don't have any children I have no one to ask.
Mary, Yes, anyone can put their 8% of a quarters worth on this page. Thanks
---

Name: Jan () on Thursday, June 6, 2002 at 14:07:48
E-Mail: odiomio@tntwireless.net
City and State: Jonesboro,Ar
Maiden: Dorris
Class: 1963
Message: To all of you Cougartowners who sent me an email telling me you are praying for me and my husband a "BIG THANK YOU" we so do appreciate you! I hope to send each of you a personal email that left one, and Sloeylaw, Matt Peterson, you did not give your email address but I deeply appreciated your email and "Thanks" to you two also. It's been a "Sunny" day for me today when I checked my email and had 7 emails from people at Cougartown, even though I didn't know you, what a thrill it was. And yes God does answer prayers, and if it's meant to be for me to carry on like this, then there's a reason for it, and I have accepted it, just need the encouragement when I have those "Oh me, poor little old me" days if you know what I mean..and for those that don't, all I can say is "DUH!" lol...Thanks again Cougartowners you sure know how to show your support to your fellow "Cougar"...And Thank you too John for saying a word back to me, I appreciated that.!! Anyone out there who knows Barbara Brewer, Laura Buttler Garner, Linda Jenkins More, and Paula Jackson ...can't think of her x-married name please give them my email and Bob Howe...if you read this, hi there old buddy...Sincerely Jan Dorris Brown
P.S. Jan Jolly Brown how are you doing?? And for Nancy Ashburn, Sherry Peppers Wingo, Donna Anderson, Doris Donaldson thank you for saying a word on feedback thank you so much ! Jan
Thanks Jan, Glad Cougartowners could cheer you up a bit.
---

Name: Jill McFarlane () on Thursday, June 6, 2002 at 13:45:47
E-Mail: jillmcfar@aol.com
City and State: Mission Viejo, CA
Maiden: thatcopwasalmostmybroinlaw
Class: 1977
Message: Wade, I think the cop you are refering to might be none other than Sargent George McNamara, if he had dark hair and moustache (I know, they all did back then). He was almost my brother in law at one time, a very, very long time ago. Although, I can't imagine Mac chasing anyone for very long, let alone some 9 year olds. Who got to ride along with the good ol HPD when they use to have the ride along program? What a blast that was. Believe it or not, there was a seedy side of Hawthorne.
Believe me, it was Pinky.
---

Name: Wade Greasby () on Thursday, June 6, 2002 at 11:09:14
E-Mail: Itaintover
City and State: Surf City
Maiden: tilIsayitover
Class: 73
Message: Enza, The KISSES from Kidd were for you! He just didn't want you to forget that the pasta he ordered was goooooood. Joe, The correct way to say anything in Latin is "E Pluribus Unum", pass that buck over here! Good to hear from you. John, do you remember the police officer who used to ride the three wheeler and give out parking tickets? He was a big guy, this was back in the mid 60's. I was going through some olds photos and came across one that was shot on El Segundo Blvd where the Mac Donalds is. There used to be a vacant lot that extended through to 129th street at this location, and a big tree where we had a treehouse. As kids we would launch water balloons out on to El Segundo Blvd. from this treehouse and one day we hit this police officer with one. We had put water colored paint inside the balloons and he got hit with a red one. He chased us for blocks until officer Van Gors caught us. Four nine year olds busted. We had to wash the squad cars and this guys three wheeler for our punishment. Great times in Hawthorne.
Wade, is that why they called him Pinky?


If you've got a scanner and some old pics of Hawthorne, the Fire Dept, Police Dept, etc, please send them along, and thanks for the story.
---

Name: joseph mailander () on Thursday, June 6, 2002 at 02:29:51
E-Mail: dbahuitclos@yahoo.com
City and State: los angeles ca
Class: 1975
Message: John et al., with my fellow Latin scholar W. Greasby posting so much of late, I can only say that if this is indeed page CCCCLXXXVI, we are only XIV away from hitting the paydirt of page D. This should I suppose happen sometime in JVLIO or AVGVST--the II months named for noteworthy Roman Emperors. I am hoping to get Viv to bring her 'LXI Continental (a IV-port, with the suicide porti) this tempora to Cruise Night. Lakers in VI? Gaudeamus igitur, pax et nave libationes, and of course--IO AMO TE, HOMOOOOOO!!! (Whoops, I guess that's not too PC, either. I swear it's fine in Latin.) At any rate, peace and boat drinks, and I LOVE YOU MANNNN, joseph
Hey joseph, great stvff, as vsval. I didn't know Wade was into Latin but I've got a neighbor that says he's a Latin lover too. I don't think he'd be caught dead with the likes of Clavdivs or Caligvla, though he does have what he calls his big III; Consvela, Lvpe, and Gvadalupe.
Always good to hear from you joseph and remember to keep your porti shut when peregrinabundus the Appius.
WE LOUE YOV TOO MAAANN!!!

---

Name: NANCY () on Wednesday, June 5, 2002 at 21:47:07
E-Mail: MONATHOME498
City and State: HAWTHORNE,CA
Maiden: ASHBURN
Class: 66

Message: DEAR JAN I TOO HAVE READ YOUR MESSAGE FOR PRAYERS I WANT YOU TO KNOW THAT PRAYERS WORK AND GOD DOES HEAR US, I'VE BEEN IN THE HOSPITAL 2 TIMES IN 2 YEARS; THE LAST TIME FOR 3 MONTHS. IF IT HAD NOT BEEN FOR THE PRAYERS OF ALOT OF PEOPLE AND A LOVING FAMILY I MIGHT STILL BE THERE. KEEP THINKING GOOD THOUGHTS AND KEEP YOUR FAITH YOU'RE IN OUR PRAYERS.

---

Name: Kelley () on Wednesday, June 5, 2002 at 21:09:08
E-Mail: k.k.currie@att.net
City and State: Coos Bay, OR
Class: 67
Message: I'd just like to let all you Cougars know that I Kelley Currie was a camp counselar..I was chosen from a group of other girls to be a senior counselor for a group of boys and girls from I don't remember where..I do have pictures...I know there are probably sounds of disbelief..Where do you think they learned to smoke pot make beautiful bongs..plus sing Beatle songs...hawthoren youth camp...
Lotsa hawthoren class, Kelley.....
---

Name: Enza Nicocia () on Wednesday, June 5, 2002 at 18:45:23
E-Mail: the trash talkin...
City and State: now begins...round 2!
Maiden: will it ever end??
Class: 72


Message: Dear Wade....Is this Kidd guy, Jason Kidd? The one who blows kisses before EVERY free throw? C'mon man, you gotta do better than that. Kobe will tear him up! Questa Sera Il Lakers Sona Molto Caldo! ;-)
OK, let's do Laker talk by email.
---

Name: Wade Greasby () on Wednesday, June 5, 2002 at 17:10:42
E-Mail: wg1672@pacbell.com
City and State: Surf City
Maiden: danetsgotruckin'in
Class: 73


Message: Yo,Enza,Enza,Enza, if you thought Bibby gave Kobe a run wait til you see The Kidd and his Grateful Dead act tear up the paperclip arena. The Kidd has arrived with Morningside Byron to do a number in the City of Angels."That's Amore"
No, that's not amore.....When an eel jumps right out, and he bites off your snout, THAT'S A MORAY
---

Name: Sherry Wingo () on Wednesday, June 5, 2002 at 17:07:32
E-Mail: dscwingo@pacbell.net
City and State: Haw. Ca.
Maiden: Peppers
Class: 1964


Message: Jan Dorris Brown, I'm saying a prayer for your returning good health. Your body is trying to heal itself I imagine that's why you're requiring so much sleep right now. God is good and through him and your Dr's ability I pray you'll get through this terrible time in your life. It's very scary right now. Many people are lifting you up right now through their many prayers.

---

Name: Donna () on Wednesday, June 5, 2002 at 15:37:20
E-Mail: djanderson_53@yahoo.com
City and State: Friendswood, Tx
Maiden: Anderson
Class: 1971

Message: Jan, I read your letter and am deeply touched and sadden by your illness. I wanted to let you know that there are many out there that will be praying for you. You will be in our prayers and I am passing your request on to others that will pray for both of you. The lord can do great things. Never give up your faith for he is always with you....May you and your husband be blessed and many others that are touched by you.... God bless you!!

---

Name: doris () on Wednesday, June 5, 2002 at 15:29:16
E-Mail: raydori@mindspring.com
City and State: Twin Falls, ID
Maiden: Donaldson
Class: '57


Message: JAN DORRIS: Just want to say my heart goes out to you and your husband, and I shall glady pray for you. You're a very brave lady and I won't say one prayer without thinking of you first! Keep us all apprised of your progress please. I wish you the very best.

---
If you have comments or suggestions, please email me at jb1@cougartown.com