Hawthorne Time and
Temperature

Home | 60's Slang | Alumni List | Car Talk | Cougar News | Feedback | Hangouts | Memories
Recollections | Reunions | Street Scene | Teachers | Tributes | Vietnam | What's New | Keyword Search
Another 50's classic Roy Hamilton
<!-+++++++++++++++++++++++++++++++++++++++++++++++++++++++++++++++++++++++++++++++++++++++++++ +++++++++++++++++++++++++++++++++++++++++++++++++++++++++++++++++++++++++++++++++++++++++++++->

---

---
<!-++++++++++++++++++++++++++++++++++++ADD BELOW THIS LINE++++++++++++++++++++++++++++++++++++ +++++++++++++++++++++++++++++++++++++++++++++++++++++++++++++++++++++++++++++++++++++++++++++->
Name: Patty Valencia () on Tuesday, April 16, 2002 at 10:58:46
E-Mail: pvalencia2@aol.com
Maiden: v5
Class: 1974
City and State: PVE, Ca


Message: Jim - I know how you felt - when I was about 17 years old I had a bad bike accident on the strand between Hermosa/Manhattan where you jog around the corner and up the small incline to the next level of path. I was biking with Cynthia and her boyfriend on a nice summer day. I got to that incline (going down) and some pedestrians were turning the corner coming up, so I tapped those brakes a bit harder, hit sand and oil and heard that same sickening sound from the tires. I ended up with a crowd of people watching me try to extricate myself from the mess. I was in shorts and a halter top - my left leg was pretty badly skinned and my foot, well it was bad. A great looking lifeguard came over and carried me to the water so that we could get the blood washed off the wounds. I ended up with bandages and toes taped together etc. Now that you are describing John's alleged "take that you cheater" comment, What's the statute of limitations for that kind of liability? I mean, I was on Cynthia's date with her that day, and she was behind me. So was he.
EZ Jim, It looks like she's asking for FREE legal advice. Patty, Jim'll need at least a $100.00 retainer before he tells you that you have NO CASE!!!

---

Name: Linda Reynolds () on Tuesday, April 16, 2002 at 10:07:26
E-Mail: linrey@yahoo.com
Maiden: Jones
Class: 62
City and State: Chatsworth, CA


Message: Hello Cougars! Just want to send a thank you to George Rea & Melodee for the best BBQ hamburgers and a wonderful afternoon. It was nice seeing all my "old" (I use that term gently....) classmates. And....Dan Dye, how nice to see you looking YOUNGER & thinner and feeling better! Checks for the 40th Reunion have been coming in regularly, Bruce George even gave me CASH on Sunday without a receipt! If you have not sent your $40 per person check to me.....please do so soon. My vacation is coming up........

---

Name: Gina () on Tuesday, April 16, 2002 at 05:22:48
E-Mail: Lyoness_8@yahoo.com
Maiden: Black
Class: 80
City and State: Pasadena, CA
Message: Ho Hi Alumni!! I haven't checked in for awhile, so I though I would. All is well, and I'm almost single again!!!!

---

Name: Howard Paco Duran () on Tuesday, April 16, 2002 at 02:15:26
E-Mail: doo4usc@aol.com
Class: 61
City and State: LF
Message: To Carl, Kenny and Jan Blomsterberg and families, sorry for your loss. Your dad was like my second dad! I'll never forget his smile and humor.

---

Name: Janet Burkett () on Tuesday, April 16, 2002 at 00:24:50
E-Mail: jmburkett@att.net
Maiden: Humphreys
Class: 62
City and State: Mission Viejo, Ca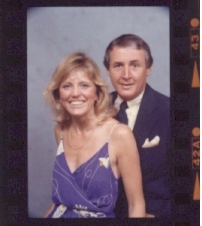 Message: Excuuuuse me....Acme escort service??? I'll have you know I took my pastor to that little get together...and we kept trying to get the class of 62 to pass the plate, but they just thought we meant their salad dishes. So, instead we headed to the bar where we met John Baker who was busy trying to impress the waitress by telling her he was the exclusive distributor for red and yellow cougar balls and would trade her a full gross of them for a short beer. That didn't work either! Hey Dan Dye...it was sure good to see you guys last night at our reunion committee BBQ. You'll be ready to dance the night away soon! Thanks George for the hospitality and great food! But, Dan, a helmet would do John absolutely no good. He never follows directions, would probably put it on backwards, and break his own neck trying to peddle in the dark. JB2
OH YEAH!! Pastor my Astor....I saw that guys picture in a Post Office once. And hey, the reunion was slowing down, and I didn't have a date that night. I thought I could impress that hot little Disney bar maid into taking me over to the Magic Kingdom, where we could ride tomorrowlands rocket until dawn, but you and that reject from Folsom showed up and blew my cover. That was it for me and dames for a lotta years, until I saw you at the next reunion and you explained how the "post office poster boy" had started cross-dressing and when he split your favorite pair of Victorias Secret undies down the middle it was all over. that's why when you said to come on down for a beer, I waited for a long time befo...........
---

Name: Robin () on Monday, April 15, 2002 at 23:07:51
E-Mail: RHood10542@aol.com
Class: 60
City and State: RB,CA

Message: John, we lost a true original yesterday with the passing of Carl Blomsterberg Sr. Father of Carl, Kenny, and Jan . At 94 this Cougar father who after his wifes passing, raised his sons alone from their youth, will be remembered by many 60s cougs as "the chef". Cooking was his lifes love, and in fact was planning dinner the day before his passing. I share my condolences and respect to all of his family with the many who knew him.
Sad news Robin. My condolences go out to Janny and his brothers. Thanks for letting us know.
---

Name: Art La Mere () on Monday, April 15, 2002 at 22:50:09
E-Mail: artlamere@mchsi.com
Class: 73
City and State: Bettendorf Ia.

Message: Hi to all Went to the movie tonight with the family and saw the best movie in a long time. The movie is called THE OTHER SIDE OF HEAVEN. True story it will make you cry and just marvel at what this young man went through. god bless you all, Art
Art, Go see "The Rookie". Not a curse word, gun, or a stick of dynamite, not to mention a naked person, in the WHOLE movie. Hard to believe it was the best movie I've seen in a long time. Keep it up Disney.
---

Name: Wade Greasby () on Monday, April 15, 2002 at 22:09:03
E-Mail: WadeKath@juno.com
Class: 73
City and State: Huntington Beach, Ca


Message: Hey Cougs, Some feedback on the best and most noted Cougars in the sports world. Each class has had their best, Scott Laidlaw, Mike Scott, Kevin Young, Henry Thomas, Mark Lee, Curtis Conway, and Ron Mix all have had an impact on the world of sports. John Fowler has had the biggest effect on the world as we know it. Yes we have lawyers, doctors, blackjack dealers, and politicians, but John has earned the Humanitarian Award. Thank You John. Sidebar: James Sloey, was last seen at the Long Beach Grand Prix and will be "headed" to Carlsbad for the Schwinn Strand Cruiser Grand Prix. Good Luck Jim.
Thanks for the info Wade. Hey Sloey, Why didn't you tell ME you had tickets, hmmmmm??

---

Name: Dean Karels () on Monday, April 15, 2002 at 21:02:16
E-Mail: it'sinthe65list
Class: 65
City and State: tustin


Message: need some help here all you cruisers, i'm coming out of my church (honestly) parking lot yesterday and i see this 56 BlACK NOMAD lisence plate reads NOMADIC and the frame around it reads 1958 HAWTHORNE HIGH who is it i would like to say hi.
That's EZ!! It belongs to Ctown's one and only HHS58er Tom Burroughs. Great car and a greater guy.....
---

Name: Paco () on Monday, April 15, 2002 at 17:05:08
E-Mail: doo4usc@aol.com
Class: 61
City and State: Lake Forest


Message: .....Looks like Janet to me...
YES!!! It's Janet with her date du jour from the Acme Escort Service at our 20 year reunion at the Disneyland Hotel. We never did get a book together that year but the pics have been recovered and will soon be online. All 62ers please stand by to see if you can identify yourself from 20 years ago.
---

Name: John Baker () on Monday, April 15, 2002 at 15:29:14
E-Mail: john@cougartown.com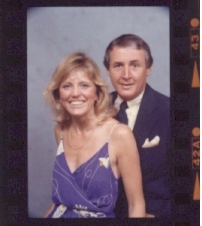 Class: 62
City and State: Lomita, CA
Message: FLASH!! Does anyone recognize this person or their date?
After many many long years of looking and wandering in the wilderness, the LOST REUNION PICTURES have finally been found.
Look for them SOON on the Cougartown website.

---

Name: Tim Helble () on Monday, April 15, 2002 at 12:43:36
E-Mail: TKHelble@netscape.net
Class: 73
City and State: Columbia, MD

Message: Funny how after I read Dean's posting, I thought of John Fowler, and then I saw John B's follow-up where he mentions John Fowler's name. Actually, I was thinking of John as the best student-athlete at HHS. He was great at sports, but also had one of the highest if not the highest GPA in his class at HHS. While a pre-med major at UCLA, he was a walk-on to the football team. He didn't just warm the bench - he made important contributions as a special teams player. I think John was at the 70-73 reunion last summer and there's a write-up on his latest activities in the memory book. I know he's done a lot of medical work overseas, much I think which was of a volunteer or missions nature, but I'll let someone else confirm this.

---

Name: Margaret () on Monday, April 15, 2002 at 11:31:01
E-Mail: mgazdagh@costapacific.com
Maiden: Gazdagh
Class: 1968
City and State: Portland, Oregon


Message: I would like to get in touch with Debbie Briggs, who married and became Debbie Rogers. She lived in Orange County for a long time. We were both at the 20 year class reunion in 1988, but I can't find her anymore! I would love to say hello. Thanks for any help. Maggie Gazdagh
Good luck Margaret, I'm sure someone here knows her whereabouts. Also, a good resource for missing friends is www.switchboard.com. Go there, type in only her name and CA (if you think she's still in California). It will return all the Debbie Rogers that are listed in California.
---

Name: Steve Curtin () on Monday, April 15, 2002 at 09:29:31
E-Mail: yorbiec@aol.com
Class: 64
City and State: Santa Cruz, CA

Message: John, the names of the other two Little League teams you're looking for are the "Pee Wee's" ( can't remember their sponsor) and the "Rockets" who were sponsored by Northrop. The next year, 1956, the Rockets name was changed to "Sky Hawks" and were sponsored by Douglas Aircraft. I was on the Rockets/Sky Hawks. Our manager was Bruno Lange and the coach was Tommy Blair.
MAAANN!!! That's more info than I had. You're absolutely correct, but I didn't know the Skyhawks were previously the Rockets. I was in Little League 2 years before you and they were the Sky Hawks when I was there. I remember Richard Boureston and Leonard Stone were on that team. The PeeWees was the best team when I was playing and were undefeated for at least 2 years. Tommy Long's dad was the Manager and they had some good players; Tommy Long, Bob Gross, Ron Petch, and Jimmy Schettler, just to drop a few names. I think the PeeWees was sponsored by a sporting goods store; the Optimidgets (my team) was sponsored by the Hawthorne Optimist Club; the Skyhawks by Douglas Aircraft; and the Cubs by 7up.
Thanks Steven for the answer to the burning question.
---

Name: Donna () on Monday, April 15, 2002 at 08:32:10

E-Mail: DGW4
Maiden: Cook
Class: 69
City and State: LaPalma, CA
Message: Happy Birthday Donna Gohr (VanDouris). Hope you had a wonderful birthday week-end. Let's get together and celebrate...
Happy Bday Donna
---

Name: John Baker () on Monday, April 15, 2002 at 10:38:14
E-Mail: john@cougartown.com
Class: 62
City and State: Lomita, CA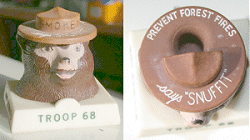 Message: Here's something I bet you 60's people remember from your younger days. It's a Smokey the Bear cigarette snuffer. It attached to the dash of your car with a magnet on the bottom (before padded dashes). And it gave you a place to snuff out you butt before you threw it out the window. I had forgotten all about these little devices. This one looks like it was distributed by the Boy Scouts. Thanks to my friend Ron Stowe for sending the picture.

---

Name: Gary Lents () on Friday, April 12, 2002 at 18:01:57
E-Mail: glents@hotmail.com
Class: 67
City and State: Vista
Message: Hello and calling all Cougs, Since the class of 67 is due to have a 35 yr reunion, and nobody seemed willing to do the work, I have found an opportunity, and I don't want to limit it to 67ers. Everyone is welcome! I have been envolved in the music industry for years, and a great venue, called THE GIG, in HOLLYWIERD has offered their club for Memorial Day from 5-11PM....the band is one I am involved with, and believe me, you won't be dissappointed.......the club holds 200, and, thus far, 70 have replied saying "let's do it"......so I spoke with the club manager, and she said she'll close the club to the public if we can bring 150 people. Please let me know if you can come.....the cover charge is $10, and if catered (see Charlene Lumpkins), a bit more.....David Jeppsen is a webhoster, and is saying he'll build a site and host it for this event... The club is located on Melrose, just west of La Brea (near Pink's), so LET'S PARTY!!!
Good luck, Gary.
---

Name: Dean Morris () on Friday, April 12, 2002 at 17:44:38
E-Mail: dmorris@stanfordalumni.org
Maiden: GiantseatingcrowafterDodgerseries.com
Class: 72
City and State: San Francisco, CA
Message: Hey guys, your confusing professional success with being the best athlete. The best athlete would be all CIF in two or more sports and set a bundle of records. During my era, Scott Laidlaw was the best and I am sure that the legendary Myk was from the 60s. Conway was the best in the 80s for his footbal and track.
So enough about sports, who in the HHS Hall of Fame has made the biggest impact in other ways (professionally, politically, etc.) Do we have any Pulitizers or Nobels, corporate CEOs, senators/governors, writers, artists, whatever? Didn't Sloey win the OJ trial or something like that???
Let's hear from the non-jocks about some of our interesting and extraordinary friends who have made a difference!
Not to brag, but I was elected King of Cougartown a couple of years ago.


Seriously, how about John Fowler from the class of 1972?? Does anyone remember him? The last I heard he was a doctor in Turkey.
---

Name: Dan () on Friday, April 12, 2002 at 16:07:40
E-Mail: Dye
Class: 1962
City and State: Torrance, Cal.
Message: Jim, remember what the old dude (I) said about wearing a helmet? I bet you wished you had a helmet on this morning. Debbie, don't let Jim out again without a helmet, because that baseball hat he wears will not protect his hair, let alone his brain. One of the reasions I wear a helmet, is because I don't have another hair to spare. Janet, you know what is next. Use your female powers and make sure John wears a helmet. John, I know you have an unbelieveable amount of hair, but it won't help if you hit the strand or are run over by the Worm. Jim, I am really glad you are OK. Stay safe, I will be back riding with you guys soon. Hopefully by June. Always a Cougar, Dan Dye
OK, we'll get a helmet....I guess.......how bout if we just wear a seatbelt?
---

Name: Jill McFarlane () on Friday, April 12, 2002 at 14:44:35
E-Mail: jillmcfar@aol.com
Class: 1977
City and State: Mission Viejo, CA
Message: John B and Sloey, this is why retirement homes exist. They have activities which are safe for you and the general public. (You know I love you guys!) I am glad everyone was able to stand up after the collision. Of course I don't believe either one's account of what happened.
Promise us next week you guys will be more careful!
Everyone have a great weekend!
Next week I'm staying out front of him.
---

Name: doris () on Friday, April 12, 2002 at 13:34:05
E-Mail: ex-bikerider
Maiden: donaldson
Class: hahahehexcuseme'57
City and State: hehshaIdahosomewhere
Message: Well John Boy and Sloey have done it. I fell completely off my chair lmao!!!!! I'm out of breath I am laughing so hard! I ALSO will never ride a bike again!!!! hahahahahahha
It might be funny where you're sitting but I almost ran over the boy.

---

Name: Denny () on Friday, April 12, 2002 at 13:01:09
E-Mail: unfried@attbi.com
Class: 55
City and State: Del Aire
Message: What time did speedy go down? Thought I felt about a 7.3 on the Richter scale centered around Redondo Beach about 6:10 this morning.
Yep, that was Jim all right.

---

Name: JIM SLOEY () on Friday, April 12, 2002 at 12:46:40
E-Mail: BRUSIEDBATTEREDANDCONFINEDTOLITTLE COMPANYOFMARY.COM
Class: 66
City and State: The Strand, really,
Message: Let's be truthful John, here's what really happened. We took our morning ride as usual, me and the Baker dude. We approached our normal turn off in Hermosa I believe its 24th street, its a short incline to Hermosa way then about a mile to where the bike path resumes in Manhattan. Well, I decided to pick up the speed as I rounded the turn to have an easy glide up the incline. Baker is on the inside and I pass him without, I thought, any problem, when what to my dismay appear two riders coming down the incline. I am headed right toward them, vegetable soup flashed through my mind believing that is what I would be after the collision was over. I hit the brakes and a patch of sand simultaneously feeling a strange sensation from the back wheel. Now I estimate the speed at this juncture at or about 13, John thinks 7 but then again John is attempting to mitigate the events, well you'll see. Within milliseconds I am parallel to the ground, bike, brains, bad knees, bad back, sliding directly at two guys who were not looking for this much excitement on a Friday morning at 6:10 a.m. As I am sliding toward these guys, I remember a good friend of mine who slid home on a play when we were sophomores and broke his leg in several places. The screaming and pain he experienced was flashing through what mind I still had that was not engulfed in the terror of the moment. I envisioned the paramedics throwing a blanket over my head, Baker was concerned how he would get me back to the Durango, and more importantly would I leave blood stains on his upholstery. Those fears were quickly eliminated, he said later, because he knew I could probably limp home or that the paramedics would drop me off. Well finally the bike, the brains and what was left of me came to a stop. After I assured everyone I was ok, yeah right, Baker insisted we finish the ride so I followed him. Sore but apparently no real injuries AT THAT TIME, we finished our ride. When Mr. Baker, its proper etiquette to address the defendant as Mr., dropped me off at home, I immediately logged on to good stuff, no picture, then the Hennessey's site. There it was. A video of the whole incident, Mr. Baker in a fit of rage as I passed him, went for the back wheel of my bike and hit it [remember the strange sensation], in affect causing the back wheel to skid and hence forcing me along with the bike to go down. Although I was rushed to Little Company of Mary for X-rays, and 2 MRI's a team of accident reconstruction experts have been on the scene and have viewed the tape, even an audio enhancer has identified Baker saying, "take that you cheater." Mr. Baker we all hope you have insurance, the other two guys I almost hit are insisting they have some whiplash injuries, the poor girl we passed is in shock, the guy in a car two blocks away over heard the grinding of the bike on the cement he will never be able to ride again and is still sitting in his car just staring, all as the result of your sudden and unforeseen fit of rage and anger over a mere incidental passing on the path. Now that I know I wasn't at fault I do have injuries and they are extensive. So from this I have three things to report, wear a helmet, only ride with fully insured friends and Cougartown dues are going to be going up. Have a great weekend. And that's the truth!
Man.....You almost convinced me. Did you say you went to Yale Law School or Larry H. Parker Law School.
---

Name: John Baker () on Friday, April 12, 2002 at 11:10:14
E-Mail: john@cougartown.com
Class: 62
City and State: The Strand, CA
Message: It was bound to happen. Like hitting for the cycle or getting caught smoking in the boys room at HHS, sooner or later one of us was going to taste the strand concrete, and this morning it was Jim's turn.
Yep, this morning he went down like the Dow on 9-12; like the Twin Towers, or a cheap prostitute in a sailor bar. He crashed like the Market in '29; like Amelia Earhardt; like Jerry Garcia after a Dead Head concert.
Turning off the strand and up the ramp leading to the street directly east, he encountered two riders coming down the ramp. He hit the brakes in the middle of the turn, and the bike slid out from underneath him. He hit the concrete pretty hard, but immediately jumped to his feet stating, "I'm all right, I'm all right" just as a couple of good looking coeds were jogging by (hey, it's a guy thing). He said he wanted to lay the bike down and do a "stand up slide" like Ricky Henderson coming into 3rd base. From my view it looked more like an aquatic mammal mating ritual.
Anyway, thank God nothing was injured but his pride, and a yard of strand cement. I just hope he doesn't use it for an excuse to take next week off and go hang out with Dan.

---

Name: doris () on Friday, April 12, 2002 at 09:49:34
E-Mail: raydori@mindspring.com
Maiden: donaldson
Class: '57
City and State: Twin Falls ID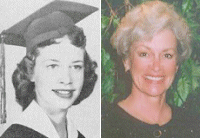 Message: BOB and JOHN ... LeeRoy Felderruster (GAWD! I hope I got his name right ... he takes offense over the darndest things!) was the best all-round football player! But no one could understand what he was saying!!! I need a Hawthorne story!!!! Tell me ... have we told them ALL? Then why don't we start all over again!? Incidentally fellow Cougs ... Happy, SAFE weekend to you all!!!
OK folks, let's have a Hawthorne story or two. Doesn't anyone want to tell their most embarrassing HHS moment?
---

Name: BOB FAULKNER () on Thursday, April 11, 2002 at 21:20:40
E-Mail: UPSBUBBA@HOTMAIL.COM
Class: 63
City and State: GARDEN GROVE,CA
Message: HEY "JB" SORRY FOR TUESDAY NIGHTS TIRADE, IT MUST HAVE BEEN A RARELY USED BUILDUP OF TESTOSTERONE. WIFE WISHES I WOULD PASS SOME HER WAY. HEY ROBIN, "MYK" IF YOU REMEMBER, ALSO PLAYED FOOTBALL ( DON'T REMEMBER HOW MANY YEARS) AND ON OCCASION, PUT THE SHOT AT SOME VARSITY TRACK MEETS. REMEMBER HE WAS ALL CIF IN BASEBALL, BASKETBALL, AND WOULD HAVE BEEN IN FOOTBALL IF HE STAYED WITH IT. SO I ASK THE NOVICES OUT THEIR, WHO WAS MORE ROUNDED????????????. ANYBODY REMEMBER TY GOODMAN AND BUTCH MORRIS AS A PITCHING TANDOM??? NEXT WHO WAS HHS'S BEST ALL AROUND FB PLAYER??? I KNOW, DO YOU???
Was it...............LeeRoy Felderruster??
---

Name: Keith D. Jones () on Thursday, April 11, 2002 at 20:13:36
E-Mail: cmi50@yahoo.com
Class: 76
City and State: Honolulu, HI
Message: Hey Mike Colburn was a friend of mine and remember he won Amateur Athlete of the Year in the entire country from Arizona State. And if I remember right Mike Scott was really good in Basketball too. Lets include lawndale so we can just save this argument and say Tracy jones is the best all-round athlete ever from the City of Hawthorne (not including Jim Thorpe of course).
Then too there's Curtis Conway.
---
If you have comments or suggestions, please email me at jb1@cougartown.com