Page 447

Hawthorne Time and
Temperature

Home | 60's Slang | Alumni List | Car Talk | Cougar News | Feedback | Hangouts | Memories
Recollections | Reunions | Street Scene | Teachers | Tributes | Vietnam | What's New | Keyword Search
Another early 60's classic Etta James
<!-+++++++++++++++++++++++++++++++++++++++++++++++++++++++++++++++++++++++++++++++++++++++++++ +++++++++++++++++++++++++++++++++++++++++++++++++++++++++++++++++++++++++++++++++++++++++++++->

---
---

---
<!-++++++++++++++++++++++++++++++++++++ADD BELOW THIS LINE++++++++++++++++++++++++++++++++++++ +++++++++++++++++++++++++++++++++++++++++++++++++++++++++++++++++++++++++++++++++++++++++++++-->
Name: Ronald Dokken () on Monday, November 12, 2001 at 12:39:38
E-Mail: rdokk@yahoo.com
Class: 1955
City and State: Endwell, NY
Message: Hi. You may remember my msg about planning to buy a Motor Home in Oregon. No? Well I did it. For this years adventure I flew to Oregon, and bought a 69 Dodge Chinook MH. Drove to LA, blew the radiator going over the grapevine (do they still call it the grapevine?) Took a week to get it repaired and ready. Drove a total of 4100 miles with no further problems. I love it in the west. Only place I can get a root beer freeze. Only other excitement was being busted by the Ohio highway patrol. Seems a 4 day growth of beard plus driving a hippy bus made me a suspect. Before it was all over, there were 3 patrol cars, 4 cops and a narc dog searching my MH. Meanwhile I was put in the back seat of a patrol car, made extremely uncomfortable - to the point of nearly becoming claustraphobic - while they made their search. After about an hour and a half they let me out, told me to be careful getting back in traffic, and left. No apologies, nothing. I can finally appreciate how minorities feel when they are stopped , searched for no apparent reason, and generally treated as a criminal. Hey! I wanted an adventure - and I got it.
Hey Ron, Sounds like a fun trip. I'm not sure I understand why you went from OR to NY via CA, but I guess it was just part of the adventure. And yes, they still call it the grapevine.
---

Name: Larry Banta () on Friday, November 9, 2001 at 17:36:11
E-Mail: LBcty21@aol.com
Class: 78
Message: Hello back Dan Johnson. I remember you as well. Definitely one of the greatest personalities in the class of '77. I believe I remember you from Aviation Little League also. My son now plays there and Greg Jones from this here feedback fame is the newly elected president. He's doing a fine job so far (ain't done nuthin yet). I tell kids and parents/coaches about Dennis Littlejohn and John Welch and their exploits at those same fields all the time. Fun to remember and share those times. Mr.Baker, perhaps it was mentioned in earlier feedback but has anyone mentioned Rib Junction up on La Brea for barbecue in the 60's or Salas Italian Restaurant on Hawthorne Blvd. in Lawndale? Two of my families favorites from the past.
Hi Mr. Banta, No, I don't remember those places at all. I was, and am, a big rib fan too. Green farms or BBQ Petes were my favorite rib places.
---

Name: Dan Johnson () on Friday, November 9, 2001 at 15:48:27
E-Mail: wch1ispink@aol.com
Class: 77
City and State: Sherman Oaks
Message: Hello Larry Banta -- I remember you very well and I remember the 77 pre-graduation "trashing" of the campus. Among the things I recall are
(1) somebody took the huge logs that served as parking barriers and tossed them in the pool;
(2) somebody spray painted "5-17 you're a great coach" on Stucker's door;
(3) somebody spray painted a huge bong on the "Cougar Highway" in the area located roughly between the vending machines attached to the girl's locker room and Senior Square. Somebody told me that there were in the neighborhood of 40 to 50 persons involved in this senseless act of vandalism -- I have never identified any of them under oath.

---

Name: Paco () on Friday, November 9, 2001 at 15:34:58
Message: Dearest Robin, Steven Spielberg went to ucla, George Lucas went to USC..The Force be with you..and Fight On

---

Name: Doris () on Friday, November 9, 2001 at 14:08:39
E-Mail: raydori@mindspring.com
Maiden: Donaldson
Class: '57
City and State: Twin Falls, Idaho
Message: Did anyone else after the "dark ages" have a class by the name of "SENIOR PROBLEMS"? I remember that particular class better than any other (well, with the exception of GENERAL MATH when Coach Chauncey was the teacher!), and you know why? Because two very prominent young men stay in my mind, and my heart, today. One was George Koch (pronounced Cook, if memory serves me and it seldom does!) and the other a tall, dark-haired fellow by the name of Charlie Nix. These two guys, and my girl friend, Laree Meeks, and I had so darned much fun in that class we must have driven the teacher crazy! LAUGH AND LAUGH and one funny line after another ... remember that Laree? Laree and I grew extremely fond of those two funny, funny guys. A couple of years after graduation we got word that Charlie Nix was killed in a head-on automobile accident on Rosecrans. Remember that 3-lane road where the middle lane was then called the "passing lane". We didn't know at that time that the "passing" meant of "human lives"! My brother-in-law was killed on that same stretch of 3-lane road a few years after that. Is that STILL a 3-lane street?

---

Name: Pat Stark () on Friday, November 9, 2001 at 10:39:59
E-Mail: pureplum@rainbowsendtrailers.com
Maiden: Phillips
Class: 1959
City and State: Santa Rosa, Ca

Message: Hi Cougs Thought I would share a nice H.H.S. story with you. Back in 1959 Tom Duncan was the class president, he was so very popular and had so much going for him. My senior year was so busy and I was studying to be a nurse, I worked after school and on weekends at Hawthorne community hospital. On a saturday morning I went to do my shift at the hospital and was given my patients for the day, one of my patients was Tom Duncan, he had an accident and broke his leg, when I walked into his room we took one look at each other and froze, I was to give the senior class president a bath, at the time of this incident, this was terrifying, I remember saying to him don't worry we will come up with something and it will be fine, I washed his back and good leg and turned the rest over to him, he thought that was a great idea and said to me Boy is that a relief, Thank You, we both laughed. We really didn't know each other personally, just seen each other around the school. There was not a day went by after that, at school, that when we passed each other, Tom would always walk over to me and say hello and tell me I was his favorite nurse. I found out, actually from Cougartown that Tom Duncan passed away a few years later after we graduated and I will always remember what a wonderful person he was.
Great story, thanks Pat.....
---

Name: Doris () on Friday, November 9, 2001 at 09:53:15
Maiden: Donaldson
Class: '57
Message: A SPECIAL HAPPY BIRTHDAY (on Sunday) to LITTLE BOBBY JENSEN (1971) ... no, that's NOT when he was born ... that's the year he graduated from good old HHS! He is, however, just a baby ... of course, EVERYBODY seems like "just a baby" to me!!! ha! Anyway, TO A VERY SPECIAL HUMAN BEING -- HAVE A HAPPY BIRTHDAY!
Happy Birthday "Little Bobby".
---

Name a bird: Robin () on Friday, November 9, 2001 at 01:59:09
Instead of E-Mail address, put something clever here: Sorryladiesitsfootballtalk.com
What is the opposite of Stop Ducks?: Go Ducks!!
How old will you be next year?: 60
What is another name for the Santa Fe railroad?: Tracktown USA
Message: Russ,...You didn't "lose" Foster. The NCAA simply frowns on athletes that switch from 79 Pintos to new BMWs in a week. And Lyman...It is possible to win the Pac 10 with 2 losses, but thats a mute point this year, as the Ducks will only have the Stanford loss to stop a perfect season including the Fiesta bowl...And which Wash. team are you rooting for anyway? the Dawgs?, Cougars?, Gonzaga?...JB, Paco and Leif...Im hoping SC alum Steven Spielberg will make a movie based on the "student body left" Trojans of McKay and Robinson. With the magic of cinema tech these days, I'll bet he could at least squeak out a winning season....Later Cougs :o)
Yeah, and I just know Spielberg wouldn't come up with a name like "Carson Palmer" for the lead role unless he was writing a story about the Polo circuit, Cricket, or maybe the Americas Cup. However, as low on the Pac-10 food-chain as USC is this year, they just missed beating the "LIME'n-Backs" and I believe they're cumulatively a point up against Oregon schools this year (we didn't get to play Gonzaga). Bottom Line....the "Katydids" are a pretty good team, but what does that BIG ZERO on their helmet mean?
---

Name: Patt () on Friday, November 9, 2001 at 01:14:03
E-Mail: pdeck17@3-cities.com
Maiden: Prewitt
Class: 65
City and State: Kennewick, Wa.
Message: I remember that my friend Sandy and I plastered Mrs. Mark's door with "GO NAVY " stickers knowing full well that she was a former MARINE!! Senior square also got our handiwork! We used to spend our " going to the library" times at the naval reserve station across the street!!
I did marry a "SAILOR".

---

Name: Janet Burkett () on Friday, November 9, 2001 at 00:04:27
E-Mail: jmburkett@att.net
Maiden: Humphreys
Class: 62
City and State: MV
Message: El Rojo...what the heck is a baby blue...does it have anything to do with pool??? Did John ever tell you about that trophy on his shelf hmmmm?
Glenn,.... I'll catch you on email about wine country. I say after the holidays is soon enough to do some serious planning considering the timeframe we're looking at. (Hey, by the way, I still haven't gotten the wine stains out of my tshirt from Crush. And John's feet are still purple!)
JB2
Yeah, I just found out that Cabernet Sauvignon means grape stained feet soaked in oak barrels.
---

Name: surfbabe () on Thursday, November 8, 2001 at 22:12:16
E-Mail: atthebeach26rules.com
Message: sorry brenda, but Surfer Girl was written for me. I was the first to hear the demo. my heart has come all undone
Hey "surfbabe", are you certain the Beach Boys did Surfer Girl about an 8th grader?

---

Name: THE EL () on Thursday, November 8, 2001 at 20:25:17
E-Mail: I-DY-HO
Maiden: YOU KNOW(NAMESINTHETROPYCABINETATHHS)
Class: SOMEOFTHE1ST26'ERS
City and State: KUNA,BUTWISHWEWEREPARTYINGWITHTHEKING!


Message: Ok...OKAY....O...friggen K! My baby blue has done their usual swan song from the ranks of the bitchin.com! I'm sure it will get worse. They play the dreaded "fowl" this weekend and have lost their # 1 rb. What could be worse? Well, maybe losing to Moaningside, huh? Oh well, thats probably why they haven't won a national title since JB was hustling his first 5th grader to go to the candy shop with him. Actually, they haven't won a national title since 1954. But jeez, I still love um. And by the way Lyman, you "Dawg", and no, no one has ever won the Pac Ten with two losses. I hope that my Baby Bruins get out of this season with at least 8 wins. Looks more like 6-6, because they will almost certainly do their swan song against, both the Fowl and sc. Oh well, it's still better than being a TROJAN:) Hey, MAY THE COUGAR BE WITH YOU! JakeNJude!
Hey Jake, You think it's tough being a Baby Blue Rooter. How about us SC fans. I have to show you what a few of us Trojan followers received from Robin this afternoon.
He writes:
NEWS BULLETIN: Football practice was delayed on Wednesday for nearly two hours for the USC football team. One of the players, while on his way to the locker room, happened to look down and notice a suspicious looking, unknown white powdery substance on the practice field. Lame duck head coach Peter Carroll immediately suspended practice while the FBI was called in to investigate.
After a complete field analysis, the FBI determined that the white substance unknown to the players was the goal line. Practice was resumed when the FBI decided that the team would not be likely to encounter the substance again.
Now THAT HURTS!!!!
---

Name: Barbara Wigley () on Thursday, November 8, 2001 at 20:06:39

E-Mail: Barbgfc@aol.com
Class: 1972
City and State: El Segundo
Message: aaahhhhhhhhhh.....Spanada....the stories I could tell.

---

Name: Glenn Crist () on Thursday, November 8, 2001 at 19:26:43
E-Mail: gfcrist@sonic.net
Class: 1964
City and State: Valley of the Moon, CA

Message: JB, King of the best darn Alumni Website in the World: How about giving us an update on the Alumni List; surely it has grown since you last updated the numbers in April of 2000. Any way (short of counting) of finding out how many members of each class are aboard? Seems like a number of '50s and '60s Cougars have added their names to the list recently. I noticed Paul Mackie's name there. I'd bet that a few of his old buddies might have stories they might share about Paul (and maybe even Paul, himself). Janet Burkett, when do you want to start planning for WCW2? Sounds as if the list shouldn't be too hard to fill.
Hey Glenn, I can give you a total, but the individual class numbers would have to be counted. A total of 4276 alumni and faculty members have added themselves to the lists since Cougartown started in June of 1997. I don't know how big the average grad class is, but if it was 500, that would be about 24000 grads since the initial class in 1954. That's about 18% of all Cougs have been accounted for, and the numbers climb everyday.
---

Name: ENZA NICOCIA () on Thursday, November 8, 2001 at 18:56:27
E-Mail: ENZANTIQUE@AOL.COM
Class: 72
City and State: LA LA LAND
Message: ELIZABETH, YES, I REMEMBER YOU. THE WORST PART OF THAT "MS ROTH" STORY WAS SHE LECTURED ME IN FRONT OF EVERYONE IN ITALIAN...WAS I EVER EMBARRASSED..GOOD LESSON ON HONESTY AND CHARACTER THOUGH...WELL, I HAVE SOME OTHER MEMORIES OF HAWTHORNE....I KNOW YOU GUYS ARE OUT THERE...LETS HERE FROM THE "BOYS MARKET" GROUP, YOU KNOW THE ONE ON 118TH AND HAW. BL...TERRY HAMMAN, RAY MILLMAN, CARL JONES, JULIO AND SILVIA BERGER, BARBARA WEAVER, GREG WONG, TERRY FLIPPIN, VALORIE CONDIT, DANA CARUSO, VALARIE OICLE, AND I KNOW THERE WERE MORE, BUT MY MEMORY FAILS ME.. THAT WAS A FUN STORE TO WORK IN...SO MANY HHS STUDENTS IN ONE PLACE...WHAT WAS THE NAME OF THAT MANAGER, TONY ?...OH, CAROLINE RAUSER, THAT'S ANOTHER NAME THAT JUST POPPED INTO MY HEAD..GREAT PEOPLE, GREAT TIMES...THANKS JB1 FOR PUTTING UP WITH US...YOUR EFFORTS IN THIS SITE ARE GREATLY APPRECIATED BY ME, AND I'M SURE I SPEAK VOLUMES FOR THE REST OF THE COUGS!!!!LET'S PUT SOME MORE HHS OR HAWTHORNE MEMORIES IN FEEDBACK, WE ALL COULD USE SOME "FEEL GOOD" MEMORIES THESE DAYS!!! LET'S HEAR FROM THE 70'S ALUMNI!!!!!
CIAO....ENZA
I remember about half the Nicocia girls worked for Boys Market or Clark Drugs at one time or other.
---

Name: Dean Morris () on Thursday, November 8, 2001 at 18:18:58
E-Mail: dmorris@stanfordalumni.org
Class: 72
City and State: Wine Country USA
Message: Tim Helble re Sportsman's Park: On a hot Summer day in 1965 the best Little League All Star game of all time was played between Hawthorne American and Hawthorne Wiseburn. Eddie (I'm going to the Show) Carroll threw a no-hitter against Mike (Cy Young) Scott who threw a one hitter that day. Poor Eddie lost the no-hitter to the Wiseburn All-Stars that day in spite of the best overhand curveball I ever saw. Eddie was last seen trying to get the Wiseburn "W" out of his hat in some bar in El Segundo where he played second fiddle to Scotty McGregor for four years after moving out of Hawthorne just to go to El Segundo High!

---

Name: Tim Helble () on Thursday, November 8, 2001 at 17:58:02
E-Mail: TKHelble@netscape.net
Class: 73
City and State: Columbia, MD
Message: You mean sweet little Susie sitting across from me in Journalism class might have been the phantom? How'd she keep a straight face when Ms. Krislock was wondering about who was doing all that creative vandalism? Masterful acting!

---

Name: Larry Banta () on Thursday, November 8, 2001 at 17:25:17
E-Mail: LBcty21@aol.com
Class: 78
Message: Hey John, great job on this site. Have been enjoying feedback for quite a while and these recent posts sparked a senior year memory. At the end of the '77 school year the campus got pretty thrashed (read vandalized), so our senior year in '78 we were not allowed to do anything. Hawthorne PD actually had a couple of units on the campus the whole night. Well, if that's not an invitation... Robert Davidson, Andy Zeinfeld (I think he was there), Heleena Loveless (who we just happened to pick up while TPing houses) and I quietly entered the campus and chalked a few harmless senior sayings on the sidewalk by senior square. We looked around for the cops but never saw even one. As we left through the east parking lot, there was an HPD unit sitting there empty. Well, we tp'd the crap out it and left. Driving north on Inglewood Ave., we didn't even get to Broadway before being pulled over and returned to the campus with escort. Luckily one of the officers waiting for us was Mr.McCarroll (Glenn's dad) who found it slightly amusing once we un-tp'd the car. This Feedback feels pretty cool. Guess I'll have to catch up re:cars,growing up in Del Aire,etc. Thanks again John.
Great story Larry, Thanks.....
---

Name: ALL US GUYS () on Thursday, November 8, 2001 at 17:10:45
Maiden: WANNA KNOW
Message: SLOOOOOEYyyyy? WHERE ARE YOU?

---

Name: Linda Farrow () on Thursday, November 8, 2001 at 16:46:31
E-Mail: linda.farrow@trw.com
Maiden: Elia
Class: 82
City and State: Redondo Beach, Ca

Message: Nice message Ray, how could you forget me :( And you dare to ask why we never went out on a date..you probably forgot to ask :O So don't blame it on 'old age'.. Good comeback John Baker, put me down on one of those marriages...have a lovely day Cougars..Linda

---

Name: Elizabeth Castanon () on Thursday, November 8, 2001 at 12:58:07
E-Mail: lizcastanon6@hotmail.com
Maiden: Cary
Class: 1973
City and State: Amarillo, TX
Message: Hello CT, Now all the memories are cooking! Enza, you probably dont remember me, but I was in your shorthand class, but when the class got busted, I was one of the goodygoods that Ms. Roth left alone...and Wayne D..I know you never new me from Adam, but I used to drool over you and your car cruising down the boulevard, and I always thought you looked so "mean and rugged" kind of an untouchable for a little 8th grader..See as you were leaving, I was preparing to come in..but I sure do remember always looking for you in your car...Enza, I share your feelings about Spanada..nothing like drinking the big ball at the bottom all by yourself and then going to eat pepperoni pizza at Shakeys, it was a long time before I could eat pizza again, and I have yet to drink that much wine at one time...lots of fun and crazy times at HHS...bye for now...LIZ
Spanada is NOT wine, it's "hurl medicine".
---

Name: Tim Helble () on Thursday, November 8, 2001 at 12:33:49
E-Mail: TKHelble@netscape.net
Class: 73
City and State: Columbia, MD
Message: Re John's request about vandalism stories, I don't think there's anything for me to cop to, but I sure would like to know who "The Phantom" was back in 1973. Someone was breaking into various HHS rooms and leaving green painted footprints in some pretty amazing places - like Mrs. Krislock's room and way up on the gym wall. I think the statute of limitations has expired - anyone want to fess up?
Dean Morris - I remember you well. You lived in the house at the corner of Isis and 134th street - right behind Cabrillo. You were on the Wiseburn all-stars team the year we went pretty far in the playoffs. I saw you club a lot of home runs. I still remember the Saturday when the all-star team won a big game and some of the parents drove you guys around Holly Glen in the back of pickups, horns honking, in sort of an impromptu parade. We were all proud of our all-stars!
Anyone remember that ballpark over in Morningside where a lot of all-star tournament games were played? I think it was called Sportsman's Park, and it bit the dust when the Forum was built.
I think Sportsmans Park, or part of it, is still there. Our Softball team practiced there from 1973 to 1976. And heck, as far as the Green Phantom is concerned, ask a Bierman or a Valencia.
---

Name: Raymond Smith () on Thursday, November 8, 2001 at 10:53:06
E-Mail: Kawabunganorth@Juno.com
Class: 1981
City and State: Portland, OREGON...goooo ducks!
Message: Ok Linda, regarding my earlier message in CT...you are sooooo right. Man my memory is going. But since you remember our phone conversation of EIGHT HOURS I want to make sure the record is straight. I know I had the 8 hours phone call but forgotten it was you. Man you must of thought I was special....How come we never went out on a date..hehehe. Anyway I love ya bunches and you are a true friend....most HHS are...and glad to be associated with any HHS folks.
Lemme get this straight. You talked on the phone for 8 HOURS

with someone and forgot who you were talking to? Hmmmmm.....

I know people who had shorter marriages......
---

Name: ENZA NICOCIA () on Thursday, November 8, 2001 at 01:10:06
E-Mail: ENZANTIQUE@AOL.COM
Class: 72
City and State: LA LA LAND


Message: HELLO JOHN, I DON'T KNOW IF YOU REMEMBER ME, I MEET YOU THROUGH MY SISTER-IN-LAW, CHERYL NICOCIA. YES, THE GRAPPA MAN IS MY BROTHER JOHN.
JUST WANTED TO SAY HI TO ALL, AND BRING BACK SOME HHS MEMORIES...LIKE ONLY WEARING PANTS ON RAINY DAYS, SO GLAD THE DRESS CODE CHANGED IN MY SOPH YEAR..MRS ROTH'S SHORTHAND CLASS WHERE WE ALL GOT BUSTED FOR CHEATING, (WHO COULD FORGET THAT DAY)...THE HANDSOME JOHN LOCOCO AND HIS PALS, WHAT A BUNCH OF CUTIES THEY WERE...THE FRIDAY NITE FOOTBALL GAMES AND ALL THE "GIGS" AFTER, LIVE BANDS, STRAWBERRY HILL, ANNIE GREEN SPRINGS, SPANADA (NOW THAT'S A MEMORY I'D LIKE TO FORGET!!) THE NEVER ENDING PARTIES AT 136TH ST...RAY MILLMAN, GARY SHAMBAUGH, JOE SEDINTHAL, YOU GUYS COULD OUT DRINK ANYONE...I REALLY HAD A FUN TIME AT HHS..I ESPECIALLY ENJOYED THE BONDS I MADE WITH MY FRIENDS, MOST OF WHOM I STILL SEE TO THIS DAY... LIKE THE SAYING GOES "YOU WILL NEVER HAVE FRIENDS LIKE THE ONES YOU HAD AS A TEENAGER ", RING SO TRUE...THANKS FOR MAKING MY HIGH SCHOOL DAYS SOOOO MUCH FUN!!!!!!!!! CIAO....ENZA
Hi Enza, Yes, I remember you and thanks for sharing your HHS memories.
---

Name: Brenda Beasley () on Thursday, November 8, 2001 at 00:28:08
E-Mail: osaile50@cs.com
Message: I am a Brian Wilson fan. I have been talking back and forth with Judy Bowles, Brian's first love, and the girl that Surfer Girl was written for. From what she has shared with me, he is one of the nicest people you will ever meet. Wish I had that chance. Thanks to your feedback, I learn more and more about him everyday. Again, thanks, Love and Mercy, Brenda
Thanks Brenda....
---

Name: Janet Burkett () on Wednesday, November 7, 2001 at 23:57:52
E-Mail: jmburkett@att.net
Maiden: Humphreys
Class: 62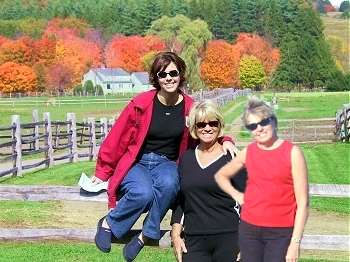 Message: Linda, what a beautiful picture of you and your daughter. It looks more like a painting than a photo. (See John I am NOT the only one who takes pictures with their sunglasses on!) Autumn back East is definitely colorful and beautiful. So, are our own Calif. mountain areas. Not sure I remember if Hawthorne had a lot of trees that turned color. Looking forward to seeing you and the rest of "the bunch" next week.
I know......if we had you in that picture it would look like the 3 blind mice.

---
If you have comments or suggestions, please email me at jb1@cougartown.com