Page 444

Hawthorne Time and
Temperature

Home | 60's Slang | Alumni List | Car Talk | Cougar News | Feedback | Hangouts | Memories
Recollections | Reunions | Street Scene | Teachers | Tributes | Vietnam | What's New | Keyword Search
Another early 60's classic Etta James
<!-+++++++++++++++++++++++++++++++++++++++++++++++++++++++++++++++++++++++++++++++++++++++++++ +++++++++++++++++++++++++++++++++++++++++++++++++++++++++++++++++++++++++++++++++++++++++++++->

---

---
<!-++++++++++++++++++++++++++++++++++++ADD BELOW THIS LINE++++++++++++++++++++++++++++++++++++ +++++++++++++++++++++++++++++++++++++++++++++++++++++++++++++++++++++++++++++++++++++++++++++-->
Name: Bill Barmore () on Wednesday, October 31, 2001 at 09:33:29
E-Mail: blb7777@yahoo.com
Class: 74
City and State: atlanta GA
Message: Nope...am supposed to be good Christian boy, but seem to have trouble being good all the time...something about bad habits and old dogs and new tricks and such.... and can we do something about that picture...maybe I can send you something from this century if you have to have something...
Sorry Bill, I know of no one who says, "PLEASE, PLEASE, put up my senior picture...it's so cool lookin'".

---

Name: Patti Smith () on Wednesday, October 31, 2001 at 09:23:04
E-Mail: GrnidL80@mediaone.net
Class: 68
City and State: Cypress, CA


Message: John, you have nothing to fear from Gina. Although Wiccans are witches and do cast spells, they must all be of a positive nature. Wiccans must do no harm, for one of the prime beliefs is that all energy you sent out is returned to you three times over. Therefore, we only try to do good things and emit positive energies. And Wiccans DO NOT worship Satan, because we don't believe in Satan.
HELP!!! All the Witches are coming out of the closet on Halloween. And don't tell me they don't do bad things. I saw Samanthas mother, Endora, turn Darin into a Donkey once.
---

Name: Bill Barmore () on Wednesday, October 31, 2001 at 09:11:06
E-Mail: blb7777@yahoo.com
Class: 74
City and State: Atlanta GA

Message: As a side note to Gina Black's messages. I have knows several Wiccans thru the years and they have all been some of the nicest people I have met. Wiccans are usually non intrusive in their beliefs and respectful of people who believe differently than they do....
Thanks Bill, Just a little witch humor there. No need to think that I'm anti-wiccan......are you a warlock?
---

Name: Rick Trullinger () on Wednesday, October 31, 2001 at 00:43:47
E-Mail: Tapplefish@qnet.com
Class: 73
City and State: Independence, Ca.

Message: Hey Tim Helble, I remember that short cut at the "keyhole" but too scary for me, so we always used the "drainage ditch" next to Riley's house.
I used to ride my dirtbike down those railroad tracks out to the fields near Bollinger's farm and some of those homeowners threw nails/tacks in trail and either shot at us with BB guns or threw rocks.

---

Name: Gina Black () on Wednesday, October 31, 2001 at 00:03:59
E-Mail: gina_peck@yahoo.com
Maiden: Black
Class: 80
City and State: Pasadena, CA
Message: No, John, I am not Christian. I am Wiccan. Thanks, I really like that little hat!! Can I have it on every post, all year long?
I didn't know Wiccan was a religion. I thought of it as a cult, kinda like the Campfire Girls.

Yes, the witch hat is yours and although it's not smiling, it's a witch happy face. Are you gonna be flying around tonight, and if so, do witches still use brooms our have they hi teched it up to vacuum cleaners?
Are you a canister or an upright kinda witch?? Just kidding Gina, don't be boiling up no "eye of newt-chicken genitalia" concoction that's gonna turn me into a Bullfrog.

OOPS, I mean,

Happy Halloween to All!!!

---

Name: DONNA URBACH () on Tuesday, October 30, 2001 at 15:24:47
E-Mail: CRABBYSUN55@AOL.COM
Maiden: RAY
Class: 1973
City and State: LAKE ELSINORE. CA.


Message: THIS SHOUT OUT GOES TO BETTYE BACK ON THE 26TH OF OCTOBER...HOW TRUE...HOW TRUE...I KNOW I CAN TRULY RELATE AROUND THIS TIME IN MY LIFE. I JUST WANT TO THANK ALL OF THOSE BRAVE SOULS KEEPING US SAFE & SOUND. TO ALL OF OUR FAMILY & FRIENDS WHO HAVE LOVED ONES, MYSELF INCLUDED, OUT THERE PROTECTING US, MY PRAYERS ARE WITH YOU DAILY. NOW ENOUGH OF THAT FOR NOW, MAY YOU ALL HAVE A SAFE HALLOWEEN & KEEP UP THE FAMILY TRADITIONS NO MATTER WHAT. ITS ALL ABOUT BEING AN AMERICAN, & BEING ABLE TO ENJOY ALL THE FREEDOM WE CAN. HERE'S TO MANY MORE GOOD TIMES FOR ALL....TILL WE CHAT AGAIN...MAY THE BLESSING OF THE LORD BE UPON YOU. TAKE CARE!!!!

---

Name: Gina Black () on Tuesday, October 30, 2001 at 12:32:39
E-Mail: gina_peck@yahoo.com
Maiden: Black
Class: 80
City and State: Pasadena, CA
Message: We are Wiccan, John....Pagan and proud!! Of the earth and dedicated to the Goddess (we are into nature and are greatful and mindful of it). No, we are not Satanists (the old INVERTED 5 pointed star, like the INVERTED cross are the symbols of satanism). But, thanks for asking, and thanks (I think) for the witch's hat?
Are you Christian?
---

Name: Kathy Frankforter () on Tuesday, October 30, 2001 at 12:22:05
E-Mail: kathy90277@earthlink.net
Maiden: Alumni's Wife
Class: 79
City and State: Redondo Beach, CA
Message: I frequent a message board and one of the posters posted this today. His response to the teacher is attached. I asked if I could share and he replied, "Of course.".. This gentleman lives in California by the way. Political correctness gone mad... I have fond memories of growing up in the South Bay myself- Trick or Treating, celebrating Xmas in grammar school etc etc. We were allowed to be KIDS. Now, it's slowly being taken away. Sad!
************************************************
This was a message from one of our kids teachers....
This Wednesday, October 31st is Halloween. We will not be celebrating Halloween in our class. Children are not to wear costumes or bring candy to our class. We must appreciate and respect the diverse beliefs and customs in our world. We must not surround children with practices that they are not allowed to participate in.
This is what we wrote back.
October 30, 2001
Ms. Messina,
This is one of the problems destroying America. The values that once made America strong are now being overlooked. Political correctness is ruining what America used to stand for. Halloween has been an American holiday for years. Schools have always been a part of the fun.
People who come to this country are more than welcome to their beliefs. However, they are not entitled to change our way of life. Americans have kept their beliefs in their own homes alive and well, which is their right. If your thoughts are correct then there would never be celebrations of any kind because they might interfere with someone's beliefs.
Obviously, I am not alone in my thoughts. I have five children in this school and the only ones not participating in the fun are the two in your room. Your principal must not feel there is a problem, since he is responsible for the attitudes of the entire school. Not only are individual rooms participating but they are having a parade throughout the school.
Thank you for you attention,
I'm with you Kathy, Teach the little "booger machines" the way it's done here in America. I'm sure the Chinese aren't going to give up Chinese New Year just because I happen to be enrolled in their school. Political correctness is the thing that must be abolished.
---

Name: JIM SLOEY () on Tuesday, October 30, 2001 at 11:55:46
E-Mail: lookoutforgrandpafatiguethewormandthehuevos ontherancheroszoomzoomzoom.com
Class: 66
City and State: the strand
Message: I don't think so Janet. Dan told us all about the rancheros and the huevos and what happens in the squeeze. I'll just ride. Gee John everyday there is something new, the worm, grandpa and now well its just too gruesome to think about, now we have more than getting our brains scambled to worry about. I liked your helmet John that was cool, great colors!
Thanks......
---

Name: Gina Black () on Tuesday, October 30, 2001 at 11:06:38
E-Mail: gina_peck@yahoo.com
Maiden: Black
Class: 80
City and State: Pasadena, CA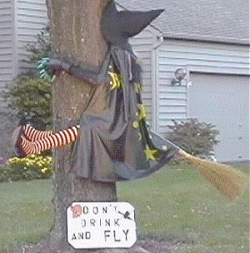 Message: To our dear friend TIM HELBLE.....do real live witches scare you? There are many around you every day and you probably aren't even aware of them. The BROOM, we use to symbolically sweep away negativity. Witches are the most peaceful, loving, helpful and safe people I have ever been associated with (excluding the fellow Cougars...some of which are witches) and I'm proud to be counted in their numbers. So, Tim, don't be scared of us, we are the wise women, the midwives, the healers, the gardeners, the weavers, the spinners, the caretakers of the earth. The knowledge we have has been passed down through the ages and generations of ancestors and we share it....gladly. On the dark side, we may have poisoned a few people, but we have never burned or drowned them.....Happy Samhain Eve!!! P.S. The almanac indicates there is a snow moon on Hallowmas (Nov. 1st), be sure to turn your face skyward and enjoy the beautiful site!! Have fun everyone and stay safe!! (John, do you have a little Witches hat for me instead of the pumkin? XOXOX)
Yep, here's the whole darn witch.....
Are witches satan worshipers, Christians, or ??
---

Name: Pat Stark () on Tuesday, October 30, 2001 at 09:58:05
E-Mail: pureplum@rainbowsendtrailers.com
Maiden: Phillips
Class: 1959
City and State: Santa Rosa, Ca
Message: Hi Cougs Well it's the day before Halloween so Happy Halloween to all of you. Halloween was so much fun back in the days when I lived in Hawthorne as a kid, now I am really enjoying my grandkids, boy am I getting old, haha. It is just pouring rain up here in Northern Calif. Hi Doris, thanks for saying hello to me the other day, You graduated 2 years before me but I remember you well, and to Maurine Endicott White, I had a few classes with you, would enjoy hearing from you. Now stay out of trouble John, and don't let the Goblins get you.
Hey Pat, Have a fun night of ghosts and ghouls up there in Santa Rosa. Is it true you all pass out wine with cheese and crackers?
---

Name: Raymond Smith () on Monday, October 29, 2001 at 23:43:44
E-Mail: Kawabunganorth@Juno.com
Class: 1981
City and State: Portland, Oregon
Message: Well, I'm back everyone. Computer been down 5 months and it's good to be back in the world. John, I was on Pal-talk chatting with a gal and one thing lead to another I found out she's a cougarette living in France and she says she graduated in 65. I only got her first name and it's Brenda. She never heard of this site and was soooo excited that she broke off talk to check it out. Man John, ya still know how to excite the ladys without being present....hats off to you again....
Thanks for passing the word, Raymond. Another Cougar found.
---

Name: Janet Burkett () on Monday, October 29, 2001 at 23:26:16
E-Mail: jmburkett@att.net
Maiden: Humphreys
Class: 62
Message: Now THAT'S funny Denny!! How bout if Ann, Debbie, and I just meet you biking rebels some nice sunny morning AFTERWARDS for huevos rancheros and margaritas???
Oh yeah, Cheryl and Grappa man...John and I now have FOUR bikes, so no excuse next time you are in town. I know, I know, Cheryl you still want to ride on Dan's handlebars. Whatever works I say!
JB2
Sounds good to the "Worm Dodgers or as Jim calls us, "Zoom Zoom Zoom".
---

Name: Dan Dye () on Monday, October 29, 2001 at 17:35:29
E-Mail: DanADye@earthlink.net
Class: 62
Message: Jim get the helmet, John has all that hair to protect his head, however he should have a helmet also. I can go faster because I don't have all that hair to slow me down. Have a good ride in the morning, I will see ya Wednesday at 0 dark hundred. And watch out for grandpa and his bag of tricks. Dan
We might be rained out.....
---

Name: kemberlyn chaney () on Monday, October 29, 2001 at 14:37:39
E-Mail: trouboe1@msn.com
Class: 1987
City and State: san bernardino ca
Message: i would really like to here from some of my former classmates. so if you remeber me, please email me.

---

Name: Tim Helble () on Monday, October 29, 2001 at 13:07:13
E-Mail: TKHelble@netscape.net
Class: 73
City and State: Columbia, MD
Message: This is indeed a great site for memories. How about some Hawthorne Halloween stories? My favorite relates to I-405 and was the time Lynn Hoblitt, Barry Crane, and I were out on Halloween night and up to no good (we were too old to trick-or-treat). Lynn had some smoke bombs looking to be put to good use. There was this house in Holly Glen on what we called "the keyhole" - the little cul-de-sac where Wiseburn runs into the 405 and has to veer right. Everyone who went to HHS and lived a block or more east of Isis (there was an entrance to the railroad tracks at Riley Stoop's place at the end of Isis) used to cut through the back yard of this house on the keyhole to take a short cut to HHS. The lady who lived there was Mrs. Musselman, and she used to come out with a broom to chase away anybody who tried to cut through the yard. To many, she was a real-life witch (the broom was just a coincidence?). So anyway, that night we decided to light off a smoke bomb on her porch. After lighting it, we got so scared that we ran through her backyard, through the tunnel under 405 to El Segundo, and on to Aloha Drug to hang out until we thought it was safe to sneak back home. We were never caught. Eventually, (around 1978), they actually tore the house down and built a trail there to the railroad tracks - so nobody had to risk the wrath of Mrs. Musselman any more.
I barely remember the 405 before it was built. I remember my dad doing some kind of project in our yard which created some concrete chunks and other junk that we didn't need. He said people were encouraged to dump stuff in the right-a-way for the freeway to help build it up. So he took my brother Dan and I over there along with the junk and we dumped it along La Cienega near 135 St. So a chunk of my house is still under there!
Amateurs

---

Name: JIM SLOEY () on Monday, October 29, 2001 at 13:03:28
E-Mail: UNFRIEDHASBEENANOSHOWEVERYMORNING.COM
Class: 66
City and State: REDONDO BEACH, CA
Message: Hey John was that the same Dennis Unfried that said he was going to join 3 weeks ago? Where has he been? Surely we haven't scared him away, and now that its light at 0 dark 30 he really has no excuse huh? But Dennis be ever vigilant cause today Grandpa just about took all of us out. What time are we going to get the helmets John?
Helmets wouldn't have helped this morning.

---

Name: Denny () on Monday, October 29, 2001 at 12:30:20
E-Mail: ifitsmellslikearose
Class: 55
City and State: Del Aire
Message: Hey John, Let's wiz through this. Last Thursday you wrote that you and Dan Dye get up in the middle of the night to go see Jim Sloey at 6:00AM. I realize that Cougars are rather nocturnal but out of all the neat things to see at 6AM, Jim Sloey? Then you all pedal your bikes North to the El Segundo perfume factory (Hyperion raw sewage plant). I don't remember anything being there that you haven't already seen. And you enjoy it so much that you are going to take your ladies with you soon, lucky girls. Didn't realize this was a tourist attraction and it sounds like a real romantic and economical date. I'll try to check that one out with any lady that's lost her sense of smell. By the way, in racing crowds, being passed by a Mongoose or Snake is no big disgrace, but a worm?
Hey Denny, Yeah, Sloey isn't quite as pretty at 6am all right.

course neither am I, OR Dan.
Janet and I turn around at El Porto and actually this was the first day Jim, Dan, and I rode to "Smellovania". Man, it's the Harris Ranch all over again.
And McEwen and Prudhomme have a few thousand horsepower bolted between their knees. We could've heard them coming from Torrance. The worm is eerily silent.

---

Name: Me again () on Sunday, October 28, 2001 at 23:21:56
City and State: Home of A&W Root Beer
Message: Decided not to make you wait. I would probably forget that I was going to give you the info. Jim sold his drugstore, May Drug, at the end of August. The drugstore was established here in Coalinga sometime around 1909 - that's the earliest prescriptions that he's found in the archives of the files. May Drug no longer exists. Most of you are probably wondering why you even care!!! The following was reported in the Coalinga Record when announcing the close of May Drug Store last month. ......"In fact, it was at May Drug where the famous A&W root beer was invented. Ed N. Ayers and later Eli B. May served the root beer at May Drug. Roy Allen, known as the soda jerk, mixed the concoction to the pharmacists' recipe. Young Allen noticed how people enjoyed this drink. A few years later Eli B. May was surprised when Allen returned to Coalinga, asked and was successful in purchasing the Ayers-May root beer formula. Allen then started his first rootbeer stand in 1919 in Lodi. A second stand was opened in Sacramento the following year. Frank Wright then became Allen's partner, hence the A&W trademark."
Very interesting... thanks Myrn'
---

Name: Myrna () on Sunday, October 28, 2001 at 22:30:36
E-Mail: mybizz@onemain.com
Maiden: Bell
Class: 66
City and State: Coalinga, CA


Message: Hey John! I usually catch up with feedback on the weekends when you are off relaxing and forgetting about your computer, so I don't seem too add much. Someone was talking about finding a car the same age as he is. Well, I don't have to look far to find the same "vintage" as myself. (Is that grammatically correct?) Anyway, my son has a Studebaker Pickup born the same year as me - 1948. It is sometimes in better shape that me!!! On another subject, and I apologize if I am repeating myself, but A&W root beer and the stands get attention here on occasion, and I would like to know if anyone knows who, where, and when it was invented? I'll give you the answer in a couple of days. Hope the JB's had a great weekend!!!
Hey Myrna, I was born in 44, so if I was to have a vehicle made in my birth year, it would probably be a Tank.
I do know the initials A&W stand for Allen and Wright and I would have to guess that the drink has been around since the early 20's.
---

Name: Wayne Dickey () on Saturday, October 27, 2001 at 10:27:33
E-Mail: impalawayne@aol.com
Class: 69
City and State: La Palma, Ca
Message: I have missed alot of feedback in the last month, (dead computer) but I did attended a small get together with some cougars last weekend at the Grand Cafe in El Segundo. Fun was had by all. I had a bit of a disappointment in Vegas (3rd place). I guess 3rd in the world is not so bad. Big John Baker, what's the lastest. Hope this message finds all cougars in good health and spirits.
Hey Wayne, sorry about that third thing. I got a second with the 51 when it was first restored and I didn't even know I was entered. I guess second in the world wasn't so bad.

---

Name: Jill McFarlane () on Friday, October 26, 2001 at 17:40:39
Class: 1977
City and State: Mission Viejo, CA
Message: Fellow Cougs, Hope you all have a great weekend. Happy Veterans day to all you Vets, and happy Rememberance day to our Canadian friends.
My oldest son Evan has a soccer game tomorrow early in the am, so I better start now on that beauty sleep of mine.
Take care and be safe this weekend. Looking forward to reading your posts on Monday.
See you then Jill
---

Name: Greg Jones () on Friday, October 26, 2001 at 15:10:10
E-Mail: gjones1052@aol.com
Class: 1973
City and State: Hawthorne, CA.


Message: Neil Andersen, it's funny you live in Dallas, Or. My older brother was a cop in that city in the 80's. He won't read this so I guess I can say that I saw a picture of him once in his uniform and I could've sworn it was Barney Fife! Anyway, the pictures I saw of Dallas were rather nice, the surroundings and all. One day I'll have to make a trip up there. By the way, he lives in Laughlin now, at a casino no less.

---

Name: Cindy Colby () on Friday, October 26, 2001 at 12:41:41
E-Mail: cindycolby@att.net
Maiden: Maxson


Class: 63
City and State: Laguna Hills, CA
Message: Betty East you are a genius, that is the perfect answer, let me know when you are ready to go, I'm with you girl.

---

Name: Tara () on Friday, October 26, 2001 at 11:10:03
E-Mail: tv306@aol.com
Message: Cougars ROCK!! I think we've found him. Loretta Cuiper(62) found some information on Ron Berry in the 2000 Alumni Directory. Petey, thanks for the other picture, you wouldn't believe how much I look like him. If anyone finds anymore pics, I'd love to have them. Once again, thanks to all of you Cougs, you've really made a difference in my life!!
Thanks to all the Cougs who helped Tara find her dad.
---

Name: Loretta Cuiper () on Friday, October 26, 2001 at 10:44:19
E-Mail: LCuiper@aol.com
Maiden: Morelli
Class: 62
City and State: Hawthorne, Ca

Message: Hi John, I looked up in our 2000 alumni Directory if we had a Ron Berry (70), sure enough it was listed. I went ahead and E-ed the infomation to Tara. Hope it helps her. We forget we have that book, it does have a good source of information. Have a good Week-End..Always a Coug.
Thanks Loretta......
---

Name: Betty East () on Friday, October 26, 2001 at 10:23:46
E-Mail: bettye@amgen.com
Maiden: Wright
Class: 74
City and State: Thousand Oak, CA

Message: The perfect solution:
Take all American women who are within five years of menopause - train us for a few weeks, outfit us with automatic weapons, grenades, gas masks, moisturizer with SPF15, Prozac, hormones, chocolate, and canned tuna - drop us (parachuted, preferably) across the landscape of Afghanistan, and let us do what comes naturally. Think about it. Our anger quotient alone, even when doing standard stuff like grocery shopping and paying bills, is formidable enough to make even armed men in turbans tremble. We've had our children, we would gladly suffer or die to protect them and their future. We'd like to get away from our husbands, if they haven't left already. And for those of us who are single, the prospect of finding a good man with whom to share life is about as likely as being struck by lightning. We have nothing to lose. We've survived the water diet, the protein diet, the carbohydrate diet, and the grapefruit diet in gyms and saunas across America and never lost a pound. We can easily survive months in the hostile terrain of Afghanistan with no food at all! We've spent years tracking down our husbands or lovers in bars, hardware stores, or sporting events ...finding bin Laden in some cave will be no problem. Uniting all the warring tribes of Afghanistan in a new government? Oh, please ... we've planned the seating arrangements for in-laws and extended families at Thanksgiving dinners for years ... we understand tribal warfare. Between us, we've divorced enough husbands to know every trick there is for how they hide, launder, or cover up bank accounts and money sources. We know how to find that money and we know how to seize it ... with or without the government's help! Let us go and fight. The Taliban hates women. Imagine their terror as we crawl like ants with hot-flashes over their godforsaken terrain.

---
If you have comments or suggestions, please email me at jb1@cougartown.com