Page 40
Home | 60's Slang | Alumni List | Car Talk | Cougar News | Feedback | Hangouts | Memories
Recollections | Reunions | Street Scene | Teachers | Tributes | Vietnam | What's New | Keyword Search
---
Friday, April 2, 1999 at 12:37:15
Name: Sherri Ann Skanes
E-Mail: Sassy1962@aol.com
Message: Dear Cougar Friends...
Last October we held a Benefit Concert in Memory of Carl Dean Wilson, who lost his battle with cancer February 6, 1998. Thanks to many of you generous folks, we have raised over $100,000 for the American Cancer Society in Carl's name.
Currently, fund raising has taken a very cool spin....just in case any of you are interested, I thought I would post the information here so that you might have an opportunity to participate.
Capitol records had generously donated a LIMITED EDITION memorial CD--a compilation of Carl's work as a Beach Boy, solo performer, song writer, and producer, titled CARL WILSON-LONG PROMISED ROAD. Only 1000 will be offered. You will receive the CD by donating $100 to the American Cancer Society in memory of Carl Dean Wilson. For further information, mailing address, or to order by credit card, please call (213) 386-6102.
In addition to the sheer beauty of the music compiled here, the disc will surely become a collector's item due to the limited quantity. I have one, and I can tell you it is one of my greatest treasures.
Later this fall, the Carl Wilson Walk Against Cancer and Benefit Concert 1999 will again bring together hundreds of friends, family, and fans to celebrate the life and music of this sweet man. Updates and information can be found here.
Our plans for this year have not been posted, but they should be up there soon! There are pictures of last year's events, and updates on what is currently in progress.
Again, thank you all for your generosity and support. We are making a difference in the fight against cancer here in the LA area. All monies directly benefit the ACS-LA Unit, for cancer reseach and transportation funds for those who have no way to get to treatments....thanks to people like you all who remember the joy of the music.
---
Friday, April 2, 1999 at 11:45:55

Name: Loretta Cuiper
E-Mail: LCuiper@aol.com
Maiden: Morelli
Class: 62
Message: Hi All, Seeing that you brought us down Memory Lane regarding Inglewood. I remember when Hawthorne Blvd had a Street Car that would bring you into Inglewood. I would go shopping with my Mom, we would get off just somewhere before Manchester and walk through the town and at different times we would walk up to Sears. Does anyone remember that little Hamburger Stand that was on the corner near Sears and across the street from Ihop, They had the best Chile Burgers. Years later, in the early 70's, Larry worked at Inglewood Lock across the street from the Post Office and I worked in the Doctors office across from Sears and that little Stand was still there with still the best Chile Burgers. I don't know if it's there anymore. I also remember back earlier in the 50's/60's there was a dime store by the name of Grants, they had a lunch counter and you could have just about anything and back then it was so inexpensive. Under 4 bucks could feed two, also they would make fresh popcorn that you could buy for dime. Thanks for the Memories.
HAPPY EASTER TO COUGARS AND THEIR FAMILIES
Note: Yes I do remember that little stand. In the early 50's, my gramma would take me with her to Inglewood to do the shopping. She would ask me if I wanted to ride the Bus or the Streetcar. We'd walk through downtown Inglewood, making all the normal stops (Penneys, Grants, and Sears). We'd always stop at that little stand and get something to eat before we went across to Sears.
Does anyone remember around the holidays, there would a guy on the roof of Sears with a microphone. He would be looking for empty parking spaces. When one opened up, he'd direct you to it. Now there's a memory flogger.
---
Friday, April 2, 1999 at 10:53:06
Name: Patty Valencia
E-Mail: PValencia2@aol.com
Class: 1974
Message: Well we are now in the process of receiving checks for the Las Vegas reunion. Think I could double the money at the Craps Table? No, huh? ok I'll just make the deposits and repay Frank. Make your overnight accomodations NOW because there is a Broadcaster's convention going on that weekend and the room prices are going up as we speak. When you send in your checks, I send an email acknowledgement to let you know that the payment was received. (John and Frank also get the acknowledgement so I can't go gamble with the monies!!) :>) We need the money in our hands no later than April 13th. The dress is Cougar casual - we're the only ones in the room. I went to Sunset Station in levis the other night and didn't look out of place. But then, I was with Gloria and usually I go unnoticed by everyone when I'm next to her. I'm looking forward to meeting everyone.
Note: Yes....make your reservations TODAY!!! I am trying to find a place to stay and am having NO luck. DO NOT WAIT!!
---
Friday, April 2, 1999 at 09:08:11
Name: Sharon MacDonald
E-Mail: rmac@genevaonline.com
Maiden: Badger
Class: 63 Message: Yes Ray, I too remember shopping in Inglewood. I consider shopping a recreational activity. I remember once calling the Sears store on the phone to find out if something was in stock and they put me on hold for a very long time. Not being the most patient person, I drove over to the store, walked up to Customer Service and told them they could hang up the phone now and answer my question.
I remember a trip to Inglewood to shop, was not complete without a stop at See's Candies for a caramel sucker.
---
Friday, April 2, 1999 at 00:41:28
Name: Jim Sloey
E-Mail: sloeylaw@intplus.com
Class: 66
Message: Hey Litton you mean that worked? I made up all that stuff!!! Actually the credit goes to two dear friends also class of '66 Jim "Cheese whiz" Schroeder and Bart Graves, who by the way is hosting the 22nd annual BART GRAVES GOLF TOURNEY to benefit the BART GRAVES retirement fund on April 23, 1999, at the Golf course in San Luis Rey. If you need more info please don't ask it is already booked but next year BART will open it to all Cougars, he promises! John Abraham I am glad you are well and able to take nourishment! Litton please email and give me John's numbers a lot of people would like to know where he is. GOOD people! HAPPY EASTER TO ALL THE COUGARS!
---
Thursday, April 1, 1999 at 22:00:38
Name: roger lynberg
E-Mail: Rlynberg@aol.com
Message: a great job! you have brought back many memories, i thank you.
---
Thursday, April 1, 1999 at 21:15:01
Name: Ray Castillo
E-Mail: rcas@sprynet.com
Class: 1973
Message: I will truly miss not being in Las Vegas April 17th & 18th. It looks as though in traditional Cougar spirit, Patty and crew have gone all out. If somebody would be so kind as to waste a roulette bet on "00" for me, it would be as if in some way, I was amongst the crowd. Alas, our little league season is in full bloom, and Debbie and I have to miss the party. This is the first night in ten consecutive evenings that we have been home before 9:00 pm. May I indulge the readers by bragging a little about my nine year old son? He pitched his first game at the Major Little League level a few nights ago, and threw a complete game two hitter for a victory. Even better, on the same day, he was awarded two academic achievement awards by staff at his school. Have a wonderful time in "Sin City", and please don't make this the last mini-reunion!
---
Thursday, April 1, 1999 at 20:55:49
Name: Ray Castillo
E-Mail: rcas@sprynet.com
Class: 1973
Message: Does anybody remember shopping in Inglewood? I remember going to Sears on Manchester, and Penny's on Market Street. There was also a shoe store called Comar's as I recall. My parents bought our first color t.v. at an appliance store on Market. I think it's name was Rondon's. I also recall going to the movies on weekends in Inglewood. We could catch the bus on Felton Avenue, head up Imperial Highway to Hawthorne Blvd., and get a transfer for a nickel. There was the Fox, the Ritz, and the 5th Avenue. On Manchester there was the Academy. I also recall the Imperial Theatre at Van Ness and Imperial I think. We could get into the movies for about half a buck, and watch a double feature over and over again. The other theater which deserves remembrance was the Loyola in Westchester. How many of us had pancakes at the House of Pancakes across the street from Sears?
Note: Ray, You just about covered the theatres in the area. That was a march down memory lane. I remember Joyce, my wife at the time, worked at Sears on Manchester and hung out at IHOP after work with a few friends. Thanks Ray
---
Thursday, April 1, 1999 at 12:03:53
Name: kathy downer
E-Mail: down6@sprynet.com
Maiden: peterson
Class: 70
Message: Christmas 1997 we flew back to L.A. to celebrate our 25th wedding anniversary. I'm still married to that wrestler from South Torrance High class of 69- Steve Downer. Several former H.H.S. wrestlers met us at our party, including Bart Hale, Kenny Wright, and others. We brought our four kids and our foriegn exchange student. What a blast. Kenny's daughter and my son both wrestle for their high schools in different parts of the country. We drove the kids all over and showed them all of the old "haunts". Even St. Joseph's church has been refurbished and looks beautiful. It was breezy and all the smog was gone, and the beach was great. We returned home to Ohio without our exchange student seeing any movie stars. Our 12 yr. old was dissappointed she didn't get "discovered" but hey- maybe next time! anybody knowing the whereabouts of Pam Magnuson Urich (husband Class of 69), or Esther Quintinella let me know.
---
Thursday, April 1, 1999 at 11:12:44
Name: Michelle Drapeau
E-Mail: havnfun@qnet.com
Maiden: Whittaker
Class: '78
Message: Hi John!
Great Web page! I've already told my sisters and added my husband from class of '73. If I can get Lynn McGuyre, Jeri Rich, Donna Ricks and Lori Salazar online I'll add them too! Wow! brings back sooooo many memories I've actually forgotten.
Seems like it was all about school and the beach, nothing in between (well, for some of us). Of course it's not gonna be that way with my kids, yea right!
I look forward to checking in often and reading 'What's New'.
Note: Michelle, A great big Cougartown welcome to you, your husband, Lynn, Jeri, Donna, Lori, AND "the kids". Enjoy the site.
---
Thursday, April 1, 1999 at 09:44:03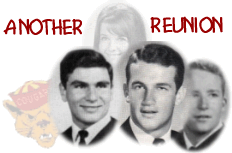 Name: Danny Litton
E-Mail: dlitton@austinknight.com
Class: 68
Message: Thanks to the investigative efforts of Jim Sloey ('66), and to this site that I was able to locate my HHS '66 Basketball teammate John Abraham ('66), whom I haven't seen or heard from in 33-years. Jim knew that John also was living in the Washington, DC area and managed to give me enough leads to locate him. We had lunch last week at Union Station and still generally agreed that Janet Voss was the best-looking girl in his class!
Note: Great story Danny. This is happening all over Cougartown. Old friends getting together again.
---
Wednesday, March 31, 1999 at 22:31:07
Name: Ricki Farrell
E-Mail: farrell8@worldnet.att.net
Maiden: Valencia
Class: '61
Message: Hi everybody! As usual, I should be doing schoolwork. I took a break to see what's happening in Cougartown. Funny about Zeke Montes. I knew him when we were third graders at Eucalyptus. I guess he must have skipped a grade because when I arrived at HHS, he was a year ahead of me.
Of course I think that he is a talented musician. I too heard him at the Greek a few years back. However, as a third grader he was one of the most talented artists I had ever seen. He was an inspiration to me. It was the first time that I can ever remember recognizing beautiful art. He also had a fantastic handwriting. I imitated it for years, but never mastered it. For those of you who do not know me, I am an artist and have taught it for over 30 years. Odd, the things that come to mind. I wonder if Zeke ever drew after the 3rd grade. He surely turned me on to art.
Thanks John for your email, you too Robin. Spring is real busy for me. It's one competition after the other. I'm in the middle of writing a defense for a grant I received two years ago. The State reviews us yearly. Have to make sure we're in compliance. Yuk!!! Back to work...
---
Wednesday, March 31, 1999 at 22:03:40
Name: Frank Romano
E-Mail: US-RENT-A-CAR@worldnet.att.net
Class: 61
Message: Thanks Robin about the lunch... to bad you couldn't join in. I've asked Patty if Ricki was going to be at the function on the 17th, however no reply as yet. At the same time I asked about the starting time etc... and still no reply. One item that must be mentioned is the suggestion to everyone to book room and travel reservations as soon as possible...Broadcasters convention will be in Las Vegas that same weekend, rooms in short supply. Airplane seats hard to get also.
Note: Frank, Let's start the festivities at 6:30pm. That will work, don't you think?
As for Ricki. I talked to her last night and she would love to be there but has an art competition that weekend, and as art director, has to be with her students. She will make one of these mini reunions along the way.
---
Wednesday, March 31, 1999 at 20:32:52

Name: Steve Eide
E-Mail: sreide@pacbell.net
Class: 66
Message: Just a short addition to Jim Fox's note on the Gunga Din. He mentioned the "new" library. It was built on the spot where our Boy Scout Lodge had stood. Troop 283 led by Mr.Baum met there while I was a member. Keep up the good work John. I vote for more old pics of Hawthorne.
Note: See, I told you we were all related in some way or another.
---
Wednesday, March 31, 1999 at 18:17:09
Name: Chris Prewitt
E-Mail: cjprewitt@juno.com
Class: 67
Message: I know this doesn't have anything to do directly with HHS but I was doing a little WEB surfing and at http://www.sco.ca.gov/ following the unclaimed properties I found Adrian Reynolds' name (c/o '67). A whole $26.36. Anyone else due some money?
---
Wednesday, March 31, 1999 at 12:54:03
Name: Robin Hood
E-Mail: RHood10542@aol.com
AKA: Hoodinski
Class: 60
Message: John, just scanning the last week or so of feedback..You are one clever techie with the blue print for the Olympians...And playing cupid is too kewl! Glad to hear Zeke is not only well but prolific as ever. (I look to him as the Frank Gifford of our class:o). Also Russ, I wasn't looking in the locker room, just hysterically laughing...And the Gunga Din..God bless its poor lighting and big crowds..MMMMemories! And Frank glad your lunch went well with Patty and hope all the LV plans are set. Just one question? Did you hear if Ricki V is coming? (couldn't resist Patty;o)...Later Cougs
Note: Thanks Hoodinski...... Yeah old Zeke's still out there markin' his territory..... God lovem.
I wish I had a picture of the old Gunga Din. Anyone have one? I've checked the older El Molinos but no luck.
Where IS Ricki anyhow......
---
Wednesday, March 31, 1999 at 00:39:11
Name: Ray Castillo
E-Mail: rcas@sprynet.com
Class: 1973
Message: Lani Schneider, glad to see you're out there somewhere! Hope life is good!!!!
---
Tuesday, March 30, 1999 at 22:24:30
Name: Stewart Gerns
E-Mail: sgerns@gte.net
Class: LHS 1974
Message: I actually graduated from Leuzinger...but I think your web page is awesome...good job. Any HHS surf cats I knew out there...
Note: Hey Stewart, Glad you checked in, and thanks for the Kudos on the site. Yeah, where ARE all the Feedbackers. The Olympians are taking over the Feedback Page. :o)
Good luck Stewart....
---
Tuesday, March 30, 1999 at 20:32:35
Name: Sandy
E-Mail: sandys00@earthlink.net
Maiden: Snyder
Class: 1962
Message: Great job with the planning of the mini reunion in Las Vegas. I was wondering if I missed the time and location at Sunset Station on April 17th...
Hope we have some people from the 60's there.
Sandy
---
Tuesday, March 30, 1999 at 20:03:15
Name: MELODIE TOLLEFSON
E-Mail: oohmystyk@aol.com
Maiden: GREEN
Class: LHS 1969
Message: HELLO EVERYONE,
I DID NOT GRADUATE FROM HAWTHORNE BUT FROM LEUZINGER CLASS OF 1969. I FOUND YOUR WEB PAGE AND NOTICED ALOT OF QUESTIONS ABOUT CHRIS MONTEZ (ZEKE) WHOM I DATED FOR MANY YEARS. HE IS CURRENTLY LIVING IN SIMI VALLEY, CA, WITH NEW WIFE CHAZ KELLEY FROM K-RTH 101. THEY RECENTLY HAD A BABY WHICH MAKES 4 KIDS FOR HIM. HE HAS A DAUGHTER JENNIFER AND TWIN BOYS, DAMON AND ERIC, I BELIEVE HE IS STILL TOURING ENGLAND AND JAPAN AND SOUTH AMERICA AND JUST DID THE RICHIE VALENS TRIBUTE IN IOWA. SAW HIM AT THE GREEK THEATRE A FEW YEARS AGO AND RAN INTO HIM FROM TIME TO TIME IN THE VALLEY. I AM STILL IN TOUCH WITH HIS BEST FRIEND ROCKY AND CAN GET A MESSAGE TO HIM. HE IS STILL A GREAT GUY.
Note: Hi Melodie, Thanks so much for the info on one of Hawthorne's favorite alumni. I know lots of people, including myself, were wondering about Chris and where he was located. Another big question answered. Thanks again.
---
Tuesday, March 30, 1999 at 13:53:17
Name: Jim Fox
E-Mail: puffup@soca.com
Class: 1966
Message: Bobbi and John - Referencing the Gunga Din, it was still in operation even after the new library opened. The Hawthorne Youth Canteen sponsored the Wednesday night Drop-in dances there until we moved to the new Memorial Center which opened in about 1964. Following that, the old Gunga Din sort of faded away. I can't give you the exact date, but this gives us a rough idea.
---
Monday, March 29, 1999 at 18:30:49
Name: Wendy Walchli
E-Mail: WWal833579@aol.com
Maiden: Rideout
Class: 64
Message: Just had a "mini reunion" last weekend. My daughter was married on Friday and some friends I still keep in touch with from HHS all attended and we all got together on Sat for reminiscing about old times and many memories of Hawthorne. It was Barbara (Skelton) Smith 64' from Hawaii, Barbara (Evanson)Deed 64' from Irvine, Jane (Mitchell) Reinholz 64' from Redding, Colleen (Trott) O'Ryan 64' and husband Terry O'Ryan 64' from El Segundo, and my sister Pam (Rideout) Del Duca and her husband from Wash. state. We had a great time and wish we could all attend Las Vegas Reunion, it sounds like a lot of fun.
---
Monday, March 29, 1999 at 15:38:39
Name: Peggy Sarvis
E-Mail: peggy.w.sarvis@boeing.com
Maiden: Westbrook
Class: '59
Message: EVENING IN PARIS PERFUME IN THE COBALT BLUE BOTTLE!
SUBMARINE RACES OFF PALOS VERDES.
---
Monday, March 29, 1999 at 15:13:45
Name: Denis Lefebvre
E-Mail: Denisl@cellnet.com
Class: 1970
Message: First, I'd like to thank John for CougarTown.. This is GREAT! QUESTION for Cougars of '68, '69 & '70: Does anyone know the where-abouts of Bill Gertsch? (Class of '69) Bill was a dear friend of mine as well as a neighbor. If anyone knows anything about Bill please contact me or have Bill contact me.
---
If you have comments or suggestions, please email me at jb1@cougartown.com