Page 390

Hawthorne Time and
Temperature

Home | 60's Slang | Alumni List | Car Talk | Cougar News | Feedback | Hangouts | Memories
Recollections | Reunions | Street Scene | Teachers | Tributes | Vietnam | What's New | Keyword Search
back to the 50's...... The Sevilles
---
<!-+++++++++++++++++++++++++++++++++++++++++++++++++++++++++++++++++++++++++++++++++++++++++++ +++++++++++++++++++++++++++++++++++++++++++++++++++++++++++++++++++++++++++++++++++++++++++++->

---
---
---

---
<!-++++++++++++++++++++++++++++++++++++ADD BELOW THIS LINE++++++++++++++++++++++++++++++++++++ +++++++++++++++++++++++++++++++++++++++++++++++++++++++++++++++++++++++++++++++++++++++++++++->
Name: Sue King () on Thursday, April 26, 2001 at 20:27:41
E-Mail: sueking18@aol.com
Maiden: Bierman
Class: 1974
City and State: Thousand Oaks, CA

Message: Dan Johnson - THAT'S funny! I haven't had one of the famous Pink's dogs and even though the boys say they're great and the girls say they're awful I think I'll make the next run. Anything to hang out with the likes of a Cougar!! If George Hunter will show up I'll buy him a dog and call it our lunch date!
There you go George. A free Pinks Hot Dog. Whattayasay??
---

Name: Beverly Borland () on Thursday, April 26, 2001 at 19:21:51
E-Mail: BevaB613@aol.com
Maiden: Borland


Class: 1961
City and State: Hawthorne, CA
Message: Loved the reunion earlier this month. It was wonderful to see all of you...hope to see a lot of you again soon.
Hi Beverly, You can do it all again on Prom Night.
---

Name: Dan Johnson () on Thursday, April 26, 2001 at 15:13:11
E-Mail: wch1ispink@aol.com
Class: 77
City and State: Pasadena, CA
Message: So my wife sez to me, "let's go to a hot dog stand" and I say "Which One, Pinks?" Live at Pleasures in Pasadena this Saturday, April 28 @ 10:00 p.m. Now, John that's a "cheep" plug.
Now that's LOW. So Dan, Haven't seen your name on the Prom Tickets list and we missed you at Cruise Night. Do you think you'll ever join in on the Ctown stuff or are you here just to plug?

---

Name: Marsha Russell-Hood () on Thursday, April 26, 2001 at 13:24:40
Class: 64
City and State: Redondo Beach


Message: Yes John, it is on. I think that after you said that you are on a diet, people are afraid to write. We know how crabby you get when you eat tofu. All you have to do is come stay at our house for a month or two, I think Robin dropped 30 lbs. the first couple of months he was here. As Judy says, you don't need to go on a diet, you must just be retaining water.
Yeah, about 8 gallons. Thanks Marsha, but I'm not too much on running 30 miles a day. Actually Robin's starting to favor an Ethiopian on Metrecal. I think I better do this my way.
---

Name: JIM SLOEY () on Thursday, April 26, 2001 at 13:08:40
E-Mail: sloeylaw@msn.com (really it is)
Class: 66
City and State: rb, ca

Message: John when is the next pink's night? Yes I will be there. It's time? Do you want realcougartown.com to initiate it? Probably get more people! BTW realcougartown.com has a question of the week updated every Monday with cash and prizes to each winner. Be a (real)cougar(.com)
Patty Valencia I still have $24 for Ally's girl scout cookies! Even if you don't have the cookies.
Great Idea!!! It's time for another Pinks Run. Let's make it Saturday June 9th. Everybody plan on being there at Melrose and LaBrea at 7pm. I'll believe it when I see you there Jimbo.

---

Name: RAMMA LAMMA () on Thursday, April 26, 2001 at 12:57:43
E-Mail: Awlellablessmysoul.com
Maiden: DING DONG
Class: what'sawrongwithme?

Message: Whadaya mean IS THIS THING ON ??? Is it a quiet Thursday, John Boy? Don't ya DARE lose a pound! There's more of ya to love like ya are! More to dance with! Ya ARE savin one fer me, aintcha? EEeewwwie! PROM NITE 2001 Not EVEN 4 months away!
That'll look a lot like Haystack Calhoun in the ring with Little Beaver, but I guess if you promise not to step on me, I'll go the best of 2 outta 3 falls on the dance floor with ya'.

---

Name: Loretta Cuiper () on Thursday, April 26, 2001 at 00:30:34
E-Mail: LCuiper@aol.com
Maiden: Morelli
Class: 62
City and State: Hawthorne, Ca

Message: Thank you my little ones, and John Thank you too. Darla and Doug's marriage took place on April 7th, in Redondo Beach, That is why we did not make the reunion, we were kinda busy with this big event. John thank you for remembering. We are now in a relaxed mode, and looking forward to Prom Night. We will be ready to do a little dancing. Take care, always a Coug!!!!
Hi Loretta, Can't wait for Prom Night either. Hope you have a great birthday today. Stay away from the CHEEEEP wine.

See you soon.
---

Name: Norm Vorhis () on Wednesday, April 25, 2001 at 23:38:33
E-Mail: olds88coupe@yahoo.com
Class: 59
City and State: Monrovia, Ca
Message: RE: Robin's message, "Next level". HEAR! HEAR!
Whatever it takes, we'll do it....
---

Name: JIM SLOEY () on Wednesday, April 25, 2001 at 22:59:01
Phony Website: realcougartown.com
Something that is not true: robinistheking
Subtract 600 from what's tattooed on your forehead: 66
Type 4 letters with a comma here: rb, ca
Message: John the blackout is all part of the plan. Robin are you ready?

---

Name: Janet Burkett () on Wednesday, April 25, 2001 at 22:36:22
E-Mail: jmburkett@att.net
Maiden: Humphreys
Class: 62
City and State: Missions Viejo, Ca
Message: Yeah, well.....you just keep eatin all those burgers and sausages, Baker and Judy, Robin and I can take turns trying to squeeze you into that flamingo pink tux for prom night!
(That's ok, I just love your cute little cheeks!)
JB2
You mean my cute little PUDGY cheeks. I'm losin'em.
---

Name: Judy DeGrazia-Blomsterberg () on Wednesday, April 25, 2001 at 20:25:50
E-Mail: JUDYWUDY@att.net
Maiden: tofu.. didyouforget!
Class: 64
City and State: Torrance, CA
Message: Well John boy, I just read where you won't put your name in the same sentence with the word "tofu" as your NOT a tofu kinda guy... ha ha ha! Did you forget that when Robin first came out here, the Rowdys took us all to "The Spot" for a meatless kinda meal..and you "did in fact" have a tofu burger..medium well... Shortly after that you started calling the PINK'S RUNS.. and snapped us out of our healthy style of eating.. Never-the-less, consider yourself corrected. (boy, as if I don't have enough to do with PROM NIGHT just 4 months away..) Did I mention that I hugged Dan Dye recently... this could be you girls. Dan's attending the prom... I think I'll have a kissing booth set up just for him. (I'll bribe his wife, Ann, later) Now, get your tickets money in now!!
Judy Wudy..
The Spot....it should have been a GIANT clue on how good the food was, when we walk in there with 9 people and IMMEDIATELY get seated. You could have fired a Bazooka in that place and not hit a soul. I asked the waitress if anything tasted like meat, as this is a vegetarian restaurant, and it was though the word "MEAT" wasn't in her vocabulary. She had that look on her face as if I was asking for directions to the airport in Paraguay.
Anyway, I'm gonna lose some weight, but it won't be because I'm eating at the Spot.
---

Name: Eric and Darla () on Wednesday, April 25, 2001 at 14:18:09
E-Mail: LCuiper@aol.com
Class: 89/00
City and State: Hawthorne, Ca & Allen, Texas
Message: To Our Mom: Have a Happy Birthday tomorrow
Love ya much, Eric.
Wish we could be there with you.
Love and Hugs,
Darla, Doug and Chris, Ashley and Colin
Happy Birthday Loretta from me too, and congratulations to Darla Cuiper ?? HHS89 on her recent nuptials.
---

Name: Robin () on Wednesday, April 25, 2001 at 14:12:17
E-Mail: 8gigsiswaytotechieforme.com
Maiden: "Holy Cow"
Class: 60
City and State: RB,CA
Message: Baker...Tofu?. Janet, Billy Buckner will run a marathon before we see those two words in the same sentence:o)...So John, what is the next level of service to keep us open?..Will it cost more, hence more members?..if so lets get on the stick Cougs...Think about it...Do you want to miss the next Keith Jones chronicle(is he still walking underwater with that rock?) or the adventures of LeeRoy and Beulah Felderuster? Or daily Prom news from Judith?..Dad
gum cheap entertainment in my book...So whatever it takes, lets do it. We have the best here, so lets keep it. (off my soapbox) Later Cougs..:o)PS:..Sloey, I really enjoyed my reign this past weekend as King...not too busy but I found a ton of new screen savers waiting for a feedback post..:o)
Thanks Robin, I still haven't heard anything yet, but whatever it is, we'll do it.
Janet, FYI, Billy Buckner is an old ballplayer with bad feet and I am NOT a Tofu kinda guy.
Speaking of Leeroy, I just got this picture taken by Chris Prewitt of LeeRoys new milk truck. He has a self serve route, as you can see.
---

Name: Susie O'Gorman () on Wednesday, April 25, 2001 at 12:34:34
E-Mail: flashtoo@pioneer-net.com
Maiden: O'Leary
Class: 61
City and State: Azalea, Oregon

Message: To Mike Shay, and all the hugs from the cute ladies: You are right about the hugs, only I got to hug all the cute guys. Seeing Tom Bochat , you, Mike, Dave Dye, Royal, Tim Lutz, Bob Milazzo, who by the way I would never have recognized, Al Jardine, and Ray Pogue, who I knew from St. Josephs. I really have to hand it to the people involved in starting the web site & the reunions, I had a fabulous time, everything looked so nice. And to my sister Joie, who found the web site & gave it to me. Hoping to be at the next reunion. Susie
Thanks for the compliment Susie, but Cougartown cannot take any credit for the 59-60-61 reunion other than posting the info on the Reunions page. This was all the respective reunion committee's project and it came off grand.
---

Name: Cindy Campbell () on Tuesday, April 24, 2001 at 23:56:32
E-Mail: ljnme@aol.com
Maiden: Davis
Class: 1983
City and State: Temecula, Ca
Message: just stopped by to say, "Hi."
Hey Cindy, Hi and welcome.
---

Name: Margaret [Gordon] Moser () on Tuesday, April 24, 2001 at 23:18:07
E-Mail: Margegm52@aol.com
Message: I am still trying to fine an old friend of mine. I wrote to you last year and thanks to everyone, found one of my friends from York, and Hawthorne Intermediate. I am still looking for Jackie Black. I received an e-mail from someone that said that she didn't graduate at Hawthorne. That would be the class of 1970. I then remembered that she did move before her Sr. year. I am hoping that someone will remember us. We were in Mrs. Calhoun 1964-1965, and Mr.Dana 1965-1966. That was at Hawthorne Intermediate. If anyone can remember what school she went to I would be very greatful. Thank you again, and I do like reading the feedback pages. Margaret [Gordon] Moser
Thanks Margaret and good luck finding your friend. OH, I was in Mr. Dana's class 1957-58.
---

Name: YAMMA LAMMA () on Tuesday, April 24, 2001 at 22:22:09
E-Mail: oohwahoohwa.com
Maiden: DING DONG
Class: whydofoolsfallinlove
Message: Mr. Prewitt. And it's HOT too! That is, the air you tell me I have so much of. Saving a dance fer me or would YOU rather arm ressel too? Yur choice. whydoestherainfallfromupabovewhydotheyfallinlove! And Mr Bob Jensen. Nothing ta say taday. Speechless? whydoesmyheartskipabeatwhydotheyfallinlove? Gunna have to have a speshul corner for the arm resslin! PROM NITE 2001 come on! be there or be square!!

---

Name: Donna () on Tuesday, April 24, 2001 at 20:42:46
E-Mail: DonnaDGW4@aol.com
Maiden: Cook
Class: 69
City and State: LaPalma
Message: Have been reading a lot of Sports Trivia lately, Baseball that is. If you want to know anything about baseball trivia I know a walking Encyclopedia....PAUL CROTTY....Jump in there Paul and give them your 2 cents worth.

---

Name: Janet Burkett () on Tuesday, April 24, 2001 at 19:48:04
E-Mail: jmburkett@att.net
Maiden: Humphreys
Class: 62
City and State: Mission Viejo, Ca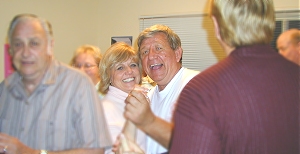 Message: Paco, thanks for more great pictures from the reunion. Sandy Tully Perry....nice glasses, did you get them at the Cerritos Mall??? Hear they have some great massage chairs there too! Mike Shay, you're right, seeing the old, (well let's say original), Frosties group is the best! Say you look pretty good all cleaned up and in a suit too! John, how's the tofu? I'M off to the gym! JB2
Rice and Bean surprise again tonight. Tomorrow night is my secret veggie soup.
---

Name: Mike Shay () on Tuesday, April 24, 2001 at 17:56:33
E-Mail: theshays@earthlink.net
Class: 61
City and State: Cerritos, CA


Message: Ya know I figured I'd better say something about cruise night and the reunion "shindig" we got to attend a couple weeks ago. Thanks to all the committee members for all your hard work. The reunion was beautiful. Barbara and I had a wonderful time. So many people from the 59" through 61" classes all at one place. It was just unbelieveable. The girls look better than ever and the guys are more fun than they were 40 years ago! I got to say hello to Jim West, Tim Lutz, Dave Dye, Royal Lord, Mel Bentley, Sue O'Leary, Helen Teague and a bunch of other folks I haven't seen in way too long, and I got hugged by more pretty girls than anyone is entitled to be. The Cruise nights are always fun. Seeing Jerry Rigney again was a real blast. Larry Drager, Dave Kato, Richard Sloan, so many old "Frosties" faces. I was very fortunate to have lived where and with whom I did. So many of you are in my favorite memories I figured I just owed you all a "Thank You"! Especially you Baker for all you do to keep us all a family.
See You Soon,
M.S.
Hey Mikey, Thanks for being there at Cruise Night too. It's always fun when the old Frosties gang shows up.
---

Name: Chris Prewitt () on Tuesday, April 24, 2001 at 15:23:28
E-Mail: cjprewitt@juno.com
Class: mcmlxvii
City and State: Fullerton, CA
Message: John, I was over on the "What's New" page and was noticing that there was a request for help from the 1980-98 people to scan in senior pictures. Have you gotten any help? Some younger alumni have told me that they don't seem to fit. Well if they saw their HS picture they would realize that they look and sound just as different to the "kids" who are at the school today as we less youthful (is that politically correct?) look to them.
Hey Chris, I have senior pictures from 54 to 76.
---

Name: John Rout () on Tuesday, April 24, 2001 at 14:38:48
E-Mail: Jmr812004@aol.com
Class: 63
City and State: Cerritos
Message: One last entry in the Deer Park thing. Patti Smith, you are thinking of two separate parks. The Alligator farm was across the street from Knots, but the Japanese Deer Park was off of Artesia and the 5 freeway, north of Knotts by a few miles. Right Bill Jenson? Ye walking encyclopedia!

---

Name: JIM SLOEY () on Tuesday, April 24, 2001 at 12:35:41

E-Mail: sloeylaw@email.msn.com
Class: 1966
City and State: REDONDO BEACH, CA
Message: A VERY SPECIAL HAPPY BIRTHDAY TO OUR OWN ANGEL KAREN HARE KUSUMI, CLASS OF 1966 ON HER 30TH BIRTHDAY.
Happy Birthday Karen......
---

Name: Ingrid Larson () on Tuesday, April 24, 2001 at 10:11:22
E-Mail: ingridl@fdgdesign.com
Class: 74
City and State: Long Beach, CA


Message: I'm sorry I had to miss the last cruise night. Unexpectedly I was asked to work late at the office and didn't get to break free until 9:30. Some day I'll retrieve my El Molinos from you, John, meanwhile I know they're in good care.
There's been lots of talk about the great candy we used to buy for a nickel, back in the good old days. The other day I was remembering one that actually cost a dime! It was a big splurge, too. It was Gold Nugget chewing gum, packaged in a little muslin cloth bag with string ties to cinch it closed. The little "nuggets" of gum were all irregularly shaped, and coated with a yellow candy coating. You could probably get more gum (by weight) buying 10 pieces of 1-cent Double Bubble or Bazooka - but the packaging and presentation made this stuff more attractive to kids. When I was done with the gum, I'd use the little draw-string bag to hold change, like a money bag.
John, Thanks for the memories!
Thanks Ingrid, Yes, your yearbooks are safe. I actually took them for a little ride on Cruise Night just to get them out of the house.

---

Name: Sharon MacDonald () on Tuesday, April 24, 2001 at 07:47:56
E-Mail: rmac@genevaonline.com
Maiden: Badger
Class: 63
City and State: Burlington, Wisconsin
Message: Happy Birthday to Pattie Badger Henderson HHS '68. Welcome to the second half century of your lifetime!
Happy Birthbay Pattie
---

Name: Colleen Almas () on Tuesday, April 24, 2001 at 02:08:48
E-Mail: colleen@genesis1st.com
Maiden: Stevens
Class: 1991
City and State: Orange, CA
Message: Was wondering if anyone knows how to get a hold of past yearbooks? I have 3 outta my 4 years at HHS (88,89,91), missing 1990 and would very much like to have one. If anyone has any ideas, please email me (colleen@genesis1st.com). Thanks a bunch. GO COUGS!
Oh.. my 10 year reunion is this year (sometime)...EEEK! Time flies!
Hi Colleen, You can call HHS and talk to Richard Allen. He handles the yearbooks.
---

Name: Patti Smith () on Tuesday, April 24, 2001 at 01:08:26
E-Mail: GrnidL80@mediaone.net
Class: 68
City and State: Cypress, CA


Message: Chris Prewitt, you're right...Cottage Pottery WAS on the corner...it is now Claim Jumper. And the lot where the Alligator Farm/Deer Park was is used as parking for Knott's. I remember being able to walk there from Knott's, which you couldn't do if it were on Artesia. My ex-mother-in-law lived near there, and we drove by it frequently.

---

Name: JIM SLOEY () on Tuesday, April 24, 2001 at 00:43:58
E-Mail: ardinalislikesayingjohnbakerwasanolympian.com
Class: 66
City and State: redondo beach, ca
Message: Is it Sports Trivia Monday already John? Yup Harry was a Cardinal. What a homer he was but perhaps it was because I was the only Dodger fan in a small Iowa town that worshipped the Cardinals.
Thanks Jim

---

Name: Chris Prewitt () on Monday, April 23, 2001 at 22:07:26
E-Mail: cjprewitt@juno.com
Class: 1967
City and State: Fullerton, CA


Message: Patti Smith, You were close as to where the Alligator Farm was but on the corner was Cottage Pottery and behind, just about a hundred feet west of Beach Blvd on La Palma was the Alligator Farm? RAMMA LAMMA I thought that I saw you out in Orange on Saturday but maybe it was your sister. I went back to take your picture and all of the air was let out. I guess it must have been your sister because it seems that you still have a lot of air!

---

Name: Sharon MacDonald () on Monday, April 23, 2001 at 22:05:59
E-Mail: rmac@genevaonline.com
Maiden: Badger
Class: 63
City and State: Burlington, Wisconsin


Message: Harry Caray, Holy Cow, Bill Jensen! Harry was a legend. He made you forget just how lousy the Cubs could be. That's why Cubs fans finish Take Me Out to the Ball Game with "...if they don't win it's the same...." Going to Wrigley on the el, sitting in the shade sipping hot cocoa to stay warm in July, watching a team with great potential lose in every possible way imaginable, hearing Harry sing during the seventh inning stretch .... When all is said and done, at the end of the season the Cubs magic number is usually "911". When I moved from California to the Midwest in 1970, the logical local National League team to root for was the Cubs. Oh well.....
It's funny Sloey hasn't told us that Harry Caray started as a St Louis announcer.

Well Jim, did he or not?
---

Name: Judy DeGrazia-Blomsterberg () on Monday, April 23, 2001 at 21:13:07
E-Mail: JUDYWUDY@att.net
Maiden: Herecome"theOmeys"
Class: 64
City and State: Torrance, CA


Message: PROM NIGHT update: Well, today we got tickets sold to RUSS OMEY '61 & BARBARA OMEY '63. I'd like to know where all the other Omeys are. We also have RICKI VALENCIA FARRELL '61 & KAREN GRAHAM-KUEHL '59.. We love to see those 50's people get in there.. And now I have to sit patiently for Janny to come home from his VFW meeting.. He's being nominated for a position tonight... I just hope he doesn't come thru that door wearing a a Shriner's hat! I'm still trying to get use to having the History channel on all the time..
Rowdy Judy...still on a quest!

---

Name: Karen (Graham) Kuehl () on Monday, April 23, 2001 at 20:41:13
Class: 59
City and State: Templeton, CA
Message: Oh I forgot to mention, my favorite attraction at the Japanese Deer Park was the Pearl Divers too. Those gals could hold there breath for the longest time and looked so graceful in and out of the water. I bought a few pearls from there and I think I still have a ring my dad bought me with one of those pearls in it. I was sorry to hear they closed the place. It was one of my favorites!

---

Name: Karen (Graham) Kuehl () on Monday, April 23, 2001 at 20:36:31
Class: 59
City and State: Templeton, CA

Message: Hey JB, it was great seeing you last Friday. How's the kitchen coming along? I just got a note from JudyWudy saying you got my money for Prom Night. This is really going to be a fun reunion too. Thanks to Ctown, another mini reunion happened last Friday night in Corona. Some friends I haven't seen in over 40 years and I got together for dinner and lots of laughs. The whole atmosphere surrounding the 4 of us was mid '50's all over again!! It's so much fun to make contact with long lost friends and renew old acquaintances. I love it!! I hope to have many more mini reunions with my "old" friends soon. But the best is yet to come, Prom Night!!!
Thanks John.
You are welcome Karen. Thanks for the pictures too. I'll get them up as soon as I finish the kitchen project.
---

Name: verduzco, sharon () on Monday, April 23, 2001 at 19:31:09

E-Mail: verduzcs@Mattel.com
Maiden: estrada
Class: l961
City and State: Redondo Bc., Ca.
Message: Great to read some of the messages. Lots of memories come up about those days in Hawthorne.

---
If you have comments or suggestions, please email me at jb1@cougartown.com