Page 372

Hawthorne Time and
Temperature

Home | 60's Slang | Alumni List | Car Talk | Cougar News | Feedback | Hangouts | Memories
Recollections | Reunions | Street Scene | Teachers | Tributes | Vietnam | What's New | Keyword Search
Here's one you haven't heard in a LONG time....... Jimmy Rodgers
---
<!-+++++++++++++++++++++++++++++++++++++++++++++++++++++++++++++++++++++++++++++++++++++++++++ +++++++++++++++++++++++++++++++++++++++++++++++++++++++++++++++++++++++++++++++++++++++++++++->

---

<!-++++++++++++++++++++++++++++++++++++ADD BELOW THIS LINE++++++++++++++++++++++++++++++++++++ +++++++++++++++++++++++++++++++++++++++++++++++++++++++++++++++++++++++++++++++++++++++++++++->
Name: Norm Vorhis () on Friday, March 9, 2001 at 00:09:47
E-Mail: olds88coupe@Yahoo.com
Class: 59
City and State: Monrovia, Ca


Message: John E. Phillips Plumbing, 138th & Hawthorne, since 1943. Guy Hocker since 1959. Phillips Auto Service (El Segundo just west of Prairie, across from Jim's Charburger) looked pretty old when I worked at Hawthorne Towing Service (early 60's). Seems like Action battery was in an old building, when owners of the high compression 6 volt overheads would buy 8 volt marine batteries, to crank them over. Stopped by Eddings today. Ron Eddings said they opened, as a Napa affiliate, in 1941. During the War, like a lot of merchants, they sold anything, including dresses just to survive. Before they opened the auto parts store they had a used car lot on the same property. I worked for Northrop in dept 5515 in '66 and '67.
Hey Norval, Sounds like you're out there doing your homework. There're some great old Hawthorne businesses still churning out the almighty product. Eddings Bros and the 352 club look to be running neck and neck. Thanks Norv and Mo for contributing largely to this fun little project. Maybe we'll find out the year the 352 was established, but I don't think it'll be from the present owner.
---

Name: Jody Weller () on Thursday, March 8, 2001 at 22:25:23
Maiden: Halberg
Class: 59
City and State: Long Beach CADor
Message: DORIS-You were asking about Denny Eldredge. He was class of "57. He is married to my sister Judy class of "60" BOB-For your Pastrami at Jim's Charburger, wasn't that located on El Segundo just west of Prairie? MO-I loved all of your business names. Keep up the good work. Sure miss seing our SUNDALE FAMILIES.

---

Name: Keith D. Jones () on Thursday, March 8, 2001 at 20:55:16
E-Mail: cmi50@yahoo.com
Class: 76
City and State: Honolulu, HI
Message: Dan that was me. I'm not sure how much of a fight it was. The biggest part of the fight was Earthquake trying to keep his pants up while he hit me with his padded forearms that each weighed approximately the same as a side of beef. He weighed closer to 400 pounds. And that weight was about as far away from being steriod produced as you can get. More like ice cream, chips and burger produced. Myself and Scott Huehn were supposed to bump into him but at the last second Scott chickened out and I was in the bull ring by myself. I have to admit that it was the first and only time anyone threw me around as if I was a rag doll. By the way I just got an email from Tina Gardner (Keller), married Brian Gardner. Her sister is Vicki Keller. Aloha

---

Name: Bob's Big Boy () on Thursday, March 8, 2001 at 20:42:40
E-Mail: eatatjoes.com
City and State: Burbank, California
Message: The Rowdys, Jensen Brothers and Bob's Big Boy. Friday Night March 9th at 8:15 PM. 4211 Riverside Drive, Burbank, Ca 818-843-9334 Corner of Pass Avenue and Riverside Drive. Be there or be square!

---

Name: Big Kell () on Thursday, March 8, 2001 at 20:06:16
E-Mail: k.k.currie@att.net
City and State: oregon, where it never rains
Message: I too remember the corner store on 134th and Ramona. I never got a kiss there but i'll never forget the "teen-agers" that hung out there. I think there parents owned it. I also worked at Northrop. way back in 1968-69. didn't last long, but really loved it. I worked in the blue print check dept. I drove this little bus like thing around picking up and delivering blue prints. I actually was able to read some of them, for some parts they needed. once it got so hot in the room i worked in (sub-mezzanine level) the fire extinguishers went off and got all the blue prints not filed wet. and there were a lot not filed. hehe

---

Name: Bob Rierdan () on Thursday, March 8, 2001 at 19:50:02
E-Mail: printer@cheerful.com
Class: 61
City and State: Mtn. View, Mo.
Message: I think they were both called "The Pastrami Dip"
I think you're right Bob. That sounds very close. Thanks.....
---

Name: Raymond Smith () on Thursday, March 8, 2001 at 19:47:18
E-Mail: Kawabunganorth@juno.com
Class: 1981
City and State: Portland,OR
Message: I've done some pretty dumb thing when I was young so I thought maybe it'll give some laughter in this story here. When I was 14 (1976) on one summer day I wanted to watch the stars all night and see the world move. What better place to see this other than on your roof. By the time the sun started coming up I fell fast asleep. Bare in mind I'm still on the roof only with my clothes on and a blanket to keep me warm. After waking up from a few hours sleep and the sun was getting warmer I started to freak out! It wasn't that I have forgotten where I was but I couldn't SEE. I had to pry my eyes open with both hands and it only help me see alittle. After getting down from the roof "Carefully" and going into the back door my sister saw me and said "Oh my God! What happen to you?" Now I was really shaken not knowing the known about what happened to my face. As I hurried to the bathroom mirror and saw my face it looks as if I was in a 10 round fight with Muhammad Ali. After my sister and I talked of the night's event we found out our answer. Those D#$% mosquitos was having a buffet. On ME! That explains why the rest of me didn't get bitten because I was all covered up. How I did not roll off the roof is still a mystery to me.
Hey Ray, Good one. Yep, Hawthorne boy......the mosquito capital of CA.

---

Name: Betty Rodriguez () on Thursday, March 8, 2001 at 18:42:13
E-Mail: tombetty@kelp.net
Maiden: Kean
Class: 69
City and State: Lake Elsinore, CA
Message: Mo-please don't go away - I enjoyed seeing all those business names. I'll add one more - Coast Liquor on Inglewood - they delivered! And I'll speak for the Sundale Gang in sending our prayers to Randy Hood.
Betty

---

Name: Reuel Callahan () on Thursday, March 8, 2001 at 18:38:36
E-Mail: reuelcallahan@aol.com
Class: 65
City and State: Westlake Village, Ca.
Message: John I am a Northrop (Vought) employee for 27 years. My Mom also worked there for 30 years. She was hired in 1950 and never got laid off. Well I worked in the Commercial Division for Northrop and just by chance that is what they sold off. We are now known as Vought Aircraft Industries, but for us oldtimers we can't stop saying we work for Northrop. Just thought I would share this with everyone.
Thanks Reuel.....
---

Name: LEEROY FELDERRUSTER () on Thursday, March 8, 2001 at 18:27:11
E-Mail: leeroyfe@yahoo.com
Class: 1955
City and State: manhaddan beechs
Message: HOWDY TO DORES! I's dunt meen ta. 19 ans 55. Buts leds mes leds you in ona seekrit Dores, i neber gradjated. Sirprised huh? Dunt tels noones, buts John nose. LEEROY FELDERRUSTER
Yep, I know it's hard to believe, but it's true.
---

Name: Peggy Sarvis () on Thursday, March 8, 2001 at 17:57:31
E-Mail: peggy.w.sarvis@west.boeing.com
Maiden: Westbrook
Class: 59
City and State: Lakewood, CA


Message: Hi--I am a HHS '59 graduate and we are trying to locate several of our classmates to notify them of the reunion that we're having on April 7th. If you know where we can locate any of these people, please e-mail us with their address or phone #. Beverly Adams and Irene Perry are listed on Yahoo reunions if any of you are members. We thought Beverly was deceased.
Jack Barker, Eddie Andrews, Glenn Miller, Karen Anderson, Joe Bell, Remi Boudreau, Joanne Berry Beard, Jack Boureston, Merry Bowman Bell, Veerdeen Bugbee, Karen Burgasser, Bob Calkins, Ronald Carson, Rebecca Christensen Tittle, Nadine Collins Wilson, Lloyd Conner, Jo Conmello, John A.Crowder, Sandra Cunningham, Judy Divin Barnes, Betty Dodd, Carol Ehrlick, Bonnie Ely, William Gates, Karen Gilbert, Mike Gorham, Ronnie Green, Stephen Gulbuena, Vertie Guy LaRouch, Douglas Hall, Bob Hogan, Butch Holt, Susanne Horn, Tom Huffstatler, Edna Jansen, Michael Johnson, Roger Johnson, Bonnie Joseph Clayton, Barry Justice, Calvin Kieffer, Kay Karels Toice, Rose Kindseth, Roger Korpela, Joe Landrin, James Lee, Hugh Livingston, Fred MacDonald, Evelyn Maraske, Kermit Matthews, Larry McAlister, Lilianne McCray Richards, Bonnie McDowell Hahlbeck, Jerri McKnight, Bruce McMeans, Vance Morris, Leslie Naisbett, Charlie Nelson, Robery Newby, Richard Oliver, George Paland, Diane Parise Gobble, Carolyn Dickens Parks, Kearn Peach Kimball, Judy Peore, Sylvia Regula Hawkins, Delores Reynolds, Ray Richards, Robert Ross, Terry Sargent, Marcella Sam Whang, Terry Sargent, Jim Schrecongost, Janie Simpson, Judy Smith, Marcia Smith, Sandy Stickel Baggett, Dennis St. John, Janet Thomas Taylor, Sharon Thomas, Mary Sue Thornton Brenton, Carleen Tunnell Shaldone, Ram Turnbow, Judy Venhaus Kistner, Diana VanRypin, Charles Washburn, Dorothy Burns, Mary White, Carolyn Whitney, Brenda Whitten Soln, Jam Whitworth, Tom Wickendoll, Eddie Williams, Pat Windham, Steve Windsor, James Woods, Grace Yoder, Nancy Wirz Boal. Thank you very much for your help. We want to touch base with Peggy Westbrook Sarvis, Class of '59.
Hi Peggy, I see lots of brothers and sisters of Cougars listed on different alumni lists. Jack Boureston is HHS62 Richard Boureston's brother; Bonnie McDowell Hahlbeck in Linda McDowell Shahian's sister and may be related to our Hahlbecks too; Calvin Kieffer is related to Dan Kieffer HHS62; and so on. I think you'll find lots of others too. If anyone knows the whereabouts of anyone on the list above, please email Peggy at peggy.w.sarvis@west.boeing.com
Thanks Cougs....
---

Name: Maureen Trott () on Thursday, March 8, 2001 at 16:36:46
E-Mail: MoMo90250@aol.com
Class: 64
City and State: Hawthorne
Message: TO ALL OF COUGARTOWN: Please except my apology if any of you felt as if I was bombarding you with ALL the businesses in Hawthorne, but I knew the ones I listed had been in business for a long time and thought one of them might trigger someones memory (which one did). I wasn't trying to list the complete city. I'll just stick to reading feedback. ALWAYS BE A COUG!

---

Name: Doris () on Thursday, March 8, 2001 at 16:27:08
Maiden: Donaldson
Class: '57
Message: Got lots of questions.
LEEROY: How come one time you sign in as "Class of '55" and the next time you sign in as "Class of '60"? What year did Denny Eldridge graduate?
JOHN: Coincidence here; my Dad was hired at Northrop on Pearl Harbor Day, 12/7/41 and he was never laid off either. He retired in late 1970. Sorry to learn that Northrop is clearing out of Hawthorne. What was the year Northrop came into Hawthorne. Do you remember the old dirt road, long-ways of Northrop, on the north side that went the whole length of the airport? We used to drive that horrible, bumpy/dippy/holey road and watch the planes take off and land. That was Sunday fun.
JUDY-WUDY: You just reminded me of "sparkles"; I had forgotten all about them. I can remember having sparkles "sprayed" into my hair from prom. Think I'll see if I can't find something like this for PROM NITE 2001!!! LOVED Mike Shay's funny, funny story about GOLIATH the Doberman! More Mike, more! And enjoyed your latest, too, Mike Backus! Oh yes ... JOHN ... making YOU feel young is my goal in life! I must make just about EVERYONE on Feedback feel young! That's ok ... I only hope you have the good fortune I've had so far in my 61 years! I am so blessed! And another of those blessings? COUGARS!!!
Thanks Doris.... Northrop opened its doors in Hawthorne in 1939 and the old dirt road you mention was 120th before it was paved.
---

Name: Jack Risner () on Thursday, March 8, 2001 at 15:49:12
E-Mail: rencaj@netscape.net
Class: 74
City and State: Hailey, Id
Message: In its early days Hawthorne had but one grocery store, and meat was brought by wagon from Inglewood three times a week. There was a furniture factory, an overall factory, a glove factory, and an art leather firm. A small building served as both church and school. The school had 16 pupils ranging from kindergarten to 18 years of age. Mail service began in October 1908. The first residence built was at 515 Freeman. This all came from the Hawthorne History page of the Chamber of Commerce. I just thought it might jog something loose if anyone remembers hearing stories from their grandparents about 1908. Personally, my grandmother didn't leave Scotland until 1914 and settled first in downtown L.A.
Thanks Jack. FYI -- 515 Freeman would've been just north of 120th on the west side of Freeman.
---

Name: LEEROY FELDERRUSTER () on Thursday, March 8, 2001 at 13:22:52
E-Mail: leeroyfe@yahoo.com
Class: 1955
City and State: manhaddan beechs
Message: HOWDY! I's shores gleds dat Robins fella neber mets my BEULAH, hern midel nams Mary.
LEEROY FELDERRUSTER
OK.....uh thanks...uhhh LeeRoy.
---

Name: Bob Poorman () on Thursday, March 8, 2001 at 13:19:27
Class: '77
City and State: Wayzata, MN
Message: Beef & Pastrami - Would that be Jim's Charburger?

---

Name: Paco () on Thursday, March 8, 2001 at 13:12:39
Message: Patt, I remember the Insomniac well. Peter Bye's older brother was the manager there in the late 50's. I loved to listen to poetry and drink Expresso in a dark corner. After I moved to Newport Beach I hung out at Sid's Blue Beat, that was cool, listening to the girls in their covered wagon dresses and play the triangle, see ya daddy-o.
That reminds me of another little story, I was about 9 or 10 walking home from school, down Anza, when 2 guys from Dana on bikes rode by, and yelled a little phrase that sounded so cool to me, I thought I'd try it out at home. When My father came home that evening he told me to go burn the trash, I was so happy he asked me something..Here goes.."Eat me daddy I'm a vitamin", I walked kinda funny for a few days...
Man that's FUNNY!!! Yep, I would've been walking a little like a Hermit Crab myself. I guess that's what's meant by our generation being INSTANTLY responsible for our actions.

Thanks Paco....
---

Name: Donald Scheliga () on Thursday, March 8, 2001 at 12:51:27
E-Mail: des249@yahoo.com
Class: 62
City and State: West Covina


Message: Does anyone recall the name of the Burger and Pastrami place that was located on the south-west corner of Rosecrans during the 50's and 60's. I believe there was another on the north-west corner of Imperial or somewhere in that general area. During the summer, before I had a car, I would ride my bike from 134th. St. to the burger place and get Hot Pastrami's for my mom and I. Then ride back as fast as I could before they got cold. John, like yourself, my bike was history the day I got my drivers license. The same holds true today with my twin daughters. The day they got their license and cars, their bikes became two stationary fixtures in my garage.
Be a good Coug.
Don, you say the southwest corner of Rosecrans, and I'm assuming you mean Rosecrans and Hawthorne Bl. No, I don't remember a Pastrami place there. I do remember the Pastrami place on the southwest corner of Hawthorne and Imperial, but the name I've forgotten. I remember they had peppers out on the counter and Dad would just about break them, eating those peppers with a Pastrami.
---

Name: Mike Backus () on Thursday, March 8, 2001 at 11:41:15
E-Mail: michael@backusstudio.com
Class: '74
City and State: Eugene, OR
Message: All kinds of people live in Hawthorne. That's the way it was in the '60s and '70s, that's the way it is now. One of my least reputable friends from 'the 'hood' was showing some interesting tendencies, even as an early teen. One of his innovations was something called the 'Dine & Dash'. As proud as he was of this maneuver you would think that he invented it. His particular variation involved going into a restaurant, usually a busy coffee shop, and ordering up a bunch of food. Once he had eaten to capacity and the bill had arrived, he excused himself to the men's room (usually located conveniently near the entrance/ exit). He would linger in the rest room for an appropriate length of time and then exit, making a sudden turn for the exit and beating feet down the street. I do not condone this sort of behavior and would not even be telling the tale if this person's hustle hadn't taken an interesting turn. The Dine & Dash had been paying off pretty well for my friend. He hadn't even come close to getting caught yet. So of course he started getting sloppy. He went back to the same coffee shop on Hawthorne Blvd that he had ripped off once before. As soon as he walked in he got the uncomfortable feeling that they were on to him. But unlike an intelligent person, he stayed on course. He ordered up his usual banquet and they brought it to him. The longer they played along the more confident he got. So when the bill came he pulled his usual and strolled into the bathroom. He waited the typical interval then walked back out. No one in sight. Suckers! He pulled a hard right, out the exit, and right into the arms of the 6'3" 250 lb Head Dishwasher! He got escorted back into the restaurant where his waitress, a woman in her 50s, was waiting for him. "You little S.O.B.! Do you know that they make me pay for every one of you little ba****ds that runs out of here? I have two of my own kids at home. Pay up or I'll take it out of your hide!" If you have any doubt as to the poor judgment being shown here, you won't soon. He came in and pulled this stunt with only a few cents in his pocket! Since I'm relying on his recount of this event, the story gets a little fuzzy right here. Apparently there was some talk of calling the HPD. I think that what actually was happening right at this point was that our 'hardened criminal' was pleading for his life. He skipped that part of the story. The end result of the negotiations was that he spent the rest of his Saturday washing dishes, under the watchful eye of the Head Dishwasher. To the best of my knowledge, he never Dined & Dashed again.

---

Name: Dan Johnson () on Thursday, March 8, 2001 at 11:40:48
E-Mail: wch1ispink@aol.com
Class: 77
Message: Earthquake, the 300lb lineman from West Torrance? Keith, that was you who fought him? I actually witnessed that because I was at the snackstand at the time. That was a real 300lbs in the days before steriods were commonplace.

---

Name: Keith D. Jones () on Thursday, March 8, 2001 at 00:57:54
E-Mail: cmi50@yahoo.com
Class: 76
City and State: Honolulu, HI
Message: Dale Buddy how have you been? We need to hook-up someday. I was in Vegas for two years then just moved back here to Hawaii in January. You are truly one of the best Cougs around. I'll never forget the "Earthquake" taken all his anger out on me (a common spectator)cause you were killing him on the field. That was a truly unforgetable HHS moment. What do think about Big Dale coming aboard CT. Great uh! Scott Beers I remember you well. We were in Boy Scouts together along with other things Little League, Middle League. I sure do remember Jackie Jugend. Tim Woods was a good friend of mine too. Mike was my bro's age. I had a couple of bike incidents. First one was when Mike Krstich was moving in his house back around when I was probably 6 or 7, I was riding my bike in the middle of the street when the moving truck that was moving his family in whacked me from behind and I flew like superman and landed on the lawn of the next door neighbors. My mom called our doctor (who made house calls back then) and he couldn't believe I didn't have a scratch or anything on me. Plus the handle bars of my bike went under the truck and punctured the oil pan. It was my way of welcoming our new neighbors. Not quite a sgood as when the Reinhardt's moved in next door to us and my parents were welcoming them and sitting in their living room when a golf ball (hit by yours truly)went through the window right into their living room. People who knew my dad can vision what happened to me. Next bike story later.
You mean when you got your head stuck in the bike rack?
---

Name: Norm Vorhis () on Thursday, March 8, 2001 at 00:56:13
E-Mail: olds88coupe@juno.com
Class: 59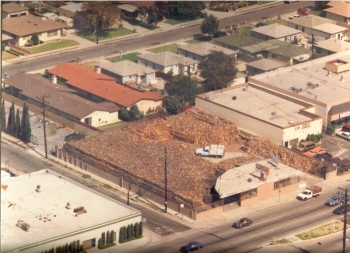 Message:I stopped by Jones Firewood today. The the present owner told me he bought it from the Jones family in '78. They started around the corner on Aviation in 1948 and moved to the present location on Rosecrans in 1950. He let me borrow a 16 x 20 inch aerial photo of his place. I scanned part of it, and am sending it. I noticed it is next door to C & O transmissions. I talked to the owner of Chips a while back. He restored the place about 6 years ago. Wanting to do it right, He couldn't find anything on Chips in the library, so he did the best he could from pictures of Holly's, and the Norm's on Crenshaw at Rosecrans. See you at "Frosters"
Hey Norv, Great stuff.....thanks for the picture. Another senior Hawthorne business.
---

Name: Patt () on Thursday, March 8, 2001 at 00:53:57


E-Mail: pdeck17@3-cities.com
Maiden: Prewitt
Class: 65
City and State: Kennewick.Wa.
Message: Does anyone remember the Insomniac?

---

Name: Jody Weller () on Wednesday, March 7, 2001 at 23:29:49
Maiden: Halberg
Class: 59
City and State: Long Beach CA((
Message: (Bob)The original name of Richard Kadak's business was Modern Shower Door on Crenshaw. When he moved to Inglewood Avenue, across from Gene's Restaurant, he changed the name to Hawthorne Shower Door. It was next to O'Brien's Screens. The Feedback is great and addicting. I now read it before Dear Abby or anything else. Keep up the good work!!!!

---

Name: Cindy Colby () on Wednesday, March 7, 2001 at 22:49:07
E-Mail: cindymcolby@aol.com
Maiden: Maxson
Class: 63
City and State: Laguna Hills, CA


Message: After my last post about the stores on Inglewood avenue I got to thinking about some of the other places, I had forgotten about Felton Market, I don't even remember the cross street but that was a really neat place, it was really old even back then.

---

Name: Maureen 'Mo' Trott () on Wednesday, March 7, 2001 at 22:18:55
E-Mail: MoMo90250@aol.com
Maiden: Trott
Class: 1964
City and State: Hawthorne
Message: OK John, there may be a technicality here. I just finished talking to Walt Dixson and DOUGLASS & DUNAWAY MORTUARY have been in business since the early 30's and could be the oldest business. It was originally DUNAWAY MORTUARY and has had several partners, but has never lost it's original owners name. If this does not count, then so far it is the 352 Club. Always a coug!
It just hit me what a great name Dunaway (Done Away) Mortuary is........No, it doesn't count as the name has changed too many times.
---

Name: Rebecca Kabwasa () on Wednesday, March 7, 2001 at 20:50:14
E-Mail: rebecca.j.kabwasa@aero.org
Maiden: Donohoe
Class: 61
City and State: Temecula, CA


Message: Did anyone mention the Pizza Show on Hawthorne Blvd. as a long running business. I think it was there while I was still at HHS, and I believe they're still in business. The guys that worked there tossed the pizza dough in front of the big window facing out to the Blvd.
A bar on Hawthorne Blvd., about 130th, called the SPA, I think. Don't know if it's still there but it's the subject of a Donohoe family '50s urban legend. My uncle Joe, visiting us from a bump-in-the-road town in Northern CA (Hornbrook) went out to buy a toothbrush and didn't come back for three days. We found him at the SPA--no toothbrush. (Uncle Joe and Aunt Vera soon divorced.)
YES!! The Spa.... It's still there too....Great one. Great story too. Thanks Rebecca
---
If you have comments or suggestions, please email me at jb1@cougartown.com