Page 368

Hawthorne Time and
Temperature

Home | 60's Slang | Alumni List | Car Talk | Cougar News | Feedback | Hangouts | Memories
Recollections | Reunions | Street Scene | Teachers | Tributes | Vietnam | What's New | Keyword Search
Another 50's Classic....... Lavern Baker
---
<!-+++++++++++++++++++++++++++++++++++++++++++++++++++++++++++++++++++++++++++++++++++++++++++ +++++++++++++++++++++++++++++++++++++++++++++++++++++++++++++++++++++++++++++++++++++++++++++->

---

<!-++++++++++++++++++++++++++++++++++++ADD BELOW THIS LINE++++++++++++++++++++++++++++++++++++ +++++++++++++++++++++++++++++++++++++++++++++++++++++++++++++++++++++++++++++++++++++++++++++->
Name: Myrna () on Monday, March 5, 2001 at 16:37:52
Class: 66
Message: Hi John - I've been away for quite some time now, haven't read the feedback regularly since September. I'm sure I've missed some stuff I'd like and some I'd rather not read, but I sure am glad that feedback is still here. You've done a great job, I know it's a lot of work, and I appreciate it. Just read through a little bit (maybe two pages) and I too miss the freedom of our youth for our own kids (and grandkids). We could jump on the bus and go East on Imperial or North on Hawthorne Blvd, just to go to the show when the Plaza didn't suit our fancy. Or, we could jump on our bikes and ride West on Imperial to the beach and our folks didn't worry about us. It sure was a more simple time of our lives. But then, I think all adults think the times of their childhood were more simple - just a fact of maturity, I think.
I think you're correct about the times of your childhood. I asked dad once if he could change his time of growing up to any period, what would it be, and he said he wouldn't change a thing......interesting.
Glad you're back Myrna.......
---

Name: PAT BUSH () on Monday, March 5, 2001 at 15:18:25
E-Mail: pwbush@aol.com
Class: 80
City and State: BUENA PARK
Message: HEY DALE CRAIG I WAS WONDERING IF YOU HAVE OR KNOW WERE YOU CAN GET ROSTERS OF THE I.H.L. TEAMS AND THE TEAMS THAT PLAY AT LONG BEACH. I WAS FRENDS WITH ALOT OF NHL'ERS THAT I KNOW ARE STILL PLAYING ON MINOR LEAGUE TEAMS , I JUST CAN'T SEEM TO FIND WHICH TEAMS . THANKS FOR ANY HELP. PAT
Pat, This kind of thing can be emailed to Dale. Thanks.....
---

Name: Doris () on Monday, March 5, 2001 at 15:02:08
E-Mail: raydori@micron.net
Maiden: Donaldson
Class: '57
Message: DEAR COUGARS! For those of you who work and do not know, there has been another shooting at a high school near San Diego, Santana High ... 13 wounded and 2 dead. I am so sad! I keep thinking "this will stop"; "this is the last time this will happen". Now I'm thinking, "WILL IT EVER STOP?" I'm wondering what WE as HHS alumni might do to make sure this does NOT happen at HHS. Is there something that some of us have to contribute? I think we need to take this seriously ... maybe brainstorm a little ... come up with some ideas ... If nothing else, we might lend just ONE idea that might be useful in keeping this from happening at our old Alma Mater. At least let me know your thoughts on this subject. Thanks fellow Cougs. doris

---

Name: Betty Rodriguez () on Monday, March 5, 2001 at 14:53:52
E-Mail: tombetty@kelp.net
Maiden: Kean
Class: 69
City and State: Lake Elsinore, CA
Message: Cougs-If you have guns and kids, grandkids - get rid of the guns. Period.
I will amend my version to say if you have guns and kids, instruct your children EARLY in life about guns. When your children are very young, instruct them in the handling and firing of the guns. Teach them that unlike toy guns, REAL guns are NOT to be played with. Take the inquisitiveness away. Teach them to respect what a gun will do. Lock your guns up in a good gun safe and have them trigger locked. All in all be a responsible gun owner.
---

Name: Mike Backus () on Monday, March 5, 2001 at 14:49:42
E-Mail: michael@backusstudio.com
Class: '74
City and State: Eugene, OR
Message: On Sunday afternoon I was walking through our local mammoth warehouse market. It's one of those creepy coast to coast chains, the kind that sells everything from take and bake pizzas to snow tires. Since my wife only took me along as 'mule' to push the heaping cart of goods, my brain was dangerously unoccupied. I started thinking about how all of this discount commerce was affecting other businesses. I was just starting to visualize their new "Discount Computer Graphics Department" (MY business) when I remembered the little corner market in my old neighborhood
in Hawthorne; "Ben's Market". Ben's Market was run by Ben Nishinaka (father of he Class of '74s own Gwen Nishinaka), and was always referred to simply as "Ben's". It was on the corner of 118th Street and Freeman . Ben's Market was a classic neighborhood corner market. Of course you could find a half gallon of milk, or a loaf of bread, or a dozen eggs or most of the essential "Darn, we're out of..." items. But the thing that made Ben's so special was Ben himself. Ben loved kids, and it showed. His store was stocked with kid treasures like balsa wood gliders, plastic model kits, paper kite kits, comic books, ice cream bars, sodas, Hostess pastries and candy of every description. He had the wax fake fingernails and big red lips (these could actually be chewed and tasted kinda like, well, wax with sugar in them), he had red and black vine licorice, the straws filled with flavored sugar powder, Bazooka bubble gum and an endless array of other candies for a penny. You NEVER saw pennies laying around on the sidewalk in the '60s! That was a decent piece of candy! If you wanted to splurge you could spend a nickel and get a 'log' of chewing gum or giant Tootsie Roll. My personal weaknesses were the comic books and models. Ben had some arrangement with the comic distributors which allowed him to get comics that had not sold during their actual newsstand time slot and so had gone back. Ben got these unsold 15c comics and sold them for a nickel. Superman, Batman, Spiderman, X Men, Fantastic Four, Wonder Woman, The Incredible Hulk, Captain America. My teachers at York Elementary School and at Hawthorne Intermediate always wondered where my brain was. I was watching the Hulk and the Thing battling it out on their desktop. What little attention span I had was preoccupied in fanciful carnage. I financed my acquisition of comics and models by skipping lunch and saving my lunch money. 35c a day was a lot of comics at a nickel per! Where things would get rough for me was when Ben would get in some elaborate plastic model kit that I had to have. One time he put up this huge WW2 battle kit that had soldiers and jeeps and tanks and other cool stuff. I nearly starved! I think I had to skip lunch for two weeks to save up for that model. Most of the models are gone now, too bulky and fragile to move. I do still have my comics, archived in plastic bags and carefully stored. Last time I checked most of my nickel investments were worth ten to twenty dollars each, with some valued as high as $200. Not a bad investment! I never heard where the Nishinakas moved to after Ben sold his little market. I like to think of him happily retired somewhere and surrounded by his grandchildren.

---

Name: Paco () on Monday, March 5, 2001 at 13:55:29
E-Mail: doo4usc@aol.com
Message: COUGS, PLEASE lock up your guns!!

---

Name: Cindy Murphy () on Monday, March 5, 2001 at 13:48:40
E-Mail: cmurphy@ropers.com
Maiden: Shoren
Class: 68
City and State: Moss Beach, CA
Message: Has anyone heard from Susan Summers? Do not know her married name but she graduated in the class of 1967. Would appreciate any info.

---

Name: Harry Plotkin () on Monday, March 5, 2001 at 13:02:27
E-Mail: hcharry@pacbell.net
Class: 52/97
City and State: Harbor City, CA
Message: To Doug Medina: It is true that Sharon Jansta is a counselor at Dana. I used to love substituting for her. John McCarthy is alive and well. I'll e-mail his address to you. He lives in Fullerton.
Love to all, HCH

---

Name: Dale Craig () on Monday, March 5, 2001 at 12:31:41
Class: 76
City and State: Hawthorne Ca
Message: Jim: The cookie monster strikes again I went Bristol Farms on Saturday but I didn't see Peppermint Patty but I did pick two boxes cookies from the troop hopefully I will see Peppermint Patty and her Daughter there at Bristol Farms some other time save some thin mints thank cookie monster # 2

---

Name: THOUGHT FOR THE DAY () on Monday, March 5, 2001 at 12:24:27
Message: I count myself in nothing else so happy as in a soul remembering my good friends.
Shakespeare

---

Name: Melinda Farrow () on Monday, March 5, 2001 at 11:25:34
E-Mail: linda.farrow@trw.com
Maiden: Elia
Class: 82
City and State: Redondo Beach, Ca
Message: Message to Mr. Medina regarding Mr. McCarthy and Mrs. Sharon Jansta. I had heard that Mr. McCarthy passed away a while back. As for Mrs. Jansta she is at Richard Henry Dana Jr. High as a counselor of some kind. I also had her for 3rd or 4th grade I loved her, and have visited her while my daughter attended Jr. high. I also had Mr. McCarthy as my principal at Cabrillo, he was a very nice man..

---

Name: Jerry Miles () on Monday, March 5, 2001 at 11:05:37
E-Mail: jfmiles@pacbell.net
Class: 66
City and State: Fair Oaks, CA
Message: Blake Withell. Yes, that was me. There wasn't too many of those delivery sedans around. It was not one of my favorite cars. I bought it with dreams of surfing safaris, drive-in movies and cruising the Boulevard. Unfortunately it lasted about one week before it started blowing the oil hose. I was driving down the street with some friends and it completely lost power. It looked like a Texas gusher had erupted under the hood. Just a bad oil hose I thought and replaced it and all the lost oil. After the second time it did that I thought I'd outsmart it by going to Scat Enterprises in Inglewood and buying a metal hose. I'm still not sure what it did but I know it destroyed the six cylinder that was in it but the hose was as good as new. Well heck, I wanted an 8 anyway so I then went to Colorado Wrecking Yard to buy a 283. The man took me in the back and started one up. With no muffler it sounded terrific to my teenage ear. Fit right in he sez. No problem at all he sez. Well it was a '57 engine and in '58 they changed the engine mounts. Back to Scat for a conversion kit. I fussed with it for a while but as you know, never got it done. I've been kind of partial to Ford's ever since. I did spot it in a Lennox backyard a few years later. Still no engine.

---

Name: DALE CRAIG () on Monday, March 5, 2001 at 10:55:19
Class: 76
City and State: HAWTHORNE CA
Message: Good morning all you COUGARS and cougaretts I saw a former coach at Hawthorne High at my favorite store costco Otto Plum who now is coaching at Gardena High On Sunday class of 71 alumni Joe Chavez went to see the best hockey team in Southern Califorina the Long Beach Ice Dogs I'm looking for alumni that want to see the Ice Dogs in Long Beach let me know on the feedback page I can get the tickets for any day. The next game is March the 17 at 7:00pm let me by March 15 before 4:00pm thanks for all the good vibes catch ya later Dale

---

Name: John Baker () on Monday, March 5, 2001 at 10:30:14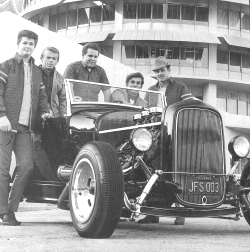 E-Mail: jb1@cougartown.com
Class: 62
City and State: Lomita, CA
Message:Here's an early picture of the Beach Boys taken out back of Capitol Records (background).
Unlike the song, that's a "Little Deuce Roadster" they're posing around.
Thanks to Gary Nelson HHS60 for sending the picture.

---

Name: Matt Peterson () on Monday, March 5, 2001 at 10:07:50
E-Mail: mattpete6@yahoo.com
Class: 74
City and State: El Dorado Hills, CA
Message: I hope everyone had a good weekend. I enjoy these feedback stories, especially Mikes. Here is another story of Cougars coming together. The Toast to Yost, wrestlers/scorekeepers reunion will be July 14, 2001 at the Lakes Golf Course Restaurant in El Segundo. The price will be $33.00. Email me at mattpete6@yahoo.com if you need more information.
This info is also listed on the Reunions page for those who would like to refer to it later. Thanks Matt.....
---

Name: Blake Withell () on Friday, March 2, 2001 at 16:52:10
E-Mail: withells@idirect.com
Class: 67
City and State: Tor.Ca
Message: Jerry Miles,
Are you the same Jerry Miles I bought a white 58 Chevy Delray sedan delivery from in 67? I never put an engine in it either. I did some body work then my dad kicked it and me out of the garage.

---

Name: Doris () on Friday, March 2, 2001 at 13:46:00
E-Mail: raydori@micron.net
Maiden: Donaldson
Class: '57
City and State: Twin Falls, Idaho
Message: Since I am the eldest of CougarTown "inputters" (Gee! I really LIKE that word), no I do not remember that restaurant, John. And what is even funnier, on the front of the bldg in the picture, it says the bldg was "air-conditioned"!! I didn't know ANY bldg in Hawthorne, in the old days, was air-conditioned! Also a bike story: When I was growing up, my family was so poor ("how poor were they!!?") they could not for most of my very young years afford a bicycle for me, so I played with my Dad's GIGANTIC bicycle which I am SURE was made of iron ... it was SO HEAVY! It was so tall I could not get my leg over the bar, let alone sit on the seat, so I kind of pushed it. I would hold onto the handle bars, put my right foot on the left peddle and push it with my left foot, as if it were a scooter! If it had ever fallen on me, it would have wounded me, positively! Finally one day I COULD get my leg over but I had to sort of sashshay back and forth over the bar because my feet would not reach a peddle when it was down if I didn't lean way over on that side. That ... is the way I learned to ride a bicycle. By the time I got my own bicycle, I thought it was a piece of cake!!!

---

Name: Jerry Miles () on Friday, March 2, 2001 at 12:49:11
E-Mail: jfmiles@pacbell.net
Class: 66
City and State: Fair Oaks, CA

Message: I think there has been enough griping about Concerned Cougar. They were just expressing their opinion, as you are free to express yours. Maybe some of you should take your own advise and "Scroll on past". It's not as if this person posts the same complaint week after week. CT Feedback has drifted into many areas in the past years and there is nothing wrong with that. But when it stays too far and for too long someone, sometimes the King himself, reminds us of what we are basically here for. As declared on the Home page of this site, "this website is dedicated to all the early 60's stuff that happened in and around Hawthorne and Hawthorne High School." As far as not leaving their name, I didn't know that was a CT rule. If it is it's often broken. Why would you care anyway? Would it feel better to disparage this person in a more personal manner?
So let's all show some Cougar compassion for each other. Let's keep this site fun and let's not exclude anyone or their thoughts. Well maybe Mr. X. Off my soapbox now.
Thanks Jerry, You said exactly what I wanted to say for two days and haven't. Who cares what this guy/girls name is??!! This person has been reading (not writing into) feedback for 2 years (90% of feedbackers have NEVER written anything). He/she finally gets up the courage to express his feelings because he's concerned that Feedback is getting off the subject, and he's IMMEDIATELY JUMPED by a bunch of so-called Cougar bretheren who only care what his/her name is, or ridicule the spelling in the feedback?? Man you talk about LOVE for your fellow Cougar. This poor soul and FELLOW COUG that has been a part of feedback for 2 years is now GONE FOREVER. WHY?? Because he/she chose to say what was on his/her mind. Sad day in Cougartown......
---

Name: Dan Johnson () on Friday, March 2, 2001 at 12:48:15
E-Mail: wch1ispink@aol.com
Class: 77
Message: Anita, Blue Oyster Cult, Angel, Heart, Jefferson Starship, Boston, Journey, RUSH, early Elton John, Eagles, Fleetwood Mac, Jethro Tull, Santana, Grand Funk (before Locomotion), The Who, The Beatles, BTO, Deep Purple, Blackmore's Rainbow, Bee Bop Deluxe, VAN HALEN, Doobie Bros, Stanley Clarke, Jean Luc Ponty, Alice Cooper, Peter Gabriel (Solsbury Hill), X, The Germs, Charlie Daniels (Uneasy Rider), Doors, ELP, Pure Prarie League, Yes, Neil Young, THIN LIZZY, Styx, Bob Seger, Ted Nugent, UFO, Tommy Bolin, Santana, Queen (Manny Pizaro gave his copy of Sheer Heart Attack to Andy Escobar), Joe Walsh, OUTLAWS (Green Grass and High Tides, way better than Free Bird), Mott the Hoople/Ian Hunter (Cleveland Rocks), Moody Blues, Steve Miller, Kansas, Alan Parsons Project (I wouldnt wanna be like you), The Kinks (Terry Rameriz, you remember), Hendrix, J.Geils (whammer jammer), FRAMPTON COMES ALIVE and lets not forget Eclipse (Russ Painter, Mike Deakins & Dr. Tony Zaccalin?) and Rage/Silent Rage/Band X -- EJ. These make up the soundtrack of the 70s. Who went to Cal Jam and Cal Jam II at the Ontario Motor Speedway? (I was at II)

---

Name: Bob Jensen () on Friday, March 2, 2001 at 12:22:32
E-Mail: robertjensen@satco-inc.com
Maiden: MrsDingDongyou'vegotalovelydaughter!
Class: 71
City and State: Los Angeles, California


Message: Screaming Yellow Zonkers Ramma, I thought those old Blue Meanies ran you off! Glad you?re back. I am all ready for PROM NIGHT. I have my tux reserved at The Dewdrop Tux Shop and I have a corsage reserved for you at Dombrowski?s. Yes, they are still in business. Are you wearing a strapless gown? If so I?ll change the corsage to a wrist corsage. Please let me know. I do hope you like Geraniums.

---

Name: Doug Medina () on Friday, March 2, 2001 at 12:22:30
E-Mail: gulliblebum@cs.com
Class: 80
City and State: Murrieta,Ca.
Message: To Mr. Harry Plotkin or anyone else who can help, I was a west-ender. I lived on W.138th St. & Inglewood Ave. I remember after my parents divorced back in '72 that my sister and I went to live at our grandparents house. I started school at Cabrillo cause the other elementary next to Dana was full. My mom took us to Cabrillo. We met the principal a certain Mr. McCarthy. He knew my mom Peggy Peters(class of '61). He was so nice to my sis and I and made us feel right at home! My mom had him as a teacher back in the 50's. I went there for a year till my mom remarried and we moved to Lakewood. I can still remember my last day at Cabrillo. I was getting my homemade sting-ray out of the bike cage and I guess I must have been wearing a long face that day. Mr. McCarthy asked if anything was wrong. I said yeah sort of. I've got a new dad, and I'm moving to Lakewood tommorrow. He sat me down and said everything would be alright and they were really gonna miss me at Cabrillo, and said to tell my mom to take care. That was my last impression of Hawthorne and I felt proud. I'll never forget him and that was almost thirty years ago! Never did make it to HHS but Garden Grove HS was cool too.
That was back in '72. Does anyone know whatever happened to Mr. McCarthy? My fourth grade teacher was Mrs. Jansta. She was way cool too! Would love to know how she is doing as well.
Luv ya all. A wannabe Coug
Great story Doug. I'm sure someone can help you with your search.
---

Name: Anita Young () on Friday, March 2, 2001 at 12:21:49
E-Mail: youngun39@yahoo.com or youngun39@care2.com
Maiden: Aceves
Class: 1978
City and State: Newberg, OR
Message: To Dale Craig and Lauie Kelleher...hey, thank you so much for caring about us Pac NW Cougs so much after the earthquake and all...it really means a lot. And FYI, maybe I wrote it down wrong, don't know, but Mike's fish tank did not fall over...it spilled water all over the place ( actually all 3 of his, he has 3 huge one's all 300 gal. or more full of saltwater fish!) All the fish are alright, just SHAKEN, NOT STIRRED! I know,that was BAD!!!! Now on to other cool old memories....I don't remember the alligator farm, but remember the really cool tropical birds at Busch Gardens. To me, that was the best part of that place, though the grown up would seriously disagree with me on that one...they loved those free beer samples! And what about Knotts Berry Farm before it became an "amusement park" per se...when it was still just like a little country place with home made jams and covered wagons and an old west feel to it. Before all the modernized new rides and cartoon character came in. I think they only did all that stuff to try and compete with the newest threat at the time....that new Huge theme park called Disneyland!

---

Name: JIM SLOEY () on Friday, March 2, 2001 at 11:55:54
E-Mail: cookiemonster.com
Maiden: sesamestreet
Class: 66
City and State: REDONDO BEACH, CA
Message: Patty I will buy 8 boxes of Cookies from Ally. Make tem assorted. Email me with how much and where to bring or send the $$$$. Come on Cougars lets show Ally that once a Cougar always a Cougar and we look out for our own! Email your orders to pvalencia2@aol.com cause John's going to be gone. DAle now that we are new best friends order a few boxes. Walter? Let's walk the walk too! Cookie monster Sloey

---

Name: Loretta Cuiper () on Friday, March 2, 2001 at 11:40:16
E-Mail: LCuiper@aol.com
Maiden: Morelli
Class: 62
City and State: Hawthorne, Ca

Message: My goodness, feedback is busy! Things have changed in our town, but we do still have alot of good stuff going on, we still have great people who care about the neighbors, there are alot more alumni who have not left Hawthorne (some have even come back). I have to make the comment on the bike stories. Since Eric was 12, he has been into bikes, and he, with a group ride everywhere, they go to alot of bike events, races and just pure bike riding. There was a time kids just rode their bikes and never got stopped, now adays if the group is larger than 2, they get stopped, our boys have learned to live with it and I guess that is just the change of times. Eric is 18 and now drives, they now put their bikes in the truck and go to the areas they can ride. They never get stopped now. We know that the police are just watching out for our boys, like I said that is the change of times, would never have happened 25 years ago. I also need to make a comment to this Beverly Hills man. You said alot about HHS, but you are old enough to know that every school and town have there problems, may it be anywhere in Calif or other states. We are very proud Cougartown folk and we are concerned about our town folk, and Im proud to say it is not only from our earlier alumni, but also the last decade of alumni. Our Cougartown Feedback is like a town paper, anyone can write, it's free, we all look forward to what is happening out there with our friends, and hearing old stories, we all like to remember those memories. We all like the happy moments, but then we also find out about some sad moments. Like I said Cougartown is like a Town Paper, but alot more personal. John, you know how we feel about you and please don't let people like Beverly Hills get the best of you! You are loved and Cougartown is great! ALWAYS A COUG!!!
Thank you Loretta......
---

Name: Sharon MacDonald () on Friday, March 2, 2001 at 11:39:47
E-Mail: rmac@genevaonline.com
Maiden: Badger
Class: 63
City and State: Burlington, Wisconsin


Message: I remember selling Girl Scout cookies when they were 40 cents a box! During the summers while in college, I worked at the Girl Scout summer camp in Glendora and we ate more cookies than I thought humanly possible. The company that did the baking for the Girl Scouts would give all the boxes of cookies that did not sell to the camp.
John, hope you find a warm, dry place to spend the weekend - is it still raining out there? The first year my family lived in Hawthorne we had really rainey weather and having moved there from the east coast, were wondering what happened to all that California sunshine we had expected.
Not raining right now but someone said it'll start again Sunday.
---
If you have comments or suggestions, please email me at jb1@cougartown.com