Page 324

Hawthorne Time and
Temperature

Home | 60's Slang | Alumni List | Car Talk | Cougar News | Feedback | Hangouts | Memories
Recollections | Reunions | Street Scene | Teachers | Tributes | Vietnam | What's New | Keyword Search
Hawthorne High's only ZEKE. Chris Montez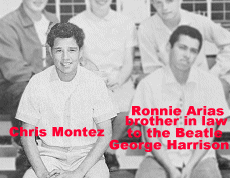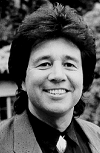 Married to LA Radios KRTH Chaz Kelley
---
<!-+++++++++++++++++++++++++++++++++++++++++++++++++++++++++++++++++++++++++++++++++++++++++++ +++++++++++++++++++++++++++++++++++++++++++++++++++++++++++++++++++++++++++++++++++++++++++++->

---

<!-++++++++++++++++++++++++++++++++++++ADD BELOW THIS LINE++++++++++++++++++++++++++++++++++++ +++++++++++++++++++++++++++++++++++++++++++++++++++++++++++++++++++++++++++++++++++++++++++++->
Name: Laura Porter () on Thursday, November 9, 2000 at 17:35:11
E-Mail: dsnycrw@ivic.net
Maiden: Twitchell
Class: 79
City and State: Hemet CA
Message: MICHELLE WHITAKER-DRAPEAU....check your email...ASAP

---

Name: John Baker () on Thursday, November 9, 2000 at 16:33:14
E-Mail: jb1@cougartown.com
Class: 1962
City and State: Lomita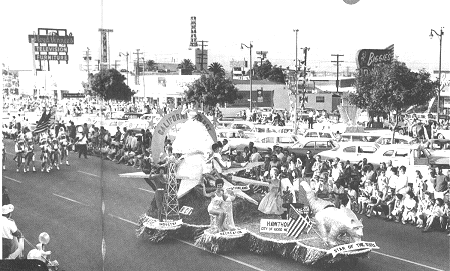 Message:Here's a picture from the old Hawthorne parade that was sent in by Walline Roderick Hohenthaner Watson HHS 66. The Plaza, The Centinela, Biggies, Ryans Jewelers & Mens Shop, and Lloyd Dennees are clearly visible. I'd say this picture was circa 63-66.
Thanks Walline and sorry it took so long to get this one up here.

---

Name: Joyce Chance () on Thursday, November 9, 2000 at 14:59:14
E-Mail: chancesR@pacbell.net
Maiden: Savisky
Class: '62
City and State: Anaheim,Ca.


Message: I would like to invite my fellow Cougartown motorcyclists to join us November 19th for my annual toy ride to Mattel Children's Hospital (formerly UCLA Pediatrics) in Westwood. We will be leaving from Anaheim-Fullerton Harley- Davidson at 9:00am sharp. However you should be there no later than 8:30 to stage. We had two hundred bikes last year and I'm hoping for more this year.
This ride is in memory of John and my son, Johnnie. Hope to see some of you there, please identify yourself, I'll be easy to locate.
Thanks, Joyce

---

Name: Shannon Keys () on Thursday, November 9, 2000 at 14:43:04
Class: 81
City and State: Colorado Springs
Message: Congrads to me!!! Its my anniversary! It's now 2 years with C-Town. Every morning, coffee AND my visit "home". Without being too redundant John, thanks to you and any others for this sanctuary. I get the shakes when you leave me on your extended weekends away from "the town". So don't do it again!
THE MCQUITTY'S............John, as I'm sure you're now becoming aware, they were never accused of sitting on their hands in the back of the class.

---

Name: Sharon Branigan () on Thursday, November 9, 2000 at 12:26:34
E-Mail: Srbranigan@aol.com
Maiden: Bierman
Class: 76
City and State: Thousand Oaks, CA
Message: For those interested in replacing lost class rings, I'm trying to get an answer back from the Jostens rep for HHS; I emailed him on 11/7 but no reply yet. I'll try calling on Monday. Anyone else interested? Please email me directly at Srbranigan@aol.com with your name, grad year, and phone# (just in case.) I'm also looking into replacing old El Molino's - anyone else interested? Please email me the same info; I'll get back to you via direct email. If I get a large enough response I'll also post the info on CT Feedback to inspire others. Hi Mary Risner, nice to see you here on CT. I was wondering if you and Jack were related. And hi Rick McQuitty, nice to see you on CT too. Since you didn't streak for HHS 76, perhaps you'll do us the honor at Prom 2001!

---

Name: Keith D. Jones () on Thursday, November 9, 2000 at 11:30:31
E-Mail: cmi50@yahoo.com
Class: 76
City and State: Las Vegas, Honolulu
Message: Rick and Rip, you know that I know how you guys are. Folks (old and new) both Ripper and Rick are Cougars. They are Freshmen here at Cougartown and we should welcome them with open arms. Show how we love every Cougar (or person) who comes and visits us. YEA RIGHT! Let's rip the sh%& out of them. They come in here and tell us how old everyone is and how virile they are. Rick says he's the better looking one but is that really a compliment. Both Rick an Rip were (and still are) friends of mine. We may not have seen each other for about 20 years but I consider anyone who I haven't fought with a friend. And even then I still only have two people I have met in my life that I really can't stand and none of them are Cougs. People who know me and haven't seen me in years, be assured that I have not changed. I am about as serious as I ever was. Even counting the elders of the bunch, I have been through as much as anyone should. I'm still here and kicking as hard as ever. So, when Rip and Rick sound like they are getting into someone they aren't. Take it with a grain a salt. They have great personalities and a great sense of humor. I saw that from the first post. And anyway, how much fun could Rip have still being in the Navy. They both were they only brother Chippendale dancers around.

---

Name: Pat Bush () on Thursday, November 9, 2000 at 11:02:55
E-Mail: pwbush@aol.com
Class: 80
City and State: Buena Park
Message: Just wondering don't most people join the Army or Navy for like 2-4 years and then get out??? I guess it's hard to leave all those seaman after so many years.. He He

---

Name: Debra Lee McGregor () on Thursday, November 9, 2000 at 10:45:23
E-Mail: mcgregord@la.lancaster.k12.ca.us
Maiden: Lee
Class: 72
City and State: Lancaster, CA
Message: Hey ... being Veterans Day tomorrow (3 day weekend), Thank you to all you vets and to loved ones of those who served. I can remember the days of Viet Nam and the fear and sorrow it brought. The sixties and seventies were different times for sure. I'm so thankful for CT where we can share (and sometimes disagree) memories and friendships. God bless ya all ...

---

Name: Cindy Foster () on Thursday, November 9, 2000 at 10:24:20
Maiden: Gindlesperger
Class: 78
City and State: El Segundo, Ca
Message: McQuitty boys... in trouble again? Wow, what happened to everyone's sense of humor? Well, I guess you have to know them to understand them. :o)
"Everyone" meaning ME??

I apologized Cindy......
---

Name: Louise () on Thursday, November 9, 2000 at 09:59:28
E-Mail: louise@cmaintl.com
Maiden: St.George
Class: 77
City and State: Lancaster, CA
Message: Ok, I'm usually just a reader not a poster, but I've got to speak up on this one. Us 70's folks were great! (Just like everyone else) Not flower children as someone stated, that was the 60's group! I think HHS has gone down a bit since we all went there, lets be honest. The school is not what it used to be. But that happens- its just the way it is. As for the McQuitty's, they are just outspoken guys and there's really nothing wrong with that. I've been reading feedback for a long time and have seen and read alot worse. We just don't see too many 70's folks on CT, so please don't scare them away. They bring something to CT just like everyone else does. Plus they are really cute!! :}
Hi Louise, No one is scaring anyone away. The McQuitty's are as welcome here as anyone else. I just didn't want anything to heat up. I apologize Rick........bad day.
---

Name: Terry Moore () on Thursday, November 9, 2000 at 04:13:34
E-Mail: Tmartiste@aol.com
Maiden: Tye
Class: 74
City and State: Bossier City, LA
Message: What a wonderful idea! Glad to see such a site dedicated to memories.
Hi Terry, Glad you found us......
---

Name: Rick McQuitty () on Thursday, November 9, 2000 at 00:34:07
E-Mail: slixxrick@hotmail.com
Class: 74
Message: Before I go to bed...John, have you tried to uninstall the hardware and software, and then re-install, as if it were new? Sounds like a hardware conflict to me. Just a thought. As for Mickey's last response concerning my brother (HHS isn't the school it used to be), I would be happy to hear from him regarding anything that is what it used to be. I am still trying to figure out if that was derogatory or a joke. If someone "gets it", let me know. Rip "is" my brother, so I might be offended if it was the former. Anita....Read my feedback again...I was the streaker at the HHS assembly also...It was the thing to do back then...Sorry if it offended any of you "ancients" by reading of my exploits...different time, different place.... PEACE
Sorry Rick, but this McQuitty macho BS has gone far enough. You two waltz in here talkin your trash and expect everyone to just take your insults. This forum is for everyone, not just the middle aged HHS streakers. If you're offended, so were others the last couple of days. Do not start anything here.
---

Name: Mickey Mathena () on Wednesday, November 8, 2000 at 23:55:04
E-Mail: mathena@canby.com
Class: 58
City and State: Woodburn Or.
Message: John, didn't intend to suggest you should take on another project. My thoughts were more along the line that maybe could enquire here at CT to see how many cougars are without their ring and would be interested in replacing. If there is sufficient positive response, then one of us that want to make a purchase take on the task. I was also thinking working with sales rep for HHS might show more interest in helping.
About your scanner, I don't have any answers but since I've been having problems of late some of which impact my scanner function, have you recently added any hardware or application software shortly before experiencing this problem. I've had a number of problems since I added a new DJ970 several months back. If this become something you can't get resolved, drop me a message. I retired from HP 2 yrs ago and one of my sons is an engineer at the Vancouver printer div. Maybe I still have some "in's" with a few people.
After seeing Rip's posts today it is now a little clearer why HHS is not the school it once was. For some of you younger ones, if the shoe doesn't fit, don't wear it.
Mickey, the scanner started doing this gradually. On some color pics it would be OK and on others it wouldn't. Now all color pics turn out with the lavender where the white or light colors should be. No, I haven't added any hardware recently. I've put the question to the scanner newsgroup but so far no luck there either.
---

Name: Anita Young () on Wednesday, November 8, 2000 at 23:49:14
E-Mail: amyinor@webtv.net or youngun39@yahoo.com
Maiden: Aceves
Class: 1978
City and State: Newberg, OR
Message: Rick McQuitty! Oh My God! It was you who streaked our 8th grade Dana graduation on Leuzinger field? I never knew that! And,you graduated in 1974 from HHS, with my brother, Mike and you guys had a streaker, too! Who the hell was that one I wonder? Bet you know! My mom was up in arms after all that, saying it wasn't safe to go to your own kids graduations with all these insane "on dope" nudist hippie idiots running around! Ah parents, don't you just love it?
You're welcome, by the way, on the Shelley thing. Hey, it got her to e-mail all 3 of us girls today, so hey, you helped us too. Nice we all got our backed scratched. Cougartown.....great place to get one's back scratched LOL!

---

Name: Rick McQuitty () on Wednesday, November 8, 2000 at 23:00:58
E-Mail: slixxrick@hotmail.com
Maiden: Rip's Brother
Class: 74


Message: HELLO Haytown Alumni?? My brother Rip told me about this site and I just wanted to drop in and say "HI'. Now on to business.
Issue No. 1: I would just like to express my great admirATION FOR John Baker and his work on this site. As a "wanna-be webmaster, I have spent many hours learning HTML and then many more unlearning it so I could post it on the web. LOL. I know from experience that it requires a great deal of effort, comittment, dedication, and support, to start and run a website like this. Thank You John, for all of these traits you must possess.
Issue No. 2: I have been reading as many of the past feedback pages as I am able, and I have noticed a recent influx of messages directed at, or directed to, my brother, Rip McQuitty. It seems he may have inserted his foot into his mouth, which by the way, I have had to bail him out of on MANY occasions,and stirred up the ire of our "LOVELY" middle aged alumni. To this I have but one thing to say. If he said it and you don't like it?. He thought it up. If he said it and it pleased you??..I thought it up and told him about it.
Issue No. 3: I am the smarter, better looking brother??but anyone who knows us, knows that. Enough said. (although I will post a picture, as evidence, to prove the "better looking" part). The smarter should be aparent to anyone who has read his dribble and then read my eloquent writing. By the way, I type with all my fingers. LMAO
Issue No. 4: Has anyone seen all the girls who used to like me. I think they must be lost, because they can't find my house. Anyone with this info, contact me, not my brother, as he will try and steal my babes.
Issue No. 5: Having read many of the past feedback pages, I found a number of entries from my friend, Keith Jones. Hi Keith. It seems that he may have been the only one who got into as much trouble as I did at DANA and HHS. For the record Keith, I submitted the picture of the space capsule that's on the ceramic mural in front of the school. I copied it off the bath mat I was using at the time. And yes, the mural is still there and the plagerized picture I contributed to it is still there too. But on to our being birds of a feather, I'm sure you all remember that "I" was the one who streaked the 8th grade graduation at Leuzinger High and also streaked the assembly at HHS. So, believing that is equivilant to your exploits, Mr. Jones, I welcome you to the "HELLRAISERS" club. You are a deserving member. As are Chris Hammon, Ron Kelly (hope he aint around) (couldn't use a computer anyways), and all those guys I used to raise hell with., at school, at EL PORTAL, and anywhere else we didn't like what you said. I miss ALL YOU GUYS.
More to come????????..
I would like to thank Anita Young(Aceves) for her prompt reply to my e-mail concerning Shelly Tomlinson. It prompted me to continue and I did locate her. Thanx Anita :)

---

Name: Mary Weiler () on Wednesday, November 8, 2000 at 20:20:57
E-Mail: pmweiler@msn.com
Maiden: Risner
Class: 1976
City and State: Hawthorne, CA
Message: My brother jack wrote about all the great people we grew up with on 127th Pl, the Blunt's, Sutton's caldwell's, etc. I didn't want any of the others we all ran with to feel left out. There were the Mawson's (Linda, Mary, Debbie and Barbara) the Smith's (Tanya, Terri and Rick), the Ruedas (Danny, Matt, and Andy) and so many others. We played crack-the-whip out in the street until the night Deda Blunt scraped her belly raw. I don't think she tanned there for a few years! Hide n'seek, flag football, Marco Polo out in the fields of Del Aire park when it was really foggy. I remember tearing my arm open on the fence trying to get outta old man Luezinger's place before he filled our back sides with salt or what ever it was he had in that old gun! And we never had to worry walking home late at night after a football game or donkey basketball, cause there was always a whole slew of us from our track. I love cruising thru feedback.. boy all those names bring back some great memories!

---

Name: Don Scheliga () on Wednesday, November 8, 2000 at 18:06:18
E-Mail: des249@yahoo.com
Class: 62
City and State: Buena Park
Message: Chris Hood, the Bar on the corner of 133rd. St. and Inglewood Ave. is the 352 Club. Across Inglewood Ave. is the Avenue Club. Now why would I remember that??? The old Hollingsworth home has new owners and they are doing a nice job of fixing-up the place.
Don, The 352 Club is on the corner of 132nd and Hawthorne Bl.
---

Name: Anita Bonita () on Wednesday, November 8, 2000 at 16:10:46
E-Mail: amyinor@webtv.net or youngun39@yahoo.com
Maiden: Aceves
Class: 1978
City and State: Newberg, OR
Message: This is for John, Robin and all out there who are rooting for the Ducks and Beavs....one of Portland's local coffee places, K&F ( Kittridge and Fredrickson's) has 2 new coffee blends out now. I just sampled them at my local grocery store, the Ducks now have a Mallard Medley blend and the Beavs the Beaver Blend. I preferred the Mallard Medley, myself and also prefer the Ducks, so no surprise there. All I know is I'd hate to be a female alumnus of Oregon State, their mascot being a Beaver and all! I have get enough grief over being Anita Bonita or Fishwoman! At least when I went to Portland State University, I was a Viking!
Anyone interested in scoring some of this coffee before it's gone, e-mail me and we'll talk.
Thanks Anita but I'm not much on coffee.
---

Name: Doris () on Wednesday, November 8, 2000 at 15:48:54
E-Mail: raydori@micron.net
Maiden: Donaldson
Class: 1957
City and State: Twin Falls, Idaho
Message: JOHN! Thanks for rallying re. Rip! In fact, thanks to ALL you OOOoold Cougars who rallied! I guess that's one way for old Rip to get attention?? JudyWudy's response was great!!! As was everyone else's! See there ... we DO still have a LITTLE life left in us, huh? Here's a few names for you older Cougs ... of OLDER COUGS I would love to hear from: Ann Jolly (lost track of her in the last four or five years), Roberta Bowker, Nancy Rohwedder , Denny Reading, Joe Costanza, Bill Koch, etc., etc., etc.!!! We all go WAY back (I mean, after all, we're OLD!!!). Does anybody know where they might be?
Snowing here in beautiful downtown Twin Falls, Idaho! Beautiful, but cold! And it's 65 in Hawthorne! Think I would be tanning in my bikini!
doris
OH ... an afterthought ... Rip? are you still there? About the "challenge" ... No thanks ... I'll pass although the offer was just TOO titillating! At least for THIS senior citizen! Tell me, Rip ... does that sort of a "challenge" EVER work?!!?
Doris, You can find Ted Jolly's email address under the class of 69, and Mary Jeanne Rohwedder Stagg HHS56 is Nancy's sister. You can email her at MaryJStagg@cs.com
Hope this helps a little......
---

Name: Sharon MacDonald () on Wednesday, November 8, 2000 at 15:30:08
E-Mail: rmac@genevaonline.com
Maiden: Badger
Class: 63
City and State: Burlington, Wisconsin
Message: Yeah, John, that's how you get the straw through the potato - the air trapped in the straw makes the straw capable of puncturing the potato. Do they still make paper straws? Will this move work with plastic straws? Will the Great Lakes survive Rip McQuinty (I hope so, after all Wisconsin is a Great State by a Great Lake!)?

---

Name: Judy DeGrazia Blomsterberg () on Wednesday, November 8, 2000 at 14:11:47
E-Mail: JUDYWUDY@att.net
Maiden: shadypines-herewecome
Class: 64
City and State: Torrance, CA
Message: John boy.. just saw the picture you scanned of that old man and the ducks.. seem's that's our own ROBIN HOOD on his last visit to Shady Pines (where he now resides) Seems he knelt down to feed the "ducks" back in Sept. and couldn't get back up.. I've been trying to call you to go help him, but you can't hear the phone ring without that hearing aid in.. (God, Rip is right after all) Now, I'm off to get those bricks of cheese and butter at the Civic center.
Judy Wudy
HUH?
---

Name: Kathleen Griffin () on Wednesday, November 8, 2000 at 12:25:53
E-Mail: Spirithart@yahoo.com
Maiden: Nix
Class: 74
City and State: San Pedro, CA
Message: To all the Oldies and those that love them, seems we need to have a blanket party in Rip's room on Prom Night

. See ya then!
Great idea Kathleen!!! Or maybe us old Cougs can just give him a "pink belly" or a "dutch rub"......
---

Name: John Baker () on Wednesday, November 8, 2000 at 12:32:14
E-Mail: jb1@cougartown.com
Class: 62
City and State: Lomita, CA

Message:I think I have a problem with my scanner. It's an HP 5100C. Do any of you scanner gurus out there know what's causing this? My scanner has been working great and all of a sudden this is happening. Any Ideas? Thanks Cougs.....

---

Name: Mickey Mathena () on Wednesday, November 8, 2000 at 11:20:51
E-Mail: mathena@canby.com
Class: 58
City and State: Woodburn, Or.
Message: John, Made contact with Jostins web site. Don't know why it didn't work earlier. Have had one e-mail from another cougar that has lost their ring and would be interested in replacing. Also see another post here mentioning a lost ring. Is this a sign there may be a sizable number of missing rings just waitng to be replaced? John, why not raise the question and see if there is an unfilled need and possible present the case for a qty purchase that would save us a few $$$. The only problem I see is all the differing designs and possibly not being able to get replacements for older designs. What say?
I say why "ME"!!! I've got a few dozen other projects going here right now. How about "YOU" doing this for your fellow Cougs?

---

Name: Cindy Foster () on Wednesday, November 8, 2000 at 10:58:57
Maiden: Gindlesperger
Class: 78
City and State: El Segundo, Ca
Message: Rip "Ripper" McQuitty, you haven't changed one bit have you? lol :o)

---

Name: Jack Risner () on Wednesday, November 8, 2000 at 10:44:20
E-Mail: rencaj@netscape.net
Class: 74
City and State: Hailey, Idaho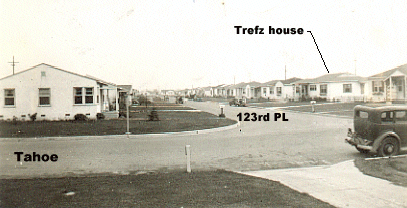 Message: John, great pic of the old T&R station. My friends Bill Caldwell and Alan Blunt and I rode our bicycles over by there all the time on our way to Clark Drugs on Hawthorne Blvd. to look at all the GI Joe stuff they had. If you remember Terry Trefz you might know that he didn't marry the girl next door-but he did marry the one across the street! Deanna Sutton. Her dad was one of the custodians at HHS for years. Deanna and my sisiter Pat were best friends and belonged to the Diaconians group that used to do things at all the HHS events. I remember Patsy, Deanna, Char Trefz and a friend of theirs named Leilani making HUGE chains of folded gum wrappers. Mainly Wrigley's Spearmint and Juicy Fruit with the occasional Black Jack wrapper thrown in for variety. What was up with those chains??!! They used them for decorations and gave them away like presents and Lord knows what all! We had a great block in the Del Aire district (127th Pl). The Trefz lived next door and the Blunt's lived next to them (Gary, Terry, Cheryl, Alan and Didi). Across the street were the Sutton's and the Alley's (Beau and Steve). Up the street were the Caldwells (Sammy, Cathy, Bill and Leslie). Very definitely a super street to grow up on. I can remember when they were building the 405 and had to alter the end of La Tijera. We lost a half dozen homes on our street for those little projects. Some kids ( maybe my brothers and their friends-maybe not/ I don't know about statute of limitations on these things) used to go up to the construction site and start the engines on the tractors (they said) so they would run out of gas, and do the usual tip over the outhouse thing. It seems like that freeway was just there all of a sudden. Did anyone else ever go over to the airport and try to ride your bike on the runways during the expansion from West Imperial Terminal into LAX?? Oh well, good times were had by all in H-town of the 50's/60's and 70's right!!??
Jack, I received the picture above from Joe Levens who lived on Tahoe and 123rd Pl. This picture was taken in 1947 when the Levens family moved into the house. The Trefz house is marked. Does it look familiar?
---
If you have comments or suggestions, please email me at jb1@cougartown.com