Page 319

Hawthorne Time and
Temperature

Home | 60's Slang | Alumni List | Car Talk | Cougar News | Feedback | Hangouts | Memories
Recollections | Reunions | Street Scene | Teachers | Tributes | Vietnam | What's New | Keyword Search
El Rojo's favorite Chuck Berry. Chuck Berry
---
<!-+++++++++++++++++++++++++++++++++++++++++++++++++++++++++++++++++++++++++++++++++++++++++++ +++++++++++++++++++++++++++++++++++++++++++++++++++++++++++++++++++++++++++++++++++++++++++++->

---

<!-++++++++++++++++++++++++++++++++++++ADD BELOW THIS LINE++++++++++++++++++++++++++++++++++++ +++++++++++++++++++++++++++++++++++++++++++++++++++++++++++++++++++++++++++++++++++++++++++++->
Name: George Key () on Saturday, October 28, 2000 at 23:43:13
E-Mail: Mathesh@aol.com
Maiden: DROPOUT
Class: 80
City and State: PVE CA

Message: Thank you Judy but you didn't need to identify yourself--I read your comments every night and always wonder what color that prom dress is? Thank you also for inviting me to ckaperone the prom but first a few problems must be solved.
1.The prom isn't until August 2001 and you know I am so darned old I don't even buy green bananas anymore. However I will keep checking the obituaries and if my name does not appear--look for me to attend.
2.Can't make a positive commitment until I see a picture of Aunt Nora and so far John Boy has not posted one.
3.I can only dance to music of my ear--uhwunnaannatwoannah.
4.But think I will buy a ticket and if I am gone you can auction it off with Judy's purple shoes. On second thought maybe I will bequeath it to Aunt Nora -
-Starting to think she just may be my type.
To much already--Buenos Nachos--JORGE
Thanks George, I'm sure you'll still be on the sunny side on the grass by August and as far as Aunt Nora is concerned, I haven't a picture nor heard from Nora or her niece in some time. I think maybe they're both combing the streets of Haytown, looking for that elusive Prom date. I also believe we can summon up a little champagne music for you on Prom Night. Be a Coug Jorge and we'll see you in August.
PS. If you see Wally Nyman and Hal Wetzler up there on the hill, please extend a Prom Night invitation to them both.
---

Name: Kathy Frankforter () on Saturday, October 28, 2000 at 22:07:14
E-Mail: kathy90277@earthlink.net
Maiden: Tom's Wife
Class: 79'
City and State: Redondo Beach, CA
Message: Just a little side now-My son-in-law, Justin Metsker (HHS Class of 1990) is at his reunion tonight. I look forward to hearing how it went. Not only am I married to a "Cougar" so is my daughter :}
That's keepin' them in the family.
---

Name: Bill Barmore () on Saturday, October 28, 2000 at 21:08:29
E-Mail: blb7777@yahoo.com
Class: 74
City and State: Atlanta Georgia
Message: Polly, "The Radish Lady" ?? might you elaborate for those of us out of touch.

---

Name: DARLENE () on Saturday, October 28, 2000 at 20:48:12
E-Mail: JCDC224@GTE.NET
Maiden: SCHIMMING
Class: 79
City and State: PORTER,TX
Message: THIS MESSAGE IS FOR SUSAN KING I AM ALSO A MEMBER AT CLASSMATES.COM I CHECK OUT THIS SITE AND THAT ONCE EVERY COUPLE OF WEEKS TO BUSY TO CHECK MORE BUT TONIGHT I ALSO E-MAILED YOUR FRIEND TO TELL HER YOU WERE LOOKING FOR HER I HOPE YOU MEET UP I'VE BEEN ALSO LOOKING FOR A FORMER GOOD FRIEND BUT NO ONE SEEMS TO KNOW ANYTHING I'VE ASKED AT CLASSMATES MAYBE SOMEONE HERE CAN HELP I'M LOOKING FOR MICHAEL HENDERSON HE WOULD HAVE GRADUATED IN 78 EXCEPT HE MOVED TO LAGUNA HILLS HE HAS A SISTER CINDY SAME CLASS YEAR AS ME HIS MOM'S NAME IS MARIE IF ANYONE CAN HELP I WOULD GREATLY APPRECIATE IT GOOD LUCK SUSAN DARLENE 79

---

Name: Tom Burroughs () on Saturday, October 28, 2000 at 20:34:15
E-Mail: TB-Sande@webtv.net
Class: 1958
City and State: Prescott AZ
Message: Man these 58ers are everywhere! I turn on the 4th quarter to watch the Oregon (Lucky) Ducks pull out a win, while getting every break known to man, when lo & behold right in the middle of the screen is one of HHS 1958`s finest, Charlie Mcfarin, head Ref!! These Coug`s are just everywhere! And yes John, the Ducks uni`s are truely stunning!! Am especially taken with the helmets? O??
Tom, That "O" stands for "OOHHHH what a GREAT Team".
---

Name: Lisa Sheridan () on Saturday, October 28, 2000 at 20:25:54
E-Mail: lmpsheridan@AOL.com
Message: Hi! I'm a teacher at HHS and I thought that those who wished to keep up with current sports stories as written by the students (with editing, of course) might want to check out schoolsports.com. Right now it's all football, of course, but soccer and basketball are just around the corner. Go Cougars!
Thanks Lisa, A great way to keep up with HHS sports. I'll check it out......
---

Name: Dewey Storie () on Saturday, October 28, 2000 at 20:12:49
Class: 74
Message: Polly, yep I am still around and all over the place ..I just got into Chicago….and had I known I was going to live this long I would have taken better care of my self hahaha

---

Name: Lucy Van Pelt () on Saturday, October 28, 2000 at 19:11:36
E-Mail: Linusissuchanerd
Maiden: Van Pelt
Class: Schulz
City and State: Greatpumpkinland, USA
Message: Greetings all: My stupid brother,

Linus, his blockhead friend, Charlie Brown and the "gang" are all watching the TV Land

"The Munsters" marathon on T.V. Schroder and I have been arguing as to which mid 60's monster T.V. show was (is) better, The Munsters or The Adams Family.

I say the Adams Family, Schroder says The Munsters. What can you expect from a guy who only puts his hands on cold ivory all the time? Geek-a-loid!

So, what do you all out there in Cougartown Halloweenland think? Time to go out and watch Linus make his yearly fool of

himself in the pumpkin patch, bob for apples

and see Charlie get a bag full of rocks yet again this year!
Be safe, have fun, and remember, I'm always right!

---

Name: Tom Burroughs () on Saturday, October 28, 2000 at 14:19:16
E-Mail: TB-Sande@webtv.net
Class: 58
City and State: Prescott AZ
Message: HOW ABOUT THEM SOONERS. Overlooked & underated defense kicked some Husker tail!! Undisputed #1 OU!!!
Yaawwwwwnnn!! ZZZZZzzzzzzzz No one's getting by my Ducks and I just LOVE those uniforms.
---

Name: EL ROJO () on Saturday, October 28, 2000 at 11:47:05
E-Mail: I-DY-HO
Maiden: YOU KNOW
Class: 60
City and State: HOME
Message: Nadine Hollingsworth, I should have said that Carol Benson was living up here instead of Joey. Thats Jim Bensons wife. Just wanted to clear that little fupah up. MAY THE COUGAR BE WITH YOU. JAKENJUDE.
I thought it was another nickname.......
---

Name: Susan Daugherty () on Saturday, October 28, 2000 at 01:50:11
E-Mail: SueDa333@aol.com
Maiden: Daugherty
Class: 1972
City and State: Oceanside.CA
Message: Thanks for a great website. It's really informative. interesting and most importantly FUN!!
Thanks Susan, Glad you like it.....
---

Name: Polly Martens () on Friday, October 27, 2000 at 23:18:53
E-Mail: pmartens@mediaone.net
Maiden: Beach
Class: 74
City and State: ground zero of course!
Message: Just a quick check in, just finished another whirlwind 60 hour work week. Thanks for the radio tip Bill, I think I ran across KSCN, not to long ago, as my younger daughter is really into classical music (hard to believe isn't it).
Did my eyes deceive me or did I see stuff from Dewey Storie, jeeze I haven't seen him since I went to our ten year reunion. Glad to hear he is still around, and able talk about it.
I want to make a quick plug, for my kid's Brownie troup #158, Hawthorne. On November 18, they are having a Official Nut sale, in front of the Toy's R Us in Hawthorne. I will be helping around 2:30PM, if anyone want's to drop by, say hi and buy the nuts. Yes, I already know this isn't ethical, but I just wanted my kids troup to do good in the sale. After all I am a proud Mom.
As for the memories of KMET, does anyone remember Paraquat Kelly doing a news storie about a "Loon Calling Contest," in the late seventies? This sort of made a little town in Wisconsin famous for a time. My husband was the one that gave ol' Paraquat the story idea, as this was the town his folks now live in.
Anyway gotta go, I will keep you all posted on the final details of the Girl Scout nut sale. I hope everyone will have a happy safe, dry, Halloween. I hate to disappoint everyone in Wiseburn this year, we won't be having the live ghoul in our front yard this year, the girl who plays her has other plans. I will try for the wicked witch but won't promise anything yet. The ghoul was a real hit with all the locals last year, really scared the pants off the trick or treaters.
Anyway Happy Halloween everyone!
Still Polly "The Radish Lady," Beach Martens

---

Name: EL () on Friday, October 27, 2000 at 21:11:27
E-Mail: I-DY-HO
Maiden: YOU KNOW
Class: 60
City and State: HERE WE ARE
Message: Bake, I love Chuck Berry! Play "I'm Almost Grown", next week. Thanks, We Love Ya MMAANN!! P.S. Did you get our e-mail about Fosters? Just checking. MAY THE COUGAR BE WITH YOU! JAKENJUDE.
Hey Russ, Yes, I got it. We'll work something out. Thanks and "Almost Grown" is up now.
---

Name: EL ROJO/ID QUEEN () on Friday, October 27, 2000 at 21:06:53
E-Mail: I-DY-HO
Maiden: YOU KNOW
Class: 60/61
City and State: HOME OF THE KAVEMEN
Message: Tom Burroughs... Yea my bro was a pretty mean dude on the football field. He was also awarded best blocker on the Pioneer League Championship team circa 57/58. In 56, my frosh yr (he was a jr), he broke three guys legs in that season. Some wonder why the "crackback" was outlawed finally. Thats one of the biggest reasons I know of. Yet it was completely legal in those days. But it took some 20 or 30 yrs to say "jeez someone could get hurt". He weighed a whopping 155lbs in his jr and sr yrs. When he put his "hat" on, he was one tough Sumgun. Good that you remember him. I'll e-mail him (he's the shy one) and tell him he's been recognized in C-TOWN history. Thanks Tom and Dave Roelen if you ever read this, where the heck are the rest of you "58" dude's that put me through so much hell. Come back and say hello. ALSO...Steve Anderson, Bob Milazzo, Al Geverink any of you class of 60 people, put your name up here. We don't want your money (now anyway) and won't intrude on your space. Give John Bakers C-TOWN a yell. I've known few COUGS, when challenged that didn't respond. MAY THE COUGAR BE WITH YOU. JAKENJUDE!

---

Name: Dave Krikac () on Friday, October 27, 2000 at 19:53:07
E-Mail: dadkrikac@aol.com
Class: 76
City and State: Franklin, TN

Message: Talk about the "Power of the Cougar"...WOW! Last week I posted a help call to any cougars in Oregon to look at a 1966 Cadillac I was buying. As fast as you can say "El Molino" or "Scarlet & Gold", I received an email from 1977 Cougar-Mike Hinsch (class of '77) answering the call....UNBELIEVABLE!
Mike lives aways away but out of the niceness of his cougar heart, he's checking this BABY out up close and personal.
Talk about bringing the Good Samaritan to life! Cougars Rock! They rocked in the 50's and they Rock today!
Thanks again Mike and many thanks to your family for giving up the time....

---

Name: Laree Blauert () on Friday, October 27, 2000 at 18:41:31
E-Mail: Laree.Blauert@ca-arng-ngb.army.mil
Maiden: Meeks
Class: 1957
City and State: Manteca, CA
Message: It is really neat to see all of this in print. The names again in print and to know there are so many of us left. I'm up here in No. Calif and so far from down there. Thanks John for all you're doing for all of us. I am really looking forward to Prom Nite next summer. Laree
Thanks Laree, I look forward to meeting lots of new NEW old friends at Prom night in August. Tickets will go on sale next Tuesday. Please get them early, as they won't last long.
---

Name: Ray Hahn () on Friday, October 27, 2000 at 17:48:24
E-Mail: JetdriverRH
Class: 62
City and State: Encinitas,CA
Message: Boy! seeing the picture of the T&R station brings back a lot of memories for me. I first meet Terry Trefz when I was in the 7th grade. We became good friends and we still keep in touch. Terry's dad Bill was one of the finest men I have ever known. Shortly before meeting Terry my own father and just passed away, Bill Trefz sort of took me in. He, Terry and I would go fishing and hunting. He would always drive us to the Friday night fooball games. Today when my son and I go fishing I always remember the good times I had with Terry and his dad.

---

Name: Tom Burroughs () on Friday, October 27, 2000 at 16:52:49
E-Mail: TB-Sande@webtv.net
Class: 58
City and State: Prescott AZ

Message: Still a small world. Mike Hendricks, & I both drove tanker for Signal Gas & delivered to that station pictured many times. I also remember Dave (cup) Jacobsen as one of the hardest hitters on our B-Football team, circa 1955 coached by Otto Plum & Ron Sevier. Fun days!! AZ has really ticked me off this time, Sat. Oklahoma, Nebraska game on Pay Per View!!! GO SOONERS!!!

---

Name: Elizabeth Estrada () on Friday, October 27, 2000 at 14:39:52
Class: yes
Message: Judy, Who is Dr. Phil McGraw?

---

Name: Bob Jensen () on Friday, October 27, 2000 at 14:14:15
Class: 71
City and State: LA,CA
Message: Nice picture of T&R Signal station. I remember "A and N's" Flying "A" station across the street. Does anyone recall what "A and N stood for? By the way John, Uncle Bill (Charlene's husband) worked there. Seems to me that there was a donut shop close by. Anyone recall?

---

Name: Jack Risner () on Friday, October 27, 2000 at 10:48:20
E-Mail: rencaj@netscape.net
Class: 74
City and State: Hailey,Id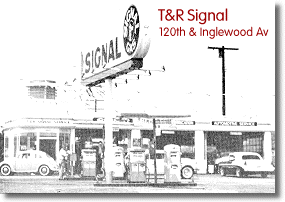 Message: KMET- A little bit of heaven 94.7 KMET/Tweedeedle-dee! Jeff Gonzer on the mike and Ace Young for the morning news. Pat "paraquat" Kelley for evening news. Jim Ladd comes on at 10pm and takes you to the early am hours (usually barricaded himself and Paraquat in the studio to continue his commercial free ROCKTOBER in November) and of course Dr. Demento from 6pm until 10 pm every Sunday. Jim Hawkins (73) had a standing poker game every Sunday. PARTY FAVORS. DR. D and poker/ way cool! Good Memories ( I am pretty sure??!!) The car thing-Geez! My first car I got from my older sister, Patsy, and it was a 1964 Blue Dodge Dart with the push button transmission. My oldest brother Jimmy worked on it for me and I have no idea what he did to it but it was fun. My mom had originally bought it at Prince Chrysler/Plymouth/Dodge on Hawthorne Blvd over in Lennox area. Jimmy had a Ford Falcon that was fast and my brother Bobby had a sweet '61 Chevy Impala. My dad always had a Ford Country Squire station wagon! We lived next door to the Trefz' family. Dad Bill owned the Signal (then Exxon) on 120th an Inglewood Ave. His son Lanny had a fast back Plymouth Barracuda just like the Hemi-Under-Glass. Lanny used to race it at Lion's all the time. He also started building AA fuelers in his driveway and sold them as fast as he could assemble. He and my brother, Jimmy, had more fun with HPD and LA Sheriff and their cars! John, thanks for all the fun and memories and avenues for communication you have enabled with this "Totally Bitchin'" web site.
Thanks Jack, for all the KMET memories, and I too remember T&R Signal on 120th and Inglewood Av. only I'm old enough to remember Terry.
---

Name: Judy DeGrazia Blomsterberg () on Friday, October 27, 2000 at 08:16:53
E-Mail: JUDYWUDY@att.net
Maiden: just1morething--startingtosoundlikeMOM
Class: 64
City and State: Torrance, CA
Message: OOPS~~last note--(Oh God-my mom does this!!) Re: PROM NITE~~ for those that are worried that they won't be able to find old buds when they get to PROM NITE, and could spend the better part of an hour just trying to recognize faces...well, each section of the ballroom will be marked for seating with the year of that alumni group.. same for teachers. You certainly can sit anywhere you wish at anytime, but at least this will give everyone an idea of where their class is located and give you a place to start. Also, Mo Trott will be whipping up some great name badges for us. "Hey, not everyone looks the same as the day we graduated--some have gotten better looking" The hotel will set up extra seating in their spacious lobby for those that wish to talk without loud noise. The teachers will act as our chaperones once again & so far we have Neil Minami - Rowdy Harry Plotkin - Our Miss Kathy Brooks - Hal & Cathy Chauncey & Julianne Dicus. More are checking in everyday. More info as it becomes available. Now, "LIFE IS NOT A DRESS REHEARSAL" LET'S GO - THIS IS IT!!.. Dizzy Lizzy..you've been reading Dr. Phil McGraw~haven't you!!


Judy DeGrazia Blomsterberg - Tilly 64

---

Name: Judy DeGrazia Blomsterberg () on Friday, October 27, 2000 at 00:18:04
E-Mail: JUDYWUDY@att.net
Maiden: almostthere--
Class: 64
City and State: Torrance, CA
Message: RE: PROM NITE~~ Here the answers to some good questions I've been asked.
1> Date: SATURDAY - AUG 18 FROM 6:PM to 1:AM.
2> Price: $75.00 per person.
DINNER IS INCLUDED IN THE PRICE. This will not be a sit down dinner.~~~~~"Stations" are hot & cold tables much like you'd find at a serve yourself buffet.. food will be replenished throughout the evening, so that you can go back for as much as you want..anytime you want. Janet & I still have to work out the menu. but we'll try to have something for everyone. ie. white meat-red meat-veggies-and gooey things too..This includes food such as carved meat-pasta-salads-side dishes-desserts- soft drinks and coffee.. However, you will have to pay for the any alcoholic beverages yourself.. (Gordo Red may be free, as it always has been)
3> The dress is dressy~like something you'd wear to a reunion or wedding.. but if you want to wear a formal, be our guest.. just be comfortable.
4> Music will be from the 50's 60's & 70's. DOO WOP-ROCK & ROLL & SLOW DANCING. (hence-ONE SUMMER NIGHT) This prom is open to everyone that can appreciate the earlier years - no matter what your age. And I happen to know that there's a lot of Cougs from the 80's and 90's that do.. ..and all Cougs are invited. from 1954 - 2000.
5> We've hired a great DJ that will play all the songs just the way we heard them the first time around. No--there will not be a live band.
6> We'll offer pictures to be taken..just as we did for the prom.
7> John Baker will post the info you will need to purchase your tickets on OCT 31st, along with the address to which you will send your money. You can pay half of the full amount then, or just pay in full. Either way your ticket will be reserved. First come, first serve.
8. Cougartown will post the names of the people that purchase tickets as they're bought. This way you can see "who you're gonna see" when you get there..
Thanks to all of you for your questions, and for answering the second questionnaire. Prom Night 2001 is going to happen, and I hope this will get you out there to ROCK & ROLL with us one more time.
Now.. where's that velco?
Judy DeGrazia Blomsterberg
We've had such a great response to the Prom Night questionnaire and some good points have been made. One that concerns me is the question:
What if someone is on vacation or is just plain on the road, and hasn't seen or doesn't know about the tickets going on sale next week? Maybe some people frankly don't have the money right now to send in for a Prom next August.
So to make this fair for all, we'll sell the tickets in two phases. On October 31st, 350 tickets will go on sale. These will be sold on a first come first serve basis. We'll go by postmarks and when 350 are sold we stop selling tickets. If your postmark is from a foreign country and you're number 351, don't worry, you're in.
The remainder of the tickets will go on sale at a later date. Thanks again Cougs and if you have any questions please email me or judywudy@att.net.
---

Name: John Baker () on Thursday, October 26, 2000 at 23:58:14

E-Mail: jb1@cougartown.com
Class: 62
City and State: Lomita, CA
Message: Here's a little item that a 77 Coug, Lyle Tucker who lives in Albuquerque NM told me about. He said it was on Ebay, so I bid on it and got it. It's the very first HHS Football schedule. I know the Ol Coach can verify this one, and I'm proud to say it's back where it belongs......in Cougartown. So thanks Lyle for letting me know about it and thanks for being a Coug.

---

Name: Sheila Szabo () on Thursday, October 26, 2000 at 21:48:15
E-Mail: szabo4_99@yahoo.com
Maiden: Varga
Class: 90
City and State: Hawthorne, CA
Message: Are there any "twenty-something" people reading this out there? Well if anyone from class of 1990 is reading this, I hope I'll get to see you again this Saturday at our reunion! Let's have some fun!
You tellem Sheila
---

Name: EL ROJO/JUDI KIESTER () on Thursday, October 26, 2000 at 21:22:22
E-Mail: I-DY-HO
Maiden: YOU KNOW
Class: 60/61
City and State: RAININGINTHESTATEOFBLISS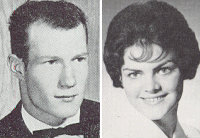 Message: CAMILLE Hill, wonderful to see your feedback. My bro Dave will be tickled to have his nickname remembered on this site. I'm sure you remember what Dave R's nickname was? ....BUG! Yea, Tim Tift, both Dave's and Jim Underwood they were a crew. I'm looking forward to seeing you again at the reunion. Thanks for the "Hello". ... Nadine Hollingsworth... Joey Bensen was living in Boise as of two Yrs. ago. We have her brother's e-mail address if you want it. By the way my wife Judi sends a big hello to you! And as far as "POP" goes, I wrote one of my stories a few hundred pages ago. After we had kicked Samohi's butt, yes we did beat them physically, in 59, JJ and I went to POP with some other Cougs wearing our BAY LEAGUE CHAMPIONSHIP JACKETS. What a rush! We went on the coaster...she was completely against this little venture as she hated any kind of speed, except when she could push a gas pedal in her Dad's truck. Well, I talked her into the big adventure, wrong idea! I had fingernail marks(gash'es) in both wrists and I still to this day don't understand how she could do this to me and have her "watchband" imprinted in her wrist for almost a week!... Irene Callahan am also looking forward to seeing you and your spouse next year. Thanks for your help again. Saay....Do the DUCKS have a bus stop to catch the express to the Rose Bowl. I have a couple of bucks.....I still love my bruins. Paco, sc and ucla can't come up with, but 7 wins amongst them. AAAHHH.... the water pipe probably has gotten you. MAY THE COUGAR BE WITH YOU! JakeNJude.
GO DUCKS!!!
---

Name: Camille () on Thursday, October 26, 2000 at 18:12:58
E-Mail: chawkes@dwandp.com
Maiden: Hill
Class: '59
City and State: Manhattan Beach, CA
Message: Thank you for the hello: Irene Callahan, Lyman Moss & Little Brother, Russ Jacobsen - and I sure do remember Dave J. ("Cup") I believe. And, my very 1st boyfriend & neighbor David R. Hope you all are great as it sounds like you are. 'til next time. Camille ("camel")

---
If you have comments or suggestions, please email me at jb1@cougartown.com