Page 317

Hawthorne Time and
Temperature

Home | 60's Slang | Alumni List | Car Talk | Cougar News | Feedback | Hangouts | Memories
Recollections | Reunions | Street Scene | Teachers | Tributes | Vietnam | What's New | Keyword Search
More Rock and Roll from 1958. Chuck Berry
---
<!-+++++++++++++++++++++++++++++++++++++++++++++++++++++++++++++++++++++++++++++++++++++++++++ +++++++++++++++++++++++++++++++++++++++++++++++++++++++++++++++++++++++++++++++++++++++++++++->

---

Hey Prom Night Cougs, please go to the Prom Night Banner above and check out the latest info.
---
<!-++++++++++++++++++++++++++++++++++++ADD BELOW THIS LINE++++++++++++++++++++++++++++++++++++ +++++++++++++++++++++++++++++++++++++++++++++++++++++++++++++++++++++++++++++++++++++++++++++->
Name: Juan Bustios () on Wednesday, October 25, 2000 at 06:30:53
E-Mail: mjbustios@aol
Class: 1980
City and State: Torrance,Ca
Message: Hey Craig to funny remember that time when all that furniture was all over the freeway on are way to Palm Springs and luckely do to my lightling reflexes we avoided hitting any it.How did you pick that lock hahaha don't take the car you'll kill yourself remember.
Hey Juan, If you're not going to let the group in on it, please email him. Thanks......
---

Name: 133rd Street Brat () on Wednesday, October 25, 2000 at 01:26:46
E-Mail: dzlizzy219@aol.com
Maiden: goddessofoldwhitebroads
Class: 69
City and State: youguessedit
Message: I got your enchilada right here, Baby!
Spoken like a true 133rd streeter.

---

Name: Debbie Egland () on Wednesday, October 25, 2000 at 00:35:48
E-Mail: gdfegland@earthlink.net
Maiden: Hagopian
Class: 1980
City and State: Placentia, CA
Message: Hey, Cougs, Remember Principal George Key? He would love to hear from HHS alums. Please e-mail him at Mathesh@aol.com As always, John -- you rock! Thanks for your hard work on this web site.
Thanks Debbie, and yes, where has Jorge Llaves been the last few months. George, we need you at Prom Night.....
---

Name: Alan Hauge () on Wednesday, October 25, 2000 at 00:17:16
E-Mail: GMT333@AOL.com
Class: 1961
City and State: Playa del rey, CA
Message: For all you Cougs that are going to PROM NIGHT I suggest there is a raffle...for Judy's imfamous "PROM DRESS". The one I've heard so much about....if there is tickets I'll toss in the first buck. With the proceeds going to help John with the years of expenses to run this wedsite that keeps us all glued together. Whatdayathink Judy? Is the dress for sale at any price?
Alan
That would be the one with the velcro sewn in, right?? Thanks Alan, and where have you been?
---

Name: Kell () on Tuesday, October 24, 2000 at 23:18:01
E-Mail: k.k.currie@att.net
Maiden: Currie
Class: 67
City and State: Coos Bay Oregon
Message: JOhn, 133rd street BRAT. Really, I can't believe you posted that. You did and you are sorry. Okay now does anyone remember the first FM station you could tune into. It was in about 1964. Best rock and roll ever. none of that top 10 crap, it saved my life. I was KRLA fan, KFWB just didn't get it, but that was AM. The FM station I'm talking about came out of a Church basement. Some of you hipsters must know, don't let me down. Thanks for all the fun posts Mr. Jenson you seem to know alot of TV. I remember when soap operas were 15 minutes, then 1/2 hr. Now and hour. My Grandma Currie would fall asleep watching them, she would wake up really confused, she thought it was one long show. she was so cute. I would walk over to the little store on 120th by Oxford Ave. and buy us a little boonesfarm. Just to relax. That store is still there. Lisa and I took a little tour of places we partied at. One on Lemoli and 116th, we were advised by a police officer, that it was not a safe place for white middle aged women to go. Lots of swat action. I could understand the white, but middle aged? What's with that.
Kell, he didn't want to say "Old White Broads". Now you KNOW I'm just kidding huh.

Be a Coug girl, and I want to see you 133rd streeters on Prom Night in a Formal. YEAH RIGHT!!!!
---

Name: Elizabeth Estrada () on Tuesday, October 24, 2000 at 23:13:51
E-Mail: dzlizzy219@aol.com
Class: 69
City and State: stillthebitchenbeachycalifornia
Message: Dave, you little 133rd Street Stud Muffin! How the hell are you? Good memories, Sweetie! My dad is smiling down on you this minute for mentioning his beautiful avocado trees and of course his favorite music. Our dads were too cool. Love to you and your whole family. Hope you'll be down this way for Cruise Night next spring......It's good to be a Coug! Love & Kisses, The Goddess

---

Name: Dave Krikac () on Tuesday, October 24, 2000 at 22:17:37
E-Mail: dadkrikac@aol.com
Class: 76
City and State: Franklin, TN
Message: oops-TYPO, you got me John....it's a 1966 Cadillac Deville Convertible (as in Cruella-for all of you 101 Dalmation Fans) Must have had my mind on those Estrada Enchiladas...

---

Name: Dave Krikac () on Tuesday, October 24, 2000 at 21:51:27
E-Mail: dadkrikac@aol.com
Class: 76
City and State: Franklin, TN
Message: Hey Cougs, Thanks so much for the response to my response for help. To explain further-I bought a 1966 Cadillac Convertible Seville. Yeah baby!
Maaan I have been looking for a Nice 66 for over a year. My dad had one when he was alive (remember the Fire Engine Red One Elizabeth (Estrada) We used to ride around in the dirt lot now occupied by Hughes Aircraft on El Segundo & Supulveda.
We would listen to Roger Miller "You can't roller skate in a buffalo heard" SCREAMING as my Dad did donuts. He would walk around and pick the strawberries and we would watch the Cox powered planes flying around, and ride mini bikes. Those were the days my friends. Things appeared to be simpler. No running around-jumping on airplanes-too busy for anyone.
Bar B Ques with the neighbors-we spent time with them then. The Estrada's, McLaughlins, Currie's, Krikac's, McKay's, picking avocado's in the Estrada's back yard. Coors talls-good Mexican Food, Mexican Music-loud!, and Big Leo Singing....
It seems we celebrated life more, you knew when the neighbors left for vacation and when they came back....
Cops only scared us, because they knew we were ok, and our parents whooped us if we got out of line. No problem there.
Yeah, gimmie that 66, a warm summer day, and Roger Miller, The Beach Boys, James Taylor, Boz Scaggs, Carol King, and, maybe a little Mexican selection....
Take Care All-Thank God for your health, and your families.
Couldn't have said it any better Dave. Thanks for the memories and I guess you were another 133rd St brat.

But a 1966 Cadillac Convertible Seville?? Are you sure?
---

Name: niki () on Tuesday, October 24, 2000 at 20:24:22
E-Mail: biota75@yahoo.com
Maiden: nicklin
Class: 68
City and State: San Jacinto,CA
Message: has anyone heard from Teresa Worley or Sharon Moore..... from 1968 class...?

---

Name: John Baker () on Tuesday, October 24, 2000 at 19:26:14
E-Mail: jb1@cougartown.com
Class: 62
City and State: Lomita,Ca
Message: On the questionnaire there's been some confusion on "Food Stations". These are stations similar to an "all you can eat" salad bar, only one station will have pasta and another will have chicken, etc. This is included in the price. In fact the only thing not included in the price is the Prom pictures and the alcohol. If you have any questions please email me or Judy (judywudy@att.net) and we'll try to get you an answer. Right now at 5:46pm Lomita time, I have over 125 favorable responses to Prom night. That means at an average of 2 tickets per response, half the seats would be gone if we were selling tickets today. I'm sure we'll sell this out early as there are about 500 tickets that will go on sale next week. 500 is the capacity of the room so I am urging you to Get Your Tickets Early and if you know people without Internet access that want to be there, please let them know this week so they won't be left out next week.
Thanks Cougs for being out there and for supporting the website. I think you'll be very happy with Prom Night 2001.

---

Name: Craig Fernandez () on Tuesday, October 24, 2000 at 18:25:53
E-Mail: CFernan502@aol.com
Class: 80
City and State: Palmdale,Ca
Message: Hey Cito, I see you still remember the crazy runs to Palm Springs! in any vehicle that ran (Brakes or not). I talked to "K" the other day and we talked about all those crazy times. Don how are you doing? and Eddie, it's been a long time. How's life? Sorry to here about Jesse. That's sad! Take care all, see you in August.
CF

---

Name: Marilyn Ross () on Tuesday, October 24, 2000 at 17:09:05
E-Mail: marilynross@altavista.com
Maiden: Wisham
Class: 56
City and State: Garden Grove, Ca

Message: Well John we did have a stage back THEN. We had the SUNSET STAGE bus lines. We also had street cars. Do you old timers remember the G.A.A.?(girls athletic association for you young'uns). I was not a very good athlete but I had a great time anyway. Do you remember the Sportmanship Trophy that was given to the school that showed the best sportsmanship attitude at the football games? We won it a couple times while I was in school. Now no one cares about such things. You could not leave the stands until both schools alma maters were finished. No smoking allowed. It was in the "student section only". If an adult lit up we all got all over them and said put it out or leave. Oh the good ole days.

---

Name: Bill Jensen () on Tuesday, October 24, 2000 at 15:22:03
E-Mail: william.jensen@trw.com
Class: 63
City and State: 90250
Message: Brother Bob, the blue "Night Owl" jacket was set aside in the closet by the time of my appearance on the Lloyd Thaxton Show in early 1966. El Camino's Tri Phi Sorority made the arrangements for the show and I was a guest of Marilyn Poche. Marilyn was a Tri Phi Sorority member and Hawthorne High Graduate "65". I wore a plaid jacket for the show. Marilyn liked plaid!

---

Name: Tom Burroughs () on Tuesday, October 24, 2000 at 14:35:18
E-Mail: TB-Sande@webtv.net
Class: 58
City and State: Prescott AZ
Message: John, regarding the Prom, is there any way to plug in the entire Alumni list & just say Prom Night 2001. If interested click onto Feedback sec. I would think we would want to make this event as big as we can? Many of these people might want to participate, but do not read or participate in Feedback? Also is April 13th for the next Cruise Night, set in stone? If so I want to start working on (Big Ray) from Baton Rouge to attend with me! I thought I might ship him my Mountain Bike so he can get over to AZ. I need to know the date for sure as he would need to start peddling his way over soon!! Big game weekend coming up! GO SOONERS!!!
Hey Tom, Yes, everyone will be notified by email tonight. Judy and Janny are handling the mass emailing. The Cruise Night will actually be Saturday the 14th, so make your plans for that one Cougs. It'll be at Fosters again from about 5 to 10. Would love to see Ray there. Thanks Tom
---

Name: Raymond Smith () on Tuesday, October 24, 2000 at 12:52:02
E-Mail: Kawabunganorth@Juno.com
Class: 1981
City and State: Portland, OR
Message: Dave from the class of 76 who lives in Franklin, TN. I tried e-mailing you but it was undeliverable. So, if you want someone who could help you look at a car in Beavercreek and knows cars contact Mike Hinsch since he does owns alot of old cars and he may be of help. He's a 77 grad and listed in the Alumni section. As for older cougars, please write on in. I get a great kick hearing the old stories of HHS that I can't get enough of. If there was a book and history of Hawthorne and the folks who went to HHS I would buy it in a hurry. It just fascinates me of the fun we all had back then. Kind of like watching re-runs of the old black and whites which I still think to this day is still better acting than what we see now. Heck, I turned out ok after watching many episodes of the three stooges, combat, and the lil rascals(and I graduated from the 80's) which in today's standard would be considered violence T.V. (and I'm not writing from prison if you ask.) Anyway looking forward to seeing hearing some great stuff.

---

Name: Pauline Matthew () on Tuesday, October 24, 2000 at 12:00:06
E-Mail: pmsockser@aol.com
Maiden: Spencer
Class: 60
City and State: Oakhills, CA
Message: I sorry to report that we lost one of our cougar mom's yesterday morning, Mark Evens class of 1991, lost his mother. She was always very involved in Hawthorne High. Mark played soccer for the cougars. Please keep the Evans family in your prayers. Pauline

---

Name: Juan Bustios () on Tuesday, October 24, 2000 at 11:38:26
E-Mail: mjbustios@aol
Class: 1980
City and State: Torrance..
Message: EDDIE I'm totally blown away about Jessie one of the funniest things that happend in my life involved Jessie and his grandmother, remember when we would race all the way to PALM SPRINGS. PLEASE give me a call asap.

---

Name: Judy DeGrazia Blomsterberg () on Tuesday, October 24, 2000 at 09:30:06
E-Mail: JUDYWUDY@att.net
Maiden: can'tleavetheputertilmyworkisdone
Class: 64
City and State: Torrance, CA
Message: RE: PROM NITE OK gang... Janet Burkett and I have hoofed all over town.. gathered a lot of info from several hotels.. fought over the food.. ignored our sweeties...and worked everyone's last good nerve... and now we're ready to get your last response before the ticket purchase for PROM NITE, scheduled on AUG 18, at the MARRIOTT MANHATTAN BEACH.. so go to the questionnaire at the top of this page..and let's get serious. No pressure here, but if you don't get serious ASAP, we're locked into the "squid on a stick" entree. Look forward to seeing you in my email box (don't go there John) with your "I'll be there"
Judy DeGrazia Blomsterberg
OK Judy, I'm signin' in right now. If you haven't filled out the NEW and last questionnaire, please do so now. If you know someone who isn't connected to the Internet, please let them know about the Prom and if they're interested, please add them too. We want to know if we have enough people interested in Prom night, now that we've nailed down the costs. If so, we'll start selling tickets next week. Thanks Janet and Judy for your diligence and we'll know by the end of the week if Prom Night's a go.
---

Name: Marion Rich () on Tuesday, October 24, 2000 at 07:37:27
E-Mail: hrichhrich@aol
Maiden: Burkeman
Class: 56
City and State: Hawthorne, CA
Message: I agree with Doris Donaldson, class of 57. Where are more of us early alumni? Come on gang, lets hear from you or if you know somebody from the "Old Days" clue them in to Cougar Town.
I agree, Where are the early HHSers hiding? Feedback doesn't hurt a bit. If you leave a story or an HHS anecdote, it stimulates other stories and anecdotes. So let's hear from you early HHSers. We need to know if there was a stagecoach running through Hawthorne in the old days.

---

Name: Dan Johnson () on Tuesday, October 24, 2000 at 05:30:10
E-Mail: wch1ispink@aol.com
Class: 77
Message: The Pacers definitely came from KHJ -- KMET was not involved. I remember that last day of 77 thrashing of the campus. Somebody had some spray paint and Coach Stucker got a nice message about his fantastic 77 hoop team.

---

Name: Derek Barraza () on Tuesday, October 24, 2000 at 05:16:27
E-Mail: Derek@HawthorneHigh1980.com
Class: 1980
City and State: Long Beach, CA
Message: Eddie: Jesse Tunnell was a member of the class of 1980. He is on our missing list. I'm saddened to read your note about his passing. I had the pleasure of knowing him during our days at HHS. I'll always remember him and Rick Asire at a party I had when my parents were out of town. The three of us threw it together at the last minute. Only about 12-15 guys & girls, but of all the parties I remember, that was one of the most fun!
He was a good friend and will be missed.
Derek

---

Name: Don Dallons () on Monday, October 23, 2000 at 23:40:36
E-Mail: dkd61@yahoo.com
Class: 79
City and State: Hawthorne
Message: Hi Juan. It was great talking to you the other night. Eddie Braune, Sorry I could not join you for the World Series on Wednesday for game 4 in New York. Make sure you get me a signed ball or bat from your bud Mike Piazza. Denean Mc Farlane Eddie & I came to conclutions that you are a such a sweetheart. Make sure you call me regarding your e-mail and we will all get together. Also Eddie If you can pull it off I would like for you to get me a signed ball from the World Series. I know you can pull it off since your friend's with Mike Piazza. If not the broken bat that Rodger Clemens through at him in game 2.
I wanted to say hi to Robert Sanchez. You have always been a bud.

---

Name: Brother Bob Jensen () on Monday, October 23, 2000 at 23:19:09
E-Mail: robertjensen@satco-inc.com
Class: 71
City and State: LA,CA
Message: I would like to take this time to tell you all how wonderful my big brother was and still is to me. He use to take me to see Tommy Ivo when I was 12 and I also got his blue dinner jacket after he was finished with it. My only problem was most of the my class didn't even own a dinner jacket. Everyone rented those flocked wide lapel tuxs. Thanks anyway brother. I still have a white dinner jacket... and I am ready for the Prom... Oh brother, I don't remember but did you wear your dinner jacket to the Dick Thaxton show??? And how did you get to go? You were always playing with the band and didn't have time to dance. Could it have been the idea of one of your lady friends? Which one???

---

Name: Bill Jensen () on Monday, October 23, 2000 at 20:47:23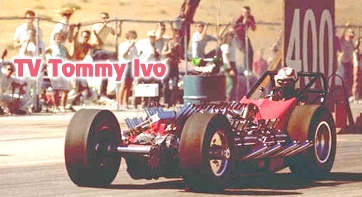 Class: 63
City and State: 90250
Message: TV! Tommy Ivo! Four Wheel Drive!
The only Ivo picture I have.
---

Name: Dave () on Monday, October 23, 2000 at 20:27:31
E-Mail: dadkrikac@aol.com
Class: 76
City and State: Franklin,TN
Message: Calling all Cougars! Any Cougars living in Beaver Creek Oregon? How about Oregon City? I am buying a car and I need someone I trust to look at it. Hey, I will buy ya dinner at Ruth Chris if ya can. Thanks so much. PS Does anyone know a good car carrier to call.
Thanks, dadkrikac@aol.com

---

Name: Bill Jensen () on Monday, October 23, 2000 at 19:59:20
E-Mail: william.jensen@trw.com
Maiden: Night Owl
Class: 63
City and State: 90250

Message: John, that's a good picture of the "Night Owls". It would be nice if the original photo was in color, since those blue jackets were cool. At least that's what Karen Shaw "63" wrote in my 1961 El Molino. I do notice two things about the picture. One is that Jimmy Lendennie forgot his blue jacket and tie. And, I forgot to show up for school that day. What a great picture of the 1961 Banner Carriers! Oh yes, those wonderful Cougar games.
There you go Bill. How's that?
---

Name: Eddie Braun () on Monday, October 23, 2000 at 18:22:45
Class: 1979
City and State: manhattan beach, calif
Message: hello all, i just returned from portland on sat the 21st to hear some very sad news. on tues oct 17, JESSE TUNNELL, class of 81 died of complications of liver and kidney failure , in san diego calif. for those of you that did not know him, he was a very nice guy, i will really miss him. i had the great fortune of having known the guy and stayed in touch with him pretty frequently. anyway sorry to bring such sad news....ive got to leave tonight on the red eye to NY ill be back on thurs to keep up on the latest..DON DALLONS, wish you were coming with me, i will wave during the 7th inning stretch..... Eddie
Sorry to hear about your friend and fellow Coug. Always sad.....
---

Name: Robert Sanchez () on Monday, October 23, 2000 at 12:01:48
E-Mail: robert@uclabruins.com
Class: 77
City and State: Austin, Texas
Message: Juan: I normally don't respond, but I feel the need to state a clarification on the Pool incident. Kurt and I were there that night and I can tell you about a Telephone Pole, and other pranks, but I can assure you that Keith and Kurt had nothing to do with the Pool. Hope all is well with your life and take care. You may want to talk to some others who were in a local band for actual participants in the pool! :)
Robert
Thanks Robert, and yes please tell us about the Telephone Pole incident.
---

Name: Bob Jensen () on Monday, October 23, 2000 at 10:25:49
Class: 71
City and State: LA,CA
Message: Brother Bill, I waited and no one answered you so here it goes. ?His name is Jump Jump, jolly little Jump Jump, work is always play. He is quick as the wind and his very best friend is Mary Holiday. I have just returned from the Bay area on the Suzie Sorority flight. Those girls didn?t go up to see the game they went to shop. We all should have gone shopping. The Ducks are starting to look good.

---

Name: Judy DeGrazia Blomsterberg () on Sunday, October 22, 2000 at 23:03:16
E-Mail: JUDYWUDY@att.net
Maiden: notimetoevenpeeinthesink!!!
Class: 64
City and State: Torrance, CA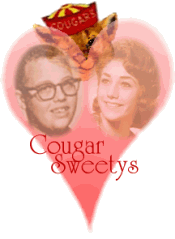 Message: RE: PROM NITE-2001 "ONE SUMMER NIGHT" Well, Janet "Baker" and I hit a few places this week, and things are looking great.. We're still not making any announcements yet, but keep your eyes on Cougartown...it won't be long before we have all the info you need to start planning. Now.. Did I happen to see a BEEBE in Cougartown. I wonder if that could be any relative of Margie and Joanie Beebe.. We all went to Catholic school together and drove everyone nuts..however, I didn't learn how to pee in a sink until I met Marsha Russell Hood. All I can say is if all the BEEBE'S are checking in.. John's puter better get upgraded with a larger memory.. Now, I'm back to making the toilet paper carnations for the decorating committee.. Stay tuned.. Judy "off like a prom dress" DeGrazia Blomsterberg

---

Name: Bill Barmore () on Sunday, October 22, 2000 at 20:42:25
E-Mail: blb7777@yahoo.com
Class: 74
City and State: Atlanta Georgia

Message: Hello Dan Beebe..good to see another from 74..some claim our class was apathetic, but I don't care.
Funny Bill.....VERY funny.
---

Name: Juan Bustios () on Sunday, October 22, 2000 at 18:29:39
E-Mail: mjbustios@aol
Class: 1980
City and State: Torrance.CA
Message: Keith JONES ERIC had to guess the combined weight of those pacers and his nickname was Fat Head because when he went out for the football team they had to get a custom made helmet for him because none of the helmets they had fit him and another thing was that you and Morlock that put all the picnic tables in the pool hahaha.

---

Name: Paco McKay () on Sunday, October 22, 2000 at 18:29:17
E-Mail: doo4usc@aol.com
Maiden: Holtz


Message: El ROJO El ROJO, USC is doing just fine! Have you looked at the standings lately? 7-1 isn't to shabby...Cherry pits in the urinal? That reminds me of a story...Fight On!! Right, Leif?
Hey Paco, You must be looking at the USC Badminton standings. You and Enocksen come on over to the Duck Pond for at least the rest of this season. OH....and GO CHIEFS!!!
---
If you have comments or suggestions, please email me at jb1@cougartown.com