Page 24
Home | 60's Slang | Alumni List | Car Talk | Cougar News | Feedback | Hangouts | Memories
Recollections | Reunions | Street Scene | Teachers | Tributes | Vietnam | What's New | Keyword Search
---
Thursday, December 31, 1998 at 21:50:40
Name: Jim Fox
E-Mail: puffup@soca.com
Class: 1966
Message: John...Sincerest congratulations on another tremendous year with the CougarTown site. To you and all the HHS alumni and faculty, my warmest wish for a great 1999.
---
Thursday, December 31, 1998 at 20:48:30
Name: Ricki
E-Mail: farrell8@worldnet.att.net
Maiden: Valencia
Class: '61
Message: To all Cougars, I wish you all the happiest of new years. John: I probably missed it, but how do I get on the list for the Spring Fling '99?
Brenda Martinez: Ms. Burket teaches English at Lloyd (in Lawndale, I think. Clayton Williams is in Utah. He is supposed to get his computer very soon and then we can bombard him with email. I talk to him on the telephone, but I don't feel comfortable giving his number out without his permission. He is quite touched about being remembered. I know that I teach art because of his constant support. I am still learning from him.
Dick, thanks again for Access. Looking forward to the Spring Fling.
Ricki
Note: Ricki, Stay tuned for the Spring Fling '99. I'm trying to contact Dickie even as we speak. I will post it on the What's New page.
---
Thursday, December 31, 1998 at 01:43:06
Name: Brenda Martinez
E-Mail: blmartin@scf-fs.usc.edu
Maiden: Martinez
Class: 60
Message: John, Does anyone know where the following teachers are: Ms. Burkett(English); Ms. Atkins (Algebra); Mr. Pappas (History); Mr. Williams (Art). Just curious.
Thanks for all the work you've done on the website. It's a great job! Brenda Martinez (would've been class of '75 but I transferred to South High)
Note: Hi Brenda, Yes, I believe Ricki Farrell Valencia HHS 61 stays in contact with Mr. Williams and she also graduated with Ms Burket, so she would have an answer for you there. Does anyone else have any clues on these teachers?
One other thing on your email address. I tried to email you, but I can't get through on your email address. Is it correct?
Thanks Brenda
John B
---
Thursday, December 31, 1998 at 09:03:08
Name: Gary Nelson
E-Mail: Kruiszn@aol.com
Class: 60
Message: A message for Coach Chauncey- I have an old, address for Mike Sutherland, I'll have to find it and E mail it to you. Do you know where Danny Hurd (59) is?
---
Thursday, December 31, 1998 at 07:06:05
Name: Dick Dixon
E-Mail: accessrd@aol.com
Class: '63
Message: Happy New Year cool cougs. May the coming year be what you hope for, work for, pray for and be filled with more great comments from those who love and use John Baker's dream communication web site. Joyce S. of '62 call me re: the spring fling 888-231-2272. I'll be in till 1/5 then off to Vermont till 1/11. Any of you HHS street rodders, watch "My Classic Car" on TNN weekends? Enjoy a the coolest rod show on TV. A really great show on Sat. & Sundays. 1.2 million weekly viewers can't be wrong. Jim and Bear hope you like you're copy of ACCESS Street Rods & Trucks. Paul Mackie and Lynn Brooks lets run that Cobra again. Rhonda and Rose miss ya and looking forward to seeing Nancy Staehr and her sis, Linda more often. Geri, great seeing you and keep dry in Oregon. John, I can find Lomita, the Cheesecake Factory or anywhere else you want to get together and bench talk, and don't forget the HHS nineteen '99 Spring Fling, car show, BBQ, tones and fun, fun, fun till my daddy took the T-Bird away (around late April). For '99 "Be true to your school", and be true to yourself.
---
Wednesday, December 30, 1998 at 23:00:30
Name: Dave Butner
E-Mail: dbutner@earthlink.net
Class: 1974
Message: Happy New Year! Can't belive it's been 24 years since graduation!
---
Wednesday, December 30, 1998 at 12:24:26
Name: Hal Chauncey
E-Mail: halncathy@earthlink.net
Message: Hi John,
Does anyone know the whereabouts of Mike Sutherland? I think he was in the class of 1960 or 61. Have a healthy and happy '99.
As ever, The Ol' Coach
---
Wednesday, December 30, 1998 at 10:59:32
Name: Mark Vitaterna
E-Mail: mvita@ix.netcom.com
Class: 78
Message: What a good idea to get a web site up for HHS.
---
Tuesday, December 29, 1998 at 22:14:17
Name: Ricki Farrell
E-Mail: farrell8@worldnet.att.net
Maiden: Valencia
Class: '61
Message: Dear John, One of the things that I have to be thankful for this end-of-year is the knowledge that this site exists and that I have been in touch with many people that are no longer only memories of the past, but the chance to make them a part of my future. I owe this all to you and I know that we all feel the same way. I was proud to be a Cougar when I went to HHS and I still am. I have especially enjoyed reading about the lives of my little sisters. They were the rowdy ones. I was quiet and shy. Now we'll see how many old teachers are reading this page.
There are still many people with whom I would love to get in touch...we'll see.
Thank you for the Access yellow pages Dick. My husband really appreciated it.
Thanks again John.
Note: Ricki, Where have you been girl. We've been worried about you. I thought you'd given up on us. Not really. This page does get a little slow around the holidays. Thanks for your kind words too. This site will continue to grow and newly found, old friends will continue to walk through the front doors of Cougartown saying, "I didn't even know this site was here". I don't know how many people are on the Alumni List as of now. It would be a good time to count them. If anyone has checked lately, please let us know. Happy New Year to you Ricki, and to all you Cougars floating around in Cyberspace. It been a ball having you all check in.
---
Tuesday, December 29, 1998 at 12:15:18
Name: JIM SLOEY
E-Mail: SLOEYLAW@ITSONLINE.NET
Class: 66
Message: JOHN,
Merry Christmas and Happy New Year! As you can certainly tell by the responses you receive, this is surely the highlight of all of us "old" Cougars on the Internet. I truly believe this site keeps us all young, at least in heart and soul. You have done a wonderful job and spent hours refining, adding, modifying and creating the finest web site on the net, and all for us! Thank you John!
As to the Valencia sisters, this is a warning to all you Cougars, don't invite them over. They came for dinner on the 19th of December, and the next thing I realize we are all unwrapping presents together!!! NOT REALLY! They are two of the sweetest kindest people you will ever find! My wife said they're always welcome and that goes double for me!! What great kids too! Thanks for taking time to visit us!
As for my dear friend Keith Jones, as his other Dad, all I can say is leave a phone number! I even emailed you but no response! So where are you son! For those of you who do not know Keith, Keith is about 6' tall weighs 300+ give or take 20 pounds, that he claims is all muscle, and most of it is! But I knew Keith when he was little and my brothers and I spent time at the Docs, he has never gotten over the fear from those days, and I don't let him either. So call me Keith and leave a number this time!
And Hey Schroeder, are you taking care of Young?
Merry Christmas to all and a Happy New Year!
Jim Sloey
---
Monday, December 28, 1998 at 14:09:01
Name: Dennis Campbell
E-Mail: DDCAMPBELL@Compuserve.com
Class: 61
Message: Good Morning John,
Happy Holiday. Nice Job! good to see all the old names faces. I'll check back with you soon.
Dennis
---
Sunday, December 27, 1998 at 17:00:00
Name: CINDY THOMPSON
E-Mail: HOCKEYMMOM@AOL.COM
Maiden: FIELD
Class: 1980
Message: WHAT A TRIP TO FIND THIS WEB SITE. THIS BRINGS BACK A LOT OF MEMORIES! I WISH EVERYONE A HAPPY AND HEALTHY 1999!!
---
Saturday, December 26, 1998 at 14:46:04
Name: Judy DeGrazia
Maiden: DeGrazia
Class: 1964
Message: A message for Jack Hammer... I read in your feedback that you're looking for my brother, Andy DeGrazia. Well, he is living in San Mateo, CA. I'm using the library's Netscape to sent this message so I can't Email..but if you would like Andrew (or Tom's) phone number you can reach me at (310) 793-5910 and I'll be glad to give you their number. Andrew will be making a trip down to Hawthorne next month for a short visit, and Tom is living in Buena Park. Also, anyone looking for Danny Pearce, or Ralph & Phil Christiana can call too. We all grew up on Sundale Ave & 118th Street and we keep in touch. Looking forward to hearing from you.
Judy
---
Thursday, December 24, 1998 at 23:07:50
Name: Lisa Nicocia
E-Mail: lisanico@usa.net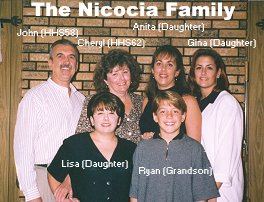 Message: I just wanted to say "Thank You", John, for all the work you put into this page. I have had so much fun going through it with my Mom and having her explain all her old hang outs and all the fun she had in her youth. it's kind of like that commercial, "Finally finding out where your mother was coming from. . .PRICELESS!"
Note: Lisa, Thank YOU for stopping by. This is last years Christmas photo folks, but these people just keep getting better lookin' every year. Guess it's that HHS blood. :o)
---
Thursday, December 24, 1998 at 23:00:19
Name: Cheryl Nicocia
E-Mail: chernico@cvc.net
Maiden: Christensen
Class: 62
Message: MERRY CHRISTMAS JOHN, FROM MY WHOLE FAMILY TO YOU. We are in Oregon, as you know. All my girls and my grandson are visiting and we are having our first WHITE CHRISTMAS together. It is wonderful. It is snowing right now. We wish everyone of our friends and fellow HHS alumni a Great Holiday Season. Especially you, my "joined at the hip" friend. See YOU after the New Year....Cheryl
Note: Cheryl, Thank you very much and Merry Christmas back at you, John, and the rest of the clan. I know you'll have a great Christmas and yes, I will see you the 2nd weekend in January. Please have it warmed up by then willya'. Love you guys and stay warm.
---
Thursday, December 24, 1998 at 15:04:17
Name: Russ Jacobsen
E-Mail: jakejude@aol.com
Class: 60
Message: Remember when you were a young pup and looking at all the old people who were doing that funny thing called dancing. You know when you finally asked the girl of your dreams to "SLOW DANCE". Your "heart" did funny little flips and you asked yourself what the "hell" is this all about? But, when you went back and talked to your buds, you told them that she was "in love with you". AND YOU WERE AN INSTANT STUD!
Note: Russ, If you can remember all that, you're not as old as you PRETEND to be. See how this site actually transforms you into a "Teeny Bopper" again. :o)
---
Thursday, December 24, 1998 at 18:28:07
Name: Rich Haffke
E-Mail: zymbrew@aol.com
Class: 75
Message: John, I concur with Susan King's message about this site. No present under the tree could match what you have given us. Every day that I check the feedback pages is like opening another present...and it never stops. Keith Jones; I sure hope you have someone to spend the holidays with down there in Gomorrah South. Happy Holidays to all!
---
Thursday, December 24, 1998 at 13:40:13
Name: Penny Prouty
E-Mail: PENNY.PROUTY@TRW.COM
Maiden: PROUTY
Class: '62
Message: Merry Christmas, John!
And Merry Christmas and a Happy New Year to all of you out there! Yes, from me too...Here's to you, John! A toast and my best wishes to you for the new year ahead...you deserve the best of everything. You know you have a "multitude" of friends out here who are sincerely grateful and appreciative for the gift you've added to our lives through this website. Sorry, I've been away for awhile but I've enjoyed every minute I get a chance, when I catch up with the latest feedback...always guaranteed to bring a smile somewhere through the conversations and remembrances shared on this page.
Thanks again, John!
Penny
Note: Penny, Where have you been girl?? You used to be the number 1 person on this website and you just faded right off the charts. I'm glad you checked in though and thanks for your kind words. I do feel blessed by all my friends, but still say it's all the alumni that keeps this site ahoppin'. Thank you all for adding to these pages. This has been a ball so far and it can only get better.
---
Thursday, December 24, 1998 at 11:33:38
Name: Keith Jones
E-Mail: cmi50@yahoo.com
Class: 76
Message: This is about Jim Sloey. I've known Jim for a long time. People think I have a great memory, but no one's is better than Jim's. He is also the best attorney I've known (and I've known quite a few) even though he never returns my calls. I would recommend Jim to all Cougars. He was once a very good friend but I know he is very busy and can't talk to me as much as before. But he is a great guy beyond that. We have our fun poking at each other. But I know it's all in fun. Merry Christmas Jim and all the other Cougars
---
Thursday, December 24, 1998 at 10:24:53
Name: Susan King
E-Mail: sueking18@aol.com
Maiden: Bierman
Class: 1974
Message: Well Keith, THAT explains it (your msg to Tesa). I'm not sure how Hawthorne ever survived you! My sister told me that you lived just around the corner from us - next door to the Perius'. OMIGOSH - to think that we were THAT close to such peril and danger.....To all Cougars: The Merriest of Christmases - I'm not sure how any one present under the tree can top the one John has given us..... to you John, thanks for being such a wonderful Santa Claus! Ho Ho Ho!
---
Thursday, December 24, 1998 at 09:44:48
Name: Laura Porter
E-Mail: dsnycrw@ivix.net
Maiden: Twitchell
Class: 79
Message: Dear Jodi Alexander (Torgerson) Your brother and I were in the same 8th grade class at Hawthorne Inter. (Mr. Dubas). We have a moto-cross track near our house and when ever we drive by I always remember his enthusiastic Monday morning replay's of the weekend's races, complete with sound effects! Hope you have a Merry Christmas!
---
Wednesday, December 23, 1998 at 21:48:47
Name: karen kuehl
E-Mail: kaykay@tcsn.net
Maiden: graham
Class: 59
Message: Well, the Holidays are here and we're headed out of town, so my husband and I just wanted to wish everyone a last minute MERRY CHRISTMAS AND HAPPY HAPPY NEW YEAR!!!! Let's all give a toast to John B. for all his hard work and continued success with this website and to each of the HHS Alumni who also make this website possible. I'll drink to that!!! Cheers!
---
Name: Russ and Judi Jacobsen(JAKEJUDE)
E-Mail: jakejude@aol.com
Maiden: Kiester
Class: 60,61

Message: I, graduated in 1960, my wife Judi in 1961. I clicked onto to the "Jukebox" and saw songs from 1960 forward. Does anybody remember what songs we danced to before that? I had an older brother, DAVE class of 58 and we used to ride to school together in his really cool 50 Merc and pick up people such as Bruce Johnson, Jim Underwood, Dave Roelen and such, I was a lowly Sophmore, as was Bruce Johnson. But we had songs and groups such as the " Del Vikings with one of the greatest 'DO WOP' songs ever, "COME GO WITH ME". " ELVIS, WITH "DON'T BE CRUEL AND HOUND DOG. This was something to get excited about. "The Mello Kings with TONIGHT, TONIGHT"; SONNY KNIGHT " CONFIDENTIAL"," CHERRY LIPS" by the "ROBINS"; SMOKEY JOES CAFE BY THE COASTERS; DON'T DROP IT, WILBUR HARRISON; SINCE I DON'T HAVE YOU, THE SKYLINERS; A THOUSAND MILES AWAY, THE HEARTBEATS; EARTH ANGEL, THE PENGUINS; AND SO ON . If any of you people remember these songs please give me a buzz, because it's a lot of fun remembering where you were and what you were doing to these songs. THANKS, "JOHN BAKER FOR WHAT YOU HAVE CREATED". MERRY CHRISTMAS TO ALL YOU COUGARS, GO CLASS OF 60 &, I GUESS, 1961, BECAUSE MY WIFE WAS IN THAT CLASS. GOOD NIGHT! P.S. I MAY NOT HAVE PUT THESE SONGS INTO A CHRONOLOGICAL ORDER, BUT I STILL REMEMBER THEM! THANKS , JAKEJUDE.
Note: Great Idea Jake. Seeing as our Top Tunes only go back to 1960, can any of you "More Senior Cougars" out there come up with more 1959 or earlier dance tunes or Doo Wop classics. The one that comes to mind for me right now is "Cherry Pie" by I think, Marvin and Johnny. Anyone else??
Your Name; Mike Shay
Title: In The Still Of The Night
Group: "The Five Satins"
Your Name; John Baker
Title: Speedo
Group: "The Cadillacs"
Your Name; jake
Title: over the mountain
Group: "johnnie and joe"
Your Name; Cheryl Nicocia
Title: There Goes My Baby
Group: "The Drifters"
Your Name; Patt
Title: Wild Weekend
Group: "Minebenders"
Your Name; Dick Dixon
Title: Oh Donna
Group: "Richie Valens"
Your Name; Linda Reynolds
Title: Oh What a Night!
Group: "The Dells"
Your Name; Nariz Major
Title: Purple People Eater
Group: "Sheb Wooley"
Your Name; ERNIE NIXON
Title: SURFER STOMP
Group: "MARKETTS"
Your Name; CAL KAPPEN
Title: NIGHT MOVES
Group: "BOB SEGER"
Some of these songs were written WAY after 1959 doncha think. :o)
Your Name; jake
Title: stranded in the jungle
Group: "cadets"
Your Name; Joyce Savisky
Title: Smoke Gets In Your Eyes
Group: The Platter's
---
If you have comments or suggestions, please email me at jb1@cougartown.com