Page 213
Home | 60's Slang | Alumni List | Car Talk | Cougar News | Feedback | Hangouts | Memories
Recollections | Reunions | Street Scene | Teachers | Tributes | Vietnam | What's New | Keyword Search
"Hawthorne's own" "Chris Montez"

---

---
<!-++++++++++++++++++++++++++++++++++++ADD BELOW THIS LINE++++++++++++++++++++++++++++++++++++ +++++++++++++++++++++++++++++++++++++++++++++++++++++++++++++++++++++++++++++++++++++++++++++->
Name: joseph mailander () on Monday, February 21, 2000 at 18:16:20
E-Mail: joseph.mailander@uboc.com
Class: 75
City and State: los angeles ca
Message: Don DiTom, yeah it was good to kick around old times on a freezing night at Pinks. I'll start downloading some of that music as soon I get a DSL line. Glad to see you there. You and everyone else need to come up to Hollywood a lot more. And don't be afraid of downtown either. I don't know what it is about downtown, I can never get anybody from the south bay to come up here.
And I wonder when we can start downloading Ted's music?

---

Name: Harry Plotkin () on Monday, February 21, 2000 at 11:44:10
E-Mail: hcharry@pacbell.net
Class: 52/97
City and State: Harbor City, CA
Message: Re: VFW and John's House. Sorry we missed wishing you Happy Birthday in person, Mom B, but this will have to do. Kathy and I waited until two. I see we missed the major part of the party. On the way home Kathy said you are nice, fun people who care for one another......and I agree - you are the greatest!! Thanks for including us. Love to all Cougars. HCH and Kathy
PS Nice house, John.
Mr P, You and Kathy are always welcome, and I'm glad you made it even if Beverly missed her own BD party. Thanks for staying involved with Cougartown too. We'll see you two at the next Pinks run.
---

Name: Jim Walsh () on Monday, February 21, 2000 at 10:36:16
E-Mail: econwalsh3@aol.com
Message: As a teacher and coach in the CVUHSD since 1971, I have had the pleasure of knowing Kye Courtney for 3 decades. His dedication, sincerity and work ethic has been an inspiration to me throughout this time. We have been virtually inseperable throughout the 90's in the area of athletics and in the running of our economics program. With his passing, I have lost my colleague, my mentor and my best friend. My only solace is that he has prepared me well to carry on his work and to maintain the high levels of expectation and achievement in both of these areas. As Athletic Director and Economics teacher, I will try to fill the void left by this very unique individual. His inspiration, his work and his memory will live on forever at HHS.

---

Name: Elizabeth Castanon () on Monday, February 21, 2000 at 08:35:17
E-Mail: lizcastanon6@hotmail.com
Maiden: Cary
Class: 1973
City and State: Amarillo TX
Message: Hi JB and all. Well it looks like we've got Texas Cougars poppin up all over. This is great! Hopefully soon we can plan a minireunion for all South Central Cougars. Mary Magnuson... I was in drill team from Sept of 1972 until I had to drop out to go to work after school in November. Your face is very familiar but I am sure you resemble your sister as well. A real quick embarrassing moment to share..fortunately it was not mine so I will not mention any names...Sophomore year, history class, one of my class mates named "Jim" gets up to look at the book case. Now Jim always wore his pants sagging which was a surfer trend in the 70's, and on this day one of the girls in class thought it would be funny to tug on his pants. As he was standing by her desk she reached out and lightly tugged. Little did she expect not only his pants but his drawers came down too! There he stood bare butt and needless to say very red. so you see we all have embarrassing times some more than others. It is all a part of growing up. Bye for now Liz

---

Name: Diana Romero () on Monday, February 21, 2000 at 08:03:54
E-Mail: Onlydi @aol.com
Maiden: Sanchez
Class: 1975
City and State: Bloomington, /CA
Message: My deepest sympathy to Cheryl Carr Courtney and family. Mr.Courtney was a great teacher with a big heart! Very considerate and caring, always there for his students. I got to know him during my years at HHS first as a student in his class then he somehow talked me into being his TA in the summer for 3 years (he gave me full credit even though I ended up going on vacation during part of summer school.)and of course good ol Track Scorekeeping. I was also in Drill Team so of course I knew (Miss Carr)! The last time I saw Mr. Courtney and Miss Carr Courtney was at my wedding gee how time flies!! My prayers are with you Cheryl and may god help you through this time of grief and pain.

---

Name: Miriam Cruz () on Monday, February 21, 2000 at 00:26:35
E-Mail: SWEET4605@aol.com
City and State: Hawthorne,CA
Message: Well, all i have to say is that i'm impressed how hawthorne was back in the 60's. i'm glad and proud to be a cougar. I would of loved to be born in those days, Im now a sophmore at Hawthorne High School and to know the past is very interesting. I want to tell Ms. Courtney Sorry =( and hopefully she remembers me. im miriam cruz i had her as my 9th grade P.E teacher thanks alot ms. courtney!!!! =)

---

Name: Cheryl Courtney () on Sunday, February 20, 2000 at 22:54:47
E-Mail: Gator67@webtv.net
Maiden: Carr
Class: 2001
City and State: Torrance, Ca.
Message:Dan Dye still holds the shotput record at HHS.
Liz Carey Castanon: Thanks for the song. I'm sure Kye heard you.
Cheryl Courtney

---

Name: Royal Wm. Lord Jr. () on Sunday, February 20, 2000 at 22:20:46
E-Mail: lord@ugsolutions.com
Maiden: Same as above!
Class: 1961
City and State: Cerritos, California
Message: John Baker, Thank you for the GREAT HONOR, hope I can measure up. It has been fun meeting people I have heard about from Royal. Everyone has been so nice. Coug's are the greatest. Pat Lord
Talking about "THE" Hawthorne Parade brought back some memories. Every year as a kid my parents would take us to the Parade first and then the Fair. What good memories! Then when I was working in the Hawthorne School District, Pat and I would take our two kids. When I was Principal at Jefferson School, Reese Walton, Superintendent, Hawthorne School was made the Grand Marshal of the parade. They picked some former students of the Hawthorne School District who had chosen to return to work in the city for their career as Division Marshals, and I was picked to head one of the divisions. My Wife and I rode the parade route in one of those 1957 T-Bird Convertibles. It was exciting to be picked to be in one of those parades that I had watched for so many years from the curb.
Thank God I'm a Coug. R. LORD
You're welcome Pat, as you fit right into the Cougar mold. The parades were great and are missed by lots of people.
---

Name: John Baker () on Sunday, February 20, 2000 at 22:36:09
E-Mail: jb1@cougartown.com
Class: 62
City and State: Lomita, CA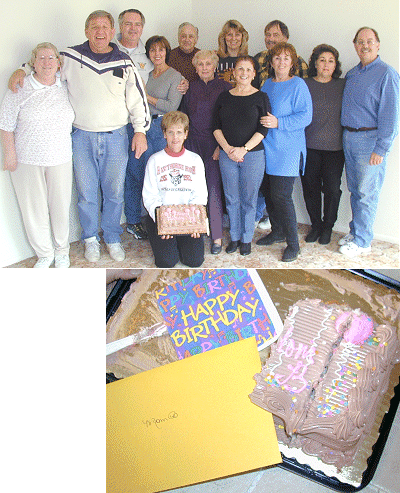 Message:Just a note to say we all had a great time at the VFW this morning. Mom B was there for a few minutes and said she had to leave early as she was going to a brunch with friends. I asked her to come by the new place to take a look, and she said it would be about 12:30 or 1pm. We had set up this surprise birthday party for her, but she never showed up. Well we ate your cake Beverly, and we drank your wine and ate your pizza. It all broke up about 8pm. I just want you to know that although this is the LAST surprise party we have for you, it was a kick ass party, nevertheless. We're all sorry you missed it. Happy Birthday Beverly and We Love You Lots.

---

Name: Sharon MacDonald () on Sunday, February 20, 2000 at 21:27:06
E-Mail: rmac@genevaonline.com
Maiden: Badger
Class: 63
City and State: Burlington, WI
Message: Hey, a Pinks run sounds great. I'm looking forward to it. It will be great to see all Cougars who are able to make the run.
We'll be there Sharon.
---

Name: Bill Ward () on Sunday, February 20, 2000 at 19:05:09
E-Mail: wardchief@aol.com
Class: 63
City and State: Anaheim,Cal
Message: Hey John , Tell Cheryl Brooks and her new hubby to come on the Pinks run March 31st, would love to see her, Last visit with her was at my fathers funeral, She is an old family friend.
Bill, I will pass the word. Maybe we can get Cheryl AND Linda Jones Reynolds to show up. Thanks man.......
---

Name: Mary Magnuson () on Sunday, February 20, 2000 at 19:04:30
E-Mail: memagnus@us.ibm.com
Class: 1975
City and State: Austin, TX

Message: Hi Liz Castanon. I was in drill team from 73 - 75. My older sister, Pam, was a majorette at HHS.
Greetings, Christine Baird. You are right in my back yard; I live in the country between Round Rock and Pflugerville. We will have to get together for lunch. It looks like several Cougars live in Texas now.

---

Name: Steve Deuel () on Sunday, February 20, 2000 at 11:20:19
E-Mail: sdeuel@aol.com
Class: 1972
City and State: Torrance, Ca
Message: I was catching up on some of the great "feedback" memories and I just had to give you one of my fondest. Senior year in Mr. Grahamer's german class we were noticing how antsy "Dr" John Fowler was. Finally, in german of course, Mr. G. asked John what the problem was. John's reply was that he was hungry, so hungry that he could eat 20 taco's. Astounished, Mr. G boasted that if John could eat 20 taco's, Mr. G would pay for them. (Now german class was getting interesting!). My hand shot up, "I'll fly if you buy". 10 minutes later after sneaking to Taco Bell with one of Mr. G's mint condition 20's, we all spent the rest of our class watching John choke down those taco's. I don't really recall if he actually finished the 20 but I do remember that he "hit the wall" at around 14. Just another great moment of teaching at HHS! I have 3 kids at 3 different schools and I don't seem to hear about them having near the fun I had at HHS! We had it so good!

---

Name: Sharon MacDonald () on Saturday, February 19, 2000 at 22:35:01
E-Mail: rmac@genevaonline.com
Maiden: Badger
Class: 63
City and State: Burlington, WI
Message: Well Cougars, next month I will be journeying to Southern California for the first time in 29 years. I am going to LaJolla for a training class and have 2 free days (Wednesday, March 29th and Friday, March 31). I would really like to get a chance to see some/all/any of you still in SoCal while I'm there. Let me know if anyone has any ideas on how, when, where, etc.
Sharon, I say we schedule a Pinks run for Friday March 31st. I would love to meet you, and this would be a great way. It's a done deal then, March 31st is the next Pinks night and we'll see you all there.
---

Name: Dan Dye () on Saturday, February 19, 2000 at 20:36:27
E-Mail: DanADye@earthlink.net
Class: 1962
City and State: Torrance Cal.
Message: Hi again Cougars . It was great reading all the feedbacks. Royal, it was good reading your note. We had some great football games. Loretta M. Graduation practice was fun. Linda Jones, what a nice girl you were and I am sure you are a great lady. Cheryl C, We had some good times walking to and from school, hanging out at Bobs house, with the gang John B. Gordon and Ron. I can't recall everyone. Life was alot slower then. This is my second week on the Internet. Its been fun. My wife Ann is from Inglewood High and they don't have their own web. We will talk later ...Always a Cougar, Dan.
Dan, tell Ann to go to the What's New Page and at the bottom of that page, there's an Inglewood site run by Bill Banks. Even if her class is not listed, she should have fun there just reminiscing. John B
---

Name: Talia Pacheco () on Saturday, February 19, 2000 at 19:38:00
E-Mail: Devil_Pup_grrl@bolt.com
Class: 98
City and State: Hawthorne, Ca
Message: What a wonderful page. It is wonderful to know that people still give a damn about their high school, unlike many of the kids today. I wanted to give my regards for your work on this page, and also to send my love and support to Kye Courtney's family. A man like that you believe is invincible, made of steel, until he's gone. He was a wonderful man. Like someone said at the service earlier this morning, God's coaching team just got better. :) Keep up the good work!!
Thanks Talia, To the Courtney family, I'm so sorry that I missed the celebration of Kye's life today. I had other pressing business, and I know Kye was up there saying, "John, Take care of it." I know Kye was well represented by his students. To the Courtney family, Kye is, was, and will always be a Cougar.
We love you Kye, and you'll always "be a Coug" in the hearts of your students.
---

Name: Mary Lou Greiner () on Saturday, February 19, 2000 at 17:19:49
E-Mail: mlgreiner@pdq.net
Maiden: Sturn
Class: 1967
City and State: Cypress, Texas
Message: My sister Marilyn recently told me about the existence of 'Cougartown' ..... what a great idea and what memories it all brings back .....

---

Name: Christine Baird () on Saturday, February 19, 2000 at 14:06:49
E-Mail: carissa58@hotmail.com
Maiden: Penny
Class: 76
City and State: Round Rock Tx
Message: Hey! Mary Magnuson, I too was in the Hawthorne Drill Team, 6th or 7th grade, not sure. I was in it along with Kathy Stonebraker (Lorig), would have been 1970 or so(?) And GUESS WHAT?! I live in Round Rock. Small world. Glad to see you posting. Take care. Christine

---

Name: Dewey () on Saturday, February 19, 2000 at 13:12:13
Class: 74
Message: On A&E Biography, Brian Wilson Sunday Night @ 8PM

---

Name: Gloria Herlosky () on Saturday, February 19, 2000 at 11:14:39
E-Mail: Gpork
Maiden: Valencia
Class: 76
City and State: LAS VEGAS, NV
Message: Well, I am certain there are 100s of stories that I can share that make me the butt of many jokes...but this one may help the 6th grader. I was a junior in Danny Fix's drama class. It was the last week of school and we had to do our final, which consisted of going in front of the class and performing for a few minutes from a play. Well, I was nervous and my mouth was dry and I started to choke. So I excused myself and went to the bathroom to wet my mouth and while I was in there, I decided to use the facility. I had on a short SHORT dress (ala Marcia Brady), and some tan stockings. I finished my duty and took a few deep breaths and when I got back to the classroom, it was my turn to go up. Well, as I approached the front of the class, the giggles started...and then full-blown laughter. To my horror, Mr. Fix said in a loud voice, "Hey Valencia, you have the back of your dress tucked into your pantie-hose!!!!" Yup, it's true, I did! My fanny was in full view. I was mortified, and wanted to die...but luckily I didn't. I have had other embarrASSing moments since then, but have learned to laugh about them. I have also learned that they happen to everyone. You will survive this, and will someday laugh about it, even though it seems impossible right now.
First in ten, gimme a grin, we hike it, we hike it......
---

Name: Linda Dietrich () on Saturday, February 19, 2000 at 08:31:22
E-Mail: leonard-linda@juno.com
Maiden: Dawson
Class: 69
City and State: Kansas City, MO
Message: John Crotty, Tell us some more embarrassing moments. The one with Bill Gertch was awful. Sounds like something he would do. Sometimes he wasn't too nice. Betty, I had a few which always involved a football game. This one game I was with a bunch of friends, boys and girls and my monthly friend decided to visit me right at that exact time. I had light pink pants on of course. I couldn't find anyone to drive me home so I walked. It was very upsetting for me as the boys were so cruel in those days. Another time we were at another school, maybe Torrance. There was a tall fence around the parking lot and my friends thought it would be a short cut to climb the fence. They cleared it with no problem. I had some brand new pants on and of course I get stuck right on the top. I sat there there for the longest time trying to get my pants unstuck. I tore them good. But all the people were walking by laughing at me stuck up on the fence. I did finally get down but I had a big hole in my pants. Man I could've avoided that if I could just tell my friends NO THANKS, I'LL WALK AROUND. But no I had to be part of the group. Betty, tell your daughter she does not need to do the things her friends do. Just do what feels the right thing for her. It will save her alot of grief in the end.

---

Name: Ted Gioia () on Saturday, February 19, 2000 at 02:06:08
E-Mail: tedgioia@hotmail.com
Class: 75
City and State: Napa, CA
Message: Cougs, I see that a made-for-TV movie about the Beach Boys will be shown in the next few days. This leads me to wonder: which actors will be playing the parts of various friends of the Wilsons. I have in front of me a copy of Timothy White's book on the Beach Boys (The Nearest Faraway Place), and it mentions Brian Wilson's close friends in high school, with specific reference to Robin Hood, Steve Andersen, Rich Sloan, Keith Lent and Ted Sprague. And I am sure that many other C-Town regulars also deserve to be mentioned. (An odd fluke: I found my own name listed in White's book -- alas, not as a Friend of BW, but merely as an item in the bibliography. I don't think that will get me included as a character in the TV movie.) So Robin, maybe you can start us out -- which prominent actor of today would you pick to play your younger self? Perhaps others would like to make some suggestions as well.
Robin Williams maybe?? Incidentally, the Beach Boy TV thingy will air February 27. I don't know the guy who plays Dennis in that thing, but from what I saw in the previews, he NAILED him.
---

Name: Luisa Cervantes () on Friday, February 18, 2000 at 22:54:44
E-Mail: luisacervantes@yahoo.com
Message: You are cool!!!!!!!!!!!!!!
Thanks Luisa, so are you!!!!!!!!!!!!
---

Name: Elizabeth Castanon () on Friday, February 18, 2000 at 21:51:39
E-Mail: lizcastanon6@hotmail.com
Maiden: Cary
Class: 1973
City and State: Amarillo, Tx
Message: Hi JB and all, Just wanted to make one more mention that my thoughts will be with Cheryl and family tomorrow and they will be in my prayers as well. As always, wish I could be there but Texas is a long way off at times like this. All this fair talk has made me so homesick. I wish that I could live closer at times which reminds me that I was pleased to read of another Texas Cougar, Mary Magnuson, I was on drill team with you or was it your sister??? anyway, please email me if you wish. I have been trying to find as many Texas cougars as I can and try to organize a little mini-reunion for us if any are interested. Sound good?? Let me know. Bye for now Liz

---

Name: JOHN CROTTY () on Friday, February 18, 2000 at 21:50:38
E-Mail: JTC69BLUE@AOL.COM
Class: 69
City and State: ANAHEIM HILLS,CA
Message: DEAREST BETTY, WE'VE ALL HAD EMBARRASSING MOMENTS. SO EMBARRASSING, YOU BEGGED YOUR PARENTS TO MOVE, OR AT LEAST TRANSFER YOU TO ANOTHER SCHOOL. I COULD LIST 100'S....BUT ONE THAT STANDS OUT, YOU MIGHT HAVE EVEN BEEN THERE FOR THIS ONE...WAS.. IN 1967 0R 68, I WAS WORKING OUT WITH THE OTHER FELLAS OUTSIDE OF THE WEIGHT ROOM ON THE EAST SIDE OF THE BOYS GYM. FOR SOME REASON COACH YOST HAD PLACED ALOT OF THE FREE WEIGHTS OUTSIDE. ANYWAY, ALL OF THE CHEERLEADERS AND PEP SQUAD, INCLUDING THE DRILL TEAM SUDDENLY APPEARED BEHIND US TO BOARD A BUS BOUND FOR WHO KNOWS WHERE. IT WAS AT THAT POINT, I DECIDED TO LIFT A HUGE AMOUNT OF WEIGHT OVER MY HEAD AND IMPRESS THE LADIES. I WAS WEARING ONLY MY GYM SHORTS SO I COULD SHOW OFF THE RIPPLING MASS OF SINEW AND TENDONS I WAS DEVELOPING. AS I HOISTED THE BAR OVER MY HEAD, BILL GERTCH CAME UP BEHIND ME AND JERKED MY TRUNKS DOWN TO MY ANKLES. THERE I STOOD, FROZEN IN HORROR, WITH MORE WEIGHT THAN I COULD HANDLE OVER MY HEAD, TRUNKS ON THE GROUND, AND ALL MY GLORY BLOWING IN THE BREEZE FOR 150 GIRLS TO LOOK AT....THE MOST POPULAR GIRLS IN THE SCHOOL, MIND YOU....AND I COULDN'T DO A THING UNTIL SOMEONE CAME AND HELPED ME LOWER THE DAMN BAR....WAS I EMBARRASSED? IF I COULD HAVE CAUGHT BILL, I WOULD HAVE BEEN THE FIRST HAWTHORNE COUGAR TO HAVE BEEN THE SUBJECT OF "FILM AT 11" IN HISTORY....(FUNNY THING THOUGH, SOME OF THOSE SAME GIRLS WERE NICER TO ME THAN THEY EVER HAD BEEN BEFORE AFTER THAT). IF YOU NEED MORE MOMENTS, I'LL BE HAPPY TO OBLIGE..JOHN
Now that should help your daughter Betty.

---

Name: Glenn Crist () on Friday, February 18, 2000 at 20:53:28
E-Mail: gfcrist@pop.sonic.net
Class: 1964
City and State: Sonoma, CA
Message: Terry & Judy Leeper
I received both of your letters and returned the first. Must be a bug in your or my ISP. There is a space at Sugarloaf reserved in your name. The folks that reserved the campground said you could pay when you arrive. Haven't figured out the cost on the reception yet. It'll be reasonable and will partly depend on how many attend and what we serve. I've got connections for cheese and bread and Dave at the winery will give us a good price on the wine served. It will be pretty informal and a chance to catch up on old and new friendships. Janet and I are getting together to complete plans. Will publish on Cougartown and resurvey those attending to get a final idea of numbers.
Glenn
If you're planning on attending the Wine Country Weekend, EVEN if you've filled out the questionnaire, please fill out the form above and let us know. We need to firm up how many people are going to be there, and when.
---

Name: TOM GIOIA () on Friday, February 18, 2000 at 19:31:18
E-Mail: tom@tmaassociates.com
Class: 55
City and State: Newport beach, CA
Message: PLEASE GIVE ME INFORMATION ON ANY REUNIONS FOR CLASS OF 55 OR ANY CLASSMATES

---

Name: Allen Bueltel () on Friday, February 18, 2000 at 18:12:53
E-Mail: Bueltel@bbs-la.com
Class: 71
City and State: Santa Clarita, CA.
Message: To Cheryl, Kara and the rest of the Courtney Family, I just found out about Coach Courtney through my sister Kim and my heart sank. I've been so busy I haven't been in Cougartown to read in a long time. Coach was a true friend and leader. Although most of the coaching staff at HHS help us all grow, it was Kye who I will never forget and will always remember. I have been coaching in some sport every year since I left HHS. The last time I spoke to Coach was when I was coaching Varsity Baseball at North Torrance High (79 & 80) and he was there for a track meet. We shared alot of funny moments and I told him that I had been married for only a short time. Good old Coach had alot of advise as usual. I still hear from some of them from time to time. I wish I had told him then what an impact he had made on me and I hope I am making an impact on the kids I coach like he did for me. I am managing a softball team this year that my daughter Amanda plays on and they are getting the message. I hope this isn't too long, but I don't usually write in this and I felt you should know he was a great guy. I named my first born after Coach and she plays Varsity Tennis at Saugus. When I call her now it will be alittle different. Thanks Coach, I am a better man for knowing you!
Coach Bueltel

---

Name: Steve Eide () on Friday, February 18, 2000 at 17:04:03
E-Mail: sreide@pacbell.net
Class: 66
City and State: San Francisco, CA
Message: Isn't that Sheriff John's picture with Charlie Fox's rememberance on the Hawthorne Parade? I too marched a few times, once I had to jump under a float that had broken down to help push it down the route, just to meet up with a huge pile of said road apples. Much to the crowds delight. Well put another candle on my birthday cake. Thanks for the memories guys.
Yes, that's Sheriff John being interviewed by Bill Welsh in the mid 60's.
---

Name: Marilyn Ross () on Friday, February 18, 2000 at 15:23:42
E-Mail: marilynross@altavista.com
Maiden: Wisham
Class: 56
City and State: Garden Grove, Ca
Message: I have been reading all the old feedbacks and came across a question about sr. square from December. I'm pretty sure it was poured for the 53-54 school year. It wasn't very big but it was the Sr.'s personal property no one else invited. The tall guy in the picture you posted of the Sr. Square, is Alan Mix, Rons big brother. The little guy is Robert. I wrote the names in my year book at the time sorry I don't know Roberts last name.
Thanks Marilyn . . . .
---
If you have comments or suggestions, please email me at jb1@cougartown.com