Page 141
Home | 60's Slang | Alumni List | Car Talk | Cougar News | Feedback | Hangouts | Memories
Recollections | Reunions | Street Scene | Teachers | Tributes | Vietnam | What's New | Keyword Search
---
I just emailed Mom "B" and she's got the "bug". I know you're bored too Beverly, so here's another song for you to dissect. Sharon, be kind to your mother. Bonnie Raitt


---
<!-++++++++++++++++++++++++++++++++++++ADD BELOW THIS LINE++++++++++++++++++++++++++++++++++++ +++++++++++++++++++++++++++++++++++++++++++++++++++++++++++++++++++++++++++++++++++++++++++++->
Name: MoMo () on Friday, September 17, 1999 at 09:56:04
Maiden: I'MREALLYTHINK'N
Class: ALONGTIMEAGO
Message: I THINK I MIGHT HAVE SOMETHING EVERYONE (WELL MAYBE NOT EVERYONE BUT MOST) WOULD BE INTERESTED IN......READY......JOHN, DID YOU NOT MENTION SOMEWHERE IN FEEDBACK THAT SOMEONE HAD ACCESS TO A CHARTER BUS SERVICE? WELL, IF I DID READ THAT CORRECTLY,(AND I HAD JUST CLEANED MY READING GLASSES), THEN HOW ABOUT A "TURN AROUND BUS TRIP TO STATELINE". IT WOULDN'T COST MUCH (UNLESS YOU'RE A HEAVY GAMBLER). MY SISTER AND HER HUSBAND ARE DOING THIS, THIS WEEKEND WITH THE KIWANIS IN EL SEGUNDO....BOY, I'VE REALLY BEEN USING MY BRAIN ALOT LATELY (COULD THAT EXPLAIN THOSE EXCRUCIATING HEADACHES I'VE BEEN GETTING?) WELL ANYWAY, HERE'S ANOTHER SUGGESTION TO MULL AROUND...AND I'LL CONTINUE TO TRY AND THINK OF SOME OTHER THINGS, EVEN IF IT DOES HURT MY LITTLE PEA BRAIN....NOTHINGS TO GOOD FOR MY COUGS! CYA!
MO, I'd just asked if someone had an inlaw in the Tour Bus business. I don't know anyone. Does sound fun and we'll put it up for a future Cougar Alumni Funfest. Thanks Mo.......
---

Name: louise st.george () on Friday, September 17, 1999 at 09:50:43
E-Mail: lstgeorge@yahoo.com
Class: 77
Message: Hi Michelle Drapeau Whittaker!!! I remember you too! Remember Kim Clark, I wonder what ever happened to her. I know she moved to Iowa just before you two started high school. Also grew up with the Drapeau's. How time does fly! By the way I think we both live in the same vicinity! (A.V.)?? Keep in touch- tell danny I said hello. Louise

---

Name: Melinda (Linda) () on Friday, September 17, 1999 at 09:09:10
E-Mail: Linda.Farrow@aol.com
Maiden: Elia
Class: 82
Message: This message is to Risa Manriquez Kubly, Hey Risa glad to hear you found out about the web site, Gil must have told you, I had him check it out this week and put all his info in the guest book. Hope you remember me, and I'm sure you do. Gil and I were inseparable during high school. But we have remained good friends through everything. Hope you and your family are doing well. Linda

---

Name: Carol () on Friday, September 17, 1999 at 04:04:45
E-Mail: Carol.Shih@Juno.com
Maiden: McClintick
Class: 75
Message: ALICE, so nice to see your name. So nice to hear from another 75 cougar.
YES to Taco Bell, but I believe the other place was known as Jacques in the Box, or as Bill Barmore would say GAG in The BAG.
One of my favorite places to eat was the Red Onion. Was that in Inglewood? The Parody of Shall I Wasting in despair was done by another 75 Cougar with long red hair. Any guesses?
Carol

---

Name: pauline matthew () on Friday, September 17, 1999 at 03:13:18
E-Mail: pmsockser@aol.com
Maiden: spencer
Class: 1969
Message: to jim sloey- answer to your question on prayer in school. there is a case; engel et al v. vitale jr., et al, 370 U.S. 421 that was argued april 23, 1962 and decided june 25, 1962. it read upholding power of state to use prayer as part of daily procedures of public schools so long as schools did not compel any student to join in the prayer over his/her parents objections. also cites U.S.C.A. Cont. Amends. 1, 14. there was another case school dist. of abington v. schempp 374 u.s. 203 and i think this one was in 1961. let me know if i'm close.
pauline matthew

---

Name: Lupi Perkins () on Friday, September 17, 1999 at 02:25:57
E-Mail: perkisassy@aol.com
Maiden: Dominguez
Class: 69
Message: This message is for Betty Kean, Class of 69. I don't know if you remember me, but I will be at reunion. I can't wait to see old friends that I have not seen since the 25th or even longer. I do know that Debbie Reid, Kris Rice, Pauline Spencer and Sharon Egerer will be there. To Joe Calabro, it was nice running into you at Home Depot and catching up on our families. Hi Diana, see you at homecoming and the picnic. Kristi and Terri, I'm glad to see that your writing on feedback. Hope you hear from some of your friends as I have. It's great to see what you guys remember about the 80's and 90's, compared to my 60's. John great site. It's a great family conversation piece. Now I just need to get our other daughter, Stacy involved. And believe it or not girls I do remember alot of the same things you guys remember. I too went and bought candy at Aloha Drugs. Does anyone remember Mrs. Walker who worked there?

---

Name: Patt () on Friday, September 17, 1999 at 01:01:30
E-Mail: pdeck17@3-cities.com
Maiden: Prewitt
Class: 65
Message: John,
Please correct the date of Greg Ulve he should have been class of 65! I remember his wonderful butterfly collection! Patt
OK, it is done. Thanks Patt
---

Name: Joyce Chance () on Friday, September 17, 1999 at 00:24:06
E-Mail: chancesR@pacbell.net
Maiden: Savisky
Class: '62
Message: Marsha: If I remember right we received those little cedar chests from a jewelry store. Was it Joy's Jewelers?
Mike: Welcome, good to see your name at Cougartown. I have a lot of memories of Stellinos Market. I spent a lot of time there, remember? I use to babysit for Mike Stellino. That is where Carol and I first met Jim. They are still together and have been married for 36 years. Please give my best to Wayne.

---

Name: Mike Shay () on Thursday, September 16, 1999 at 23:53:50
E-Mail: theshays@earthlink.net
Class: 61
Message: Geez John;
You mention that some of us are a little overdue checking in and the feedback grows by five pages in two nights...When the man talks, people listen.
Sure wish we would have gone to the car show with you guys last Sunday instead of going to that oversized yard-sale at the Rose Bowl....Big Mistake...
We're probably going to be out of town the weekend of the homecomming game but I sure hope you'll pick us up a couple of the Cougartown teeshirts..A XXXXL for me and a medium for Barb. I want to get one for her ( even though she was a "Seahawk" ) so maybe she'll quit wearing that "I'm With Stupid" one the seems to like so much....
See You Soon.....M.S.
Mike I thought you were a XXXXXXXXXF like me.

Oh well, guess you like that "Buffed Out" skin tight look that drives all the ladies crazy. I'll be a talkin' to ya' and thanks for checking in. Now if we could just get Ricki, EL, and Robin back, I think we'd have a quorem.
---

Name: Marshall Noyes () on Thursday, September 16, 1999 at 23:41:41
E-Mail: MrNoyes@aol.com
Class: 1969
Message: Thanks to all of you that have answered my former feedback. I wish I had known so many of you nice people when I attended Hawthorne. Though I had a few friends, most of what I had was ridicule. It is a great comfort to me to know that what I experienced is not what many of you felt or feel now. We all change as we grow older, for we experience more of the same things and become more understanding of others. Therefore, I appreciate you reading my negative thoughts and reacting in such positive, re-enforcing notes. I feel you have helped me put the past further behind me and given me happier times to look forward towards.
Marshall, All classes had people that they made fun of. It was cruel, but somehow we all outgrew that immaturity. You're a Cougar, and that's all that matters now. Welcome to Cougartown.
---

Name: Ernie Nixon () on Thursday, September 16, 1999 at 23:22:12
E-Mail: ErnBren2@Aol.Com
Class: 63
Message: Hey Everyone, the reason you haven't heard anything from Ernie Nixon is that he depends on me, his wife, as his typist and I have had to go back to school. He says just wait but he is working on some feedback about surf music other than the Beach Boys and Jan and Dean. You will hear from him soon.
Hey thanks Ernie's wife for the update. We'll be waitin'.
---

Name: Mike Mecey () on Thursday, September 16, 1999 at 23:11:11
E-Mail: mmecey@aol.com
Class: 61
Message: Frank Romano: You mentioned Stellino's. I lived on 138th & Inglewood Ave. and worked in every department at that store except for jewelry. In the meat market, I learned to eat raw hamburger. In the food market department, I used to be able to take a whole basket of food & stuff it in a single bag.Tomatoes on the bottom of course. The Deli was one of my favorites. On Sunday morning I would drive over to Lakewood to a bakery and get rolls for the sub sandwiches. They were so fresh I would eat a half a dozen before I got back to the deli. And who could forget Mike Stellino? He ran the liquor store. A friend of mine, Wayne Clements from Leuzinger... we would give Mike a couple of bucks and he would sell us a couple of 6 packs to get us through the night..Thanks for the memories, Frank.

---

Name: Glenn Crist () on Thursday, September 16, 1999 at 23:09:26
E-Mail: gfcrist
Class: 1964
Message: John Baker
I don't care to add anymore stress to your life, in view of your upcoming move, but (notice how that always seems to creep in there somehow)... you talked about a where are they now feature and, since it seems there is a fair amount of feedback looking for old buds, is it possible that it might take the form of screen such as this linked to a database (Access, etc.) that we could fill in the details (at least as much of them as is known) and anyone else who might have a clue could add to it until all were reunited. Just a thought. Do you have any web design gurus that could help, so you don't have to try to do it all alone. Not that there is anything wrong with that, your efforts are appreciated by all, without a doubt.
It's 50 to 100 dollars an hour to have someone write the Perl. Please send your check for 2000 dollars and I'll have them get started next week.

---

Name: Sherry Peppers () on Thursday, September 16, 1999 at 23:07:42
E-Mail: dscwingo@pacbell.net
Maiden: Peppers
Class: 1964
Message: Hey-Way to go class of 64. Congratulations, our seat is restored. Jan, where is Harry Haacke. He married Nancy Castagna right? I Hope to see some of you at the VFW. Judy, am concerned about this hospitalization. Jan I sing right along too. I hope some of you remember the song my dad wrote. It was I Was The One it was on the back side of Elvis' Heartbreak Hotel.

---

Name: Kristi Pealo () on Thursday, September 16, 1999 at 23:01:27
E-Mail: kpealo@hotmail.com
Maiden: Perkins
Class: 89
Message: I have read alot of memories from the 50's and 60's. What about the 80's and early 90's. Since our parents are remembering their High School years. I wanted to do the same for my generation. Do you remember.... Long straight feathered hair parted in the middle, parachute pants, those bright neon colors, how about Valley talk(gag me with a spoon, radd, awesome, totally dude, like you know), Dungeons and dragons, breakdancing. Then later in the 80's we all had BIG HAIR and TALL BANGS, perms, some sported lots of different colors and shaved heads, punk rock styles. Lots of great music like Bruce Springsteen and the E street band,Tears for Fears, Duran Duran, OMD, Depeche Mode, U2, Thompson Twins, Sting, Smiths, Run DMC, Two Live Crew, Vanilla Ice, Beastie Boys, MC Hammer, Boy George, Madonna, Bangles, Banannarama, Wham!, Cyndi Lauper, Stacy Q, Sammy Hagar, Bon Jovi, Metallica, Poison, David Lee Roth. The clothes were from Guess, Contempo, Bongo, Wet Seal, Levis, Remember those boots that went up to your knees or sometimes your thighs!, short skirts, and crop tops. Those movies were the best remember The Breakfast Club, Pretty in Pink, 16 Candles, Top Gun, Risky Business, St. Elmos Fire, Dirty Dancing, Back to the Future, Rainman, Beaches, Freddy Cruiger, Friday the 13th, Halloween, Platoon, all the Star Wars Movies. Molly Ringwald and Tom Cruise were always #1 in the Yearbooks. We can't forget the sad things too like the Space Shuttle Challenger disaster Jan, 1986. I will always remember that day because I was home with the chicken pox watching it on TV. The only thing good about that day was that I got to miss Finals. The early 90's was Desert Storm.
Well thats it from me. Let's hear more from the rest of you from the classes of the 80's and early 90'S. Hey John to you and the rest of our parents those times were probably the worst for you, you know since we were all teenagers. You know how teenagers can be!!!
Take care, I would love to hear from my friends so write more FEEDBACK okay.
Kristi Perkins Pealo
Kristi, GREAT STUFF GIRL!!! The only one I would have said that you missed was my favorite 80's girl, Blondie, and I don't mean Dagwood's wife


OK 80's people, Kristi jumped in the Feedback Pool.....whose next??
---

Name: Risa Kubly () on Thursday, September 16, 1999 at 22:52:52
E-Mail: Fivekubes@earthlink.net
Maiden: Manriquez
Class: 77
Message: John. I noticed you reply to Gilberts post on 9/14 (he's my brother) Roland is our Dad. Let me know some details about your self and I will relay to my dad..What a small world..I was just told about this site today..Thanks
Hi Risa, When I knew your dad, he had a Blue 64 Chevy and did like to street race. There was a guy named Bob Logan that had a 65 Chevelle Malibu. He didn't go to Hawthorne. Also Jerry Carron who had a 63 Dodge with a 426 wedge motor. That was the fastest car we had in our group. I had the white 58 Chevy at that time. Also ask him if he remembers a guy named Harry with a 55 Chevy with an Oldsmobile engine. It seems like your family at the time, lived on Acacia, on the north side of Imperial Hwy. Ask him if he remembers going to about 57th and Central. There was a Fosters over there; lots of black guys with fast cars. Those guys were fun street racers.
---

Name: Christine Baird () on Thursday, September 16, 1999 at 22:52:33
E-Mail: carissa59@hotmail.com
Maiden: Penny
Class: 76
Message: Michelle (Whittaker) Drapeau....do you have a sister named Cindy? class of 76? I remember Cindy, if she is your sister tell her I said hi. ")
Now some of these may have already been said but.... what the hey...
Dragnet
Marcus Welby M.D.
Hazel
My three sons
Puff n' Stuff
Romper Room and her magic mirror
Please Don't Eat The Daisy's
Mr Ed
My Favorite Martian
Night Gallery
Gumby
Beany and Cecil
Felix the Cat
The Blob
The Thing
Ma and Pa Kettle
That's all I can seem to come up with right now
")

---

Name: Risa Kubly () on Thursday, September 16, 1999 at 22:16:44
E-Mail: Fivekubes@earthlink.net
Maiden: Manriquez
Class: 77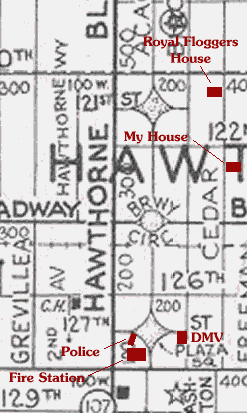 Message: Nylanders Studios 138st and Hawthorne Bl. The old Hawthorne Fire Station (before the mall was built) on Birch or Cedar av.(I think)
Yes, The old Fire House AND Police station were on Plaza Square. Also the DMV was on Birch and 127th.


---

Name: Betty Rodriguez () on Thursday, September 16, 1999 at 20:22:19
E-Mail: tombetty@kelp.net
Maiden: Kean
Class: 69
Message: John and Judy-
Hey, that coffee thing just cracked my kids up!!!
Funny stuff.
Brian B. - did you know the Hood kids? Do you ever hear from any of them? Did you know the Risher family?
Betty
Hi Betty, You can thank Mo Trott for the coffee thing. It cracked me up too.
---

Name: Harry Plotkin () on Thursday, September 16, 1999 at 19:57:47
E-Mail: hcharry@pacbell.net
Class: 52/97
Message: Judy De Grazia: If I read correctly you will not be at the homecoming game - BUMMER!! I don't know when or what hospital. Rowdys must take care of their own, so if I can do anything (short of kissing your boo-boos)

let me know. Rowdy HCH
Welcome to the Doiron family!!!
Love to all,
HCH
I agree Harry. Cougartowners will only wade out so far into the deep muddy. I'm sure if there's any "Boo Boo Kissing" to do, they're be a competent PHD on hand to handle that technical stuff. I hope that's covered by your HMO.
---

Name: Dean Karels () on Thursday, September 16, 1999 at 19:48:53
E-Mail: DKarels@msn.com
Maiden: nononenada
Class: 65
Message: well here it is two days in a row that i'm on feedback but with sad news i was very much looking forward to going to the homecoming game and paarrttyy afterwards but i have to be out of town on that weekend. sure gonna miss all of you
Hey Dean, Not to worry as there will be many more of these zany get togethers. We'll see you at the next event and thanks for checking in.
---

Name: Judy Toten () on Thursday, September 16, 1999 at 19:35:52
E-Mail: dream-cakes@juno.com
Class: 74
Message: Hey John,
Here's an idea...what about setting up a "Hawthorne High Chat line" then we could have a ball instantaneously!!! Whaddaya think??
It's been suggested before. It's an extra cost to me every month from the hosting service. Not that all you Cougs aren't worth it, but I think we'll wait until the site is generating a little capital before we spend any more money.
I don't know that much about chat rooms, but aren't there sites that Cougs can go to now to "Real Time Chat"? AOL Instant Messenger is one and ICQ is another.
---

Name: Alice K. Money () on Thursday, September 16, 1999 at 17:56:24
E-Mail: napc@eskimo.com
Maiden: Alice Irene Kovacs
Class: 75
Message: Taco Bell and Jack in the Box were also hang out places.

---

Name: Mo () on Thursday, September 16, 1999 at 17:37:10
E-Mail: i'mflatteredbytheoffer
Message: HIS HIGHNESS KING JOHN...HOW HONORED I AM TO HAVE THE KING OF KINGS ASK ABOUT MY COFFEEEEEE....THAT WILL BE BLACK WITH ONE EQUAL....THANK YOU VERRRRY MUCH :0\ DO I APPEAR TO NEED MORE COFFEEEEE? I DON'T THINK SOOOOO.... ALSO KING, THANK YOU FOR RESPONDING SO FAST TO MY REQUEST (DO YOU DO EVERYTHING THAT FAST?)....WHAT A GUY, I MEAN KING <(:0) <(:0) UNTIL SUNDAY, CYA, BYE...BE A COUG!
Mo, The King of Kings is another guy. This is just me here serving the people of Cougartown as best I can.
---

Name: Judy DeGrazia () on Thursday, September 16, 1999 at 16:49:55
E-Mail: Redondo612@aol.com
Maiden: comeby the hospital&I'llshowyoumybooboo!
Class: 64
Message: Oh Sloey...You couldn't be more wrong.. your cyberpatrol didn't catch any bad words. I just used the ancient Italian multi XXXXX XXXXXXXX XXXXXXXX XXXXXX XXXX curse. This is the first time I'm using it...so I'm not sure how it works. As for John.. I wanted you to understand everything. Thanks fellas, for the get well wishes in advance. If you come by the hospital I'll let you kiss the boo boos. (whether you want to or not) Judy DeGrazia THE ROWDYS.
Kiss Your BOO BOOs!!!! (Don't go there Judy) First of all, I guess I'm the only one in Ctown that didn't know you were getting a Boo Boo job. No one ever tells me nuttin' and I'm getting pretty tir....
---

Name: Beverly Bierman () on Thursday, September 16, 1999 at 16:26:17
E-Mail: gonore@aol.com
Message: Well, John sweetie, thanks for the song? You owe me! For those of you who don't know, John has a knack for destroying the lyrics of romantic songs. He did a number on Angel of the Morning that was brilliant and he had a willing ally in Sharon Branigan. He does have a way of describing what is really meant by those elusive lyrics that are supposed to give us a warm fuzzy feeling. This song, however, could only get better with your rendition, John, although Bonnie Raitt was great as usual.
Beverly, first off, I hope you're feeling better today. I never did GET music appreciation. I only know what I like, AND that I like the song above. I thought it paralleled Angel of the Morning. Maybe not, but I'll be expecting your full 2 page single spaced report by tomorrow morning. Have fun.........

---

Name: Melinda () on Thursday, September 16, 1999 at 16:01:32
E-Mail: Linda.Farrow@TRW.com
Maiden: Elia
Class: 82
Message: Need to hear more feedback and stuff from the 80's class. Come one everyone, put some stuff down, we would all love to hear your memories from HHS. I was on the reunion committee for the class of 82 anyone out there have any ideas of what we should do for our 20 year? Or lets go back to our 10 year, I had a blast that night. Big time party going on in my room with the gang. It was held at the Double Tree in Marina Del Rey. Let's hear back from some of you.
Yes, come on 80's people. This is your website too. Let's hear from you.
---

Name: joseph mailander () on Thursday, September 16, 1999 at 15:45:12
E-Mail: joseph.mailander@uboc.com
Class: 75
Message: Chris Prewitt, your recent post about yourself, Adrian, and the CO2 cartridges made me laugh. You said you didn't know how you survived your childhood. I don't know how I survived your childhood! Most of those errant propulsion devices ended up in my backyard. One hit a fencepost and left a perfect sideways impression, kind of redolent of Wile E. Coyote's cutout through a brick wall. Another went through our garage window without shattering it. Yet others cleared the block entirely and made it all the way to 132nd street when you were going for distance. But usually, you fired them up straight up and they came down a few feet west of Adrian's house, to wit, at the Mailander residence. There was always much danger in detaching matchheads from the sticks and cramming the heads into the cartridge--occasionally the friction would be to much and the missile would ignite prematurely. Such was childhood life in the shadow of the space program. Thanks for exposing me to pyrotechnics at an early age. I don't fear fire or rocketry, but I still fear teenage neighbors.

---

Name: Marsha Russell () on Thursday, September 16, 1999 at 13:55:46
E-Mail: RUSSELLMG1@AOL.COM
Maiden: Russell
Class: 64
Message: This message is for Janny Wanny..........Janny, I would be afraid, very afraid. I have visited the town of Arkadelphia many times when my uncle lived there and I don't think those people are ready to see somebody driving down the street beating on their steering wheel and singing at the top of their lungs. They might lock you up Janny. Yes, I am sure that many of us 50 plus people still behave this way, but we live in LA and when we are out of control people just think it is time for our meds. Hey, JB hope you and George had a great visit and hope you said hello for me. Do you think that the Coug who is going to get served with the 35 years of late alimony has any idea who I am talking about and what is about to happen to him????
Marsha, Yes I said hello from you and George says hey back. Also Bob Fraser HHS60 went, and he said hey too. So this boyfriend was a Coug. I really don't remember who your HHS high school sweetie was, but if he's read this, he's probably out retaining Sloey right now. Jim, being that they're both Cougs, and by law, you can only represent one, I'd take Marsha.

---

Name: Angelia Crespin () on Thursday, September 16, 1999 at 13:54:11
Maiden: Crespin
Class: 86
Message: I was going through some boxes and found a "HUG ME I'M A COUGAR" button. Does anyone else remember this Button?

---

Name: Mo () on Thursday, September 16, 1999 at 13:43:38
E-Mail: momo90250@aol.com
Class: 1964
Message: John...I really am sending you a check today for $30.00 to close out the 1964 seat. When you list it, would you please list it under my name and my sister's Colleen Trott O'Ryan....Thanks John :o) Also, thanks for the info on Joe Simpson, but I don't think it's good anymore :0( One more thing, could I make a tiny suggestion...can the EARLIER - LATER arrows be moved to just underneath the page number. If you are a regular visitor to FEEDBACK, you usually know what the last page was you looked at....and it would save having to scroll down if you need to look at any previous pages. Just a thought...Just some .... FEEDBACK :0}
The Joe Simpson address was that in 1992 and was the same until last year. I think it's good.
Thanks for the donation. Yes, I will add it in both your names and I will move the arrows for you too. How's your coffee; need a refill??

---
If you have comments or suggestions, please email me at jb1@cougartown.com