Page 111
---


---
Home | 60's Slang | Alumni List | Car Talk | Cougar News | Feedback | Hangouts | Memories
Recollections | Reunions | Street Scene | Teachers | Tributes | Vietnam | What's New | Keyword Search
---
.......back to the early stuff.... Huey "Piano" Smith and the Clowns

Name: EL ROJO () on Wednesday, August 4, 1999 at 20:50:12
E-Mail: I-DY-HO(SLOEY)
Maiden: YOU KNOW
Class: 60
Message: OK, FOR ALL YOU "RUSSIAN LOVERS" OUT THERE,I THOUGHT MRS Z'S NAME WAS SPELLED "ZOLOVSKI"? AT ANY RATE, BEING ONE OF THE CRAZY ONES IN THOSE DAYS, A BUD OF MINE AT THE TIME (SLOEY YOU MIGHT KNOW THIS GUY) TOM WHITENER AND I DECIDED TO GIVE MRS. "Z" A "REAL" X-MAS PRESENT. SO WE BOUGHT HER A 6 PACK OF ( OH GOD) "OLY HALF QUARTS"! WE TOOK IT TO SCHOOL AND SAT IT ON HER DESK, WRAPPED REALLY NICE, I DO HAVE ARTISTIC ABILITY. IT WAS PROBABLY THE FIRST TIME WE EVER BEAT HER TO CLASS. WELL SHE ENTERS THE ROOM AND TO HER SURPRISE IS THIS PRESENT ON HER DESK. WELL, SHE JUST HAS TO SHARE THIS WITH THE CLASS AND OPENS IT! I REALLY CAN'T DESCRIBE THE SOUND THAT HER VOICE MADE AND I'M SURPRISED THAT IT WASN'T HEARD ALL THE WAY TO "NYMAN HALL". AT LEAST MR WETZLER, OR MR NELSON DIDN'T HEAR IT. GOD FORBID. BUT SHE STUFFED THIS IN THE CLOSET AND ABSOLUTELY REFUSED TOM AND I TO HELP HER SHARE IT AFTER WORK. AND BY THE WAY DID SHE STILL HAVE THAT 59 BUICK CONVERTIBLE THAT SHE WAS SO PROUD OF AFTER 1960? ANYWAY ANOTHER DAY IN THE LIFE OF "A COUG"! MAY THE COUGAR BE WITH YOU! HOOD, I LOVED "PATTI WHACK". EL AND ID QUEEN.
Great story El. Although I hate the idea of you and Tom trying to get MY Miss Z inebriated.......... uh without me being present.

Thanks Russ
---

Name: Judy Lundal () on Wednesday, August 4, 1999 at 20:31:45
E-Mail: bluevet@earthlink.net
Maiden: Kappen
Class: 63

Message: John,
You won't melt anything with that picture of Miss Zalowski. Check out the picture on page 19 of the 1960 El Molino! I always wanted to know why she didn't have to adhere to the dress code. I think she taught either Russian or French. Are those romance languages?
YES!!! That's the one I was looking for. Miss Zalowski, you ended the "Cold War" as far as I was concerned. I'm sorry, but if you needed to know where our Submarines were hidden, and I knew...... well lets just say ALL the kids in Hawthorne would be speaking Russki today.

Thanks Judy
---

Name: Patty/Gloria Valencia () on Wednesday, August 4, 1999 at 20:16:18
E-Mail: whocares.com
Maiden: V11 (We are combined)
Class: 150
Message: Shhhhhhhhh. We have a secret. We acted big today, oh boy, BIG. We provided a buffer today between (and we are whispering now) between Mom V and the bugman. For reasons unknown to us, the bugman represents the shadow side, the dark side, the bogeyman to our mother. Each month a ritual occurs. The dreaded call comes from the exterminator company "WE WILL BE THERE ON WEDNESDAY AT 10AM". This is a call to action for Mom V. "Oh my God, the bugman is coming? HERE? Wednesday at 10 a.m.? : | She begins the 'v clean sweep'. This is where you sit down on the toilet, and your underwear disappears from around your ankles before your eyes and mysteriously makes its way into the washing machine. The beds are made with the lumps of sleeping bodies STILL in them. Rooms are vacuumed around the people, and dishes are washed as if there are customers waiting for the tables (in other words you're not done eating yet, too bad.) The clean clothes you left on the counter in the bathroom whilst you showered, GONE TO THE SPIN CYCLE as you dry off... IF you still have a towel. We did not tell Mom V that the bugman was coming today. She never knew. We kept our underwear, towels, clean clothes , beds and dishes, until WE were good and ready to leave them. SHE never knew. SHE never even came out of the bedroom during his visit. And you know what? THE WORLD DID NOT OPEN UP AND SWALLOW US. The kids in China are probably still eating. The Arctic didn't melt, and there's no snow in Hell, and Cougartown is still working. And that bugman did not like us as much as he likes Mom V. We kept saying "SHE'S NOT THE BOSS OF US ANYMORE, SEE BUGMAN, SEE." And all he said was "I am the Exterminator, I will be BACK."
Uhhh, Can I borrow Mom "V" for a couple of ...... no, better make that about a week please??

---

Name: Gloria Herlosky () on Wednesday, August 4, 1999 at 20:00:22
E-Mail: Gpork
Maiden: Valencia
Class: 76
Message: Kathy Groseclose, you did go to Eucalyptus, Intermediate and HHS with me, no? I have your face logged in my failing memory bank, and I know we must have crossed paths hundreds of times during that timeframe. My sister, Ricki, used to go to school with your brother, I believe. It isn't he who died is it? If so, I extend to you my deepest sympathies. On a brighter note, I am glad you are well, and sounds like you live a rich life.

---

Name: Sherry Wingo () on Wednesday, August 4, 1999 at 19:27:00
E-Mail: dscwingo@pacbell.net
Maiden: Peppers
Class: 1964
Message: Miss Zalowski was teaching Russian and Spanish when I was there. Does anyone know where she is?

---

Name: Kathleen Griffin () on Wednesday, August 4, 1999 at 19:26:50
E-Mail: Spirithart@yahoo.com
Maiden: Nix
Class: 74
Message: Since I can't seem to get through to my brother any other way..... Gary are you coming to CA for Homecoming?

---

Name: Kathleen Griffin () on Wednesday, August 4, 1999 at 19:22:25
E-Mail: Spirithart@yahoo.com
Maiden: Nix
Class: 74
Message: Dewey, I thought I was the only one who got the rock. It usually wasn't at the bottom though, it was about 3/4 of the way down where stopping was not even a possibility.
Sloey, here's my cheer for Homecoming:
Rah rah reee! Kick 'em on the knee!
Rah rah rassss! Kick 'em on......the other knee

---

Name: Christine Baird () on Wednesday, August 4, 1999 at 19:14:59
E-Mail: Bairds1@juno.com
Maiden: Penny
Class: 76
Message: Ahhh, I remember Mrs. Bachman, I got kicked out of her golf class....she taught golf, right? You might ask, 'just how does one get kicked out of a p.e. class?' Well, it's like this....the class was after lunch and Laura (Stewart) Colangelo('76, married and divorced Ric Colangelo) and I stayed to the back and while she was showing us how to swing the club. We would very carefully follow her directions, because that was what she wanted us to do....except we would swing at the milk cartons that were left around from the people who had just had lunch instead of just swinging at the air. Made since to us. She didn't much like that, and we just couldn't stop ourselves...so she kicked us out....which really suited me just fine because what I really wanted to do was take volleyball, again..... for the third quarter, which they told me I couldn't do. Consequently, the only class that had room was.....you guessed it....volley ball! :) I was a bit of a rebel.

---

Name: Tina Calabro () on Wednesday, August 4, 1999 at 17:45:14
E-Mail: tinacalabro@yahoo.com
Maiden: Calabro
Class: 84
Message: Hi Pat! I look forward to meeting you too! Are you and Ed going to Homecoming/Stick-n-Stein/Picnic? I am going to try and make it (trying to talk Mom('61) & Dad ('62) into it too!) I am so happy to have been a part of your "story"...Congratulations, Ed, on your new job! I would be more than happy to work with any other network engineering professionals...just email your resume to me and I will see if I can help (sounds kind of like a commercial, huh? ;0)...not intended to be...) Hi Mom! Nice to see you in Feedback! Hi Mr. Plotkin! Sorry to have missed you on Cruise Night! Howz about Homecoming???? Lots and lots of familiar names here...any more 80's alumni??? NO senior pic please, John :0)...

---

Name: JIM SLOEY () on Wednesday, August 4, 1999 at 17:07:17
E-Mail: MTKILAMANJAROISSLOEYINSWAHILI
BUTICAN'TSEEITWITMYEYESGLUEDSHUT.COM
Message: ROBIN,
So now we are having a contest between Mt. Hood, Mt Baker and 132nd and Ramona? Who wants that white stuff. There isn't anyone around that area from the old days Robin, they all moved to Idaho, state not occupation. May I be so forward as to present my rendition of the alumni cheer for the homecoming game?
SENTINELS SENTINELS THEY'RE OUR FOE
COUGARS GOT THE BALL LET'S REALLY GO
SENTINELS SENTINELS THEY'RE OUR FOE
THIS IS MY WOMAN SHE AIN'T NO .......*
Prince Robin you have the floor.
Prince Jim
*(For those of you who did not get it, Buford, the missing word I WAS THINKING OF WAS SENTINEL)

---

Name: John Crotty () on Wednesday, August 4, 1999 at 16:48:23
Class: 69
Message: LARRY BILLER...DON'T KNOW WHAT'S WRONG WITH GEORGETTE'S E-MAIL, TRY HER HUSBAND, JOE BROMLEY. TO THE NIXES, YES NOREEN AND PAUL ARE MY BROTHER AND SISTER AND I WAS IN YOUR DAD'S WEBLOWS GROUP WITH TIM COOK. DEWEY, ARE YOU RELATED TO JENSEY AND JIMMY?

---

Name: Kathy Michael () on Wednesday, August 4, 1999 at 16:15:55
E-Mail: marinadr@earthlink.net
Maiden: Groseclose
Class: 1976
Message: Coletta! My God where has all of the time gone? Wow, you, a grandmother????? Yes, how could I have forgotten you? Those babysitting jobs supported my cigarette habit all through high school... You'll be happy to hear, I quit 11 years ago when Mark died... That's a whole other chapter I will take up on your personal e-mail... Yes, Ron, who use to come sitting with me, was the one I married, 21 years ago... No kids, a cat. $5 a day and no college tuition. Ha Ha. It's amazing, I have been chatting with all of Marks old friends from HHS. I no longer feel like the "little sister". I'll be writing you soon, we have alot to catch up on. But here, I could make feedback go to pg. 150 in an hour...

---

Name: Kathy Michael () on Wednesday, August 4, 1999 at 16:03:08
E-Mail: marinadr@earthlink.net
Maiden: Groseclose
Class: 1976
Message: Message to: Tony Frink
Yep... The little kid "Mark" that you spoke about was Mark Beebe. He was always such a polite kid. And very quiet too. If I manage to get back in touch with the Beebe's, which I'm sure I will. I will pass your name along to Mark. The names of all of the kids are (from youngest to oldest) Jamie, Mark, Mary, Paul, Joe, Marjie, Joannie, Mike, and I forgot the other one, must be a thing about being over 40. The memory is the first to go.

---

Name: Larry/Loretta Cuiper () on Wednesday, August 4, 1999 at 15:39:22
E-Mail: LCuiper@aol.com
Maiden: Morelli
Class: 60/62
Message: Hi, we meant to let Mike Shay and Chris Prewitt know that it was nice meeting your wife's, Barbara and Kathy. Mike, also meeting your Sister-in-Law and Brother-in-Law. We are hoping to see all of you at the Homecoming and the there after party!! We all had a good time at Crusin Night, but we all will have a better time at the Homecoming!! Ricki Farrell, I really did not get to talk to you for long, but I hope you and your husband will make the Homecoming too! This also goes for Diane and Joe Calabro. Come on Joe, COME OUT COME OUT TO PLAY. Some of us old 8th grade class mates have not seen you in a thousand years! It will be fun, it will be like sitting in the stands watching our girls play ball for that championship on those hot days in PALMDALE!!!!

---

Name: Coletta Pool () on Wednesday, August 4, 1999 at 15:27:15
E-Mail: cpool@nhbb.com
Maiden: Jacobson
Class: '64
Message: Kathy Groseclose:
Do you remember babysitting for John and I, many moons ago? Do you remember little David and Jessica? Well, David has two sons and Jessica has two sons and a daughter. They range from 11 to 3-1/2 yrs old, the youngest being little Danielle. I think I have given your mom's "secret" recipe for the chocolate cake from the cafeteria to quite a few since she gave it to me in......probably 1966. Did you marry the fellah that always had to come sitting with you? Please write back, I don't know Bebe but there is a few laughs to be had.
Coletta
Excuse me for protrudin', but was Mrs, Groseclose's recipe for chocolate cake, the same as Mrs. Plaster's recipe?? If it was, please leave it here for all to take advantage of. That stuff was "Heavenly".
---

Name: Tony Frink () on Wednesday, August 4, 1999 at 14:40:05
E-Mail: tfrink@spacestar.net
Class: 78
Message: To Kathy Michael: You had asked in an earlier email about Mary Beebe. I don't recall Mary as she was a couple of years older than me, but I did go to St. Joseph's with a Mark Beebe. If I recall correctly, I believe he was Mary's brother, since he too left St. Joe's in the early 70's when his family moved out of the area. Mark was a real nice, quiet kid. Also a good football player, which says alot seeing as how we had to play on the streets and the church parking lot that the school used for playgrounds. If you make contact with Mary, please ask her how Mark is doing these days. Thanks.

---

Name: Robin () on Wednesday, August 4, 1999 at 13:45:54
E-Mail: onepatchoffoneeyetogo.com
Maiden: Buckyshuffler
Class: 60
Message: Ok Juanito (I like that Gloria:o), you are the King. I am reading todays paper and the stats are out..Mt.HOOD had 91 ft of snow this winter, only to be topped by Mt.BAKER with an all time record on this planet of over 95ft...and uh Mt.SLOEY? Well I couldnt find one but 132nd & Ramona brought 2.6 in. of rain..(its a start Jim)...Howard the pig farm party was in 69..WS99 was at an old airport..sorry bud... Judy D. ..check out Pops collection for a 45 of Dean Martins "Oh my papa" or the March 62 edition of Playboy (have an ex-aunt in that one) Dont worry about the money..its part of my rehab, so bill Chui's. Mike Shay: That is a piece of art you have crafted there...But geeeze JB you could have finished painting it before taking the pic:o)..Ricki and family wandering up the coast?...Marsha Russell in Colorado Springs?...Whats the matter with these people, do they have real lives!?? Well Im off to water aerobics with a bunch of blue haired women. Trying to loosen up the joints before "Limbo99 at the Stick and Stein" (hey that rhymes:o) later Cougs....
Yeah, seems like only yesterday, we could limbo under a Suburban. Now a "Monster Truck" would be iffy. Thanks Robin.......
---

Name: Patricia Gard () on Wednesday, August 4, 1999 at 13:43:56
E-Mail: pagard@directv.com
Maiden: Sacayan
Class: 68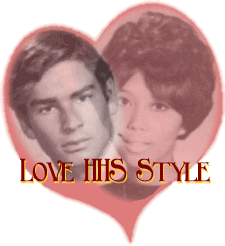 Message: Hi John,
I'm always amazed at what a small world this can be sometimes. I stop for a latte every morning at my Starbucks down the street in Anaheim Hills, and the other morning, I was telling the gals working there about our Cruise Night event. One of the gals looks up and says that her Mother went to Hawthorne High too! I asked what class did she graduate, and she said I don't know, but she had "big hair"! I told her we all did! As it turns out, her mother is Kathleen Wright, Class of '69. I told Malinda to tell her Mom about this website, and maybe you'll be hearing from Kathleen soon. Also, as you know, since Ed moved out here in May, he's been job searching. And through this website, Tina Calabro ('84) read about our story, and was nice enough to help Ed get an interview within her company, which has resulted in Ed getting hired. I'd like to say "thank you so much" Tina, and I hope to meet you soon. JB, next to Ed, I think you're the greatest. We still talk about how if it weren't for you, we wouldn't have found each other again. So if you keep planning those parties, we'll keep coming to them!
I'm telling you people, it's a small cougar world out there. Thanks Patricia for all the nice things said about the site. You and Ed are the greatest, and yes, we WILL have more get togethers in the future. Please plan on the Homecoming game and picnic.
---

Name: Kathy Michael () on Wednesday, August 4, 1999 at 13:24:24
E-Mail: marinadr@earthlink.net
Maiden: Groseclose
Class: 1976
Message: Aaah yeah... I too remember riding my bike down under the overpass on 120th st. with my best friend Mary Beebe way back when we were about 9 or 10 years old. About 3/4 of the way down, "SMACK" right into the textured wall. Oh it hurt, but we were laughing so much we didn't notice the pain until we got back up on the bike. Does anyone out there remember Mary? We lived on the same street 118th place until 1971. She moved to Orange then, I talked to her back in 1986, but I lost contact... She went to St. Josephs, there were 8 other kids in the family... Mary , if your listening... Remember when your brother Mike was building the boat in your garage, and we got into the yellow paint??? Paint from head to toe. Or how about the time you and I were home from school sick, you broke your leg, and the "BIG ONE" hit earlier in the morning. We put out bowls of water so we could tell when the aftershocks were coming, I would run and you would hobble over to the doorway to stand? ... Bob Trenkle, Randy Wamback, Bob Cobb, Are you out there listening? Those times on 118th place were such fun times.

---

Name: Frank Romano () on Wednesday, August 4, 1999 at 13:03:24
E-Mail: fromano@us-rentacar.com
Class: 1961

Message: JB... You may want to consider Robin aka "Cyrano" to handle the tricky verbage when dealing with "Roxanne" aka Ms. Zalowski. Looks like you may have melted your keyboard. And we all understand how difficult it can be to work "melted."
Frank, Robin as my Cyrano, with Miss Zalowski as Roxanne?? That would be like having the Ricki's dog Sammy, guard the beef jerky.

Does anyone remember, or even care, what she taught?
---

Name: John Baker () on Wednesday, August 4, 1999 at 13:05:01
E-Mail: jb1@cougartown.com
Class: 62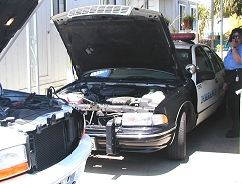 Message:Just had to show this one. My neighbor works for "Torrance's Finest". I hear this knock on my door about noon yesterday and it's her. She says, John, do you have any "Jumper Cables?" What's the problem? Well, she came home for lunch and when she was ready to leave, her unit wouldn't start. I said I'd get her back on the road, but "FIRST", I had to take some pictures. She agreed, so here's Cougartown's HHS Durango giving a helping hand to the Torrance PD. Maybe when you get time, you can send us a "Get out of jail free" card.

---

Name: Stephanie Alhanati () on Wednesday, August 4, 1999 at 12:32:11
E-Mail: SAlhanati@aol.com
Maiden: Rogers
Class: `70
Message: I just love this site! It's become an addiction now, but I refuse to give it up. Such a good feeling when I see a familiar name or am reminded of a long forgotten place or event. Here's a story for you....I had Mrs. Bachman for PE three years in a row and she was a great lady, although pretty easy to fool. During the President's fitness testing, which for some reason I seem to remember always occured when it was too hot to walk, let alone run, jump, do sit-ups or pull-ups, we did a lot of complaining during the practices and Mrs. Bachman had her hands full keeping us going. When the day for our fifty-yard dash test arrived, she lined us all up on the football field on a yard line. While her back was turned, as she walked off the fifty, we all moved up ten yards... Needless to say, she was very happy to see that all our times had improved. The teacher that looked kinda like Col. Sanders has to be Mister Edwards, who taught psychology. He took us on one of the best field trips I remember going on..some sort of mental institution. A real eye opener....
Great story Stephanie. Thanks and I'm glad to hear you say that you're addicted. I thought it was just me.
---

Name: David Barboza () on Wednesday, August 4, 1999 at 12:09:52
E-Mail: iliketrains@usa.net
Class: 74
Message: OK CLASS OF 1974:
I just counted the alumni list and there are 56 from the class of 74. If all of us put up a $10.00 bill thats $560.00 and will buy 5 1/2 seats at Nyman Hall. My wife and I are putting up $10.00 each and my daughter just informed me she also is going to put up $10.00 of her own and is challenging the class of 74. Come on guys ... she's only in the 8th grade..... This is something we as alumni can get behind and be proud of. Hey John, you got $30.00 coming for the Green Phantom... He was class of 74...
Hi David, Yes, come on class of 74. The "Green Phantom" was your era. Thanks David, Cynthia, and daughter for your contribution. That's a great start.
---

Name: LEEROY FELDERRUSTER () on Wednesday, August 4, 1999 at 11:34:57
E-Mail: leeroyfe@yahoo.com
Class: 55
Message: mr. chris
is dat 4 altogathar? or is it 4 fer youse ans 4 fer ech dem utter folks. hows meny youse needs? I's counted 7, BEULAH tinks 4, grannefew tinks 16. no matters i's only one there so i's can git as meny as youse needs. LEEROY FELDERRUSTER AND BEULAH AND GRANNEFEW

---

Name: Diana Calabro () on Wednesday, August 4, 1999 at 10:45:57
E-Mail: joe_diana@yahoo.com
Maiden: Thompson
Class: 1961
Message: Since I have been on this Web Site for only a couple months in my spare time I have been looking at the feedback from number (1)at this rate maybe I will be up to date my end of year.I already found some old friends, Ricki, Mary, Loretta and Roberta. Still looking for Charlotte Arnold, Diane Neve, Veda Beneze, hey Roberta have you seen Veda yet? I was also looking for Sherry Schrecongost, and going back to about page (5)on the feedback someone else was also looking for her, I e-mailed him and he e-mailed me back, however, he is still looking for her. John I want to thank you once again for this web site and also my daughter Tina who got me here. Oh! Does anyone know what became of Miss Zalowski? I think I had her for history.
Ahhh, Miss Zalowski.....every freshman boy's pubescent vision of loveliness.
---

Name: LEEROY FELDERRUSTER () on Wednesday, August 4, 1999 at 09:50:30
E-Mail: leeroyfe@yahoo.com
Class: 55
Message: CHRIS PREWITT
i's gots em allredy! enymores jest writes me. ands fer all dem people dats keeps ritin me wants ta no my reel nams i's gots a confeshun. my reel nams not LEEROY it be my midle nams my reels nams is BUFORD buts I's donut ever use it cuz I's hates BUFORD. I's neber told no ones dat fore neder but ya all seems like famly so i's tells ya/ tank ya all. LEEROY FELDERRUSTER AND BEULAH Paleze donut call me BUFORD
Hey Buford, How about if I come over to Halcap field and take a picture of you in the stands??
---

Name: Dewey () on Wednesday, August 4, 1999 at 05:34:48
E-Mail: Dewey Storie@msn.com
Class: 74
Message: Kathleen, I remember riding a skateboard down under the 120th overpass..Yea it was cool starting at the top flying by the time you got to the bottom and of course there was always a small ROCK!!!!!!!! At the bottom.

---

Name: Chris Prewitt () on Wednesday, August 4, 1999 at 00:42:56
E-Mail: cjprewitt@juno.com
Class: 1967
Message: Leeroy,
Since you are sitting there in the football bleachers, please hold 4 seats for myself, my wife Kathie, my sister Patt and Patt's husband Gary. If Beulah has time, there are a couple of cougars that are having or just had Birthdays, she could whip up a cake. If she doesn't cook you may do the deed. If everything fails, we can stop by a store and purchase one. Anyway Leeroy it is good to see that you are having fun waiting for the first football game. Try to stay out of the sun it can damage your brain.
That train has already left the station . . . . .
---

Name: Ray Hauser () on Wednesday, August 4, 1999 at 00:19:03
E-Mail: rayhauser@cadence.org
Class: 1967
Message: I saw my name on the lost page but couldn't connect to the john14@cougartown e-mail site. How do I get found?
Hi Ray, Send an email to Chris Prewitt at cjprewitt@juno.com. Giving him your present address so your reunion committee can let you know when and where the next function is going to happen. Also, please click here to add your info to this site. You don't have to become a member, but we do need your mailing address. That's it Ray. After that, you're back in the club, so welcome back.
---

Name: Susan () on Tuesday, August 3, 1999 at 22:53:50
E-Mail: funds4kids@Yahoo.com
Maiden: Ciampa
Class: 77
Message: ATTENTION BAND ALUMNUS! Here is our golden opportunity to honor Mr. Alex DeLaO and sponsor a seat in Nyman Hall with his name on it. How about it? I know there are AT LEAST ten of us on this site, and at just ten bucks each, we can do this! Let's all send in our $10.00 check to King JB and don't forget to put Alex DeLaO's name on the memo line. In case you can't remember the address, I'm sure John will help you out.
OK, Once again, its:
John Baker
PO Box 1406
Lomita,CA 90717
I feel like we're running a Telethon, or is it a Netathon, here.

Hey, this will work for you older Band members and Fred Morgan too. Come on Cougs, pick one: Mr Alex DeLaO, Billy, Dr. Fred Morgan, The Green Phantom. Let's get some seats in their names. It would be nice to have some HHS history sprinkled throughout Nyman Hall. Ten bones and you'll be helping to refurbish the cornerstone of the campus. I've already signed up for 2 seats in the name of Cougartown and I'll throw in 10 bucks more for one of these seats. This is for OUR HHS, folks. Let's help them out.
---
If you have comments or suggestions, please email me at jb1@cougartown.com