Page 109
---


Home | 60's Slang | Alumni List | Car Talk | Cougar News | Feedback | Hangouts | Memories
Recollections | Reunions | Street Scene | Teachers | Tributes | Vietnam | What's New | Keyword Search
---
.....argueably, one of the top 10 all time opening 49 seconds in R&B/Rock and Roll history. Ray Charles
---

Name: David Barboza () on Sunday, August 1, 1999 at 18:40:23
E-Mail: iliketrains@usa.net
Class: 74
Message: I very much hesitated checking my e-mail this morning. I was very much surprised there was no hate mail. I guess I just got a little bit caught up in the emotion of seeing everyone again as I am sure alot of us did. And no one can say John didn't. I've got the crowning of the King on video and he stands up to say he hates us all. What else can you say when your heart is that touched. Thanks guys for the kind words. Looks like I started the poets page John!! (sorry)
Yes David, YOU are now the Official Cougartown Royal Rhymer. I've been getting lots of poetic.....,well actually it's more like "Graffiti", all day. Thanks for starting the movement, some pretty good, some more of the bowel variety.

---

Name: Christine Baird () on Sunday, August 1, 1999 at 18:39:11
E-Mail: Bairds1@juno.com
Maiden: penny
Class: 76
Message: Roni T. ...had to actually get out my yearbook and look it up....although Mr. Goodfellow does look somewhat like colonel sanders....it is Mr. Edwards that I was referring too. I have managed to lose my senior yearbook so I'm using my junior '75 yearbook. Good guess though.

---

Name: Daniel Webb () on Sunday, August 1, 1999 at 16:39:44
E-Mail: daweb@usa.net
Class: '76
Message: Greetings to you John and to Cougs everywhere from another former Del Aire resident. Here's one that some of you you may remember... We lived on 120th Street during the 60's, a natural drag strip between Aviation Blvd. and La Cienega Blvd. I remember many times watching as two blurry streaks roared their way past our house. Dad would get mad and call the Sheriff's Dept. After the County put up a signal light at Isis Ave., we kids learned we could change the signal at will by pushing the crosswalk button. Thus ended an era in drag racing history (sorry guys). If any former racers have a street racing story to tell, especially on 120th, I'd love to hear it.
Hi Daniel, My favorite 120th drag racing story is already on the website Click here for the rest of the story.
---

Name: Faelin and Cyndi () on Sunday, August 1, 1999 at 15:08:41
Maiden: Klein and Laird
Class: 75
Message: Dave Barboza - yes we both remember you! Thanks for the info about Wade and Dennis. And thanks for the kind words about Faelin. She IS an amazing person. I'm so proud of her. Everybody have a great Sunday! We're off to Sea Life Park again (never made it the first time!) Aloha, Cyndi

---

Name: christine baird () on Sunday, August 1, 1999 at 13:55:40
E-Mail: Bairds1@juno.com
Maiden: penny
Class: 76
Message: and to think John.....it only took me 20 minutes to come up with that.....imagine what i could do if i really thought about it?
about that cheating thing.....my husband wanted me to tell you.....how do you think i graduated from high school. cute...isn't he.....

Yeah, we all had our own little ways of passing those quizzes huh.

---

Name: Robin Northup () on Sunday, August 1, 1999 at 13:06:05
E-Mail: rn80001@navix.net
Maiden: MacLean
Class: 1969
Message: Does anyone know the whereabouts of Suzi Nelson, Connie Kennedy, Butch Toice, Orville (Beanie) Wesche, Tim McAndrews and the whole gang.

---

Name: Roni Kobel () on Sunday, August 1, 1999 at 12:43:58
E-Mail: rskobel@aol.com
Maiden: Treckman
Class: 76
Message: Chris, could the teacher you're talking about who looked like Colonel Sanders be Mr. Goodfellow????

---

Name: christine baird () on Sunday, August 1, 1999 at 11:58:21
E-Mail: Bairds1@juno.com
Maiden: penny
Class: 76
Message: another poem.....
If i'd only knew,
That this site was way cool.
Or as the teens you now meet,
Say this site is way sweet.
I'd have come before this,
No feed back i'd miss,
But now that i'm here,
I'll stay....never fear.
To read and to post,
And to thank our dear host,
Or maybe harass
To add spice to his task.
All the names.
All the pictures.
My heads in a twirl.
My minds all a whirl.
I now bow to the throne,
He's in a league of his own.
A new site should be made,
And homage be paid.
The site?......
Internet Hall of Fame.
It's there, you should find his name.
tah dah! ")
Christine, I AM impressed. Now go get a hobby will you.

Thanks girl
---

Name: Patty Valencia () on Sunday, August 1, 1999 at 10:07:15
E-Mail: pvalencia2@aol.com
Maiden: Billy
Class: 1974
Message: Brother, what a tough crowd. Dave I think it's way cool to verse from the heart. Good job. My sentiments exactly. My 'older' sister, the enforcer Gloria (V6) sent me in to the den to read your feedback -she liked it too. Here is my poem:
Roses are red,
The tales are tall,
Continue to make feedback safe or
Become a ghost of Nyman Hall.
Hey, I'm a poet and didn't even know it, right Gloria?
BOO!
Patty, Being less from the heart, and more from the "funny bone", it's not exactly going to unseat David as Cougartown's Royal Rhymer.
I wonder if any of Longfellow's works started with "Roses are Red".
Thanks Patty
---

Name: Dewey Storie () on Sunday, August 1, 1999 at 08:13:27
E-Mail: Dewey_Storie@msn.com
Class: 74
Message: John, some how I think your fame is going to last a lot more just 15 min… and Dave it may not be well written, but it was definitely was well said!
Dewey, Thanks for that, and let's keep Cougartown going for as long as there's an unfound Cougar.
---

Name: John Baker () on Sunday, August 1, 1999 at 02:27:09
E-Mail: jb1@cougartown.com
Class: 62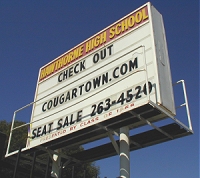 Message:Well what do you know. Went by the High School today and took this picture of the marquee. I love it. You talk about your 15 minutes of fame; I just had mine. Thank you HHS, I'm flattered. It looks great and I really understand what advertising is all about now, as I haven't had a wink of sleep since you placed our humble domain name on your gift from the Class of 1968. Just kidding........kind of.

Thank you very much.

---

Name: marie () on Sunday, August 1, 1999 at 01:31:49
E-Mail: mopardad@home.com
Maiden: shatwell
Class: 1977
Message: I missed my 20 yr reunion and didn't notice that one had been held. I live out of state and hope to attend future events, please keep posting them for us whose only news regarding HHS is thru this website. Thanks for everyone's wonderful work.
Marie, Yes we will keep you up to date on all the Reunions that are going to happen. All you'll have to do is check in and read. Thanks.....
---

Name: David Barboza () on Sunday, August 1, 1999 at 00:42:19
E-Mail: iliketrains@usa.net
Class: 74
Message: To All Cougars: Much has been said about Cruise Night at Foster's. It has left quite an impact on not only those who were there but too others as well. Admittedly, I am nobody's poet but it and John especially, made quite an impression on me. My e-mail is posted so you all can send your hate mail there after this. But for now I respectfully beg your indulgence.

Some of our alumni will call him John,
yet others will call him J.B.
And what we all have in common with him,
will shortly be plain too see:
In most yearbooks there is written,
let's always stay in touch;
But, we grow in life too find,
those words don't really mean much:
Because raising our families or managing careers;
Those words seem to fade, with the passing of years:
So with the marvel of electronics, that we call the net;
He set out to find, friends he could not forget:
Just a few years ago, John had an idea or two;
And last Saturday he marveled, at how much it grew:
He had never imagined, just what was in store;
Reuniting the friendships and memories, from five decades and more:
This all led up to Cruise Night, we met old friends and new;
To all it did show, what true friendship can do:
He is modest at best, and wants no praise for his deeds;
For bringing old friends closer, which this world surely needs:
I am fortunate to have, a friend like John Baker;
A true friend to us all, The COUGARTOWN CREATOR:

Thanks for bringing back the friends and the memories John......
Man, what can I say. You've got to be the worlds LOUSIEST POET!!

.....but somehow I know what you said, came from way down inside and it means a great deal David. You're a true friend who loves what all this is about. I KNOW you do, because the above came from your heart. It was felt by you, and not just written. It echoes exactly what's going on here. Thank you very much David.
---

Name: christine baird () on Sunday, August 1, 1999 at 00:18:03
E-Mail: Bairds1@juno.com
Maiden: penny
Class: 76
Message: things to remember....i remember going to a house over in holly glen (?) and listening to a band. Ric Colangelo (class of 75, i think) on the drums. anyone else remember that? i also remember all the parties...wall to wall people... some of them at the Smeltzers, who remembers those? i also remember driving my first car, that i owned myself....'63 rambler-3 on the tree, Earl Scheib (?) 39.99 blue paint job, and losing the brakes on some blvd., and Laura Stewart, in her car, driving interference with other traffic until i could coast several blocks to a gas station, where i finally rolled to a stop. yikes, that was scary. i also remember trying to navigate that car on the hills near the beaches. that was no picnic, you know....being a new driver and having a clutch. ") did anyone else have trouble on those hills? i also remember...being the ambitious one that i was back then....taking a science fiction/fantasy (reading class) my senior year. i am still incredibly interested in scifi/fantasy and read it all the time, so i guess it wasn't all that wasteful. the class was taught by the same teacher that taught psychology/sociology, he looked quite a bit like Colonel Sanders....anyone remember him? i guess that's it for memory lane...for now anyway. ")

---

Name: christine baird () on Saturday, July 31, 1999 at 23:43:01
E-Mail: Bairds1@juno.com
Maiden: penny
Class: 76
Message: hmmmm, john....laps around the sun.... okay, i've giving it some thought, nope, can't stick with that exercise program either! i'll stick to lapping around my block...... on my bike........ with the dog pullin' me! on the concrete sidewalk,... of course. ")

---

Name: Myrna (Royal Mother Floggette) () on Saturday, July 31, 1999 at 22:27:25
Maiden: Bell
Class: 66
Message: I vote for a Mid-State cruise! Have any of you gone to the Mid-State fair in Paso Robles? There is no way I would suggest I-5 and 198, even though it is half way between LA and SF - there is nothing out here but cattle and smell. Paso, San Luis, those would be good places - then maybe I could drive my son's '48 Studebaker pickup.
Myrna AKA: Royal Mother Floggette, If you can get something going, It's all yours. I know I'll be there. ....anything to get away from this blasted machine for a couple of days and stay AWAY from the 48 Stude. There're only 3 of them left on the planet.
---

Name: Robin Northup () on Saturday, July 31, 1999 at 21:00:13
E-Mail: rn80001@navix.net
Maiden: MacLean
Class: 65
Message: I just came upon this tonight and was thrilled. I live in Nebraska now. I was back in So Cal last year and drove by the old school. Boy what a change. Hoping to hear from some old classmates.

---

Name: Jan Waters () on Saturday, July 31, 1999 at 20:58:52
E-Mail: JumboGreen@AOL.com
Maiden: Fulton
Class: 64
Message: I Just wanted to let you know that I think this is great. I just got a message from my sister Pam that you remembered Art's black 62 Ford.....are you the same John Baker that worked at Imperial Farms those many moons ago....I am sorry that we missed Cruise Nite. I was busy reading the feedback pages and didn't get to those pages until after it was over. (I started with page 1). You were remembering the Mom and Pop markets, how about Al's on 120th between Oxford and Menlo, I think it is Don's now but it has been there forever.
Hi Jan, Yes, I'm the same John Baker, but I didn't work at Imperial Farms. I did hang out there a lot, as my friend Bob Reagan worked there, along with Jimmy Norman. I know you and Art, with the 406 Ford, and a few other fast cars were in our wedding procession, many MANY moons ago. Thanks Jan and say hi to Art for me. Yes, Dons Market WAS Al's market long ago.
---

Name: Christine Baird () on Saturday, July 31, 1999 at 17:45:00
E-Mail: Bairds1@juno.com
Maiden: penny
Class: 76
Message: Boy John....you like to Dig 'um DEEP,.... Donchya? ;) sure would like to meet you in person, maybe at the game on October 15, it is my birthday ya know. ") I still think of mine as a celebration of life..... what's that i hear???? ahhh, oh well, that's okay john, if you just want to look at it as one more marker on your concrete grave stone! hehehe
Ahhh Christine, Age is not markers on a concrete gravestone, but mere laps around the Sun. I just figured out that on my next birthday, I'll be just a little over 32 billion miles old, but don't feel much over about 15 or 16 billion. ...and no Gloria, that's NOT called astro physics

Thanks Christine
---

Name: Judy DeGrazia () on Saturday, July 31, 1999 at 18:21:33
E-Mail: redondo612@aol.com
Maiden: DeGrazia
Class: 64
Message: Sooo...60's people. Today I was right by Fosters; got a craving for one of their ice cream cones...thought it would be fun to see the difference from getting one in the 90's as opposed to the 60's. Well, here's the difference in a nut shell. First you have to hunt down a lactaid tablet in your purse (if you can't find one, forget it) and then you have to realize that you have just blown your calorie and fat intake for the next 2 meals. By the way, I recommend the double caramel fudge parfait - $3.60. I won't be eating again until tomorrow. Judy D THE ROWDY GIRLS.
Ahh yes, the sweet tooth of youth. I can remember when the only worry from the double caramel fudge parfait, was a cavity. Thanks Judy
---

Name: Gloooooria Valencia () on Saturday, July 31, 1999 at 17:20:35
E-Mail: Gpork
Maiden: Can't Recall
Class: 76
Message: Thanks, Sonny for all the press time! I am not too sure I can tell that child Marilyn what "Old" is. But perhaps a story I was told yesterday, from a 1962 HHS alumni, can help her. Ironically, I was chatting with my good friend, (who chooses to remain anonymous), about age. This man is in great health and doesn't look even close to his real age. He said, "The key to longevity is consistency." He also stated that he feels great and attributes this to that consistency philosophy. I asked him to describe a typical day and he stated: "For the last 15 years or so his day is like clockwork. At 11:00pm is in bed and asleep in five minutes. He promptly awakens at 6:00am. Eats breakfast at 6:15am and then evacuates his system at 6:30am. Right after he showers and works straight through till 9:00pm." (I was amazed, as this man works on the internet and is responsible for organizing historical trivia for some high school.) I listened intently and said, "My gosh, John. Everyday it's like that? Bed at 11:00, wake up at 6:00, eat at 6:30, evacuate your system at 6:45 and then shower and start your day? EVERYDAY you have done this for the last 15 years? He replied, "Yepster. But I do have one small problem with it." Interested, I asked him to expound. "I don't get out of bed until 7:00am!..." Oh, and by the way, 1976 was the bicentennial for the signing of the Declaration of Independence, my mom told me, she was there.
OK OK, now maybe I deserved that one..........a little. Thank you Gloria. I love you, AND your wit. Be a Coug' girl.......and tell Mom "V" to say hi to George and Martha.
---

Name: Ted Gioia () on Saturday, July 31, 1999 at 16:41:01
E-Mail: tedgioia@hotmail.com
Class: 75
Message: Right on, John! keep on tellin' these young HHS students about the old days. Heck, I remember when you started Cougartown long before the internet -- we all had to input our feedback using MORSE CODE. Sometimes it took Joe Mailander an hour just to input one subordinate clause . . .
Ted, Yes, I barely remember. Back then we had the Unabridged Morse Code to Mailander Handy Pocket Edition.
---

Name: Harry Plotkin () on Saturday, July 31, 1999 at 16:28:47
E-Mail: hcharry@pacbell.net
Class: 52/97
Message: King John: Thank you for your comments - flattery will get you everywhere. Your words were music to the ears of one in his golden years. Feedback is so much fun!!! Jan Blomsterberg: I remember you at Dana. Is Michael Blomsterberg related to you? He was in my lady friend's kindergarten class. El Rojo: Did you inspire these song lyrics ....Full moon and empty arms? Love to the Queen and to all cougars. hch
Full Moon and Empty Arms......Now THAT'S funny.
---

Name: David Barboza () on Saturday, July 31, 1999 at 16:12:27
E-Mail: iliketrains@usa.net
Class: 74
Message: To Cyndi Laird:
I don't know if you remember me at all but, in answer to your question in regard to Wade Greasby and Dennis Gonsalves. The last that I had heard from Tony Manos was that Wade was climbing poles for the phone company. Last I saw Dennis he told me that he was a relief pitcher for the Oakland Athletics triple A farm club. Sorry, but that was quite a while back. Hope it helps. Have fun you two. And... TRY ... to stay out of trouble. ( I know you are Cougars ) And my apologies. Faelin, read way back when about what you've been doing and regret never having applauded your efforts. Your a credit too our school and we all she be proud of you.
Faelin, I AM proud of you girl.
---

Name: Corinne Hemenway () on Saturday, July 31, 1999 at 15:26:18
E-Mail: mhemenway1@earthlink.net
Maiden: Hemenway
Class: 1996
Message: As a Hawthorne High, Class of 1996 alumni, I would like to see, Pictures, and Information of my high school years, added to this site.
Attaway to speak up Corinne. If you have something in particular you want added, please email it to me. If you have a scanner, you can do it that way, or take it to Kinkos, etc, and have them do it. You can send pictures through the mail to John Baker, PO Box 1406, Lomita, CA 90717
Thanks Corinne, for being out there.
---

Name: Judy DeGrazia () on Saturday, July 31, 1999 at 15:22:41
E-Mail: redondo612@aol.com
Maiden: ING
Class: 64
Message: Hey there Susie Manning. Honey, who could forget you!! Your were one of my best friends sisters so I saw you a lot...and I remember things you did that only we could appreciate..like skating down the middle of the street hollering with delight that your sister was going to have a baby. Do you remember that? WE DO!! I have your e-mail kid, and I understand that we have a couple of things in common... our secret. (not what you think, John B) I'll be in touch via e-mail soon. Good to see you in CT Sus.. Judy D THE ROWDYS


---

Name: Mandy Martes () on Saturday, July 31, 1999 at 13:36:20
E-Mail: mandymart@earthlink.net
Maiden: Treckman
Class: 81
Message: Ok, with all this banter about old age and people being born the year I graduated and all, I think it's time for a high school story... So, when we were in school there were surfers and lowriders...(My niece by marriage, North Torr. class of 97, tells me it's skaters and rebels and gangsters etc now)...I digress... I ran track and cross country at fair HHS...One day we went for a run.. I think it was Lori Kerns, Jeri Johnson, Beth Gerten, Diane Gibson..the usual gang. It was a hot day. We ran through Lawndale High School, where we decided to have a little water fight. We were taking drinks at the drinking fountain and spraying and splashing the water at one another. I decided to be really sneaky, so I went in the girls' room and filled my mouth with water, then hid just inside the door, waiting to blast the first person to walk in. And I did just that. I just didn't expect that person to be the biggest, meanest looking lowrider I had ever seen. I spit the water full in her face, sending the eyeliner dripping. I don't know who was more surprised, because both she and I had our jaws pretty close to the ground. I didn't stick around to find out, though, because after a quick apology, I grabbed my friends and advised them to become sprinters rather than distance runners before we got our you-know-whats kicked. Boy, was I scared! We did stop at our customary stop on Rosecrans and Inglewood at the mattress store to test out the mattresses and flirt with the owner and drink water from his Sparkletts jug. It was like this one time? at band, I mean, cross country camp? haha ya gotta see American Pie
Now see, that was a great story. Those are the kind you NEVER forget.
Like the time in A&W, I "hookshot" a french fry over the top of my car, and it landed smack dab in the girls Large Root Beer in the car to my left. Of course it hit "SPLAT" and splashed her pretty good. She turned around and thought Bob Reagan HHS62 did it, as he was riding shotgun in my car. Now that's not too funny here, but Bob was laughing so hard, he couldn't catch his breath. The girl started cursing at him and the more she cursed, the harder he laughed. I literally thought we were going to have to take him to the emergency room at Hawthorne Memorial, as he had totally collapsed his lungs. I could see the Headlines. "Girl curses boy to death in A&W." That's the one I'LL never forget.
---

Name: Maria Ricci () on Saturday, July 31, 1999 at 13:32:17
E-Mail: mrmike541@aol.com
Maiden: Lococo
Class: 1977
Message: I remember how alone we all felt our senior year because we now had no one to look up to. We, could not believe that we were now the role models for our under-classmen and we felt we couldn't hold a candle to the previous seniors who had gone down the road of notoriety in the Big Bad World. We had no clue what we were going to do after our senior year. We just wanted out of "this Hell Hole!" Our lives were hard to us back then, decisions, working, dreaming, planning, playing.
I remember our senior breakfast was taken away from us because we basically destroyed the school the night before with t.p.ing, throwing the cement picnic tables (the ones in senior square) in the pool, (no wonder the pool is closed today)!? The taking down of the goal posts on the football field. We were running around the school that evening not knowing what was in store for us the next morning! We were really stupid, hmmmmmmm.
I remember going to my junior prom with Carol Kobus, Brett Keys, and Robert Giverink. We had some drinks prior to the prom at Bretts house? (I cant remember) and then Robert let me?? drive to the Riviera Country Club with No!! license and a little bit tipsey!! Imagine me getting pulled over in dense traffic on the 405 and having to respond to the officer's sobriety test, in a gown with heels! My God! I think I would have lectured that young girl on her ignorance and stupidity.
I remember taking an unusual interest in camping and nature that last year in high school. I was trying to regain my innocence that was quickly being lost. I had a best friend, Carol Kobus, who was quick to pick me up and take me to where ever I needed to go!! She was a true blue friend, to my complaining and whining one!! She and I would take trips with Bud Rhodes, Shelly Sivoli, the Botelhos and (I forget who else) to Topanga and play guitars and have picnics. We would also go camping at Buckeye flats and have a lot of fun on the rock slides and playing tarzan on the ropes and climbing upstream. My husband and I have taken a great many trips to this areas since and have enjoyed bringing our kids to these places.
High school was painful (a lot of grave and innocent mistakes were made) and filled with joy (skiing with the ski club, Bonnie, Carol, Chuck and Man I really can't remember!!)
The teachers that meant the most to me were Mrs. Adkins, the encouragement she gave me in math, and always seeing the best in me when I only saw the bad. I will always cherish her. Mrs. Johnson was my California history teacher and was a sweetie too!
To Shelly Sivoli, Carol Kobus, Viki Keller and Bonnie Lamar. I miss you all... I would love to see you all
Thanks Maria, for the honesty.
---
If you have comments or suggestions, please email me at jb1@cougartown.com