Hawthorne Time and
Temperature




Home | 60's Slang | Alumni List | Car Talk | Cougar News | Feedback | Hangouts | Memories
Recollections | Reunions | Street Scene | Teachers | Tributes | Vietnam | What's New | Keyword Search

To all the people who went to the Ctown Picnic and Cruise Night
Green Day

<!-+++++++++++++++++++++++++++++++++++++++++++++++++++++++++++++++++++++++++++++++++++++++++++ +++++++++++++++++++++++++++++++++++++++++++++++++++++++++++++++++++++++++++++++++++++++++++++->

---

---
<!-+++++++++++++++++++++++++++++++++++++++++++++++++++++++++++++++++++++++++++++++++++++++++++ +++++++++++++++++++++++++++++++++++++++++++++++++++++++++++++++++++++++++++++++++++++++++++++-
Name: Dan Johnson () on Wednesday, October 26, 2005 at 00:42:05
Email: wch1ispinkATaolDOTcom
City and State: Sherman Oaks
Class: 1977
Message: The ultimate hippy freakout recording right down the hall from Sgt. Pepper at Abbey Road is The Piper at the Gates of Dawn, by Pink Floyd, oh yeah! There's a song on there called Astronomy Domine that the Stones ripped off and called 10,000 Light Years From Home. Oh, and Wild Child is great! (but not as good as . . . . .)

---

Name: Keith D. Jones () on Wednesday, October 26, 2005 at 00:20:55
Email: cmi50@yahoo.com
City and State: Kona, Hi
Class: 1976
Message: If you ever make it over to Maui check out Upcountry Maui on the way to Hana. You would think you stepped into a time warp. It is the 60's all over. Allot of mainland hippies made it their home. Allot of Vegans up their. SOme great restaurants too. It's just on the other side of Ho'okipa

---

Name: Kelley () on Tuesday, October 25, 2005 at 23:07:14
Email: hippiehippie.com
City and State: Englewood OR
Class: 1967
Message: Why in the world does everyone think the hippie era was 1967 - what? Man the hippie started with the beat-nik..and just evolved..there are still Hippie's in Oregon and I'm sure about everwhere but dah SoCal...You can't put a few years on the Hippie era..The owner of cone 9 was what I would call a Hippie and she was 62..It's not the music,clothes,drugs or politics..It's a state of mind..Cindy have a great party...I have some clothes you could borrow..but they would most likely fall apart if i took them out of there plastic bags...embroidery, beads, etc.it was all home made clothes..you'd tye dye your own clothes not by them at a fair ..In Oregon we have the most Hippiest fair ever call The Country fair in Veneta ..the smell of patheoli (sp) everywhere.. This has been a happening for, I'm not sure 35 or more year..Some one correct me if I'm wrong..I've never been able to make it but my good friend Patsy (63 years of bliss) has gone for years...So John you have a weird idea of what a hippie was or is..Cindy I'd find a Monteray(sp) pop festival album...That would give you good insite of some of the best music ever for that time period...
BTW believe it or not I never borrowed my parents car...why when my dad would let me drive his truck without a license for years. We did borrow is thunderbird once..The next morning all I could see was Black Bud can's everywhere. does anyone remember when Budweiser made malt beer in black cans...Keep it simple
Peace Baby.....Sorry about the bad spelling ...but once I started trying to spell inagodadavida it all fell apart for me....Hee Hee...still can't spell it..
Hey Kel', I may have a weird idea of what a Hippie is, and I'm sure you KNOW, but there were no Hippies before the British Invasion in 1963, as far as I know. I'll say there were Hippies then, but it didn't really get going until 1966.
---

Name: Cindy Whittaker () on Tuesday, October 25, 2005 at 17:46:23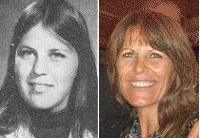 Email: cindywhittaker@comcast.net
City and State: Gig Harbor WA
Maiden: Whittaker
Class: 1976
Message: Thanks for all the suggestions for the music! Great ideas and I'll have some nice music compilations when I'm all done. I'll take a group picture at the party and send to John on Monday! Hey, that might be fun to see anyone's costume who's dressing up this year. John started it off with a great pic!
Send GROUP pics, please.
---

Name: Larry Bach () on Tuesday, October 25, 2005 at 17:46:11


Email: lawrence.bach@navy.mil
City and State: Seal Beach, CA
Class: 1972
Message: Rhino Records has a cool CD selection of "Hippie Music": "Nuggets from Nuggets", "choice artifacts from the first psychedelic era", and "More Nuggets", "A classic collection from the psychedelic sixties". In this stack, there's even a hit single from the Hawthorne band "The Merry-Go-Round" that made the L. A. charts in 1967.(Emitt Rhodes still lives in Hawthorne the last I heard). No one mentioned The Mother's of Invention 1965 album "Freak Out", one of the first examples of "Hippie Music". And then there is the Byrds "Eight Miles High"... let's see, who else... Strawberry Alarm Clock. The Blues Magoos, The Standells, Syndicate of Sound, The Seeds, Love (with Arthur Lee), The Electric Prunes, The Leaves ("Hey Joe"), etc. Oh well. I didn't have time to hang around those da*ned hippies and their deviant narcotics music anyway! I was too busy riding my "chopped" Stingray around Hawthorne at night stealing chrome valve stem covers from low-rider's wheels (these were shaped like bullets or Gemini space capsules and looked cool on my Stingray, the parts of which originally came from Phil's Bike Shop).

---

Name: Walter Holt () on Tuesday, October 25, 2005 at 16:03:26


Email: wholt48.socal.rr.com
City and State: Surf City
Maiden: Cowabungasouth
Class: 1966
Message: Greetings Cougs?Just catching up on feedback?Seems like I fit right in with the ?Stealing the family car??My saga is from when I was 15. My mom was in the hospital and my ?good buddies? talked me into having a week long party at our home. Anyway since we had a Dodge Dart station wagon which made the perfect pile our boards on and let?s go to the beach car. Anyway we partied at night and went to the beach every day in that car. Then the downside hit we were coming back from the beach and I was coming around a corner on 139th and Oceangate. I hit a patch of water lost control of the car and went into a cinder block fence. Needless to say I had a lot of explaining to do after that incident as well as other things that were discovered at home from the party. Needless to say I did not get my license when I turned 16. Cindy, everyone has mentioned The Hippie era and I agree 67-69 would be the Hay Day so to speak?Surf report?Weekend surf has been running into the overhead range as of late, I had to take a 2 week Hiatus til last weekend due to some kook dropping in on top of me and catching his surf board under my right eye and having to have 7 stitches. I did get some great surf shots with my camera of others and was back out there again in the stellar waves this last weekend. Ron Reinholdson E-mail me dude we haven?t surfed together in awhile.

---

Name: Chuck Armstrong () on Tuesday, October 25, 2005 at 15:12:23
City and State: Orcutt, CA
Class: 1967
Message: Cindy, here's what I would consider the essence of the greatest so called "hippie" music and era: Canned Heat, Creedence Clearwater, Country Joe and the Fish, Crosby, Stills, Nash and Young, Grateful Dead, Richie Havens, Incredible String Band, Iron Butterfly, Janis Joplin, Jeff Beck Group, Jefferson Airplane, Jimi Hendrix, Joan Baez, Joe Cocker, Spirit, Ravi Shankar, Santana, Sly and the Family Stone, Sweetwater, Ten Years After, The Band and The Who. All featured artist at Woodstock, except Spirit. I threw them in because they had the first laser light show in that time frame.

---

Name: Kelley () on Tuesday, October 25, 2005 at 14:52:16


Email: bigkell@gmail.com
City and State: Englewood OR
Class: 1967
Message: Cindy..Hippie music..Don't know if there was such a thing..Gratefull Dead would be your best bet in my book..Also there was the folkie type hippie like Joni Mitchell,Neal young, CSNY, Yardbirds,Fleetwood Mac all Blues..certainly you can't leave out The Master himself Bob Dylan who started it all..oops late to work just on my lunch hr..thought I'd chime in here...KC

---

Name: Peggy Madird () on Tuesday, October 25, 2005 at 14:26:30

Email: pmadrid@centerforaports.com
City and State: Carson, CA
Maiden: Noakes
Class: 1970
Message: Note to Cindy regarding her party - You can't go wrong with a mix of Hendrix,Doors,Jefferson Airplane, Cream and Led Zeppelin. My personal favorite is the Doors. I had Jim Morrison posters plastered all over my bedroom back in my Cougar days. I just saw Wild Child last Friday night, a great tribute to the Doors and to that time.

---

Name: Jim Pasternak () on Tuesday, October 25, 2005 at 13:34:49


Email: FlyingEmbers@cox.net
City and State: Ladera Ranch, Ca
Class: 1968
Message: Jimmy Gibson, Way to go! It was only a matter of time before someone paid Doc Duran his due recognition.
Along with his work out guidance one was always subject to hearing a lesson about integrity, right and wrong. Although all of us strive for perfection and sometimes fall miserably short, he was a man who cared enough to to show the way. Think about his views on the matter of "quitting" anything. He reminded you that you may fool everyone but in the end it is you yourself who will always be aware of your shortcomings and it's only you who has to live with them. He was a true role model to many and whatever weaknesses he himself may have possessed, he still tried to make his "boys" be the best they could be. Thank you, Doc!
Respectfully, Jim

---

Name: Wade Greasby () on Tuesday, October 25, 2005 at 13:17:37


Email: grizbear73@juno.com
City and State: Surf City, Ca
Maiden: J.A.
Class: 1973
Message: "Go Ask Alice"
Yes, another very creative writing.
---

Name: Bud Rhoades () on Tuesday, October 25, 2005 at 13:09:19
Email: rhoadesb@fullmercontract.com
City and State: Belmont Shore
Class: 1974
Message: Absofrickinlutley.


---

Name: Bud Rhoades () on Tuesday, October 25, 2005 at 12:48:04

Email: rhoadesb@fullmercontract.com
City and State: Belmont Shore
Class: 1974
Message: Cindy,the period from 1967 through 1969 epitomized the "Hippy" movement.Any music from that period would fit the bill,from Sgt.Pepper to Cream it still is one of the most creative periods in music.Rock On!~
Creative in the "Get Stoned And Write Inagodadavida" sense?

---

Name: Jim Gibson () on Tuesday, October 25, 2005 at 06:57:28


Email: surfsup1765@sbcglobal.net
City and State: Redding, CA
Class: 1967
Message: Speaking of Pat Duran, the princess (below). She & I were an "item" (briefly) back in, oh, I don't know, 4th, 5th, or maybe 6th grade (whatever grades were @ Peter Burnett School), as, later on, were my younger brother Steve, & Pat's younger sis, Barbara. I think my oldest brother, Gary, was friends w/ the Duran's oldest sister, Kathy. In '68 & '69, former '67 ASB pres Pat Hamman & I were "gym rats" @ the gym @ the rear of the Duran house. We helped w/ the construction of the boxing ring. Doc Duran would come out, whenever, (any time of the day or night) for almost 2 yrs, to put us through our weightlifting/boxing paces. If he wasn't satisfied w/ your effort, he'd refund your $1.00 workout fee & send you on your way & ask you to not come back. Back then, it was $1 per workout, or $300 annually. Hamman & I paid the $300 to keep us from slacking. It paid off for me. To this day, when conversation turns to stories about school athletics, I still tell everyone that Doc Duran was responsible for my baseball scholarship. I've touched base w/ Pat 2 or 3 times over the years (reunions, etc.). Hope she's doing well! - Gibby
Thanks Jim....
---

Name: Kathy () on Tuesday, October 25, 2005 at 01:18:53

Email: kathycather@earthlink.net
City and State: Santa Clarita, CA
Maiden: Suess
Class: 1970
Message: My brother, Jim, has been telling me to check out Cougartown for sometime now, and just now taking a look - what a treat! I will have to dig out some of my old pictures which I took through out the years 1968 - 1970 during some school functions. In the meantime, a response to one of Kelly Currie's feedbacks in July: Per my brother, Butch died in his sleep while staying at his brothers house in Arizona - not much more info provided.
Hi Kathy, and welcome to Ctown and glad you approve. Join in anytime.
---

Name: Cindy Whittaker () on Tuesday, October 25, 2005 at 00:50:14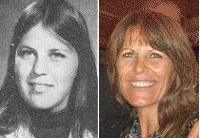 Email: cindywhittaker@comcast.net
City and State: Gig Harbor WA
Maiden: Whittaker
Class: 1976
Message: Calling all Hippies! I'm going to a halloween party Sat night and we're supposed to dress like hippies. If I make a music CD what year would you say epitomized the era of the hippie? I can download top 100 Billboard hits so I can just pick a year. Should I pick music from a couple of different years? This HAS to be the best place to ask since we pretty much have Cougars representing every era back to the 50's ya? Thanks for any help. If we don't want to talk music of that particular era here, you can just email me directly! Thanks Cougs!
I would say around 1966. anyone else have any idea when the Hippies were in full bloom?
---

Name: Dan Johnson () on Tuesday, October 25, 2005 at 00:23:04


Email: wch1ispinkATaolDOTcom
City and State: Sherman Oaks
Class: 1977
Message: I got a ticket for speeding on El Segundo Blvd west of Sepulveda ON A BIKE
Hey Dan, Those El Segundo cops will bust you for anything.

---

Name: Alan Hauge () on Monday, October 24, 2005 at 20:08:34


Email: gmt333@comcast.net
City and State: Playa del rey, CA
Class: 1961
Message: Hey John- A car story. One night Don Condor (class of '60), and three other guys asked if I wanted to join them for a "joy ride" on a Sunday night? For weeks, they had been going onto a local used car lot behind my house on Imperial Highway west of Anza (La Cienega now), and hotwiring a car on the lot. After a few hours they would return it to the lot. (With all of the gas gone). I didn't go that night, and it was a good thing for me I didn't. About 10PM, after cruising the Wich Stand the brakes failed at the bottom of the hill and they rear ended another car. No body was hurt, but....the police had a dim view of their "test drive" story. Anyway, Don's father had to pay $750.00 in damage to the car he hit and had to buy the piece of junk they were driving. Does anyone in CT know the whereabouts of Don Condor? I lost track of him years ago. An internet search turns up nothing on him or his brother Lloyd (class of '59)
Alan
Hey Alan Great story and no, I have no info on either of them. Anyone??
---

Name: Denny () on Monday, October 24, 2005 at 19:45:19


City and State: Del Aire
Class: 1955
Message: Hey John, I was looking at the above Halloween Party picture and wondering why everyone came in costume but you. Looks like a great group and hope ya'll got lots of goodies trick or treating.
Hey Denny, I was in costume, but failed to wear my hat in the pic. We had a fun time and thanks much to Eileen Campbell for all the hors d'oeuvres and dinner. We really totally enjoyed the night, including Witch Bingo.
---

Name: Paul Mackie () on Monday, October 24, 2005 at 19:16:31


Email: pmackie@norrecreation.org
City and State: Bakersfield Ca
Class: 1963
Message: While in Chicago for the USC-Notre Dame game I had a few Cougar sightings Gordon Martin class of 59, Cheryl Smith class of 63, Liz Mackie Biggs class of 59. Wonder how many other Cougars went to that wild game. Nothing like football in South Bend. Does anyone know the whereabouts of class of 69 (I believe) grad Dennis Schram or his sister, Cindy?
Hey Paul, Thanks for the sightings. Glad you are a USC supporter, or are you.

Don't know about your inquiries, but I'll bet someone does. Thanks for the Feedback
---

Name: Sharon MacDonald () on Monday, October 24, 2005 at 18:24:04


Email: smacd63@hotmail.com
City and State: Bruceville, Texas
Maiden: Badger
Class: 1963
Message: I believe that the "Hawthorne" bicycle Ray spotted would be the house brand sold by Monkey Wards. As I recall Wards used the "Hawthorne" name on a lot of their sporting goods type stuff.
Hey Sharon, I wondered what happened to you. Thanks for the info, and yes, I don't believe it related to OUR Hawthorne.
---

Name: Schroeder () on Monday, October 24, 2005 at 18:22:40
Email: yes
City and State: Oregon
Class: 1966
Message: Try as I might -- Pat Duran is not the Princess in question, though she is indeed nobel, royal, and boss. No the lass who KFWBed the life out of my father's battery is.__________ (A Joker does not kiss and tell) I believe it was in the National Enquirer at one time. Sort of a Brittany Spears - Justin Timberlake type high profile romance. It's really not that important -- I just wanted to defend the Duran's honor.
Brittany, Justin??!! Now you're dreamin', James.

"Datenight in Oregon 2" is just about to happen. Be looking for it.
---

Name: Jim Gibson () on Monday, October 24, 2005 at 16:20:29


Email: surfsup1765@sbcglobal.net
City and State: Redding, CA
Class: 1967
Message: Jim Schroeder's post below (the princess & the dead battery) reminded me of my little escapade w/ a former homecoming queen. At 15, my oldest brother, Gary, let me use his car to pick-up this future queen & take her out on an "official" (because I had a car) date. Sometime during the evening, I was spotted by parents' friends, who promptly called them & "narced" me off. On top of that, in the Jack-In-The-Box parking lot, I left the lights on w/ the radio on. Dead battery. Big brother Gary rode to the rescue w/ battery cables in hand. Home free! Or so I thought. When I got home, my Dad greeted me w/ a beautiful right cross. - Gibby
And I'll bet you haven't touched a Homecoming Queen since.

---

Name: Paco () on Monday, October 24, 2005 at 16:04:13


Email: doo4usc@cox.net
City and State: LF
Maiden: OS6-2378
Class: 1961
Message: I think my sis Patricia was the freshmen princess in 1964..I believe she still is..
It's a small Cougar world, Jim.

---

Name: Chuck Armstrong () on Monday, October 24, 2005 at 15:58:21
City and State: Orcutt, CA
Maiden: Small World
Class: 1967
Message: While shopping today, I had my Beach Boys Historic Landmark t-shirt on, when I was approached by a man and his wife. It turned out to be David Marks? uncle, Bob Weider. Bob lived across the street from the Boys in the early days, and we shared a few stories about them and David. Bob owned the Richfield Station at the corner of Inglewood Avenue and Anza. I told him about CougarTown and invited him to come by and take it all in. He assured me he would and said that maybe he?d make a post on Feedback.
Thanks for spreading the word, Chuck...
---

Name: Keith D. Jones () on Monday, October 24, 2005 at 15:31:07
Email: cmi50@yahoo.com
City and State: Kona, HI
Class: 1976
Message: Man the exhibition ticket I can relate to. Exhibition of power is also what the cop got me for. Since I hardly ever looked in the rear view mirror I didn't realize a cop was behind me. It was a red light and i was in my red 66 Mustang 4-speed. When the light turned green I took of and spun my tires. He immediately pulled me over. I was lucky cause I got out of it but because I wasn't going fast all I did was spin my tires it is classified as Exhibition of Power not speed.

---

Name: Armand Vaquer () on Monday, October 24, 2005 at 06:34:08

Email: AMVaquer@aol.com
City and State: Tarzana, CA
Maiden: Just back from Japan.
Class: 1972
Message: For the borrowed car story thread, here's one: Cougar Mitch Geriminsky (HHS '72) borrowed his brother Les's (HHS '74) 1968 Chevy Bel Air. It was all souped up. One night in 1975, Mitch and I were driving home in it on Hawthorne Blvd. in Lawndale. We stopped at a signal near the Lawndale Pet Hospital. A guy in another souped-up car pulled alongside of us. Both drivers looked at each other and started revving up their engines. Suddenly, we get the red lights from a sheriff's car and both Mitch and the other driver were arrested for "exhibition of power" or some such. The officer told me to drive the car home. So I did. This was about 1:30 am. When I got home, I went to wake my parents up to tell them what happened. I was met with riotous laughter from both of my parents. They were both asleep and when I told them Mitch was arrested for "exhibition of power," they thought I meant that Mitch was arrested for exhibitionism. That's why they both started laughing. I ended up calling Mitch's dad and he had to go bail him out. The charge was later dropped, though. To his dying day, my Dad still laughed about that night.
That's a new one on me. I've heard of exhibition of speed, but never exhibition of power. Thanks Armand...
---

Name: Schroeder, Jim () on Sunday, October 23, 2005 at 23:22:34

Email: chezwizz@yahoo.com
City and State: Oregon
Class: 1966
Message: I was talking to the Freshman Princess on the phone and casually mentioned that I now had my driving permit. She would not be impressed until I could drive solo, as the upper classmen were beating an automotive path to her door and a pedestrian like me had no chance in the world. SHE WAS A PRINCESS for God's sake. What was I to do. Ignore Royalty? Fueled by a new chemical, testosterone, I was able to lift my father's 62 Buick LeSabre and carry it out of ear shot of the house, crank it up and drive the rest of the way to the Princess's house, toot the horn, and watch her come running giddy with excitement. I was now the King -- with a Princess. We chatted. I played the radio. She was impressed. I was suave and debonair as I puffed a purloined Parliament to show my new maturity level. After some extended making out the King had to go. Oooooops! The battery's dead! The King has to call his father. The King swiftly became a Joker, and is still on restriction. Long live the King!
Sooo that would be either the class of 63 or 64 Freshman Princess. Someone look her up and ask her if this story is actual.

Thanks Jimbo, Great story....
---