Hawthorne Time and
Temperature

Home | 60's Slang | Alumni List | Car Talk | Cougar News | Feedback | Hangouts | Memories
Recollections | Reunions | Street Scene | Teachers | Tributes | Vietnam | What's New | Keyword Search
From the early 60s >The One the ONLY....Jesse Belvin
<!-+++++++++++++++++++++++++++++++++++++++++++++++++++++++++++++++++++++++++++++++++++++++++++ +++++++++++++++++++++++++++++++++++++++++++++++++++++++++++++++++++++++++++++++++++++++++++++->

---

---
<!-+++++++++++++++++++++++++++++++++++++++++++++++++++++++++++++++++++++++++++++++++++++++++++ +++++++++++++++++++++++++++++++++++++++++++++++++++++++++++++++++++++++++++++++++++++++++++++->
Name: JOHN CROTTY () on Wednesday, April 14, 2004 at 09:04:11


E-Mail: 21077@LAPD.LACITY.ORG
City and State: HERMOSA BEACH
Class: 1969
Message: THIS IS FOR BUD. GOT YOUR E-MAIL THAT TOLD ME TO GO TO CTOWN TO SIGN UP FOR THE TOURNY, BUT I CAN'T FIND A DESIGNATED SPOT TO DO THAT. ANYWAY, I WILL STILL PLAY, AND I WILL BE BY MYSELF. ALSO, I MUST ADD THAT $110.00 ISN'T A HUGE COST WHEN YOU CONSIDER THE LOCATION, THE DAY (SATURDAY) AND THE EXCLUSIVE RUN OF THE PLACE. EXCELLENT JOB BOYS, SEE YA THERE. WHERE DO I SEND MY ENTRY FEES? AND BIG APOLOGIES TO JB FOR TAKING UP ALL THIS SPACE TO AFFIRM MY PARTICIPATION.
Hey John, Sorry about that. I was supposed to put it up yesterday afternoon. It's up there now, and thanks for reminding me.
---

Name: Pat Underwood () on Wednesday, April 14, 2004 at 08:44:53

E-Mail: onefamilyhistorian@socal.rr.com
City and State: Hawthorne, Calif.
Maiden: Lawndale High
Class: 1963
Message: Northrop Corp. I worked there for 15 years (1984 - 1999), and then I got laid off. I started out at the Production Development Center (PDC building) then moved over to the Business Operation Center (BOC) and worked for Man-Tec as a research technician. Now if you want to talk about a waste of Government money, I have some horror stories for you. LOL. Those of you that have been away from Northrop for a while, The Production Development Center on Crenshaw is now a Lowes Home Improvement Center.

---

Name: mike funk () on Wednesday, April 14, 2004 at 02:22:46
E-Mail: mrf1@cmaaccess.com
City and State: laughlin,nv
Maiden: figure it out
Class: 76 annnd then some
Message: bike week laughlin, nv. april 22,24,25, be there or be hay ah ???.

---

Name: Denny () on Wednesday, April 14, 2004 at 01:31:31


E-Mail: denny@uncledennyscorner.com
City and State: Del Aire
Class: double/nickels
Message: Great ? Cindy, I worked there 1955/56 as an aircraft assembler. Riveted together the rocket missile pods for the F89's. Fun job and it paid the big bucks $1.54/hour. Enough for about 7 Skippy hamburgers at that time. Keep them ?'s comin. Is this fun or what?
In 1955 I was making a cool 50 cents a week....allowance.

---

Name: Lori Padelford-Garcia () on Wednesday, April 14, 2004 at 00:55:17


E-Mail: Desilulu4u@aol.com
City and State: Garden Grove, CA
Maiden: Padelford
Class: 81
Message: Okay, this may be a reach for a Cougar siting but....This morning on my way to work on the 405 N I noticed a Chevy truck that had a license plate that read "1KL DAD" Could that have been Dale Halbeck? Isn't his email something like Kewl Dad? Also, where have Dizzy Lizzy and Donna Cook dissappeared to? Let us know your out there.
Might be a stretch but you never know. Also you mentioned it was morning. I don't think Dale does mornings.

---

Name: Cindy Whittaker () on Tuesday, April 13, 2004 at 23:19:39
E-Mail: cindywhittaker@comcast.net
City and State: Gig Harbor
Maiden: Whittaker
Class: 1976
Message: Mike Shay: Thanks for the condolences but I said I wanted to become gainfully UN-employed! I thought Twisted Wit was a required course at HHS... I have hundreds and hundreds of pages of feedback to prove me right! But maybe your good wishes will lead to some good luck in something else... so thank you.
Actually Cindy, much like high school you weren't paying attention.

Mike was referring to Cindy Maxsons comment.
---

Name: doris () on Tuesday, April 13, 2004 at 22:27:02
E-Mail: raydori@mindspring.com
City and State: Twin Falls, ID
Maiden: donaldson
Class: '57
Message: Yup! Worked at Nortronics, actually, for nine whole months and was laid off. Best thing that ever happened to me ... well ... ALMOST the best thing. My 19th year and what a year it was! Talk about bringing back memories. My Dad was employed by Northrop on December 7, 1941 (Pearl Harbor Day), worked there 30 years and was never laid off, so Northrop will always be a very big part of my memories of Hawthorne!
My dad worked for Northrop for 30 years too. He retired in 1969 AND also worked for the Nortronics division. Were you there when he was?
---

Name: Mike Shay () on Tuesday, April 13, 2004 at 21:43:08


E-Mail: shayshere@msn.com
City and State: Cerritos, CA
Class: 61
Message: Bud Rhodes; Many thanks to you and Wade and the others that worked so hard arranging the golf tournament, but I'm afraid this got a little too rich for Uncle Mikey!!
Sorry to hear about your job Cindy, no doubt something better is right around the corner.
Miss you all; M.S.

---

Name: Cindy Whittaker () on Tuesday, April 13, 2004 at 18:16:51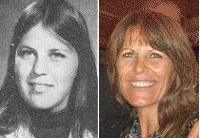 E-Mail: cindywhittaker@comcast.net
City and State: Gig Harbor WA
Maiden: Whittaker
Class: 1976
Message: Speaking of Northrop: How many Cougs are former or current employees? I worked there from 1984-94 (then moved up north). My sister worked there even longer (and got me the job) and she met her husband there (Dan Drapeau - still gainfully employed. I'd like to work on becoming gainfully unemployed but just seems like you gotta be doing something, it just doesn't roll in... sighhhh).
Good Question, I bet there're lots of you out there.
---

Name: Jessie/not a golfer () on Tuesday, April 13, 2004 at 16:30:26
E-Mail: mikejessie@yahoo.com
City and State: Los Angeles
Maiden: Corral
Class: Wanna be...
Message: I think I'll stick to miniature golf. I'll be waiting for you guys at the windmill!

---

Name: Paco () on Tuesday, April 13, 2004 at 14:44:32
E-Mail: doo4usc@cox.net
City and State: Lake Forest
Class: 1961
Message: Bud, drop my name from the list also..I'll be at "Zippers"

---

Name: Cindy Colby () on Tuesday, April 13, 2004 at 13:18:29


E-Mail: cindycolby@adelphia.net
City and State: Seal Beach, CA
Maiden: Maxson
Class: 63
Message: Wow, I really wanted to play golf in this tournament but because I just lost my job I think that the fee is way out of my range. I guess I will have to try again another time.

---

Name: Bud Rhoades () on Tuesday, April 13, 2004 at 11:37:33
E-Mail: bud.rhoades@fullmerinc.com
City and State: sunny belmont shores
Class: 74
Message: Good morning C-Town. We have finally finalized the details for our First Annual C-Town Classic. We did the best we could taking into consideration, dates, locations, and price. This has blossomed into an event that required us to basically take over a facility for an entire day, not easy to do on short notice, a big thanks to Wade Greasby for finding us a location that could accomodate such a group on short notice, we apalogize to those who want to play but can't due to any of the requirements. So here we go:
1st Annual Cougartown Classic
Saturday May 22nd,11am
Westridge Golf Course
La Habra Ca.
$110.00 Per person
Includes green fees, cart, food, prizes.
We look forward to seeing everyone there for a fantastic day of golf, fun, and reconnecting with old friends.
Thanks,Bud
Hi Bud, 110.00 sounds great for the golfers, but what about the people who don't play and just want to reconnect? Please just email me and we'll finalize everything that way, and thanks again for going above and beyond.
---

Name: Frank Romano () on Monday, April 12, 2004 at 20:56:01


E-Mail: fromano@lvcm.com
City and State: Las Vegas, NV
Class: 1961
Message: Ya talk about mucking up Free or at least inexpensive enterprise... raiding a nice spot like the Hotel Hawthorne... The Ladies were just thinking about Halloween, and forgot the part about Treat, which explains the Trick or Trick part... Its no wonder aviation did so well in those humble quarters, everyone had been flying around there for a years.... FYI, when a very popular Brothel here in Nevada was re-opened by the IRS, to collect the back taxes owed by the owner, they lost money... Go Figure! Instead of feeding the Golden Goose, they fricasseed it... O'well... JB, Keep the pictures flowing. All of CT enjoys the mutual history lesson, and the pictures speak volumes when studied. This year, we left the hard boiled eggs white, and explained they were Easter Blizzard decorations... Not sure who bought that one yet... time will tell. God Bless.
I don't know about the Mile High Club but I bet Jack N belonged to the Second Story Society. I was very bored yesterday, so I colored about 4 eggs and hid them in my neighbor's yard. OH, did I mention, I didn't hard boil them.


Thanks Frank.....
---

Name: Cal McDougal () on Monday, April 12, 2004 at 14:55:48

E-Mail: themcdougals@centurytel.net
City and State: Enterprise, Al
Class: "62
Message: Here is a little bit of Hawthorne History. This is from the text of a speech given by Mr. Denham S. Scott to the AIA on March 1, 1968 about early aviation in Southern California. Mr Scott, the 26th employee of Lockheed, worked on the Lockheed Vega, which was designed by Jack Northrop.
"...The present company bearing the Northrop name came into being in a small hotel in Hawthorne. The "hotel" was conveniently vacant and available because the police had raided it found that steady residents were a passel of money-minded gals who entertained transitory male guests."
Yes, and that Hotel was on 126th and Acacia. The Hawthorne Hotel was kind of kitty corner from the old Hawthorne Library.
---

Name: Carolyn () on Monday, April 12, 2004 at 12:27:59

E-Mail: cladd@med.umich.edu
City and State: Ann Arbor, MI
Maiden: gamradt
Class: 1962
Message: John, Your new page format is GREAT! Very slick. I love the pictures. The real estate brochure is priceless. Where do you find these things??? I remember my parents had chickens in the backyard when I was young. That probably was a big draw to young couples with families back then - a house with a nice backyard and the ability to have your own chickens, too. What more could you ask for :) I enjoyed hearing the remarks about Lockhaven. Having reaped the benefits of a Christian education up to the 8th grade at Trinity Lutheran. Your website brings back and triggers such fond memories! Happy spring C-town!! Carolyn
Hi Carolyn, This picture I probably got while rummaging through Tom Quintana's back room at City Hall a few years back. Glad you like them; I'll try to get more. Also, Wade Greasby and Kathy Lorig Stonebraker are supposed to send me some Hawthorne pictures too. If anyone has a good picture of an interesting site in Hawthorne from the 60s on back, please feel free to send it to me. Specifically, I'm looking for the Rockwell Kiddieland (Ferris Wheel), Boyce Trailer Rentals next to the Ferris Wheel, the Car Wash on Hawthorne and 115th, and any A&W pics.
---

Name: Harris () on Sunday, April 11, 2004 at 23:10:02
E-Mail: judiharris@citlink.net
City and State: Lake Havasu City, AZ
Maiden: Chernik
Class: 1972
Message: Looking for Cheryl Peterson, and any Mat Cats!

---

Name: The Donald () on Sunday, April 11, 2004 at 21:48:01

E-Mail: DT@TheTowers
City and State: New York
Message: Mr. Baker, Ah yes, there is always a catch. Without chickens will be acceptable. They tend to nest in my hair anyway. But no, it?s not Mr. Sloey. You can try and guess again but if you?re wrong... You?re Fired! D. Trump
No chickens huh, there's only one Cougar "cheep" enough to take the ranch WITHOUT the chickens......it's gotta be Jerry Miles.
---

Name: The Donald () on Sunday, April 11, 2004 at 20:35:55
E-Mail: DT@TheTowers
City and State: New York
Message: Dear Mr. Baker, I noticed your advertisement for lots of land in the Hawthorne area and I am always very interested in new real estate. In fact I have submitted my ten percent down payment ($8.50) through your PayPal system. You can expect the monthly mortgage payment of $5.00 to arrive in a timely manner. Please send me the deed to my land promptly. By the way, is that with or without the chickens?
Thank You, Mr. D. Trump
That's without chickens, see that's where they get you. The land is dirt cheap but the chickens are $75000.00 each.

I think Sloey is back online.
---

Name: Joleen Phillips () on Sunday, April 11, 2004 at 17:20:30

E-Mail: taraforever@webtv.net
City and State: El Dorado, AR 71730
Message: I spent my Freshman year at Hawthorne High in 1957 so would have graduated in 60 but moved to Palmdale. Still have fond memories. Maiden name was Civitello. Hello George wherever your are:-)
Hi Joleen, Glad you found us. Come on back and join in anytime.
---

Name: Chris Prewitt () on Sunday, April 11, 2004 at 17:05:48


E-Mail: cjprewitt@juno.com
City and State: Fullerton, ca
Class: 1967
Message: I am not an expert but isn't that a picture of Leeroy Felderruster's home?
Hey Chris, Yes, it's actually LeeRoy's Grampa's place.....
---

Name: Armand Vaquer () on Sunday, April 11, 2004 at 11:42:40

E-Mail: AMVaquer@aol.com
City and State: Tarzana, CA
Class: 1972
Message: John, you're welcome! Getting signed up with Paypal was a good idea.
On that real estate photo, the only thing missing are Ma & Pa Kettle.
Hi Armand, Yep. Hawthorne was truly HAYTOWN...
---

Name: doris () on Sunday, April 11, 2004 at 09:25:25


E-Mail: same
City and State: below30degreessodoyoureallycare????
Maiden: donaldson
Class: prehistoric
Message: GREAT new format John! Much easier to read and much better looking, too! And geez! That is a great picture of the real estate brochure! It made me laugh big-time; especially the chickens! In fact! My folks had chickens when I was a little tyke back in the 40's! Betcha' lots of other "kids" had chickens too, back in those days. A peaceful EASTER to all COUGS!
Hi Doris, Yeah, the page was getting a little long so I decided to consolidate a few things. BTW, Armand Vaquer HHS72 was the very first Cougar to utilize the new credit/debit card system for making dues payments...... Thanks Armand.
Give me a little time and I'll set up the Tshirts so they can be paid for with the same system.
I remember both my grandparents having chickens in their backyards too.... I think I'll get me a chicken.

Everyone have a Happy Easter.....
---

Name: Mo Trott () on Saturday, April 10, 2004 at 20:45:53
E-Mail: momo90250@aol.com
City and State: Hawthorne


Message: Hi All...Just wanted to let everyone know that the VFW is serving breakfast on the third Sunday of every month again...So the next one is on the 18th of April. The head chef is none other then our own Jan "Cookie" Blomsterberg. The breakfast is from 9:00 AM to 12 noon and the cost is $5.00, children ages 10 & under are $2.50. The menu for this month is...Eggs, Bacon, Sausage, Pancakes, Home Fries, Country Gravy (Jan's own recipe...the best!) & Biscuits, Toast, Juice & Coffee. The VFW is located at...4563 W. 131st Street. Come and support the Hawthorne VFW! It's fun and the food is GREAT!
Sounds great, Thanks Mo....
---

Name: FRAZ () on Saturday, April 10, 2004 at 18:57:18


E-Mail: sfraser53@hotmail.com
City and State: HB, Ca
Class: 66
Message: To Chris Hood, aka, my relative...I agree with your observation on the Prom Pro Am about the use of woods at the Raddison 3 par. But think about it, if you were that old maybe you'd need more than a seven iron to cross the 125 yard water hazard on the first hole!!

---

Name: Frank Romano () on Saturday, April 10, 2004 at 15:22:55


E-Mail: fromano@lvcm.com
City and State: Las Vegas, NV
Class: 1961
Message: JB... The pictures of the kids are great. The little guy, above, first full row, far left, is in a full brace. Must have been some class.... Please, everyone...... Have a wonderful Easter... Pray for those defending us all, and give a word for those that are in need of food, care and shelter that's safe and warm...
HAPPY EASTER EGG...
Hey Frank, "The Kids" in the picture are pushing 50.

Wish we were pushing 50. You and Maria have a Happy Easter too and if you really like Easter Hip Hop, click here
---

Name: Neil Larson () on Friday, April 9, 2004 at 22:02:40
E-Mail: rentatrip@speedeenet.com
City and State: Crestview , Florida
Class: 71'
Message: OK ... This is little easier, the faces are "BIGGER"! Bottom row Susan Fullenwider, Lori Lindberg. Second row-Mr.Andrew Sutera,(?), the Escalante Twins-Ronald&Donald,Jimmy Anderson, Danny English. Third Row- (?), (?),the three musketeers, Tom Topper, Mark Dottl, Larry (cougar)Germain, Jeff Case,(?), Mr.Eddie Schubert, (?)- Fourth row-(?), Susan Bourne,Linette Fagent, miss Dimitri Solomos,(?), Tracey Rauckman,Judy Yarnell, (?), Konnie Smith, Debbie Klingberg,Debbie Schaeffer/ I don't recall the teacher's name-
No, but I bet Petey does.....Thanks Neil...

---

Name: Neil Larson () on Friday, April 9, 2004 at 20:01:27
E-Mail: rentatrip@speedeenet.com
City and State: Crestview , Florida
Class: 71
Message: Just a bit more on Lockhaven Christian School.
Founded in 1947 by C.E."MR.MAC"McClendon
Some of the students who attended over the years are notable people!
The current L.A. Counselwoman Janice Hahn . Mickey Rooney's daughter Kelly also attended. The former dean of Pepperdine University Norvell Young was proud to send his daughters. Rickey Anderson later went on to play pro baseball with the New York Yankees!
But above all, especially during this Easter weekend season I am thankful for the foundation of Biblical core values & Christian atmosphere that was established by Mr.Mac..as he once said..."Education without GOD is an engine without a governor or we could say it is an engine in reverse!"
I too, had a good Christian base from Hawthorne Christian School. We could have all the Nativity scenes and pictures of Jesus a small classroom could hold and no secularist could say a thing about it. Thanks Neil for the update on Lockhaven and glad you got lots from that picture. Now here's another one.
---

Name: Sarah Pearson () on Friday, April 9, 2004 at 18:34:41

E-Mail: Sarahbells@socal.rr.com
City and State: West Hills, CA
Maiden: Baca
Class: 74
Message: Does anyone have any information about a 30 year reunion for our class this year? 1974 - 2004 !! I have tried to find out any information possible, but haven't heard of anything. If anyone knows something, please let me know, or post it here on the website!
Thanks! Sarah

---

Name: Kathleen Griffin () on Friday, April 9, 2004 at 16:14:37
E-Mail: ct_helpdesk@yahoo.com
City and State: San Pedro, CA
Maiden: Nix
Class: 74
Message: I was wondering if there has been any rumblings about a class of 74 reunion? Actually I've gotten email from another Alumni, Sharon Baca, asking if there was one planned. Anyone know anything? I'm on the missing list.
Hi Kathleen, The missing lists are compiled by individual class reunion people. The only ones marked "Found" are the one's that have gone to their respective missing list, on the bottom of the reunions page, and filled out the form. I don't know how you can be on the 74 missing list when Cougartown doesn't have a missing list for the class of 74. I will email you the address info you sent me to verify.
---

Name: Chris Hood () on Friday, April 9, 2004 at 11:38:34
E-Mail: i'llstainyourketchencupboardsforfree.com
City and State: Coos Bay, Oregon
Class: 71
Message: Paco, the Prom ?Pro Am? Golf Classic cast is unquestionably sports illustrated cover material, but do you think you could talk sister Kathleen into taking the camera to the gym a little more often. And hey, the woods look impressive, but all I recall is a soft seven iron and a putter on that par three nine.

---

Name: Jan () on Friday, April 9, 2004 at 09:56:00
E-Mail: Peterson
City and State: Carmichael, CA
Maiden: Freeman
Class: 67
Message: WOW, what a great week in Cougartown. Kelley reconnecting with a childhood friend. Pictures that spur memories of the past. GREAT READING! I just picked up from my Mom, boxes and boxes of pictures. My family moved to Hawthorne in 1950. I will send along any of interest of the streets of Hawthorne in yesteryear. Happy Easter to all. xo Jan
Thanks Jan, that should be fun.
---

Name: Big Kell () on Friday, April 9, 2004 at 09:51:51
E-Mail: surfbabe@charter.net
City and State: Englewood,Or
Class: 67
Message: I see Petey second row from bottom 3rd from my right...
That's her all right....
---

Name: Dan Johnson () on Thursday, April 8, 2004 at 18:34:47
E-Mail: wch1ispinkATaolDOTcom
City and State: Sherman Oaks
Class: 77
Message: Jill, careful about what you suggest. I recall a couple years back that there were some arrests in the Inland Empire for certain "hospitality" events taking place on a golf course out there.

---

Name: Neil Larson () on Thursday, April 8, 2004 at 18:13:52
E-Mail: rentatrip@speedeenet.com
City and State: Crestview , Florida
Class: 71'
Message: The teacher in the photo is Mrs. Pence. The boy at left with white shirt and 4 inch roll up cuffs is Danny English.
The boy second to left of Mrs Pence is Eddie Schubert, sporting the cool cowboy bow tie! The second boy from Right side bottom row is Andrew Sutera, squinting and smiling. Center row, center girl is Linnette Fagent. Top row boy second from right side -Mark Dottl.
Come on John give another one!
Well Neil, Let's leave this one up for a while and see if someone else has something to say about Lockhaven.

Sounds like this one hit home for you.
---