Hawthorne Time and
Temperature

Home | 60's Slang | Alumni List | Car Talk | Cougar News | Feedback | Hangouts | Memories
Recollections | Reunions | Street Scene | Teachers | Tributes | Vietnam | What's New | Keyword Search
this is for Jake and Jude...... >The Sevilles
<!-+++++++++++++++++++++++++++++++++++++++++++++++++++++++++++++++++++++++++++++++++++++++++++ +++++++++++++++++++++++++++++++++++++++++++++++++++++++++++++++++++++++++++++++++++++++++++++->

---

---
<!-+++++++++++++++++++++++++++++++++++++++++++++++++++++++++++++++++++++++++++++++++++++++++++ +++++++++++++++++++++++++++++++++++++++++++++++++++++++++++++++++++++++++++++++++++++++++++++->
Name: Keith D. Jones () on Monday, February 2, 2004 at 19:54:19
E-Mail: cmi50@yahoo.com
City and State: Honolulu, Kona HI
Class: 76

Message: Jodi what a pic of Mikey Boy and Jeff. Two of my good buddies back then. Miss the good ol' days alot of times. I get calls from Kurt Morlock regularly and we talk about the past alot. I love it. I know John, you and maybe others don't like me talking about Hawaii so much as opposed to Hawthorne. When I lived there it was great. My best times of my life were back when I was younger. Being a kid in Hawthorne was the best. But, as a grownup (I hate saying that) I really can't see a better place to live in the world than Hawaii. Living mostly on the Big Island that has about 15% of what Oahu has in population I really like it. Owning the biggest and best gym on the Big Island is nice too. Gold's Gym Kona. Starting March 1 I will be in Maui alot since I takeover the Gold's Gym in Wailuku then. So I will be going back and forth between Kona and Maui and Honolulu. Oh and those of you who love Krispy Kreme donuts, they just opened on Tuesday a Krispy Kreme on Maui right on the street as you enter and leave the airport. It was the biggest opening in history for the franchise. Wait in the drive through lane is as long as an hour with it being longer in the walk up. Anyway, John you are the best and this site is the best.
Hey Keith, didn't mean to diss Hawaii. I love it too, but this web site is about Hawthorne and all our friends there. Mele Kalakaka banana and all that Haoli crap.

I LOVE YOU MAAAANN!!!!!
---

Name: CT HELPDESK () on Monday, February 2, 2004 at 17:49:20


E-Mail: ct_helpdesk@yahoo.com
City and State: Chaos
Message: Hello folks. For the record, the Cougartown helpdesk is not sending out email to anyone that isn't in response to a previously received email message. If you receive email from the helpdesk with an attachment, delete it immediately as it is infected with a virus. The virus is not resident on any of my computer systems, someone is spoofing the ct_helpdesk@yahoo.com email address. Thanks!
Kathleen Griffin
Class of 74
They are also spoofing the cougartown.com email addresses, so much so that I'm being blocked by certain domain names. It's how some people get their kicks.
---

Name: Cheryl () on Monday, February 2, 2004 at 16:37:15
E-Mail: Fantacheyy2k@aol.com
City and State: Lawndale, Ca
Maiden: Jansson
Class: 1978
Message: Looking forward to seeing all who are able to make the Cheesecake Factory Saturday Feb. 7th. Dana you have done a great job. I hope as many attend as you are anticipating. It will be a fun time for all. See ya Soon!
Once again, if you can possibly make this one, please do so. These are very very special get-togethers.
---

Name: Bruce George () on Monday, February 2, 2004 at 15:15:11


E-Mail: Bgeorge@justyntyme.com
City and State: Irvine
Class: 1962
Message: I would like to note that I worked the 6:00 to 10:00PM shift in the Liquor dept. for Mr Bud Fox 1961 to 1964 so please add my name to the list of original HHS Food Giant alumni.
ALL RIGHT, BRUCE!! 6 to 10pm in the Liquor dept, huh....No wonder you were always late to first period.

---

Name: Howard "Paco" Duran () on Monday, February 2, 2004 at 15:10:19


E-Mail: doo4usc@cox.net
City and State: Lake Forest
Class: 61
Message: Does anyone remember when Ty "Stymie" Goodman was hit by a car in the Food Giant parking lot? No damage to the car..Glad the Rams didn't play on Sunday! If there are any Cougs living in Fla. please email me!! Funny ones Jake!!

---

Name: Jessie () on Monday, February 2, 2004 at 11:29:00
E-Mail: mikejessie@yahoo.com
City and State: City of Angeles, CA
Maiden: Corral
Class: wanna be....
Message: Hello all! What a great Super Bowl game!! Well at least starting at the 2nd half... My brother Lupe is looking for an old pal of his, Carlos Reynoso. He went to Leuzinger so Pat Underwood maybe you remember him. He had a brother Joe and Ray and a sister Dolores. If anywone knows of them, please send me an e-mail.Thanks!

---

Name: Britt Stonebraker () on Sunday, February 1, 2004 at 23:43:05
E-Mail: thatbritts@yahoo.com
City and State: San Marcos Ca
Maiden: huh?
Class: 78
Message: Got my prayer 2 Jodi. Anyone remember the motorcycle exhibition about 76? They raced speedway bikes around Halcap Field? I'm hoping to get to the get together on the 7th.

---

Name: Mike Burt () on Sunday, February 1, 2004 at 22:28:21
E-Mail: burtmichael@netscape.net
City and State: Cheyenne, WY
Class: 1976
Message: If anyone knows what became of Bill Patton (Class of 1977), please give him my email address.

---

Name: Jodi () on Sunday, February 1, 2004 at 21:52:42
E-Mail: IBJodi@aol.com
City and State: Bakersfield, Ca.
Maiden: Torgerson
Class: 75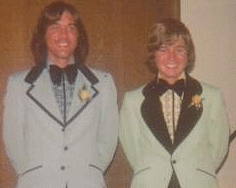 Message: Hi Friends, It's been a long time since I last read any postings from Cougartown, but today I felt like going back in time and this is the best place I could ever go to get there! Everyone has their favorite memories, some making us laugh or mad or well just questioning what planet some of our alumni have really come from. But, in all this site has been such a blessing to so many, I just wanted to say again, Thank you John. Without your hard work we would still be wondering about friend and places and well, people who made a real impact on our lives.
I have been fighting a battle for almost 3 years now. It all started with Carpal Tunnel surgery, and turned into Something called RSD- Reflex Sympathetic Distrophy. I have taken so many medications for the pain, it has now damaged my liver. I am going to Santa Barbara Wednesday to a Specialist who I hope can help me stick around a litlle longer.
Anyway, I believe the power of prayer is the best medicine there is, soooooo, if anyone out there has a extra few minutes, I could use a little help!!
Bless you John, for all you have done for ALL of us and Godspeed to all Cougars Everywhere.
Jodi 75"
You've got my prayer, Jodi. I pray that you have a speedy recovery and you're back here with us real soon.
---

Name: Jim Lambert () on Saturday, January 31, 2004 at 23:38:24
E-Mail: LambertFinancial@aol.com
City and State: Ojai, CA
Class: 62

Message:Hi John, It has been a while since I looked in on you all. I read a posting about the old Food Giant market and the "Shack in the Back". I was working at Food Giant in September of '60 when it burned down. Seems the grocery manager, I believe his name was Bob Short, tried to blame me for the fire. I had asked him for a Friday off so I could attend a close friends wedding. He refused to let me off. The store burned down a day or two before the wedding and he was sure that I had something to do with it. We were always at each others throats. We had a real shouting match at the "Shack" New Year's Eve that year. I am not sure if I quit or got fired . Makes do difference though. The union was on me about joining and paying the initiation fee. It was getting harder all the time to ditch the union steward. There was just no place to hide at the Shack. I would like to add my thanks to those of everyone else for all the work you put in on Cougartown. It's a joy to drop in now and then. I keep looking for Jerry Fox, HHS '62, to pop up, but no luck. Jim
Hey Jim, Thanks for checking in and adding your 2 cents about Food Giant. You are the third person I knew that worked there (Fred Burkett and Vince Schiavi, both HHS61, were the other two). Food Giant holds lots of memories for early HHSers. Thanks for sharing yours.
---

Name: Carole ferruccio () on Friday, January 30, 2004 at 22:06:43
E-Mail: isahighcarole@yahoo.com
City and State: lake isabella, ca
Maiden: anderson
Class: 60

Message: Just a short note. For 4 years I have been looking for a best friend from Hawthorne High. Yesterday I found her, only I was about 7 months late. I am so sad to announce the passing of Judith Poore, class of 1959 last year on Mothers Day. So if you all are looking for someone, try harder, don't give up or it might be too late when you do find them.
So sorry for your loss, Carole. Yes Cougs, if you're looking for someone, please do NOT stop trying. It means lots to them, as well as you.
---

Name: Bud () on Friday, January 30, 2004 at 16:31:05
E-Mail: bud.rhoades@fullmerinc.com
City and State: Belmont Shores
Class: 74
Message: John,thanks to you and Karen LeMaistre I was able to reconnect with a very close friend whom I lost contact with some twelve years ago.We talked today for a good 45 minutes.Thanks again,its been said so many times but what you have done here REALLY has had an impact on so many peoples lives,you are the KING!
Thanks Bud, that's what it's all about.....
---

Name: Larry Banta () on Friday, January 30, 2004 at 14:44:24
E-Mail: LBcty21@aol.com
City and State: El Segundo, CA.
Class: 78
Message: Hi Cougs.Just two quick things to throw in here.My son and I were returning from USC and took surface streets the whole way.Had a memory hit as we drove west on Imperial Hwy. around Lemoli and saw that the old Babs drive thru dairy is still there.It's obviously not Babs anymore but is a drive thru convenience sort of place.My family always stopped there on Sunday evenings after church to get milk.You just exchanged those half gallon or so glass bottles.Full service and you never exited your car.The gentleman there was like family.The other thing is my son pulled out all four El Molinos two days ago.We still haven't put them away.For all of you that can,check out the '76 seniors and tell me John Biller isn't the spittin' image of Al on Tool Time.Just younger.I remember Mrs. Biller was a playground supervisor at Sepulveda Elementary on Isis. Great lady. Adios.

---

Name: Susan King () on Friday, January 30, 2004 at 14:16:07
E-Mail: sueking18@aol.com
City and State: Thousand Oaks, CA
Maiden: Bierman
Class: 1974
Message: Pat Underwood - that's soooo weird! We WERE missing you but couldn't figure out what was up and CT was closed! Welcome back - and feel better!

---

Name: Pat Underwood () on Friday, January 30, 2004 at 13:07:03
E-Mail: onefamilyhistorian@socal.rr.com
City and State: Hawthorne, Calif
Maiden: Lawndale High
Class: 1963
Message: John; I went to the hospital early Saturday and was admitted for oxygen deprivation to the lungs. I was just released Thursday night about 4:00pm. They stuck me, prodded me, collapsed my veins for taking too much blood and did things to the human body I would call inhuman. About Tuesday night I started thinking about getting to a computer module so I could check in to a much-needed Cougartown fix, but could not get to one. After getting settled in and comfortable at home I edged my way to the screen, to check in to the latest news of good old Hawthorne. Low and behold but the site had been shut down while I was gone and nobody ever knew I was AWOL. SNIFF SNIFF!!!!! !
I tried to email you on this but for some reason my mail is being refused by you.
---

Name: Laree Blauert () on Friday, January 30, 2004 at 11:00:31

E-Mail: Laree.Blauert@ca.ngb.army.mil
City and State: Manteca, CA
Maiden: Meeks
Class: 1957
Message: John I really enjoyed the reunion in Laughlin, NV last October. It was really a nice one. I'm telling you Chauncey looks the same he did in 1957. He looks great doesn't he. I got to see some old friends I had not seen since graduation. Let's have some more. Thanks to all
Laree
Hi Laree, Glad you had a fun time. Sounds like you enjoy reunions like I do.
The Ol' Coach never changes except he's funnier now.

---

Name: Jim Horak () on Thursday, January 29, 2004 at 18:31:22
E-Mail: jim_horak@shanghaigm.com
City and State: Shanghai, China
Class: Almost 1976
Message: Just a small heads up to other CT readers. I am listed on the class member pages for CT and Jay Fernandez's class of 76 site. Over the past 4 days (along with the usual daily spam), I have gotten messages from three CTer's (Classes of 75 &76) that were flagged for viruses, and had attachments deleted by my company's IT Department.
After contacting one of the CTer's (someone I had not seen in over thirty years) we both had not sent a message to each other. So it looks like someone may have been using the CT email listings for junk.
On a happier note, congratulations on the site's success. It is a happy site to visit before the business day begins.
Best Regards
Hi Jim, Yeah lots of Junk Mail floating around this past week. Glad you reconnected....
---

Name: Pat Hydo () on Thursday, January 29, 2004 at 17:49:59
E-Mail: Keesgram1@aol.com
City and State: Lomita, California
Maiden: Lee
Class: 64
Message: Hey John, long time no type. My computer crashed on the 19th of Jan so I have been unable to get here until today. I am now up and running and hope to visit often. I was so excited to see that another Cruise Night was in the making but saddened when I saw the date. I will be unable to make this cruise night because my daughter-in-law is having her baby shower that day. I will just have to plan on making the the next get together whenever that is. Take care all!.
Hi Pat, Baby shower that DAY and Cruise that NIGHT.
---

Name: ELVIRA () on Thursday, January 29, 2004 at 15:53:02
E-Mail: SKYGI2001
City and State: LAS VEGAS,NV
Maiden: QUEZADA
Class: 88
Message: THE YEAR OF 88 IS THE BEST ONE I EVER HAD!!!!!!

---

Name: Sherry Wingo () on Thursday, January 29, 2004 at 15:22:23
E-Mail: dscwingo@pacbell.net
City and State: Haw. Ca.
Maiden: Peppers
Class: 1964
Message: Fun memory Howard. Sandy remembers Handy Man too. Jim says the Greeks aren't nearly ready for the Olympics to begin there this summer.

---

Name: Michael Aceves () on Thursday, January 29, 2004 at 15:12:09
E-Mail: imakoiboy@msn.com
City and State: Gig Harbor, WA.
Class: 1974
Message: Does anyone out there know what ever became of Margaret Benson, long shiny red hair and was in the chouris class. She was also in the class of '74 and after wards went to El Comino.

---

Name: dana salley () on Thursday, January 29, 2004 at 14:40:52
E-Mail: dana@amr4jobs.com
City and State: Simi Valley California
Maiden: Salley
Class: 78
Message: For everyone trying to email me please make note of my new email. For those of you who went to Hawthorne Intermediate and remembers Kim Clark, she is flying in from Dallas for the Cheesecake Factory on Feb 7. She knows a lot of us from middle and grade school and is excited to see old friends. Keep spreading the word. Hi CHERYL BROWN, it is going to be great to see you again!!!

---

Name: Jim Fox () on Thursday, January 29, 2004 at 14:08:30
E-Mail: puffup@pacbell.net
City and State: Haytown
Class: '66
Message: Hey John... welcome back! I hope your extended weekend was for pleasure and not business ...Jim
Thanks Jim, Yes, it was pleasure....
---

Name: Bud () on Thursday, January 29, 2004 at 12:19:14

E-Mail: bud.rhoades@fullmerinc.com
City and State: Belmont Shores
Class: 74
Message: Karen,I am looking for a very dear old friend who has worked for Northrop for years,you may even know him and his wife who also worked there for a long time.He was transfered to Virginia and I have had a tough time finding him.I was thinking he may be in your system.His name is Tom Flowers,his wifes name is Holly Flowers,they have both worked for Northrop since the late 70's.He transfered a few years ago.If you could e-mail me at my work if you track him down I would be very grateful.Thanks Bud

---

Name: Cheyrl () on Thursday, January 29, 2004 at 12:14:21
E-Mail: CHYDE1@SOCAL.RR.COM
City and State: Torrance
Maiden: Brown
Class: 1978
Message: I wanna thank Cheryl Costello and Dana Sally and especially you John for introducing me to this site. I've had to much fun in these last couple of days reading all the different messages from all. Most of you talk about Hawthorne High Days. Although I live right here in Torrance I dont visit Hawthorne as much as I should but what I missed the most was the Holly Glen area where Keith Jones was raised. If I recall correctly didnt you live right across the street from Holly Glen Park? Do you remember my brother Gene-o Brown? He used to play baseball with you on the Big League field. Now those were the days. I spend most of my time in my junior years at the baseball fields watching all the great players we had. I remember them well and had such a blast. I was there every weekend and most week nights. Any of you remember my Mom - Marge Brown. She was the greatest rooter of them all. She was known for her whistle. She always supported our teams. It didnt matter if one of us kids (Gene, Myself, Randy or Becky) was on the team or not. She rooted for us all. OH BY THE WAY BECKY - HAPPY BIRTHDAY. Also want to mention I read Juan Bustios message from June about Al Farnsworth passing away. Mark & Kevin Im so sorry to hear that. My sympathy to you both. Al was also a treasured memory of mine. While I was "going steady" with Mark he always made me feel welcome in there home. My biggest cherished memory was our 8th grade graduation. When Mark & I came home from the dance there was my first entertainment center for my graduation gift. Al helped assemble it for my mom. There was another time when me and my sister were alone at night and the power went out. We were scared to death. We called Al and he came right over and saved the day. Thank you Al for everything. Although I hadnt seen you in years you were thought of often and you'll be missed by many. And Larry Banta didnt you used to play the drums? If my memory serves me correctly you were awesome. Do you still play?

---

Name: Karen LeMaistre () on Thursday, January 29, 2004 at 11:34:21


E-Mail: KLeMaistre@aol.com
City and State: El Segundo, CA
Maiden: Masters
Class: 1972
Message: Ray...I work for Northrop...now Northrop Grumman. Yes...The dummy was a security saving measure. Makes you wonder who's the dummy...huh????

---

Name: Raymond Smith () on Thursday, January 29, 2004 at 02:22:21


E-Mail: Kawabunganorth@juno.com
City and State: Portland, OR
Class: 1981
Message: I have been thinking about Hawthorne Airport and one mystery came into my mind. On the East end of the airport across the street of Crenshaw, there is a parking lot for Northrup employees. Will someone please tell my why for the longest time....there was a dummy in the uplifted guard tower? As I can possibly remember correctly, it swivel too. At one time it even lost it hat. Was that Northrup's way of saving security budget?

---

Name: Jim Peppers () on Thursday, January 29, 2004 at 01:06:13


E-Mail: JimPeppers@yahoo.com
City and State: Athens,Greece
Class: 61
Message: Howard, I'll never be able to forgive you. Because of you, I have never been able to watch a "Western Movie" without bursting into tears and wringing my hands. Of course I burst into tears and wring my hands if the weather is bad, too. Thanks a lot! I'm going to send you a $100,000 psychiatric bill. Jim Peppers

---

Name: Paco () on Friday, January 23, 2004 at 17:17:40
E-Mail: doo4usc@cox.net
City and State: LF
Maiden: OS6-2378
Class: 61
Message: Sorry Sandy and the rest of the Peppers, but, as if you didn't know, I would call little Sandy and play the beginning of "Western Movies" then hang up...I didn't know that I was such an influence on my little sis'. Sorry again, I feel much better now!! That was 45 years ago...

---

Name: Frank Romano () on Friday, January 23, 2004 at 17:16:56
E-Mail: fromano@lvcm.com
City and State: Las Vegas NV
Class: 1961
Message: Thank you Barbara for the confirmation on Tony Carson. His Mom's name is Ann. His Dad Lee, was one of my dearest friends. In fact, he was my best man in 1966, and we remained close for decades until he passed away. Lee served with the Marine Corp, WWII and survived the fight at Iwo Jima. Ann, was a real wonderful woman. She was a professional singer before she and Lee married. Just the best people....

---

Name: Jessie () on Friday, January 23, 2004 at 16:39:55
E-Mail: yes, I've got the same one
City and State: Los Angeles, CA
Maiden: Corral
Class: the wanna be...
Message: Well as I am sure everyone knows by now Captain Kangaroo has passed. How sad. I remember watching him along with Romper Room, Engineer Bill, Sheriff John, and Chuckles the Birthday Clown...all in black and white. I am sure that he and Mr. Rogers and entertaining the children up in heaven just as they did down here on earth.

---

Name: Mike Burt () on Friday, January 23, 2004 at 13:49:23
E-Mail: burtmichael@netscape.net
City and State: Cheyenne, WY
Class: 1976
Message: OK. I have an armed robbery story from the summer of 1976. I was working on a Sunday summer's night at the old Pup 'N' Taco on El Segundo Blvd. just south of Hawthorne Blvd. with a fellow X-country runner, David Maisonueve (I know I spelt that rong!) and one other employee. It was near closing time and we got a knock at the back door. David, being a congenial and accomodating person, opened the door and a scruffy looking guy with a club burst into the door and demanded money. I guess anyone who robs for a living can't be that bright, because after we gave him $50 from the till, Dave had the presence of mind to point out to him the floor safe in the manager's office in the back room next to the door. The guy went in first, and Dave slammed the door on him. The guy beat mercilessly on the flimsy hollow-core door with his club, but Dave held on while I phoned the Hawthorne police just a few blocks away. About ten burly cops showed up, and they all had their service pistols pointed at the door when they let the guy out. He fought like a wildcat which made the cops pretty happy, I think, because it gave them an excuse to holster their weapons and stomp all over him. Afterwards, I poured a Coke for one of the cops and he expressed this rather crude sentiment: "That was better than a piece of a**!" Maybe. We testified at his trial later on and his public defender had him completely cleaned up and shaved so we could hardly recognize him. I wish I could remember the name of the other guy we were working with that night.
Gotta love those Hawthorne cops. They do get their jollys in strange places.

---