Hawthorne Time and
Temperature

Home | 60's Slang | Alumni List | Car Talk | Cougar News | Feedback | Hangouts | Memories
Recollections | Reunions | Street Scene | Teachers | Tributes | Vietnam | What's New | Keyword Search
this is for Jake and Jude...... >The Sevilles
<!-+++++++++++++++++++++++++++++++++++++++++++++++++++++++++++++++++++++++++++++++++++++++++++ +++++++++++++++++++++++++++++++++++++++++++++++++++++++++++++++++++++++++++++++++++++++++++++->

---

---
<!-+++++++++++++++++++++++++++++++++++++++++++++++++++++++++++++++++++++++++++++++++++++++++++ +++++++++++++++++++++++++++++++++++++++++++++++++++++++++++++++++++++++++++++++++++++++++++++->
Name: Jill McFarlane () on Wednesday, January 21, 2004 at 11:27:25
E-Mail: jillmcfar@aol.com
City and State: Mission Viejo, CA
Class: 1977
Message: Ok, now it's my turn to jump on the congratulary 600th page bandwagon! This site has truly been part of my everyday life for 4 years now. This site has carried us through good times and devasting times. JB, I appreciate all that you have done in reuniting old friends, and developing new friendships as well. I appreciate everyone out there who have contributed their Hawthorne stories, shared their personal triumphs and tragedies. Cougartown is the best website out there! JB, you are gentleman and a scrawler! Everyone have a great day!
"gentleman and a scrawler"....I like it!!


Thank you Jill, I would never have dreamt that so many people from so many different years would come together and reminisce about the good old days, whenever that was for them. Glad you're all having fun cause it will continue.
---

Name: Bud () on Wednesday, January 21, 2004 at 10:43:37
E-Mail: bud.rhoades@fullmerinc.com
City and State: Seal Beach,Ca
Class: 74
Message: Arts market was the first place I ever had tortilla chips. All of us 142nd st kids would stop there on our way home from the HHS pool during the summer and get a big bag of chips for nickel and a coke. I remember a big white bag filled with hot greasy salty chips that had a zigzag edge, probably the scissors he used to cut them with, this I believe was the summer of 66. Have a good day cougs.

---

Name: Sharon Branigan () on Wednesday, January 21, 2004 at 10:35:49
E-Mail: srbranigan.srb@verizon.net
City and State: Thousand Oaks, CA
Maiden: Bierman
Class: 76
Message: Raymond's story reminds me of being tied up and robbed at Blue Bird liquor on Aviation and, 119th? one wonderful morning on my way to work near LAX. Long story (that Gloria managed to improve upon) suffice to say I am lucky and grateful to be here. Thank you John for this wonderful party you've hosted for the last five years. It's been a blast. Getting to know you has been one of the best things in our lives! We love you, man!!!!
Hi Sharon, but has it only been 5 years? I was thinking more like 7. Anyway, thank you for being out there, adding to the fun, and taking over the Tshirt mailing for Ctown. You've done a great job so I've decided to double your salary.....heck, I'll triple it.


Hope to see all the Biermans on Cruise Night.
---

Name: Raymond Smith () on Wednesday, January 21, 2004 at 06:17:50
E-Mail: Kawabunganorth@juno.com
City and State: Portland, OR
Maiden: Today the sun is shinning
Class: 1981
Message: Someone, or a few had mention Taco Bell and hold up's. I happen to fit in that catagory. I spent almost 2 yrs working at Taco Bell (free food for employees, can't beat that for this teenager stomach)right across the street from HHS. I have seen many a faces of HHS students comeing in to eat there. Sometimes I give EXTRA cheese upon requests to some of my buddies or throw in a free taco. I was working there when the business transformed from "Outdoor" to "Indoor" eating place and I painted the inside of the dinning area. Although I loved the inside being warmer(in winter time) and cooler(in summertime) I sorely missed that big ol' firepit they had outside and turn on at night. I would sit outside and eat as a youngster and feel the warmth of the heat from the fire. As a 17 yrs old worker I was a crew leader in the late shift(5pm to 1 am) in charge of 2 people. I was training a new gal on the cash register that night. I had just taught her the art of keeping only 50 dollars in the register and dropped $150 in the safe/slot just moments before two guys came inside(this was like Sept of 1980). I thought of them suspicious as they weren't looking at the menu board but just looking side to side of any other people. They came up and put out .45 handgun at us and demanded the cash. They told us to open up the register and turn around. (I sorely didn't like be turnned around!). After they left I called Hawthorne Police Dept(before they had 911!) through our payphone(yes...we had a payphone inside in the back room...so much for tying up the company phone since it was in a locked office). Now what I don't figue(which I found out later)is why they Hawthorne Police Dept, being only what, 1 mile away?? told us we had to contact Lennox Sheriff office which is what? 6 miles away? Anyway, the sheriff came and took down the report and told us a Pupntaco was also robbed moments earlier. Taco Bell happens to sit on L.A. County map so it is not part of Hawthorne, indirectly. Now after all these years, will someone please tell me why parts of Hawthorne, and small parts that is, is L.A county line? Makes no sense. Anyway, I am alive and well but my days working there ended a few months later.

---

Name: Pat Underwood () on Wednesday, January 21, 2004 at 01:37:39
E-Mail: onefamilyhistorian@socal.rr.com
City and State: Hawthorne, Calif
Maiden: Lawndale High
Class: 1963
Message: Hey Steve now you're talking good food at Art?s Market. My first wife (Cheryl Cordy HHS 66) and I used to eat there at least 50 times a week. Man their double cheeseburgers were dripping off the elbows greasy and I can still remember how good they were. Chase that puppy with an order of fries or onion rings and a swig of ice cold Coors and I?m in heaven. Thanks buddy.

---

Name: mike colbern () on Wednesday, January 21, 2004 at 01:37:32
E-Mail: mcolbern@cox.net
City and State: phoenix,az
Class: 73
Message: john, based upon what your batting avg. would be i don't have exact numbers only approximates.you would be batting over .400. and if you equated that w/ baseballs astronomical salaries and you were a free agent you swhould receive 72.6 million over a 3year contract(I had to include age in the factor). in other words 24.20 million per year not including buyout options or incentives.how would you like your compensation.(in U.S.Dollars or number of visits to cougartown)p.ss.if you choose u.s . doll ars we will have to prrate it over the next 70 years or upon your demise. or if cougartown disallowed the monetary portion.by the way i'm the commissiner that decides if I approve the contract. but ememer what selig did w/ a-rods contract

---

Name: Cindy Colby () on Wednesday, January 21, 2004 at 00:09:50


E-Mail: cindycolby@att.net
City and State: Laguna Hills, CA
Maiden: Maxson
Class: 63
Message: Hey John, 600 pages, dittos, what they all said, mine would be just a repeat of all of the kudos to you for all the fun I have had since my son told me about Cougartown. You are the KING.
Ahhh dittos back at ya', Cindy....
---

Name: Jim Sloey () on Tuesday, January 20, 2004 at 23:42:44

E-Mail: hartje@email.msn.com
City and State: redondo beach, ca
Message: A Happy Birthday to my very good friend after all these years [did you ever think we'd get out of Harrisburg alive?] Danny Litton class of 1968. Sorry I didn't post this earlier Danny but it's still the 20th here. Happy Birthday buddy! And if you tranferred the 600 pages to 8 1/2 x 11 it would be in the neighborhood of 7800 pages. Congrats John on the 600, remember we were all surprised when it hit 50!
Thanks Jimmy boy and Happy Birthday Danny...
---

Name: Janet () on Tuesday, January 20, 2004 at 23:13:09
E-Mail: jmburkett@sti.net
City and State: Ca
Maiden: Humphreys
Class: 62

Message: Glad to hear I am not totally losing my memory about Food Giant and the side opening or alley. I spent many a day there either shopping, or waiting with Fred for his next paycheck! He really loved working there. The Food Giant bakery was my grandfather's favorite place in the city I think. He had an absolute passion for their cream puffs....made with REAL whipped cream.
Happy 600 John!
JB2
Thank you dear.....
---

Name: Gloria Valencia () on Tuesday, January 20, 2004 at 23:05:37


E-Mail: Foolhouse@aol.com
City and State: Las Vegas, NV
Maiden: Valencia
Class: 76
Message: WOW!!! 600 Pages!!! That's fantastic. Thought I would check out the site and there was the big 6 0 0! Wonderful, John Baker! You really had a swell idea and it's touched many lives, including mine. Congratulations! : )
Ahh thank you, Gloria, hope lifes treating you fair and please check in once in a while to let us all know how it's going.
---

Name: Sharon MacDonald () on Tuesday, January 20, 2004 at 22:01:21


E-Mail: smac63@hotmail.com
City and State: Sullivan, Illinois
Maiden: Badger
Class: 1963
Message: WOW! 600 pages of memories and fun. John, you've started something great. Thanks!
Thank YOU, Sharon....
---

Name: Michelle () on Tuesday, January 20, 2004 at 21:56:37
E-Mail: havnfun2@sbcglobal.net
City and State: Palmdale, Ca
Maiden: Whittaker
Class: 1978
Message: Hey Brian Bourguignon! As soon as I saw your email I called Keith Rich and told him he HAS to go to Cheesecake Factory with the rest of us! He's going to try and get the day off, maybe ride his harley down. Lori (Salazar) is also going and I'm working on others. Great idea Dana! Soooo John Baker...are you going???
Hi Michelle, I would love to but have a date with Janet for that, her birthday, weekend. You all have a great time and send some pictures.
---

Name: Susan King () on Tuesday, January 20, 2004 at 20:30:39
E-Mail: sueking18@aol.com
City and State: Thousand Oaks, CA
Maiden: Bierman
Class: 1974

Message: Six Hundred Pages! Damn. I remember when you were just a little tyke at 13 pages.....And it was a huge deal with a Cruise Night to celebrate 100 pages. Chris Prewitt came with all of them printed out and it was thicker than a Sears catalog as I recall! I haven't missed one word and have loved it all. I know folks are warned to just skip the parts that don't appeal or apply to them but I've found that EVERYTHING gives shape to the memory of what Hawthorne was to all of us, and still is to the many faithful who remained to raise their families there. And John, you CAN'T be having more fun than we are. We owe you another lunch.
Love you bunches.
Hi Sue, Cougartowners come and Cougartowners go, but the Bierman clan refuses to leave the party.


Yep, I think you guys were around almost from the beginning and have not wavered in your loyalty to Ctown or your Hawthorne upbringing. Thanks for being out there and for being my friend.
I LOVE YOU GUYS MAAAANN!!! Now, about that lunch you owe me......
---

Name: EL ROJO () on Tuesday, January 20, 2004 at 19:58:06
E-Mail: I-DY-HO
City and State: YOU KNOW
Maiden: ALWAYSA60'SCOUGAR
Class: THE BIG 6OH
Message: Johnny Baker, thanks for playing our song on this milestone of page's. You've brought a lot of happiness to alot of live's. Hear, Hear to the Kingy Guy!! We love ya man! MAY THE COUGAR BE WITH YOU ALL. ALWAY'S. Jake N Jude.
MAN!! Everyone is sure being nice.

---

Name: Brian H. Bourguignon () on Tuesday, January 20, 2004 at 17:19:12


E-Mail: brianhall1@cox.net
City and State: Oceanside CA
Class: 77
Message: I would also like to add my congratulations to Dan. Dana was my last name to long? Looking forward to a big turn out at the cheesecake.

---

Name: Steve Fraser () on Tuesday, January 20, 2004 at 16:32:48


E-Mail: sfraser53.hotmail.com
City and State: Huntington Beach
Maiden: Fraz
Class: 66
Message: Unfortunately my cousin Robin is tired of hearing about tacos. But who remembers Art's Market at 131st and Inglewood. Buy a beer inside, get some good food and sit on the rickety benchs outside. And one for the oldsters! After Food Giant burned down in '61 the company put up an aluminum shed in the rear parking lot until the original store was rebuilt. Back to burritos..for those still living in C-Town, or passing through, try the "Zorba Burrito" at Piggies (Ramona/Rosecrans) Pastrami, Chili, Cheese, Onions, and all the hot sauce you can handle. Sounds weird but it's great. John...Feb 7 @ Fosters?
Hey Steve, No, Cruise Night is February 21st.
---

Name: Alan Nelson () on Tuesday, January 20, 2004 at 16:24:23


E-Mail: boatcop@boatcop.com
City and State: Parker, Az
Class: '73
Message: Feb. 7th at the Cheesecake Factory? That might be do-able. I'll be in Torrance for a Morningside friend's surprise 50th Birthday Party. What time is the shin-dig?
OK, who knows the time at the Cheesecake Factory?
---

Name: Debra Lee () on Tuesday, January 20, 2004 at 10:51:24


E-Mail: DebratMcG@aol.com
City and State: Lancaster, CA
Maiden: Lee
Class: 72
Message: Gotta make page 600 and gotta make the next cruise night. Happy belated birthday to Noreen Crotty. Wanted to do that all last week, but she had a big surprise party Saturday night and I couldn't spoil that. Lotsa Cougar sightings at her party. Lynne St. George, Gayle Stromberg, Sharon and Sheila Ritch, Noreen's brothers and sisters - ya all looked great. John, thanks again for this web site - you have created a wonderful place for memories and reuniting. Have a great week Cougs ...
Thanks Debra.....
---

Name: doris () on Tuesday, January 20, 2004 at 08:43:47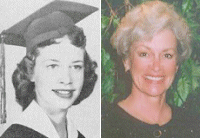 E-Mail: same as always
City and State: VERY COLD Twin Falls, Idaho
Maiden: donaldson
Class: '57
Message: WOW JOHN! Congratulations on page 600. That is so cool! Thank you, thank you, thank you seems so little for all you've done for so many of us Cougars. Not only do I love to read everyone's recollections of the Hawthorne and HHS of old, but I have made so many wonderful friends through this marvelous website. YOU DA MAN! GO COUGARTOWN!!!
So have I, Doris.... Thanks for being out there.....
---

Name: Tom Burroughs () on Tuesday, January 20, 2004 at 08:08:21
E-Mail: ARizTom@webtv.net
City and State: Prescott AZ
Class: 1958


Message: 600 pages! Now thats a labor of love! Thanks John from all of us. Chuck Balsinger had the muffler shop at Del Bradfords Chevron, but was on the east side of Ing. Ave just south of the tracks before that. Around 1955 or '56. He had the first Go Karts I ever saw. He also had a brand new 56 Nomad that I was in love with. Only took me 40 years to finally get one. David Jensen, I seem to remember him doing some pin striping on a few cars back then. A very artistic guy. Talented, those 1958 Cougars!
Marilyn, Cruise Night from Prescott is like going to the store. I have the best traveling partner in the world & only do half the driving or less!! See you all at Cruise Night. You too, Doris!! TB from AZ
Thanks Tom, see you then....
---

Name: Pat Underwood () on Tuesday, January 20, 2004 at 01:11:04
E-Mail: onefamilyhistorian@socal.rr.com
City and State: Hawthorne, Calif
Maiden: Lawndale High
Class: 1963
Message: Congratulations John on 600 pages of pure memory awakening, adrenalin pumping, gut wrenching fun from our youth. You created one ?BITCHIN? site dude. Hope to see you at the beach this summer then back next year for our Senior Year. Surfs up dude. Wait - didn?t I do this before, like a long long time ago? I looked in the mirror this morning and I sure look different, like I missed out on about forty years of my adult life. LOL. Love the site John, it?s been a blast.
Thanks Pat....
---

Name: Lyle Tucker () on Monday, January 19, 2004 at 23:29:35
E-Mail: LyleTucker@zianet.com
City and State: Roswell, NM
Class: 77
Message: This one goes under the Small World category. As a mailman, I was talking to one of my customers the other week about our crazy Roswell weather (which changes every 5 minutes), and I mentioned that I had grown up spoiled, having lived in Southern California. He said, "What part?" I said,"Hawthorne." He said, "I went to high school there for 2 years!" His name is Cone Wilson and he's a few years younger than I, so I didn't know him, but I couldn't believe that one of my customers in Roswell actually went to HHS at roughly the same time I did - incredible. The damn Disney "It's A Small World After All" refrain played in my head all day that day.
Yet ANOTHER Cougar siting. Thanks Lyle and I hope you told him about Cougartown.
---

Name: Jan Peterson () on Monday, January 19, 2004 at 23:19:51


E-Mail: jpeterson50@aol.com
City and State: Carmichael, CA
Maiden: Freeman
Class: 1967
Message: WOW...600 pages of memories. That is so special. I have loved being a part of all of this and being a part of rekindled friendships. Thank you John for making us all so proud that we are from Hawthorne, California. This website is better than Ginko for the memory. I raise my glass to 600 more. xo Jan
Ahh thank you Jan and, believe it or not, I enjoy it more than anyone. Here's to at least 600 more pages.
---

Name: Lyle Tucker () on Monday, January 19, 2004 at 23:14:27
E-Mail: LyleTucker@zianet.com
City and State: Roswell, NM
Class: 77
Name: Jan Peterson () on Monday, January 19, 2004 at 23:19:51
E-Mail: jpeterson50@aol.com
City and State: Carmichael, CA
Maiden: Freeman
Class: 1967


Message: Just wanted to add my congratulations to Dan Johnson and wife for their new addition! There's always room for one more Johnson, isn't there?

Also, as always, congrats to John for doing such a good job - I appreciate the street pics more than I can tell ya, buddy! I'm re-living all the times I used to ride my bike down that alley to those stores. It made me recall the time I was riding home with a coke bottle in my hand, after Calvin Briscoe and I had finished riding up and down the elevator at the Lavin Insurance building a few times for fun, and I wiped out on my bike. I held onto the coke bottle for dear life (terrified I was gonna spill some precious coke, I'm sure) and I'll be damned if the bottle didn't break and shove a huge ol' sliver of glass right into the meat of my palm. I'd never quite had an accident of that proportion before, and the blood was gushing out like crazy. We actually wrapped Calvin's shirt around my hand and I peddled home like I'd never peddled before. Hah - still sends shivers down my spine to think of it! Anyways, this site always gets the memories flowing, doesn't it, and that's the beauty of it.
Job well done, John!
Hey Folks, this guy has been around since almost DAY 1 in Cougartown. Lyle and I have talked for years and although, like lots of other Ctowners, I've never met him face to face, I feel we're good buds from way back.
Thanks Lyle for being my friend AND adding to the mix.
---

Name: Dan Johnson () on Monday, January 19, 2004 at 23:05:37
E-Mail: wch1ispink@aol.com
City and State: Sherman Oaks
Message: I'll try to make 2/7 but with a newborn and a Which One's Pink? show that night, it could be tough sledding! If I don't make it, tell Bevan I said "hi" and "go Stucker"
GUARANTEED!! He won't be there.

---

Name: Betty Rodriguez () on Monday, January 19, 2004 at 22:57:52
E-Mail: tombetty@pe.net
City and State: Lake Elsinore, CA
Maiden: Kean
Class: 69
Message: Does anyone know how many years Lloyd Dennee's Furniture Store had their "Going Out of Business Sale"? And remember Leonards - next to Anita's? The owner used to send me home with clothes and my mom would call him on the phone and say, "charge it!" Loved those hooded sweaters. . . . All those old clothing stores in Inglewood are coming back to me. . . .
Pieboy, you out there? Betty
Hi Betty, Lloyd Dennees is STILL in business. They have at least 2 stores, One in Redondo Beach and one up around Solvang.
---

Name: Jim Fox () on Monday, January 19, 2004 at 21:57:58


E-Mail: puffup@pacbell.net
City and State: Hawthorne
Class: '66
Message: I rolled by Fosters this afternoon and it looked freshly sand-blasted, presumably getting ready for a fresh coat of paint. Looks like it will have a pretty new face on for 2/21. See you there.
Hey Jim, Long time no hear from. Yes, Fosters is upgrading. It will be done next week and all broken in by Cruise Night. How about YOU showing for once?

---

Name: Dana Salley () on Monday, January 19, 2004 at 21:25:14
E-Mail: dana501@msn.com
City and State: Simi Valley CA
Maiden: Salley
Class: 78
Message: For those interested in Feb 7 at Cheesecake Factory Redondo Beach; I have responses from Bevan Feist, Mike Castro, Lori Kulseth, Carol Kulseth, Brian Hall, Joe Mailander, Cheryl Jansson, working on getting a hold of Scott Burlingame and his wife. We all remember him and his band at all the backyard parties.
Here you go, 70's Cougs, a chance to rekindle with friends. Do NOT pass this up. These are very special engagements.
---

Name: Elizabeth Estrada () on Monday, January 19, 2004 at 21:03:20
E-Mail: dzlizzy31@hotmail
City and State: Redondo Beach,CA
Class: 69

Message: Wow! 600 Pages of Feedback? From cheesecake to romances, from race cars to low-riders and from The Platters to Pink. We've covered some territory here. Congratulations John. You've made a huge difference is many lives with your dedication, hard work and patience. May the next 600 pages be just as entertaining and bring all the rest of the missing Cougars together. It's been a great ride for me and has given me back a sense of community I didn't realize was missing until I came here. You have my most sincere appreciation. Long Live The King of Cougartown! And, in respect to the missing Queen......"I'm off like a prom dress" Dizzy Lizzy
Thanks Diz for being here and may the next 600 be just as much fun.
---

Name: Frank Romano () on Monday, January 19, 2004 at 20:56:15
E-Mail: fromano@lvcm.com
City and State: Las Vegas, NV
Class: 1961


Message: Hello JB, and all those that visit CT. John, its been a fun filled six plus years since you sent the first e-mails out about CT. When I think about the days in Tucson waiting for my release from the after transplant program... what a time. For years, I told Maria that if she was to die, that I was gonna stuff her, and keep the party going. Well, she did to me, what I was gonna do to her. About Thrifty entrance... Remember only a front and rear door to both Thrifty and Food Giant... Don't recall any connection between them... I recall the front door being the location for the ice cream station... Seems to me that they used those square scoops... Las Vegas has some wonderful places for dinner, lunch and all that... But we do not have a real hot dip PASTRAMI. Not even at the best beef sandwich stand in the city... JB... Thanks again as always for the great READ.
Hey Frank, Thanks for sticking around for all these past years. It has been a GAS!!!
---