Hawthorne Time and
Temperature

Home | 60's Slang | Alumni List | Car Talk | Cougar News | Feedback | Hangouts | Memories
Recollections | Reunions | Street Scene | Teachers | Tributes | Vietnam | What's New | Keyword Search
Fun song from the early 60's The Marathons
<!-+++++++++++++++++++++++++++++++++++++++++++++++++++++++++++++++++++++++++++++++++++++++++++ +++++++++++++++++++++++++++++++++++++++++++++++++++++++++++++++++++++++++++++++++++++++++++++->

---

---
<!-+++++++++++++++++++++++++++++++++++++++++++++++++++++++++++++++++++++++++++++++++++++++++++ +++++++++++++++++++++++++++++++++++++++++++++++++++++++++++++++++++++++++++++++++++++++++++++->
Name: Bob Jensen () on Friday, September 12, 2003 at 10:02:21
E-Mail: robertjensen at satco-inc.com
City and State: LA
Class: 71
Message: For any of you who lived near Ramona School do you recall the BLACK Spanish house with the RED tile roof located on 135th Street about 2 houses east of Ramona on the north side of the street? There was a Turquoise 1949 Packard Woody Wagon in the driveway. If you do can you tell me what semi celebrated person lived there? Paco says the house was haunted!

---

Name: Sharon MacDonald () on Friday, September 12, 2003 at 08:38:31
E-Mail: smacd63@hotmail.com
City and State: Sullivan, Illinois
Maiden: Badger
Class: 1963
Message: Another of the Sun Records legends has left us. Johnny Cash, who had hits in 6 decades of American music is gone.
As for worst songs, who can forget "Muskrat Love"?
Hope he walked the line and didn't fall into that burnin......well, you know.
So Long Johnny, we'll miss you
---

Name: Armand Vaquer () on Thursday, September 11, 2003 at 23:42:14
E-Mail: AMVaquer@aol.com
City and State: Tarzana, CA
Class: 1972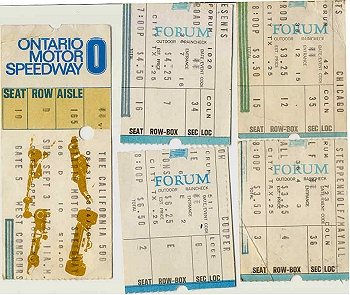 Message: Old bands! Great topic! I attended a dance in the girl's gym featuring The Seeds in 1966 (even though I was still attending Dana Intermediate at the time).
The best show that I recall was Alice Cooper's "Billion Dollar Babies" concert at The Forum in 1973. Flo & Eddie was the opening act. The worst, by far, was Van Morrison's concert at the Anaheim Convention Center in 1975. The guy completely acted like he didn't want to be there and took a snooze atop a grand piano. I managed to save some of my old concert ticket stubs.
Thanks Armand and check out the prices.
---

Name: nick pappagiorgio () on Thursday, September 11, 2003 at 21:54:53
E-Mail: n_pappagiorgio_44@yahoo.com
City and State: LV NV
Maiden: rusty
Message: I'm right with you on "Starland Vocal Band" but what about "Captain & Teneille"? Worst songs... "Ooga, chugga, ooga, chugga" or "I don't like spiders or snakes...." or "I've got a brand new pair of roller skates..." And these were "Hits"! (inhale...cough, cough)

---

Name: Don (crow) Burns () on Thursday, September 11, 2003 at 20:43:20
E-Mail: burnslock@yahoo.com
City and State: Downey, Ca.
Class: 57
Message: Hey Cougs, Memory is coming back slowly, but the name of the place acually was The Chicken House, not Eggtown, if I remember right, wasn't Eggtown on Yukon just So. of El Segundo? They had coin operated machines for eggs. Later Don
Eggtown was about 141st and Hawthorne BL......wasn't it? Mike Shay would know.
---

Name: Don (crow) Burns () on Thursday, September 11, 2003 at 20:04:39
E-Mail: burnslock@yahoo.com
City and State: Downey, Ca.
Class: 57
Message: Hey Cougs, FYI, Eggtown was on the S.W. corner of 133rd & Haw. blvd.(where the Goodyear store was built later on) The guy behind the counter at times was Pappy, Dave Hill's dad, they lived right behind there facing 133rd, across the St.from Frosties. More later Don
Ahhhh FINALLY Hawthorne Talk.....
---

Name: Anita Young () on Thursday, September 11, 2003 at 19:17:36
E-Mail: youngun39@yahoo.com
City and State: Hillsboro, OR
Maiden: Aceves
Class: 1978
Message: Dan, that's a good one for WORST song but I have one that I think is JUST as bad (if not worse)...."Yummy,Yummy,Yummy I Got Love In My Tummy". Who the heck made that stupid song, anyway? It's so BAD, I can't EVEN remember! You've gotta admit, that is PRETTY LAME as songs go! I would of loved to of seen John Kay of Steppenwolf! That bad is still KILLER to listen to. I also loved Eric Burden and the Animals and was lucky enough to see Eric at an annual gig up here in Beaverton Oregon that used to be called "The Taste of Beaverton" ( lots of restaurants , art and music and stuff) in the early 90's. He still sounded so EXCELLENT and not only did old Animals songs, but the stuff he did with War, too. Got to meet him, was just sorry I didn't have any of my old albums for him to sign or something. I went to go see him right after work on a Friday night. Where I worked then was right next to the park they throw that fest in every year. So it was so cool to just get off work, go across the street, grab dinner and a few brews and go listen to Eric and re-live some good ol' Hawthorne time! Some old bands just never die, ya know!

---

Name: Larry Biller () on Thursday, September 11, 2003 at 16:10:17
E-Mail: lbiller49@yahoo.com
City and State: Portland,Justovercast
Maiden: Stillnone
Class: 1967
Message: Yeah Dan,Just kidding about the Seeds. I meant Pink Floyd. I did see Sky and the Seeds in 68 at Pandora's Box on Sunset.How's that for memory? Also I will be having a cougar sighting tomorrow as I am being visited by my long time friend and ex-band mate Ken Roberts(HHS 69) who will be doing the sound for an Eagle's cover band on Saturday up here in the Pac.N.W.

---

Name: Paco () on Thursday, September 11, 2003 at 14:15:40
E-Mail: doo4usc@cox.net
City and State: LF
Class: 1961
Message: I remember Eggtown although I had forgotten the name, it was a fun place to go to. If I remember it was on the corner open on the front and side. I remember my mom looking into the display case at chickens and right next to chickens were the army surplus stuff, back packs and canteens...Nice memories..

---

Name: Dan Johnson () on Thursday, September 11, 2003 at 13:56:24
E-Mail: wch1ispink@aol.com
City and State: Fer Sure Man, Oaks
Class: 77
Message: The Seeds? A very "credible" LA garage band considered by many the fathers of LA punk. Sky Saxon still plays around town -- mostly near Mailander. As for the worst song in history, I vote for "Alone Again Naturally" which literally makes me want to vomit every time I hear it -- geez, dude, no WONDER she left you, you whiney, snively, spineless jerk off. I've got this CD set from Time/Life called "AM Gold" featuring Top 40 (KHJ) hits from 1970 through 1975 (I couldn't bear to get '76 on because of the onslaught of disco). The tunes are priceless. Nerdy, but priceless. As for John Kay, I saw him in Tahoe in the mid-80s with the "Briefcase Blues Band" -- a Blues Brothers tribute. My friend was so hammered he decided to stand on his chair yelling "get your motor running" Now, John was none too pleased about this development but still launched into a rip roaring version of Born to be Wild -- suit, tie, hat and all. Speaking of 70s/80s musical icons -- on 10/4 @ Verizon in Irvine Arrowfest will have Yes, Cheap Trick, Eddie Money, Journey and Foreigner and a two tribute bands who, out of respect for JB (who, by the way, will soon be the recipient of my dues -- better late than never), shall go nameless. Everyone -- pay up!
Thank you Don Kirschner, and thanks for the obligatory dues statement too....

---

Name: Bob Jensen () on Thursday, September 11, 2003 at 13:29:13
E-Mail: robertjensen at Satco-inc.com
City and State: Los Angeles
Class: 71


Message: Hey John! Here is something that I had forgotten all about. EGGTOWN. It was on the west side of Hawthorne Blvd. between 138th and 140th. Everyone called the guy at the counter Papa. Must have been a family business. I remember that they delivered. Does anyone recall the fellow with the 3-wheel bike that delivered the eggs? I also remember that Papa had some war surplus items that he sold in the store.
Eggtown was also THE place to buy beer if you were under age. They would sell beer to a 5th grader.
I remember the 3 wheeled egg guy. I think he had something akin to Cerebral Palsy. Don't remember his name though. Thanks for the memories, Bob.
---

Name: Anita Young () on Thursday, September 11, 2003 at 12:46:07
E-Mail: youngun39@yahoo.com
City and State: Hillsfullo'burritos, OR
Maiden: Aceves
Class: 1978
Message: The passing of one of my fave rock n' roll people of the 70's ( speaking of "I Love the 70's Dan and JB about "That 70's Show-both of which I think are GREAT too, by the way)....Warren Zevon passed away as many of you know on Monday, September 8 of in-operable throat cancer. He WAY OUTLIVED what the doctors first thought he'd do, which in itself is VERY COOL and even got to see some grandkids born before he went. You may wonder also, what his passing has to do with HHS? Well my ceramics class teacher at good ol' HHS, Karna Gottdener was absolutely IN LOVE with Warren's song "Werewolves of London". We had a stereo in that class and anytime that song was on the radio in my graduating year of 1978, she would yell to anyone "turn that song up, I LOVE THAT SONG!" So, it was a bittersweet memory of her the day he died. RIP, Warren, there were MANY OF US who loved ya! Just wish Karna would find herself in here one day. Anyone in here know of her whereabouts? Last I heard, she was living in PV Estates. Also, Shannon Keys, if you're lurking about, any word on your brother, Bret yet that you can share with us? Your brother ( was ) is a hell of a guy and I hope and pray he gets better. Lots of us in here do! On a happier note....I recently was back in touch with a fellow 1978 graduate lately, Dana Salley. Found her on classmates.com and told her about Cougartown.com and how it's WAY BETTER and MUCH COOLER than that ol' website WILL EVER BE!!! Glad to see she came on over and put her e-mail in here. Anyone who knew Dana, go on and give her a shout! She'd love to hear from ya!
Thanks Anita....
---

Name: Wade Greasby () on Thursday, September 11, 2003 at 10:52:26
E-Mail: Grizbear73@Juno.com
City and State: Surf City, Ca
Maiden: Changetheemailadd
Class: 73
Message: John, Received the shirt. Thank You. Enza hope all is well with you and your family. Those new additions won't help the Laker Girls routine. Sloey, Big Red looks good against the little kids, did Bill go back for the reunion with the rest of the Huskers? Paco, great pics. The spoiled children might have something this year...at least a direct line to the Newport Police Station to get 3rd string Bruin QB's. I'll be up in Berkeley for the game. Coach, good health to you and Kathy. Stop in and see my mom over in DHS. Goooo Cougs>
Thanks Wade and Happy Birthday to the Ol' Coach and Cathy.
---

Name: Larry Biller () on Thursday, September 11, 2003 at 09:54:29
E-Mail: lbiller49@yahoo.com
City and State: Portland,Rain
Class: 1967
Message: NERD BANDS:....And what is a nerd band? You mean like: The Archies, Ohio Express, 1910 Fruitgum Company? Personally I vote for "The Seeds"

---

Name: Raymond Smith () on Thursday, September 11, 2003 at 06:59:19
E-Mail: Kawabunganorth@juno.com
City and State: Portland Oregon
Maiden: Horraaaaay...rain is back!
Class: 1981
Message: Even though my heart is still a Cougar I have to say/brag for the Oregon Duck's 2nd win. (just tryin to scare them Trojan's). I'd like to say that finally there will be an A&W put up here in town (Tigard for all you local Portland ppl) so I can't wait to go to their grand opening and get my first Root beer and think about the bygone days from the A&W that was near El Camino College. Maybe they'll have ladies in skates? I know I could post this next message via this persons email address, but you know, it's heartwarming to be acknowledge in C.T so this message is for GARY JACKSON! Hey dude...how have you been? Been a long time since our football days huh? I am still in touch w/Mike Weiss. Now I hope people will send a prayer for those who lost loved ones in 9/11 as I have already done. Can't believe it was a few years ago. May the love of God and peace bestow upon their hearts.

---

Name: Dale Craig () on Thursday, September 11, 2003 at 03:32:05
E-Mail: CbrdcraigA@aol.com
City and State: Hawthorne ca
Class: 76
Message: I hope everyone in C town remembers 9/11 watching tv before going to work then getting sent home because the airport was closed in my job the airport is my job as a shuttle driver we work 24 hours a day where I work the airport opens at 5:30am closes 10:00 pm go old Burbank so keep all your friends & family together on day of remeberance as to Dale Hahlbeck go see Inland Empire take Either Stockton or Visllia for John go Trojans for me go Bruins God bless everyone later Dale W Craig

---

Name: Pat Underwood () on Thursday, September 11, 2003 at 00:24:31
E-Mail: onefamilyhistorian@socal.rr.com
City and State: Hawthorne, Calif
Maiden: Lawndale High
Class: 1963
Message: My goodness, doesn't anybody remember Country Joe and the Fish or Scream?

---

Name: Loretta Cuiper () on Wednesday, September 10, 2003 at 22:49:40
E-Mail: LCuiper@aol.com

City and State: Hawthorne, Ca
Maiden: Morelli
Class: 62
Message: Well, today as I was speaking with one of our patients, we were on the subject of Schools, and it turns out she went to HHS. Irene (Santos) Class of 85. Very nice young lady. Another found Cougar here in Torrance. Take Care. ALWAYS A COUG.
Hey Loretta, Thanks for sharing and Irene, please check in anytime....
---

Name: Paco () on Wednesday, September 10, 2003 at 22:34:30


E-Mail: doo4usc@cox.net
City and State: LF
Class: 61
Message: How about the best of 1970..Deep Purple, Eagles, Fleetwood Mac, Guess Who, Jethro Tull, Led Zeppelin, Moody Blues, Pink Floyd..And the best...Steppenwolf
John Kay's Band, YES!!!!....but I thought we were naming NERD Bands.
---

Name: Joseph Mailander () on Wednesday, September 10, 2003 at 21:25:40
E-Mail: joseph_mailander@yahoo.com
City and State: Los Angeles, CA
Class: 1975
Message: Hey, Hahlbeck, are you really in Corona? My girlfriend Lily's family is from Corona and don't draw any conclusions from that! She is actually quite urbane and couth. I myself tire a bit of the obligatory quarterly dashes to visit my virtual inlaws--hell, I tire when I venture east of Alvarado--but we do have occasion to vacate our petit bourgeois urban semblance life for the fulsome bucolic charm of Corona on certain weekends--maybe we can hook up out there. And thank you sincerely for shaming me and others into thinking about perhaps maybe contributing to this extraordinary website when I get a checking account again. John I love you but WHAT'S THAT ADDRESS, MAANNNN?
Hey joseph, Now THAT'S FUNNY STUFF!!! Maybe you should consider sending 10 unmarked crisp Los Feliz singles to PO Box 1406, Lomita, CA 90717 PER ANNUM, like the rest of our civilized Cougartowners.... or then again, just do what you do to make us smile.

Hey, I love you too maaaannn!!!! Thanks for chiming in and I didn't say this but I heard from someone in the Greek Theatre area, that CORONA stands for City Of Repugnant Odorous Native Animals.
---

Name: Jill McFarlane () on Wednesday, September 10, 2003 at 19:10:17
E-Mail: jillmcfar@aol.com
City and State: Mission Viejo, CA
Class: 1977
Message: Hey, as far as I'm concerned, the worse "best" nerd band is Air supply, although JB has a good one with Starland Vocal group, which silly song were they? Afternoon delight? I am falling down laughing over here. If JB does not mind, which band of the 60's or 70's were so bad that they were good? Anyone vote for Bay City Rollers?
Harpers Bizarre....Worst song of the 60's, "Surfin Byrd" by the Trashmen.
---

Name: Dan Johnson () on Wednesday, September 10, 2003 at 18:24:33
E-Mail: wch1ispink@aol.com
City and State: Sure Man, Oaks
Class: 77


Message: Last night at HOB, the class of '77 had its 26th year reunion. Entertainment provided by "Bullet Bob" the Strongheart as Stephan Stills. Well, ok, it was just me and Jill but since we never hooked up at the 20 year in Long Beach it was like a reunion in many ways. Anyway, we shared stories and lamented the fact that so few of our classmates participate here in JB's awesome creation. I told Jill about a daytime party I went to at Steve Rice's house back in the spring of 77. I remembered that there was a pretty good band there (but without a vocalist). She remembered that the party was an after party for a Car Rally in which we both competed (my partner was the illustrious Omar Azze) -- I think she said hers was Sandra Bell. We then debated which was the best 70s "nerd" band ABBA or Air Supply -- I voted Nordic. Has anyone here been watching "I Love the 70s"? It's outta sight!
My favorite "rerun" show right now is "That 70's Show"..... Great stuff.
Don't know about BEST, but "Nerd Band" of the 70's.... Starland Vocal Band.
---

Name: Elizabeth Aleccia () on Wednesday, September 10, 2003 at 13:32:46
E-Mail: dzlizzy31@hotmail.com

City and State: Redondo Beach, CA
Maiden: Estrada
Class: 69
Message: Good Morning Cougars! I took the day off yesterday to go sailing with a friend and we discovered a serious case of 'Red Tide' floating south from Santa Monica towards Manhattan Beach and there's a full moon tonight. I just thought some of you local Cougars might be interested in cruising down to the beach to watch the glowing waves tonight. See you at 26th.
dz

---

Name: Jill McFarlane () on Wednesday, September 10, 2003 at 11:30:20
E-Mail: jillmcfar@aol.com

City and State: Mission Viejo, CA
Class: 1977
Message: Had two Cougar sitings last night, it was pre-arranged, but Coug sitings just the same. I went and saw 4 Way Street with our very own Bob Melendrez and they were great, if you have a chance to see them, go, you will enjoy it. I also saw Dan Johnson. Hope everyone is having a great week.

---

Name: Kelley () on Wednesday, September 10, 2003 at 10:13:46
E-Mail: kelleycurrie@charter.net
City and State: Englewood, OR
Maiden: Currie
Class: 67
Message: Happy Birthday Lisa Graham (Presby)!!!!
Happy Bday Lisa.....
---

Name: Robert(Bobby) Fitzgerald () on Wednesday, September 10, 2003 at 02:47:55
E-Mail: bob@chocolateprint.com
City and State: Santa Ana,Ca.
Class: 60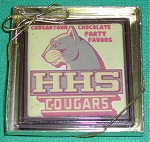 Message: Hello fellow Cougars just a note that yours truly has been invited to take part in The Festival of Children at South Coast Plaza mall on Sept. 28, 2003 at the main carousel from 12 noon until 4pm. I will have my Chocolate printing machine there and taking kids pictures and printing them on chocolate. This is free so bring your children-Grandchildren. I look forward to seeing all you Cougs there.
P.S. I will be the one dressed as the MAD HATTER.
In case you don't know about Bob's enterprise, he can take a picture, business card, or anything that can be photographed, and turn it into chocolate. It's really kind of wild and it's a great ad piece for your business, church function, etc. (how about sending them out as Christmas Cards). Sounds like a great opportunity to get your children, grandchildren, or yourself turned into chocolate for the holidays. PLUS you get to see Cougartowns own Bob Fitzgerald in a Mad Hatter's outfit.

Thanks Bob.....
---

Name: Carol Gross () on Wednesday, September 10, 2003 at 00:52:03

E-Mail: cagross@aol.com
City and State: Las Vegas, Nevada
Maiden: Scime
Class: 68
Message: Hi Cougars, I haven't been in touch for quite some time. Moved to Georgia for a while and now back home to good ole Las Vegas. Has anyone heard of a 35th reunion for class of 68 or any combined reunions comming up soon?
Hi Carol, No word yet on an upcoming 35th for your class, but you never know what might transpire. Glad to know you're still out there, stay in touch, and tell George that John B says HEY, will ya'.....
---

Name: Don (crow) Burns () on Tuesday, September 9, 2003 at 23:41:48
E-Mail: burnslock@yahoo.com
City and State: Downey, Ca.
Class: 57
Message: Hey Cougs, when are we going to have a Pink's run before it gets too cold to enjoy it. later Don
It never gets too cold to enjoy a Pinks run. Got alot on the plate this month so someone pick a day; preferably, a Saturday.
---

Name: Bob Veach () on Tuesday, September 9, 2003 at 21:12:14


E-Mail: GRV5891@aol.com
City and State: Long Beach
Maiden: Jackrabbit
Class: '72
Message: I feel very let down and confused. Normally at this time of year I hear the cry of the early 60's Whining Birds with their annual warble (that sounds like sobbing) about some football game from long ago which indicates the start of Fall. How can I tell what season it is- I guess it will be like the groundhog in February, if the Whining Birds don't sound off soon, it'll be another 6 weeks of Summer.
Let the Poly Power be with you.
Hey Bob, you're not talking about that LB Poly-HHS football game played on December 11th, 1959 at the Los Angeles Coliseum are you? Great game for the normal people from Hawthorne playing a "SUPER HUMAN" strain from Long Beach. I think every LB Poly player on that team is in Canton Ohio today save for #98 Lonzo Ervin who, I suspect, is still in Folsom. Thanks for the shout Bob, and for being such a loyal Cougar....

---

Name: Loraine Shue-Weber () on Saturday, September 6, 2003 at 12:21:30
E-Mail: pvartist@aol.com
City and State: Palos Verdes Estates, CA
Maiden: Shue
Class: 64

Message: Graduate of the class of 1964 wishes to invite all graduates of Hawthorne HS to her two art opening exhibits. I will be concurrently showing in two local galleries during the month of Sep. & Oct. of this year.
First at: The Artists' Studio Gallery in Rolling Hills Estates, CA located in The Avenue of the Peninsula. Located at 550 Deep Valley Drive, #327 on the third level across from Marie Callendars. The exhibit will be showing from Sept. 8 to Oct. 19, 2003. I will have 14 oil paintings in this showcase. The opening reception will be Sat. Sept. 13, 4 to 7 pm.
Second exhibit at: The Los Angeles County Museum of Art, Art Sales and Rental Gallery located 5905 Wilshire Boulevard, LA, CA. Showing from Sept. 12 - Oct. 16, 2003. I will have 5 oil paintings and one drawing in this exhibit. The opening reception will be Friday, Sept. 12, 6:30 to 8:30 pm.
Do come and see these two exciting exhibits! A fellow classmate, Loraine Shue-Weber
Sounds great Loraine. Good luck with your exhibits.
---

Name: Janet Burkett () on Friday, September 5, 2003 at 20:05:22
E-Mail: jmburkett@sti.net
City and State: Ca
Maiden: Humphreys
Class: 62
Message: Neil, Thanks for the John Post website. You are right, he has some wonderful pictures of our old playground, amongst others. Our own JB has taken some pretty great ones himself of Manhattan including 26th.
Oh Sloey....I hear the worm is soon to be on the move again!
JB2
Why thank you dear, and yes, it's back on the bike path about the middle of next week. Dan, are you ready?
---
If you have comments or suggestions, please email me at john14@Cougartown.com