Hawthorne Time and
Temperature

Home | 60's Slang | Alumni List | Car Talk | Cougar News | Feedback | Hangouts | Memories
Recollections | Reunions | Street Scene | Teachers | Tributes | Vietnam | What's New | Keyword Search
It's Doo Wop Time Johnnie and Joe
<!-+++++++++++++++++++++++++++++++++++++++++++++++++++++++++++++++++++++++++++++++++++++++++++ +++++++++++++++++++++++++++++++++++++++++++++++++++++++++++++++++++++++++++++++++++++++++++++->

---

---
<!-+++++++++++++++++++++++++++++++++++++++++++++++++++++++++++++++++++++++++++++++++++++++++++ +++++++++++++++++++++++++++++++++++++++++++++++++++++++++++++++++++++++++++++++++++++++++++++->
Name: Rebecca Kabwasa () on Thursday, February 13, 2003 at 21:34:08
E-Mail: kabreb_2000@yahoo.com
City and State: Temecula, CA
Maiden: Donohoe
Class: 61


Message: All this talk of local theatres brought back memories of my very first job at 15- 1/2--at the Plaza Theatre. I worked in the box office and was also an usher. The box office was easy, but our "usher" responsibilities included policing the back rows where the randy teenagers were getting to know each other. We would shine a flashlight in their faces until they unclinched. We had to wear the worst red and brown gabardine uniforms that were also worn by all the other employees, probably for years without having been drycleaned. They were shiny with grime and buttered popcorn grease. I'll never forget the smell and the sickening feeling I experienced putting those things on! Oh, by the way, that job brought me another first--I was fired for eating a candy bar in the box office. It was presumably a bad reflection on such a high class theatre.
Hi Becky, So that was you with the shiny duds and the flashlight huh.

I guess the Plaza was my first job too. I handed out about 500 flyers door to door for free admission. What an idiot; admission was about 25 cents at that time.
---

Name: Walter Holt () on Thursday, February 13, 2003 at 20:40:35
E-Mail: walterholthhs66@socal.rr.com
City and State: Orange, Ca
Class: 66
Message: Duh...If I would have looked back thr Rodium & Torrance Drive-ins were already mentioned. Another I remember is the Circle Drive-in in Long Beach. Wasnt there another called The Liquid Drive-in there in Long Beach too?
I don't remember that one.
---

Name: ROJO () on Thursday, February 13, 2003 at 20:20:18
E-Mail: I-DY-HO
City and State: YOU KNOW
Maiden: ASUMMERPLACE
Class: 6OH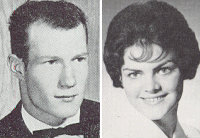 Message: With all this talk of movie theaters and such, it reminds me that Jude's and my first date was at the Centinela drive in. We saw, at least part of, the great, the dynamic... no, one of the stupidest movies of all time...Godzilla Meets Rodan! Allright! What a trip. The other movie house memory that comes to mind was we were out cruisin one night in my brothers "Kermit", a 51 Chev dark green PU, but not as clean as yours Bake, around 11 o'clock and were going through Inglewood. As we were passing the UA we saw this placard of Sandra Dee and Tab Hunter, on a stand, about 4 feet tall, in an embrace, kissin for heavens sake:)). It was an advertisment for the movie A Summer Place. Well we decided that this also would look good with our other 26th st and movie studio memento's and my brother stopped and I believe it was a 59 Coug by the name of Cal who jumped out and borrowed it. Really...we were going to take it back a little later :)). Well, it sure looked good in the room along with the other stuff and well, the rest is history. Tab and Sandy had a spot on the wall of our room for eternity. And now belated happy B-Day JB2. Wish we could make the cruise guys, for all of you that have asked, but time will not allow. But we do miss all of you and look forward to next time. MAY THE COUGAR BE WITH YOU! Jake N Jude.
Man, that brought back the memory of the time Bob Reagan HHS62 won a life-size placard of Elvis at the Plaza Theatre. We walked out of there and every girl in the theatre followed us home. We set it up in his front yard and the girls started gigglin', We started throwing rocks at the thing and the girls started bawlin' their eyes out. Yeah, we really knew how to treat the ladies, all right.


Sorry you and Jude can't make Cruise night, but the good thing is there'll be another one later on this Summer.
---

Name: Walter Holt () on Thursday, February 13, 2003 at 20:07:37
E-Mail: walterholthhs66@socal.rr.com
City and State: Orange, Ca
Class: 66


Message: Some other drive-ins I remember going to were the Vermont Drive-in & the Twin View drive in both in Gardena. Then another in Torrance called the Roadium Drive-in. I think there was another in Torrance, maybe called the Torrance drive-in but it is a vague memory.

---

Name: Keith D. Jones () on Thursday, February 13, 2003 at 19:14:58
E-Mail: cmi50@yahoo.com
City and State: Honolulu, HI
Class: 76

Message: My first walkin movie was at the Loyola Theater and it was Sound of Music and my first drive-in was at the Fox Drive-in and saw Reluctant Astronaut and That Darn Cat. They tore down the last Drive-in here a few years ago and put condo there I think. I don't think the Kam Drive-in is there either they use it as a swap meet. They closed down the legendary Waikiki theaters about two months ago. I remember in Hong Kong I watched some Arnold S. movie and it cost different amount depending on where you want to sit. They have a seating chart and you pick where you want to sit, pay and then a guy with a flashlight escorts you to your seat. And then you have to watch the movie in Chinese and read it in English. It was very weird.

---

Name: Dennis Morgan () on Thursday, February 13, 2003 at 17:36:25
E-Mail: Socalfunplaces@cs.com
City and State: Ontario CA
Message: Love your web, great job.

---

Name: susiE () on Thursday, February 13, 2003 at 14:05:34
E-Mail: Mustangsusie21@msn.com
City and State: okay,enuf rain already,NM
Maiden: starts with a K
Class: sevenTone
Message: Althou I remember when it was built, I was too young to attempt the enormity of it...But I know brother Tom use to ride his bike on the 405 freeway B4 it was finished. For me its a toss up between Monty Pythons HOLY GRAIL and BLAZING PADDLES!!
Go play on the freeway took on a whole new meaning then, and I do remember Holy Grail, but Blazing Paddles escapes me.
---

Name: Ron Dokken () on Thursday, February 13, 2003 at 13:50:01
E-Mail: rdokk@yahoo.com
City and State: Endwell, NY
Class: 1955
Message: ..ahem..for all the girls I never knew.
On this lovers holiday, I would feel so light and gay, If you only would be mine, be my own true valentine. I'm all yours if you will say, that you care for me that way, for your tender touch I pine, fire and passion so devine. (sigh) I'd give all and gladly pay, If I trusting, only may, taste your kisses sweet as wine. Please, please be my valentine.
(ok nurse, I'm ready for my medicine. What? No, no I don't want more Viagra.)
Not bad, Ron....you've STILL got it.
---

Name: Jill McFarlane () on Thursday, February 13, 2003 at 12:18:50
E-Mail: jillmcfar@aol.com
City and State: Mission Viejo, CA
Class: 1977
Message: Karen, you are right, the Central Coast is wonderful! I like going to Los Osos and driving through the Five Cities is always a treat. I have seen one of the drive in theaters on my way up. I agree with Patty on Blazing Saddles, I still giggle when I watch it on TV. One of my favorite movie experiences was when the movie "Tommy" came out and I saw it at the Cineramadome, it was the first time I saw a movie in sensurround. I had no idea there was anybody else in the theater I was so into the movie. But I see it again now, and I think what a hokie movie. Same with Tyrolia wine, it was sooo good back then, but now it tastes like, well you know.

---

Name: Karen Kuehl () on Thursday, February 13, 2003 at 09:12:26
E-Mail: kaykay@tcsn.net
City and State: Templeton, CA
Maiden: Graham
Class: 59

Message: While I was growing up before moving to Hawthorne, I lived not far from the Century Drive-in. I think it was built around 1950. My brother and I would ride our bikes there and pedal up and down the big parking bumps. In those days, there were wheat fields around and behind the walls of the theater. There was a boxcar loaded with straw and we would climb up into the boxcar and slide down the straw ... until someone caught us. It was so much fun. And yes, there still is an operational driven-in. In fact 3 of them that I know of. One is in San Luis Obispo almost directly across the 101 freeway from the Madonna Inn, another in Lompoc and at least one other in Santa Maria where Bill Murray's big brother, Ed, held a premiere party for Ghostbusters II. There might be 2 in Santa Maria but one is mostly shut down, depending on who owns it at the time. If you're ever on the Central Coast, take the time to go to the movies at one of our drive-ins. It's still a fun place to go and smooch!!
How about the Vermont Drive In? It's closed now too. I think the South Bay 6 on Main St. might still be open. Anyone know?
---

Name: Jorge Llaves () on Thursday, February 13, 2003 at 00:01:17
E-Mail: mathesh@aol.com
City and State: PVE CA
Class: 80

Message: The Strand theater in Redondo was long gone before you kids were born. It was down where horseshoe pier is now. The breakers crashed into the sides of the theater. I didn't ever see any rats in the theater but there were lots of them on the rocks outside.
Go have a nice dinner at Tonys on the pier and you will see pictures of the old theater, hotel, ships unloading lumber onto the pier and the worlds largest indoor salt water swimming pool. Oh yes and the rolley coaster. It was a great fun area in the 1930's.

---

Name: Ron Reinholdson () on Wednesday, February 12, 2003 at 22:22:30
E-Mail: r_reinholdson@juno.com
City and State: Claremont, CA
Class: 65


Message: I worked one Christmas, about 1963 or so, at the Christmas tree lot set up at the pictured railroad siding. One guy's name was Ferren or Theron. I think the trees came from Oregon and I think the operators were from Oregon, too. Just down for Christmas and a few bucks. I may be wrong, but I think the owners cut and loaded the trees themselves. I loved the smell of the trees at first. But after spending several hours a day for two weeks inside that box car filled with Christmas trees, a breath of fresh air was more than welcome. Too much of a good thing.

---

Name: Walter Holt () on Wednesday, February 12, 2003 at 19:53:48
E-Mail: walterholthhs66@socal.rr.com
City and State: Orange, Ca
Class: 66

Message: Yep your right the picture shown is the Manhatten Beach Pier.. The Huntington Beach pier looks very similar except: the light tops are Different, there is a life guard tower and a restroom building on the pier.
Thanks Walter....
---

Name: Patty () on Wednesday, February 12, 2003 at 19:22:43
E-Mail: pvalencia2@aol.com
City and State: It Never Rains...
Maiden: Valencia
Class: 1974


Message: Hey, I haven't checked in for a while, but come on JOHN. What did you mean by your response to Ingrid Larson regarding Blazing Saddles and BILLY JACK? I mean, ok, Chariots of Fire was way too, you know. But Blazing Saddles? That was a great movie. I mean who would have suspected that an American Institution like COWBOYS would be lampooned? And Billy Jack, well tight pants and cool moves... well, what more can I say.
Man, the class of 74 really sticks together AND they have great taste in the classics too.


No kidding, I would love to see the sequel, "Billy Jack meets MONGO".
---

Name: Bill Cusac () on Wednesday, February 12, 2003 at 16:37:18

E-Mail: billcusac@yahoo.com
City and State: South Lake Tahoe, Ca.
Class: 1965
Message: John, help me out on this one. In the "Fun Website" under Harbors, Bays & Piers, the picture they have of Huntington Beach Pier, shouldn't that be Manhattan Beach Pier? My wife took a picture of me sitting next to it a few years back and I would swear it's the same Manhatten Beach Pier.
Hey Billy, Looks like the Manhattan Beach Pier to me.
---

Name: Ron Dokken () on Wednesday, February 12, 2003 at 14:44:59
E-Mail: rdokk@yahoo.com
City and State: Endwell, NY
Class: 1955


Message: Too bad its raining so hard lately. I just bought a 38 DeSoto coupe (Lompoc) and the guy hasn't been able to get me any ephotos (just can't get past my youth). That picture of the Plaza got me to thinking about Hawthorne Hobby shops. As a kid I made countless "skinny stick" and tissue models. You could get the 10c size, or 25c, or if you were flush, 50c! I prefered the Spad and Fokker models. I could buy a kit, build it, fly it, and destroy it, all in one day. Who knew I would spend 20 in the USAF as a Navigator. I feel for your rain distress, but we had a blizzard this AM, and I will gladly trade with you. And now if we would all pray real hard that Bin Laden would develop kidney stones the size of golf balls - bilateral!
Hey Ron, Yeah, I'll take the rain over a blizzard any day.
---

Name: Dennise Trujillo () on Wednesday, February 12, 2003 at 14:43:43
E-Mail: NiNaBoNiTa007@aol.com
City and State: Inglewood, Ca.
Maiden: Dennise Trujillo, no I'm not married yet! LoL!
Class: 1999
Message: Just a message, wishing everyone an early Happy Valentines and hopefully everyones dreams come true! :)
Ahh Dennise, thank you and the same to you.....
---

Name: Jessie () on Wednesday, February 12, 2003 at 14:06:45
E-Mail: mikejessie@yahoo.com
City and State: Los Angeles
Maiden: Corral
Class: Wanna be..
Message: All this talk about theatres...I think I've said it before, my dad worked at the Fox in Inglewood for 30 years.I had an Uncle that worked at the UA, one that worked at Inglewood, another at the El Rey on Wilshire, my brother worked at the Loyola, and and my aunt worked at the Cinerama Dome. All except for my brother retired from those old Theatres. It makes me so sad to see the Fox in such a state that I can't even drive down Market Street anymore. But the memories I have are priceless to me. Double features, Newsreels, Kiddy Shows, Christmas Shows, and the best popcorn with real butter! Not to mention My friends and I got in for free :)
What a fun movie family. Thanks Jessie....
---

Name: Howard "Paco" Duran () on Wednesday, February 12, 2003 at 13:18:14
E-Mail: doo4usc@cox.net

City and State: LF
Class: '61
Message: I thought that when you turned 16 you were supposed to hide in the trunk when you went to the drive-in. I spent many weekends in Stephanie Hall Brito's trunk..Those were the days..My son tells me stories of his "Movie experiences" but his involve different color movie tickets..My mom, who lives in West Torrance, just called and said it really coming down..Stay inside if you can..Later
We're drowning over here in Lomita.
---

Name: Carolyn Ladd () on Wednesday, February 12, 2003 at 12:59:50
E-Mail: cladd@med.umich.edu
City and State: Ann Arbor, MI
Maiden: Gamradt
Class: 1962

Message: I've been enjoying C-Town now for a good year. It must be that time again - to send in annual dues. You really get your bang for the buck with C-Town dues. Thanks, John, annual dues are the least we can do for all the time and effort you put into maintaining and breathing life into this website on a daily basis - the memories are worth every penny. (No, Cougs, John DID NOT put me up to this - just send in your dues if you enjoy C-Town on a regualar basis!)
Carolyn
Hi Carolyn, Thanks for the nice thoughts and great plug for Ctown dues. Glad you're enjoying Cougartown.....
---

Name: Marilyn Ross () on Wednesday, February 12, 2003 at 12:31:33
E-Mail: mlr922@hotmail.com
City and State: Garden Grove, Ca
Maiden: Wisham
Class: 56
Message: The Century Drive-In on Century Blvd.
YES!! good one....
---

Name: Raymond Smith () on Wednesday, February 12, 2003 at 11:32:51
E-Mail: Kawabunganorth@juno.com
City and State: Portland, Oregon
Maiden: notrainingtoday
Class: 1981

Message: Just seen the recent old photo of the movie theater "The Plaza" in Hawthonre. Can't believe what lil memory that got jogged. Barely remember that place one time. But I do know that in the same general area there was a train track and every Christmas time a box car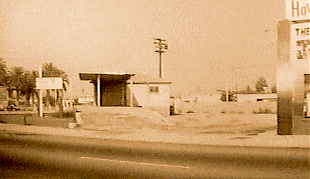 would have Christmas trees in it and that was where we got our Christmas tree. I was excited because of the magical moment seeing Douglas fir tree thinking it was from a far away place. Now in that old photo I see a radio tower on top of that movie theater house. Or was it some ol' advertisement tower? Hard to say.
That old tower just said Plaza on opposite sides and theatre on the other opposite sides. I remember getting on the roof of our garage at night and seeing it all lit up in red. The picture above is what's left of the tower during demolition.
The other picture is the RR siding that you're thinking of. It was between Broadway and 126th St. on the east side of the Blvd. I forget who had that Christmas tree lot but I bet someone will remember.
---

Name: susie as in Q () on Wednesday, February 12, 2003 at 11:23:53
E-Mail: Mustangsusie21@msn.com
City and State: SNOW'S GONE,RAIN'S COMING,NM
Maiden: klingenhagen
Class: 1971
Message: some of my favorites...the Torrance, Roadium, Los Altos, and Culver Citys' Studio drive-in...
The STUDIO....I forgot all about that one. Remember the Centinela Drive In?
---

Name: JIM SLOEY () on Wednesday, February 12, 2003 at 11:11:25
E-Mail: sloeylaw@msn.com
City and State: redondo beach, ca
Maiden: yourboysloeyisdoinggreatrobin
Class: 66

Message: Anybody want to meet between building 16 and 17 (?) and go mud sliding? The weather is perfect for it. Are there any drive-in theatres anymore? Jimmy Boesiger, how are you and the siblings? Give them my best. Try to come with Aldridge this year for the Darryl. Yeah, I know John time to email.
Well if it aint ol' Jimmy whatshisname. A guy has a knee operation with a couple of set backs and all of a sudden he's too good for Cougartown. Glad you're back, Jim.....really.
---

Name: Ingrid Larson () on Wednesday, February 12, 2003 at 11:01:04
E-Mail: ingridl@fdgdesign.com
City and State: Long Beach
Maiden: Larson
Class: 74
Message: JB - It is to laugh! The idea of me going to the movies "to make out" during High School. I simply didn't manage to have the opportunity and inclination at the same time - at least until I was a bit older. I remember my first real date was with the son of one of my parents close friends. He took me to see "Love Story" AT A DRIVE-IN! I was petrified! I thought for sure it was simply a matter of time before he would attempt to jump my bones! We drove in his father's huge Cadillac, and I made sure the folding armrest was firmly positioned between us! What a laugh! A couple years later, my brother, Eric was home from Navy boot camp (in San Diego). He brought a few of his fellow boot camp graduates home for the week end with him. Eric wanted to see his girl friend, and his friends didn't want to get left behind, so he asked me to go along with them to a movie. I ended up surrounded by this group of guys who were each trying to outdo the other in paying attention to me. Again, I was more terrorized than entertained. To this day, I wonder what may have transpired if I'd been more inclined to "get frisky" with them.
Don't get the wrong idea, I soon discovered the joys of movie dates. It's just that I wasn't really ready for those first couple experiences.
So what are you saying, Ingrid; that you really ARE a Drive In Tramp at heart?

---

Name: Jill McFarlane () on Wednesday, February 12, 2003 at 11:00:46
E-Mail: jillmcfar@aol.com
City and State: Mission Viejo, CA
Class: 1977

Message: Ok, here are a few drive-ins, the Roadium on Redondo Bch Blvd and Crenshaw near El Camino. Studio Drive-in, Culver City. And the one off the 405 in Long Beach, I don't know that one. That is the extent of my drive in movie knowledge.
I think the one off Long Beach Bl or Atlantic was called the Long Beach Drive In. It's all coming back to me now.
---

Name: Ingrid Larson () on Wednesday, February 12, 2003 at 10:41:52
E-Mail: ingridl@fdgdesign.com
City and State: Long Beach
Maiden: Larson
Class: 74


Message: I thought the (cheap) theatre on the SE corner of Torrance & Catalina was called the Marina. Perhaps it had a name change somewhere along the line, but I recall going there in the early 70's to see such fine films as "Blazing Saddles", "Billy Jack", and "Chariots of the Gods". Ah, yes fine films from the golden era of cinematography!
Yep, true American Movie Masterpieces, those. Ingrid, did you just go to the movies to make out?

---

Name: Laurie Kelleher () on Wednesday, February 12, 2003 at 10:41:32
E-Mail: lauriekelleher@yahoo.com
City and State: New York, NY
Maiden: Bednarski
Class: 74
Message: Speaking of movie theatres, I remember when I was really young that there was an old burned up theatre in Lennox. My mom told me that when the fire broke out, people panicked and some died trying to get out. Does anybody know the real story about that theatre?
Hi Laurie, That was the Lennox Theatre and that's pretty much all I know too.
---

Name: doris () on Wednesday, February 12, 2003 at 08:41:26
E-Mail: raydori@mindspring.com
City and State: Twin Falls, ID
Maiden: donaldson


Class: '57
Message: SHARON MOORE LEACH!!!! So good to see your name and read your comments on Feedback. You have been sorely missed!!! And GOOD MORNING to the rest of you, too!
GOOOOOD Morning, Doris.....
---

Name: Lyman Moss () on Wednesday, February 12, 2003 at 08:29:50

E-Mail: lyman.b.moss@boeing.com
City and State: Everett, Wa. 98205
Class: 59
Message: Lets see how many Drive-in movie theaters you can come up with in the greater Los Angeles area back in the good old days.
How about Torrance Drive In. Wasn't it just west of Little Company of Mary Hospital? What was the name of the Drive In right off the 405 freeway and Atlantic, or thereabouts?
---

Name: Jim Boesiger () on Tuesday, February 11, 2003 at 21:53:20

E-Mail: jpboesiger@msn.com
City and State: Redding, CA
Class: 1967
Message: Hi everyone! Just stopping by to see what's new with past Cougars.
Hi Jim, You must be Darrell's little brother. Welcome aboard.....
---
If you have comments or suggestions, please email me at john14@cougartown.com