Hawthorne Time and
Temperature

Home | 60's Slang | Alumni List | Car Talk | Cougar News | Feedback | Hangouts | Memories
Recollections | Reunions | Street Scene | Teachers | Tributes | Vietnam | What's New | Keyword Search
EL ROJO, Remember this one? Jesse Belvin
<!-+++++++++++++++++++++++++++++++++++++++++++++++++++++++++++++++++++++++++++++++++++++++++++ +++++++++++++++++++++++++++++++++++++++++++++++++++++++++++++++++++++++++++++++++++++++++++++->

---

---
<!-++++++++++++++++++++++++++++++++++++ADD BELOW THIS LINE++++++++++++++++++++++++++++++++++++ +++++++++++++++++++++++++++++++++++++++++++++++++++++++++++++++++++++++++++++++++++++++++++++->
Name: Rusty Allen () on Tuesday, May 21, 2002 at 14:23:20
E-Mail: santarusty@excite.com
City and State: Del Norte, CO
Maiden: Baumgardner, Myk
Class: 1962
Message: I´ve lost track of a couple good friends. Has anyone seen or heard of Jim Graham, John Matthews, or Ray Gagne in the last forty years. Please let me know when or where you might have known about them last. Any help would be appreciated. Thanks.
Hi Myk, Ray Gagne is in Rancho Santa Margarita, CA but no one can get in touch with him because he's unlisted. Does anyone have a way of contacting him? The rest, I haven't heard from.
---

Name: doris () on Tuesday, May 21, 2002 at 12:54:56
E-Mail: xxxxx
City and State: xxxx
Maiden: donaldson
Class: xxx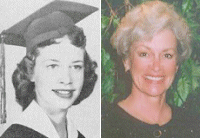 Message: I know there are a lot of CTers who still love Judy-Wudy DeGrazia Blomsterberg even though we never hear from her on CT, so I thought it appropriate to let everyone know, Judy lost her Mother this last Friday. There will be a service on Friday afternoon this week at Dunaway/Douglas on Broadway in Hawthorne. Sorry I don't have better details, but at least you are now aware of Judy's loss.
I think there's also a service tomorrow too. See below:
HI GANG..
JAN AND I JUST RETURNED FROM THE RUNNING AROUND SETTING UP MY MOM'S FUNERAL ARRANGEMENTS.
FOR THOSE OF YOU THAT KNEW HER AND WOULD LIKE TO SEE HER ONE LAST ON EARTH TIME HER VIEWING AND EULOGY WILL BE HELD ON WEDNESDAY... MAY 22 - FROM 2:00 P.M TO 8:00 P.M. SOME WORDS WILL BE SPOKEN AROUND 6:00 OR SO.. FOR THOSE OF YOU WILL MISS IT, JUST LOOK FOR HER IN THE BIG ITALIAN KITCHEN IN THE SKY WHEN YOUR TIME COMES.. I RECOMMEND HER FRITTATAS AND LINGUINI IN CLAM SAUCE.
LOVE
JUDY WUDY
---

Name: Keith D. Jones () on Tuesday, May 21, 2002 at 12:05:22
E-Mail: cmi50@yahoo.com
City and State: Honolulu, HI
Class: 76
Message: I think Mark took his pants off to his sliding pants and walked off the field or something like that. Here is a question...Mike C. was good with his bat but in what way? Gary played at ASU before the Red Sox. Holy Glen had great ballplayers living there, probably more than any other area of Hawthorne. M brother was a great pitcher in Little League and Middle League but just didn;t follow through cause with his size he could have done real good. He ad I think two or three no hitters. He and Colbern, and Mike Scott, Gary Allenson, Dean Morris, and others were great to watch when I was a kid. It was always nice to have the largest guy on campus be your brother. It saved me in Senior Square a time or two. My Big show is this weekend at the Hawaii COnvention Center wish me luck. Also, if you look in this month's issue of Planet Muscle they did a 7 page story on me. It shows my spider bite leg too. Keith

---

Name: Mike Castro () on Tuesday, May 21, 2002 at 11:50:30
E-Mail: mikecastro@ciilax.com
City and State: LAX
Class: 1977
Message: Re Mark Lee, in the middle of a game, he struck out a batter, peeled off his uniform and walked off the mound a winner.

---

Name: JIM SLOEY () on Tuesday, May 21, 2002 at 11:40:14
E-Mail: deandeanthedancingmachineisreallyvlade.com
City and State: RB, CA
Maiden: leebrothers
Class: 66
Message: Mark Lee a HHS product played for the Padres and I believe the Pirates. There were 3 brothers Bill (fish) Don (Guppy) and Mark. Mark made it to the show but personally the older two had more talent especially Fish. Mark went to Portland of the PCL and was removed from a game that he decided was his last, as he walked off the field he left his clothes on the mound.

---

Name: Vlade Divacs () on Tuesday, May 21, 2002 at 11:01:54
E-Mail: sacramentokings.com
City and State: OopsIamfromSerbiaandnot Bosnia!
Maiden: Former Laker


Message: Sloey, If trivia contest still open, I will challenge Greasby's answer (or spelling). Mugsy is Gary Allenson who grew up in the south side of Holly Glen with Mike Colbern, Frankie Loccoco and a bunch of other great ballplayers who got their tails waxed by Hawtorne Wiseburn every year. Mugsy was a 400+ hitter at Lawndale and I believe in his junior year outhit George Brett for Pioneer League batting title. Not too shabby. Don't rememember if he went to ASU or got drafted straight to pro ball. Anyway, both Gary and Mike never got their bats going in the bigs which limited their time. Allenson stayed the longest because he was a tough backup catcher on the Red Sox. More baseball trivia question: Does anyone remember the memorable way that Mark Lee made his retirement from pro ball?

---

Name: JIM SLOEY () on Tuesday, May 21, 2002 at 10:35:11
E-Mail: mugsy'srealname.com
City and State: RB, CA
Maiden: greasby'sgotit
Class: 66
Message: Wade, you are right on with the NBA critique. The NTCA [No traveling calls allowed] is to basketball, as the WWF is to wrestling. It's an exhibition. And you are almost right on Mugsy. Everybody called him and his brother John, Allison but his name is Allenson. And he also played for the Bluejays, 7 year career.
Thanks for the sports Jim, now back to you Cougartown
---

Name: Wade Greasby () on Tuesday, May 21, 2002 at 09:40:09
E-Mail: wg1672@pacbell
City and State: Surf City, Ca
Maiden: itsoverallover
Class: 73
Message: Jim, I agree with you on the class and style of play back in the days before the three point, slam dunk, and walk a court length before a lay-up. Basketball was fun to watch, for an entire game then. The Laker Girls are fun to watch now. Mugsey is Gary Allison. Good catcher with the Bosox. Played with Scott on the Tigers in your Middle League, Haw Nat. Wasn't he at ASU with Colbern? Dan, your step-bro wasn't with us in the days at York School, but he played catcher for our Middle League team, the Indians, with Rocky and myself. We beat Colbern and Riley Stoops' Dodger team from Haw Nat in 1970. Enza, Enza, Enza, did Kobi eat at Fuzzy Zellar's kitchen? The Lakers are supposed to be a team of twelve not two! Where were the rest of them? Maybe some hot sicillian cookin' would help Kobi? Love you too. How about some Sloey hot cakes?
I think Sloey had Kobe poisoned..... No excuses last night; the Lakers were outplayed, that's all.
---

Name: JIM SLOEY () on Tuesday, May 21, 2002 at 00:24:01
E-Mail: kingsaremysecondfavoriteteam.com
City and State: redondo beach, ca
Maiden: divacwebberbibby
Class: 66
Message: Celtics and Kings! The Celtics have been my team since Bill Russell was a rookie, 1957! He's got 11 rings, MJ! And anyone playing the Lakers is my second favorite team! Dan Johnson there was another future big leaguer in that Hawthorne National/American League mix too. He went to Lawndale High School and at the time was probably the best of the group. Presently he coaches 3rd base for the Brewers and was nicknamed "Mugsy." But he was always a Hawthorne kid. Who is he?
Go to bed. We ride at dawn.....
---

Name: Janet Burkett () on Monday, May 20, 2002 at 23:40:49
E-Mail: jmburkett@att.net
City and State: Mission Viejo, Ca
Maiden: Humphreys
Class: 62
Message: Class of 62' alum....it's gonna be good! Our reunion committee is on a roll with lots of great plans for our big 40th reunion in July. And...you wouldn't believe all the old cougs we are finding, or WHERE we are finding them! Mark your calendars now 62ers and let Linda know ASAP that you are coming. Linda...great news about the new grandbaby,
CONGRATULATIONS!
JB2
Yep, it's gonna be a great reunion with lots of old friends and a few surprises. Please make your plans to join in the fun.
---

Name: Enza () on Monday, May 20, 2002 at 21:56:35
E-Mail: Istillloveyouguys.....
City and State: Nomatterwhattheysayaboutyou ;-)
Maiden: thehotbloodedsicilian
Class: 72 rules
Message: Hey Wade ~ It's halftime...are you watching the Lakers, er Laker Girls?? Funny stuff this morning...keep it up. We need more humor in Ct. No matter what...I LOVE YOU MAAANNN!!!! ;-) The Sicilian!

---

Name: Gary () on Monday, May 20, 2002 at 20:54:21
E-Mail: glents@hotmail.com
City and State: vista
Class: 67
Message: John.....This started as an idea for a reunion for 67, then some people asked about adding other classes, so why not? Personally, we don't go out of our way to play in LaLa (I'm not a musician), and it's going to be tough on the singer...she has to return from Sac Jazz Festival the night before (nice drive). I don't make any money from this (in fact, I be spending money), and I have put in a lot of work, and pulled some stings to get the club. At this point, about 50 or 60 folks from HHS have Emailed that they are planning on coming. This club holds 200, but the manager said she'd do it anyway, but she's gonna bring friends too....hope that answers your questions as to my intentions.
Gary, No, "Will this be tough on your singer?" or "Do you normally do gigs in LaLa?" wasn't the question.


The question is, "Is this a CLOSED party for HHSers, and what is going on for the Hawthorne people BESIDES the band"? Not trying to cause problems. I'm sure everything is OK, but am asking the questions I've been asked. Some people even think this is a Cougartown event, and it's not.
---

Name: Linda Brooks Bernard () on Monday, May 20, 2002 at 19:59:01
E-Mail: elbernard@tcsn.net
City and State: Paso Robles, Ca.
Maiden: Brooks
Class: 62
Message: Looking for info about 40th?
Hi Linda, Please click here to find out about the reunion and please let Linda Reynolds know you're looking for reunion info too. Her email is linrey@yahoo.com. Thanks and we'll see you there in July.
---

Name: Eddie Braun () on Monday, May 20, 2002 at 19:20:12
E-Mail: Crsh4csh@aol.com
City and State: Manhattan Beach, ca
Class: 79
Message: Hello john its been a while since ive posted here ive been sooooo busy ... I saw something posted from a Gina Black and had some great info for her..Gina i know of a GREAT trauna orthopedic surgeon he has done great surgery on me at a moments notice, and has kept me going strong. he last operated on me to repair my back from which i had broken severly in three places....his name is Dr Kenneth Elconin and he is at Cedars Sinai Hospital..feel free to call him and you can tell him that i gave you his number 310 652 2910 his assist is marylin and she is a sweetheart and tell her im healthy and said hello , im sure ill see her soon enough... John im gonna have to take the time to catch up and read all these pages of ctown..ive been working my tail off, and been lucky enough to be nominated for several awards for a movie i did called RUSH HOUR 2, if you want to see me maybe win an award for best stunt coordinator of a feature film, watch on channel 7 on may 31st and cross your fingers for me , if i dont happen to win , im still very happy to just be there and hear my name called for consideration of an award which is the highest award that one can recieve in my profession , and on a funner note ( much less stress) ill also be at the MTV movie awards for which im also nominated for RUSH HOUR 2 best action movie , i think that airs on june 6th or something like that...if i do win i promise to mention good ole HHS on national tv. So other than getting beat up at work , Gina i hope that info is of some use to you.....Hello to Keith Jones , Leslie Greasby , Ms Padelford and all the others that remember how i drove them nuts....take care, Eddie
Hi Eddie, Good luck with all the award iron and we'll be looking for you under a truck somewhere. Please mention that none of this would have been possible without mom and dad AND Cougartowns support.

---

Name: Gary Lents () on Monday, May 20, 2002 at 18:22:26
E-Mail: glents@hotmail.com
City and State: vista
Class: 67
Message: Sorry about the lack of communication, but between work and stupid viruses on the puter, it's been tough....the Memorial Day (Monday the 27th) gig is on and I need to know who/how many are, definately, coming, please tell any you know. This isn't a formal reunion, but more of a Coug get-together; any grad year is fine..the venue is called "The Gig", starts at 5PM, $10 cover charge.... 7302 Melrose Ave Hollywood, CA Please shoot me an Email if you plan on coming!!!
Gary, I've been asked by many, so I'll ask you.... Is this a REAL HHS thing or are you just trying to get some people to show up for your band? This question has been asked several times, and even my barber asked what the deal was. Just trying to be fair here, that's all. Anyway, the consensus is, people would like to come and visit with their friends, but if you're just trying to fill up a nightclub, that's another story. Please let them know what is planned, besides the band.
Thanks.....
---

Name: Alan Nelson () on Monday, May 20, 2002 at 17:13:44
E-Mail: boatcop@boatcop.com
City and State: Parker, Az
Class: '73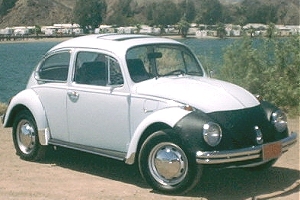 Message: Well John, you asked where I've been and what I've been up to lately, so I guess it's time to tell you. Part of growing up in Southern California, and especially the surfer scene, was an automobile that almost every one of us could relate to. We either had one or had a friend who had one. They were seen everywhere, usually with a few surfboards stacked on top of them and loaded with sun bleached dudes looking for the perfect wave. The car, of course, was the VW Bug. I've been camped out in my garage trying to bring a piece of my youth, back to life. After 6 months of blood sweat and tears, I think I've done it.
Very nice Alan, Thanks.....
---

Name: doris () on Monday, May 20, 2002 at 15:59:43
E-Mail: GOFORTHEGUSTO
City and State: OZ, USA
Maiden: princess
Class: beforethegustoisgone
Message: In fact dear Cougars, with regard to my post on Friday ... GO FOR THE GUSTO! For too soon the gusto is gone! Ain't it a great Cougarworld!!!

---

Name: Dan Johnson () on Monday, May 20, 2002 at 13:49:31
E-Mail: wch1ispink@aol.com
City and State: Sherman Oaks, CA
Class: 77
Message: Hey Wade, was my old Step Brother Davy Whippo part of those games? I remember him playing on teams with Rocky Thomas and Terry House -- in fact I was the bat boy when their "Middle League" team (aka Hawthorne American) faced off the Hawthorne National team featuring Mike Scott at Prairie Park -- this must have been circa 1969. Needless to say, Hawthorne American did not fare too well. I think there was some other eventual big leaguer on that Hawthorne National team (Mike Coburn? Colburn?)
Mike Colbern HHS73 played in the White Sox organization for a couple of years.
---

Name: Enza Nicocia () on Monday, May 20, 2002 at 13:45:09
E-Mail: itonlytakesonepointtowinaballgame.com
City and State: L.A LAKERS!
Maiden: Iwillnevergetthelastwordinwithyouguys
Class: 72
Message: Hey Wade, Dean, (oops I mean Vlade)- You bad boys can 'talk' all you want. It's not over yet, and we will see WHO is left standing. Dean, I thought you liked the Lakers?? Now you are a hater?
Can't you guys feel the love here?

Can't we all just get along? (Ha!)

---

Name: Vlade Divacs () on Monday, May 20, 2002 at 11:59:11
E-Mail: sacramentokings.nba
City and State: Sarajevo, Bosnia-Hercegovina
Maiden: Yugoslavia
Class: ??


Message: Memo to Enza- Maybe I shouldn't have messed with the basketball gods by waking up the Lakers, but don't get too cocky or else things might turn around on you!!! You almost blew a game you should have won by 20 points going away (classic Laker inability to go for kill). You do that little Laker dance tonight in front of the "cow-bell ringers", and you'll have lots of bites on your backside. We have not yet begun the fight!
Vlade
PS Are there any Sicilians in the NBA?
Ernie De Gregorio, Rudy LaRusso, John Gianelli, Vinny Del Negro.......Maybe??

---

Name: Wade Greasby () on Monday, May 20, 2002 at 10:08:39
E-Mail: wg1672.pacbell
City and State: surfcity.ca
Maiden: wherehaveallthe...gone
Class: 73
Message: Enza,Enza,Enza, How many times do you have to be remembered,Lakergirls with fantasy curls have a difficult time remembering to tie their shoes and how to put their uniforms on correctly. Name in back, Lakers in front. Strings in front, size tag in back. All arch supports go to the inside of the foot. Right foot then left foot, follow closely, stay with the music. And what is with this, Bite Me? Ouch,

---

Name: Enza Nicocia () on Monday, May 20, 2002 at 09:11:11
E-Mail: don'tmesswiththissicilian.com
City and State: Go Lakers!
Maiden: wedon'tneednostinkinghomecourtadvantage
Class: 72
Message: Hey Wade, DJ, Dean - BITE ME!

---

Name: doris () on Friday, May 17, 2002 at 19:32:46
E-Mail: raydori@mindspring.com
City and State: Twin Falls, ID
Maiden: donaldson
Class: '57
Message: HEY COUGARS! I retired from work this week! At the same time, I lost someone very dear to me so it was kind of a lose/lose situation rather than a celebration. Which shows to go you ... CARPE DIEM! Seize the day, Cougs! Don't be afraid to live life. Take that chance. This ... from an OLD Coug who has wonderful memories and who intends on making many, MANY more!
Congrats Doris, No, I don't think you're the rocking chair type. Have a great weekend Cougs.
---

Name: Linda Reynolds () on Friday, May 17, 2002 at 19:00:13
E-Mail: linrey@yahoo.com
City and State: Chatsworth, CA
Maiden: Jones
Class: 62

Message: My Dear Cougar Friends, I'M GONNA BE A GRANDMOTHER!!! Our daughter, Cristy is going to have a baby in January 2003. This will be our first grandchild! We just found out!
Hard to believe my friend from Intermediate is a Gramma. THAT'S GREAT LINDA!!! It's fun to be a Grandparent yeah right.....
You are now OFFICIALLY OLD.
---

Name: Vlade Divacs () on Friday, May 17, 2002 at 18:22:07
E-Mail: sacramentokings.nba
City and State: SacTown, NorCal
Maiden: dmorris
Class: 72
Message: Hey Enza, You better win one of the first two games of this series or you're in deep trouble since you lost the home advantage. Oh yeah, Greasby tells me something about the Laker girls having more talent than than your Hollywood buddies. At least Fox looks like a dude now instead of like his dancing wife! Vlade, CWebb and M Bibby
Man, am I glad we got Kobe for you.
---

Name: Jill McFarlane () on Friday, May 17, 2002 at 17:56:55
E-Mail: jillmcfar@aol.com
City and State: Mission Viejo, CA
Class: 1977
Message: Slow week in Cougartown. I hope everyone has a great weekend.
Thanks Jill.....you have a great one too.
---

Name: Mike Shay () on Friday, May 17, 2002 at 16:22:46
E-Mail: theshays@earthlink.net
City and State: Cerritos, CA
Maiden: Slim
Class: 61
Message: Hello Cougars; Long time no talk to.........We were on a camping trip a few weeks ago with our good friends and in-laws the Hansons, when Joannie said something about having a cup of Kava. All of a sudden all I could see was J.B's. Grandma Sally sittin at the table playing solitare and asking "You want a cup of Kava Honey??" That was the first thing she said when you visited the house on freeman. That house still has some bad chevy in the garage. John's dad liked fast cars. By the way, today would have been my moms 97th birthday. Happy Birthday Mom we miss you like crazy....
M.S.
Happy Birthday June and yes Grandma B was a Kava drinker and why she probably lived to the ripe old age of 96........ Well that and cottage cheese. She'd be 114 in August.
Grandma Sally was hard of hearing and wore a hearing aid. Mike came in one day and said, "How are you, Mrs. Baker?" to which Grandma replied, "HUH?". To which Mike retorted, "How Are You, Mrs. Baker?" to which Grandma answered the retort, "HUH?" Once again Mike said, "HOW ARE YOU, MRS. BAKER??!!", and again, my lovely aging Grandma said, "HUH?", to which Mike replied, "How are your HEARING AID BATTERIES DOIN' Mrs. Baker?".........I LOST it right there.
---

Name: Wade Greasby () on Friday, May 17, 2002 at 13:15:49
E-Mail: wg1672.pacbell.com
City and State: SurfCity, CA
Maiden: Digthepic
Class: 73
Message: John, would like to see the picture or get a copy of one of the old firehouse gang. My dad said Hawthorne was an Oklahoma town just outside the border. The people back then, 40's through the 70's were down home types. Everyone new everyone or close to it. The chevy your dad drove, I do recall. It had some getty up to it with twin pipes. Loud! My grandmother, lived on Cedar just down the street from you, across the street from the Pac Tele parking lot. I guess it would have been closer to 126th. Did you live near the Baumgardners? The father, Paul, was a firefighter with my dad. The kids went to HHS. I remember Ron, but can't think of the others. Maybe Cheryl? Just a thought here. I'll throw this out to all alumni, what if, during this years Home Coming Week there was an alumni day? Each class would set up a booth on campus, alum would check in, have a Bar-B-Que lunch, etc. It would keep the scarlet and gold spirit alive. Hey, it's Friday I have to vent an idea every now and then. Ask Sloey, my ideas don't come very often. As before, have a great weekend.
I remember Mac Baumgardner was the Police chief and Mickey graduated in my class. Also Jackie was HHS55. I think one of the Baumgardner families lived between 119th and 120th on Cedar.
---

Name: Chris Prewitt () on Friday, May 17, 2002 at 12:22:25
E-Mail: cjprewitt@juno.com
City and State: Fullerton, CA
Class: 1967
Message: I know that this doesn't pertain directly to Hawthorne (unless the flying wing is close enough) but The Air Museum Planes of Fame at the Chino Airport is having an airshow this Saturday and Sunday. The price is $10 for adults and free for children 11 and under. For more information and printable discount tickets see: http://www.planesoffame.org/pr_airshow_02.htm

---

Name: Laura Porter () on Friday, May 17, 2002 at 10:00:38
E-Mail: dsnycrw@ivic.net
City and State: Hemet, CA
Maiden: Twitchell
Class: 79
Message: Hey Gina....I tried to email you but it spit it back at me. If you are still looking for medical staff for your book, check out Kim August-Caesar, she's on the alumni list, class of '79, she is a surgical nurse in Colorado. If you need any more I have a friend who is a critical care/ICU/cardiac care nurse who has worked trauma. Good luck!!

---
If you have comments or suggestions, please email me at jb1@cougartown.com