Hawthorne Time and
Temperature

Home | 60's Slang | Alumni List | Car Talk | Cougar News | Feedback | Hangouts | Memories
Recollections | Reunions | Street Scene | Teachers | Tributes | Vietnam | What's New | Keyword Search
EL ROJO, Remember this one? Jesse Belvin
<!-+++++++++++++++++++++++++++++++++++++++++++++++++++++++++++++++++++++++++++++++++++++++++++ +++++++++++++++++++++++++++++++++++++++++++++++++++++++++++++++++++++++++++++++++++++++++++++->

---

---
<!-++++++++++++++++++++++++++++++++++++ADD BELOW THIS LINE++++++++++++++++++++++++++++++++++++ +++++++++++++++++++++++++++++++++++++++++++++++++++++++++++++++++++++++++++++++++++++++++++++->
Name: Satterlee,Lowell () on Thursday, May 2, 2002 at 16:17:57
E-Mail: Satchpapasatch@aol.com
Class: 57
City and State: Citrus Hts, Ca

Message: I read from one of you all about memories of the fifties. Well here is one that either happened or I dreamed it did. Back in 1956 our Cougars won the CIF title and we had an assembly in the gym to celebrate. Well we had an exchange student from either Norway, Sweden or Finland that played on the team (he was pretty good too), but as they were showing the trophy it was handed to him and he held it up in the air for all to see and for some unknown reason he dropped it and it shattered. Everybody felt sorry for the guy because he felt terrible about this. Well my question is did it happen, what was his name and where was he from? I lost my year books in a fire. Can anyone help me out on this?
Are you talking about football season 55 which was school year 56, or football season 56 which would have been school year 57?
---

Name: JIM SLOEY () on Thursday, May 2, 2002 at 14:48:50
E-Mail: theviruswasalotoffuntocleanup.com
Maiden: symantec
Class: 66
City and State: REDONDO BEACH, CA
Message: Well that was an adventure fixing the viral infection that I too seemed to have received. The link John has at the top of the page is effective however it is a little complicated. OK John spent three days walking me through it and John, I am truly sorry about the last name I called you too. The others were deserved. Anyway John and I [I tag along and say yup] have formed a little business called "Clean it Up." We come to your office or home, locals only, 50 mile radius, and will fix the virus and get you logged onto a Virus detector, i.e., Norton. We charge by the hour, 4 stacks of pancakes per each hour for each of us. We can only do 15 calls a day cause we both have to be home for dinner so reserve your time accordingly.
With molasses of course, and melted butter.....and sausage and 2 eggs......and hash browns, toast, and jelly.
---

Name: Howard "Paco" Duran () on Thursday, May 2, 2002 at 14:43:25
E-Mail: doo4usc@aol.com
Class: 61
City and State: Lake Forest
Message: The best Mexican food ever was made by my mother..The enchiladas are by far the best in the world..That's the first thing she taught my wife Sharon 40 some years ago. Sharon made a mean Kraft's dinner at the time..
We'll all be there abound 6ish....
---

Name: Bud Rhoades () on Thursday, May 2, 2002 at 14:42:29
E-Mail: budrhoades@earthlink.net
Class: 74
City and State: seal beach,ca
Message: If you are ever in Seal Beach try super burrito jr. on ocean ave right across the street from the seal beach pier, Its as close to el tarasco as we can get in orange county. John, I agree with you, Titos has the best salsa for a mexican fast food restaurant, and Janet we also love the original El Cholo on Western in L.A...cougars obviously love their mexican food.

---

Name: Loretta Cuiper () on Thursday, May 2, 2002 at 14:06:04
E-Mail: LCuiper@aol.com
Maiden: Morelli
Class: 62
City and State: Hawthorne, Ca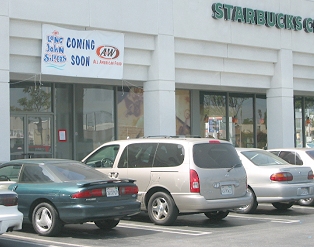 Message: All the talk of good Mexican Food, brings to mind one of the oldest places in Lawndale is, Leo's on Inglewood Ave. A family owned business. Most Thursdays is Mexican night for us and we totally enjoy Leo's. John, will be sending our dues in to you. Also, sometime back a fellow Cougar wrote a note on a A&W Drive-In going to be built here in Hawthorne at Oceangate Center. Was wanting to know, if this will be built where the old Mattel Building set? Alot of construction work going on there this last month. Wanted to know if he had any idea when it would be finished? Looks like a 6 month job. I guess there are a few of us looking forward to having a A&W back here. All have a good Day. Always a COUG
Hi Loretta, Yes, Leos is in the same building that Russ Seyb built after he sold Frosties on 133rd.
Above is a picture of the NEW A&W. Norval Vorhis sent the picture but he didn't give a location.
---

Name: Bob Brophy () on Thursday, May 2, 2002 at 14:00:30
E-Mail: rbrophy8@cox.net
Class: 63 serra
City and State: Phoenix Az.
Message: If anyone comes to phoenix the best mexican food here is at Poncho's on south central. Don't confuse it with Pancho's the chain. Not saying much but Clinton even ate there when he was in town. Bob Brophy
Clinton WHO??
---

Name: Bob Brophy () on Thursday, May 2, 2002 at 14:00:30
E-Mail: rbrophy8@cox.net
Class: 63 serra
City and State: Phoenix Az.
Message: If anyone comes to phoenix the best mexican food here is at Poncho's on south central. Don't confuse it with Pancho's the chain. Not saying much but Clinton even ate there when he was in town. Bob Brophy

---

Name: Dan Johnson () on Thursday, May 2, 2002 at 13:20:27
E-Mail: wch1ispink@aol.com
Class: 77
City and State: Sherman Oaks
Message: There is a distinction between the "best Mexican resturaunt" and the "best Mexican food" The latter being the Galindo household (was it Ramona or Truro at Imperial Hwy?) One day Mr. Galindo (he boxed Joe Louis or Sugar Ray Robinson) was making some salsa while Mrs. Galindo was making Christmas tamales. I was bragging about how hot I liked my salsa because I ate at "El Tarasco, man" (the Galindos collectively gave me static over the way I pronounced that). So they said, OK, here you go, and they handed me a dish with Mr. Galindo's hottest salsa and some tortilla chips. I dove in with relish, ate about six or seven and then screamed for them to call the fire department because my mouth was on FIRE big time. I started slugging down Coronas while they all fell about the place, rolling with glee over my predicament. Out of a sense of self-preservation, I think I polished off a six pack in about 30 minutes. I'd be willing to bet that to this day, many Galindos still chuckle over that debacle. Oh, the tamales were incredible too.
I like the hot stuff too, but don't EVER spout off that something isn't hot enough. Someone will surely step out of the woodwork and offer me the KILLER salsa.

---

Name: Gail Oliver () on Thursday, May 2, 2002 at 12:12:34
E-Mail: gailsgoodies1@socal.rr.com
Class: 69
City and State: Tarzana, CA
Message: What about Tito's Tacos and Johnny's Pastrami in Culver City..The very BEST.....
TITOS!! I forgot all about my FAVORITE salsa and meat burrito in the land. I showed Janet where it was on our last trip to Oakhurst. We just never go by there at lunch or dinner time.
---

Name: Jill McFarlane () on Thursday, May 2, 2002 at 11:06:40
E-Mail: jillmcfar@aol.com
Class: 1977
City and State: Mission Viejo, CA
Message: I see everyone is putting in their opinions on the best mexican food. A new restaurant is opening at the Mission Inn in Riverside, it is called Las Companas. We ate there Monday night and it was wonderful. The official opening is Friday, May 3, and reservations are recommended. I don't know if any of you have been to the Mission Inn, but it is a beautiful place. Thanks for wishing me well on my birthday, seems I share the day with some really neat people.

---

Name: Doris () on Thursday, May 2, 2002 at 10:43:26
E-Mail: raydori@mindspring.com
Maiden: Donaldson
Class: '57
City and State: TF ID
Message: JOHN! I just have to comment on your definition of eastern Mexican food: "...road-tested milk cows" as the meat they use! NOW THAT!!!! IS FUNNY!!!! Even called my husband in to read that one! MORE!!!! Incidentally, thanks for the virus warning.
Hi Doris, Yes, the virus thingy isn't getting any better this morning. My jb1@cougartown.com address is running half infected. This thing is a mess. Cougs, please do NOT open ANYTHING without confirming it with the sender, as the sender may NOT be the person in the From: line.
---

Name: Joann () on Thursday, May 2, 2002 at 08:58:04
E-Mail: jtippie@cox.rr.com
Maiden: Pappas

Class: 78
City and State: Chantilly, Virginia
Message: If you are ever in the Washington DC area stop in at the Rio Grand Cafe in the Reston Towne Center. They have the best Mexican food in town and their margarita's pack a whallop. I do have to agree with Keith, it was hard to find a good Mexican resturant in Hawaii. We were in Lahaina during the summer and did find a pretty good one. But then again we have been in Virginia for a long time and our taste buds could be a little rusty. Hasta Manana
Lahaina!!?? The ONLY place to eat is CHEESEBURGERS IN PARADISE!!

---

Name: Keith D. Jones () on Thursday, May 2, 2002 at 07:49:02
E-Mail: cmi50@yahoo.com
Class: 76
City and State: Honolulu, HI
Message: There is this Mexican restaurant here I go to just for their little tacos. Those tacos you get from downtown LA with meat or pork and cilantro and salsa. They have the best tagline I've seen. "Mexican Food So Authentic You'll Be Afraid To Drink The Water" I really like that one.
GREAT ONE!! Thanks Keith....
---

Name: Sharon MacDonald () on Thursday, May 2, 2002 at 07:41:27
E-Mail: rmac@genevaonline.com
Maiden: Badger
Class: 1963
City and State: Burlington, Wisconsin
Message: While Wisconsin may not seem like a likely place for them, there are a number of truely great Mexican restaurants in the area. Our favorite right now is called Los Compadres right in our home town of Burlington. The food is excellent, the service is quick, and the prices are very reasonable. In San Diego's Old Town, I like the Rancho Nopal. I remember in the 60's going to Tijuana and eating at Caeser's. There is a place in Diamond Lake, Illinois that has always reminded me of Caesar's. Keith, sorry to hear Bueno Nalo is gone; that was the first restaurant we ate at on our first trip to Hawaii.
I think I read somewhere that Wisconsin tacos are made from "Road Tested" milk cows.
---

Name: Gomez () on Thursday, May 2, 2002 at 07:02:04
E-Mail: myhottamalegotchilionme.com
Maiden: Honduras
Class: 1972
City and State: Beaver State
Message: Portland had the best Mexican place called Casa U Betcha. As for tamales all my Hispanic friends at work get together at Christmas and make hundreds of tamales. They are almost as good as the tamales Maria Valdez's mom would make. My dad loved Mrs. Valdez's tamales and could polish off about 10 in ten minutes. I can almost taste them now....
My mom makes the BEST tamale pie you've EVER tasted. Maybe we'll have Mexican Food Night in Cougartown sometime.
---

Name: Donna () on Thursday, May 2, 2002 at 05:00:58
E-Mail: djanderson_53@yahoo.com
Maiden: Anderson
Class: 1971
City and State: Friendswood,Texas
Message: Thanks to all you guys for emailing me and letting me know where to purchase them. Thanks Chris for leaving feedback too for the others. Heres another site that they sent me too, for others if they are looking http://www.getbackdesigns.com/...Thanks and hope you guys all have a great day and weekend. :-D
Just Cougars helping Cougars.....
---

Name: Ricki Farrell () on Thursday, May 2, 2002 at 00:30:55
E-Mail: farrell8@worldnet.att.net
Maiden: Valencia
Class: '61
City and State: Fullerton, CA
Message: Would you all believe that both of my computers at home lost internet connections at the same time? On top of that, my school computer crashed too! We did have a virus problem and it came from the internet. That was one problem. We've been down off and on for about a week.
I did see the Mr. Williams post and I've called him twice. I'll keep trying to reach him. He is a rich man indeed. I think that he touched everyone who sat in his classroom. He was one of the most dedicated teachers that I ever met, studied under or with whom I worked.
I hope that some day a letter like Larry's crosses my desk.
Patty, he took you to see Soylent Green? Unbelievable! LOL I want to fly up and visit him some long weekend. What do you think Patty? I think that you would probably be the only one I could get to do it. I miss him, it's been about 3 years since I saw him last.
As a side note: Peter should come to my class. My kids would love him, and I think that he would enjoy it. Ali could join him this time. Ask Mikey Brannigan. Anyway...good memories. Love to all and I'll keep all of us who need it in my prayers. Happy healing Jim. My bike crash last year caused me to have hand surgery. Thank God that I'm fine now.
Ricki
Thanks Ricki, I know he will enjoy the Colonel's story.
---

Name: Larry Biller () on Thursday, May 2, 2002 at 00:11:32
E-Mail: lbiller49@yahoo.com
Class: 67
City and State: Portland,oregon
Message: I love Mexican food! But I just don't understand how anyone would want to eat at any other Mexican Retaurant after trying Taco Bell- really the most authentic.
OR Taco Tio.....

---

Name: Cindy () on Wednesday, May 1, 2002 at 23:39:56
E-Mail: cindycwhittaker@aol.com
Maiden: Whittaker
Class: 1976
City and State: Gig Harbor WA
Message: Hey what a coincidence, I just had Mexican food tonight! In Tacoma no less. This place is very good and many transplanted Californians have told the owner they're thankful to finally have a good place to get Mexican food. He makes the best salmon tacos believe it or not! La Fondita in Tacoma if anyone is ever traveling in this area. I miss the tamales from East LA though.

---

Name: Janet Burkett () on Wednesday, May 1, 2002 at 23:04:56
E-Mail: jmburkett@att.net
Maiden: Humphreys
Class: 62
City and State: Mission Viejo, Ca
Message: OK...I just have to say the BEST place in the Los Angeles area for Mexican food has to be the original El Cholo in L.A. The place has to be a hundred years old by now. Originally known for their blue corn enchiladas and awesome margaritas. And....good news for us O.C. folks, there is now an El Cholo in Irvine! (Way tooo close to my office I might add!) I think the original restaurant, just off Wilshire downtown, has truly been there since the 40's. However, my two other "best of L.A." restaurants...Little Joes and Emilios in Beverly Hills are, alas, no longer in existence. They just keep tearing down the best of L.A.! So, let's get to El Cholo's if it is still there John!
JB
I'm warming up the car now, dear. HURRY!!!

---

Name: Susie () on Wednesday, May 1, 2002 at 21:30:58
E-Mail: Mustangsusie21@msn.com
Maiden: Klingenhagen
Class: 7T1
City and State: East of CA.
Message: THE best Mexican restaurant has to be the Burnt Tortilla on Redondo Bch. Bl. in Gardena. Their green chili delux burrito is to drive 800 miles for!! I'm off to Colorado Springs Saturday to meet Dick Dale, armed with a video camera...

---

Name: ROJO () on Wednesday, May 1, 2002 at 20:39:15
E-Mail: I-DY-HO
Maiden: YOU KNOW
Class: 60H
City and State: KUNA, LAND OF THE KAVEMEN
Message: Ok you guy's enough of this "is Sloey ok now". As I wrote many pages back the closest thing to a perpetual motion machine is a lawyer that owns an ambulance company:) and I'm sure he was well taken care of by his employees. Besides, you can't hurt a helium balloon:). And HOODY, class of 60, you never replied as to who was the first varsity letter winner in our class. As I said, whoever it was was probably related to Kevin Bacon or it was you! Or maybe a Varsity yell leader. Eh?:) So who was it? Larry Sears, a very soul stirring story. I knew you by way of some of your 59 classmates. Thanks for the service to our great country. MAY THE COUGAR BE WITH YOU! JAKE n JUDE.
El The MATCH is being set up: send the Hoppe: bring LOTS and LOTS of moo-lah......
---

Name: Chris Prewitt () on Wednesday, May 1, 2002 at 19:32:38
E-Mail: cjprewitt@juno.com
Class: 1967
City and State: Fullerton, CA
Message: Donna Anderson: I do not have anything to do with this site and don't know anything about them. You can look for a St. Christopher at: http://www.goldsmithshawaii.com/sainchris.html

---

Name: Tammy Nichols () on Wednesday, May 1, 2002 at 18:29:12
E-Mail: JTrbgNichols@aol.com
Maiden: Levene
Class: 81 LHS
City and State: Omaha, NE

Message: All that talk about Mexican food is making me hungry. My Dad, (GeneHHS60) turned me on to El Tarasco when I was growing up and I miss it too. After leaving Hawthorne I lived in Fair Oaks for 10 years and my husband and I LOVE Adalbertos. We are craving their California burrito. We are trying to find some decent Mexican food in Omaha. If only they'd open a Chevy's here. I guess I should make dinner now. I wonder what I should make......


The Little Onion on Hawthorne Bl was real good too. I loved their salsa. How about Alfredos in Lomita?
---

Name: JIM SLOEY () on Wednesday, May 1, 2002 at 13:27:03
E-Mail: mybrudderisfunny.com
Maiden: bimmcodyandbillypatsoarebrudders
Class: 66
City and State: rb, ca
Message: Dean you mean you fell for that? They tried it on Greasby but he saw right through that one as he was too busy writng a comparative analysis of RICHARD II in Shakepeare's play and the historic basis of the character at the School library. There is no fundraiser for the bike its perfectly fine. The events calendar is a hoax. And Brudda, Billy Patso, enough said about the ticket.

---

Name: Jeff Heckathorn () on Wednesday, May 1, 2002 at 12:35:57
E-Mail: jheckathorn@socal.rr.com
Class: 76
City and State: Hawthorne
Message: I was there also Kim, It was a great weekend other than the shooting real glad I left the casino when I did (10 min before shooting happened} Saw a sign in one of the hotel windows the next day that made me laugh it read "Send food and more beer"

---

Name: Donna () on Wednesday, May 1, 2002 at 12:22:45
E-Mail: djanderson_53@yahoo.com
Maiden: Anderson
Class: 1971
City and State: Friendswood,texas
Message: I'm looking for information on how I can purchase a St. Christopher necklace (not silver or gold) a color face-one that is blue or green. I had one in high school but lost it in gym. I have looked here in Texas but they have nothing like that. It use to be a thing that surfers wore. I remember a store at Knotts Berry farm where I purchased it but thats ancient times. Could you guys help me locate one that I can purchase. Thanks so much!:-D

---

Name: Neil Andersen () on Wednesday, May 1, 2002 at 11:54:22
E-Mail: sumerset@aol.com
Class: '62
City and State: Dallas, OR
Message: Mr. Williams was a fine teacher, had him for four years, and still can't draw a straight line. Any honors that need to be given should also go to A.J. Repashy. I made certain to get him every year for classes, sometimes two a day. He was inspired, if there were any teachers today as good as he, H.S. graduates wouldn't be so shallow upon leaving school. Mr Douglas Hood, fifth and sixth grade at Juan de Anza and Jose Sepulvada, he would be another great man to emulate if you cared about being a great teacher. A whole lot of school and these two men stand out.
Coach Hal Chauncey, Mr. Harry Plotkin, Mrs. Theresa Ginger Mark, Miss Vi Clark, and Mr. Orrell stand out in my mind as mentors from the Hawthorne area.
---

Name: Dean Morris () on Wednesday, May 1, 2002 at 11:47:33
E-Mail: dmorris@stanfordalumni.org
Maiden: LiddleBruddha NoLonger
Class: 72
City and State: Vallejo, CA
Message: Happy Birthday Billy Sloey! On this happy occasion I remembered a funny prank played by you and Brudda Jon on me. I was about 11-12 years old and we were coming back from a Parks and Rec trip to a Dodger game. Brudda Billy comes up to me at the back of the bus and asks me to ask Brudda Jon (who I did not know) about his other brudda, little Joey, supposedly a star baseball player. So, being young, naive and trusting (and not knowing this joke), I ask Brudda Jon, "Say, bruddha Jon, wazzup with your oddha bruddha and baseball? I hear he's the second coming of Willie Mays. Well, Bruddha Jon gets a look on his face like he's going to kill me. He verbally blasts me for being an unsympathetic a**h***. Turns out little bruddha Joey was born with no legs and arms and all they can do with him is put him out around 2nd base and let him watch the game from there. Well, all the Sloeys, probably Biggest Bruddha Jim too, were in on the joke. They had me feeling lower than an ant in Death Valley. After letting me apologize for an eternity, the whole back of the bus breaks up laughing and I was had by the Sloey gang!
Anyway, happy birthday to you and I have finally recovered from your prank.
I know brudder Joey tried to sue Dean, but brudder Jim said he didn't have a LEG TO STAND ON......get it.....a leg to sta.......never mind
---

Name: Kim Begley () on Wednesday, May 1, 2002 at 11:36:43
E-Mail: kbegley@voxeo.com
Maiden: Stembler
Class: 73
City and State: Scotts Valley, Ca
Message: Any Cougars out there who attended the Nevada Laughlin Motorcycle River Run last week? My husband and I rode our motorcycles to this event for the first time from Santa Cruz and what a wild week it was! 70,000 riders invaded the small town of 8,000 residents. A sight to behold. The Laughlin River Run is a gathering of motorcycle riders who arrive every Spring for entertainment, competitions, motorcycle shows and charity runs. We stayed at Harrah's hotel where 70 members of rival motorcycle gangs Hells Angels and Mongols clashed in a fierce gun and knife battle at 2 a.m. Saturday morning on the casino floor. Luckily we were asleep at the time of the melee but woke at 6:00 a.m. to an announcement an "incident" took place, police were investigating and the entire hotel was in "lock down" with no one allowed to leave their rooms until further notice. I opened my hotel room curtains to a scene of swat teams, ambulances, crime scene tape, police helicopters, dogs and police from 4 neighboring states surrounding the hotel. Guns were drawn as they investigated with more police arriving every few minutes. It was surreal to say the least. I opened my hotel room door at 9:30 a.m. to 4 swat team members, guns in hand telling me to stay in my room. We were allowed to leave our rooms at 10:30 a.m. only if we left the hotel and not to return until later that night once the investigation was complete. Photo copies of everyone's licenses were taken. Not until we had breakfast at another hotel after leaving Harrah's did we find out what had taken place. I'm glad no one else was hurt/killed other than gang members. Very lucky indeed. Harrah's also has the whole incident on security video tape. I don't believe they'll be invited back next year!
We went to Legoland.
---

Name: Wade Greasby () on Wednesday, May 1, 2002 at 10:37:23
E-Mail: WadeKath@juno.com
Maiden: lastthursdayatpinks
Class: 73
City and State: HB, CA
Message: Jim, Thanks for the invite. If it is still on for next Thursday, I'll try to make it. If it was last Thursday, you can only fool a Sooner once! Happy Birthday Bill, long time no see. Hope all is well. Save a piece of that Red Cake for me. Next season we'll have to get together for the Game at your brudders house. I hear he has a Big Red Screen! Great-Day Cougs.

---
If you have comments or suggestions, please email me at jb1@cougartown.com