Page 379

Hawthorne Time and
Temperature

Home | 60's Slang | Alumni List | Car Talk | Cougar News | Feedback | Hangouts | Memories
Recollections | Reunions | Street Scene | Teachers | Tributes | Vietnam | What's New | Keyword Search
Here's one you haven't heard in a LONG time....... Jimmy Rodgers
---
<!-+++++++++++++++++++++++++++++++++++++++++++++++++++++++++++++++++++++++++++++++++++++++++++ +++++++++++++++++++++++++++++++++++++++++++++++++++++++++++++++++++++++++++++++++++++++++++++->

---

---
<!-++++++++++++++++++++++++++++++++++++ADD BELOW THIS LINE++++++++++++++++++++++++++++++++++++ +++++++++++++++++++++++++++++++++++++++++++++++++++++++++++++++++++++++++++++++++++++++++++++->
Name: Patti () on Wednesday, March 21, 2001 at 10:38:06
E-Mail: Smith
Class: 68
City and State: Cypress, CA
Message: Now there's a memory -- Bob Cole's Dance Studio...on Inglewood Avenue upstairs from a sporting goods store. I took lessons from Bob for 6 years...tap, ballet, ballroom. While I was attending in the late 50's and early 60's, our warm-up was on a full-size trampoline that took up virtually an entire room in his studio. I believe he taught Russ Tamblyn at least for a time.

---

Name: Doris () on Wednesday, March 21, 2001 at 10:33:25
E-Mail: raydori@micron.net
Maiden: Donaldson
Class: '57
City and State: Twin Falls, ID
Message: KEITH ... You crack me up! I don't know you except through these pages, but I like you, you meek, mild-mannered, FUNNY fellow Coug! Maybe you'd better not use this forum, but I HAVE to hear about your spider story (being a spider hater from way-back-when!)!! Please email it to me. Thanks. doris
If it pertains to Hawthorne, use the "Add Feedback" button. If it doesn't pertain to Hawthorne or HHS, try the Chatroom above. As an example, Keith, you can start a chat-room called Keiths Stories and write all you want about NON-Hawthorne things. I know you all understand............don't you?
---

Name: Sean Ramey () on Wednesday, March 21, 2001 at 08:30:23
E-Mail: sean_ramey@toyota.com
Maiden: Fitzpatrick
Class: 72
City and State: Corona, CA
Message: I would like to add that Don La Daga, class of 72 claims to be the first black to graduate from HHS. I'm not sure if that is true, however it doesn't matter. Don had a great sense of humor in high school and was a pleasure to be around. I did see him at our 20 year reunion and he still had that great big smile on his face. John, I sent you a copy of our 20 year reunion book, Don is in there. Hope to see him this August!
Thanks Sean.....
---

Name: Randy Matt () on Wednesday, March 21, 2001 at 06:38:46
E-Mail: mattseabee@hotmail.com
Class: 66
City and State: Brunswick, Maine
Message: I ain't gonna work on Maggie's farm no more. No, I ain't gonna work on Maggie's farm no more. Well, I wake up in the morning, Fold my hands and pray for rain. I got a head full of ideas That are drivin' me insane It's a shame the way she makes you scrub the floor I ain't gonna work on Maggie's farm no more.

---

Name: Petey () on Wednesday, March 21, 2001 at 06:30:46
Maiden: Honduras
Class: 1972
City and State: Oregon
Message: Dance, tap, and ballet lessons at Dianes Dance studio was fun. Everyone in my class got a trophy for outstanding preformance and I got one for "best attendance". They didn't want me to feel "left" out at the age of 6. Speaking of LEFT. I was gifted with two left feet. Out back down, step, step. Proud to be a Coug. Big Kell where are you?
Does anyone remember Bob Coles Dance Studio in Inglewood? It was there for many years. My daughter actually learned a few steps from Bob Cole back in the late 60's.
---

Name: Anita Young () on Wednesday, March 21, 2001 at 01:33:58
E-Mail: youngun39@yahoo.com or youngun39@care2.com
Maiden: Aceves
Class: 1978
City and State: Newberg, OR
Message: Keith, your story just cracked me up, plain and simple, and I'm not a skinny mini anymore, either. I know your posts well enough to know you did'nt mean it in any kind of bad way, you just had to use that point or else the story would not of had any meaning. I mean hey, if she were skinny, she wouldn't of gotten stuck, am I right? The way you described it and the stuff that insued afterwards....oh man, my sides hurt from laughing so hard! So Keith, you just keep on posting your very amusing stories. Heck, you've even made yourself the butt of some of the jokes in them. You are always entertaining and make me laugh! Plus, you're Carla's cousin, gotta love ya! = )
And as for African Americans at HHS....I remember seeing a few as far back as my Sophomore year, which would of been like 1975-76. But, I think a greater minority that was taking a huge foothold at the time was us Latino's. Heck, there was me, my friend's Barbara Ramirez, Margie Galindo, Lori Salazar, Rose Gutirrez, etc. not to mention other Ramirez's , some Acevedo's, my brother's friend, Chris Huerta, Terry Ramirez, Omar Azze, et al. I could go on and on. Quite the Hispanic or Latin American or whatever you want to call it back then (or even now) for that matter. I really didn't think anything about it, if you really want to know it. People are people to me. If you're cool, you're cool. I kind of like a technicolor world, myself. Makes life more interestng!
To Keith...Even though Anita thinks your stories are hilarious, I won't post anything I think will offend other people. The Feedback Page is supposed to be about Hawthorne and Hawthorne High; finding friends and getting people together. I know we give it lots of leeway, but when it's done to just offend or to rile some group, then I won't post it. This page is very popular, and it takes LOTS of my time. I have run out of time to post "Fat Ladies from Hawaii who got stuck between a fence and a palm tree" stories. For those stories, please use our Hawthorne Chat Room. Thanks Cougs for being out there. I enjoy all of you, and this page, very much.
---

Name: nancy sargent () on Wednesday, March 21, 2001 at 00:46:06
E-Mail: cricketsarge@aol.com
Maiden: rose
Class: 79
City and State: big bear lake, ca
Message: I wonder how many of you girls out there remember "Winton & Diane's" Dance Studio on Hawthorne Blvd. & Century?? My Aunt went there in the 50's, and not to be outdone (and I think to live through me!) my Mother dutifully sent me there too! I remember Kathy Richardson attended too...and got to take Private Lessons! We would all sit in awe and watch her twirl. I have thought about that place through the years, and wondered what ever happened to them. I know in later years they moved from their Hawthorne Blvd. location onto Arbor Vitae, but whatever happened to Winton & Diane????
I don't know Nancy, but I bet someone here does.....thanks
---

Name: Patti Smith () on Wednesday, March 21, 2001 at 00:43:55
E-Mail: GrnidL80@mediaone.net
Class: 68
City and State: Cypress, CA
Message: John, I think the first Black students at HHS were Danny Pressburg ('68) and his younger sister, although they were so light complexioned and I was so sheltered that I didn't even realize at the time that they were Black. First cars: my senior year I got to drive my mother's brand new '67 Mustang, sapphire blue with a white vinyl top, to school every day because we had moved to Carson (Cap got me an interdistrict pass that year). I would have loved to cruise in that baby and have a blast in her, but Mom checked the odometer every day when I picked her up from work, and it had better not have more miles than one round trip between North American on Crenshaw and HHS. And believe me, she knew it to the 1/10th of a mile! After graduation, I got my own car...a 61 Falcon, 3-speed on the column. My stepdad drove it home from the dealer, showed me once where each gear was, and told me to get in and drive...I had to know how to drive it within 4 hours or it went back! Needless to say, I learned! Hope to see you all on Cruise Night!
Thanks Patti....
---

Name: Keith D. Jones () on Tuesday, March 20, 2001 at 23:40:45
E-Mail: cmi50@yahoo.com
Class: 76
City and State: Honolulu, HI
Message: I just to say how nice it is to get support from the CT group. As the many Cougs who know me I am just a meek and very mild mannered person (almost monk-like) who wouldn't and couldn't hurt a fly. Spiders are another item though, since one almost ended my illustrious life. Being such a nice guy and smaller than some all-pro football players, I get picked on alot but I have learned to control myself. Well I gotta go and finish my quiche. Aloha
I have GOT to get a LIFE!!!!
---

Name: Art la Mere () on Tuesday, March 20, 2001 at 22:27:06
E-Mail: artlamere@home.com
Class: 73
City and State: Bettendorf Ia
Message: John first I think the first black students to attend HHS was about 1972/73. the name of the skater is Ralph valdous(misspeled) the team LA tbirds. Regards to all Art
Hey Art, Thanks but if you look down below; you'll see that it's already been answered. Can you name the team that Little Ralphy Valladeras played for BEFORE the T-Birds?
---

Name: Jerry Miles () on Tuesday, March 20, 2001 at 22:10:46
E-Mail: jfmiles@pacbell.net
Class: 66
City and State: Fair Oaks, CA
Message: John, Meinhardt Raabe, who was "Little Oscar" and also pronounced the 'Wicked Witch of the East,' "Most Sincerely Dead" in the land of "Oz." is still alive and living in near Jacksonville, Florida. It was always great to see the Wienermobile driving down the road or in a super market parking lot. By the way, WIENERWHISTLES are still available.
Thanks Jerry.....
---

Name: LGW () on Tuesday, March 20, 2001 at 21:44:23
E-Mail: lgeelew@pacbell.net
Maiden: Geele
Class: 76
City and State: Los Altos, CA
Message: Would have signed in earlier on the first car thing, but Dave and I were in Hawaii. I fell off a low ledge as he was taking a photo and got stuck behind a tree. He says not to worry as he got some pictures of my "best side" . . .
My first car was the aforementioned '57 Chevy and it is still in the garage here. Runs occasionally, too. We still have our 2nd (86 mazda) and 3rd (89 honda) cars as well. . . .
Dave, Keep the 57....and send us that picture.

---

Name: Elizabeth Estrada () on Tuesday, March 20, 2001 at 21:43:00
E-Mail: dzlizzy219@aol.com
Class: 69
Message: How do I get ahold of Paco of the Paco's Pic's fame? The Pole Princess just called to tell me about an old picture he has posted of me at the river......I'd love to get a copy of that and blow it up and put it on my refrigerator!!!!
Liz, doo4usc@aol.com is his email address.
---

Name: EL ROJO () on Tuesday, March 20, 2001 at 20:25:06
E-Mail: I-DY-HO
Maiden: YOU KNOW
Class: CLASS'ES
City and State: PODUNK USA


Message: All this talk about drivers ed make's me laugh. I failed it! I thought I would warn you ahead of time, as I will be driving around down there in a couple of weeks:). Seriously though, good ole "Duffy" Means(driver's ed teacher) and I didn't get along too well anyway. For those of you who don't know that name, it refers to a teacher and a coach at HHS in the late 50's and into the 60's. I had a very heavy heart at that time for a really cute blond who shall remain nameless at this point.Well, if you were two seconds late for our drive they took off. Between walking this girl to class before drivers ed I was late several times to say the least. But it did tick me off when he would see me coming and they would take off anyway. His reason for failing me.... not enough time behind the wheel. Ha! Never been in an accident (only two anyway) that I was at fault. Last ticket, 20 years ago. And yes I still like to go fast! Keith Jones... tell everyone to stuff it if they can't see a little humor in life. My wife is overweight and she thought it was funnier than hell. 16 days and countin Bake Man. MAY THE COUGAR BE WITH YOU. JAKENJUDE.
Man, is it getting that close to Cruise Night? I'll be ready Russ, and we'll see you here. Party on Garth!!!
---

Name: Curtis Thompson () on Tuesday, March 20, 2001 at 20:22:39
E-Mail: thompsoncat@socal.rr.com
Maiden: Thompson
Class: 68
City and State: Torrance CA.
Message: Hi I will exploring more of this later Curtis
OK
---

Name: Mary Weiler () on Tuesday, March 20, 2001 at 19:56:32
E-Mail: pmweiler@msn.com
Maiden: Risner
Class: 76
City and State: Hawthorne, CA
Message: I loved going to Kresge's. They had the best malts at the back counter! At least once a year the Oscar Mayer Weiniemobile would be in the front lot!
I still have my wiener whistle somewhere. Does anyone know if little Oscar's still vertical?
---

Name: Dan Johnson () on Tuesday, March 20, 2001 at 19:54:10
E-Mail: wch1ispink@aol.com
Class: 77
City and State: Thunderbird Country


Message: John, the T-Bird looks a bit like Alex Bravo, but of course he was not an HHS grad, just a teacher, X-Country coach and former Ram. Re: African Americans. In the middle 70s, we started getting African American students at HHS in increasing numbers. I remember watching a "white" band out in front of the Gym and they were trying to play "Livin' for the City" and these two African American girls (students) and I were just falling out together as the singer kept messin up the words while trying to get funky -- it was a riot. I played ball with Ellis Twine, Jerry Oliver and the Agee boys (Leonard was a 6'7" freshman when I was a senior). They were just great people, period. I ran into Ellis in the early 80s. He had gone back to college and was starring at Cal. St. Stanislaus. That coach harnessed the talent that eluded Noel Smith (much as my immense talent eluded Daryl Stucker). Moreover, looking back on it, HHS was quite diverse during my day -- we just didn't "know" it. I don't recall our classmates ever looking around and categorizing each other as "white" and "hispanic" I intend to teach my daughter to be the same way.
This story is Janets, but she's without a computer so I'll relay it.
It was at our 20 year reunion at the Disneyland Hotel in 1982. The reunion opened with the 1982 HHS marching band coming in and playing a few dittys. It wasn't hard to notice that the band was predominantly black, and they were noticing quite the opposite. One of the band members looked around the room, then leaned over and asked Janet, "Where are all the Brothers?" She said, "There are no Brothers".
I don't know what year HHS got it's first black student, but it was after 1962.
---

Name: Bonnie McCoy () on Tuesday, March 20, 2001 at 18:39:31
Maiden: McCoy
Class: 78
City and State: Newport Beach
Message: To Mr. Plotkin (Harry): Thank you for the info on Mr. Rivers and Mr. Clark. I appreciate it.

---

Name: Sharon Branigan () on Tuesday, March 20, 2001 at 18:22:44
E-Mail: srbranigan.srb@verizon.net
Maiden: Bierman
Class: 76
City and State: Envy
Message: I really need to find some new friends. No one has ever invited me to hold onto a huge rock and walk under water. My husband has offered to buy me a one-way ticket to Honolulu. He thinks I should check it out personally. What does this mean?
Sharon, I think it means you're off his Anniversary list.

---

Name: Tom Burroughs () on Tuesday, March 20, 2001 at 16:58:33
E-Mail: TB-Samde@webtv.net
Class: 1958
City and State: Prescott AZ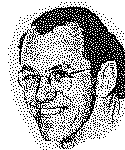 Message: Charlie( Spec`S ) Saunders owned the skating rink in Redondo. A really quiet, nice guy. It was upstairs above the penny arcade. Spent a lot of time at both places. He did have a "wanna be" Roller Derby skater, racing club. I think you went twice a week. I also skated once at the Roller Derby skating school banked track in Hollywood. Man that thing was banked a lot more than it looked. Was not as easy to skate on as I had thought! Does anyone remember Gerald Rapp? He also was in the Roller Derby? He went to Haw. Intermediate. I seem to remember he did something, & got kicked off the T-Birds? They never did say what it was?

---

Name: Mike Backus () on Tuesday, March 20, 2001 at 16:45:28
E-Mail: michael@backusstudio.com
Maiden: Arty Schmarty
Class: '74
City and State: Eugene, OR
Message: I just remembered a HHS teacher story that I want to share with everyone. Like many of you, I had Clayton Williams for Art at HHS. Not only was he a talented artist, he was a very bright person in general. Students rarely dared to attempt matching wits with him, and if they did, the end of the battle was swift and decisive. On one afternoon one of the less apt artists in class cracked wise with Mr. Williams in some way. Mr. Williams opened his mouth to say something and then raised an eyebrow as if he were noticing the offending student for the first time. There was a long pause. "Young man", he said. "I have an I.Q. of nearly 200. That means that I am worth at least TWO wienies such as yourself!" The class broke up and the 'wienie' tried his best to disappear under his desk. There were many kinds of educations to be had at HHS....

---

Name: Paco () on Tuesday, March 20, 2001 at 14:24:39
E-Mail: doo4usc@aol.com
Maiden: Clancy
Class: 61
Message: Jan, Ty Goodman and I went to Redondo Beach often, Ty wanted to be a "T-Bird" when he grew up! Did you know that "Little Ralphie Valladares" went to HHS? Our families were close, he has since passed on, along with his sister Elba who passed on last week. He was married to "Honey Sanchez" several times..
Who's Jan?
---

Name: JIM SLOEY () on Tuesday, March 20, 2001 at 14:18:45
City and State: REDONDO BEACH, CA
Message: RALPHY VALADEREZ
Yes, but too late on that buzzer to win the all expensed paid trip to anywhere in the world you want to go.....SORRY!!

---

Name: Richard Hanson () on Tuesday, March 20, 2001 at 13:57:39
E-Mail: reh2469@aol.com
Class: 56
City and State: Simi Valley, Ca
Message: John, I'm pretty sure the picture is Ralph Valaderez of the roller derby fame. Ralph was in my 8th grade class at Dana (he was 16 years old in the 8th grade) and never went to high school. He went directly to the Thunderbirds.
YES!!! Richard you are Correctamundo!! It's little Ralphie Valladeres of LA T-birds fame. He did go to HHS, at least in 1953, as his picture is in the book (see below).
---

Name: Harry Plotkin () on Tuesday, March 20, 2001 at 13:38:06
E-Mail: hcharry@pacbell.net
Class: 52/97
City and State: Harbor City, CA
Message: Bonnie McCoy: Mr. Clark passed away about one and one-half years ago. Mr. Rivers left Wiseburn many years ago and the district office didn't know anything about him. First car: 1935 Ford coupe in 1941. I used it for work. Not very luxurious but it kept on running as long as I regularly changed the fuel pump. Gas was rationed and I had a C book. Not many high schoolers had cars let alone gas. I guess working had its compensations. Love to all, HCH

---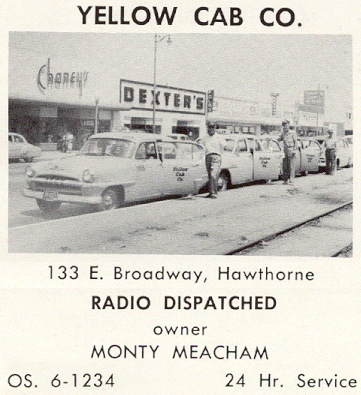 Name: John Baker () on Tuesday, March 20, 2001 at 1:21:14
E-Mail: jb1@cougartown.com
Class: 62
City and State: Lomita, CA
Message:Here's another old Hawthorne landmark. The Yellow cab stand that was located on Hawthorne Bl. and Broadway. Notice the streetcar tracks in the picture. The stand was actually on the northeast corner of Hawthorne and Broadway.


---

Name: John Baker () on Tuesday, March 20, 2001 at 1:21:14
E-Mail: jb1@cougartown.com

Class: 62
City and State: Lomita, CA
Message:Can any of you older Cougs, or younger Cougs tell me the name of this guy? He was a star in his sport.

I also heard somewhere that he actually attended HHS in his high school days, although I haven't been able to prove it. Anyone???
Thanks Paco, for the picture.
UPDATE-UPDATE
Yes I did find his picture as a freshman in the 53 Ephebian (first El Molino) and here he is.

---

Name: Keith D. Jones () on Tuesday, March 20, 2001 at 12:31:29
E-Mail: cmi50@yahoo.com
Class: 76
City and State: Honolulu, HI
Message: I just want to say thanks for all the support. I hope George Carlin didn't have to go through all the ridicule I have had to go through. I almost made an appointment to see my therapist but then I thought I should tackle the problem myself. So I went and wedged myself between a wall and a semi-truck. It was fine until he started to drive away. I now see the light and will be more sensitive. CTown is better than any therapy. Juan-Dog how are you? Art is coming to Hawaii to see me at the end of the month. And, Dad keep supporting me.

---

Name: Bonnie McCoy () on Tuesday, March 20, 2001 at 11:50:38
E-Mail: brandylaguna@yahoo.com
Maiden: McCoy
Class: 78
City and State: Newport Beach, CA
Message: Does anyone know if Mr. Rivers from Peter Burnett Elementary school or Mr. Clark from Dana Junior High are still around???

---

Name: Doris () on Tuesday, March 20, 2001 at 10:46:09
Maiden: Donaldson
Class: '57
Message: Forgot something. There was no drivers' education classes in the 50's or at least up to '57 ... not that I knew of anyway. My Mom was cool; she would take me to Hollywood Park and teach me without my Dad knowing it. Then when Pop got ready to teach me, I knew everything ... I THOUGHT! Till he took me during 5:00 o'clock traffic at the signal of Inglewood Ave and ElSegundo Blvd ... that's 5:00 P.M., rush hour!! He told me to make a left turn and I stalled this gigantic yellow '47 Hudson 2-door right in the very MIDDLE of that intersection ... through TWO complete cycle of lights! SO EMBARRASSING !!
Doris, They had traffic lights in Hawthorne when you were learning to drive??!!

JUST KIDDING!!!
---

Name: Doris () on Tuesday, March 20, 2001 at 10:39:42
Maiden: Donaldson
Class: '57
Message: MY GOSH! IS THERE A FULL MOON? A little crazy on CTown, huh John? I don't remember a door-to-door egg man, but then we had our own chickens; that's probably why I don't remember him! I have to tell you, for some unknown reason, I DO REMEMBER the blind broom salesman, and we got a new broom everytime he came by!
ROYAL: So sorry to hear of your loss. I know how it feels to lose a father or mother ... it's awful!
KEITH: LOVED your story. Just remember, you can't please everyone all the time so don't sweat it!
SLOEY: I always enjoy your posts, but yours from this morning is priceless! I laughed and laughed and ... !!!
And last but not least, FREDDY! Chris Prewitt said it best ... let us hear from you more often; give us some input so we can relate; and maybe others of your "flavor" (as YOU put it) will join in, too! COUGAR POWER !!

---

Name: Walter Holt () on Tuesday, March 20, 2001 at 09:54:51
Class: 66
City and State: Mission Viejo,CA
Message: Hey Freddy Dayton...Welcome to Cougartown..Just to let you know my thoughts, I believe Cougartown is for anyone who was from HHS and is looking to renew & make friends with others who went there regardless of Race, Color, Creed or year they attended. Hawthorne has undergone many changes over the years and I, like many, have been gone from Hawthorne for many years and any input you can provide as to your years at HHS is welcome. Now regarding The Beach Boys, In the 50s, 60s & 70s we danced & listened to a lot of different music. A good portion of it came from Motown Artists whom you will find mentioned on feedback quite often. We mention The Beach Boys alot because they came from our school & town but they are only a part of the musical heritage of HHS. So Welcome & I'm glad you're proud to be a Cougar too.
Plus the fact that a T-shirt that says, "Hawthorne, Home of the African Americans" probably wouldn't sell as well as the Beach Boys version.

---
If you have comments or suggestions, please email me at jb1@cougartown.com