Page 130
---


---
Home | 60's Slang | Alumni List | Car Talk | Cougar News | Feedback | Hangouts | Memories
Recollections | Reunions | Street Scene | Teachers | Tributes | Vietnam | What's New | Keyword Search
---
Out of all the musicians that HHS has had through the years. From Chris Montez to the Beach Boys to David Marks to Ted Gioia, there's one GREAT musician that stands out. Yes, It's Bob Rierdan HHS61. Not because of what he's done on the Top 40 Charts down through the years. Nope, he's the very FIRST HHS musician to write a song about Cougartown. Yes, all the others had their chance, but NOOOOO, it was Bob Rierdan who came through. Bob, I thank you for your beautiful rendition, and lets all Give It Up for Bob Rierdan, and "Cougartown Blues". Cougartown Blues Great birthday present Bob. Thanks a bunch. The early 60's guys have still got it.

Name: Susan () on Monday, August 30, 1999 at 13:04:21
E-Mail: SKwarpath@aol.com
Maiden: Jones
Class: 75
Message: Hi John, I'm a friend of Cheryl (HHS 62) and she introduced me to your web site, which I have totally enjoyed. My husband and I were both born and raised in the beach area. He is a Redondo grad of 60 and I'm a West High class of 75.
I also have some memories that I have not seen posted in your feed back. How about the tv program for Kids.... Bozo the Clown????..... His red hair?? Or my husbands favorite, "Hopalong Cassidy."? Gosh, I remember the Big Slide behind Zody's. That brought back memories to me.
Thanks for helping me feel young again, and keep up the good work...
Oh yes, one more thing. "Happy Belated Birthday".
Thanks Susan, and any friend of Cheryls..........well.......is a friend of mine. Too bad about that Redondo-West High thing. I guess we all can't be Cougars.

. No, actually I enjoy hearing from all the South Bay people. We all did it on the same streets, and in the same Hangouts too. Thanks Susan for being a part of our humble forum. Hopalong Cassidy was my favorite cowboy when I was a kid. I had the Hoppy black shirt, black hat, chaps, and six guns. QUICK, What was Hoppy's horse's name? Come on back anytime Susan, even if Cheryl IS your friend.
---

Name: Bob Veach () on Monday, August 30, 1999 at 12:42:42
E-Mail: annijoro@aol.com
Class: 1972
Message: Dick Lane, who used to announce boxing and wrestling, and if my memory serves me right, LB Poly games.
Bob, An interesting side note:
Coach Chauncey's wife Cathy, graduated from LB Poly. "SAY IT AIN'T SO, CATHY!!!!" Thanks Bob.....
---

Name: Kathleen Griffin () on Monday, August 30, 1999 at 11:49:10
E-Mail: Spirithart@yahoo.com
Maiden: Nix
Class: 74
Message: Hey there John B! Belated Happy Birthday to you! Somehow my pledge to the Green Phantom got moved to the Phantom II. Since the phantom has a seat of it's own, could you move my pledge from Phantom II to the class of 74? If that's full, well find a place for it okay?
Personal note to Gary, glad you are coming to HC but leave my behind out of it, I've already seen one person's life ruined here at CT on account of that subject!
Thanks Kathleen, I'll move it now.
---

Name: chris prewitt () on Monday, August 30, 1999 at 11:29:43
E-Mail: cjprewitt@juno.com
Class: 1967
Message: John, Maybe I can speed some of this Nyman hall seat purchase up by being the first to say if by Tuesday night 31 August 1999 Billy's seat is not pledged you may move my pledge to another seat that is close to being purchased. I hope that by doing this we can bring the donations to a close. I was wishing that more people would have pledged and sent in their monies.
Yes folks, I know there're others out there who want to pledge 10 bucks to a Nyman Hall seat, so please don't put it off. They need this money NOW. I'm holding the money here, until a seat is filled, so if you're going to donate to one of the above seats, please do it today. Just email me and tell me which seat you want to pledge to, and I'll add your name.
---

Name: Alan () on Monday, August 30, 1999 at 11:29:07
E-Mail: anelson@redrivernet.com
Class: '73
Message: Happy Belated Birthday, John. I may not be as OLD as you, but seeing as Saturday was also my daughters 25th birthday, I FEEL "that old". I ran into Mr. Tyskiewiez (Coach T) this weekend. He was visiting Tom Mosher out here on the River. Looks good, and said to say Hi to Cougartown for him.
Hey Alan, Thanks for the belated wishes. Now see there's NO WAY you should ever forget it again.

---

Name: Cheryl () on Monday, August 30, 1999 at 09:54:48
Class: 62
Message: Hello John , I promise not to mention your BIRTHDAY again, ok? I know you had a great time, and were in the company of people who love you. (though, not ALL the people who love you). I just want to know if I have qualified for the title of ROYAL SHOPPER??????? Did I do good boss????
Cheryl, You did GREAT!! OK, so some of you won't think this is a clique thing.
My good friend, HHS61's Mike Shay's wife Barbara (maiden name Heisey) collects Heisey glass. Her birthday was yesterday. I had bought her a Heisey sugar bowl a couple of years ago, but the creamer was missing (they come in Sugar and Creamer sets). When Cheryl was down here a couple of months ago, her and I went antiquing one day and this Heisey Creamer came up. Cheryl wrote it down and yesterday, she emailed me and had found one. The amazing thing is she found it on Barbara's birthday. Perfect Cheryl......Thanks, and yes, you did REAL good.
---

Name: Frank A. Romano () on Monday, August 30, 1999 at 09:24:14
E-Mail: fromano@lvcm.com
Class: 1961
Message: Good morning, JB.... and again, Happy Birthday. At this time I should like to pass on a sincere apology for the typing / spelling error recently. At the same time I should like to say that I am very pleased with the laughter that I may have caused. Last of all. Jim Sloey, with the typing and spelling skills so obvious now to all, I shall therefore make myself available to accept the nomination to the Vice Presidency.... That was a requirement just a few years ago? Potato or (Potatoe)
Hi Frank, Thanks for the birthday wishes, and the birthday card too.
---

Name: Carl Rilling () on Monday, August 30, 1999 at 04:39:07
E-Mail: cycelist@earthlink.net
Class: 1959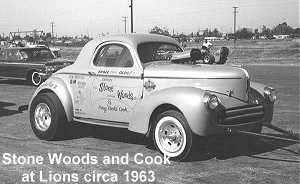 Message: Is a great picture of the ol'Leather britches hisself, Dick Lane. Loved it when he would slap a fender during the commercial, was a great wrestling announcer also. How about that Argentina Rocca, Lord Blears, The Great Scott, Baron Michale Leonie, Freddie Blase, and my favorite Ref was the man they call Strombow. What about Hank from Wynn Brothers Auto parts that gave away the the cases of Sta Lube on Jalopy Derby every Sunday afternoon. The Hawthorne P.D. motor officers that worked the A&W. Fred and Tim Moore. First ticket I got was from Pete Stillman and Stonebraker. Lane change no signal. Maxine, the car hop at the A&W Lady knew how to wear black pants. I made it for a week at St. Josephs, 4th grade Sister Joseph Patrice. What a great ball player. Hot rodders should remember a Bob Mcclure, built some mighty Hydro trannies. Pelican Hi Performance. Jack could build those small block chevies and 312 Fords.. His black 60 Ford with the 530 CI Lincoln that sat high and looked like a roach. Jerry "Hoppie" Hopkins and his Red 50 Ford with his built to the hilt 312 T-Bird engine. Bennie Ryan Owner of Shiftmaster had the 59 small block Chevie he raced at Lions, and trophied all the time. Tommy Ivo (actor)racing his Glass slipper. Coburn Glaze over on Rosecrans that had the coupe with the big round air scoop. Stone, Woods and Cook and their Olds powered coupe,and how that B&M Hydro would shift coming off the line first black men in drag racing that I knew of. The first very fast car I rode in was a 3/8 by 3/8 Ford Flathead owned by Mike Burris. His super fast bright RED 60 Ford, with only a 3 speed. What fun times. And that is all I have to say about that.
Yes, it's ol' leather britches, Dick Lane in the previous picture. Geez Carl, There're some great Drag racing memories here. I remember big Bob's 58 Corvette. MAN, what a ride.
How about Gorgeous George, Mister Moto with his world famous sleeper hold, and 600lb Haystack Calhoun. Now THERE was my kind of athlete.

---

Name: John Baker () on Monday, August 30, 1999 at 02:58:22
Class: 62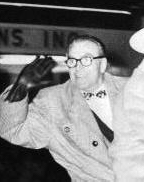 Message:Here's a So Cal guy from the 50's. This picture was taken by Dennis Unfried HHS55. Who is this legend of early local Television?


---

Name: John Baker () on Monday, August 30, 1999 at 02:31:13
Class: 62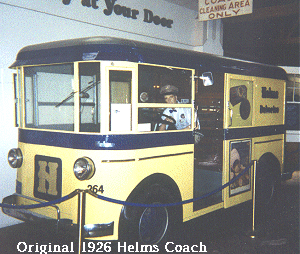 Message:Now here's a machine I bet the early Cougs remember. This was sent in by Gary Nelson HHS60 and man, do I remember this vehicle. I can still hear the whistle and smell the donuts. Thanks Gary for another great Cougar memory.


---

Name: Mike Shay () on Monday, August 30, 1999 at 00:26:53
E-Mail: theshays@earthlink.com
Class: 61
Message: Hey Bob (Blind Dog) Rierdan; Cougartown Blues is very cool.....I tell ya Baker you're surrounded with all kinds of unknown talents....Congratulations on taking a day off...you need to do it more often.. By the way, Ricki V.F. you mentioned that you were scuba diving off of Big Sur, That coast line looks so healthy with all the rock formations and kelp beds it looks like it should be crawling with fish but you never see any boats working it. Probably just too rough huh? Take Care....M.S.

---

Name: John Baker () on Sunday, August 29, 1999 at 14:43:54
Class: 62
Message: Thanks to all who showed for my surprise party at El Torito (The old La Fiesta) in Hawthorne yesterday. You didn't have me totally fooled, but it was fairly close.

Thanks Joyce, but you never could TOTALLY fool me. It was a very special birthday. Thanks to Loretta Morelli Cuiper, Karen Hare Kusumi, Joyce Savisky Chance, The B Girls; Sue, Sharon, Mom B, and Darryl (Darryl you're not a B girl are you?)

Bob and Karen Fraser, Chris Prewitt, "The Rowdys" Marsha Russell and Judy De Grazia, and lastly to Coach Hal and Cathy Chauncey, for making it a complete Cougar fun day. Thanks also to Myrna (Royal Mother Flogger) for the Happy Birthday "Scarlet and Gold" flowers and to Robin Hood for the phone call from "Green and Yellow" country (Oregon). Chris and others took pictures and I'll put a few on the feedback page. Now let's forget about the birthday boy and get on with the memories. Actually, I've got a little more birthday to take care of at Mom's place today, so I'll turn the feedback page on when I return tonight. Thanks again folks for making it my best birthday to date. I love you all.......

---

Name: Bobbie Joyce Spencer () on Saturday, August 28, 1999 at 23:20:20
Maiden: Spencer
Class: 1974
Message: Hi again. I was just looking at the cougartown page, and it brought back a lot of memories. I grew up in Hawthorne, I lived on 136th street. I went to Dana Jr. High and most of the elementary schools, when it came to high school I ended up going to Lawndale High. Heather Reoch, If you are out there reading this, Please write to me at 5248 Honeyhill Rd. Oakhills, Ca. 92345 I would really like to hear from you. We have a lot of catching up to do. bye for now. Bobbie

---

Name: Susan King () on Saturday, August 28, 1999 at 18:24:57
E-Mail: sueking18@aol.com
Maiden: Bierman
Class: 1974
Message: Had a wonderful time at lunch today with: JB, Joyce (Ex Queen B), Angel Karen Hare, Chris Prewitt, Hal-n-Cathy Chauncey, Bob-n-Karen Fraser, Loretta Morelli Cuiper, Rowdys Marsha Russell and Judy DeGrazia, Mom B (mine), Sister Sharon, Darryl and me. Good job guys - it was a fun birthday lunch and was so nice to meet you in the flesh. And it feels like I've known you all along....we had arrived early so took a few mins and toured the old hood near York School where I spent my early youth. It has changed alot but I was still glad to see it. Even drove by Laura and Nancy Petros' old house to take in the memory of many happy times there with them. Heard the bells of St. Joseph's as we came out from lunch - was driving by the old Ben's market and I made Darryl stop and let me run inside to see and drink it in. (The counter guy thought I was nuts.) The area may have changed but I can still envision it as it was. I am so thankful to have grown up there. It was a very good life....thanks again John for helping us all find our way back home.

---

Name: Karen () on Saturday, August 28, 1999 at 09:41:29
E-Mail: ONCEANANGELALWAYSANANGEL
Maiden: Hare
Class: 66
Message: Well John the big day is upon you. So I wish You A very HAPPY BIRTHDAY and hope you have a wonderful day, nothing is too good for our KING...:o)
Thank you Karen
---

Name: Susan King () on Saturday, August 28, 1999 at 09:36:45
E-Mail: sueking18@aol.com
Maiden: Bierman
Class: 1974
Message: Just a quick birthday wish before we get our busy weekend started. Happy 55 to the King! You wear it well and I wish you many happy more!! (And NO, not just cuz I worry about the future of Cougartown...!!) At his age folks, perhaps we should set up a special health plan for him though...Have a wonderful day John and spend some of it smiling about a truly great achievement - this site....
Thanks Sue, I will do just that.
---

Name: Larry Biller () on Saturday, August 28, 1999 at 03:59:30
E-Mail: lbiller49@yahoo.com
Class: 1967
Message: The Helm's Bakery Truck
The Good Humor Man
Buying records(not C.D.'s)at Melody music
Shorty and The Ram Rod's live at Dana

---

Name: Keith D. Jones () on Saturday, August 28, 1999 at 03:16:06
E-Mail: cmi50@yahoo.com
Maiden: always been Jones
Class: 76
Message: A few more;
1. The Real Don Steele Show
2. I think it was called Groovy or something like that. It was a show like American Bandstand. I was on it once because I was at the beach the time they were filming one time.
3. Those neat little plastic helmets we got from the field trip to the Fire Dept.
4. The little loaves of bread from Helms field trip.
5. The "freeze bell" at Cabrillo. Why did we do that?
6. The Paradise Theater with the crying room
7. The Loyola Theater (where I saw Sound of Music, my first walk-in)
8. Quake and Quisp cereal.
9. That wonderful Universal Machine in the HHS weight room.
10. Football practice at HHS and the coaches not letting have water breaks.
11. Saying my prayers before bedtime and including our dog and cat (Bundy and Meyling)
More to come....

---

Name: Ricki Farrell () on Saturday, August 28, 1999 at 02:00:40
E-Mail: farrell8@worldnet.att.net
Maiden: Valencia
Class: '61
Message: TERRY TREFZ!!! Boy that's a name from the past. Remember Mr. Orrell's class? Weren't we in English together for 4 years? We always sat near each other because our last names were so alphabetically close. Good to hear from you. Give us a brief bio. John, "you can run, but you can't hide." HAPPY BIRTHDAY! If you are familiar with "The Hobbit", then you know that it was Hobbit tradition for the one with the birthday to give the gifts. You must be a Hobbit. Thank you for Cougartown. I haven't disappeared, but I've really been busy and it took me 2 hours to read all of the feedback I've missed. I usually read it even if I don't do anything else. I think I told you that I was going to have my '65 bug painted and upholstered. Part of the payment is a portrait of the guy's 2 sons. I need to finish it before school starts and I haven't had a chance to work on it because my Principal committed me to do a drawing for Cal-State Long Beach. It's almost done... about 10 more hours. I'd be more than proud to do one for the Cougartown T-shirts. Alan--if you could do a rough, I'll pull it together on the computer. Right now that's as much as I can muster. When do you guys need it? Lastly, I remember everything you guys have mentioned unless it was personal. Handy Hints was Dick and Dorothy Gardener and Betty White. And Patty, you were with us when we saw Jayne Mansfield and Mickey Hargitay. We saw John Kennedy at the L.A.Coliseum when he accepted the nomination for President of the USA. Has anyone mentioned Captain Jet and zooooooom? How about "Mr. Novak?"
Who was Captain Jet, IN REAL LIFE?? I say it was Doodles Weaver. Anyone???
Ricki Darlin, I love you bunches. I know you're busy and that's fine. I don't want to put you on the spot here for the Tshirt art. I called Alan this morning and he's going to handle the Homecoming Tshirt art. I know how it is and I can appreciate your workload. I do want you to do artwork for Cougartown in the future, but please take care of business first. That's what the Cougar spirit is all about. We all jump in and help the next person. Again, you being here on the site is far more important than anything else.
---

Name: Dean Karels () on Saturday, August 28, 1999 at 00:58:05
E-Mail: DKarels@msn.com
Class: 65
Message: well it's time to tell a few tales after reading all the feedback. 1st i also worked at the a & w with petty and there used to be a certain cop that bothered everybody. he even worked security on weekends anyway everyday he would stop by for the free lunch i know that danny would cook up something real special but you'll have to ask him about that. 2nd, where do i go to join the clique anyways JOHN BAKER i guess bday wishes are in order. have a great one and i'll drink to that. 3rd, hey danny petty, i get all your junk mail but when are you going to send something from you and if you got billy cusac email send it also i guess i sounded off enough for awhile oh ya who the hell is duke any idea petty or diane smith.
love to all have to go.
Hey Dean, Thanks for the Bday wishes. I wish I knew, or am at least hoping I know who that Hawthorne cop was.

Danny, would you email me too, and let me know, at least, his initials? Thanks man.......
---

Name: Joyce Chance () on Saturday, August 28, 1999 at 00:53:22
E-Mail: chancesR@pacbell.net
Maiden: Savisky
Class: '62
Message: HAPPY BIRTHDAY KING BAKER LOVE YA' EX-QUEEN B
Well thank you Joyce Marie. Folks Joyce "my Ex Queen B", and the mother of my gorgeous daughter, has graciously volunteered to take me to lunch tomorrow. She's been known in the past, to well.......pull a fast one, if you know what I mean. Joyce, I do hope this is all above board, as I wouldn't want to come home and find my place ransacked or anything like that.

Paybacks are REAL TOUGH you know, so please take this into consideration. OH, and I love you too.
---

Name: Lori Padelford () on Saturday, August 28, 1999 at 00:26:25
Class: 81
Message: Does anyone remember one of those big slides that you slide down on a burlap sack being behind White Front? I remember my parents taking me there when I was about 5 or 6. They say the slide was over on Imperial. Who's right? Does anyone remember shopping at The Akron Store across from Zodys? How about a store on Imperial called SadSack? I also remember going to Golden West Meats with my mom and they would give the kids a hot dog to eat while we waited. Why can't Hawthorne be nice like it was back then ?

---

Name: Heather Ruggirello () on Saturday, August 28, 1999 at 00:26:15
E-Mail: ruggih@hotmail.com
Maiden: Reoch
Class: 75
Message: Bobby Joyce Spencer - Are you the Bobby Joyce Spencer that lived across the street from me on 136th Street?

---

Name: Cynthia () on Friday, August 27, 1999 at 23:23:22
E-Mail: Mexilucy
Maiden: Valencia
Class: 66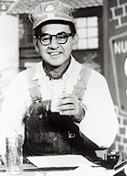 Message: Do you remember Engineer Bill? Red light , Green light! Drink your milk? I sure do. It was the highlight of my evening. I met him at Boy's Market where Gloria worked as a boxgirl. I also remember when the 20 mule Team Borax horses came to Boy's Market and the 10 cent chocolate shakes came to Kresge's. It was such a delight after the rice and beans nightly dinner. I remember my brother Poli would go buy me a shake or two.
Those were the days that made life worthwhile. Anyone else remember those days? Jim Sloey, You should.

---

Name: Jerry Miles () on Friday, August 27, 1999 at 23:17:46
E-Mail: jfmiles@pacbell.net
Class: 66
Message: JB,
Your memory is correct about the whale. It was Willie the Whale with the Detachable Tail. If I remember right they had rescued the whale and installed a prosthetic tail on it. They were known for helping hurt marine animals. When they left Marineland took over. Now they are gone too.

---

Name: EL ROJO & ID QUEEN () on Friday, August 27, 1999 at 22:42:52
E-Mail: I-DY-HO
Maiden: YOU KNOW
Class: 60/61
Message: JOHN, SOME OF THE MEMORABILIA THAT HAS HIT THE SITE IN THE LAST FEW DAYS IS WONDERFUL, BUT I REALLY HATE ALL YOU YOUNG GUYS AND GALS. EVERYTIME I THINK OF SOMETHING ITS ALREADY UP THERE, BUT AS YOU MENTIONED " ANGEL ANNIE", HECK YES I REMEMBER HER. MY G-PA USED TO TAKE ME TO ANGEL GAMES ALL THE TIME. WE USED TO SIT NOT MORE THAN A COUPLE OF ROWS FROM HER. SHE WAS QUITE A CASE. AND WE WOULD ESPECIALLY GO WHEN THEY PLAYED THE DREADED "STARS". THE STARS HAD A SHORTSTOP NAMED CARLOS SOMETHING. WE ALWAYS THOUGHT HE WAS A REAL DIRTY PLAYER. MAYBE BECAUSE HE WAS ALWAYS INSTRUMENTAL IN BEATING THE ANGELS. BUT THE STUFF ON THE "SAND DUNES" REALLY TRIPPED MY TRIGGER. WE TOO WOULD RIDE OUR BIKES UP IMPERIAL HWY AND HAUL OUR ARSENAL. TO THIS DAY I NEVER HIT A RABBIT WITH MY PELLET GUN OR MY BOW AND ARROWS. I'M SUPRISED THAT SOMEONE DIDN'T FIND MY ARROWS. HELL, I MUST HAVE LOST A HUNDRED OF EM OUT THERE. BUT ONE THING WE USED TO DO WAS CLASSIC. WE HAULED OUR BIKES TO THE TOP OF THE DUNES AND ACTUALLY RODE THEM DOWN. NOW, WE DIDN'T MAKE IT MOST THE TIME, WE HAD SAND IN PLACES THAT GOD HADN'T INVENTED, BUT JEEZ WAS IT FUN. AND TED GIOIA, THAT WAS A HUGE KICK IN THE BUTT ABOUT "LEEROY", I LOVED IT. SLOEY, YOU GRADUATED IN 66. DID YOU HAVE A COUPLE OF GUYS IN YOUR CLASS BY THE NAMES OF PHIL LOMBARDI AND WARD HECKMAN? JUST CURIOUS, AS I HAD SOME GOOD TIMES WITH THOSE KIDS WHEN I GOT OUT OF THE SERVICE. HEY ENOUGH FOR NOW. EL & ID QUEEN. MAY THE COUGAR BE WITH YOU.
Russ, I think you're talking about Carlos Bernier. Great player. How about Steve Bilko? Talk about the Babe Ruth of the PCL. I've still got some pictures of old Hollywood Stars somewhere. When the Dodgers came to town in 1958, I was so happy, but so sad to lose my beloved Stars, who moved on to Salt Lake City.
---

Name: Patty Valencia () on Friday, August 27, 1999 at 22:38:58
E-Mail: pvalencia2@aol.com
Class: 1974
Message: Happy Birthday John boy! I'm on vacation with Peter and Allie in Santa Barbara, but had to put in a feedback greeting. Have a great day. As far as memories, I remember my aunt Gloria taking me, Gloria and our cousins to the Plaza Theater to see "Dumbo" while the big kids went with our other cousins, Mom V and Aunt Jane to South Bay Center to listen to Sen John F. Kennedy give a campaign speech. Wow, Kennedy, Mansfield, our Mom V really took those BIG kids to cool stuff.
See, you can get away from home, but can't get away from Cougartown.
I didn't care which adult I went with, and not being too political, I would go with the one that was heading in the direction of Jayne Mansfield. Talk about your purple mountains

majesty boy.
Thanks Patty girl, You 3 have a great time and we'll see you back here next week.
---

Name: EL ROJO & ID QUEEN () on Friday, August 27, 1999 at 22:08:39
E-Mail: I-DY-HO
Maiden: YOU KNOW
Class: 60/61
Message: JOHN,I HAVE A STORY TO TELL. ITS NATURE'S WAY OF TELLING YOU HOW OLD YOU REALLY ARE, NOT HOW OLD YOU THINK YOU ARE. ITS ABOUT THIS COUPLE, NOT YOUNG, BUT NOT AS OLD AS YOU JB,

WE'LL CALL THEM "DUDE AND DUDETTE"(ORIGINAL HUH?).
WELL, EACH LATE SUMMER AND IN THE FALL, THEY WOULD GO UP THE ROAD AND INTO THE WOODS, IN SEARCH OF A LITTLE FIREWOOD. TO HEAT THE HOUSE ON THOSE LONG WINTER DAYS, TO KEEP THEIR CHILDREN FROM BEING AFRAID AND TO KEEP THEM COZY AND TIGHT AT NIGHT, SO EVERYTHING WOULD BE "ALLRIGHT".
WELL, DUDE AND DUDETTE FOUND FIREWOOD GALORE AND FELT THEY NEEDED TO SEARCH NO MORE. IT JUST SO HAPPENED THEY HAD BROUGHT A LUNCH AND SOME "LIBATIONS" ON A HUNCH THEY FOUND A GLADE ON A MOUNTAIN SIDE, TO LAY THEIR BLANKET AND BE SIDE BY SIDE. WELL, LIBATIONS CAN DO SOME VERY STRANGE THINGS AND BEFORE YOU KNOW IT, IT WAS THE BIRDS AND BEE'S THING. NOW, "THINGS" WERE GOING AS GREAT AS CAN BE, WHEN DUDE NOTICED SOMETHING IN DUDETTE'S GRIN THAT REALLY KIND OF BOTHERED HIM. SHE WAS GRINNIN FROM EAR TO EAR AND DUDE THOUGHT THIS TO BE QUITE QUEER. HE ASKED HER IN A GENTLE WAY, WHAT COULD BE SO FUNNY WHERE THEY LAY. ALL SHE COULD DO WAS POINT TO THE SKY AND LAUGH AND LAUGH AS SHE LOOKED UP HIGH. WHEN DUDE TURNED AROUND AND LOOKED AT THE SKY, HE LAUGHED SO HARD THAT HE SHOOK TO HIS KNEES FOR ABOVE THE TREETOPS THEY WERE CIRCLING LIKE BEES. "BUZZARDS"! YES, "BUZZARDS" THOSE DIRTY BIRDS, CIRCLING CLOSER AND CLOSER, LOWER AND LOWER. WELL DUDE KNEW HE'D LOST A STEP, BUT DIDN'T THINK HE WAS QUITE NEAR DEATH, BUT IT JUST GO'S TO SHOW, ITS "FATHER TIME'S" WAY OF SAYING, YOU'RE WELL ON YOUR WAY. IF YOU LAY YOUR BLANKET IN THE WOODS, PAY NO ATTENTION TO THE "BUZZARDS", BECAUSE NO MATTER HOW OLD, ITS STILL "REALLY GOOD". ANONYMOUS!
EL ROJO & ID QUEEN.(HECK I GAVE IT AWAY) MAY THE COUGAR BE WITH YOU.
Now that's a Great story EL, and I'm proud of you for ownin' up to it.

Actually I thought it was going to be another "bald spot" story. Be a Coug, Russ and ID
---

Name: Bobbie Joyce Spencer () on Friday, August 27, 1999 at 21:46:12
E-Mail: whimpper.yahoo.com
Maiden: Spencer
Class: 1974
Message: Hi every one, don't know if any of you remember me I went to Lawndale High, but I went to Dana Jr. High. If there is any of you out there that were in Mrs. Harjes 6th grade class, please write to me. Thanks, Looking forward to hearing from any one. Bobbie J. Spencer
Thanks for stopping by Bobbie. I'm sure there're lots of school friends here, for you to play with. Come on back too.
---
If you have comments or suggestions, please email me at jb1@cougartown.com