This great lookin' Mustang belongs to
Susie Klingenhagen
HHS Class of 71.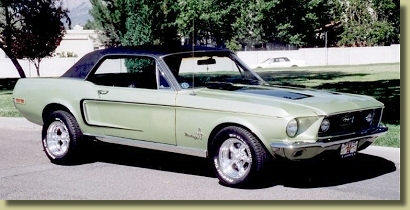 Susie writes:

I have had this Mustang just a year (bought it July 2001) and yes I do alot of the work myself, BUT always with supervision!!!

I love gettin down and dirty especially if the results are eye catching.
---
Here are "her" vitals:

1968 GT Coupe
DOB 2/16/68
302V8
Holley Street Avenger 4 bbl
Edelbrock dress up kit (valve covers + air cleaner)
C4 tranny (automatic)
chrome monte carlo bar
Flowmaster dual exhaust
BF Goodrich P235/60s with style steel wheels on the corners
Grant wooden steering wheel
Kenwood stereo
New carpet, rocker panels and trim pieces on the trunk and grill areas
and me behind the wheel...
---
That's one ba-dass lookin' Mustang, Susie. Thanks for taking the time to send it along.
Ever thought of changing your name to "Sally"?